Luettelo:
Manga-uutuudet
Ennakkotilaukset
Ulkomaiset uutuudet
Lehdet ja kirjat
Käytetyt sarjakuvat
Oheistavarat
Alkuun
MANGA-UUTUUDET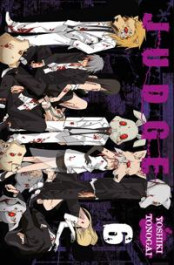 Yoshiki Tonogai: Judge 6
Osa 6/6.
Ylpeys. Kateus. Viha. Laiskuus. Ahneus. Ylensyönti. Himo.
Seitsemän kuolemansyntiä…
Joku vangitsee joukon toisilleen tuntemattomia ihmisiä.
Jokainen heistä on syntinen. Jokainen heistä surmataan, elleivät he uhraa joukostaan syntipukkia.
Kello käy. Kuka on ensimmäinen uhri?
Kuusiosainen trilleri Doubt-sarjan tekijältä.
Genre: Jännitys / Ikäsuositus: 14+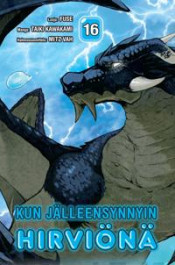 Taiki Kawakami: Kun jälleensynnyin hirviönä 16
Osa 16/18+
Mikamilla ei mene hyvin.
Keski-ikä häämöttää, työelämä tökkii, eikä tyttöystävästä ole tietoakaan. Sitten hän vielä kuolee yllättäen.
Hämmästyksekseen hän havaitsee jälleensyntyneensä unelmiensa fantasiaroolipelimaailmaan… pikkuisena slime-hirviönä.
Jatkuuko velhojen ja ritarien valtakausi, vai onko aika kypsä uudenlaiselle sankarille?
Kun jälleensynnyin hirviönä on Japanissa suositun isekai- eli "toiset maailmat" -genren menestyneimpiä edustajia.
Genre: Fantasia / Ikäsuositus: 12+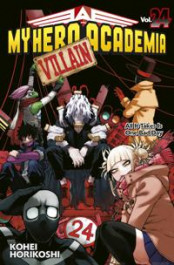 Kohei Horikoshi: My Hero Academia 24
Osa 24/28+
Maailmassa, jossa erilaiset supervoimat ovat jokapäiväistä arkea, niitä vailla oleva Izuku on poikkeustapaus.
Siitä huolimatta hän haaveilee pääsevänsä sankarien joukkoon.
Eräänä päivänä nuorukainen kohdaa sankareista suurimman, All Mightin, ja pääsee osalliseksi tämän salaisuudesta.
Suuri seikkailu voi alkaa!
My Hero Academia yhdistelee nerokkaasti perinteistä supersankariseikkailua tuoreisiin ideoihin.
Monipuolinen hahmogalleria, mielikuvituksekkaat taistelut ja koukuttava juoni ovat tehneet siitä jättimenestyksen sekä Japanissa että USA:ssa ja Euroopassa.
Genre: seikkailu / Ikäsuositus 12+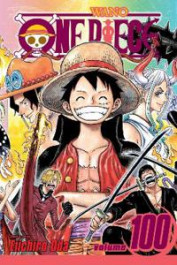 Eiichiro Oda: One Piece 100
Yli 500 miljoonaa myytyä One Piece -kirjaa!
Mielikuvituksellinen maailma ja vahva hahmogalleria ovat tämän vauhdikkaan ja humoristisen merirosvoseikkailun vahvuuksia.
Suuri yhteenotto Pirunsaarella jatkuu.
Luffy otaa yhteen maailman vahvimmaksi olennoksi tituleeratun Kaidoon kanssa!
Genre: Seikkailu / Ikäsuositus 12+
ENNAKKOTILAUKSET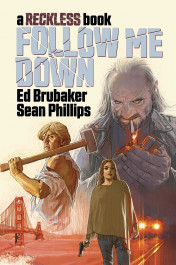 Ed Brubaker & Sean Phillips: Follow Me Down (ENNAKKOTILAUS)
ENNAKKOTILAUS.
ARVIOITU ILMESTYMISPÄIVÄ LOKAKUUSSA 2022.
The FIFTH BOOK in the best-selling Reckless series is here!
Bestselling crime noir masters Ed Brubaker and Sean Phillips bring us another original graphic novel starring troublemaker-for-hire Ethan Reckless.
In the wake of the 1989 earthquake, Ethan takes a trip to San Francisco to search for a missing woman.
But almost immediately he finds himself going down a path of darkness and murder in her wake, in a case unlike anything he's faced before.
FOLLOW ME DOWN is the most intense of the Reckless books so far, and yet another hit from the most-acclaimed team in comics, creators of PULP, MY HEROES HAVE ALWAYS BEEN JUNKIES, CRIMINAL, THE FADE OUT, and KILL OR BE KILLED. A must-have for all Brubaker and Phillips readers!
ULKOMAISET UUTUUDET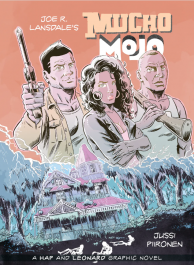 Joe R. Lansdale & Jussi Piironen: Mucho Mojo
From the mind of Joe R. Lansdale and the brush of Jussi Piironen comes one of the best in the Hap and Leonard series.
Hap and Leonard return in this incredible, mad-dash thriller, loaded with crack addicts, a serial killer, and a body count.
Leonard is still nursing the injuries he sustained in the duo's last wild undertaking when he learns that his Uncle Chester has passed.
Hap is of course going to be there for his best friend, and when the two are cleaning up Uncle Chester's dilapidated house, they uncover a dark little secret beneath the house's rotting floor boards—a small skeleton buried in a trunk.
Hap wants to call the police. Leonard, being a black man in east Texas, persuades him this is not a good idea, and together they set out to clear Chester's name on their own.
The only things standing in their way is a houseful of felons, a vicious killer, and possibly themselves.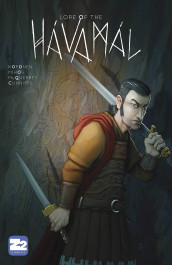 Jouni Koponen & Cat Mihos: Lore of the Hávamál
Hávamál 'Sayings of the high one': a collection of old Norse poems containing advice for living, proper conduct and wisdom.
Ragnarök, The Twilight of the Gods is over, but something went wrong.
Instead of dying heroically in the final battle, Odin One-Eye finds himself working as a bartender, reflecting on past losses and the death of his loved ones.
If this truly was Ragnarök, why didn't the old world end and a new better world emerge?
Summoned via a globe-spanning creative team, Lore of the Hávamál re-imagines the story of Ragnarök.
Come now… join illustrator Jouni Koponen, writers Cat Mihos and Ethan McQuerrey, and colorist Dee Cunniffe on this epic journey through time, and Norse wisdom.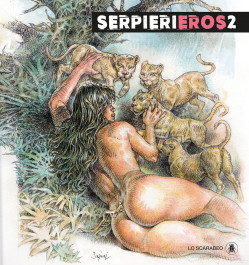 Paolo Eleuteri Serpieri: Serpieri Eros 2
A collection of the most beautiful erotic drawings made by Paolo Eleuteri Serpieri, Druuna's creator, during his life.
Includes a description/introduction in English, in Italian and in Spanish.
.
.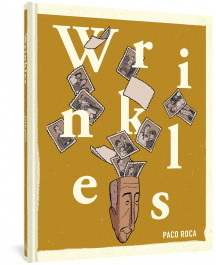 Paco Roca: Wrinkles
Retired bank manager Emilio, suffering from Alzheimer's, is taken to an assisted living home by his son.
He befriends his roommate Miguel, an overconfident ladies' man.
Together, they employ clever tricks to keep the doctors from noticing Emilio's ongoing deterioration — and keep him from being transferred to the dreaded confinement of the top floor of the facility (better to die than to end up there).
Their determination to stay active as individuals and maintain their dignity culminates in an adventurous escape.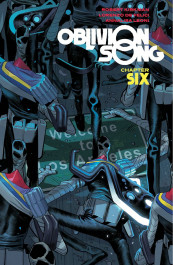 Robert Kirkman & Lorenzo de Felici: Oblivion Song 6
A decade ago, 300,000 citizens of Philadelphia were suddenly lost in Oblivion.
Now, history has repeated as three more cities have swapped dimensions, igniting the final war between humans and Ghozan.
The hit series from visionary The Walking Dead creator Robert Kirkman, Lorenzo De Felici and Annalisa Leoni continues here!
Collects OBLIVION SONG #31-36.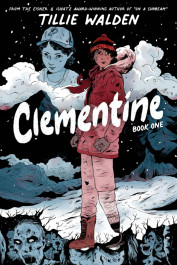 Tillie Walden: Clementine Book One
FROM THE WORLD OF ROBERT KIRKMAN'S THE WALKING DEAD…CLEMENTINE LIVES!
Clementine is back on the road, looking to put her traumatic past behind her and forge a new path all her own.
But when she comes across an Amish teenager named Amos with his head in the clouds, the unlikely pair journeys North to an abandoned ski resort in Vermont, where they meet up with a small group of teenagers attempting to build a new, walker-free settlement.
As friendship, rivalry, and romance begin to blossom amongst the group, the harsh winter soon reveals that the biggest threat to their survival…might be each other.
"Tillie Walden is the future. Her boldly authentic voice brings new heights to the world of The Walking Dead. I couldn't be more proud of what she's doing with this series." –Robert Kirkman ( The Walking Dead, Invincible)
"CLEMENTINE is an arresting exploration of trauma, community, and hope, devastatingly rendered in Tillie Walden's signature style. A triumph of the zombie genre." –Shannon Watters ( Lumberjanes)
"With CLEMENTINE, beloved cartoonist Tillie Walden blows open the WALKING DEAD universe with a story full of blossoming relationships in the shadow of wintery death. It's ominous and magical and will have you craving more when the final page turns." –Chip Zdarsky ( Daredevil, Stillwater)
"CLEMENTINE brings its own distinct voice, style, and sensibility to the Walking Dead universe, which is quite a feat on its own. On top of that, it's an exquisitely drawn story about how to survive trauma and find strength in ourselves and others." –Kelly Sue DeConnick ( Pretty Deadly, Captain Marvel)
"Walden's knack for character development and unique perspective result in a tale perfect for diehard fans of The Walking Dead, as well as newcomers." -Library Journal (starred review)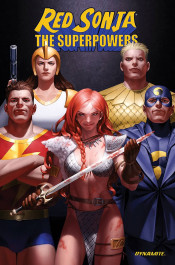 Dan Abnett & Jonathan Lau: Red Sonja – The Superpowers
The She-Devil With A Sword has battled barbaians, scuffled with sorcerers, and mangled magical creatures of all sizes.
But when a collective of superheroes from THE PROJECT enter her world, will Sonja know how to adjust to their foreign ways, before they all kill each other?
…and be sure to pick up the parallel story, VAMPIRELLA: THE DARK POWERS!
.
LEHDET JA KIRJAT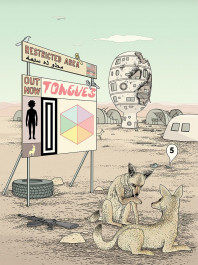 Andreas Nilsen: Tongues #5
Tongues' fifth chapter has arrived!
The packed, 56-page issue is framed by an extended, contentious, three-part conversation between the Prisoner and a certain Unexpected Visitor about the fate of the world.
Their talk takes us back into the ancient past and then ends explosively, altering both parties' prospects and the course of the story generally.
In between, we go underground with Astrid, witnessing an encounter with an adversary, and Teddy Roosevelt and Nico have a rendezvous in the desert that ends… badly.
A few other small beginnings and endings are folded in as well, one of which floats us slowly to distant corners of the earth.
We can't say much more than that without spoiling things. There's some good stuff here.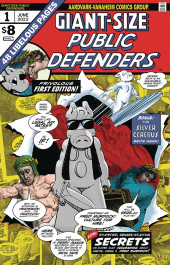 Dave Sim & David Birdsong: Giant-Size Public Defenders #1
Meet Fred Murdock – Cerebus in really dark sunglasses – the wildly successful lawyer in charge of Murdock and Associates.
If you can pay his outrageous fees, justice can be yours!
Actually, we should probably lead with: Frank Miller riffs out the whazoo! Zero chance of Frank doing Daredevil again, right?
So this double-sized issue – forty years after-the-fact – is really the best you can hope for (sad to say).
Special Varkdevil variant cover also available to order!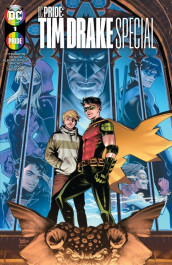 Meghan Fitzmartin & Belén Ortega: DC Pride 2022 – Tim Drake Special #1
The breakout story from Batman: Urban Legends collected in one volume for the very first time, in time for Pride Month!
Tim Drake's search for a missing friend kidnapped by the villains known as the Chaos Monsters leads Tim to realize his identity as a bisexual man.
Collecting the Tim Drake stories from Batman: Urban Legends #4-6 and #10, with a brand-new story that sees Tim teaming up with his former Young Justice teammates and the Batgirls, beginning Tim Drake's 2022 path!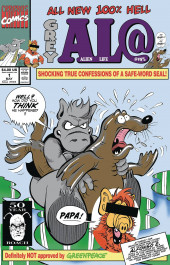 Dave Sim & David Birdsong: Grey Alien Life @#$% #1
Two big features in one issue!
1) Satan in "It's Not Easy Being Me," a behind-the-scenes look at exactly how difficult it is being Satan and manipulating all the evil in the world.
Satan's programs in development: "Are you Sufficiently Ashamed of being white?"
Also! PESTA (People For The Ethical Sexual Treatment of Animals);
Also! Hunter Biden's telepathic Ukrainian-Chinese orange-skinned "honey-pot" Trump porn-tape bobby-soxer nurse alien!
2) Cerebus in "The Case of the Safe-Word Seal," The Infernal Trial of the Century sponsored by The Infernal People's Republic of China and featuring the debut of Matt Dow's Hello Spawnee!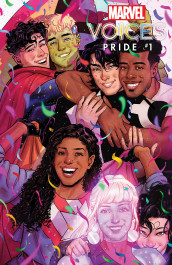 Marvel's Voices – Pride 2022 #1
Hot off a GLAAD Award nomination for 2021's anthology, MARVEL'S VOICES: PRIDE returns for a jam-packed celebration of LGBTQI+ characters and creators!
New York Times-bestselling, multi-award-winning author Charlie Jane Anders introduces a new hero to the Marvel Universe – and it won't be the last you see of them. Get in on the ground floor here!
IRON MAN scribe and lauded TV showrunner Christopher Cantwell takes on Moondragon's complex legacy for a heart-bending story across space and time.
Shuster and Eisner-winning writer Andrew Wheeler makes his Marvel debut with the MU's real god of love – Hercules!
Nebula, World Fantasy, and Locus-award winner Alyssa Wong reunites the Young Avengers in a story guaranteed to please fans new and old!
And that's just the first slice of the rainbow.
MARVEL'S VOICES continues its groundbreaking anthology series with another swoon-worthy glimpse of the world outside your window!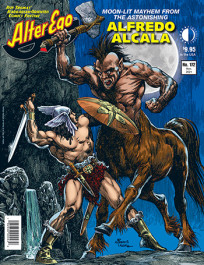 Alter Ego #172
In the 1970s, talented artists from the Philippines were uncrowned kings of the comics—and no one drew more or better than Alfredo Alcala!
He's best known in the U.S. for his dreamscape work on Savage Sword of Conan—but wait'll you get a look at Voltar, the barbarian hero Alcala created before the Cimmerian came to comics!
In Alter Ego #172, Richard Arndt interviews his sons Alfred and Christian, where you'll see the best of the Master's work for Marvel, DC, Warren—and, perhaps most amazingly of all, from his native Philippines, where Alfredo had his own comicbook named after him!
Also: FCA (Fawcett Collectors of America), Michael T. Gilbert in Mr. Monster's Comic Crypt, Peter Normanton digs horror comics history From The Tomb, John Broome, and more!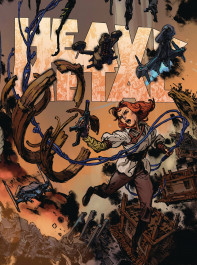 Heavy Metal #317
The final of four interconnected covers by the master illustrator Kim Jung Gi, and a special cover by Steve Aoki.
Wiremonkeys, a new high-octane, science fiction horror series written and illustrated by Dan Schaeffer debuts, with the dirtiest pair of mercenaries you'll ever meet!
The continuing YA horror serial The Axe by Fall Out Boy's lead guitarist Joe Trohman and writer/actor Brian Posehn with Deadpool artist Scott Koblish ramps up toward its multidimensional climax!
The climatic epilogue of Matthew Medney's intergalactic saga Dark Wing with German Ponce is revealed!
THE Rise by George C. Romero and Diego Yapur heads toward the bloody end of its second act!
Death Defied, the historical fiction tale of art in the 20th century by Joe Harris and Federico Pietrobon continues!
KÄYTETYT SARJAKUVAT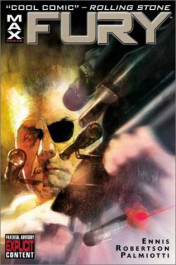 Garth Ennis & Darick Robertson: Fury MAX (K)
Forced into retirement at the closing of the Cold War, government-trained freedom-fighter Nick Fury re-enters the fray when the Agency requests his help in battling the takeover of a third-world island.
.
.
.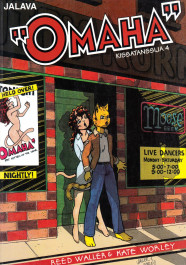 Reed Waller & Kate Worley: Omaha Kissatanssija 4 (K)
Eroottinen saippuaooppera, joka kertoo Omaha-nimisen kissatanssijan elämästä amerikkalaisessa pikkukaupungissa.
.
.
.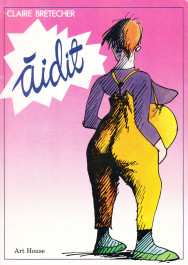 Claire Bretécher: Äidit (K)
KÄYTETTY.
Kansissa kulumaa, selkämyksen ylänurkka saanut osuman.
Claire Bretécheristä (s. 1940) on sanottu, että hän on Ranskan paras sosiologi.
Hänen sarjakuviensa satiiri on osuvaa ja ehdotonta; hän ei kumartele eikä sievistele mitään, vaan käsittelee arkojakin aiheita älykkään ironisella tavallaan.
Äidit-albumi ilmestyi Ranskassa vuonna 1982.
Samana vuonna Helsingin Sanomat aloitti sivuillaan sen julkaisun – nyt Äidit ilmestyy vihdoin suomeksi yhtenä albumina.
Bretécher purkaa äitiyden ja naiseuden myyttiä, satiiri kohdistuu kaikkeen äitiyteen liittyvään: raskauteen, synnytykseen, äidinrakkauteen, kierukan poistoon, lasten kasvatukseen.
OHEISTAVARAT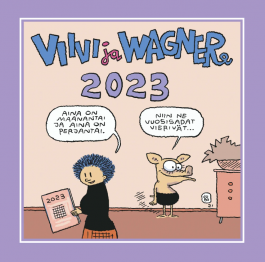 Juba Tuomola: Viivi ja Wagner -seinäkalenteri 2023
Sikamainen – mutta aina yhtä vastustamaton!
Wagneriaanista filosofiaa koko vuoden tarpeisiin.
Mukana nimipäivät ja juhlapyhät.
.