Luettelo:
Kotimaiset uutuudet
Manga-uutuudet
Ennakkotilaukset
Ennakkotilaukset
Ulkomaiset uutuudet
Lehdet ja kirjat
Alkuun
KOTIMAISET UUTUUDET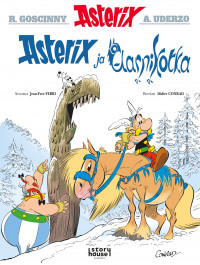 Jean-Yves Ferri & Didier Conrad: Asterix 39 – Asterix ja aarnikotka
Asterix, Obelix, Idefix ja tietäjä Akvavitix lähtevät etsimään arvoituksellista ja pelottavaa olentoa, aarnikotkaa.
Minne Jean-Yves Ferrin ja Didier Conradin kynäilemä uusin tarina sanakarimme tällä kertaa vie ja miksi?
.
.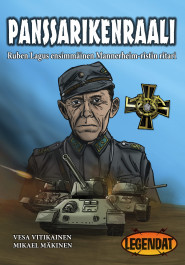 Vesa Vitikainen & Mikael Mäkinen: Panssarikenraali
Nuori Ruben Lagus lähti salaa veljensä kanssa Saksaan 1915.
He liittyivät Preussin jääkäripataljoona 27:ään saamaan sotilaskoulutusta ja palasivat Suomeen sisällissodan melskeisiin. Molemmat osallistuivat valkoisten joukouissa mm. Tampereen valtaukseen.
Veljensä Olofin surullisesta kohtalosta huolimatta Ruben Lagus jäi armeijaan. Hän palveli kouluttajana kadettikoulussa, ja talvisodan sytyttyä Kannaksella mm. rintamakomentajana.
Välirauhan aikana tie vei taas Saksaan oppimaan salamasodankänytiä.
Talvisodassa Suomen panssarijoukot olivat lähes olemattomat, mutta jatkosodassa Laguksen perustama panssaridivisioona osallistui merkittäviin taisteluihin, ja Lagusta kutsuttiinkin "Suomen Rommeliksi".
Laguksen tarinan sarjakuvaksi on kirjoittanut Vesa Vitikainen ja kuvittanut Mikael Mäkinen.
MANGA-UUTUUDET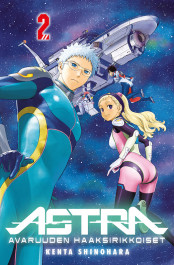 Kento Shinohara: Astra – Avaruuden haaksirikkoiset 2
Osa 2/5.
Astra jatkaa matkaansa halki äärettömän avaruuden.
Joku haluaa sen miehistön kuolevan, mutta onko hän itsekin valmis kuolemaan saavuttaakseen tavoitteensa?
Toisiaan epäilevät matkalaiset valmistautuvat laskeutumaan planeetta Shummoorille.
Selviytyvätkö he kaikki sen kamaralta hengissä?
Scifi/seikkailu / Ikäsuositus: 11+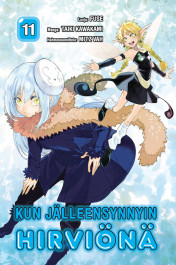 Taiki Kawakami: Kun jälleensynnyin hirviönä 11
Osa 11/18+
Shizun entisiä oppilaita uhkaa varma kuolema, jos Rimuru ei keksi keinoa auttaa heitä.
Hän joutuukin matkaamaan Henkien kotiin pyytämään apua henkikuningattarelta.
Onneksi limallamme on jo kokemusta suloisista, sekopäisistä ja katastrofaalisen voimakkaista olennoista, sillä sellaisia osuu tämänkin reissun varrelle…
Fantasia / Ikäsuositus: 12+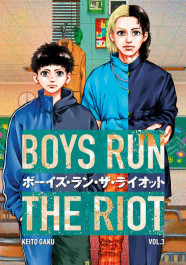 Keito Gaku: Boys Run the Riot 3
Sales for Boys Run the Riot skyrocket when the famous LGBTQ YouTuber WING introduces the brand to their fans…but in the process, also outs Ryo as transgender to the whole world!
With his secret now out in the open, Ryo is left to face the confusion of his classmates—most of all from his best friend and crush, Chika—and finds that the regret of staying silent is sometimes worse than the silence itself.
Meanwhile, WING has a secret of their own that will soon come back to bite them and stir up an internet mob….
Alkuun
ENNAKKOTILAUKSET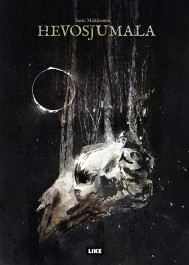 Sami Makkonen: Hevosjumala (ENNAKKOTILAUS)
ENNAKKOTILAUS. ARVIOITU ILMESTYMISPÄIVÄ 17.1.2022.
Hyytävä sarjakuvaseikkailu suomalaisilla korpimailla.
Nuori perhe on ostanut unelmiensa täyttymyksen: ränsistyneen kesähuvilan kaukaa kotoa. Kesä on kaunis ja kuuma, mutta naapurustossa tapahtuu jotain pahaenteistä. Jo kauan sitten kylvetyt kauhun siemenet ovat taas alkaneet itää.
Eri aikatasoilla liikkuva kertomus vie lukijan spriraalimaisesti yhä syvemmälle korpimetsän kartoittamattomiin varjoihin ja kohti vääjäämätöntä tragediaa.
Kalevalan tulkinnallaan säväyttänyt Sami Makkonen jatkaa kulttuurimme pimeiden puolien tarkastelua. Hän yhdistää yliluonnollisen kauhun okkultismiin ja kansan uskomuksiin. Rujo mutta silti herkkä piirrosjälki tukee taiturimaista juonenkuljetusta tehokkaasti..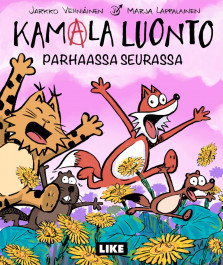 Jarkko Vehniäinen & Marja Lappalainen: Kamala luonto – Parhaassa seurassa (ENNAKKOTILAUS)
ENNAKKOTILAUS. KIRJA ILMESTYY TAMMIKUUSSA 2022.
Parhaassa seurassa Kamalassa luonnossa!
Ilves ja kärppä viettävät kaiken aikansa yhdessä, välillä ärsyyntyvät toisiinsa ja sitten ovat taas parhaita ystäviä.
Kettu kiitää tapansa mukaan tunteiden äärilaidasta toiseen niin että kaverit eivät perässä pysy, hirvi etsii edelleen sitä oikeaa ja jänöt tuskailevat parisuhteidensa kanssa.
Introvertti majava halajaa omaan rauhaan mutta kaipaa seuraa, karhu uhkaa pilata kaiken öykkäröinnillään ja pöllö unohtelee asioita vanhaan malliin.
Kuitenkin heillä kaikilla on toisensa – ja mikäpä olisi elämässä sen tärkeämpää!
Suosittujen sanomalehtistrippien teemana on tällä kertaa ystävyys. Tästä albumista löytyy elämän tarkoitus sateisenakin päivänä!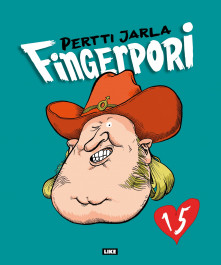 Pertti Jarla: Fingerpori 15 (ENNAKKOTILAUS)
ENNAKKOTILAUS. KIRJA ILMESTYY TAMMIKUUSSA 2022.
Taas tömähtää tuhti latinki huumoria suoraan Fingerporista!
Uuden albumin kansinaamana on tällä kertaa päivän ja yön sankari, aikuisviihdetähti Urho Puuma.
Monenlaisessa seurassa viihtyvä Urho on kuin kotonaan ihmekaupunki Fingerporin kirjavan kansan joukossa.
.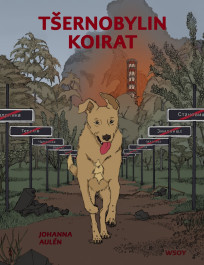 Johanna Aulén: Tšernobylin koirat (ENNAKKOTILAUS)
ENNAKKOTILAUS. ARVIOITU ILMESTYMISPÄIVÄ 15.3.2022.
Tšernobylin koirat kertoo maailman tuhoisimmasta ydinvoimalaonnettomuudesta ja koirista, jotka sinnittelevät ihmisten hylkäämällä vyöhykkeellä.
Neuvostoliittolainen Tšernobylin ydinvoimala räjähti 26.4.1986. Onnettomuus aiheutti laajoja radioaktiivisia päästöjä ja muutti voimalan lähialueet asuinkelvottomiksi. Mutta vaikka ihmiset evakuoitiin, Tšernobylin eläimet jäivät oman onnensa nojaan.
Haastatteluihin ja tutkimuksiin perustuva Tšernobylin koirat kertoo kahden koiran – Bobikin ja Gamman – kautta Tšernobylin onnettomuudesta ja elämästä suljetulla vyöhykkeellä nyky-Ukrainassa. Komeasti kuvitettu dokumentaarinen sarjakuva on kertomus luonnon ja ihmisen sitkeydestä.
Johanna Aulén (s. 1981) on vantaalainen graafikko, animaattori ja kuvataideopettaja, joka vieraili Tšernobylin ydinvoimala-alueella vuonna 2019. Hän on tehnyt matkastaan myös kuvitetun reportaasin Ylen Kulttuuricocktailille.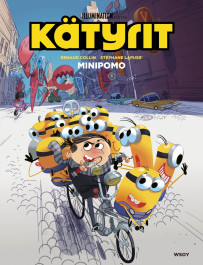 Renaud Collin & Stéphane Lapuss': Kätyrit – Minipomo (ENNAKKOTILAUS)
ENNAKKOTILAUS. ARVIOITU ILMESTYMISPÄIVÄ 28.6.2022.
Kätyrit: Grun tarina -elokuva saa ensi-iltansa heinäkuussa 2022.
Värikkäässä sarjakuva-albumissa tapaat herttaiset ja tuhovoimaiset Kätyrit itsenäisissä, sivun pituisissa tarinoissa, joita ei nähdä valkokankaalla.
Kätyrit: Grun tarina saapuu elokuvateattereihin kesällä 2022, ja banaaneja rakastavat ilkikuriset pienet olennot ovat taas täällä palvellakseen ilkimysherraansa!
Tämä upouusi sarjakuva-albumi tarjoaa lisää aina odottamattomien Kätyrien kaoottista menoa ja kommelluksia. Pääosassa ovat nämä kaikkien rakastamat keltaiset olennot, joiden uskollisuus herralleen on vankkumatonta!
Ja mukana on myös 12-vuotias Gru.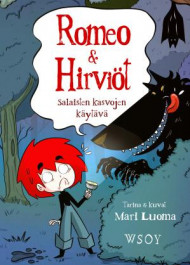 Mari Luoma: Romeo & Hirviöt – Salaisten kasvojen käytävä (ENNAKKOTILAUS)
ENNAKKOTILAUS. ARVIOITU ILMESTYMISPÄIVÄ 15.8.2022.
Kotimainen nuorten sarjakuva, kauhusarja Romeo & Hirviöt saa kaivattua jatkoa, jossa Addisonin sukukartanon erikoiseen kouluun ilmestyy taas uusi oppilas.
Romeo ja Jillian yllättyvät, kun Addisonien kartanon ovelle saapuu Lina-niminen tyttö, joka ilmoittaa hänkin olevansa puhdasverinen Addison.
Mutta onko hänellä varmasti puhtaita jauhoja pussissaan ja pärjääkö hänkään Jean-Julienin aavemaisilla ranskantunneilla?
Kun kartanon saloja tutkinut Jillian johdattaa Romeon Salaisten kasvojen käytävään, isoisoisoisosetä Augustus Albertin ja koko kummituskartanon karmiva menneisyys alkaa pikkuhiljaa paljastua…
Ikäsuositus: 9+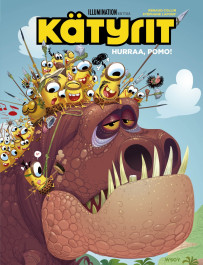 Renaud Collin & Stéphane Lapuss': Kätyrit – Hurraa, pomo! (ENNAKKOTILAUS)
ENNAKKOTILAUS. ARVIOITU ILMESTYMISPÄIVÄ 28.9.2022.
Kätyrit: Grun tarina -elokuva saa ensi-iltansa kesällä 2022.
Värikkäässä sarjakuva-albumissa tapaat herttaiset ja tuhovoimaiset Kätyrit itsenäisissä, sivun pituisissa tarinoissa.
Hurraa, pomo! on kohellusta täynnä oleva kokoelma Kätyrien elokuvissa näkemättömiä edesottamuksia ja katastrofaalisia keksintöjä läpi historian – niin kivikaudella antiikin Egyptissä kuin vanhassa Villissä Lännessäkin, meidän aikojamme ja avaruusvisioita unohtamatta.
Hyppää kyytiin!
ULKOMAISET UUTUUDET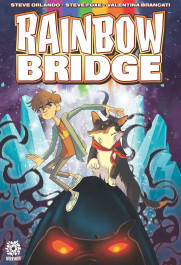 Steve Orlando & Valentina Bianconi: Rainbow Bridge
RAINBOW BRIDGE is an original graphic novel from Steve Foxe and Steve Orlando – the first to be published under AfterShock's new YA imprint: SEISMIC PRESS.
What if the Rainbow Bridge was the Bifrost?
ANDY's parents rescued ROCKET when Andy was just a toddler, and they grew up together, with Rocket serving as Andy's guardian through every one of childhood's ups and downs.
So when Rocket passes away right before Andy's 14th birthday, he's rudderless.
High school is coming soon and he can't imagine making that transition without Rocket at his side.
The day before school starts, when Andy is at his lowest, he visits Rocket's grave, and unexpectedly summons the RAINBOW BRIDGE, a gateway to a fantasy world where pets discover their afterlife.
One part heaven and one part limbo, this is a final resting place for pets – but also a realm where any unfinished business must be completed, before restless pet souls twist into bizarre, seemingly malevolent wraiths that haunt the periphery of this otherwise splendid paradise.
It's extremely rare for a human to visit this realm, but Rocket and Andy find each other again in this wondrous pet Valhalla to go on one last epic adventure to help Rocket reunite with his lost littermate, fulfilling Rocket's last wishes.
Here, the roles are reversed, as Andy has to be the strong one and support Rocket in his quest for closure. By adventure's end, Andy finally gains the confidence to let go of his childhood and enter the next phase of his life, starting his first day of high school.
RAINBOW BRIDGE is aimed primarily at younger readers, on the border of middle grade and YA, but should resonate with anyone who has ever had to say goodbye to a beloved pet – or anyone who greeted growing up with nervousness and anxiety.
Like JOE THE BARBARIAN before it, RAINBOW BRIDGE can address the lines between reality and fantasy (although everything in the book is portrayed as actually happening), wish fulfillment and personal growth, childhood and young adulthood. There are also themes of overcoming trauma, and of compassion for animals.
The Realm Beyond the Rainbow Bridge is shaped by its inhabitants, and contains vast fantasy vistas inspired by the adventures pets and their owners, especially kids, imagine for themselves.
Hannu Kesola & Sauli Jokinen: Dirty America
The year is 1976. The place is Texas.
Roy, Harry, and John have been best friends for nearly five decades.
However, the trio find their friendship tested after an ill-fated hunting trip turns deadly. Can John, now the town sheriff, make things right as their small Texas town turns into a stage for a brutal murder?
.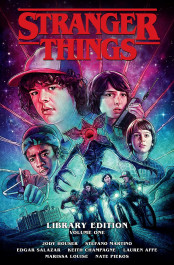 Stranger Things Library Edition 1
Collected for the first time in beautiful hardbound library editions, these graphic novel coming-of-age horror stories tap into the isolation, loss and fears of the kids from the show while highlighting their bravery and resiliency.
Experience more 80's horror nostalgia with this hardcover collection of two complete graphic novels, Stranger Things: The Other Side and Stranger Things: Science Camp.
Offering a new perspective on the events of the hit Netflix show, The Other Side follows Will Byers after he has been pulled into a mysterious nightmare realm. Isolated, disoriented and scared, he quickly realizes he isn't alone—monsters lurk around every corner, and they are hunting him.
In Science Camp, Dustin Henderson arrives at Camp Know Where anxious about spending the summer away from his friends after they saved their town from eldritch horrors.
It doesn't take long for him to find bullies to defeat, and fellow nerds to befriend.
When a spooky masked figure starts making camp counselors disappear, the solution won't take rocket science. Dustin gathers a crew of geeks to save their camp – and possibly their own lives.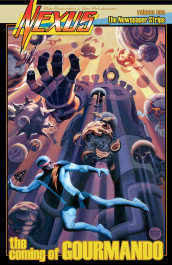 Mike Baron & Steve Rude: Nexus the Newspaper Strips 1 – The Coming of Gourmando
Something long dormant beneath the surface of Ylum comes alive, triggering a visit from the planet-devouring Gourmando and his mysterious ally.
With powers far beyond those of even Nexus himself, this unstoppable being banishes Nexus to an unknown realm–and the only way out is to face one's worst fears!
Mike Baron and Steve Rude deliver a new Nexus adventure in this special collection that also includes the newly-remastered Nexus: The Origin comic and the classic Rude hand-painted Sundra story, When She was Young.
LEHDET JA KIRJAT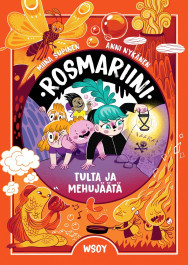 Minna Supinen & Anni Nykänen: Rosmariini 2 – Tulta ja mehujäätä
Tulta päin, tattiaiset!
Kokkiklubilaisten hurjat seikkailut jatkuvat tulivuoren sisuksissa! Pursuileva Rosmariini-sarja iskee huumorin kipinöitä etenkin alakoululaisille lukijoille.
Michelin, Madeleine, Slaissi ja Bebe matkaavat takaisin Kumarian hullunkuriseen taikamaailmaan. Vastassa on vuosisadan villein vesipuisto, kimaltavasuomuisia kalaihmisiä sekä tulta puskeva tulivuorigrilli, jossa Rosmariini laittaa ruokaa hiki hatussa.
Kokkiklubilaiset joutuvat entistä hurjempaan seikkailuun pelastaessaan taikavispilää – ja samalla koko Kumariaa – sokkeloisen tulivuoren sisuksista.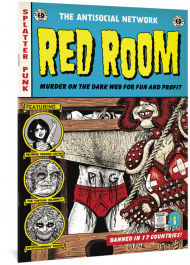 Ed Piskor: Red Room #4
The breakout smash hit of 2021 wraps up its debut four-issue monthly "season" with a trio of tales inspired by the great EC Comics such as Tales from the Crypt and focusing on Donna Butcher, the original Queen of the Red Rooms!
"Cyclical Territory," "Pure Evil," and "Snuff Said" explore Butcher's origins in the VHS/Betamax era of torture porn before twisting into a contemporary revenge fantasy gone wrong.
Another stand alone masterpiece from creator of X-Men: Grand Design and Hip Hop Family Tree! As seen on Cartoonist Kayfabe (YouTube)!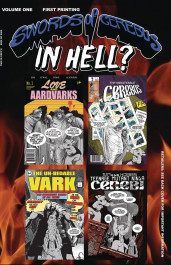 Dave Sim & Sandeep Atwal: Swords of Cerebus in Hell? 4
Cerebus' adventures in Hell? (with a question mark) continue!
Featuring Jingles' 10 CGC-graded copies of Love & Rockets No. 21;
If only Cerebus had married Maggie and Hopey;
Cerebus develops "Cerebus Go";
God vs. Tarim;
"Aardvark Amuck";
Infernal Realms Police Training;
John Lennon in Hell?;
Dante starts a dating site;
Cerebus is an S.G.A. seeking a P.O.P.;
Dante seeks Less Talkative Beatrice;
The Batvark Codpiece goes Viral;
No boy sidekicks for Batvark;
Giant Fire-Breathing Nintendo Dragon Parallel Universe Video-Game Robot Reboot apps;
and more!
Collects Love and Aardvarks #1, The Undateable Cerebus #1, The Un-Bendable Cerebus #1, and Teenage Mutant Ninja Cerebi #1.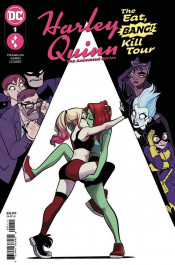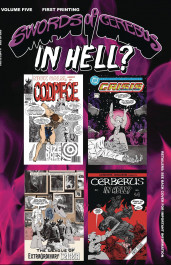 Dave Sim & Sandeep Atwal: Swords of Cerebus in Hell? 5
Further collecting Cerebus' adventures in Hell? (with a question mark)!
Including:
"Cash On Delivery Penis in Every Canadian Expresspost";
Cerebus appoints the Whore of Babylon Governor of the Bank of Canada;
The computers are eating our pens;
"Bohemian Rhapsody" "on-hold" music;
What it means when a Muslim calls you a "whore";
The 31 Gender Pronouns;
Dead Cerebus balloon in the Macy's Thanksgiving Day Parade;
Betty the Aardvark-Molesting-Nursing-Assistant Bird;
The Legion of Cerebus-Balloon-Handlers;
and much more.
Collects Nick Calm, Agent Of Codpiece #1 (August 2018); Crisis on Infinite Cerebi #1 (September 2018); The League of Extraordinary Cerebi #1 (October 2018); and Cerberus In Hell? #1 (November 2018).