Luettelo:
Kotimaiset uutuudet
Manga-uutuudet
Ulkomaiset uutuudet
Lehdet ja kirjat
Käytetyt sarjakuvat
Alkuun
KOTIMAISET UUTUUDET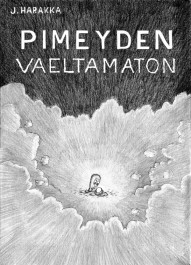 Jarkko Harakka: Pimeyden Vaeltamaton
Onko jotain pimeyden ja usvan tuolla puolen?
Siihen etsii vastausta pimeyden asukas.
.
.
Alkuun
MANGA-UUTUUDET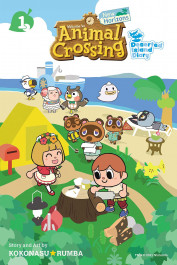 Kokonasu Rumba: Animal Crossing – New Horizons 1: Deserted Island Diary
Join your favorite characters from Animal Crossing™ – New Horizons for all-new adventures in this official manga!
Read the gag-filled adventures of four goofy residents living among the Animal Crossing™ – New Horizons characters.
Includes a bonus Animal Guide with game tips!
.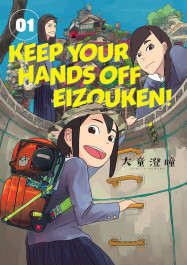 Sumito Oowara: Keep Your Hands Off Eizouken! 1
Midori loves to design worlds.
Tsubame loves to animate.
Sayaka loves to make money!
And at Shibahama High, they call them Eizouken–a three-girl club determined to produce their own spectacular science fiction anime!
But with no budget from their school and a leaky warehouse for a studio, Eizouken is going to have to work hard and use their imagination…the one thing they've got plenty of!
Now an anime series from Masaaki Yuasa, director of the Netflix fan favorite Devilman Crybaby, Keep Your Hands Off Eizouken! was nominated for the Manga Taisho Award as one of the 10 best new manga of 2018!
ULKOMAISET UUTUUDET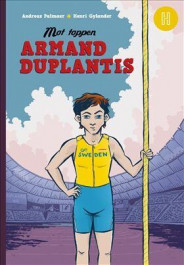 Andreas Palmaer & Henri Gylander: Armand Duplantis
Armand "Mondo" Duplantis är den bästa stavhopparen genom tiderna, men hur blev han det?
I denna fartfyllda serieroman får vi följa Armand från uppväxtåren i USA fram till världsrekord.
Det här är berättelsen om en fenomenal talang som med hjälp av sin kärlek till stavhopp, sin vinnarskalle och sin envishet har tagit rekord efter rekord. Boken innehåller också en massa fakta om stavhopp!
Mot toppen är en ny serie om sporttalanger och deras väg mot sina mål.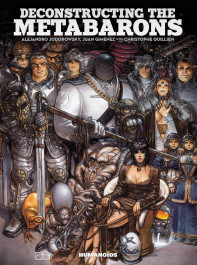 Deconstructing the Metabarons
The second reference guide to the Jodoverse, focused on unveiling the secrets of the Universe's fiercest warrior clan: the Metabarons.
Deconstructing the Metabarons sheds light on the secrets surrounding the celestial clan of warriors, first introduced in the the seminal science-fiction graphic novel, which has become the cornerstone of the Jodoverse, The Incal.
This encyclopedic reference book is packed with fascinating insights from the Metabaron's original creators, Jodorowsky and Mœbius, alongside revealing text, and rare and unseen preliminary illustrations from Juan Gimenez.
Discover the complexities of the Metabarons' sacred bloodline, traveling all the way their inception, through the tales of the intricacies of the expanded Universe and into the recent relaunch, The Metabaron.
Writer : Christophe Quillien
Collaboration : Alejandro Jodorowsky & Juan Gimenez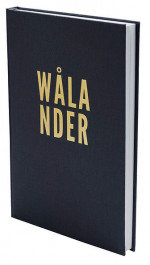 Seppo Oförsagd: Wålander
Wålander on eläköitynyt pikkukaupungin virkamies, joka puntaroi omaa kohtaloaan ja hukatun elämän todennäköisyyttä aina maailmaa ihmetellessään.
.
.
.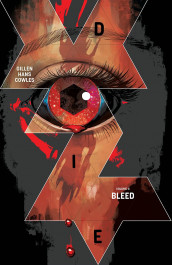 Kieron Gillen & Stephanie Hans: Die 4 – Bleed
We've had dragons.
The award-winning bleak deconstruction couldn't end without turning its unblinking eye upon a dungeon.
There's no escape.
There's only down.
Collects issues #16-20 of DIE.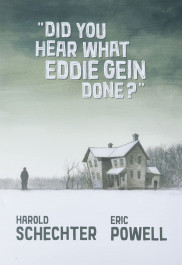 Harold Schechter & Eric Powell: Did You Hear What Eddie Gein Done?
One of the greats in the field of true-crime literature, Harold Schechter (Deviant, The Serial Killer Files, Hell's Princess) teams with five-time Eisner Award-winning graphic novelist Eric Powell (The Goon, Big Man Plans, Hillbilly) to bring you the tale of one of the most notoriously deranged murderers in American history, Ed Gein.
This book provides an in-depth exploration of the Gein family and what led to the creation of the necrophile who haunted the dreams of 1950s America and inspired such films as Psycho, The Texas Chainsaw Massacre, and The Silence of the Lambs.
Painstakingly researched and illustrated, Schechter and Powell's true-crime graphic novel takes the Gein story out of the realms of exploitation and gives the reader a fact-based dramatization of these tragic, psychotic, and heartbreaking events.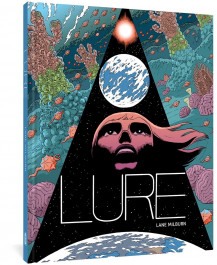 Lane Milburn: Lure
In this SF graphic novel, a group of idealistic young artists from Earth are commissioned to collaborate on a corporate art project for a planet that has been colonized for luxury living.
The world's elite use the ocean planet of Lure as a luxury vacation hub for a decade.
But when climate change threatens Earth's long-term habitability, many of those who can afford it move to Lure for good.
When the opportunity to work there for a year is offered to visual artist Jo Sparta, as part of a group of artists collaborating on a large-scale installation of public art, it seems like the chance of a lifetime.
But then, Jo stumbles across a nefarious plot by her corporate benefactors and feels compelled to go public.
Lure showcases Milburn's rich visual imagination, with the planet Lure itself an ever-seductive, otherworldly paradise against which he spotlights themes of climate change, the disparity of wealth, and the value of art ― all in the service of a grippingly moral thriller.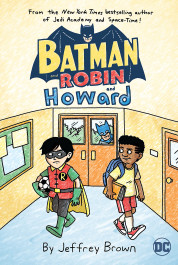 Jeffrey Brown: Batman and Robin and Howard
Sidelined by a crime-fighting field trip gone wrong, Damian Wayne must refocus his attention on his life as an average student and learning how to be a team player–especially when he meets his match in his new rival, Howard.
To Damian Wayne, there is nothing more important than protecting the streets of Gotham City as Robin.
But when he makes a critical mistake while out on patrol, Damian finds himself benched. And what's more, Damian's dad, Bruce Wayne–a.k.a. Batman–decides that starting over in a new school will be just the distraction Damian needs from his superhero routine.
Certain that Gotham Metro Academy has nothing to teach him, Damian is completely unprepared for the challenge he finds in Howard–the smartest and most athletic kid in school.
The boys' rivalry is instantaneous and fierce…and both are sure only one of them can be the best in their class.
What follows is a funny story of rivalry, friendship, and mystery from bestselling author and illustrator Jeffrey Brown.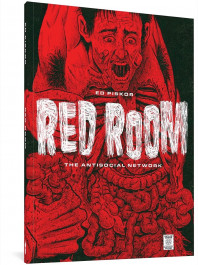 Ed Piskor: Red Room – The Antisocial Network
A cyberpunk, outlaw, splatterpunk masterpiece from the New York Times bestselling creator of Hip Hop Family Tree and X-Men: Grand Design!
Aided by the anonymous dark web and nearly untraceable cryptocurrency, a criminal subculture has emerged.
It livestreams murders as entertainment. Who are the killers?
Who are the victims?
Who is paying to watch?
How to stop it?
Red Room is constructed as a series of interconnected stories, shining a light on the characters who exist in the ugliest of corners in cyberspace. Piskor cuts the graphic horror with his sharp sense of humor, gorgeous cartooning, and dynamic storytelling.
Red Room peels back the curtain on the side of humanity few of us knew existed, let alone understood. Fans and followers of Piskor's YouTube channel sensation, Cartoonist Kayfabe, have already made Red Room: The Antisocial Network one of the most eagerly anticipated and talked-about releases of 2021.
It is the first in a series of graphic novels, with the second scheduled for release in Summer 2022..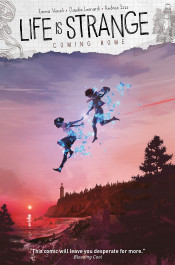 Emma Vieceli & Claudia Leonardi: Life Is Strange 5 – Coming Home
The fifth volume of the comic series based on the Bafta Award-winning Square Enix video game Life is Strange, following the strange and wonderful tales of time-travelling Max Caulfield!
Collects issues #17-20 of the hit Life is Strange comic series, set after the events of the BAFTA-winning video game series!
.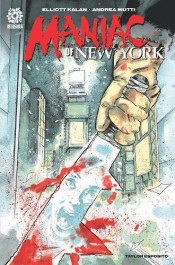 Elliott Kalan & Andrea Mutti: Maniac of New York
Four years ago, a masked slasher began stalking the streets of New York City.
Maniac Harry is inhuman, unkillable and unstoppable.
Which is why the authorities' solution has been to ignore him, and let New Yorkers adapt to a world where death can strike at any moment.
When Maniac Harry starts killing his way through the subway system, trauma-haunted political aide Gina Greene and disgraced NYPD detective Zelda Pettibone become determined to go rogue and destroy him.
But how can they fight a monster when they can't fight City Hall?
From Emmy Award-winning writer Elliott Kalan (The Daily Show, MST3K, Spider-Man & The X-Men) and artist Andrea Mutti (Port of Earth, Hellblazer) comes the horrifying story of what happens when terror becomes the new normal. A frightening, thought-provoking, sometimes funny, always timely tale of murder, obsession and urban living.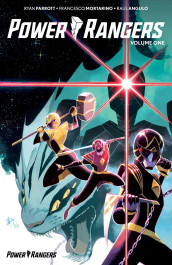 Ryan Parrott & Francesco Mortarino: Power Rangers 1
A new Power Rangers team comes together to battle a new cosmic threat – and only Lord Drakkon, their greatest enemy, can save them!
It's a new beginning perfect for longtime fans and new readers alike.
Only the original Power Rangers, now known as the Omega Rangers – Jason, Trini and Zack – can hope to defeat a new cosmic threat, but their secret weapon is… the villainous Lord Drakkon?!
Zordon forbids the new Power Rangers team from contacting Drakkon, so if they want to save the universe then they'll have to go rogue – and go up against their Mighty Morphin allies. But will Drakkon be their ally…or the one who dooms them all?
Superstar writer Ryan Parrott (Mighty Morphin Power Rangers/Teenage Mutant Ninja Turtles) and fan favorite artist Francesco Mortarino (Firefly: Bad Company) introduce the UNLIMITED POWER era, perfect for longtime fans and new readers alike – and nothing will ever be the same!
Collects Power Rangers #1-4.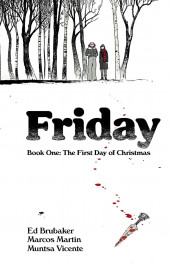 Ed Brubaker & Marcos Martin: Friday 1 – The First Day of Christmas
Finally in print – a genre-defying post-YA masterpiece from two of comics most acclaimed talents!
A young adult detective hero finally grows up, in the first volume of this new hit series from award-winning creators Ed Brubaker (Reckless, PULP, Kill or be Killed) and Marcos Martin (The Private Eye, Daredevil), with brilliant colors by Muntsa Vicente.
Friday Fitzhugh spent her childhood solving crimes and digging up occult secrets with her best friend Lancelot Jones, the smartest boy in the world.
But that was the past, now she's in college, starting a new life on her own. Except when Friday comes home for the holidays, she's immediately pulled back into Lance's orbit and finds that something very strange and dangerous is happening in their little New England town…
This is literally the Christmas vacation from Hell and neither of them may survive to see the New Year..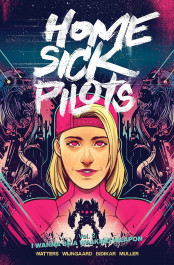 Dan Watters & Caspar Wijngaard: Home Sick Pilots 2 – I Wanna Be a Walking Weapon
There is a haunted house that has learned to walk.
As it chases them across the country, Ami, lead singer of the Home Sick Pilots, regrets teaching it how.
But when the military attempt to develop their own ghost-powered weapon, the Old James House might be the only defense the world has from what they unleash.
Collects issues #6-10 of HOME SICK PILOTS.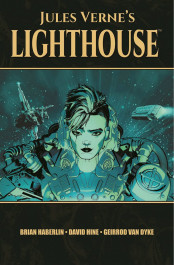 Brian Haberlin & David Hine: Jules Verne's Lighthouse
In this adaptation of the Jules Verne classic, set in the year 2717, The Lighthouse is a supercomputer the size of a skyscraper that guides space craft through a turbulent sea of wormholes.
Maria Vasquez has chosen this isolated base to escape her troubled past, but now she and her glitchy nanny bot, Moses, are the only ones who can stop a crew of murderous pirates from seizing the most devastating weapons ever created.
COLLECTS JULES VERNE'S LIGHTHOUSE #1-5.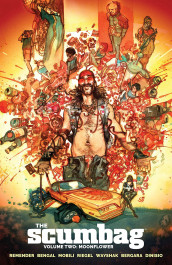 Rick Remender: The Scumbag 2 – Moonflower
Central Intelligence sends Ernie to the moon to stop Madam Hive, the leader of a cult hellbent on brain-washing the world into loving one another.
Ernie, never one to turn down free love, is conflicted.
Is Agent Scumbag capable of doing the right thing?
Can he even tell what that is?
Collects THE SCUMBAG #6-10.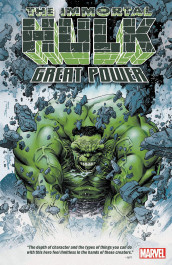 Immortal Hulk – Great Power
The Immortal Hulk stars in tales to astonish from some of the most incredible talents in comics!
When Bruce Banner wakes up as himself in the dead of night, he thinks he's finally free.
But the Hulk is immortal — and he has a new alter ego: Peter Parker!
Then, after a young girl goes missing on a Kansas farm, Banner searches for answers. But this town doesn't take kindly to strangers…especially the big, green, violent kind.
When a new gamma-powered villain shows up in a small New Mexico town, Bruce is forced to confront the source of his anger…and it's not what you expect!
And 10,000 years ago, who was the first to open the immortal Green Door?!
COLLECTING: Immortal Hulk: Great Power (2020) #1, Immortal Hulk: The Threshing Place (2020) #1, Immortal Hulk: Flatline (2021) #1, Immortal Hulk: Time of Monsters (2021) #1.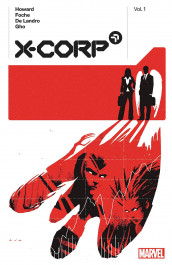 Tini Howard: X-Corp by Tini Howard 1
Krakoa is for closers!
The deals have been made. Mutantkind is safe on its new island nation.
As the Reign of X continues, what are the wants of the mutants who have everything?
Leading the charge is X-Corporation, headed by CXOs Monet St. Croix and Warren Worthington — a duo as cutthroat and ruthless in the boardroom as they are on the battlefield.
But X-Corp needs more than just its figureheads.
And as Monet sets out to staff their team with some of the brightest and most devious mutant minds available, Warren finds himself in a tense meeting with one of Krakoa's first allies, who wants to know the truth: on Angel's wings, will X-Corp crash or soar?
COLLECTING: X-Corp (2021) #1-5.
LEHDET JA KIRJAT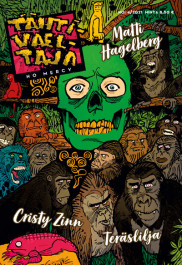 Tähtivaeltaja #159 (4/21)
Mukana mm.
– Tohtori Matti Hagelbergin Läskimooses
– Cristy Zinne: Tyttö joka tuijotti Marsia (novelli)
– Rakkautta & anarkiaa 2021
– Teräslilja: Vaaliuurnahautaus (sarjakuva)
.
KÄYTETYT SARJAKUVAT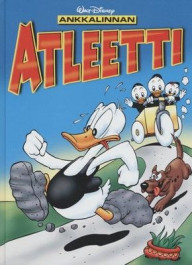 Ankkalinnan atleetti (K)
KÄYTETTY.
Aku Ankkaa ei aina tule ajatelleeksi mestariatleettina, mutta harva on kokeillut kilpamielessä yhtä montaa lajia kuin hän.
Yleisurheilu, jalkapalloilu, mäkihyppy ynnä mansikansyöntikisat – Aku on ehtinyt esitellä kykyään epäonnistua suuren maailman tyyliin liki lajissa kuin lajissa. Samaa latua tuntuu sujuvan ankkaystävämme arkikin: suurta uhoa seuraa väistämättä karu paluu maanpinnalle.
William Van Hornin, Feriolin, Rodriquesin ja muiden mestareiden sarjakuvat saavat väkisinkin ymmärtäväisen hymyn karehtimaan lukijan nokassa.