Luettelo:
Kotimaiset uutuudet
Manga-uutuudet
Ulkomaiset uutuudet
Lehdet ja kirjat
Käytetyt sarjakuvat
Alkuun
KOTIMAISET UUTUUDET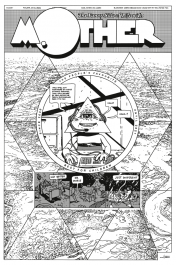 Heikki Rönkkö: The Funny Side of Life with M. Other
New jokes & no jokes.
.
.
.
MANGA-UUTUUDET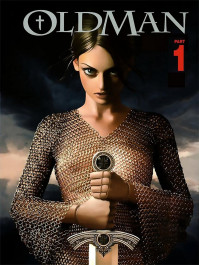 Chang Sheng: Oldman 1
A beautiful queen rules her country with an iron fist.
Unmarried and without an heir, she adopts orphans as a way to prove that even commoners can reign as kings.
Yet, as the years progress, she shows no sign of aging. Only one man knows the dark secret to her eternal youth: Oldman, a bearded magician the queen has locked in her darkest dungeon.
One night, Oldman steps through the bars of his prison and disappears before the queen's very eyes. Enraged, she sends her army after him in a desperate campaign to keep her secret hidden.
Having tricked the guards (and not actually having left the dungeon), he rescues a neighboring prisoner, a sword maiden rebel whose arms and legs were amputated, and left to rot in her cell. Upon taking her to an underground doctor who fits her with mechanical arms and legs, they together vow to take revenge on the Queen that wronged them.
The beautiful artwork and elegant story-making of Chang-Sheng's Oldman propelled it into award-winning national fame; now, this iconic comic is ready for the global audience it deserves.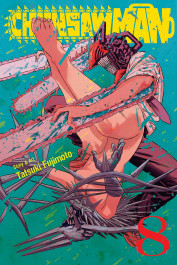 Tatsuki Fujimoto: Chainsaw Man 8
Broke young man + chainsaw dog demon = Chainsaw Man!
Denji was a small-time devil hunter just trying to survive in a harsh world.
After being killed on a job, he is revived by his pet devil-dog Pochita and becomes something new and dangerous—Chainsaw Man!
As Quanxi and the members of the Special Division battle it out over Denji, the mysterious Santa Claus makes his move. But things are not as they appear, and nobody will be prepared for the darkness and despair about to be unleashed!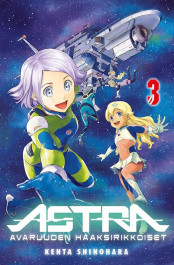 Kento Shinohara: Astra – Avaruuden haaksirikkoiset 3
Osa 3/5.
Avaruuteen kadonneiden lukiolaisten pitkän kotimatkan kolmas planeetta Arispade osoittautuu todelliseksi paratiisiksi.
Horisontissa häämöttää kuitenkin uhkaavia pilviä, kun nuorten menneisyydestä paljastuu uusia synkkiä salaisuuksia…
Scifi/seikkailu /Ikäsuositus: 11+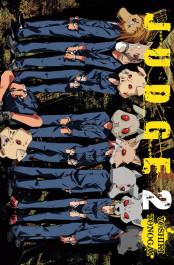 Yoshiki Tonogai: Judge 2
Osa 2/6.
Hiro ja muut syntiset joutuvat antamaan tuomionsa.
Toimiiko heidän juonensa, vai onko yhden heistä aika kuolla?
Voivatko he luottaa toisiinsa? Onko heidän joukossaan petturi?
Ikäsuositus: 14+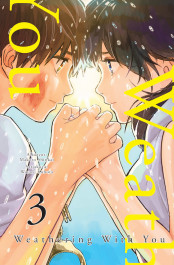 Wataru Kubota: Weathering with You 3
Osa 3/3.
Kun Hina yllättäen katoaa, Hodaka yrittää lähteä etsimään häntä.
Pistoolia heilutellutta poikaa hakevat poliisit eivät kuitenkaan tee siitä helppoa. Onko sääneidon kohtalona vain uhrata itsensä sateen karkottamiseksi? Vai onko mahdollista valita toisin?
Sarjakuvan pohjana on saman niminen animaatioelokuva, jonka on ohjannut superhitistä your name. tunnettu Makoto Shinkai.
Draama / Ikäsuositus 10+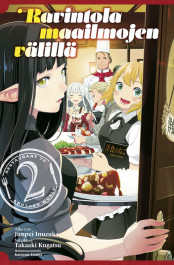 Takaaki Kugatsu: Ravintola maailmojen välillä 2
Osa 2/4.
Nekoya on pieni ravintola, jonka listalta löytyy erityisesti japanilaisia tulkintoja länsimaisesta ruuasta.
Normaalin asiakaskuntansa lisäksi Nekoyalla on myös erikoisempia kävijöitä. Lauantaisin sen ovi näet aukeaa maailmaan, jota kansoittavat ihmisten lisäksi haltiat, liskokansa, lohikäärmeet ja muut oudot otukset.
Ravintola maailmojen välillä kertoo maittavia tarinoita siitä, kuinka hyvä ruoka kokoaa kaikenlaiset olennot sopuisasti saman pöydän ääreen.
Kaikenikäisille
ULKOMAISET UUTUUDET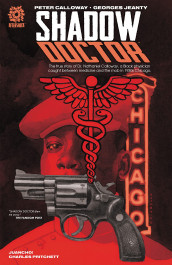 Peter Calloway & Georges Jeanty: Shadow Doctor
Years in the making, this is the true story of writer Peter Calloway's grandfather, Nathaniel Calloway, a Black man who graduated from medical school in the early 1930s.
Unable to get work at any Chicago hospital (because he was Black) and unable to secure a loan from a bank to start his own practice (because he was Black), Nathaniel turned to the only other source of money in Prohibition-era Chicago: the Mafia, run by none other than Al Capone.
One of the most profoundly fascinating, startling and significant stories AfterShock has ever published, SHADOW DOCTOR features the artwork of Eisner Award-winner Georges Jeanty (The American Way, X-Tremists) with a cover illustrated by comics legend Mark Chiarello!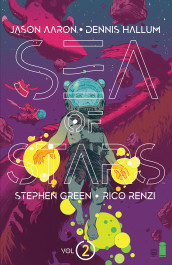 .Jason Aaron & Stephen Green: Sea of Stars 2 – The People of the Broken Moon
From the writing duo of JASON AARON (SOUTHERN BASTARDS, Thor) and DENNIS HOPELESS (Cloak & Dagger, Vader: Dark Visions) comes a brand-new all ages science fiction series, featuring dazzling art by STEPHEN GREEN (Hellboy & the BPRD) and cosmic colors by Rico Renzi (SpiderGwen)!
Young Kadyn thought being lost in the wild heavens was the most fun a kid could have.
But now he's beginning to see the true face of the deep space danger all around him. Meanwhile his father Gil, who's been fighting every step of the way to find his son, may have finally hit his breaking point… and completely lost his mind.
With all the scope and heart of the THE NEVER-ENDING STORY meets STAR WARS, Aaron, Hopeless, Green and Renzi have created a galaxy-spanning adventure that's suitable for fans of all ages!
Collects SEA OF STARS #6-10.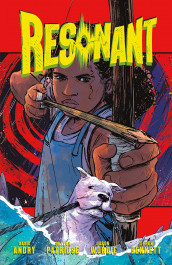 David Andry & Skylar Patridge: Resonant 2 – Spiraling
A decade ago the first Waves unleashed humanity's worst impulses and the world plunged into chaos.
Now, after being abducted on a supply run, single-father Paxton fights his way back to his family, while his daugher Bec struggles to protect her siblings from a horrifying cult.
The arrival of Preacher, Maw, and their followers interrupts Ty's new life with the Congregation, while Bec struggles to protect the family homestead from other hungry visitors.
Meanwhile, Paxton's escape from Honcho's island is only the beginning of his long journey back to his family.
Collects #6 – 10 of the ten-issue series.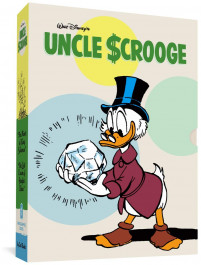 Carl Barks: Walt Disney's Uncle Scrooge Gift Box Set – The Lost Crown of Genghis Khan/The Mines of King Solomon
A double dose of Duck adventure for the holidays, two volumes snugged into a sturdy slipcase — at a special price that even Uncle Scrooge couldn't resist!
This season's Carl Barks Library 440-page gift box collects Walt Disney's Uncle Scrooge: The Lost Crown of Genghis Khan, in which Genghis Khan's missing crown, an expedition underground, and pirate treasure are to be found.
Also: Walt Disney's Uncle Scrooge: The Mines of King Solomon, which includes a rip-roaring adventure to locate the lost treasure of King Solomon!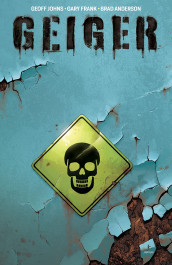 Geoff Johns & Gary Frank: Geiger
The critically acclaimed team of writer GEOFF JOHNS and artist GARY FRANK unites with superstar colorist BRAD ANDERSON to bring their first creator-owned hero to Image Comics!
Set in the years after a nuclear war ravaged the planet, desperate outlaws battle for survival in a world of radioactive chaos.
Out past the poisoned wasteland lives a man even the Nightcrawlers and Organ People fear.
Some call him Joe Glow, others call him the Meltdown Man.
But his name…is Geiger.
Collects GEIGER #1-6.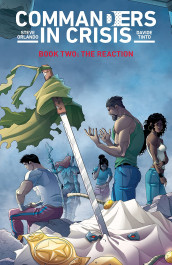 Steve Orlando & Davide Tinto: Commanders in Crisis 2 – The Reaction
Our world sits in the final reality.
Empathy, unity, decency…every day, we lose something we thought we couldn't live without.
To save us all, the Crisis Command must give up everything they know—from their egos to their idealism—and go on a journey of rediscovery as the clock ticks towards annihilation.
Standing in their way is the Extinction Society, an organization convinced that the only reasonable act for civilization is self-destruction. To survive, the Crisis Command has to be something more than superheroes, they have to be something better—and they have to inspire the last earth to do the same, so they can all meet tomorrow, together.
The emotional conclusion to a prescient series from acclaimed writer STEVE ORLANDO (Wonder Woman, Doom Patrol: Milk Wars, Martian Manhunter) and artist DAVIDE TINTO (Marvel Action: Spider-Man).
Collects COMMANDERS IN CRISIS #7-12.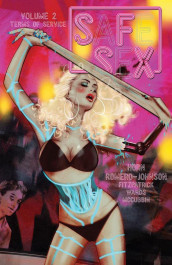 Tina Horn: SFSX 2 – Terms of Service
Popular writer/creator TINA HORN and up and coming artist G Romero-Johnson team up again for the latest SFSX (SAFE SEX) cyberpunk thriller.
After their previous adventures in sex, love, and torture left them separated and traumatized, the Dirty Mind heroes must face the totalitarian Party's latest "social program" — one involving uncanny sexpots and a twisted men's rights movement.
This intelligent and colorful dystopian satire is perfect for fans of Ex Machina, San Junipero," and Pose.
Pick up the latest instalment in the critically acclaimed series SyFy Wire says, "effortlessly captures the feeling of this revolutionary and terrifying moment in time."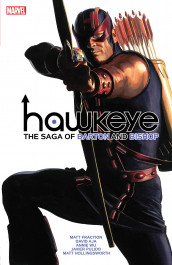 Matt Fraction & David Aja: Hawkeye by Fraction & Aja – The Saga of Barton and Bishop
Matt Fraction and David Aja's complete, acclaimed run in a single sharpshooting volume!
Clint Barton continues his fight for justice — and good rooftop BBQs!
With Young Avenger Kate Bishop by his side, he's out to get some downtime from being one of Earth's Mightiest Heroes — but when the apartment building he's moved into, and the neighbors he's befriended, are threatened by a tracksuit-wearing, dog-abusing gang of Eastern European mobsters who say "bro" an awful lot, Clint must stand up and defend his new adopted family…any way he can.
It's Hawkguy, Katie-Kate, Pizza Dog and friends against the Clown, Madame Masque, the Tracksuit Draculas and more in a fantastic, Eisner Award-winning reinvention of the arrowed Avenger!
Bro, you read this book. Okay, bro?
COLLECTING: Hawkeye (2012) #1-22, Hawkeye (2013) Annual #1, Young Avengers Presents (2008) #6.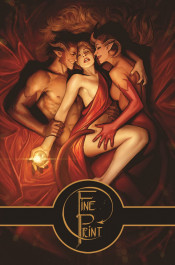 Stjepan Sejic: Fine Print 1
How do you deal with a broken heart? Junk food? Excessive drinks? Dubious contracts with ancient gods?
When it comes to Lauren Thomas, the queen of bad decisions, the answer is always the worst possible choice.
She finds herself in a rare opportunity to have her broken heart patched up by the highest rated god of desire. The problem is, it's a contested title.
Join us in this tale of gods and mortals, love lust and death and one woman's bad choice that starts it all with a simple bite on a golden apple.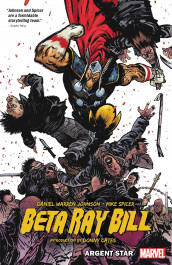 Daniel Warren Johnson: Beta Ray Bill – Argent Star
From the pages of Donny Cates' THOR and spinning out of KING IN BLACK comes the second-most famous wielder of Mjolnir!
Beta Ray Bill is tired of life in Thor's shadow — and with Bill's famous hammer, Stormbreaker, recently destroyed at the thunder god's hands, Bill finds himself at a crossroads.
The Korbinite must strike out in search of his destiny…assuming he can first defeat a Knullified Fin Fang Foom!
Bill begins a hunt for Odin in hopes of resurrecting his golden weapon — but Stormbreaker is never coming back.
Nonetheless, there is one place where Beta Ray Bill could restore his full powers. The All-Father of Nothing offers the Korbinite a path to immortality — but at a price not even a god can afford!
Who will join him on a dangerous and deadly cosmic quest?
COLLECTING: Beta Ray Bill (2021) #1-5.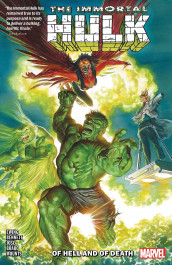 Al Ewing & Joe Bennet: Immortal Hulk 10 – Of Hell and Death
We thought they were dead. We thought they'd been banished, controlled, made harmless.
We were wrong.
The gamma monsters are coming back — converging, one by one, on New York City. And who can stop them now? Who can save us…from the Immortal Hulk?
The Avengers are ready to give it their best shot — but last time around, their battle against the Hulk was just business, and they destroyed an entire town. Now they're in the middle of New York City, about to take on a very different kind of Hulk…and it's become personal.
Run for your lives!
COLLECTING: Immortal Hulk (2018) #46-50.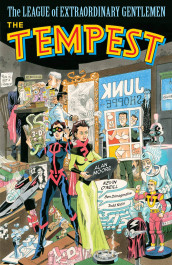 Alan Moore & Kevin O'Neill: The League of Extraordinary Gentlemen IV – The Tempest
Welcome to the story to end all stories. Two decades of literary League lunacy have all been building to this, the most ambitious meta-comic imaginable.
After an epic twenty-year journey through the entirety of human culture – the biggest cross-continuity 'universe' that is conceivable – Alan Moore and Kevin O'Neill conclude both their legendary League of Extraordinary Gentlemen and their equally legendary comic-book careers with the series' spectacular fourth and final volume, The Tempest.
Tying up the slenderest of plot threads and allusions from the three preceding volumes, The Black Dossier, and the Nemo trilogy into a dazzling and ingenious bow, the world's most accomplished and bad-tempered artist-writer team use their most stylistically adventurous outing yet to display the glories of the medium they are leaving; to demonstrate the excitement that attracted them to the field in the first place; and to analyse, critically and entertainingly, the reasons for their departure.
Opening simultaneously in the panic-stricken headquarters of British Military Intelligence, the fabled Ayesha's lost African city of Kor and the domed citadel of 'We' on the devastated Earth of the year 2,996, the dense and yet furiously-paced narrative hurtles like an express locomotive across the fictional globe from Lincoln Island to modern America to the Blazing World; from the Jacobean antiquity of Prospero's Men to the superhero-inundated pastures of the present to the unimaginable reaches of a shimmering science-fiction future.
With a cast-list that includes many of the most iconic figures from literature and pop culture, and a tempo that conveys the terrible momentum of inevitable events, this is literally and literarily the story to end all stories.
Originally published as a six-issue run of unfashionable, outmoded and flimsy children's comics that would make you appear emotionally backward if you read them on the bus, this climactic magnum opus also reprints classic English super-team publication The Seven Stars from the murky black-and-white reaches of 1964.
A magnificent celebration of everything comics were, are and could be, any appreciator or student of the medium would be unwise to miss The League of Extraordinary Gentlemen, Volume IV: THE TEMPEST.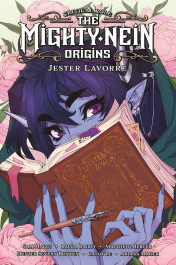 Sam Maggs & Hunter Severn Bonyun: Critical Role – The Mighty Nein Origins: Jester Lavorre
What's a nice tiefling like Jester doing in a party like the Mighty Nein?
Jester Lavorre had an unconventional upbringing, even for one born in cosmopolitan Nicodranas.
Daughter of the famed Ruby of the Sea, she had many opportunities for mischief as a small child, of which she took full advantage!
Dive into the mystery of Jester's early years, her first meeting with the Traveler, and the fateful events that set her on a path to eventually join the Mighty Nein.
Jester's story is brought to life by writer Sam Maggs (Captain Marvel; The Unstoppable Wasp) with art by Hunter Severn Bonyun, in direct consultation with Laura Bailey!
It's available as a gorgeous hardcover, ready to take its place in your Critical Role library!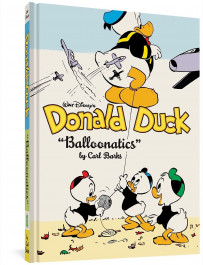 Carl Barks: Walt Disney's Donald Duck – Balloonatics
A loony balloon, a fraidy falcon, and a new Woodchuck series!
Carl Barks delivers another superb collection of outrageous hijinks, preposterous puzzlements, and all-around comics brilliance.
Carl Barks's stories of the Junior Woodchucks starring Huey, Dewey, and Louie ― written and penciled by Barks with finishes by internationally acclaimed Duck artist Daan Jippes ― debut in this volume!
Other stories include: When Gyro Gearloose invents a ten-story-tall Donald Duck balloon ― bigger than anything ever seen at the Macy's Parade! ― Donald decides to take a ride. But Gyro's "new balloon gas" is stronger than he thought it was, and Donald finds himself out of control, sailing higher and higher, until…
Then, Huey, Dewey, and Louie try to help a "fraidy falcon" overcome his fear of flying by getting Donald to help, but Donald has his own ideas…
Next, somebody's blowing up experimental rockets at the launchpad, and the nephews are on the trail of the spy, but Donald's sure of who it's not ― until he finds himself on board the next rocket to blast-off…
180 pages of story and art, each meticulously restored and newly colored. Insightful story notes by an international panel of Barks experts.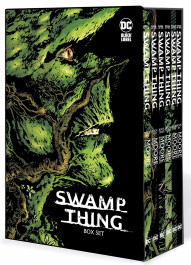 Alan Moore: Saga of the Swamp Thing Box Set
All the groundbreaking Saga of the Swamp Thing graphic novels by Alan Moore, the writer of Watchmen and V For Vendetta, in a gorgeous slipcase box set!
Before Watchmen, Alan Moore made his debut in the U.S. comic book industry with the revitalization of the horror comic book The Swamp Thing.
His deconstruction of the classic monster stretched the creative boundaries of the medium and became one of the most spectacular series in comic book history. With modern-day issues explored against a backdrop of horror, The Swamp Thing stories became commentaries on environmental, political, and social issues, unflinching in their relevance.
Created out of the Swamp by a freak accident, Swamp Thing is an elemental creature who uses the forces of nature and wisdom of the plant kingdom to fight the polluted world's self-destruction.
Alan Moore took the Swamp Thing to new heights in the 1980s with his unique narrative approach. His provocative and groundbreaking writing, combined with masterly artwork by some of the medium's top artists, made Swamp Thing one of the great comics of the late twentieth century.
Book One begins with the story The Anatomy Lesson, a haunting origin story that reshapes Swamp Thing mythology with terrifying revelations that begin a journey of discovery and adventure that will take him across the stars and beyond.
In second collection, The Swamp Thing says goodbye to the illusion of his own humanity after learning that he is 100% plant, meets a crew of benevolent alien invaders inspired by the classic comic strip Pogo (also set in the swamp), and consummates his relationship with Abigail Arcane as only he could.
The third volume is brimming with visceral horrors including underwater vampires, a werewolf with an unusual curse, the hideous madman called Nukeface.
Best of all, this volume features the comics debut of John Constantine, Hellblazer, who launches Swamp Thing on a voyage of self-discovery that will take him from the darkest corners of America to the roots of his own long-hidden heritage.
Volume four brings Swamp Thing's quest for self-discovery with the mystic John Constantine to its shattering conclusion.
A harbinger of doom has been released with the sole charge of waking an evil beyond comprehension, and Swamp Thing, John Constantine, Deadman, The Phantom Stranger, Etrigan the Demon, The Spectre and other masters of the occult must unite against the dark forces that threaten to eradicate Heaven's light.
The fifth volume begins as Swamp Thing returns from his sojourn to hell, only to learn that his girlfriend Abby is being persecuted for their "unnatural relations."
When she skips town for Gotham City, he follows and runs afoul of Batman, Lex Luthor, and the Gotham City Police Department.
The sixth and final volume collects Moore's entire run, reprinting issues #57-64 and features the classic stories Loving the Alien and All Flesh is Grass.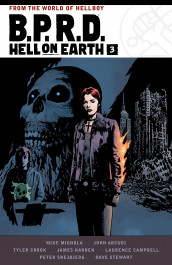 Mike Mignola & John Arcudi: B.P.R.D. – Hell on Earth 3
The B.P.R.D. fight to protect the world from the monstrous Ogdru Hem, as teams hit a blizzard-torn Russia and the ruins of both Chicago and New York City.
Meanwhile, Liz Sherman fights a deranged doctor in Utah, and the young psychic Fenix must go head to head with a monster-worshipping cult.
This omnibus edition collects B.P.R.D. Hell on Earth volumes 7-9 in paperback for the first time, plus an expanded sketchbook section.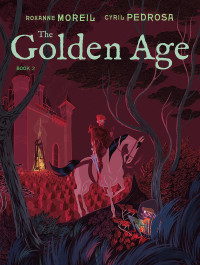 Roxanne Moreil & Cyril Pedrosa: The Golden Age 2
Following the epic cliffhanger in volume one, The Golden Age Book 2 concludes this exciting, medieval graphic novel duology.
Tilda just wanted to reclaim her throne and now she has disappeared…and the only clue is the mysterious treasure of Ohman.
As the rightful heir of late King Ronan, Tilda wants to deliver her people from famine and strife.
But on the eve of her coronation, her younger brother, backed by a cabal of power-hungry lords, usurps her throne and casts her into exile, causing Tilda to go on the run.
With the help of her last remaining allies, Tankred and Bertil, she travels throughout the hinterland of her kingdom. Wherever she goes, the common folk whisper of a legendary bygone era when all men lived freely.
There are those who want to return to this golden age–at any cost. Where is Tilda, and will she be able to lead her kingdom amidst revolution?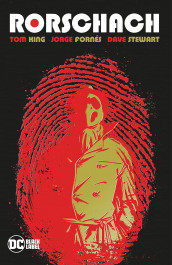 Tom King & Jorge Fornés: Rorschach
Rorschach is back. Whoever he is.
It's been 35 years since Ozymandias dropped a giant interdimensional squid on New York City, killing thousands and destroying the public's trust in heroes once and for all.
And since that time, one figure in a fedora, mask, and trench coat has become a divisive cultural icon.
So what does it mean when Rorschach reappears as an assassin trying to kill a candidate running against President Robert Redford?
Who is the man behind the mask, and why is he acting this way?
It's up to one detective to uncover the true identity of this would-be killer–and it will take him into a web of conspiracies involving alien invasions, disgraced do-gooders, mystic visions, and yes, comic books.
Writer Tom King joins forces with artist Jorge Fornés for a new miniseries that explores the mythic qualities of one of the most compelling characters from the bestselling graphic novel of all time, Watchmen.
Collects Rorschach #1-12.
LEHDET JA KIRJAT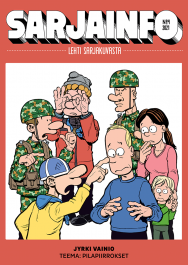 Sarjainfo #193 (4/2021)
Teema: Pilapiirrokset.
Sisältää mm.
• Kansi ja pääjuttu: Jyrki Vainio
• Pilapiirrosten esihistoria
• Pertti Jarla ja Mauri Kunnas
• Ville Ranta
• Kianoush
• Essee: Kari Suomalainen nykysilmin
• Miksi pilapiirros ei ole sarjakuvaa?
• Arvioissa mm.: Pentti Otsamo: Välittäjä
• Sarjakuvaseura 50 vuotta
• Pienlehdet
KÄYTETYT SARJAKUVAT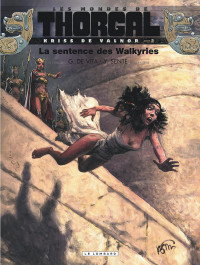 Yves de Sente & G. De Vita: Les Mondes de Thorgal – Kriss de Valnor 2: La Sentence des Walkyries (K)
KÄYTETTY.
Kriss est toujours l'otage des Walkyries et de leur reine, Freyja.
Celle-ci décidera si la prisonnière mérite le sort des guerriers valeureux morts au combat, c'est-à-dire le droit à la vie éternelle, ou si elle subira pour toujours l'errance dans les brumes glaciales du Niflheim …
Kriss se doit de raconter le récit de sa vie jusqu'à sa rencontre avec Thorgal. Freyja connaît déjà la suite, qui, on le sait, plaide peu en faveur de l'héroïne.
C'est la seule chance pour cette dernière de bénéficier d'une forme de clémence… Kriss parviendra-t-elle à attendrir la reine?
Son enfance fut sombre et cruelle mais sa vengeance envers son village sera plus terrible encore…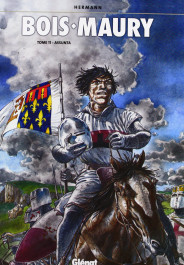 Hermann: Bois-Maury 11 – Assunta (K)
KÄYTETTY.
Aymar de Bois-Maury a disparu sans pouvoir contempler ses tours aimées, mais le château revient à sa famille, à sa femme et à cet enfant qui voit le jour au moment où son père succombe.
Des générations de Bois-Maury vont se succéder et continuer à suivre les principes de la chevalerie, en digne héritiers de leur aîné. C'est un de ces Bois-Maury que l'on retrouve au service du Duc d'Anjou en 1281, pendant l'occupation de la Sicile par les Français.
Les exactions des troupes françaises ont poussé les Siciliens à bout. La révolte gronde, tout comme le volcan sur les pentes duquel sont installés les campements. Mais la flamme de la guerre n'est pas la seule à briller : le chevalier de Bois-Maury est rongé par l'amour depuis qu'il a croisé le regard d'Assunta…
Dans un cas comme dans l'autre l'incendie qui va éclater sera d'une violence dévastatrice !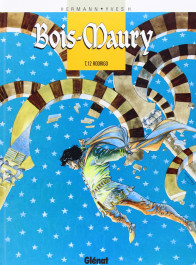 Hermann & Yves H.: Bois-Maury 12 – Rodrigo (K)
KÄYTETTY.
Tolède, vers 1325… Deux intrigues parallèles se nouent autour de la même famille, celle de Don Joaquin de la Vega.
La première est celle qui touche Don Joaquin lui-même, trop vieux pour aller combattre les Maures à Cordoue. Or, son frère et ennemi, le redoutable tyran Esteban, est de retour.
Il propose au roi d'aller combattre les musulmans du Sud et, se hissant ainsi au rang de Joaquin, pourrait le destituer facilement. Mais lorsque Esteban assassine cruellement le meilleur ami de Joaquin, celui-ci, malgré ses faiblesses physiques, décide d'aller également combattre et de se mesurer à son frère…
La seconde intrigue se noue autour du jeune et fougueux Rodrigo, fils de Don Joaquin. Alors qu'il arrive à l'âge adulte, on lui laisseentendre qu'il ne serait pas le fils de ses parents, mais un enfant trouvé. Intrigué mais surtout bouleversé par cette nouvelle, Rodrigo part en quête de la vérité…
Voici le grand retour de Bois-Maury après plus de trois ans d'absence !
Ce moyen-age barbare, boueux, à la fois pitoyable et grandiose a fait le succès de cette série mythique qui est parmi les plus belles réussites et les plus grands succès de la collection Vécu.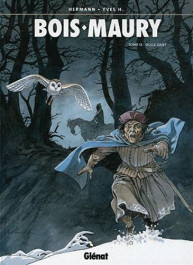 Hermann & Yves H.: Bois-Maury 13 – Dulle Griet (K)
KÄYTETTY.
Le grand retour d'un incontournable de la BD !
En Flandre, sous le règne du roi Philippe, les luthériens sont traqués par les inquisiteurs de la chrétienté romaine.
Toone Denaet assiste impuissant à la mort de ses parents, condamnés au bûcher pour avoir caché des pièces d'or destinées à leurs frères luthériens. Caché sur les toits, le jeune homme tue un à un les responsables de ce crime.
Son amie Tinneke soigne un mystérieux chevalier découvert blessé dans les bois. Dans son délire l'homme parle d'un démon qui le poursuit. Serait-ce le mystérieux Hugo qui tourmente sa mère Griet afin de lui voler ses maigres économies?
Un récit dur et violent écrit avec réalisme par Yves Huppens.
Hermann de son trait efficace et puissant illustre a vec justesse cet album incontournable.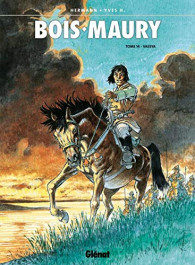 Hermann & Yves H.: Bois-Maury 14 – Vassya (K)
KÄYTETTY.
La suite d'une grande série historique – à tous les sens du terme – pour une remarquable incursion en terres de Russie.Aymar de Bois-Maury, spolié de ses terres, a poursuivi sa quête jusqu'au dramatique terme que l'on sait…
Mais l'histoire d'une lignée se limite-t'elle au seul destin d'un homme ? Non.
Car les aventures des Bois-Maury avaient commencé avant celles d'Aymar. Et se termineront bien après !
Fort de ce postulat infiniment riche en possibilités, Hermann et son fils Yves H poursuivent avec fureur et talent une collection de one-shot consacrés à l'une des plus célèbresfamilles du neuvième art.
Toujours solidement campée sur l'imagination soignée de Yves H et le dessin en couleurs directe légendaire de Hermann, cette grande saga s'offre une incursion en Russie, à l'occasion d'une guerre fratricide entre détracteurs et partisans du Tsar.
Un conflit où un certain Bois-Maury aura un rôle essentiel à jouer…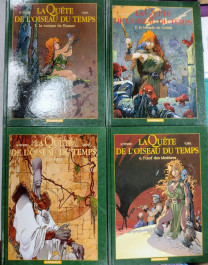 Régis Loisel & Serge Le Tendre: La Quête de l'oiseau du temps 1-4 (K)
KÄYTETTY.
Le légendaire chevalier Bragon pense en avoir fini avec sa vie aventureuse dont les exploits ont fait les heures les plus riches des conteurs d'Akbar.
À présent qu'il est vieux, il n'aspire plus qu'au repos, retiré qu'il est dans sa ferme des hauts plateaux du Médir.
Mais la tranquillité n'est pas de mise pour les héros. Un jour vient à lui Pélisse, jeune vierge sauvage et rousse aux formes généreuses, accompagnée de son Fourreux, animal étrange aux mystérieux pouvoirs. Elle lui apporte un message de sa mère, la princesse-sorcière Mara, elle même ancienne maîtresse de Bragon.
La situation est grave : Ramor, le dieu maudit, va bientôt sortir de la conque où les dieux l'avaient enfermé pour contenir sa soif de pouvoir. La destruction et la mort s'étendraient alors sur Akbar sans que quiconque puisse s'y opposer. Il ne reste que huit jours avant la " nuit de la saison changeante " où s'achèvera l'enchantement qui retient Ramor prisonnier.
Mara a besoin de l'Oiseau du Temps, car il est le seul capable d'arrêter le temps, ce qui lui permettrait d'achever, avant la fin des huit jours, la trop longue incantation qui lie Ramor à la conque. Mais la première épreuve de la quête sera d'aller récupérer la Conque de Ramor, jalousement gardée par Shan-Thung, le prince-sorcier de la Marche des Terres Éclatées.
Sollicité par son ancien amour, agacé par la fougue et l'insolence de Pélisse qui prétend être sa fille, Bragon sort sa fidèle faucheuse de son étui et s'embarque sans plus d'hésitation dans ce qui sera la plus hasardeuse des entreprises jamais vues sur Akbar : La Quête de l'Oiseau du Temps !…