Luettelo:
Kotimaiset uutuudet
Ennakkotilaukset
Ulkomaiset uutuudet
Lehdet ja kirjat
Käytetyt sarjakuvat
Alkuun
KOTIMAISET UUTUUDET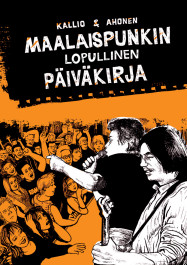 Pauli Kallio & Kyky Ahonen: Maalaispunkin lopullinen päiväkirja
Käsikirjoittaja Pauli Kallio ja piirtäjä Kyky Ahonen elivät teini-ikänsä tähtihetkiä 1970-luvun lopussa, kun punk uudisti suomalaisen rockin.
Samalla mullistui monen pojan ja tytön elämä. Ratsian Lontoon skidit kiteytti maalaispunkkien tunnot pariin raivokkaaseen minuuttiin.
Maalaispunkin päiväkirja kertoo, millaista oli olla Nivalan ensimmäinen punkki, ystävystyä muiden kapinallisten kanssa ja löytää punkista rajattoman energian lähde.
Lopulta nuoret sankarit retkeilevät Pihtiputaalle Ratsian Jyri Honkavaaran vieraiksi päämääränään Pelle Miljoonan keikka Elämäjärven työväentalolla.
Tekstiosuus käy läpi suomipunkin varhaisvaiheita sekä pureutuu Ratsian uraan ja tuotantoon.
Bändin jäsenet, lähipiiri ja fanit palaavat yli 40 vuoden takaiseen aikaan. Nykynäkökulmaa täydentää Honkavaaran haastattelu vuodelta 1982.
Maalaispunkin päiväkirjan täydennetty painos toi mukaan kaksi uutta sarjakuvaa, Pertti Pulkkasen yksityiskohtaisen Ratsia-historiikin ja nipun ennen julkaisemattomia valokuvia.
Tämä lopullinen laitos vahvistuu vielä Honkavaaraa ja The Clashia käsittelevillä kirjoituksilla sekä sarjakuvalla, joka vie päähenkilöt Tukholmaan The Clashin keikalle.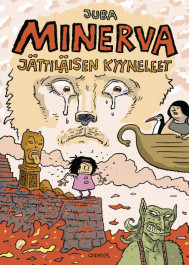 Juba: Minerva – Jättiläisen kyyneleet
Minervan huimassa vauhdissa ei aika käy pitkäksi. Lasten supersankarin seikkailut ovat täynnä vauhtia ja vaarallisia tilanteita.
Saammeko esitellä: Minerva, seikkailijatar
Matkustusvälineet: lentävä laiva
Matkakohde: Alajuoksun valtakunta
Tehtävä tänään: Pelastaa jättiläisleijona Jalmarin tyttöystävä Janina inhan tulivuorenpeikon kynsistä.
Minerva on seikkaillut aiemmin viidessä albumissa. Ensimmäinen albumi oli Kukkia tohtori Kääkälle ja toinen Jääkarhun sydän. Jättiläisen kyyneleet on jatkoa albumeille Alajuoksun kelluva pullukka, Sipulirengassuon vanki ja Elävien luiden laakso, mutta on luettavissa myös itsenäisenä tarinana.
ENNAKKOTILAUKSET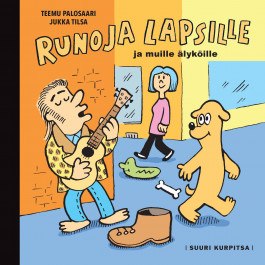 Jukka Tilsa & Teemu Palosaari: Runoja lapsille ja muille älyköille (ENNAKKOTILAUS)
ENNAKKOTILAUS. ARVIOITU ILMESTYMISPÄIVÄ 3.6.2022.
Runoja lapsille ja muille älyköille pursuilee railakasta sanataidetta, joka ruokkii niin lapsen kuin aikuisenkin mielikuvitusta.
Runoniekka Teemu Palosaari ja sarjakuvapiirustaja Jukka Tilsa yhdistävät värikästä sanan- ja kynänkäyttöä oivaltavalla tavalla.
Kirjan sivuilta selviää, miksi kannattaa hankkia oma virtahepo, voiko tiikerikakku puraista takaisin ja kuka kumma on Rage-Seppo. Tunnelmat vaihtelevat riemukkaasta hölynpölystä lempeään elämänviisauteen.
Teemu Palosaari (s. 1974 Pirkkalassa) on lastenohjelmien toimittaja Ylellä.
Hän on käsikirjoittanut ja ohjannut lukuisia lasten tv-sarjoja ja tehnyt paljon lastenmusiikkia. Teemu on kolmen pojan isä, entinen älykkö, nykyinen aikuinen.
Kuusipäisen katraan isähahmo Jukka Tilsa (s. 1961 Orivedellä) on Puupää-hatulla kruunattu sarjakuvapiirtäjä, kuvittaja, maanviljelijä ja musikantti.
Zärmikkäimmät, Potaattien yö, Julma jytä ja Löylyä, Supermauno kuuluvat hänen hilpeimpiin teoksiinsa.
ULKOMAISET UUTUUDET
Anne Simon: The Empress Cixtisis
A feminist fantasy graphic novel inspired by the true story of the Empress Dowager Cixi of China.
Under the reign of Queen Aglaia, the people of Suffragette City have lived in peace and harmony.
But all is thrown into chaos when the Empress Cixtisis, ruler of neighboring Chinchinia, kidnaps all of the men of Agalaia's queendom in order to castrate and enslave them.
Can Aglaia outwit the Empress and bring back her men before it's too late?
Cartoonist Anne Simon's eagerly anticipated sequel to The Song of Aglaia is another brilliant work of allegorical fantasy with a feminist spin, told with a singular verbal and visual wit.
LEHDET JA KIRJAT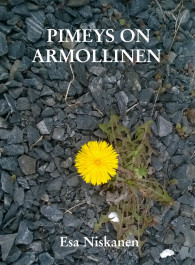 Esa Niskanen: Pimeys on armollinen
Pimeys on armollinen on oululaisen Esa Niskasen toinen runokokoelma.
Sen ovat kuvittaneet Aapo Kukko ja Hanna Kivimäki.
.
.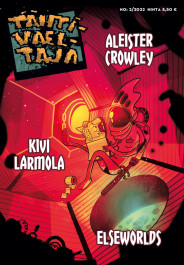 Tähtivaeltaja #161 (2/22)
Mukana mm.
– Elseworlds – Muissa maailmoissa
– Kivi Larmola: Taikuri laivassa (novelli)
– Aleister Crowley – Suuri peto ja pieni päivänsäde
.
.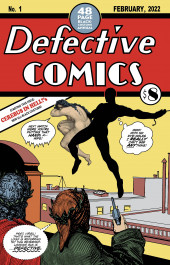 Dave Sim & David Birdsong: Defective Comics #1
48-Page Annual in the middle of Winter!
All black costumes!
The kind fans like!
Guaranteed not to turn into symbiotes later on!
Heraclitus' New All-Black Costume.
"My Girlfriend Fighting Crime With Her Hooters Out In An Otherwise All-Black Fishnet Body Stocking!"
Spider-Vark's New Black Costume and the Amber Alert It Triggers!
Borderline Bobbiey's New All-Black Costume: The Movie!
"SilverCerebus And His Amazing All-Black Electric-Car Costume"!
And just to top it all off, FOX NEWS Gehenna debuts their FOX ZOOM with Kent Olsen program.
Talk about confusing!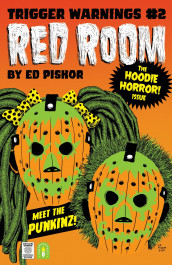 Ed Piskor: Red Room – Trigger Warnings #2
Hoodie Horror comes to Red Room!
Introducing the Punkinz: two sociopathic, aspiring red roomers who quickly make a name on the scene with their amateur snuff films.
Fueled by a mutual passion and talent for murder, the young couple aim to be the most notorious and wanted killers on the dark web…
The second "season" of the hit series continues, from the pen of Ed Piskor, the Eisner Award-winning creator of X-Men: Grand Design and Hip Hop Family Tree!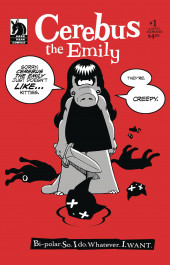 Dave Sim & David Birdsong: Cerebus the Emily #1
Ever wonder what Cerebus the Aardvark would have been like if, instead of being a barbarian aardvark, he had had perfect bangs, artfully applied mascara that made his eyes irresistibly sexy, a little black dress that barely covered his crotch, tailored to show off his sun-bronzed shoulders to their best advantage and adorable white, painted toenails?
Well, hey, who hasn't?
Now it can be told! See what happens when "Daddy's Little Psycho" leverages her bipolarity and autism into absolute tyrannical control over everyone who crosses her path!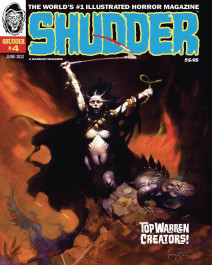 Shudder #4
Shudder revives the iconic Warren illustrated horror magazines of the 60's and 70's by replicating Warren's early page layouts and publishing new, classic-styled work by original Warren artists, writers, and editors.
Each issue is a highly collectible instant classic!
.
.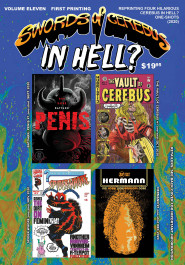 Dave Sim & Gustave Doré: Swords of Cerebus in Hell? 11
Further collecting Cerebus' adventures in Hell? (with a question mark)! Including the sell-out parody of Batman: Damned, proving that even a low-budget publisher like Aardvark-Vanaheim can do a cheesy knock-off of Neil Gaiman's 1990 Books of Magic!
Also, the first First annual Hallowe'en Special, featuring not only Benjamin Hobbs' sequel to The Varking Dead, but also TWO big 7-page gammakpooz stories written by Dave Sim, featuring multiple uses of the previously unpublished variant glamourpuss zombie cover!
Collects Batvark: Penis #1, Vault of Cerebus #1, Spider-Whore #1, and Hermann #1.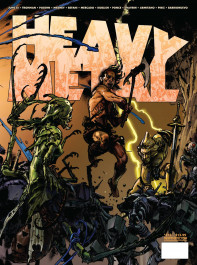 Heavy Metal #315
The fantasy comic for adults, paralleled by none.
All the over-the-top graphic sci-fi/fantasy madness you always expect in each and every issue of Heavy Metal.
New short stories by some of Europe's greatest masters of modern fantasy and science fiction comics!
.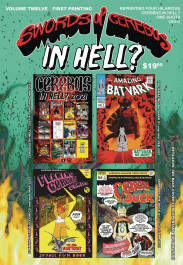 Dave Sim & Gustave Doré: Swords of Cerebus in Hell? 12
Further collecting Cerebus' adventures in Hell? (with a question mark)! Relive 2021 all over again by reading the Cerebus in Hell 2021 Preview Calendar issue!
Marvel at the giant symbolic Batvark and the tiny little former Batvark on the cover of The Amazing Batvark #1 that actually appear that way in "Batvark No More!"
Expect the unexpected in Flaming Cerebus #1 as Cerebus decides to run for Prime Minister of Canada four years ahead of time after failing to get as many seats as the Green Party in the 2019 Canadian Federal Election.
Meet Beverly Swizzle Stick and Cerebus the Duck!
.
Alkuun