Luettelo:
Kotimaiset uutuudet
Manga-uutuudet
Ennakkotilaukset
Ulkomaiset uutuudet
Lehdet ja kirjat
Käytetyt sarjakuvat
Alkuun
KOTIMAISET UUTUUDET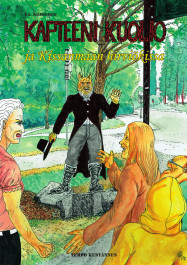 P.A. Manninen: Kapteeni Kuolio ja Kissanmaan hirviökissa
"Mikä julma peto, aikansa tultua viimein, hiipii syntyäksensä Betlehemiin?"
Tuon arvoituksen esitti Nobelilla palkittu William Butler Yeats runossaan "Toinen tuleminen". Sen mysteerin selvittäminen vaatii tiimityöskentelyä Kapteeni Kuoliolta, Kapteeni Kököltä ja Ajattaralta.
Millä asialla liikkuu hirviökissa, joka tuntuu johdattelevan Tampereen supersankareita kohti sopivasti Kissanmaaksi nimettyä seutua? Mitä tekee muinaisvampyyri Lamia, jolla on ongelmia impulssikontrollissa? Kummitteleeko maailman ilkeimmäksi mieheksi sanotun Aleister Crowleyn henki Tampereella?
Albumi perustuu tositapahtumiin ja se on kuvattu aidoilla tapahtumapaikoilla.
MANGA-UUTUUDET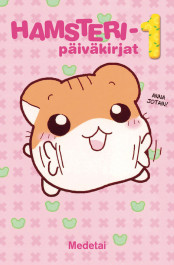 Medetai: Hamsteripäiväkirjat 1
Itsepäinen Shigecchi, hysteerinen Endoo ja laiskanpulskea Puh ovat kuusiosaisen Hamsteripäiväkirjat-sarjan päähenkilöt, jotka sulattavat paatuneimmankin sydämen.
Sarjakuvapiirtäjä Medetai kertoo hilpeitä tarinoita hamstereidensa arjesta.
Sarja tarjoaa myös mainioita vinkkejä hamsterinomistajille tai sellaisiksi aikoville!
.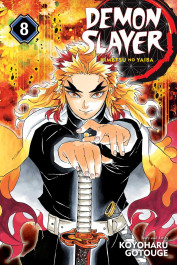 Koyoharu Gotouge: Demon Slayer – Kimetsu No Yaiba 8
After dealing with several demonic enemies aboard the Infinity Train, Tanjiro, Zenitsu and Inosuke must face the demon spirit of the train itself!
Even if they can stop the demon train, the minions of Muzan Kibutsuji are still out there and Tanjiro must continue to improve his strength and skills.
Learning the secret of the Hikonami Kagura and Flame Breathing will give him a powerful new advantage.
.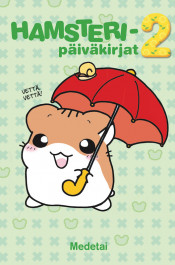 Medetai: Hamsteripäiväkirjat 2
Itsepäinen Shigecchi, hysteerinen Endoo ja laiskanpulskea Puh ovat kuusiosaisen Hamsteripäiväkirjat-sarjan päähenkilöt, jotka sulattavat paatuneimmankin sydämen.
Sarjakuvapiirtäjä Medetai kertoo hilpeitä tarinoita hamstereidensa arjesta.
Sarja tarjoaa myös mainioita vinkkejä hamsterinomistajille tai sellaisiksi aikoville!
.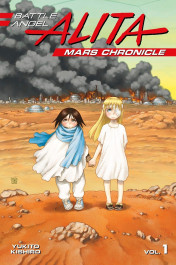 Yukito Kishiro: Battle Angel Alita Mars Chronicle 1
The cyber-martial arts saga that has spanned a solar system and over two decades in print returns, with creator Yukito Kishiro's new sequel that reveals the true story of Alita's childhood on Mars, and the mind-bending adventures that still await her…
For centuries, war has raged on the dusty, red surface of Mars.
This apocalyptic crucible will produce the solar system's most fearsome warrior, Alita. But for now that warrior is just a little girl named Yoko.
The future and past of the battle angel fan out across the reaches of space in the final chapter of one of the greatest sci-fi epics of all time!
ENNAKKOTILAUKSET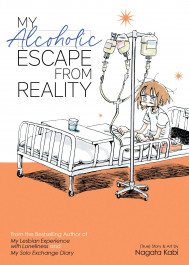 Nagata Kabi: My Alcoholic Escape from Reality (ENNAKKOTILAUS)
An emotional new diary comic from the award-winning creator of My Lesbian Experience with Loneliness and My Solo Exchange Diary.
Nagata Kabi's downward spiral is getting out of control, and she can't stop drinking to soothe the ache of reality.
After suffering from unbearable stomach pains, she goes to a clinic, where she is diagnosed with pancreatitis–and is immediately hospitalized.
A new chapter unfolds in Nagata Kabi's life as she struggles to find her way back to reality and manga creation in the wake of her breakdown..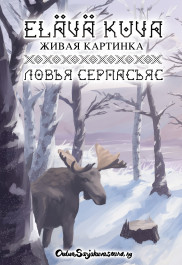 Elävä kuva – ловъя серпасъяс (ENNAKKOTILAUS)
ENNAKKOTILAUS.
KIRJA SAATAVILLA ARVIOLTA 24.5.2021.
Taruja muinaisten suomalais-ugrilaisten elämästä välitetään sukupolvelta toiselle.
Kaukaisuuteen pohjautuvat legendat jumalista, hengistä, velhoista ja historiasta heräävät tämän teoksen välityksellä henkiin sarjakuvitettuina.
Komin tasavallassa sijaitsevan Syktyvkarin kaupungin nuorten taiteilijoiden ja Limingan taidekoulun sarjakuvalinjan opiskelijoiden yhteistyönä syntyi Elävä kuva – Ловъя серпасъяс, kaksikielinen sarjakuva-albumi, jossa myyttejä käsitellään valtionrajoja ylittävästi.
Mukana olevat tekijät: Kevin Kupari, Seela Viinikanoja, Lauri Oksanen, Minerva Asamäki, Tomi Nikula, Milja Valtonen, Kai Erkkilä, Jarkko Harakka, Anniina Heikkilä, Petri Junttari, Emilia Nurminen, Paavo Kauppinen, Anna Oikarinen, Vilma Indrén, Aliisa Lampi, Perttu Vehviläinen, Marina Borisova, Demid Testin ja Natalia Sturtz.
Toimittaneet: Tessa Astre, Mikko Jylhä ja Тарачева Оля.
Давние сказания о жизни древних финно-угров передаются из поколения в поколение, а легенды о божествах, духах, волхвах и древностях оживают на страницах этого комикса. Совместное творчество молодых художников Сыктывкара, столицы республики Коми, и студентов художественной школы Лиминка, в Северной Остроботнии Финляндии, привело к созданию «Elävä kuva – Ловъя серпасъяс» на финском и русском языках. Это произведение поведает читателю о мифах, рожденных по обе стороны государственной границы.
ULKOMAISET UUTUUDET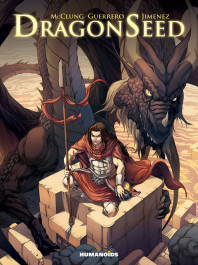 Kurt McClung & Mateo Guerrero: Dragonseed
Half-man, half-dragon, Adam Serre Shadow is on an urgent mission to find the "tear of the dragon" to preserve the kingdom's peace.
For centuries the men and creatures of Krath have prepared for a conflict that many hoped would never happen.
A half-blood, Adam Serre Shadow, now has just two moons to find the thief of the teardrop stone, stolen from his fire-breathing father, before the Council of Elders trigger all-out war.
The son of a Dragon will stop at nothing to find the magical relic and preserve the fragile peace that still exists between the two species.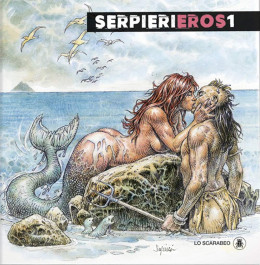 Paolo Eleuteri Serpieri: Serpieri Eros 1
A collection of the most beautiful erotic drawings made by Paolo Eleuteri Serpieri, Druuna's creator, during his life.
Includes a description/introduction in English, in Italian and in Spanish.
.
.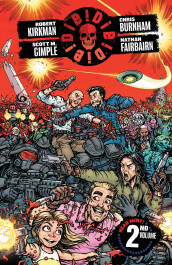 Robert Kirkman & Chris Burnham: Die!Die!Die! 2
We don't like to admit it, but this is an evil world where evil people do evil stuff all the time.
Thankfully, there is a secret cabal with the United States government that works outside our normal system to influence world matters through targeted assassination.
Senator Connie Lipshitz has taken over the cabal, using her vast resources to finally make the world a better place… no matter how many people have to die!
Meanwhile, Barnaby is on the run and his journey takes him to some very dark places.
Thankfully… you can only get your nose cut off once!
Collects DIE!DIE!DIE! #9-14.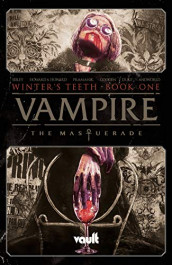 Tini Howard & Blake Howard: Vampire The Masquerade – Winter's Teeth 1
When Cecily Bain, an enforcer for the Twin Cities' vampiric elite, takes a mysterious new vampire under her wing, she's dragged into an insidious conspiracy.
Meanwhile, on the outskirts of the cities, a rebellious found-family of vampire cast-outs investigates a vicious killing.
As the unlives of the Kindred twine together and betrayals are unearthed, will Cecily be able to escape and save what's left of her family, or will she be yet another pawn sacrificed to maintain the age-old secret: that vampires exist among the living?
Born from the world of the internationally best-selling role playing game, Vampire: The Masquerade's critically acclaimed comics debut spins a gripping and tragic tale about the Beast within us all.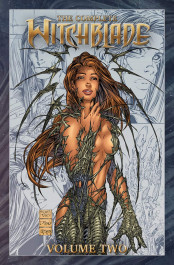 David Wohl & Warren Ellis: The Complete Witchblade 2
The saga continues, celebrating the 25th Anniversary of Witchblade!
In this second absolute collection of the best-selling original series, New York cop Sara Pezzini falls further down the supernatural rabbit hole of ancient artifacts, illuminati industrialists, and all manner of occult outlaws.
But while the mysterious power of the Witchblade has chosen Sara as its bearer, she's less convinced of her qualifications.
When an opportunity to surrender the gauntlet and live a normal life presents itself, she just might take it! Plus, witness the birth of the shared Top Cow Universe, as the Darkness makes its first crossover appearance.
Collects WITCHBLADE #20-36, TALES OF THE WITCHBLADE #4-8, WITCHBLADE INFINITY one-shot, WITCHBLADE/DARKNESS #1, DARKNESS/WITCHBLADE #1, and DARKNESS #28.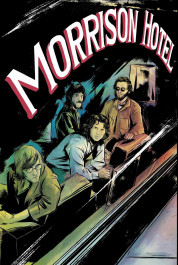 Leah Moore: Morrison Hotel
The Morrison Hotel anthology written by Leah Moore, in collaboration with the surviving members of the legendary rock band and drawn by artists from around the comic book world, will weave the band's influence into some of the lore that led to their status as the architects of counterculture, influencing artists, poets, and outsiders for generations to come, set against the backdrop of the close of the free spirit of the 1960s into the tumultuous 1970s.
A decade in which women, African Americans, Native Americans, gays, lesbians and other marginalized people continued their fight for equality, and many Americans joined the protest against the ongoing war in Vietnam.
Writer: Leah Moore
Artists: Tony Parker, John Pearson, Mike Oeming, Marguerite Sauvage, Sebastian Piriz, Guillermo Sanna, Colleen Doran, Ryan Kelly, Armitano, Vasilis Lolos, Jill Thompson, John K. Snyder III.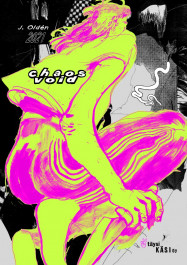 Jenna Oldén: Chaos Void
Chaos Void on raivokkaan herkkä sarjakuvamanifesti tottelemattomuudesta, joka repii hengitysaukkoja lamaantuneisuuteen.
Omintakeinen nykysarjakuvateos viihtyy välitiloissa ja kurottaa abstraktiin, mutta kesytön anarkistinen agitprop leikkaa teokseen terävän kärjen.
Entä jos kaaos olisikin välttämätön hyvä?
Chaos Void is a fiercely sensitive comic manifesto about disobedience, which tears air holes into stagnation.
The unusual contemporary comic thrives in the in-betweens and reaches for abstraction, but its untamed anarchistic agitprop cuts a sharp edge to the comic.
What if chaos was a necessary good?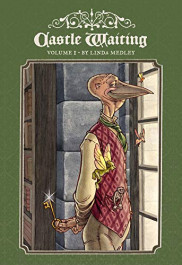 Linda Medley: Castle Waiting 1
This (wildly popular) graphic novel, a feminist fairy tale, is now in paperback.
Castle Waiting is the story of an isolated, abandoned castle, and the eccentric inhabitants who bring it back to life.
A fable for modern times, it is a fairy tale that's not about rescuing the princess, saving the kingdom, or fighting the ultimate war between Good and Evil ― but about being a hero in your own home.
The opening chapter tells the origin of the castle itself, which is abandoned by its princess in a comic twist on "Sleeping Beauty" when she rides off into the sunset with her Prince Charming.
The castle becomes a refuge for misfits, outcasts, and others seeking sanctuary, playing host to a lively and colorful cast of characters that inhabits the subsequent stories, including a talking anthropomorphic horse, a mysteriously pregnant Lady on the run, and a bearded nun.
Linda Medley lavishly illustrates Castle Waiting in a classic visual style reminiscent of Arthur Rackham and William Heath Robinson.
Blending elements from a variety of sources ― fairy tales, folklore, nursery rhymes ― Medley tells the story of the everyday lives of fantastic characters with humor, intelligence, and insight into human nature.
Castle Waiting can be read on multiple levels and can be enjoyed by readers of all ages, especially young girls.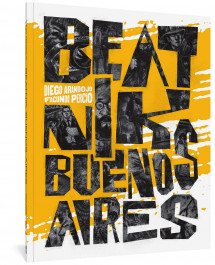 Diego Arandojo & Facundo Percio: Beatnik Buenos Aires
When night falls in Buenos Aires, the city comes alive.
Artists flock to cafes and dives to exchange ideas, listen to music, watch outré performance art, pen poetry, fall in love.
In these raucous, smoke filled rooms, the bohemian heart and soul of this vibrant city, a conflagration of creative energy burns.
With the improvisational pacing of a jazz performance, Beatnik Buenos Aires follows the lives of writers, painters, musicians, sculptors, and performers as they wend their way through these hubs of creative life, seeking out inspiration and grappling with their craft. Set in 1963, this graphic novel celebrates a time in Argentine history when its art scene blossomed.
Argentine creators Diego Arandojo (writer) and Facundo Percio (illustrator) come together to weave the rich tapestry of this mecca of artistic expression.
Arandojo's staccato dialogue lends a poetic quality to these lively, often mysterious characters, while Percio's raw and expressive charcoal drawings perfectly capture the rough charm of this eclectic community of artists and the seedy, smoky locales they inhabit. Romantic, dangerous, and brimming with life — Buenos Aires in the time of the beatnik.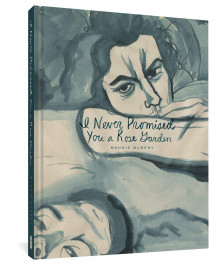 Mannie Murphy: I Never Promised You a Rose Garden
In this graphic novel, what begins as an affectionate reminiscence of the author's 1990s teenage infatuation with the late actor River Phoenix morphs into a remarkable, sprawling account of the city of Portland and state of Oregon's dark history of white nationalism.
Mannie Murphy is a gender queer Portland native.
This work of graphic nonfiction, told in the style of an illustrated diary, begins as an affectionate reminiscence of the author's 1990s teenage infatuation with the late actor River Phoenix but morphs into a remarkable, sprawling account of the city of Portland and state of Oregon's dark history of white nationalism.
Murphy details the relationship between white supremacist Tom Metzger (former KKK Grand Wizard and founder of the White Aryan Resistance) and the "Rose City" street kids like Ken Death that infiltrated Van Sant's films — a relationship that culminates in an infamous episode of Geraldo.
Murphy brilliantly weaves 1990s alternative culture, from Kurt Cobain and William Burroughs to Keanu Reeves and the Red Hot Chili Peppers, with two centuries of the Pacific Northwest's shameful history as a hotbed for white nationalism: from the Whitman massacre in 1847 and the Ku Klux Klan's role in Portland's city planning in the early 1900s to the brutal treatment of Black people displaced in the 1948 Vanport flood and through the 2014 armed standoff with Cliven Bundy's cattle ranch.
In Murphy's personal reflections and heart-racing descriptions of scenes like infamous campfire kiss in My Own Private Idaho, the artist's story becomes a moral anchor to a deeply amoral regional history and marks the incredible debut of a talented new voice to the graphic medium.
Two-color illustrations throughout.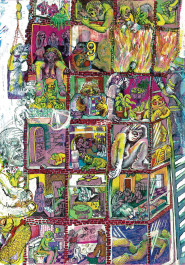 Now 9
This Eisner Award-winning anthology series is a self-contained cross-section of the best short comics stories the globe has to offer, at a price point that is unrivaled in contemporary comics publishing.
This ninth issue of Now is anchored by the longest story featured in the magazine to date: "Misguided Love," a 40-page autobiographical tour de force by Texas artist Raquelle Jac.
Ping-ponging among relationships, hospitalizations, internet "fame," international travel, sex, romance, and trauma, Jac's dense, obsessive pages read like a manifesto, announcing the arrival of a remarkable new voice in comics.
This issue also features Now debuts from Hartley Lin (Young Frances), Ethel Wolfe, and Emil Friis Ernst (Doctor Murder), as well as work from Now regulars Keren Katz (The Academic Hour) and Noah Van Sciver, who homages Basil Wolverton's cult favorite, science-fiction hero, Spacehawk.
Full-color illustrations throughout.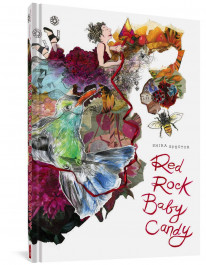 Shira Spector: Red Rock Baby Candy
Self-described as "an infertile, high-femme, low income, non-biological Jewish mom, dyke drama queen, and ectopic pregnancy survivor," the author tells her story in this formally innovative graphic memoir.
Shira Spector literally paints a vivid portrait of the most eventful 10 years of her life, encompassing her tenacious struggle to get pregnant, the emotional turmoil of her father's cancer diagnosis and eventual death, and her recollections of past relationships with her parents and her partner.
Set in a kaleidoscope of Montreal and Toronto, Red Rock Baby Candy unfolds as one of the most formally inventive comics in the history of the medium.
It begins in subtle, tonal shades of black ink, introduces color slowly over the next 50 pages until it explodes into a glorious full color palette.
The irreverent characters begin to bloom and to live life fully, resurrecting the dead in order to map the geography among infertility, sexuality, choice, and mortality.
The drawing is visceral, symbolic, and naturalistic. The visual storytelling eschews traditional comics panels in favor of a series of unique page compositions that convey both a stream of consciousness and the tactile reality of life, both the subjective impressions of the author at each moment of her life and the objective series of events that shape her narrative.
It is the most formally revolutionary visual storytelling since Emil Ferris's My Favorite Thing is Monsters.
Full-color illustrations throughout.
LEHDET JA KIRJAT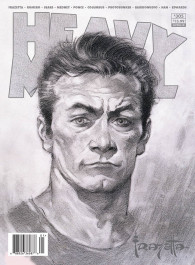 Heavy Metal #305
A ragtag squad of Confederate soldiers calls upon the ultimate evil to save the South, in Ron Marz & Armitano's "Swamp God."
A combat unit comprised of Vampires, Minotaurs and mythical species find that they're part of a diabolical plot in "Queensbury" by Patrick Smith. Fan favorite Nelson and the Cold Dead War crew make a return!
Vasator & Crunch, a robot and barbarian tale by David Erwin and Kevin Molen!
Frank Frazzeta Jr and Liam Sharp interviews!
KÄYTETYT SARJAKUVAT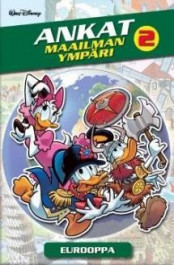 Ankat maailman ympäri 2 – Eurooppa (K)
KÄYTETTY, HYVÄKUNTOINEN.
Uudessa kirjasarjassa matkustetaan maailman ympäri parhaassa mahdollisessa seurassa!
Sarjan ensimmäisessä osassa valloitettiin Amerikan manner, ja toinen osa vie meidät Euroopan halki viikinkien hurjilta retkiltä aina Espanjaan, Ranskaan ja Italiaan asti.
Uljaat gondolieerit, reippaat ritarit, nahkahousuiset saksalaiset ja muut sankarit piirtävät hilpeän kuvan kotimantereestamme!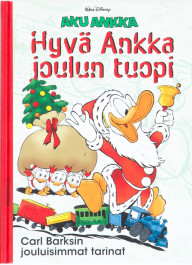 Carl Barks: Aku Ankka – Hyvä ankka joulun tuopi (K)
KÄYTETTY, HYVÄKUNTOINEN.
Tähän kirjaan on koottu edustava joukko Carl Barksin rakastetuimpia joulutarinoita, muun muassa Koettakaa arvata, Tyhjälän joulu sekä kaikkien aikojen ensimmäinen Roope-tarina Joulu Karhuvuorella.
Mestarin ottein Barks pystyy samalla kertaa sekä ironisoimaan joulun kaupallisuutta ja ylenmääräistä hössötystä että loihtimaan kerrassaan hellyttävän vanhan ajan joulutunnelman.
Sarjakuvien joulu ei tästä enää parane!
Ankkalinnan suuri joulukirja (K)
KÄYTETTY.
Kannet kuluneet, takakannen kulmat saaneet osumaa.
Ankkalinnan suuri joulukirja kokoaa yksiin kansiin jouluisia tarinoita Ankkalinnasta ja vähän muualtakin.
Kierros alkaa suomesta: mantelina joulupuurossa on nimittäin Kari Korhosen upouusi tarina, jossa Roope-setä lähtee Tupun, Hupun ja Lupun kanssa Helsingin kautta Korvatunturille Joulupukin jäljille.
Kirjassa tutustutaan myös muiden ankkamaiden jouluperinteisiin, kuten Hollannin joulupukkiin Sinterklaasiin ja Italian loppiaisnoitaan eli Befanaan.
Akun, Roopen ja ankanpoikien ohella joulua valmistelevat ja viettävät myös Iines, Pelle Peloton, Mummo Ankka, Hansu, Kulta-Into Pii, Mikki, Minni, poliisimestari Sisu, Musta Pekka ja monet, monet muut tutut ankkalinnalaiset – kukin omalla erityisellä tavallaan.
Tunnelmallinen kirja sisältää sekä ennen julkaisemattomia että vuosien varrella ilmestyneitä, nostalgisia tarinoita eturivin ankkataiteilijoilta. Joulumielelle ovat virittyneet muiden muassa sellaiset mestarit kuin Vicar, Giorgio Cavazzano, Paul Murry, Daniel Branca sekä Bas ja Mau Heymans.