Luettelo:
Kotimaiset uutuudet
Manga-uutuudet
Ennakkotilaukset
Ulkomaiset uutuudet
Käytetyt sarjakuvat
Oheistavara
KOTIMAISET UUTUUDET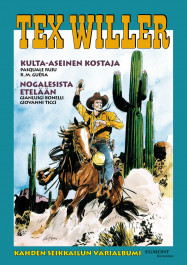 Tex Willer Suuralbumi 41 – Kulta-aseinen kostaja/Nogalesista etelään
Kulta-aseinen kostaja on käsikirjoittaja Pasquale Rujun ja kuvittaja R. M. Guéran taidonnäyte, joka vie meidät Texin rangerin uran alkuvuosiin.
Kit Carson ei tässä tarinassa todellakaan ole harmaahapsi, ja hyvä niin, sillä hän joutuu kohtaamaan murhanhimoisen lainsuojattoman, jonka kultaiset pistoolit ovat vieneet hengen joukolta Carsonin vanhoja taistelutovereita.
Nogalesista etelään esittelee vanhan tutun seikkailun uudessa uljaassa ilmiasussa. Piinaavan jännittävän kelmijahdin on kirjoittanut Texin luoja G. L. Bonelli ja kuvitus on piirtäjälegenda Giovanni Ticcin käsialaa.
Uusi ruutusommittelu ja upeat värit nostavat tämän klassikon jälleen korkeuksiin.
MANGA-UUTUUDET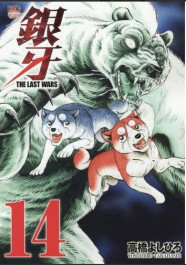 Yoshihiro Takahashi: The Last Wars 14
Sirius ja Shion ovat Monsoonin jäljillä, mutta verenhimoinen karhu on saanut heistä vainun.
Ehtivätkö Kamakirin veljekset, Gennai ja muut ajoissa avuksi…?
Ikäsuositus 13+ / Toiminta/Seikkailu
.
ENNAKKOTILAUKSET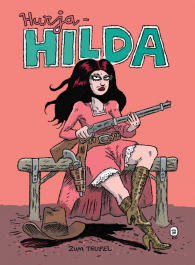 Juba: Hurja-Hilda (ENNAKKOTILAUS)
ENNAKKOTILAUS. ALBUMI ILMESTYY 15.7.2020.
Lännensarjakuva elää ja voi hyvin!
Juban luoma Hurja-Hilda on lujatahtoinen villin lännen nainen, jota on kohdeltu kaltoin.
Hilda janoaa kostoa, eikä hän aio jättää kostamista herran haltuun – herra kun on niin hidas vetämään.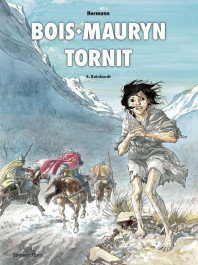 Hermann: Bois-Mauryn tornit 4 – Reinhardt (ENNAKKOTILAUS)
ENNAKKOTILAUS. KIRJA ILMESTYY 1.8.2020.
Aymar de Bois-Mauryn ja Olivierin matka jatkuu Santiago de Compostelasta pohjoiseen.
Matkalla he näkevät ruton seuraukset. Mutta tauti ei ole ainoa uhreja vaativa vitsaus.
Kuolema korjaa satoa myös perimyskiistassa, jossa juonitaan Reinhard von Kirstenin pään menoksi.
Salajuonen koukeroiden seurauksena sankarimme joutuvat vuorille ja taistelemaan hengestään kylmyyttä ja ankaria olosuhteita vastaan.
Löytyykö reitti vuorten toiselle puolelle ajoissa?
ULKOMAISET UUTUUDET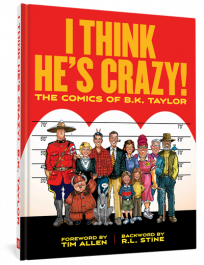 B.K. Taylor: I Think He's Crazy!
Cartoonist B.K. Taylor regaled and baffled readers of National Lampoon during its golden era with the good-natured goofiness of The Appletons, his odd suburban family, and Timberland Tales, the backwoods Canadians whose innocent clashes with the wider world exposed our own foibles and follies.
I Think He's Crazy! showcases Taylor's own special brand of off-center wackiness with a collection of The Appletons, Timberland Tales, and other seriously skewed B.K. Taylor humor.
Taylor's art is richly, realistically, and subversively detailed. At first you might think he's playing it straight, but take a closer look…
Featuring a foreword by Tim Allen and afterword by R.L. Stein!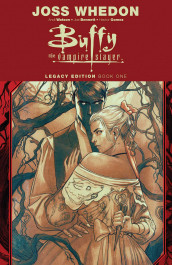 Joss Whedon: Buffy the Vampire Slayer Legacy Edition 1
The definitive collection of every Buffy the Vampire Slayer comic, for the first time presented in publication order!
THE OFFICIAL TIE-IN TO JOSS WHEDON'S AWARD-WINNING BUFFY THE VAMPIRE SLAYER TELEVISION SERIES! Set during the third season of the Buffy The Vampire Slayer television series, discover untold stories of the Scooby Gang and their fight against evil in Sunnydale – all while trying not to fail their exams!
As Buffy faces the consequences of saving the world – by killing the man she loved – the rest of the team face their own challenges like Angel returning to life without a soul; Willow helping Oz confront the beast inside of him; all while Xander and Cordelia kiss, makeup, kiss, makeup…you probably get the picture.
Collects Buffy The Vampire Slayer #1-10 (Dark Horse Comics), as well as short stories from the era. Legacy Editions collect for the first time every issue of the most popular BOOM! Studios series in chronological order, in a newly designed, value priced format.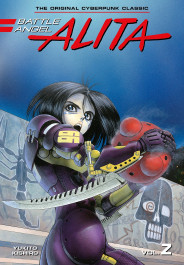 Yukito Kishiro: Battle Angel Alita Deluxe Edition 2
After more than a decade out of print, the original cyberpunk action classic returns in glorious 400-page hardcover deluxe editions, featuring an all-new translation, color pages, and new cover designs!
In a dump in the lawless settlement of Scrapyard, far beneath the mysterious space city of Zalem, disgraced cyber-doctor Daisuke Ido makes a strange find: the detached head of a cyborg woman who has lost all her memories.
He names her Alita and equips her with a powerful new body, the Berserker.
While Alita remembers no details of her former life, a moment of desperation reawakens in her nerves the legendary school of martial arts known as Panzer Kunst.
In a place where there is no justice but what people make for themselves, Alita decides to become a hunter-killer, tracking down and taking out those who prey on the weak. But can she hold onto her humanity as she begins to revel in her own bloodlust?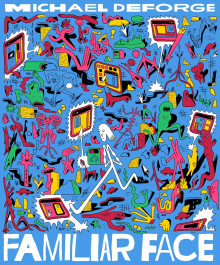 Michael Deforge: Familiar Face
In a thoroughly modernized, constantly updating society, where can true connection be found?
The bodies of citizens and the infrastructure surrounding them is constantly updating.
People can't recognize themselves in old pictures, and they wake up in apartments of completely different sizes and shapes. Commuter routes radically differ day to day. The citizens struggle with adaptability as updates happen too quickly, and the changes are far too radical to be intuitive. There is no way to resist―the updates are enacted by a nameless, faceless force.
The narrator of Familiar Face works in the government's department of complaints, reading through citizens' reports of the issues they've had with the system updates.
The job isn't to fix anything but rather to be the sole human sounding board, a comfort in a system so decidedly impersonal. These complaints aren't mere bug reports―they can be anything: existential, petty, just plain heartbreaking.
Michael DeForge's ability to find the humanity and emotional truth within the outlandish bureaucracy of everyday life is unparalleled.
The signatures of his work―a vibrant color palette, surreal designs, and a self-aware sense of humor―enliven an often bleak technocratic future. Familiar Face is a masterful and deeply funny exploration of how we define our sense of self, and how we cope when so much of life is out of our control.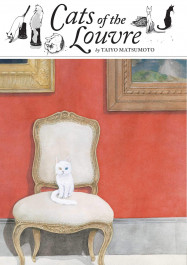 Taiyo Matsumoto: Cats of the Louvre
A surreal tale of the secret world of the cats of the Louvre, told by Eisner Award winner Taiyo Matsumoto.
The world-renowned Louvre museum in Paris contains more than just the most famous works of art in history.
At night, within its darkened galleries, an unseen and surreal world comes alive–a world witnessed only by the small family of cats that lives in the attic.
Until now…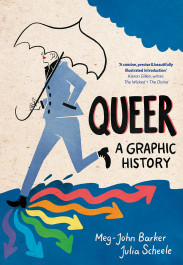 Meg-John Barker & Julia Scheele: Queer – A Graphic History
Activist-academic Meg John Barker and cartoonist Julia Scheele illuminate the histories of queer thought and LGBTQ+ action in this groundbreaking non-fiction graphic novel.
A kaleidoscope of characters from the diverse worlds of pop-culture, film, activism and academia guide us on a journey through the ideas, people and events that have shaped 'queer theory'.
From identity politics and gender roles to privilege and exclusion, Queer explores how we came to view sex, gender and sexuality in the ways that we do; how these ideas get tangled up with our culture and our understanding of biology, psychology and sexology; and how these views have been disputed and challenged.
Along the way we look at key landmarks which shift our perspective of what's 'normal', such as Alfred Kinsey's view of sexuality as a spectrum between heterosexuality and homosexuality, Judith Butler's view of gendered behavior as a performance, the play Wicked, which reinterprets characters from The Wonderful Wizard of Oz, or moments in Casino Royale when we're invited to view James Bond with the kind of desiring gaze usually directed at female bodies in mainstream media.
KÄYTETYT SARJAKUVAT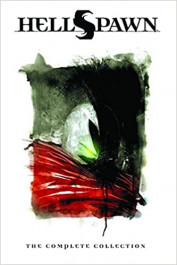 Brian Michael Bendis & Steve Niles: Hellspawn – The Complete Collection (K)
KÄYTETTY.

Hellspawn marked the return of Spawn, the guns blazing, take-no-prisoners warrior.
This next step in the evolution of Todd McFarlane's hell-born creation featured the creative minds of Brian Michael Bendis, Steve Niles, Ashley Wood, and Ben Templesmith, which redefined the mythos of the Hellspawn.
Hellspawn: Complete Collection includes the entire Hellspawn series along with additional art and behind-the-scenes content, as well as a never-before-published back-up story written and illustrated by artist, Ashley Wood.
Collects Hellspawn #1-16.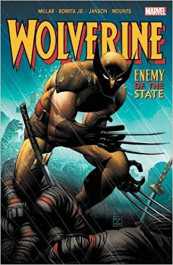 Mark Millar & John Romita Jr.: Wolverine – Enemy of the State (K)
KÄYTETTY. Yksi kulma saanut osumaa.
Wolverine has long been the X-Men's most dangerous member – but now, this deadly living weapon has switched sides!
Defeated by the Gorgon and brainwashed by Hydra and the Hand, Wolverine has become an agent of the ruthless ninja clan – slicing and dicing his way through S.H.I.E.L.D., the Fantastic Four and the X-Men! And his former friends and teammates will pay a very high price to subdue him.
As Hydra picks off superhumans one by one and the X-Men mourn a fallen friend, S.H.I.E.L.D. works feverishly to deprogram Wolverine.
Can he be turned against his former masters in time to prevent worldwide death and destruction?
Prepare for death and destruction as only modern masters Mark Millar and John Romita Jr. can deliver! Plus: A haunting tale of World War II, illustrated by Kaare Andrews!
COLLECTING: WOLVERINE (2003) #20-32.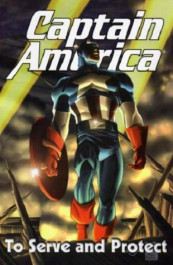 Mark Waid & Ron Garney: Captain America – To Serve and Protect (K)
KÄYTETTY.
Returning from an alternate universe, Captain America, a.k.a. Steve Rogers, finds terrorists conspiring against the U.S. and must face, without benefit of his fellow Avengers or his shield, Hydra, Skrulls and a legion…adoring fans!?
.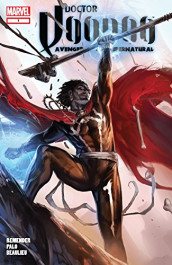 Rick Remender & Jefte Palo: Doctor Voodoo – Avenger of the Supernatural (K)
KÄYTETTY.
Launching from the pages of New Avengers, Jericho Drumm assumes the role of Marvel's new Sorcerer Supreme as DOCTOR VOODOO!
Having foreseen an unimaginable evil that will soon envelop the Marvel Universe, the Eye of Agamotto has passed the mantle of Sorcerer Supreme on to the one man who has the unique gifts to stave off the coming darkness – but is Doctor Voodoo ready for the momentous duty as avenger of the supernatural?
As Jericho begins to grapple with his colossal new position, malevolent beings of vast power see his arrival as an opportunity to strike.
Rising star Rick Remender (Punisher) cracks open a new chapter in the Book of Vishanti to tell the ongoing adventures of the new Sorcerer Supreme in the Mighty Marvel fashion!
Collects Doctor Voodoo: Avenger of the Supernatural #1-5.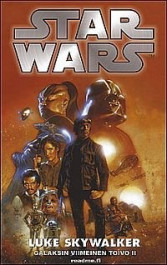 Star Wars: Luke Skywalker – Galaksin viimeinen toivo II (K)
KÄYTETTY, HYVÄKUNTOINEN.
Tämä loistopainoksen toinen osa kunnioittaa sankaria, joka pelasti koko linnunradan.
Massiivinen eepos seuraa Luke Skywalkerin matkaa Tatoiinen kosteus -farmeilta Dark Empiren viimeisiin päiviin.
Jokainen tarina on valittu huolellisesti kaikista Luke Skywalker -sarjakuvista – aina Marvelin ensimmäisestä numerosta Dark Horsen uusimpaan.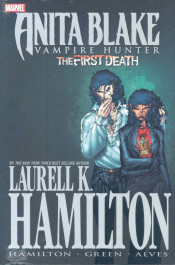 Laurell K. Hamilton & Wellinton Alves: Anita Blake Vampire Hunter 1 – The First Death
KÄYTETTY.
Vampire slayer Anita Blake helps the police find a vampire serial killer responsible for a series of child murders, but quickly realizes she needs the help of her mentor Manny and supernatural hitman Edward to solve the case.
.
OHEISTAVARA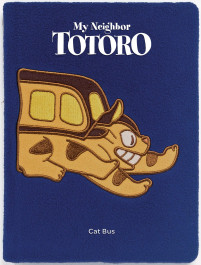 My Neighbor Totoro – Cat Bus Plush Journal
Adorned with the fantastical Cat Bus character from the animated classic My Neighbor Totoro, this soft plush and embroidered journal is a must-have for Studio Ghibli fans and cat lovers of all ages.
Includes lined pages and full-color endsheets.
.
.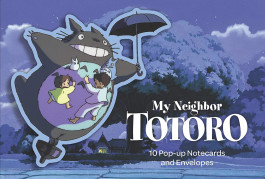 My Neighbor Totoro – 10 Pop-Up Notecards and Envelopes
Studio Ghibli comes to life as pop-up notecards!
Showcasing classic scenes from the studio's revered film My Neighbor Totoro, these cards add a pop of whimsy to any correspondence–a joyful note to send and receive for Totoro and animation fans of every age.
Sisältää viisi erilaista pop-up-korttia, kaksi kappaletta kutakin.
My Neighbor Totoro – Totoro Plush Journal
Featuring the mysterious forest spirit from Hayao Miyazaki's iconic film My Neighbor Totoro, this plush and embroidered journal includes lined interiors and colorful artwork on the front and back pages–sure to delight Totoro fans and all who love irresistibly cute and fluffy characters.