Luettelo:
Kotimaiset uutuudet
Ulkomaiset uutuudet
Lehdet ja kirjat
Käytetyt sarjakuvat
Oheistavarat
Alkuun
KOTIMAISET UUTUUDET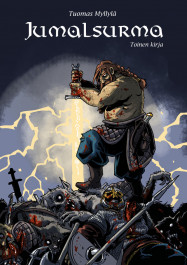 Tuomas Myllylä: Jumalsurma – Toinen kirja
Sodan liekit tuhoavat pohjolaa, kun jumalten sota Silarien mahtavaa keisarikuntaa vastaan kiihtyy. Voitoista huolimatta jumalten välinen hauras rauha on jo rakoilemassa, ja petos ja epäsopu vaanivat pinnan alla.
Rintamalinjojen välissä pieni joukko pakolaisia etsii tietään ulos vihamielisestä maasta.
Heitä johtaa Hrotgar, Jumalsurmana tunnettu vanha soturi.
Apunaan hurja peikkoberserkki Thurinn ja elävä miekka Irkana, hän on vannonut tappavansa kaikki pohjolan jumalat ihmiskunnan puolesta.
Päästäkseen tavoitteeseensa hän joutuu kamppailemaan tiensä läpi Venderon petollisten soiden, missä vaanivat niin paikallisten heimojen pääkallonmetsästäjät kuin suurten muinaisten olentojen viha.
Mutta päämäärässä odottavat yllättävät haasteet: jumalilla on omat suunnitelmansa Hrotgarin suhteen, ja kaiken kamppailun jälkeen hän saattaakin olla itse se ase, joka vie hänen vihollisensa lopulliseen voittoon.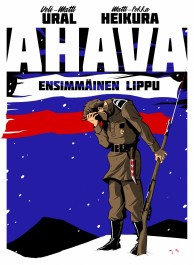 Veli-Matti Ural & Matti-Pekka Heikura: Ahava – Ensimmäinen lippu
Voiko yksi ihminen muuttaa maailmaa?
Suuret aatteet muokkaavat maailmaa 1900-luvun alussa.
Liput nousevat, laskevat ja palavat.
Suomen ja Karjalan kansat elävät Venäjän vallan alla, mutta kun Verisunnuntain tahrat leviävät kohti länttä, itsenäistyminen tuntuu hetki hetkeltä todellisemmalta. Vanhemmilta perityn idealismin innoittamana uhtualainen Iivo Ahava kasvaa maailmassa, jossa vanhat rakenteet natisevat liitoksissaan ja vallitseva järjestys vaatii muutosta.
Karjalan on aika itsenäistyä.
Ahava – Ensimmäinen lippu on tositarinaan perustuva kertomus punaisena heimosoturina tunnetun Iivo Ahavan myrskyisestä nuoruudesta. Vapaasta Vienasta haaveileva vaikutusvaltainen Ahavan perhe työskentelee maltillisesti Kuusamosta käsin karjalaisen kansansa sivistämiseksi. Iivosta, perheen esikoisesta, povataan tuon hiljaisen tehtävän jatkajaa. Hillitty sivistys tarkoittaa tulisieluiselle nuorukaiselle turhan kivikkoista tietä, kun historian hirveimpään verenvuodatukseen varustautuva maailma tarjoilee nopeita ja houkuttelevampia reittejä kohti vapautta. Iivo Ahava on luvannut muuttaa maailmaa.
Ja lupaus pitää kuin rauta.
ULKOMAISET UUTUUDET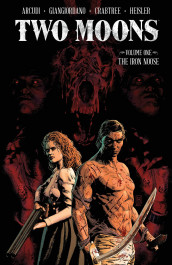 John Arcudi & Valerio Giangiordano: Two Moons 1 – The Iron Noose
RUMBLE and BPRD writer JOHN ARCUDI is back at Image with rising star VALERIO GIANGIORDANO for an all-new horror series set in the midst of the Civil War.
In the middle of the horrors of the American Civil War, young soldier Virgil Morris discovers that he can't leave his Pawnee origins behind him.
Visited by ghosts and visions, he learns that the war is not the worst evil he and his new friend, nurse Frances Shaw, face. Together – and apart – Frances and Virgil combat madness and hell itself.
Collects TWO MOONS #1-5.
John Byrne: Fantastic Four by John Byrne Omnibus 1
It was the world's greatest comic magazine – again!
Not since the days of Stan Lee and Jack Kirby had a creator so perfectly captured the intense mood, cosmic style and classic sense of adventure of Marvel's First Family.
Fresh off an earth-shattering and reputation-making run as penciler on UNCANNY X-MEN, John Byrne proved his writing talent was every bit the equal of his art as he pulled double-duty on FANTASTIC FOUR, launching Reed, Sue, Ben and Johnny into realms of imagination and wonder into which few creators before had dared to travel.
From the four corners of the globe to the farthest reaches of space to the deepest depths of the Negative Zone, the FF face off against foes old and new – including the Dr. Doom, Galactus and Annihilus!
Plus: The FF aid the Inhumans, bid farewell to the Baxter Building, don new costumes and celebrate their 20th anniversary in style as Byrne reminds us all there's a family at the heart of this team of adventurers!
Collecting: MARVEL TEAMUP (1972) #61-62; MARVEL TWO-IN-ONE #50; FANTASTIC FOUR (1961) #215-218, #220-221, #232-262 and ANNUAL #17; PETER PARKER, THE SPECTACULAR SPIDER-MAN (1976) #42; AVENGERS (1963) #233; THING (1983) #2; and ALPHA FLIGHT (1983) #4.
Mike Norton: Battlepug – The Compugdium
At long last, the award-winning webcomic collected!
All five volumes of Mike Norton's original fantasy/humor series together for the first time.
Join the last Kinmundian and his faithful steed, THE BATTLEPUG, as the travel the seeking revenge against every giant ridiculous animal they can find.
Featuring extras like sketches and art by some of the most creative artists in the business today!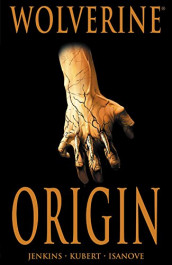 Paul Jenkins & Andy Kubert: Wolverine – Origin
This volume collects the romantic period piece that pulled back the curtain on Wolverine's mysterious past.
All is revealed about the incredible forces that molded the world's most perfect killing machine with a heart as big as the great outdoors.
Collecting Wolverine: Origin #1-6.
.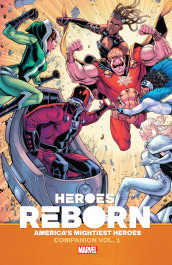 Heroes Reborn – America's Mightiest Heroes Companion 1
Stories from a world without Avengers!
The teenage Hyperion and his friends in the Shi'ar Imperial Guard find horror and agony in the Negative Zone!
Peter Parker is the biggest Hyperion fan in the world — and he also just happens to be chummy with his favorite hero thanks to a photography gig at the Daily Bugle!
Years after his kind were massacred, Magneto gathers his Mutant Force for a deadly rescue mission!
Kid Spectrum (Sam Alexander), Girl Power (Kamala Khan) and the all-new Falcon (Miles Morales) are the Young Squadron!
And Baron Zemo leads Natasha Romanov, Clint Barton, Scott Lang and Victor Creed in an assault on Earth's supreme heroes!
COLLECTING: Heroes Reborn: Hyperion & the Imperial Guard (2021) #1, Heroes Reborn: Peter Parker, the Amazing Shutterbug (2021) #1, Heroes Reborn: Magneto & the Mutant Force (2021) #1, Heroes Reborn: Young Squadron (2021) #1, Heroes Reborn: Siege Society (2021) #1.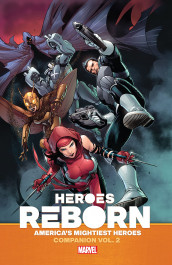 Heroes Reborn – America's Mightiest Heroes Companion 2
More tales from a world reborn!
In the absence of the Avengers, the Squadron Supreme are America's Mightiest Heroes — and the changes don't end there!
Some threats require a more savage approach than the Squadron can offer, and that's where Elektra and her squad — including the Punisher, Crossbones and Cloak — come in!
Police Commissioner Luke Cage has one job: eliminate vigilantes!
By day, Dr. Gwendolyn Stacy is Ravencroft Asylum's leading psychiatrist — but by night, she dons the guise of Nightbird!
Who will protect Canada from the supremacy of the Squadron? Weapon X and Final Flight!
And don't miss a classic story from the days of yore: Nighthawk vs. the Green Goblin on the night Sam Wilson died!
Collects Heroes Reborn: Squadron Savage (2021) #1, Heroes Reborn: Marvel Double Action (2021) #1, Heroes Reborn: American Knights (2021) #1, Heroes Reborn: Night-Gwen (2021) #1, Heroes Reborn: Weapon X & Final Flight (2021) #1.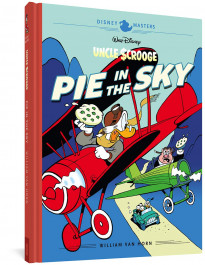 William Van Horn: Uncle Scrooge – Pie in the Sky
Scrooge McDuck is an ace treasure hunter, but is he a flying ace?
When Scrooge enters the infamous Flitterwobble Airplane Show as a stunt pilot, he ends up defending his life, his rep — and his priceless antique Sopwith Two-Seater plane from the bombastic Baron Von Strudel!
Canadian Disney Comics writer/artist William Van Horn has been a beloved Donald and Uncle Scrooge talent since 1987 — but only his DuckTales stories have been anthologized in modern times. By popular demand, this volume begins a comprehensive collection of his Uncle Scrooge and Donald adventures!
And Pie in the Sky is just the start.
In The Amazon Queen, Scrooge sells a cursed necklace to a fellow treasure collector — and assigns Donald to deliver it!
And then in Another Vine Mess, Donald's nephews' purchase of a rare Patagonian Wirevine causes the house to be overrun by ferocious, duck-destroying greenery!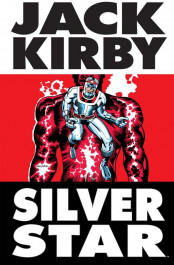 Jack Kirby: Jack Kirby's Silver Star 1
Jack King Kirby's Silver Star is collected in full color at last!
Chronicling the rise of Homo-Geneticus, the New Breed of humanity that spawns both Silver Star and the nefarious Darius Brumm, Silver Star was Kirby's final creation and one of only two creator-owned projects published by Pacific Comics in the early '80s.
Featuring lovingly reconstructed color work, this deluxe hardcover is a must-have for any Kirby fan!
LEHDET JA KIRJAT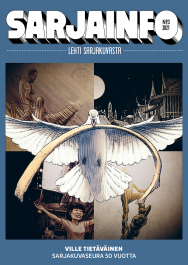 Sarjainfo #192 (3/2021)
• Kansi ja pääjuttu: Ville Tietäväinen
• Juho Sihvonen
• Essee: Mykkäsarjakuvat
• Sara Valta
• Pilapiirrokset yhdysvalloissa
• Roz Chast
• Sarjakuvayhteisöllisyys verkossa
• Ajan vangit: Veli Ahonen
• Ruotsin sarjakuvahistoria
• Arviot: Pääarviossa Tiitu Takalo
• Pienlehdet
KÄYTETYT SARJAKUVAT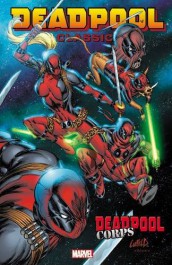 Deadpool Classic 12 – Deadpool Corps (K)
KÄYTETTY.
Deadpool gears up for an intergalactic adventure, but to succeed, he'll need to assemble a crack team of special operatives!
So naturally he recruits four other versions of himself! What could go wrong?
Lady Deadpool, Kid Deadpool, Dogpool, Headpool and the original Merc With a Mouth form…the Deadpool Corps!
First, the consciousness-sapping Awareness has wiped out the free will of millions of planets, and the Corps must stop it from destroying the galaxy!
If they can keep the in-fighting and binge drinking to a minimum, they just might just stand a chance.
COLLECTING: Prelude to Deadpool Corps #1-5, Deadpool Corps #1-12, Deadpool Family #1.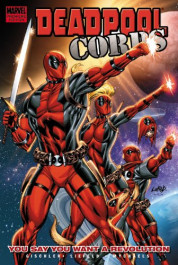 Viktor Gischler & Rob Liefeld: Deadpool Corps 2 – You Say You Want a Revolution (K)
KÄYTETTY.
How many Deadpools does it take to destroy an alien world?
Fresh from inexplicably saving the galaxy, the Deadpool Corps is offered a mission by the Omega Confederation to squash a rebellion by the Krook people that is derailing the company's mining operation.
Naturally, the Confederation is a little miffed upon learning the Corps has changed sides!
Deadpool tries to modernize the Krook society so the people can defend themselves from invasion, at the same time attempting to win Princess Teela's affections. But her father, the king, challenges Deadpool's rise to power and his kingdom's industrialization.
Leave it to Wade Wilson to incite a civil war.
Father fights daughter, brother battles brother, and Lady Deadpool duels Deadpool!
Will Wade and friends make it out alive, or will their meddling destroy the entire planet?
Collecting DEADPOOL CORPS #7-12.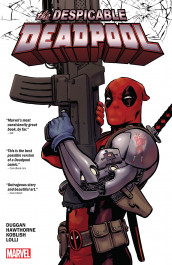 Despicable Deadpool (K)
His days as a hero are over – now Deadpool is despicable!
And what could be more despicable than…killing Cable?! That's right, Wade Wilson is out to prove himself a merciless merc by offi ng his best friend!
But that's not the only item on his evil agenda! Deadpool has a lot of unfinished business, and he's determined to take care of it all before…well, before anything bad happens.
Revenge on Hydra's "Stevil Rogers"? Check.
Settling things with Rogue? Check.
Then there's Madcap to deal with and – wait, is Deadpool seriously going to take out Apocalypse?! This is starting to sound a bit like a bucket list…
Plus: A bonus Deadpool tale from the past, previously only read by obsessive variant cover collectors!
COLLECTING: DESPICABLE DEADPOOL #287-300, SECRET COMIC VARIANTS FROM DEADPOOL #23-25, #30-36 AND DESPICABLE DEADPOOL #287-296.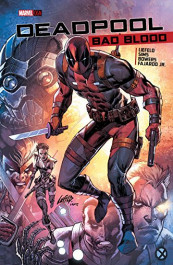 Rob Liefeld: Deadpool – Bad Blood (K)
KÄYTETTY, HYVÄKUNTOINEN.
Deadpool-more popular than ever before-in his first Original Graphic Novel!
Deadpool's been shooting, stabbing, and otherwise annoying people for a long time now. He's made a lot of enemies. One that he can't quite place is the brutal Thumper, who keeps showing up out of the blue to pound him into jelly. What is Deadpool's past connection to this beefy face-masher?
And what's up with Cable, Domino, and the others on the cover? Are they going to show up in the book? (Hint: They are!)
Deadpool co-creator Rob Liefeld on pencils and inks teams with writers Chris Sims and Chad Bowers (X-MEN '92) to tell the tale of his greatest creation (just roll with me here) getting his heinie handed to him!
Check it out before Deadpool checks YOU out!
Ben Blacker & Danilo Beyruth: Deadpool V Gambit – The "V" is for "Vs." (K)
KÄYTETTY BRITTIPAINOS.
Gambit – one of the smoothest, best-looking operators in the world of the X-Men.
Deadpool – one of the most annoying, ugliest dirtbags in the world of everything.
Naturally, these guys got beef. But do you know what they have in common? A secret history of working together to pull con-jobs. That's right – the grift is on as the Regeneratin' Degenerate and the Ragin' Cajun begrudgingly take on one last job together.
Collecting Deadpool V Gambit #1-5.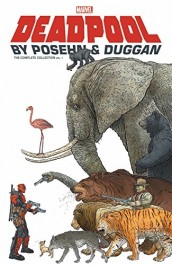 Brian Posehn & Gerry Duggan: Deadpool by Posehn & Duggan – The Complete Collection 1 (K)
KÄYTETTY. Pieniä jälkiä kansissa.
Comedy writing partners Brian Posehn and Gerry Duggan bring the funny, Deadpool style, in one of the most celebrated eras of the Merc with a Mouth!
Wade Wilson must take down an army of dead presidents – and things only get wilder from there!
Deadpool is hired by a demon to reclaim damned souls; gets in touch with his feminine side; targets a man with aquatic powers; and teams up with the Superior Spider-Man!
Plus, the debut of the fl ashback "inventory issue" tales that Posehn and Duggan made famous, featuring Deadpool's adventures in yesteryear!
Deadpool drowns his sorrows with Iron Man, gets funky with Power Man and Iron Fist, wreaks Kirby-fi ed havoc on a cosmic level, and fights Hitler alongside Cable and Nick Fury!
Deadpool has never been more hilarious!
COLLECTING: DEADPOOL (2012) #1-14, #20, #26.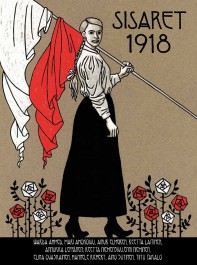 Reetta Laitinen (toim.): Sisaret 1918 (K)
LUKEMATON KAPPALE, MUTTA YLÄNURKKA SAANUT OSUMAN.
Vuoden 1918 sotaa on kutsuttu veljessodaksi mutta se oli myös sisarten sota. Naisia oli sekä punaisten että valkoisten puolella ja sota vaikutti useiden naisten ja lasten elämään, kuten maailman konflikteissa nykypäivänäkin.
Sisällissodan naisia on käsitelty niin tieteen kuin taiteen keinoin tutkien. Tavallisen ihmisen henkilökohtaiset kokemukset katoavat usein sodan melskeeseen. Muistoja kerättiin suomalaisiin arkistoihin sadoittain 1960-luvulla, kun sodan muistelijat olivat jo vanhuksia.
Sisaret 1918 -sarjakuva-antologiassa kymmenen ansioitunutta sarjakuvapiirtäjänaista tulkitsee kymmenen naisen tai lapsen kokemuksia vuoden 1918 tapahtumista. Valitut tositarinat ovat peräisin Kansan Arkiston muistitietokokoelmasta sekä Suomalaisen Kirjallisuuden Seuran 1918-kokoelmasta.
Kertojia on sekä punaisten että valkoisten puolelta eri puolilta Suomea. Kaikki ovat kokeneet sodan omalla tavallaan: rintamalla, vankileirissä, sairaanhoitajana tai silminnäkijänä.
Antologian on toimittanut Kansan Arkiston tutkija, FM Reetta Laitinen, itsekin sarjakuvantekijä. Laitinen on valinnut sekä projektissa olevat taiteilijat että teoksen pohjalla olevat muistelmat, kirjoittanut tekstit puhtaaksi ja kerännyt taustatietoja.
Kukin taiteilija sai yhden tarinan tulkittavakseen. Jokaisella on oma persoonallinen tyylinsä ja kaikki ovat kerronnallisen sarjakuvan taitureita. Historiallista sarjakuvaa on tehnyt jo aiemmin useampi, muutamille aluevaltaus on uusi. Ryhmä perehtyi huolellisesti muistelmiin, lähdemateriaaleihin, aikakauteen ja historiallisiin yksityiskohtiin. Tulkinnoissa on käytetty taiteellista vapautta mutta ne kunnioittavat silti alkuperäisten kertojien autenttisia kokemuksia.
Albumin taiteilijat ovat Warda Ahmed, Mari Ahokoivu, Ainur Elmgren, Annukka Leppänen, Reetta Niemensivu, Emmi Nieminen, Elina Ovaskainen, Hannele Richert, Aino Sutinen ja Tiitu Takalo. Projekti sai Koneen Säätiön apurahan vuodelle 2017.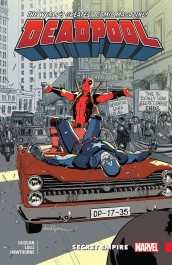 Gerry Duggan & Matteo Lolli: Deadpool World's Greatest 10 – Secret Empire (K)
KÄYTETTY.
Deadpool takes on the event storyline of 2017: Secret Empire!
But which side will he choose – and how will he face down the fallout?
Wade Wilson trusts Steve Rogers implicitly – how could he not?
But that trust is about to be put to the test, big-time!
Deadpool has spent his super hero career cracking jokes, but this situation is serious – and big changes are coming for the Merc With A Mouth…
Collecting Deadpool (2015) #31-36.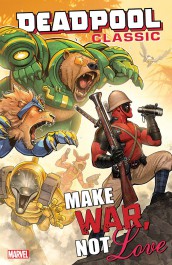 Deadpool Classic 19 – Make War, Not Love (K)
KÄYTETTY.
War!
Who is it good for?
Deadpool!
And these are his very best combat classics! Dig into Wade Wilson's take on Sun Tzu's Art of War, the definitive work on military strategy. (What? It's totally in the public domain, and ripe for being ripped off !)
Then, get the real story behind 1984's Marvel Super Hero Secret Wars! You think Wade wasn't there? You think he hadn't even been invented yet? Think again! He's on Battleworld, and he even has his own secret shield! He isn't on that other Battleworld though, only his ghost is. But Deadpool's widow Shiklah can wage war better than Sgt. Fury – and she has her own, monstrous Howling Commandos!
Plus: Deadpool vs. Brute Force!
Collects Deadpool Bi-Annual #1, Deadpool's Art of War #1-4, Deadpool's Secret Secret Wars #1-4, Mrs. Deadpool and the Howling Commandos #1-4.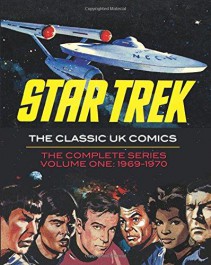 Star Trek – The Classic UK Comics 1: 1969-1970 (K)
KÄYTETTY.
In 1969, six months before the Star Trek TV series premiered in England, British comics readers were introduced to the characters in an original comic book series.
The stories were serialized, generally 2 to 3 pages at a time, in 257 weekly magazines spanning five years and 37 storylines.
These extremely rare comics have never been published in the United States. Star Trek fans will quickly note that the comics were not written with strict adherence to Star Trek's core concepts.
The Enterprise frequently traveled outside our galaxy, and the crew committed many violations of the never-mentioned Prime Directive along the way.
Spock shouted most of his lines and often urged Kirk (or "Kurt," as his name was misspelled in early issues) to shoot first and ask questions later.
But it's precisely that "offness" that makes them so eminently readable and deserving of a proper reprinting.
They're unique in the annals of Star Trek and fans have gone without them for far too long.
Artists: Harry F. Lindfield, Ron Turner, Jim Baikie, Mike Noble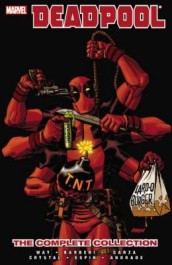 Daniel Way: Deadpool – The Complete Collection 4 (K)
KÄYTETTY. SELKÄMYKSEN ALAOSASSA REPEÄMÄ.
Deadpool is desperate to end it all, but his healing factor makes dying a near-impossibility.
When Wade finds the one thing in the world that can kill him – a serum that permanently disables his regenerative abilities – he just might get his wish.
But when his newfound ability to die makes Deadpool feel more alive than ever, his sudden lust for life gets him in hot water with everyone he crosses – including crime bosses, super villains, his fellow mercenaries and even a dual Beretta-wielding monkey!
Can the Merc with a Mouth escape his pursuers and his pattern of insanity-fueled self-destruction, and finally live life to the fullest?
COLLECTING: Deadpool #50-63.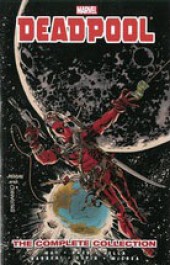 Daniel Way: Deadpool – The Complete Collection 3 (K)
KÄYTETTY, HYVÄKUNTOINEN.
Deadpool heads into space to increase his intergalactic cred.
Will taking on galactic assassin Macho Gomez and the immense Id the Selfish Moon cement Deadpool as the solar system's best, most ruthless mercenary?
Not as far as his "old friends" back on Earth are concerned…Hydra Bob, Big Bertha, Taskmaster and Blind Al all want to claim a piece of his hide!
Deadpool flirts with both mortality and sanity as he takes on the incredible Hulk (hoping to die!) and is locked up in an asylum (that could actually help him!)
COLLECTING: Deadpool 32-49, 33.1, 49.1.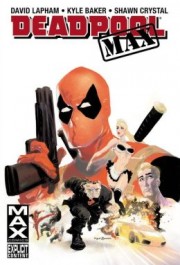 David Lapham: Deadpool MAX
KÄYTETTY.
Deadpool uncensored! Government agent Wade Wilson is a valuable assassin, but the unstable killer needs the guidance of a steady hand.
It's Bob's job to make sure Deadpool completes his missions – by any means necessary.
Unfortunately, Deadpool considers him something of a sidekick, and it's always the sidekick who takes one for the team.
Then, Deadpool gets married! But things spiral straight down the tubes when his blushing bride goes on a murder spree that threatens to destroy Deadpool's newly formed nuclear family.
Plus: Deadpool and Bob take on Hydra – but when Bob is framed for a terrorist act and hunted by the U.S. government, he and Deadpool go on the run in a heartfelt, soul-searching journey full of sex, drugs and excessive violence!
Collecting DEADPOOL MAX #1-12, DEADPOOL MAX 2 #1-6 and the DEADPOOL MAX X-MAS SPECIAL.
OHEISTAVARAT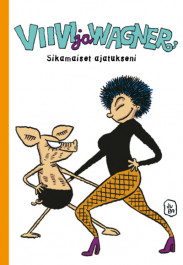 Juba: Viivi ja Wagner -muistikirja
Sikamaiset ajatukseni – Muistikirja wagnerilaisiin hetkiin!
Viivoitetut sivut.
Mukana lukunauha.
.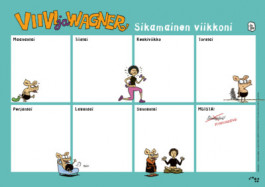 Juba: Viivi ja Wagner viikkolehtiö
Sikamainen viikkoni!
Suunnittele lehtiön sivuille kuluvan viikon tapahtumat ja muistettavat asiat.
Repäistävät sivut.