Luettelo:
Kotimaiset uutuudet
Manga-uutuudet
Ulkomaiset uutuudet
Lehdet ja kirjat
Oheistavarat
KOTIMAISET UUTUUDET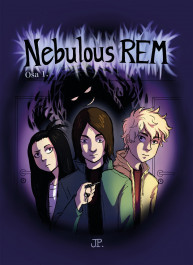 Jomi Pesonen: Nebulous REM 1
Kolme nuorta aikuista muuttavat kimppakämppään, jossa alkaa kummittelemaan.
Tilanne vain pahenee ja pian he ovatkin ratkomassa sarjamurhaa ja unimaailmojen outouksia, sillä niillä näyttää olevan jokin yhteys toisiinsa.
.
.
Alkuun
MANGA-UUTUUDET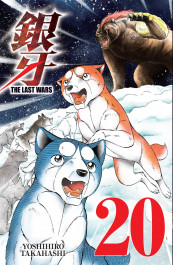 Yoshihiro Takahashi: The Last Wars 20
Ensilumi saapuu ja koirien on aika lähteä sotaan.
Sirius tekee oman valintansa.
Monsoon epäilee petosta.
Ikäsuositus 13+ / Toiminta/Seikkailu
.
ULKOMAISET UUTUUDET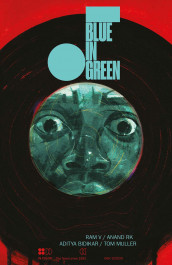 Ram V & Anand Rk: Blue in Green
The dark and haunting portrayal of a young musician's pursuit of creative genius– the monstrous nature of which threatens to consume him as it did his predecessor half a century ago.
From creators Ram V (Grafity's Wall, These Savage Shores) and Anand RK (Grafity's Wall), BLUE IN GREEN is an exploration of ambitions, expectations and the horrific depths of their spiraling pursuit.
.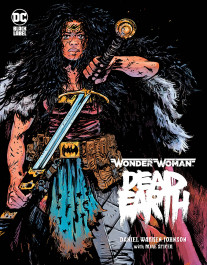 Daniel Warren Johnson: Wonder Woman – Dead Earth
It's Wonder Woman as you've never seen her before-fighting monsters in a postapocalyptic Earth, as brought to life in a daring sci-fi epic by visionary writer and artist Daniel Warren Johnson!
Princess Diana of Themyscira left paradise to save Man's World from itself. When Wonder Woman awakens from a centuries-long sleep to discover the Earth reduced to a nuclear wasteland, she knows she failed.
Trapped alone in a grim future, Diana must protect the last human city from titanic monsters while uncovering the secret of this dead Earth – and how she may be responsible for it.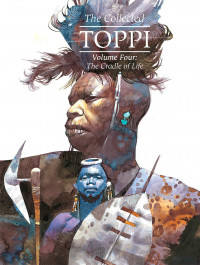 Sergio Toppi: The Collected Toppi 4 – The Cradle of Life
The fourth volume contains five tales of folklore set in colonial-era Africa, Australia, and the South Pacific, presented in English for the first time since their groundbreaking debut in the 1970s and 1980s.
Included are THE KOKOMBO DOSSIER, BWUMA MY SON, WARRAMUNGA, M'FELEWZI, and PACIFIC ISLAND.
.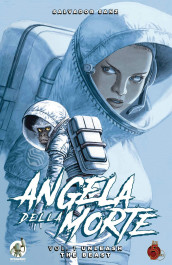 Salvador Sanz: Angela Della Morte 1 – Unleash the Beast
Angela Della Morte works for Dr. Sibelius, the most brilliant mind of the century.
Using a new technology, Sibelius Labs are capable of separate soul from body.
Using this tech Angela's soul can get into other dead host and take control of their bodies in undercover missions.
But as the souls travels the void to get into their new receptacles, they must elude a tenebrous lifeform. This creature feeds with the substance of which the soul is made.
It is the most dangerous predator in this new ecosystem, and its name is: Death.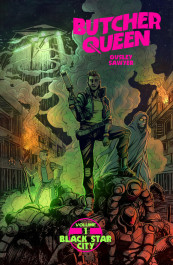 Jim Ousley & Ben Sawyer: Butcher Queen 1 – Black Star City
In Black Star City, alien off-worlders are being systematically attacked and removed from society by a clandestine paramilitary group called the Overseers.
With nowhere left to turn, the refugees hire disgraced cop-turned-mercenary, Syd Kiowa, to protect them from the Overseers and their ruthless death squad, the 88s.
What Syd discovers will change Earth forever…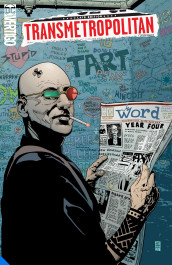 Warren Ellis & Darick Robertson: Transmetropolitan Book Four
Renegade reporter of the future Spider Jerusalem continues his work speaking truth to power and exposing corruption even as his home in the City crumbles around him.
After losing his job, his bank account, and his home, renegade reporter of the future Spider Jerusalem has gone underground, the better to implement his plans to expose the evils of the government in the City.
Then, all hell breaks loose as a nameless sniper terrorizes the Print District and a raging superstorm clears the streets of the City.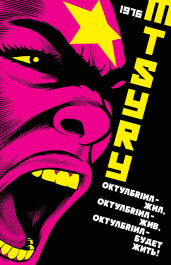 Jim Rugg: Mtsyry Octobriana 1976
In 1971, the west learned about Octobriana – the outlaw Russian superhero comic.
To show solidarity, underground American cartoonists made their own Octobriana comic book.
Robot Stalin's got a new doomsday bomb!
Can the Devil-Woman stop him before he destroys us all? Siberian labor camps, PPP secret orgies, motorcycle gunship train chases – this one has it all!
Samizdat gone wild – a cross between 70s psychedelia and Soviet constructivism!?!
You've NEVER seen a comic book that looks like this! Revolution forever, bitch.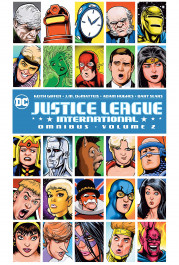 Justice League International Omnibus 2
The satirical 1987-1996 Justice League adventures are collected in a single hardcover edition.
A new generation of the world's greatest super-heroes takes center stage in the wake of a world crisis, but it's the most unlikely grouping of heroes ever – Batman, Black Canary, Blue Bettle, Captain Marvel, Doctor Fate, Dr. Light, Guy Gardner, Martian Manhunter, and Mister Miracle.
Known for its comedic tones and quirky cast, this chapter from 1987-1996 in League history is unforgettable!
LEHDET JA KIRJAT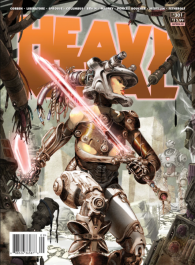 Heavy Metal #301
The conclusion of Richard Corben's Murky World!
Liberatore's Lucy, Brendan Columbus' Savage Circus, Matt Medney's Dark Wing…
Dwayne Harris' Bigfoot Attraction, Hannu Kesola and Axel Medellin's Tuonela, Jok's Invisible Touch…
Charles Fetherloff's 13 Deathless, Marco Stojanovic & Milorad Vicanovic's The Ancient…
Need to know more?
a Richard Corben interview, reflecting on Murky World and his career!
a Dan Fogler interview!!!!
Dylan Sprouse has more Sun Eater!
WonderWerk is back with another Prose!
Matt Medney and Dave Erwin continue telling the saga of the Last Taraakian, Taarna the Eternal.
Need to know even more? Well, since you asked…
The world's greatest illustrated magazine goes monthly!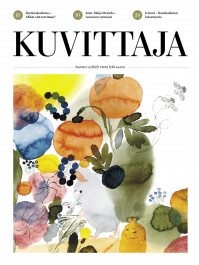 Kuvittaja 2020-04
Pääkirjoitus
Ajankohtaiset & Martta Karma vastaa
Vapaita maalauksia
Aino-Maija Metsola – Luonnon rytmissä
Kuvituskoulutus
Ulkomaan vieras – Icinori
Asiakas – Hasan & Partners
Arviot
Studio – Jyrki Vainio
Luonnoksesta kuvaksi – Riku Ounaslehto
Uudet jäsenet
OHEISTAVARAT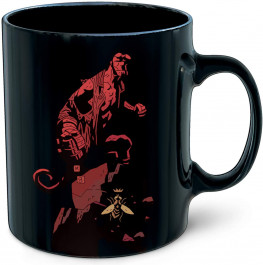 Mike Mignola: Hellboy Mug
A Case of the Mondays.
When Monday morning rears its ugly head, sip your coffee from this Black Hellboy Mug and show it who's boss!
No one will mess you before your caffeine kicks in, because no one messes with Hellboy.
This licensed cup features your favorite character on an ominous black ceramic background.
It's perfect for moody Mondays.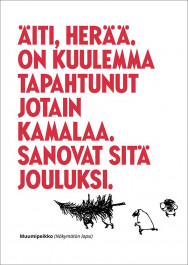 Tove Jansson: Muumipostikortti – Sanovat sitä jouluksi (kohopainettu)
Tove Jansson -muumipostikortti – Äiti, herää. On kuulemma tapahtunut jotain kamalaa. Sanovat sitä jouluksi.
Kierrätettyä pahvia
.
.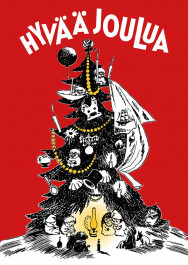 Tove Jansson: Muumipostikortti – Hyvää joulua
Tove Jansson -muumipostikortti – Hyvää joulua
.
.
.
.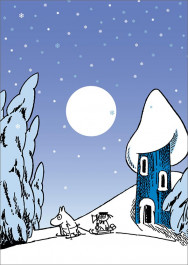 Tove Jansson: Muumipostikortti – Kelkan veto
Tove Jansson -muumipostikortti – Kelkan veto
.
.
.
.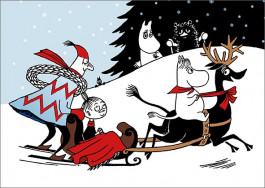 Tove Jansson: Muumipostikortti – Rekiretki
Tove Jansson -muumipostikortti – Rekiretki
.
.
.