Luettelo:
Kotimaiset uutuudet
Manga-uutuudet
Ulkomaiset uutuudet
Alkuun
KOTIMAISET UUTUUDET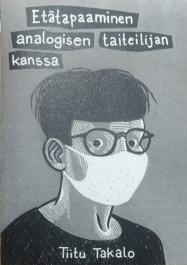 Tiitu Takalo: Etätapaaminen analogisen taiteilijan kanssa
Iloinen 20-luku sai yllättävän käänteen keväällä 2020 maailmanlaajuisen pandemian iskiessä.
Tiitu Takalon numeroitu pienlehti.
.
.
.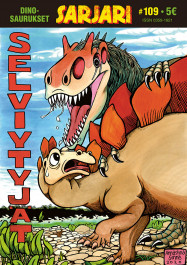 Sarjari 109 – Dinosaurukset
Johanna Sinisalo & Hannu Mänttäri: Tiskivuoro
Annastina Sonné: Compsognathus vs. allosaurus
Tiina Vanhapelto: Helgen dinosaurustietoisku
Markku Myllymäki: Lemmikkihuolia
Aleksi Siirtola: Rex
Juho Sihvonen: Sininen planeetta
Krisse Tuominen: Menneen maailman dinosaurukset
Jussi Heinonen: Populaarimusiikki tänään & huomenna
Mikael Salo: Satu Sammalkorpi – "When Giants Walked the Earth"
P.A. Manninen: Kapteeni Kuolion kivinen kirjasto
Sini Sisättö
Harri István Mäki: Dinot
Ruth Johansson: Lisko-Kitty
Otso Höglund: The O-Files
Aura Ijäs: Loppu tulee
Oskari Siirtola: Poliittiset dinosaurukset
Vesa-Heikki Hietanen: Kuplivaa elämää
Kansi: Annastina Sonné
MANGA-UUTUUDET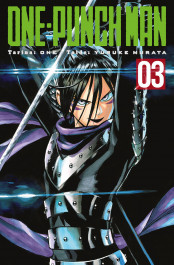 ONE & Yusuke Murata: One-Punch Man 3
Täysin ylivoimainen ja hiukseton Saitama haluaa nousta täydestä tuntemattomuudesta kaikkien tietämäksi sankariksi.
Projekti käynnistetään Sankariliiton pääsykokeilla.
Onnistuvatko Saitama ja Genos vakuuttamaan sankaruuden portinvartijat?
Ikäsuositus: 12+ / Toiminta
ULKOMAISET UUTUUDET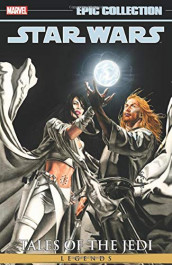 Star Wars Legends Epic Collection – Tales of the Jedi 1
The origins of the Jedi order are revealed!
Journey all the way back to the beginning, more than 25,000 years before the saga of the Skywalkers, and discover how the Jedi began!
Before lightsabers, before hyperspace travel, before the Jedi's message spread throughout the galaxy.
When connections to the Force were strange and new.
There, on a distant planet, a group of beings strive to balance the mysterious Force.
Behold the Jee'dai! But a stranger is coming, one who has a connection to the Force all his own – and the doors to the galaxy are about to swing wide open!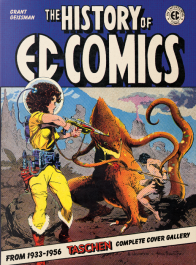 The History of EC Comics
In 1947, Bill Gaines inherited his legendary father's fledgling publishing company, EC Comics.
Over the next eight years, he and a "who's who" of the era including Al Feldstein, Harvey Kurtzman, and Wally Wood would reinvent the very notion of the comic book with titles like Tales from the Crypt, Weird Science, and MAD.
With more than 1,000 images and rarities, there's something new here for even the most die-hard EC Fan-Addicts.
Famous First Edition: First printing of 5,000 numbered copies.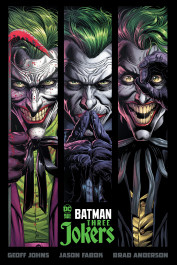 Geoff Johns & Jason Fabok: Batman – Three Jokers
Who are the three Jokers?
Batman doesn't understand how or why, but the fact is certain: the man he has spent a lifetime chasing isn't one man at all. There are three Jokers.
Now that he knows the unbelievable truth, Bruce needs real answers. Joined by Barbara Gordon and Jason Todd, two former victims of the Joker's brutality, the Dark Knight is finally on a path to defeat the madman once and for all.
Every last one of him.
Bill Morrison: The Beatles – Yellow Submarine
Celebrating the 50th anniversary of the Beatles' Yellow Submarine comes this fully authorized graphic novel adaptation.
The Beatles are recruited by the Captain of the Yellow Submarine to help him free Sgt. Pepper's Lonely Hearts Club Band, and the world of Pepperland from the music-hating Blue Meanies.
The music-loving, underwater paradise of Pepperland has been overrun by the music-hating Blue Meanies and their leader, Chief Blue Meanie.
They turn the people of Pepperland into living statues by dropping apples on them and imprison the Pepperland's guardians, Sgt Pepper's Lonely Hearts Club Band inside a soundproof blue glass globe, before confiscating all the music instruments in the land.
Pepperland's mayor sends aging sailor, Young Fred out in the fabled Yellow Submarine to find help.
He travels to our world where he stumbles across the Beatles and begs them to help him free his world. They agree and head back to Pepperland, teaming up with Jeremy The Nowhere Man along the way to help overthrow the evil Blue Meanies through the power of music and love.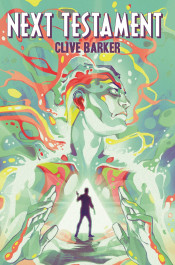 Clive Barker & Haemi Jang: Clive Barker's Next Testament 1
GOD HAS RETURNED. GOD HELP US ALL.
Clive Barker writes an all-new original comic book series! Julian Demond, captain of industry, has left behind everything to begin a walkabout — he believes he's on a mission from God.
While in the wasteland, he comes across a figure unlike any other, who calls himself Wick…and claims to be God.
Their journey will span the globe, as neither man merely wants to make a mark on a world, but a scar.
Clive Barker, along with internationally acclaimed artist Haemi Jang (HELLRAISER: THE ROAD BELOW) come together to create the next legendary work in the canon of one of the great writers of our era.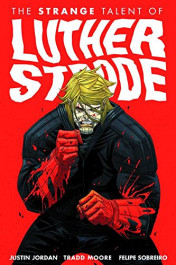 Justin Jordan & Tradd Moore: Luther Strode 1 – The Strange Talent of Luther Strode
Luther Strode is just your average geek — until he sends for an exercise course from the back of an old comic book.
What he gets is the instruction manual from a murder cult as old as mankind that does everything that it promised — and more!
.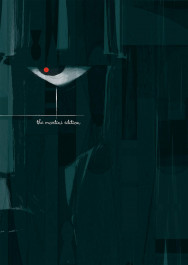 Richard Stark & Darwyn Cooke: Richard Stark's Parker – The Martini Edition
Darwyn Cooke's first two Parker books, The Hunter and The Outfit, are collected in a tremendous, special, oversized hardcover edition — with an additional 65-pages of content — encased in a beautiful slipcase!
Richard Stark's Parker: The Hunter graphic novel debuted in July 2008 to instantaneous popular and critical acclaim. It made the New York Times bestseller list and won coveted Eisner and Harvey awards.
The second graphic novel, The Outfit, was released in 2010 and was met with similar response, and won the 2011 Eisner for Best Writer/Artist.
The Hunter and The Outfit tell the story of Parker, Richard Stark's classic anti-hero, as he returns to New York to settle the score with his wife and partner in crime after they betray him in a heist gone terribly wrong.
After evening the field and reclaiming his prize, the Outfit decide to do some score settling of their own… and learn much too late that when you push a man like Parker, it had better be all the way to the grave.
Also contains the short stories The Man With the Getaway Face and The Seventh.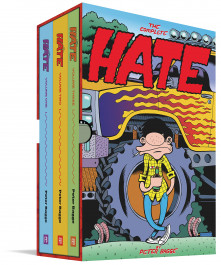 Peter Bagge: The Complete Hate
An archival collection of one of the bestselling alternative comic book series ― arguably, the Great American Grunge novel ― complete for the first time.
The Complete Hate is a three-volume set that includes the original 1990-1998 30-issue run, the nine subsequent Hate Annuals, and tons of other Hate-related comics, illustrations, and ephemera created for books, magazines, comics, toys, and other merchandise.
Bagge combined his cartoony drawing style with uncomfortably real Gen X characters, and the comic books resonated with readers.
Book One (Hate 1-15), focuses on young Buddy Bradley's travails in early 1990s Seattle. Book Two focuses on Buddy and his girlfriend Lisa Leavenworth's move back to Buddy's native New Jersey (and a switch from black-and-white to full color).
Book Three features the final arc of Bagge's magnum opus, as Buddy and Lisa become parents (and buy a garbage dump).
Each volume, along with the slipcase, contains new covers, endpapers, title pages, and other surprises by Bagge. A mix of color and black and white illustrations.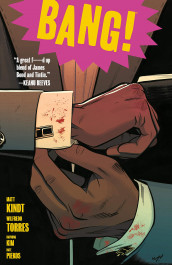 Matt Kindt & Willfredo Torres: Bang!
From New York Times bestselling Mind MGMT creator MATT KINDT and Quantum Age's WILFREDO TORRES comes a brand-new pulp-inspired tale of action, mystery, and altered reality.
A best-of the-best secret agent with memories he couldn't possibly possess, a mystery writer in her 80s who spends her retirement solving crimes, a man of action with mysterious drugs that keep him ahead of a constant string of targeted disasters, a seemingly omnipotent terrorist organization that might be behind it all . . .
And they're all connected to one man: a science-fiction author with more information than seems possible, whose books may hold the key to either saving reality or destroying it.
Collects BANG! #1-#5, along with all covers, a sketchbook section, and pinups by Matt Kindt.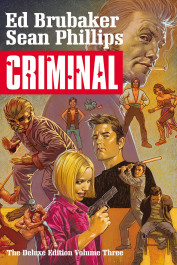 Ed Brubaker & Sean Phillips: Criminal Deluxe Edition 3
BRUBAKER and PHILLIPS' hard-to-find CRIMINAL hardbacks are finally back in print, and joining them is the long-awaited CRIMINAL: DELUXE EDITION, VOL. 3.
This oversized deluxe hardback collects several short stories and novellas from the most award-winning team in the history of comics in a fantastically-designed book full of extras — illustrations, selected articles, interviews, behind the scenes looks, painted covers… and much much more!
Collects the SAVAGE SWORD OF CRIMINAL and DEADLY HANDS OF CRIMINAL magazines, the novellas MY HEROES HAVE ALWAYS BEEN JUNKIES and BAD WEEKEND, and issues 1 and 4 of the newest run of the CRIMINAL monthly series, two full length short stories about the LAWLESS family.
Adam Warren: Empowered Omnibus 1
Of course, it's side-achingly funny. Sure, it's eye-lovingly illustrated. But is it just possibly the best send-up of superheroes yet created? In a word…duh!
Adam Warren's Empowered rattles the capes-and-tights cage in a manner well-deserved for said enclosure, but That's Not All, true believer.
There is "genuinely affecting emotion" (Library Journal). And it's for "real, live adults" (MTV Geek News).
In fact, Empowered is "a fantastically rendered book on every conceivable level" (Comic Book Resources).
Don't be a coward, get Empowered! Collects Empowered volumes 1, 2, and 3.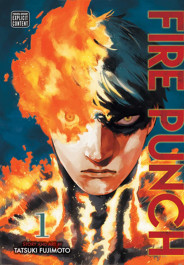 Tatsuki Fujimoto: Fire Punch 1
In a frozen dystopia where inhabitants eat flesh to survive, can the destructive powers of fire bring salvation?
In the not-too-distant past, the Ice Witch blankets the world in snow, starvation, and madness, leading the inhabitants to seek their salvation in fire.
With that, an unusual destiny unfolds for two young orphans, Agni and Luna, blessed with the ability to regenerate. But will this ability prove to be more of a curse than a blessing?
Orphaned siblings Agni and Luna, like the Ice Witch who cursed their world, are two of the "blessed," humans who hold special abilities.
However, not all who are blessed are friendly, and after another of their kind attacks Agni and decimates the orphans' village, Agni fights to survive, vowing revenge.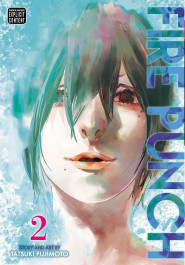 Tatsuki Fujimoto: Fire Punch 2
Following the fight with his longtime enemy Doma, Agni is beheaded, and it's decided that his head is to be taken to the sea.
However, during the journey, a mysterious person named Togata appears, and their madness-tainted filming begins!
.
.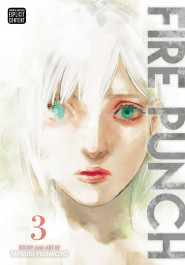 Tatsuki Fujimoto: Fire Punch 3
After receiving Togata's upgrade, Agni heads to Behemdorg to exact his vengeance on Doma, unaware that Togata has flipped the script entirely.
There, instead of finding Doma, Agni is to be pitted against the worst, most violent Blessed that Behemdorg has to offer.
But on the way, Agni's heart fills with a new resolve, ruining Togata's much-anticipated climax!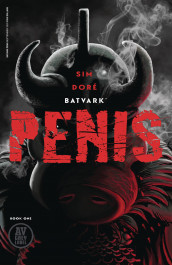 Dave Sim & Gustave Doré: Batvark – Penis #1 NUMBERED
Parody of the 2018-19 Batman: Damned proving that even a low-budget publisher like Aardvark-Vanaheim can do a cheesy knock-off of Neil Gaiman's 1990 Books of Magic. All you need is a cast of mystery characters and a title character with "Bat" in his name!
Batvark gets a new penis – Michelangelo's David's penis, in fact! – so he can "Go Commando" and have the "fine art defence" for legal cover.
Our Mystery characters are Francis Albert! Joe (The Joker Is Wild) E. Lewis! Fractal Gordon Sumner! Common Bloke, English! and The Whore of Babylon in fishnet stockings!
The occult has never seemed more cliche-ridden!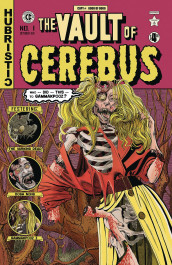 Dave Sim & Gustave Doré: The Vault of Cerebus #1
First annual Hallowe'en Special because a) it's an EC Horror parody and b) unlike everyone else's Hallowe'en Special it will actually come out in October!
Featuring not only Benjamin Hobbs' sequel to The Varking Dead (March, 2020) featuring Batvark and the previously Un-Beddable Vark (who is now fornicating like crazy with the Varking Dead and only qualifies as "un-beddable" because no beds are involved) but also featuring two big 7-page gammakpooz stories written by Dave Sim, "I, gammakpooz!" and "gammakpooz and me" featuring multiple uses of the previously unpublished variant glamourpuss zombie cover!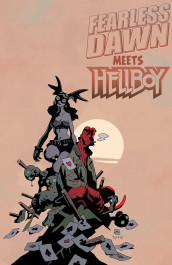 Mike Mignola & Steve Mannion: Fearless Dawn Meets Hellboy Special Edition
Special limited-edition card stock cover of Fearless Dawn Meets Hellboy with art by Mike Mignola!
.
.
.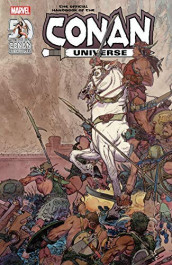 The Official Handbook of the Conan Universe
In the proud tradition of THE OFFICIAL HANDBOOK OF THE MARVEL UNIVERSE, this comprehensive compendium of Conan characters – first published in 1986 – offers a detailed guide to the many heroes and villains featured in Marvel's classic Conan comics!
And with the 50th anniversary of Conan's comic debut upon us, what better time to revisit this fact-filled handbook? Experience the A to Z of Conan's savage world, filled with illustrations from some of the greatest talents of the era – including the legendary John Buscema!
Don't miss this indispensable reference tool for everyone's favorite Cimmerian and his fearsome foes, allies including Valeria and Bêlit, and the many realms of the Hyborian Age!
Reprinting HANDBOOK OF THE CONAN UNIVERSE #1.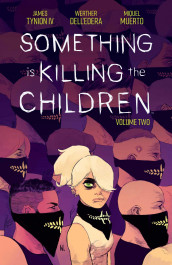 James Tynion IV & Werther Dell'Edera: Something Is Killing the Children 2
EVIL NEVER DIES…UNLESS ERICA SLAUGHTER KILLS IT.
Erica Slaughter may have slain the monster terrorizing the small Wisconsin town of Archer's Peak, but the horror is far from over.
As her mysterious handler arrives in town to clean up her mess and quarantine the townsfolk, Erica sets off deeper into the woods — because the monster she killed was a mother… and now she needs to kill its children.
Héctor Germán Oesterheld & Alberto Breccia: The Eternaut 1969
This is a psychedelically drawn, boldly political retelling of the 1950s graphic novel The Eternaut, whose imagery is still used as a symbol of resistance in Latin America to this day.
In the 1950s, pioneering comics writer Héctor Germán Oesterheld authored the serialized science-fiction adventure story The Eternaut, now a seminal Argentine graphic novel.
In 1969, Oesterheld rebooted his narrative as a dark warning for a mature readership; Alberto Breccia manifested the tonal shift with an expressionistic, disorienting art style.
In The Eternaut 1969, a deadly "snow" falls. Juan Salvo's small household of family and friends are spared, protected inside his home―but what horror awaits them in the silent, deserted streets of Buenos Aires?
Venturing out in search of supplies, our everyday heroes soon join the resistance against an enemy far more sinister than anything they could have imagined.