Sarjakuvat ovat käänteisessä järjestyksessä eli myydyin sarjakuva on viimeisenä.
5. JP Ahonen: Villimpi Pohjola – Irtiotto
(Uusi)
Pari suhdetta vaakalaudalla.
Mielenrauhaa voi hakea mindfulness-kursseilta, joogaretriiteistä tai pakomatkalla Pattayalle, mutta ennen pitkää kriisit on kohdattava kasvotusten.
Muusaa ja Ukkoa kalvaa lapsettomuuden kirous, kun taas Annalla ja Rontilla manataan lapsiperheen arkea.
Työttömyyskin hiostaa, mutta duunissa se ahdistus vasta alkaakin.
Onko missään hyvä?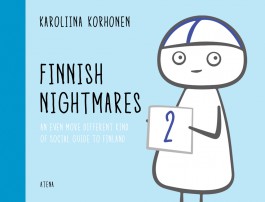 4. Karoliina Korhonen: Finnish Nightmares 2 (Listallepalaaja)
The worst of the Finnish nightmares continue!
Highly popular Matti continues his adventures in the world of demanding social situations.
This time Matti dares to venture outside Finland borders – with predictably uneasy consequences. .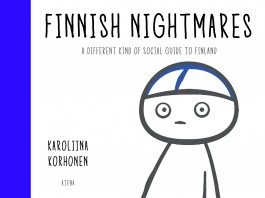 3. Karoliina Korhonen: Finnish Nightmares (Listallepalaaja)
When they have to promote themselves.
When an acquaintance says hello by kissing them on a cheek.
When they owe a favour.
When they wait for a bus in pouring rain, but there´s already someone under the pentice. When they run out of coffee.
That´s when it happens. A finnish awkward moment.
The character of Karoliina Korhonen´s comic strips is finnish Matti, who loves silence and personal space. If someone gets angry or is behaving badly, he wonders what he has done wrong.
Finnish Nightmares is a book about what it is like to be a finn in social occasions. For a foreigner the book opens implied codes that can be difficult to understand but are shared with all finns.
For finns we recommend they would read this book behind closed doors. Bursting with laughter in public is so embarrassing.
The book is available both in finnish and in english.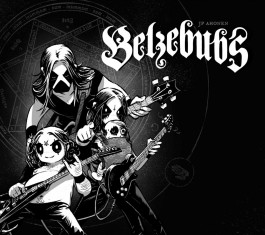 2. JP Ahonen: Belzebubs (Uusi)
Okkultistiperheen edesottamuksia dokumentoiva strippisarja Belzebubs on noussut lyhyessä ajassa maailmanlaajuiseksi sarjakuvailmiöksi.
Sarjakuvantekijä JP Ahonen (Villimpi Pohjola, Puskaradio, Perkeros) kuvaa sekä tavallista arkihelvettiä että perheenisä Sløthin bläkkisbändin tahmaista urakehitystä pirullisen hauskasti.
1. Mari Ahokoivu: Oksi (Uusi)
Kertomus äideistä ja tyttäristä, tähdistä ja myyteistä. Karhuemon pennuista yksi ei ole kuin muut. Mikä se on? Kuka sen on lähettänyt?
Oksi on Mari Ahokoivun tähänastisen uran pääteos, scifiä, fantasiaa ja suomalaista mytologiaa sekoittava eeppinen sarjakuvaromaani.
Tarina pohtii äidin ja lapsen välistä suhdetta muinaisen karhunsyntymyytin kautta.
Oksi herättää myyttisen metsän eloon.