Luettelo:
Kotimaiset uutuudet
Manga-uutuudet
Ennakkotilaukset
Ulkomaiset uutuudet
Lehdet ja kirjat
Oheistavarat
Alkuun
KOTIMAISET UUTUUDET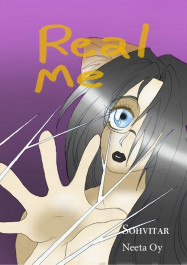 Sohvitar: Real Me
Ursula on iloinen, hauska ja aina myötämielinen ihminen – muiden mielestä.
Sisällä Ursulan sydämessä on silti paljon surua, kaipuuta, jopa masentuneisuutta.
Miten käy, kun Ursula tunnustaa todelliset tunteensa ystävilleen? Onko ainoa oikea ystävä hänelle tosiaan pieni kissansa, Muisku?
.
.
MANGA-UUTUUDET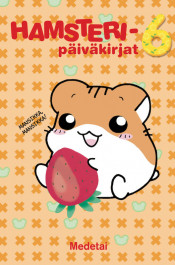 Medetai: Hamsteripäiväkirjat 6
Itsepäinen Shigecchi, hysteerinen Endoo ja laiskanpulskea Puh ovat kuusiosaisen Hamsteripäiväkirjat-sarjan päähenkilöt, jotka sulattavat paatuneimmankin sydämen.
Kuusiosainen sarja tarjoaa mainioita vinkkejä hamsterinomistajille tai sellaisiksi aikoville!
Kaikenikäisille.
.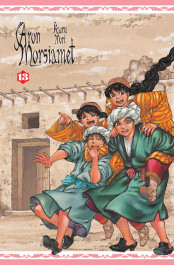 Kaoru Mori: Aron morsiamet 13
Smithin seurueen valokuvausretken seuraava etappi on kylä Araljärven rannalla.
Lyhyttä vierailua emännöivät kaksoset, joiden häihin Smith taannoin osallistui. Sieltä matka jatkuu kaakkoon Buharan suuntaan, kohti Karlukin ja Amiran kotipaikkaa.
Huhut levottomuuksista kuitenkin huolettavat. Onko seudulla enää turvallista liikkua…?
Ikäsuositus 10+ / Draama.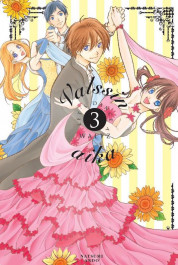 Natsumi Ando: Valssin aika 3
Tervetuloa sydänten tanssiaisiin!
Hime Makimura jatkaa pomppuista matkaansa luokkahuoneen harmaasta hiirulaisesta tanssisalien uljaaksi prinsessaksi.
Luvassa on hurja tunteiden vuoristorata, kun Tangon entisen tanssipartnerin henkilöllisyys paljastuu!
Romantiikka/tanssi / Kaikenikäisille.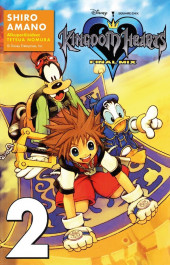 Shiro Amano: Kingdom Hearts Final Mix 2
Lähde mukaan pelastamaan maailmoja sydämettömiltä, salaperäisiltä hirviöiltä!
Tässä toimintaroolipeliin pohjautuvassa seikkailussa saat seuraasi Disney-väkeä Akusta ja Hessusta Aladdiniin ja Arieliin. Mukana on myös Final Fantasy -pelisarjasta tuttuja hahmoja!
Kolmeosainen manga Kingdom Hearts Final Mix perustuu pelisarjan ensimmäiseen peliin.
Heti perään julkaistaan pelisarjan jatko-osiin pohjautuvat Kingdom Hearts Chain of Memories (2 osaa) sekä Kingdom Hearts 358/2 Days (5 osaa)!
Seikkailu /Kaikenikäisille.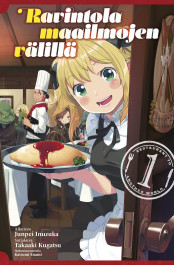 Takaaki Kugatsu: Ravintola maailmojen välillä 1
Nekoya on pieni ravintola, jonka listalta löytyy erityisesti japanilaisia tulkintoja länsimaisesta ruuasta.
Normaalin asiakaskuntansa lisäksi Nekoyalla on myös erikoisempia kävijöitä. Lauantaisin sen ovi näet aukeaa maailmaan, jota kansoittavat ihmisten lisäksi haltiat, liskokansa, lohikäärmeet ja muut oudot otukset.
Ravintola maailmojen välillä kertoo maittavia tarinoita siitä, kuinka hyvä ruoka kokoaa kaikenlaiset olennot sopuisasti saman pöydän ääreen.
Mukana myös reseptejä!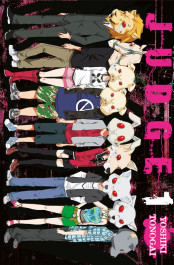 Yoshiki Tonogai: Judge 1
Osa 1/6.
Ylpeys. Kateus. Viha. Laiskuus. Ahneus. Ylensyönti. Himo.
Joku vangitsee joukon toisilleen tuntemattomia ihmisiä. Jokainen heistä on syntinen. Jokainen heistä surmataan, elleivät he uhraa joukostaan syntipukkia.
Kello käy. Kuka on ensimmäinen uhri?
Kuusiosainen trilleri Doubt-sarjan tekijältä!
Ikäsuositus: 12-15.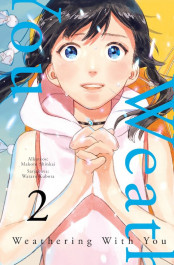 Wataru Kubota: Weathering with You 2
Osa 2/3.
Hinan työ aurinkotyttönä on sujunut hyvin, ja edessä on vielä viimeinen keikka ennen taukoa.
Synkät pilvet kerääntyvät silti yläpuolelle myös kuvaannollisesti. Mikä onkaan "sääneitoa" uhkaava ikävä kohtalo? Kaiken lisäksi viranomaiset etsivät Hodakaa…
Sarjakuvan pohjana on saman niminen animaatioelokuva, jonka on ohjannut superhitistä your name. tunnettu Makoto Shinkai.
Draama / Ikäsuositus 10 +.
ENNAKKOTILAUKSET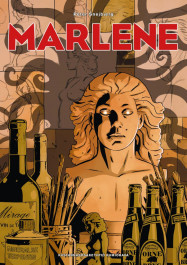 Peter Snejbjerg: Marlene (ENNAKKOTILAUS)
ENNAKKOTILAUS. KIRJA SAATAVILLA 15.11.2021.
Hautausmaalta löytyy pahoin raadeltu miehen ruumis.
Tutkiessaan tapausta rikosetsivä Michael Jörgensen törmää kauniiseen Marleneen, joka tuntuu liittyvän useampaankin salaperäiseen kuolemaan. Mutta mikä on Marlenen salaisuus?
Jahtaako Jörgensen yliluonnollista tappajaa… vai onko hän kenties itse tappajan seuraava saalis?
Marlene on tanskalaisen Peter Snejbjergin kirjoittama ja kuvittama murhamysteeri, jossa arkipäivä ja yliluonnollinen kohtaavat kauhistuttavalla tavalla.
Snejbjergin vahva mustavalkokuvitus yhdistää saumattomasti brutaalit käänteet ja mustan huumorin.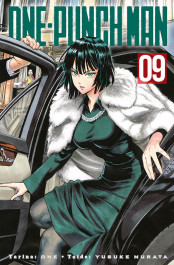 ONE & Yusuke Murata: One-Punch Man 9 (ENNAKKOTILAUS)
Osa 9/20.
ENNAKKOTILAUS. ARVIOITU ILMESTYMISPÄIVÄ 19.11.2021.
Saitaman oven taakse ilmestyy tyrmäävän kaunis naisvierailija.
Seurauksena on varsinainen pyörremyrsky. Kaaoksen kruunaa sankareita metsästävä Garoo, joka pistää hyviksiä ketoon kuin viimeistä päivää.
Ikäsuositus: 13+ / Toiminta.
ULKOMAISET UUTUUDET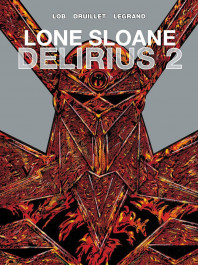 Philippe Druillet & Jacques Lob: Lone Sloane – Delirius 2
Sloane, the interstellar vagabond, has been lured back to the depraved planet Delirius in search of Mali, the missing daughter of his dear friend.
They must find a way to escape the debauched Planet of a Hundred Thousand Pleasures, and destroy the despotic and sinister Red Monks, before they annihilate the galaxy.
Written by Jacques Lob and Benjamin Legrand, Druillet's return to Delirius was years in the making an is an epic journey into the imagination of one of the greatest creative minds of the century!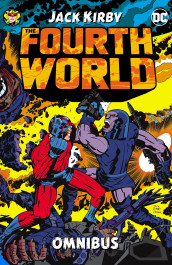 Jack Kirby: The Fourth World by Jack Kirby Omnibus
In the 1970s, legendary creator Jack "The King" Kirby revolutionized the comic book medium with a sweeping multi-series saga called THE FOURTH WORLD.
Encompassed with impossible new worlds, iconic new characters and sweeping new mythologies, its debut elicited unprecedented levels of excitement and anticipation from comics readers everywhere.
In honor of this extraordinary talent's centennial, DC Comics is proud to present an all-new edition of this towering achievement in graphic literature. THE FOURTH WORLD BY JACK KIRBY OMNIBUS collects, for the first time in a single hardcover volume, Kirby's complete chronicles from the pages of SUPERMAN'S PAL, JIMMY OLSEN, THE NEW GODS, THE FOREVER PEOPLE and MISTER MIRACLE, as well as the climactic graphic novel THE HUNGER DOGS.
This transformative tome also includes illuminating essays from acclaimed author (and former Kirby apprentice) Mark Evanier and celebrated comics talent Walter Simonson, as well as a special section of Kirby pencils, profiles, pinups and more!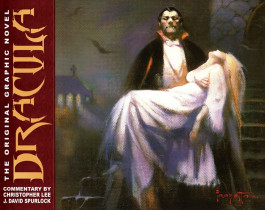 Bram Stoker & Al McWilliams: Dracula – The Original Graphic Novel
Dracula –both the legendary blood-thirsty vampire and his historic inspiration, Vlad The Impaler– has terrified and fascinated the world via a myriad of films and books ever since Bram Stoker's original 1897 novel.
Tales of the vampiric Prince of Darkness have been adapted to every format including a number of graphic novels.
But just as Stoker's 1897 novel ever holds its historic place, so too does the original Dracula graphic novel. The premier, 1966 graphic adaptation of Stoker's classic was edited and packaged as a paperback by legendary Creepy magazine founding editor, Russ Unca' Creepy Jones.
Creepy launched as a full-sized, uncensored black and white horror comics magazine in 1964.
It ran, most-famously adorned with covers by Frank Frazetta, for near 300 issues over two decades, spawning a tsunami of imitators and competing horror magazine lines including from Marvel.
From 2008-2019 Dark Horse released a complete library of Creepy Archives hardcovers which often made the New York Times bestseller list.
After leaving Creepy magazine, for the landmark Dracula graphic novel, Jones enlisted Supergirl co-creator/writer Otto Binder and Star Trek, Twin Earths and Creepy artist Alden McWilliams to adapt Stoker's novel.
Legendary Dracula actor, Christopher Lee even provides an Introduction!
For Halloween 2021, Vanguard has enlarged, revised, and expanded, this historic but long-out-of print classic in a luxurious hardcover edition with a new historic essay by How To Draw Chiller Monsters author, J. David Spurlock, examples of historically related art by Neal Adams, Gene Colan and a new cover by the most celebrated Creepy artist of all, Frank Frazetta.
The package makes a surprisingly tastefully terrifying addition to every library and horror fan's bookshelf.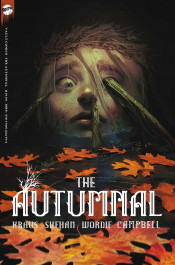 Daniel Kraus & Chris Shehan: The Autumnal
Her estranged mother's death brings Kat Somerville back to Comfort Notch, New Hampshire, a home town she can barely remember.
As she and her daughter Sybil try to settle into a new life, Kat discovers that sometimes home is best forgotten.
WELCOME TO COMFORT NOTCH! HOME OF AMERICA'S PRETTIEST AUTUMN. YOU'LL NEVER WANT TO LEAVE.
Following the death of her estranged mother, Kat Somerville and her daughter, Sybil, flee a difficult life in Chicago for the quaint–and possibly pernicious–town of Comfort Notch, New Hampshire.
From NY Times best-selling author, Daniel Kraus (The Shape of Water, Trollhunters, The Living Dead), and rising star Chris Shehan, comes a haunting vision of America's prettiest autumn.
Collects the complete eight issue series.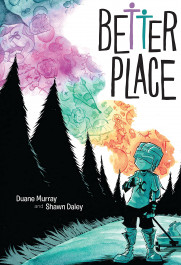 Duane Murray & Shawn Daley: Better Place
This sidekick misses his superhero… After hearing that his grandfather has gone to a better place, a boy sets off on a grand adventure to find him, dressed as his favourite comic book character.
Dylan just moved to a new house, with no friends, and a mother who doesn't have time for him.
Luckily, he has his grandad. Together, they are Red Rocket and Kid Cosmo, who save the universe every day with the power of imagination!
But one day, Dylan learns that his grandad is suddenly gone… to a better place. Now, Kid Cosmo will have to save the day, all by himself.
Debut author Duane Murray joins artist Shawn Daley ( Samurai Grandpa) for a touching story about family, grief, change, and growth.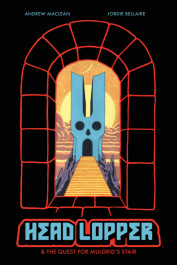 Andrew Maclean: Head Lopper 4 – Head Lopper & the Quest for Mulgrid's Stair
With high stakes action and big imagination, Norgal and Agatha embark on a quest to find an invisible staircase to the heavens, atop which sits Mulgrid the All-Knowing.
With dark assassins everywhere, Norgal hopes the aid of Mulgrid will give him the upper hand.
Slashing their way through gorgons, bombing their way past gargantuan spiders, and navigating the politics of a kingdom on the brink of collapse, the fellowship must make teamwork a priority to survive.
Collects HEAD LOPPER #13-16.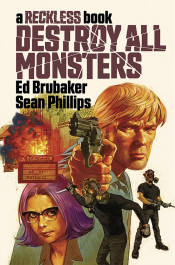 Ed Brubaker & Sean Phillips: Destroy All Monsters
Bestselling crime noir masters Ed Brubaker and Sean Phillips bring us a new original graphic novel starring troublemaker-for-hire Ethan Reckless.
It's 1988 and Ethan has been hired for his strangest case yet: finding the secrets of a Los Angeles real estate mogul.
How hard could that be, right? Only what starts as a deep dive into the life of a stranger will soon take a deadly turn, and find Ethan risking everything that still matters to him.
Another smash hit from the award-winning creators of RECKLESS, PULP, MY HEROES HAVE ALWAYS BEEN JUNKIES, CRIMINAL, and KILL OR BE KILLED — and a must-have for all Brubaker and Phillips fans!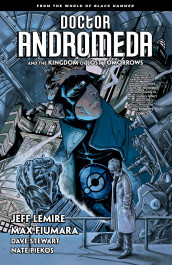 Jeff Lemire & Max Fiumara: Doctor Andromeda and the Kingdom of Lost Tomorrows
This dual-narrative story set in the world of the Eisner Award-winning Black Hammer series chronicles the legacy of a Golden-Age superhero.
An aged crime fighter desperately wants to reconnect with his estranged son, who he hoped would one day take the mantle of Doctor Andromeda.
Over the course of the story we learn his World War II-era origin, how he got his powers, his exciting astral adventures, the formation of some of Black Hammer's greatest heroes, and more in this heartbreaking superhero tale about fathers and sons.
Originally published as Doctor Star and the Kingdom of Lost Tomorrows, this collects the entire series from New York Times bestselling and Eisner-winning creator Jeff Lemire!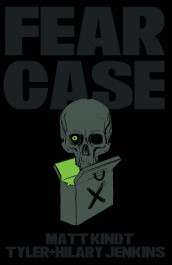 Matt Kindt & Tyler Jenkins: Fear Case
A new, horrific detective series by Matt Kindt (Ether, Mind MGMT) and Tyler Jenkins (Grass Kings)!
A no-nonsense Secret Service agent and his new-age partner investigate a mysterious box known as the Fear Case, which has appeared throughout history at sites of disaster and tragedy.
Whoever comes into possession of this case must pass it on within three days or face deadly consequences. The agents must track down this Fear Case while staying one step ahead of a psychotic cult and the otherwordly forces behind the Case's existence.
Collects Fear Case #1-4.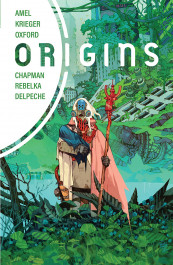 Clay McLeod Chapman & Jakub Rebelka: Origins
HUMANITY IS NO MORE.
One thousand years after humans have gone extinct and artificial intelligence has taken over the world, a single man is brought back to life–David Adams, the genius whose technology was responsible for the destruction of his species, and who has been given a second chance at life in order to save mankind and undo his biggest mistake.
But even with the help of Chloe, his first creation and the android that revived him, he may not be enough to reignite the spark of humanity or stop the AI overlords who plan to eliminate the last hope for mankind.
Now, David and Chloe must embark on the greatest journey of their lives, as he seeks to find redemption and discover if humanity can – or should – have any kind of future.
Acclaimed writer Clay McLeod Chapman (Absolute Carnage: Separation Anxiety) and illustrator Jakub Rebelka (Judas), present a stunning view of a future where humanity's last hope may be the person who created its destruction.
Collects Origins #1-6.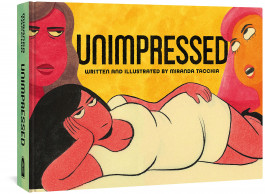 Miranda Tacchia: Unimpressed
Have you ever schemed with a friend?
Stared at your phone screen well after you should have gone to sleep?
Braced for heartbreak?
Been told to smile more?
Then Unimpressed will undoubtedly speak to you.
In a book that bridges comics and memes, Tacchia uses her biting sense of humor and background in animation to create brilliant character portraits of women with only markers, Post-it notes, and tape.
A master of expression, figure, and subtle (and other times not-so-subtle) comedy, Tacchia's protagonists are usually unimpressed women — who all share the fact that they don't give a shit about you, as Tacchia puts it.
What makes Unimpressed so impressive and entertaining is how Tacchia taps into instantly relatable feelings and situations while simultaneously creating art that exudes confidence and vulnerability.
(Sample caption: When you went from giving him an earful to a mouthful.)
Her often scabrous depiction of life as a young single woman today echoes that of Phoebe Waller-Bridge's ( Fleabag) or Abbi Jacobsen and Ilana Glazer's ( Broad City). Funny, smart, observant, sexy, gross, and relatable — Unimpressed is a wonderful debut and a great gift idea.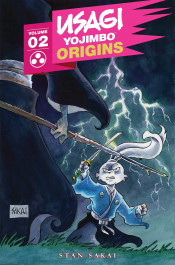 Stan Sakai: Usagi Yojimbo Origins 2 – Wanderer's Road
Presenting the earliest adventures of rabbit ronin Miyamoto Usagi in all-new full-color editions for the first time giving new readers the perfect opportunity to explore the groundbreaking series, while offering long-time fans a new reading experience. Cover art by Peach Momoko!
Usagi's cast of characters continues to expand with the first appearances of his longtime tokage (lizard) companion, Spot, and his greatest nemesis, the demented, seemingly unkillable wolf samurai, Jei!
The bonds of family and the bounds of honor are tested as Usagi helps an elderly mother face the villain her son has become.
When the blind swordspig Zato-Ino comes back for revenge, can Usagi still triumph after the playing field is leveled?
All this, plus more adventures in anthropomorphic Edo Japan!
Beginning with these early issues find out why this series has won six Eisner Awards, two Harvey Awards, an American Library Association Award and has been called by Stan Lee, One of the most original, innovative, well-executed comic books anywhere to be found.
Wanderer's Road collects the stories The Tower, A Mother's Love, The Return of the Blind Swordspig, Blade of the Gods, The Tea Cup, and The Shogun's Gift from Usagi Yojimbo Vol. One, issues #7-12, originally published in black and white by Fantagraphics from March to October 1988.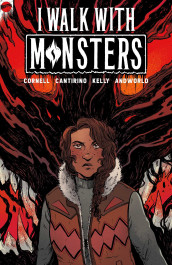 Paul Cornell & Sally Catirino: I Walk with Monsters
MONSTERS WALK BESIDE US ALL, AND SOMETIMES LURK WITHIN.
In Jacey's past is the Important Man who took away her brother.
Now Jacey has David, who sometimes transforms into a terrifying beast. Together, they've found a way to live–and to hunt, sniffing out men who prey on the vulnerable.
But Jacey and David are about to run into the Important Man again.
From Paul Cornell (Wolverine, Doctor Who, Elementary) and Sally Cantirino (Last Song, We Have To Go Back) comes a haunting story about the monsters that walk beside us all, and sometimes lurk within.
Collects the complete six-issue series.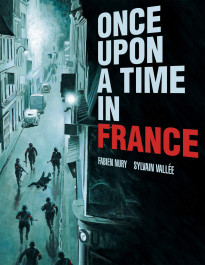 Fabien Nury & Sylvain Vallée: Once Upon a Time in France
For some, he was a villain. For others, a hero.
Based on a true story, Once Upon a Time in France follows the life of Joseph Joanovici, a Romanian Jew who immigrated to France in the 1920s and became one of the richest men in Europe as a scrap-metal magnate.
During the German occupation of France, he thought his influence could keep his family safe, but he soon finds that the only way to stay one step ahead of the Nazis is to keep his friends close and his enemies closer.
Though he plays both sides of the fence as a Nazi collaborator and French resistant, a tangled web of interests forms around him that proves it will take a lot more than money to pay for the survival of his family.
An international bestseller with over 1 million copies sold, the French series Once Upon a Time in France, collected here in one omnibus edition, has won the BDGest'Art Best Scenario Award, BDGest'Arts Album of the Year, and Angoulême International Comics Festival Best Series Award, among many others.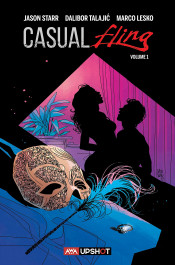 Jason Starr & Dalibor Talajic: Casual Fling
Jennifer Ryan has the perfect life.
A loving family.
A high paying job in corporate law.
A luxurious apartment in upper Manhattan.
Then one day she steps out of her marriage…and finds that her new lover isn't the one night stand she expected.
Stalked and threatened with exposure, Jennifer attempts to unravel the true identity of her tormentor, discovering valuable clues in the trail of destruction left in this mysterious man's wake.
LEHDET JA KIRJAT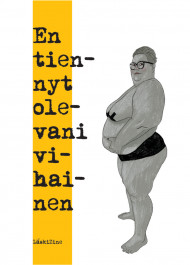 En tiennyt olevani vihainen (Läskizine)
Sari Sariolan "Läskizine" kertoo, millaista on olla liian suuri maailmaan.
Kun sohvat romahtavat alta ja treffaillessa törmää vain läskifetisisteihin. Onko lihavalla yhtäläinen arvo maailmassa kuin normaalipainoisella vai ovatko ylipainoiset ihmiset vain vitsejä?
Sariolan teos tarttuu kulahtaneisiin käsityksiin ja ravistelee niitä. Maailmassa, jossa ihmisarvo mitataan ulkonäöllä ja muotit puristavat, vihaisuuteen on enemmän kuin tarpeeksi syytä.
Teos käsittelee ihmisyyttä ja arvokkuutta, joka ei ole painoindeksistä riippuvainen.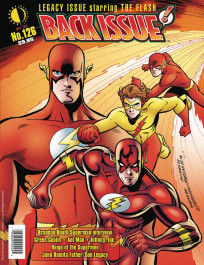 Back Issue! #126
Back Issue #126 is a "Legacy" issue, starring Wally West as the Flash!
Featuring a Brandon Routh Superman interview, Harry Osborn/Green Goblin, Scott Lang/Ant-Man, Infinity Inc., the Reign of the Supermen, and the John Romita Legacy (with a bonus Romita Sr. and Jr. Rough Stuff feature).
With Jon Bogdanove, Gerry Conway, Matt Fraction, Tom Grummett, Geoff Johns, Dan Jurgens, Karl Kesel, David Michelinie, Jerry Ordway, Sandy Plunkett, Roger Stern, Roy Thomas, Mark Waid, and many other superstar creators.
Flash cover by Mike Wieringo and Jose Marzan Jr.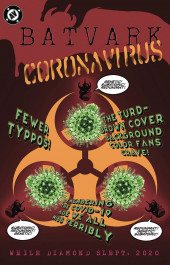 Dave Sim & David Birdsong: Batvark – Coronavirus #1
Now! With fewer typpos!
Now! Featuring The Turd-Brown Cover Background Color Bat-Comic Fans (Evidently)
Crave! Now! Remembering the COVID-19 Golden Age of 2020 we never thought we'd end up missing!
Genetic! As Three-Way-Batvark says (on the cover anyway)
Genetic! Subatomic! Redundant!subatomic! Redundant! Genetic! Redundant! Genetic! Subatomic!
Of course, we all know viruses are neither genetic nor subatomic, but Batvark dropped out of Grade 6. So, please, cut him some slack.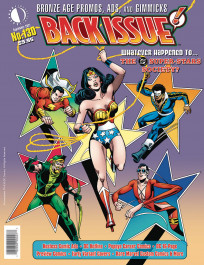 Back Issue! #130
Bronze Age Promos, Ads, and Gimmicks!
Who was the mystery writer of those zany Hostess Comic Ads?
Plus: the aborted DC Super-Stars Society fan club, DC 16-page Preview Comics, the DC Hotline, Popeye Career Comics, Marvel's little-known Quarterly Reports, and more.
Featuring Mike W. Barr, Kurt Busiek, Mike Chen, Glenn Herdling, Paul Kupperberg, Paul Levitz, Kevin Maguire, Dan Mishkin, Tom Morgan, Mark Pacella, Jimmy Palmiotti, Bob Rozakis, Scott Shaw!, Terry Stewart, Roy Thomas, Marv Wolfman, and more.
With a previously unpublished 1979 5-Star Super-Hero Spectacular cover by Dick Dillin and Dick Giordano.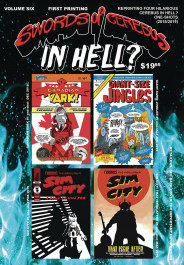 Dave Sim & Sandeep Atwal: Swords of Cerebus in Hell? 6
Further collecting Cerebus' adventures in Hell? (with a question mark)!
Cerebus' Canadian Inaugural Address, 2020!
Cerebus beheads everyone at a campaign stop!
Voluntary carbon tax paid only by environmentalists!
The three answers that answer ANY question in a Liberal or NDP riding! Cerebus, Political Jargon Monster!
First Overstreet Price Guide "Take Note" Note!
First All-Jingles, comics' only CGC-graded dog comics collector, issue!
Find out what Jingles has to say about: Underdog No.1 (May, 2017); Jughead's Pal Hot Dog (1990); Krypto The Super-Dog (2006); The original Hot Dog (1954)! Collects Canadian Vark #1, Giant Size Jingles #1, Sim City #1, and Teenage Money Nabbing Cerebi #1.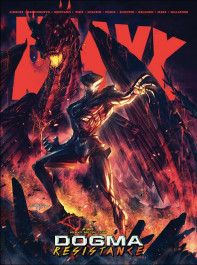 Heavy Metal #310
Heavy Metal Magazine #310 the issue doubles down on the horror with two chapters of Ron Marz's historical war-horror story Swamp God, plus the return of George C. Romero's bone-chilling Night of the Living Dead prologue The Rise, and many more terrifying tales.
.
.
Alkuun
OHEISTAVARAT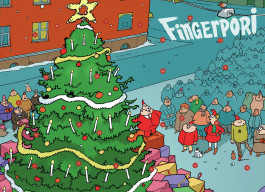 Pertti Jarla: Fingerporin adventtikalenteri – Kuusi
Joulupukki jo tulla jollottaa kohti Fingerporia!
Kiltit lapset ja vähän tuhmat aikuiset odottelevat innoissaan aattoa.
Pakettien paljastuspäivää vartoillessa Fingerporin joulukalenterin luukuista voi katsoa, minkälaisia toiveita pukki on aiemmin toteuttanut.
Vaan kuka on lopulta lahjakkain?
Kulkuset kilkkaamaan! Tervetuloa Fingerporin jouluun!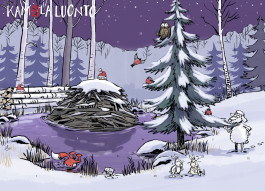 Jarkko Vehniäinen & Marja Lappalainen: Kamala luonto adventtikalenteri – Metsä
Upouusi Kamala luonto -adventtikalenteri!
Tässä hauskassa joulukalenterissa luukkujen alta paljastuvat yllätykset täydentävät alkuperäistä, isoa kuvaa.
Mitä kummaa hiiri puuhaa? Missä on ilves? Ja mitä ihmettä ketulla taas kerran on meneillään?!
Joulunodotus on paljon jännittävämpää Kamalan luonnon eläinten kanssa!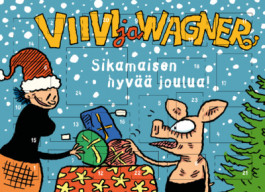 Juba Tuomola: Viivi ja Wagner adventtikalenteri 2021
Sikamaisen hauska joulukalenteri.
Luukkujen takaa löytyy 24 wagnerilaista jouluyllätystä.
.
.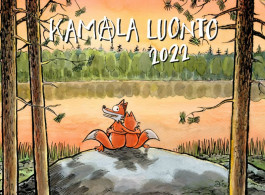 Jarkko Vehniäinen & Marja Lappalainen: Kamala luonto -seinäkalenteri 2022
Vuosi ei ole lainkaan kamala ilveksen, kärpän, ketun ja kumppaneiden ronskissa mutta hellyttävässä seurassa.
Seinäkalenterissa on 12 isoa vesivärein maalattua kuvaa ja lisäksi pikkukuvia kalenteriruudukossa.
Sisältää nimipäivät, liputuspäivät ja juhlapyhät.