Luettelo:
Kotimaiset uutuudet
Manga-uutuudet
Ulkomaiset uutuudet
Käytetyt sarjakuvat
Alkuun
KOTIMAISET UUTUUDET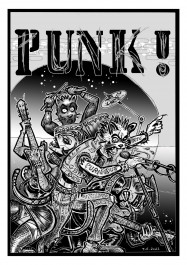 Punk!
Rosoista anarkiaa tai maailmojasyleilevää kapinallisuutta: PUNK! on asennetta, musiikkia ja tekemistä omalla tyylillä. Turun sarjakuvakerhon antologiassa nähdään tänä vuonna punkkeilua neljäntoista taiteilijan voimin.
Tekijät:
Petteri Holm
Jannukakku
Johanna Jasmine
Kaisa Lehikoinen
Nikke Lindholm
Timo Niemi
Aku Osmanen
Tarmo Pyykkönen
Mikael Salo
Toni Tahnatuubi
Tarkron
Esa Turunen
Tero Visio
Hanna Väätäinen
Toimittanut Katariina Lappi.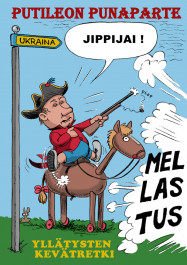 Jukka Lehtonen: Putileon Punaparte – Yllätysten kevätretki
Venäläinen ruletti pyörii ja mustaa puhutaan valkoiseksi.
Eläviksi kuolleiksi manipuloitu kansakunta, joka ei vähääkään välitä mistään ja historia, josta ammentaa myyttejä sepitettäväksi.
Semmoisissa vesissä Putileon Punaparte tai tuttavallisemmin Putler, polvihousuikään jäänyt pieni mies, uiskentelee kuin kala ammeessa vaikka on itse vetänyt juuri tulpan irti.
K jäi jänskät agenttileikit kesken ja isoja pyssyjä on varastossa läjäpäin.
Kun maan perinteetkin velvoittavat, että jokaisen johtajan täytyy hoidella parit kansanmurhat ja kertaalleen järjestellä planeetta ydintuhon partaalle, ja kun millään hinnallakaan ei ole mitään väliä, niin kaikenlaisia metkuja on kiva viritellä meidän muiden Maan asukkaiden riemuksi. – Paitsi venäläisten, jotka eivät vähääkään välitä mistään.
Siinäpä aihetta leikinlaskuun tuon pikku sällin kustannuksella. Tämä avaa sarkastisen näkövinkkelin niin sisä- kuin ulkopuolelta katsoen.
ULKOMAISET UUTUUDET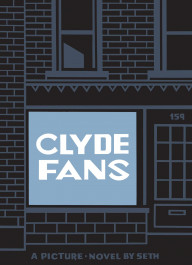 Seth: Clyde Fans
Legendary cartoonist Seth's magnum opus Clyde Fans appeared on twenty best of the year lists, including The New York Times, The Guardian, and Washington Post. The first graphic novel nominated for the Giller, Canada's prestigious national fiction prize, it was also nominated for the Eisner and Trillium Awards.
Clyde Fans peels back the optimism of mid-twentieth century capitalism, showing the rituals, hopes, and delusions of a vanished middle-class–garrulous men in wool suits extolling their wares to taciturn shopkeepers. Like the myth of an ever-growing economy, the Clyde Fans family business is a fraud. The patriarch has abandoned it to mismatched sons, one who strives to keep the company afloat and the other who retreats into his memories.
Abe and Simon Matchcard are brothers, struggling to save their archaic family business selling oscillating fans in a world switching to air conditioning. Simon flirts with becoming a salesman as a last-ditch effort to leave the protective walls of the family home, but is ultimately unable to escape Abe's critical voice in his head. As Clyde Fans Co. crumbles, so does the relationship between the two men, who choose very different life paths but both end up utterly unhappy.
Seth's intimate storytelling and gorgeous art allow cityscapes and detailed period objects to tell their own stories as the brothers struggle to find themselves suffocating in an airless home.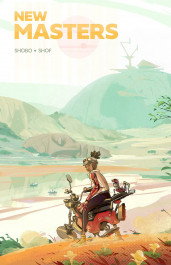 Shobo Coker & Shof Coker: New Masters
Creators for Creators' 2019 grant recipients, Nigerian brothers Shobo and Shof Coker, present New Masters, a groundbreaking blend of science fiction, adventure, drama, and vibrant Afrofuturism.
In a striking vision of West Africa under the thumb of alien colonizers, a motley crew of outcasts find themselves caught up in a power struggle for control of an ancient artifact with immense power.
Collects New Masters issues #1-6.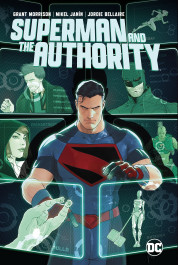 Grant Morrison & Mikel Janin: Superman and the Authority
A new Authority for a new era!
Sometimes even Superman needs to enlist help. Sometimes tasks require methods and heroes unfit even for the Justice League.
So Clark Kent seeks out Manchester Black, the most dastardly of rogues, to form an all-new Authority tasked with taking care of some business on the sly.
But can the Man of Steel hold together and inspire a team of rogues to become the heroes he needs?
Collecting Superman and the Authority #1-2.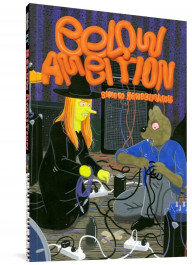 Simon Hanselmann: Below Ambition
Megg and Werewolf Jones are Horse Mania.
Horse Mania is a test of the audience's patience, proudly the "worst band in town," without any ambition to make it.
Join the musicians as they battle through shoddy, distracted practice sessions, a squalid house show, and a doomed interstate tour. Watch as they drunkenly flail through their sets amidst toothaches, nervous breakdowns, suicide attempts, mounting hatred, and a galaxy of benzos.
This is music and performance in its most primal, multifaceted, and pure form. Feel the tension. See the dirty looks. Taste the pain. Smell the depravity. Hear the veiled beauty. Horse Mania wants you to lose your mind.
Below Ambition is a meditation on youth, performance, and memory as only Simon Hanselmann, the best comedic writer in comics, is capable of.
The book will also include a flexidisc single by Horse Mania, Stick It In for the Ambient, which is tipped into the front cover for easy removal and play.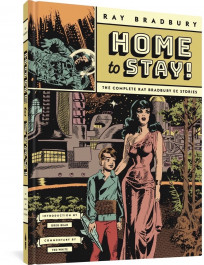 Ray Bradbury: Home to Stay! The Complete Ray Bradbury EC Stories
During a golden moment in the early 1950s, EC Comics lovingly adapted 25 classic Ray Bradbury stories into comics form, scripted by Al Feldstein and brilliantly interpreted and illuminated by all of EC's top artists: Johnny Craig, Reed Crandall, Jack Davis, Will Elder, George Evans, Frank Frazetta, Graham Ingels, Jack Kamen, Roy Krenkel, Bernard Krigstein, Joe Orlando, John Severin, Angelo Torres, Al Williamson, and Wallace Wood.
This special companion collection to our EC Comics Library series features all 25 official adaptations plus an additional ten related stories with stunning art reproduced in generously oversized coffee table dimensions!
Highlights in this singular volume include: Home to Stay– a clever combination of two Bradbury science fiction stories that Bradbury himself proclaimed topped his originals (available in no other form or medium), masterfully woven together by Al Feldstein and Wallace Wood.
A Sound of Thunder — the classic time-travel-gone-wrong story brilliantly illustrated by Al Williamson and Angelo Torres.
Touch and Go — an obsessive psychological thriller tautly executed by Johnny Craig.
And many more, including The Million Year Picnic (Elder), I, Rocket (Williamson and Frazetta), Zero Hour (Kamen), Mars Is Heaven (Wood), and There Will Come Soft Rains… (Wood).
Plus a cornucopia of bonus features, including introductions and commentary by Greg Bear, Ted White, Dr. Benjamin Saunders, Bill Mason, and Thommy Burns; a wry reminiscence by Ray himself; and two full-color paintings by Frank Frazetta.
A superb, sumptuous showcase for these classic comic book masterpieces that have never before been collected together in one volume.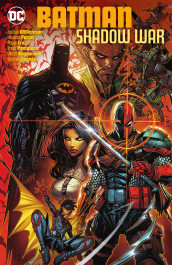 Batman – Shadow War
When Deathstroke assassinates Ra's al Ghul, Talia al Ghul demands revenge and sends her League of Shadows to kill Deathstroke and Deathstroke Inc.!
Ra's al Ghul is dead, and Talia is out for revenge!
Batman is on the case to find Deathstroke before Talia's elite killers do! But Batman starts to piece together that not everything is what it seems in Ra's's death…and knows whom he must interrogate to get answers…Talia herself!
Can the two former lovers ever work together again?
This hardcover collects all the parts of the SHADOW WAR story from Batman #122-123; Robin #13-14; Deathstroke Inc. #8-9; Shadow War: Alpha #1; Shadow War: Omega #1; Shadow War Zone #1.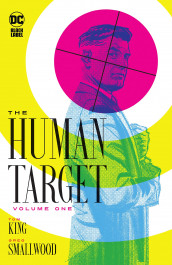 Tom King & Greg Smallwood: The Human Target 1
Christopher Chance has 12 days to solve his own murder! Superstar writer Tom King and acclaimed artist Greg Smallwood team for a new, noir examination of a classic DC character!
Christopher Chance has made a living out of being a human target–a man hired to disguise himself as his client to invite would-be assassins to attempt his murder. He's had a remarkable career until his latest case protecting Lex Luthor when things go sideways.
An assassination attempt Chance didn't see coming leaves him vulnerable and left trying to solve his own murder, as he has 12 days to discover just who in the DC Universe hated Luthor enough to want him dead by slow-acting poison.
And the prime suspects happen to be…the Justice League International?
Human Target is a hard-boiled, gritty story in the vein of classic detective noirs, told by bestselling and critically acclaimed creators Tom King and Greg Smallwood!
This volume collects Human Target #1-6, the first half of the murder mystery.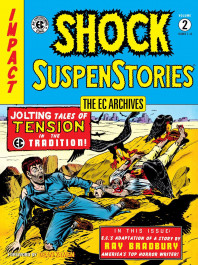 Shock SuspenStories 2
The classic EC series, presented as a deluxe-size trade paperback!
This high-quality trade reprints the issues #7-#12 of the pulp-comic classic Shock SuspenStories!
Featuring 24 stories by the all-star artistic talents of Al Feldstein, Jack Kamen, Jack Davis, Joe Orlando, Al Williamson, and Wally Wood.
.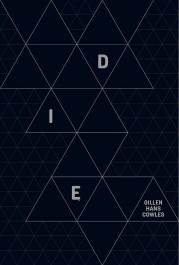 Kieron Gillen & Stephanie Hans: Die Book 1
In the nineties, six teenagers disappeared into a fantasy role-playing game.
Only five returned.
Nearly thirty years later, these broken adults are dragged back to discover the game isn't finished with them yet.
Kieron Gillen (The Wicked + the Divine) and Stephanie Hans (Journey Into Mystery)'s award-winning, critical hit series is collected in a single, beautiful, oversized hardcover volume.
Collects DIE Volumes #1-4; issues #1-20.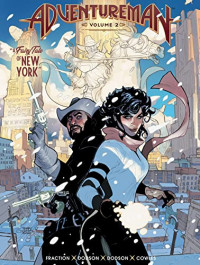 Matt Fraction & Terry Dodson: Adventureman 2 – A Fairy Tale of New York
WHAT HAPPENS AFTER THE END OF THE WORLD?
For Claire Connell, it meant becoming the inheritor of the legacy of legendary pulp hero the Adventureman.
Now Claire's learning that to fight Adventureman's fights means she's the one who must fight Adventureman's foes, past AND present…
Collects ADVENTUREMAN #5-9.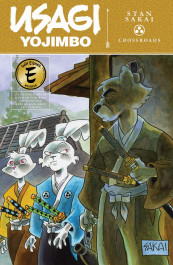 Stan Sakai: Usagi Yojimbo – Crossroads
The rabbit ronin's newest adventures continue in this fourth volume that sees Usagi and new companion Yukichi on the road!
Thinking their troubles behind them, they find new ones constantly emerging.
In "Ransom," Usagi and Yukichi meet up with Kitsune, a street performer and thief, who has stolen a ledger recording bribes to local politicians. When Kitsune's protégé is kidnapped in return, Usagi decides that he must help and get her back.
Then, in "Crossroads," Usagi and Yukichi come upon a group of pilgrims who have been left for dead by a band of cutthroat ronin. Deciding to go after them, Usagi must head back to the province, and the danger, from which he has just escaped!
Collects issues #22–26 of the all-new full-color Usagi Yojimbo series published by IDW.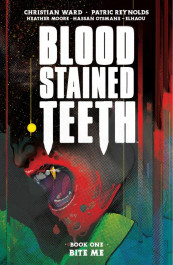 Christian Ward & Patric Reynolds: Blood Stained Teeth 1 – Bite Me
Meet Atticus Sloane; misanthropic criminal, avid vinyl collector and member of the aristocratic Vampire cabal The First Borns, and for the right price he'll turn you into a Vampire.
After all, immortality isn't cheap.
A fast paced crime saga with fangs from Christian Ward ( Invisible Kingdom, ODY-C, Machine Gun Wizards ) and Patric Reynolds ( The Mask, Nita Hawkes Nightmare Blog) in a world where blood isn't the only thing Vampires crave.
Collects BLOOD STAINED TEETH #1-5.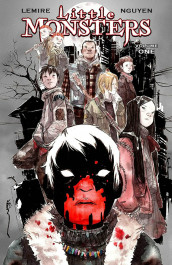 Jeff Lemire & Dustin Nguyen: Little Monsters 1
They are the last children on Earth… who also happen to be vampires.
For longer than they can remember, these child vampires have lived a life of eternal wonder amongst the ruins of humanity.
But shocking events fracture the group and set them on a path of discovery that will shatter their innocence forever.
It's Lord of The Flies meets vampires in the first volume of a bold new ongoing series from Jeff Lemire and Dustin Nguyen, the Eisner-winning creative team behind the best-selling DESCENDER and ASCENDER series.
Collects issues #1-6.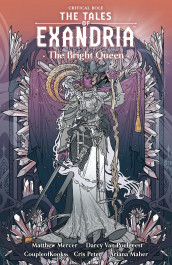 Matthew Mercer & CoupleofKooks: Critical Role – The Tales of Exandria: The Bright Queen
Game Master Matthew Mercer joins Eisner Award-winning writer Darcy van Poelgeest (LittleBird) and fan-favorite artist CoupleofKooks in a brand new Critical Role story from the mighty Kryn Dynasty, collected in a trade paperback and ready to take its place in your Critical Role library.
Could the fabled Luxon be the downfall of the Kryn Dynasty?
Leylas Kryn, the Bright Queen, has spent multiple lives in pursuit of assembling the otherworldly Luxon.
So when another piece appears nearby, Leylas sends her eternal lover Quana to collect it…with consequences that may threaten the entire Dynasty!
Hope for the future clashes with darkness from the past in a stellar new story from the world of Critical Role!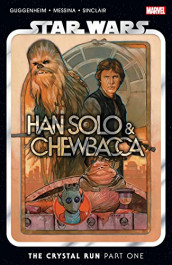 Marc Guggenheim & David Messina: Star Wars – Han Solo & Chewbacca 1: The Crystal Run Part 1
The galaxy's best buddies star in a hair-raising adventure from the days before they joined the Rebellion!
Loveable rogue Han Solo and his Wookiee partner-in-smuggling, Chewbacca, set off on a heist for none other than Jabba the Hutt — and this time, the Rodian bounty hunter named Greedo is working alongside them!
It's supposed to be a nice, straightforward job. What could possibly go wrong?
Well, for starters, how about a reunion with the very last person Han expected to see?
When the target safe is cracked, you won't believe what's inside!
Plus, celebrate the galaxy's favorite holiday with a collection of festive tales from all across the saga of Star Wars. Happy Life Day!
COLLECTING: Star Wars: Han Solo & Chewbacca (2022) #1-5, Star Wars: Life Day (2021) #1.
Mark Russell & Steve Lieber: One-Star Squadron
Who you gonna call? One-Star Squadron!
Meet DC's superhero team where heroism meets capitalism. This ragtag group of heroes led by Red Tornado is here to provide service with a smile.
All you must do is send a request via their on-demand hero app and they'll answer any call. Whether it's a children's birthday party or an alien invasion, no job is too small or too big!
Brought to you by Eisner nominee Mark Russell ( The Flintstones, Wonder Twins, Exit Stage Left: The Snagglepuss Chronicles) and Eisner winner Steve Lieber ( Superman's Pal Jimmy Olsen), you'll want to invest in this one-of-a-kind collection that promises a story filled with heart, heroism, and humor.
Collecting One-Star Squadron #1-6.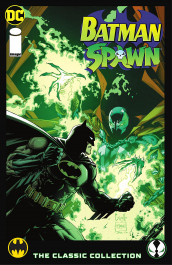 Batman/Spawn – The Classic Collection
For the first time in three decades, this edition of the classic meeting between comics' caped avengers of the night reprints Batman/Spawn: War Devil #1…plus the Spawn/Batman one-shot by The Dark Knight Returns writer Frank Miller and Spawn creator Todd McFarlane!
An ancient evil has arisen in Gotham City.
The last time it appeared, an entire colony was wiped clean from the face of the Earth, leaving only one clue: Croatoan.
Whoever or whatever Croatoan is, it'll take all of the Batman's investigative skills and the supernatural abilities of an ex-soldier turned Hellspawn to save Gotham's citizens from the hell that is about to be unleashed on our world.
For the first time in three decades, this edition of the classic meeting between comics' caped avengers of the night reprints Batman/Spawn: War Devil #1 by legendary Batman creators Doug Moench, Chuck Dixon, Alan Grant, and Klaus Janson.
Plus the Spawn/Batman one-shot by The Dark Knight Returns writer Frank Miller and Spawn creator Todd McFarlane, which brings Batman to Spawn's home turf of New York City!
Two heroes with different methods in two very different tales. Capes will clash…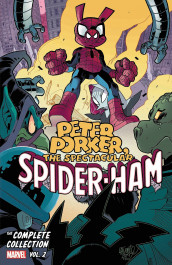 Peter Porker, The Spectacular Spider-Ham – The Complete Collection 2
Pig out on more anthropomorphic adventures of the Spectacular Spider-Ham!
Peter Porker crosses paths with Black Catfish, Crocktor Strange, the Punfisher, Ducktor Doom, the Larval Zombies, Raven the Hunter, the Green Gobbler and more – plus Howard the Duck and Forbush Man!
The Infinity Wart causes cosmic chaos, but can Peter handle the power of Captain Zooniverse? And who is Spider-Ham 2099?
Plus, Civil War rocks Spider-Ham in a piggy paradise filled with porcine personas from Iron Ham to Wolver-Ham!
And when J. Jonah Jackal and Mary Crane are kidnapped, Spider-Ham battles Doctor Octopussycat and the Swinester Six!
COLLECTING: MARVEL TALES (1964) #201-212, #214-219, #223-230, #233, #236-237, #239-240, #247; WHAT THE–?! (1988) #20; ULTIMATE CIVIL WAR: SPIDER-HAM (2007) #1; SPIDER-HAM 25TH ANNIVERSARY SPECIAL (2010) #1; SPIDER-MAN ANNUAL (2019) #1; MATERIAL FROM WHAT THE–?! (1988) #3, #18, #22, #24, #26; SPIDER-VERSE (2015) #1.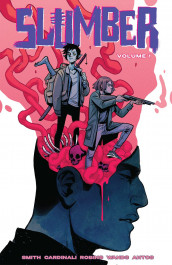 Tyler Burton Smith & Vanessa Cardinali: Slumber 1
We all have nightmares.
What if you could pay somebody to enter your dreams and shoot that nightmare in the goddamn face?
That's where Stetson comes in. She's a nightmare hunter. A dream detective.
She enters her clients' dreams through a door, investigates their dreamscape, and kills their nightmares.
Stetson's past comes back to haunt her as she tracks down a nightmare serial killer responsible for the mysterious death of her daughter.
Collects SLUMBER # 1-6.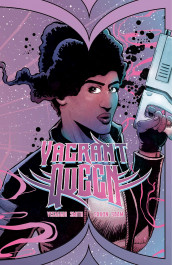 Magdalene Visaggio & Jason Smith: Vagrant Queen 1
Eldaya was a child queen until an absurd revolution overthrew her dynasty.
Now Elida is a smuggler, evading the farcical republic that wants her dead. When a frenemy claims to know where to find her long lost mother, Elida stages a rescue.
THEY TOOK HER KINGDOM. SHE TOLD THEM TO KEEP IT.
Former child queen Elida was driven from her throne at age ten and forced to wander the galaxy, evading the revolutionary forces that wanted her dead.
When an old frenemy claims to know the whereabouts of Elida's long-lost mother, she is forced to return to her former kingdom and stage a rescue.
Collects the complete five issue series (first arc).
KÄYTETYT SARJAKUVAT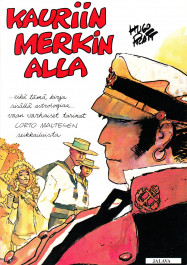 Hugo Pratt: Corto Maltese – Kauriin merkin alla (K)
Tästä alkaa romanttisen merenkävijän, Corto Maltesen tarina. Tähän albumiin on koottu kuusi ensimmäistä episodia.
– Tristan Bantamin salaisuus
– Tapaaminen Bahiassa
– Tarkan laukauksen samba
– Brasilian kotka
– …ja taas hiukkasen onnensotureista
– Sen lokin vuoksi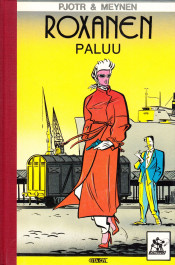 Pjotr & Meynen: Roxanen paluu (K)
KÄYTETTY, HYVÄKUNTOINEN.
Tapahtumapaikkana Antwerpen.
Illan hämärtyessä yöksi kuuluisa muotitaiteilija Roxane soittaa Rikille, Echon nuorelle reportterille.
Mistä on kysymys? Kuka pitää Roxanea silmällä?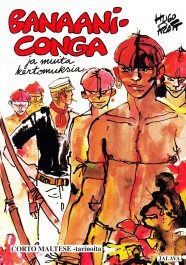 Hugo Pratt: Corto Maltese – Banaaniconga (K)
KÄYTETTY.
Tapaamme romanttisen merenkävijän, Corto Maltesen, viidessä uudessa luvussa.
– Päitä ja sieniä
– Banaaniconga
– Herra presidentin voodoo
– Suloisten unien laguuni
– Tarinoita ja isoisiä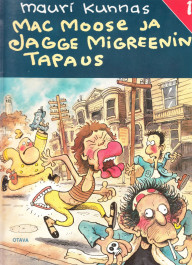 Mauri Kunnas: Mac Moose ja Jagge Migreenin tapaus (K)
KÄYTETTY.
ENSIMMÄISELLÄ SIVULLA "ARVOSTELUKAPPALE"-LEIMA.
Maailman kaikkien aikojen suurin hyväntekeväisyyskonsertti vaarassa…
Megakuuluisan Vierivät Sappikivet -bändin johtohahmot aivopesulassa alpeilla…
Terroristiryhmä punomassa juoniaan sukellusveneessä San Franciscon lahden pohjassa…
Onnistuuko neuvokkaan Mac Moosen pelastaa konsertti ja turvata maailmanrauha? Vai tekevätkö tappajatekohampaat hänestä sitä ennen selvää?
Vauhdikkuudessaan Bond-leffat päihittävä toimintaseikkailu, mieletöntä menoa ja mielikuvituksen lentoa Mauri Kunnaksen jäljittelemättömään tyyliin.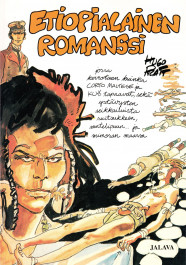 Hugo Pratt: Corto Maltese – Etiopialainen romanssi (K)
KÄYTETTY.
Tässä albumissa kerrotaan kuinka Corto Maltese ja Kuš tapaavat, sekä ystävysten seikkailuista suitsukkeen, santelipuun… ja mimosan maassa.
.
.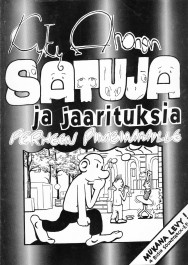 Kyky Ahonen: Satuja ja jaarituksia perheen pienimmille (K)
KÄYTETTY, TAKAKANNESSA TAITOS.
EI SISÄLLÄ LEVYÄ.
Kyky Ahosen sarjakuvia.
Ei sisällä levyä.
.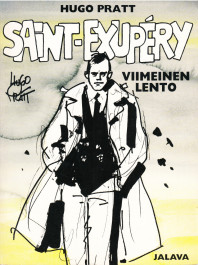 Hugo Pratt: Saint-Exupéry – Viimeinen lento (K)
KÄYTETTY. KANSISSA KÄYTÖN JÄLKIÄ.
Hugo Prattin kertomus Antoine de Saint-Exupérystä, suositun ja rakastetun Pikku Prinssin tekijästä, joka oli myös lentäjäsankari.
Sankari, joka ei koskaan palannut viimeiseltä lennoltaan isänmaan puolesta.
.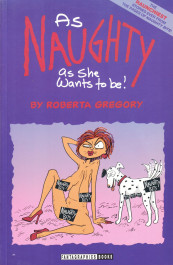 Roberta Gregory: As Naughty as She Wants to Be! (K)
KÄYTETTY.
A Bitch is Born, the premiere volume of "Bitchy Bitch" stories culled from Roberta Gregory's Naughty Bits, was tame compared to the outrages that lurk within As Naughty as She Wants to Be.
Here, collected for the first time anywhere, are the stories that put the "naughty" in Naughty Bits, from the infamous "Bitchy Bitch Gets Laid" (introducing everyone's nightmare one-night stand, "Toadman") to "Crappy Birthday," plus the first-ever appearance of Bitchy from Graphic Story Monthly!
If you were wondering why Bitchy is so, well, bitchy, these tales of modern despair and degradation will offer some clues.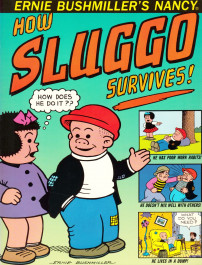 Ernie Bushmiller: How Sluggo Survives! (K)
KÄYTETTY, HYVÄKUNTOINEN.
Enter the curious world of Ernie Bushmiller's Sluggo in HOW SLUGGO SURVIVES.
Join Sluggo as he hits the bricks and looks for work, preferably easy.
Drop in on Sluggo at his eternally rustic home.
Watch him match wits with cops, clerks, cooks, bullies, bosses, teachers, truant officers, ticket takers – and Nancy. Especially Nancy.
How DOES Sluggo survive? Find out inside!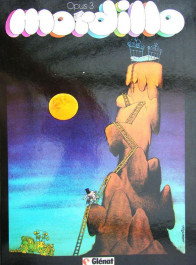 Mordillo: Opus 3 (K)
KÄYTETTY.
SISÄSIVULLA LAHJAN ANTAJAN OMISTUSKIRJOITUS.
Variations en couleurs et encre de chine sur l'espéce humaine et autres phénomènes atmosphériques.
.
.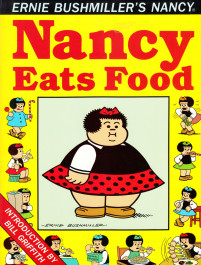 Ernie Bushmiller: Nancy Eats Food (K)
KÄYTETTY. Etukannessa hintalapun jättämä jälki, muuten hyväkuntoinen.
In Ernie Bushmiller's Nancy Eats Food, you'll feast your eyes o a tasty selection of delectable comic strips from the world's most wholesome cartoonist!
In this bountiful (yet trim) volume, you'll dine with Nancy, Sluggo, and Fritzi Ritz on a rich cornucopia of gags all dedicated to gastronomy!
You'll marvel at the sumptuous feast prepared by your genial host, Chef Bushmiller, from this one appetizing dish!
So tie on the feedbag! Indulge yourself! For top laugh nutrition, it's NANCY EATS FOOD!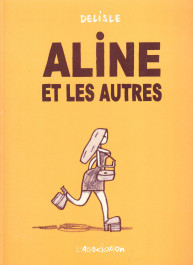 Guy Delisle: Aline et les autres (K)
KÄYTETTY, SANATON, HYVÄKUNTOINEN.
Premier album de Guy Delisle, Aline et les Autres présente un abécédaire de 26 personnages féminins, en autant de saynètes muettes dignes des cartoons les plus jubilatoires.
.
.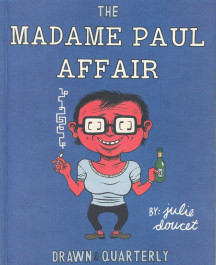 Julie Doucet: The Madame Paul Affair (K)
KÄYTETTY, UUDENVEROINEN.
Julie Doucet and her boyfriend find a new apartment with cheap rent and a string of nutty neighbors.
One ex-con "breaks out" of his apartment by smashing his own window. Another man attempts to kill himself by stuffing his head in a gas oven.
But perhaps the oddest person of all is the landlady herself, Madame Paul, who one day mysteriously disappears….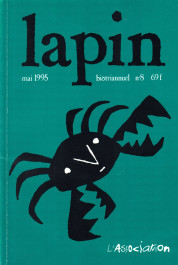 Lapin 8 (K)
KÄYTETTY ANTOLOGIA.
SELÄSSÄ LUKUTAITOS.
Aristophane, Francois Ayroles, David B., Matthieu Blanchin, Jean-Pierre Duffour, Anke Feuchtenberger, Jochen Gerner, Dominique Goblet, Daniel Goossens, Killoffer, Mattt Konture & Stéphane Blanquet, Kati Kovács, J.C. Menu, Vincent Sardon, Joann Sfar, Stanislas & Baraou, Lewis Trondheim, Vincent Vanoli & Frédéric Serra.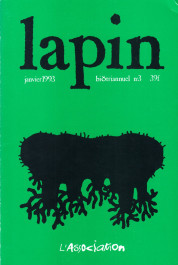 Lapin 3 (K)
KÄYTETTY ANTOLOGIA. KULMA SAANUT OSUMAN.
Blutch, David B., Julie Doucet, J.P. Duffour & Lewis Trondheim, Fabio, Gila, Killoffer, Lewis Trondheim, Mattt Konture, J.C. Menu, Thiriet.
.
.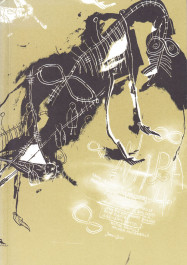 Napa 04 (K)
KÄYTETTY, HYVÄKUNTOINEN.
Toimittaneet Jenni Rope ja Jussi Karjalainen.
Mukana Laurent, Rope, Vilunki + Kalle Lokki, Väätäinen, Hohteri, Reijonen, Reynard, Numminen, Pirkola, Rapia, Karjalainen, Tukiainen, Sury.
.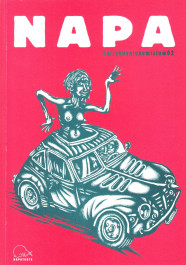 Napa 02 (K)
KÄYTETTY, HYVÄKUNTOINEN.
Mainioita sarjakuvia julkaisevan lukemiston toinen numero. Toimittaneet Jenni Rope ja Jussi Karjalainen.
Mukana Ilja Karsikas, Jenni Rope, Maija Vuorela, Karri Laitinen, Jussi Karjalainen, Killoffer, Kati Rapia, Anna Sommer, Ville Pynnönen, Jenny Eräsaari, Tommi Musturi, Jyrki Heikkinen, Petteri Tikkanen.
Napa 01 (K)
KÄYTETTY, KULUNUT YKSILÖ.
Mainioita sarjakuvia julkaisevan lukemiston ensimmäinen numero. Toimittaneet Jenni Rope ja Jussi Karjalainen.
Mukana Jenni Rope, Jussi Karjalainen, Kati Kovács, Kaltsu Kallio, Anu Lavonen, Ilja Karsikas, J. Styrman, Christer Nuutinen, Robert Ottosson, Petteri Tikkanen, Teemu Suviala.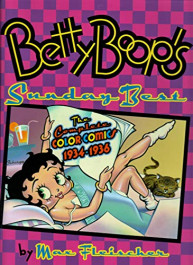 Max Fleischer: Betty Boop's Sunday Best (K)
KÄYTETTY, HYVÄKUNTOINEN.
For the first time since their original publication in the Sunday funnies of the 1930s, all the Betty Boop color comics are collected and reprinted here in full color.
Since her first appearance in tuneful animated cartoons by the Fleischer Studios, the popular Boop-Oop-a-Doop girl has WOVED millions of moviegoers.
This colorful collection of Betty's Sunday Funnies also includes other rare Sunday strips – Max Fleischer's Out of the Inkwell, and a comic by and about Helen Kane, the singer and film star who inspired the creation of Betty Boop.
Sweet Betty will win your heart all over again in this irresistible collection!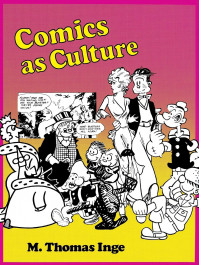 M. Thomas Inge: Comics as Culture (K)
KÄYTETTY, HYVÄKUNTOINEN.
These eleven essays by one of America's authorities on popular culture survey the influence of the comic strip and the importance of the comic book. Despite legions of detractors, he shows the comics to be an art form that has enriched and reflecte most of American culture.
The chapters are unified by their discussion of the ways comic strips, cartoons, and comic books relate to the larger cultural trends of the nation. Connections between literature, film, technology, art, and the comics are examined in general, with specific appreciations of such classic examples of the comics as Little Nemo in Slumberland, Krazy Kat, Snuffy Smith, Popeye, Peanuts, EC comic books, and the New Yorker cartoon.
Why do comics both amuse and arouse controversy? Here is an attempt at an answer in a sharp-eyed comics lover's probing look at this step-child genre. He finds them a legitimate form of creative expression capable of confronting the major questions of society and the humanities but with a gentler spirit that leads to laughter.
Also included in this appealing overview of an expressly American art form are bibliographic surveys of the histories, reference works, and anthologies available for the study and appreciation of comic strips and comic books.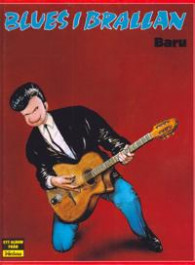 Baru: Blues i brallan (K)
KÄYTETTY.
Nyårsafton, Hervé drar ner till stamfiket. Där väntar en överraskning på honom. Kompisarna har bestämt ett vad: blir han av med oskulden under helgen bjuder de på champagne. Lyckas han inte får han själv stå för en omgång …
En brokig, festlig serieroman där allt och ingenting händer. Det handlar om längtan efter frihet och efter knull, intresset för nakna brudar och skräcken för levande kvinnor, om klasskillnader och kondomstorlekar, om krogronder och mördande monotoni. Om värmen inuti och kölden utanför i gudsförgätna industriområden i ett litet nordfranskt industrisamhälle vid mitten av sextiotalet.
Barus teckningar präglas av en stämningsmättad stil någonstans mellan karikatyr och realism, som förstärks ytterligare genom Daniel Ledrans sensibla expressionistiska färgläggning, som domineras av dova blåtoner och murrigt gult. Albumet är ett av seriekonstens obestridliga mästerverk, belönat bland annat vid seriefestivalen i Angoulême och med svenska Seriefrämjandets Urhundenplakett för årets bästa seriealbum..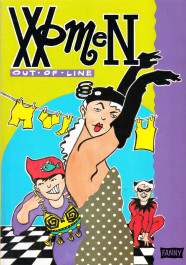 Women Out of Line (K)
KÄYTETTY.
Anthology of British Women Cartoonists.
Including Rachael Ball, Lucy Byatt, Kate Charlesworth, Karen Donnelly, Grizelda Grizlingham, Julie Hollings, Lee Kennedy, Annie Lawson, Maggie Ling, Helen McCookerybook, Viv Quillin, Carolyn Ridsdale, Jackie Smith, Carol Swain, Suzy Varty.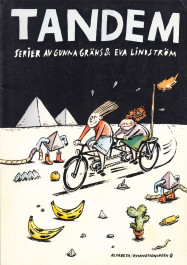 Gunna Grähs & Eva Lindström: Tandem (K)
Två kvinnliga serietecknare tillsammans i ett vuxenalbum fyllt av grymhet och rajraj!
.
.
.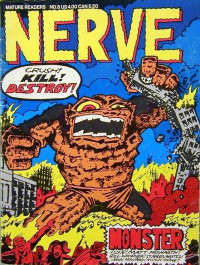 Nerve #8 (K)
KÄYTETTY.
JÄTTIKOKOINEN PIENLEHTI. TAKAKANNESSA TAITOS.
Stories and art by Bill Widener, Matt Howarth, Heather McAdams, John Howard and Starlen Baxter.
Cover by Starlen Baxter.
An anthology from small-press publisher Nerve Bomb.
Early story by Howarth, artist of Savage Henry and the Post Brothers; a female superspy by Howard; a fun cover spoof of Marvel monster comics. François Schuiten & Benoît Peeters: Le Guide des Cités (K)
EI SARJAKUVAA. ENSIMMÄISELLÄ SIVULLA OMISTUSKIRJOITUS EDELLISELLE OMISTAJALLE LAHJAN ANTAJALTA.
Un oubli incompréhensible vient enfin d'être réparé.
Voici le premier guide consacré aux " Cités obscures ". Grâce au voyage accompli par François Schuiten et Benoît Peeters et à quinze années de recherches minutieuses, il est aujourd'hui possible de découvrir dans toute sa richesse un univers trop longtemps considéré comme mythique.
On trouvera notamment dans ce Guide : des cartes et des plans, des précisions sur la faune et la flore, les Beaux-Arts, les sciences et les techniques… une description des principaux lieux de Passage : le Palais de Justice de Bruxelles, le métro Arts et Métiers à Paris, le Musée A. Desombres… des renseignements pratiques sur le logement, les moyens de transports, la cuisine et les vins… une évocation de grandes Cités comme Alaxis, Blossfeldtstad, Calvani ou Xhystos… des portraits de personnages illustres ou injustement méconnus comme Joseph Abraham, Ernest Dersenval, Marie-Laure Duraine de Montignac, Eugen Robick, Tina Tonero, Axel Wappendorf…
Un outil indispensable pour les sceptiques comme pour les passionnés. Une invitation au voyage, à l'étude et à la rêverie.