Luettelo:
Kotimaiset uutuudet
Manga-uutuudet
Ulkomaiset uutuudet
Lehdet ja kirjat
Käytetyt sarjakuvat
Alkuun
KOTIMAISET UUTUUDET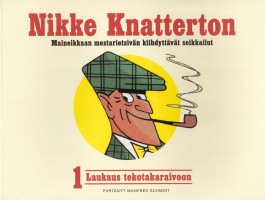 Manfred Schmidt: Nikke Knatterton 1 – Laukaus tekotakaraivoon
"Johtopäätös: olen täydellinen!"
Saksan kuuluisimman sarjakuvaetsivän tokaisut ovat yhtä kuuluisia kuin hänen tunnusomaiset piirteensä: korkea otsa, kyömynenä, piippu, terävä leuka, lippalakki ja ruudullinen polvihousuasu.
Hänet loi Manfred Schmidt vuonna 1950, parodioiden jo ennalta James Bondia.
Kertoessaan Manfred Schmidtin kuolemasta vuonna 1999 Frankfurter Allgemeine Zeitung kirjoitti: "Hän oli saksalaisista sarjakuvapiirtäjistä merkittävin."
MANGA-UUTUUDET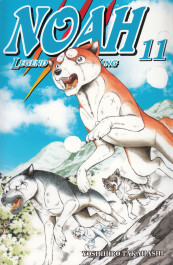 Yoshihiro Takahashi: Noah 11
Osa 11/11+
Orion ja Rigel kokoavat joukkojaan meteoriitin aiheuttaman katastrofin jälkeen.
Avaruudesta on kuitenkin saapunut uusi vaara!!
Ikäsuositus: 13+ /Toiminta/Seikkailu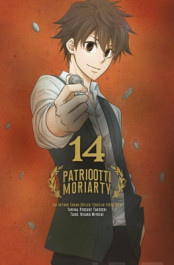 Ryosuke Takeuchi & Hikaru Miyoshi: Patriootti Moriarty 14
Osa 14/15+
Kuningatar Viktoria pyytää Sherlock Holmesia pidättämään rikoslordin.
William Moriarty haluaa sinetöidä yhteiskuntaa mullistavan suunnitelmansa kuolemallaan, mutta ovatko hänen toverinsa valmiita sallimaan tämän uhrin?
Genre: Jännitys / Ikäsuositus 15+
ULKOMAISET UUTUUDET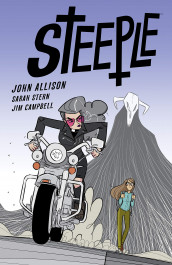 John Allison: Steeple 1
A supernatural tale of friendship, the devil, and moral gray areas.
Two women with wildly different worldviews become unlikely friends as they navigate the supernatural happenings in a sleepy coastal parish–and soon find themselves forced to choose sides in the war between good and evil, facing demons, curses, and a miniature Rapture!
The latest graphic novel from John Allison, author of Giant Days!
Collects issues #1-#5 of Dark Horse Comics series Steeple.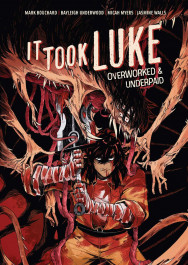 Mark Bouchard & Bayleigh Underwood: It Took Luke – Overworked & Underpaid
Wipe the viscera from your eyes and prepare to assimilate into the flesh in this queer adult debut graphic novella exploring crunch culture and its casualties.
LA, 2028.
Down-on-their-luck exterminator Sal Hernandez is sick of long hours, living in their work van, and ready to reconcile with their estranged partner.
The only thing standing in their way is one last shift.
What seems like a routine job is anything but, and when a proselytizing mass of flesh abducts Sal's newest coworker, Luke, an extermination job quickly turns into a rescue mission.
Freshly concussed from a pro-bono job earlier in the morning, for Sal, the line between reality and hallucination begins to blur. Sal and their teammates Molly and Hussam are as experienced as they come, but will it be enough to overcome the horrific creature that waits in the shadows and the incompetence of their boss?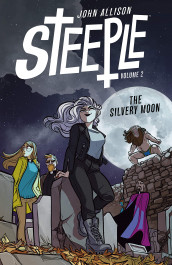 John Allison: Steeple 2 – The Silvery Moon
Former curate Billie has moved on to a new path . . . as a priestess in the Church of Satan. Meanwhile, her friend Maggie has made a similar switch–from Satanist to church-bound do-gooder.
But when the light of the supermoon turns a Church of Satan warlock into an almost-werewolf, Billie's well-meaning solutions bring her evil boss to the breaking point, just as Maggie's chaotic nature begins to wear thin on her Godly supervisors.
Then, when a mysterious visitor is found in a cave, an ancient evil from the unknowable depths of the Pacific Ocean is hot on their heels . . . and so is Christmas!
In the midst of the madness, Billie does her best to arrange an improbable Saturnalia truce between the churches of England and Satan.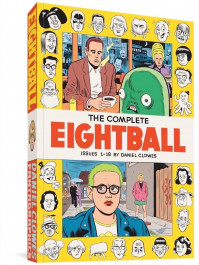 Daniel Clowes: The Complete Eightball 1-18
The beloved comic book series Eightball made Daniel Clowes' name even before he gained fame as a bestselling graphic novelist ( Ghost World, Patience, David Boring, Ice Haven) and screenwriter.
From 1989 to 1997, he produced 18 issues of what is still widely considered one of the greatest and most influential comic book titles of all time.
Now, Fantagraphics is collecting every single page of these long out-of-print issues in a paperback edition.
It includes more than 500 pages of vintage Clowes: seminal serialized graphic novels, strips, and rants, such as Like a Velvet Glove Cast in Iron, Ghost World, Pussey, I Hate You Deeply, Sexual Frustration, Ugly Girls, Why I Hate Christians, Message to the People of the Future, Paranoid, My Suicide, Chicago, Art School Confidential, On Sports, Zubrick and Pogeybait, Hippypants and Peace-Bear, Grip Glutz, The Sensual Santa, Feldman, and many more.
Features new covers by Clowes, and Behind the Eightball: the author's annotations for each issue, heavily illustrated with art and photos from his archives.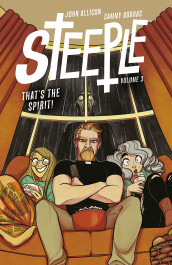 John Allison: Steeple 3 – That's the Spirit!
A supernatural tale of friendship, the devil, and moral gray areas from the creator of Giant Days!
A new year begins in Tredregyn, and a Satanic ritual goes awry–bringing the filming of a cozy TV detective drama to town. Unfortunately, this particular Pandora's box contains a few things a lot less pleasant than casual jobs and showbiz glitz. Plus, in a special backup feature, a teen sleuth puts the cat among the parish pigeons as she attempts to solve the disappearance of a glamorous author.
Cover by Max Sarin.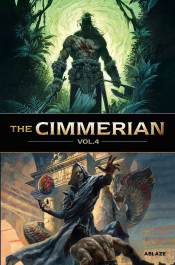 The Cimmerian 4 – Beyond the Black River/Hour of the Dragon
ABLAZE is back again, adding to its bestselling line of UNCENSORED Robert E. Howard Cimmerian graphic novels, with The Cimmerian Volume 4! Discover the true Conan, unrestrained, violent, and sexual. Read the story as he intended!
Vol 4 includes two complete stories, Beyond The Black River, and Hour of the Dragon, plus bonus material, including the original prose stories, in one epic hardcover collection!
BEYOND THE BLACK RIVER: The Picte country is an obscure jungle where the border between civilization and barbarism is thin.
Only one thing symbolizes it: the Black River, which it is claimed that no white man was able to cross and come back alive. None, except Conan.
It is in the heart of this green hell that the Cimmerian meets Balthus, a young voluntary peasant whom he saves at the last minute from the clutches of fierce Pictish warriors.
Together, they will try to lend a hand to the colonists who have established themselves here, on these hostile lands, in the last bastion of civilization. With a dozen men, they will have to find the powerful sorcerer Zogar Sag before he succeeds in uniting the clans and initiating his bloody invasion…
HOUR OF THE DRAGON: Under the funeral vaults of the mausoleum belonging to the ancient and cruel Emperor Xaltotun of Python, three men devoured by ambition come to offer to the inert body of the deceased sovereign the heart of Ahriman, a source of immortality which once belonged to him.
Taken away at the cost of his life. In exchange for this offering, the three men claim a single thing: the world.
However, there is only one person able to stand in their way, a Cimmerian who seized the throne of Aquilonia: Conan!
Writers: Mathieu Gabella, Julien Blondel
Artists: Anthony Jean, Valentin Sécher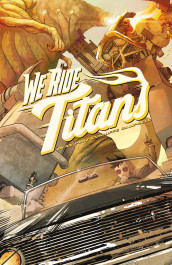 Tres Dean & Sebastian Piriz: We Ride Titans
Pacific Rim meets Shameless in this sci-fi kaiju action adventure, female-helmed thrill ride where one woman must keep the monsters in check – as well as her explosive family!
It's Mechs vs. Kaiju in this hard-hitting, action sci-fi adventure!
Kaiju hit hard. Family hits harder.
Just when you break free … you get pulled back in.
Trying to keep your family from imploding is a tall order.
Titan-rider Kit Hobbs is about to find out it's an even taller order when that family has been piloting the Titan that protects New Hyperion from the monstrous kaiju for generations.
With an addicted, spiraling brother, a powder keg of a father, and a whole bunch of twenty-story monsters, she's got her work cut out for her.
For fans of Pacific Rim, Mech Cadet Yu, Kaijumax, Big Girls, Ultramega, Gundam, Power Rangers, and Ultraman!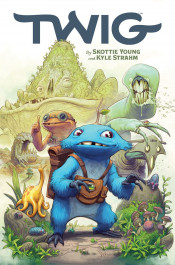 Skottie Young & Kyle Strahm: Twig
I HATE FAIRYLAND and MIDDLEWEST Eisner Award-winning writer SKOTTIE YOUNG and artist KYLE STRAHM (SPREAD, UNEARTH) come together for an all-new epic fantasy/adventure mini-series!
Join Twig on the first day of his new job, a Jeff Smith's Bone-esque journey to save a The Dark Crystal/Labyrinth-style world.
Join our hesitant hero for an inspiring and imaginative tale of hope, heartache and the determination to overcome insurmountable odds!
Collects TWIG Issues #1-5.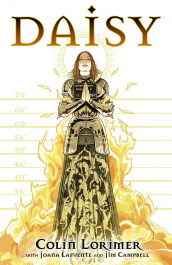 Colin Lorimer: Daisy
A graphic novel masterpiece of modern horror, Colin Lorimer's Daisy springs from the apocalyptic Book of Enoch, excluded from biblical canon and disclosing the war of angels and Man's introduction to violence, corruption, and evil.
A desperate mother's search for her missing son leads to the mysterious family of Daisy Phillips.
Like many teens, Daisy has a hard time fitting in, but for atypical reasons: Daisy stands over eight feet tall and believes herself descended from cannibalistic giants spawned from the outcasts of Heaven.
This frail, disfigured youth may hold the key to unlock the Language of Creation–the divine DNA of God–and expose the monstrous lie hidden within Creation itself.
Collects Daisy #1-5.
Jeff Lemire & Caitlin Yarsky: Black Hammer 7 – Reborn Part III
The Eisner Award–winning superhero saga returns in this ongoing series picking up twenty years later with artist Caitlin Yarsky.
Things have gotten crazy in Black Hammer!
First a parallel Spiral City collided with the actual one spawning a multiverse nightmare of heroes and villains from both worlds going to war, and now Lucy Weber picks back up the mantle of Black Hammer and teams up with Skulldigger for answers on how to end the madness.
Black Hammer: Reborn is the next era of the Black Hammer Universe; a twelve-issue series by Jeff Lemire, Caitlin Yarsky, Malachi Ward, and Matthew Sheean that juxtaposes an achingly human story of domestic life, marriage, parenthood, and destiny with a pulse-pounding superhero thriller that peels back new layers of mystery, and pulls the Black Hammer history into the present.
Collects Black Hammer: Reborn #9-12.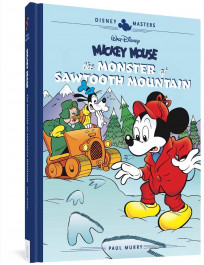 Paul Murry: Mickey Mouse – The Monster of Sawtooth Mountain
Adventure-seeking Mickey doesn't usually regret being Chief O'Hara's freelance detective — but all bets are off when the Chief pitchforks Mickey and Goofy into saving Cousin Frosty's winter resort from a monster!
From snowballs to cliffside falls, deadly accidents have Sawtooth Mountain in an uproar … and if a man-eating yeti isn't responsible, who is?
And Sawtooth Mountain is just the start! Mickey confronts mystical elves in Pineapple Poachers… and is forced to reform the villainous Pegleg Pete in Mickey's Strange Mission!
A recreation of the stories' original Dell Comics color is icing on the cake.
Fantagraphics' Disney Masters series unearths a treasure trove of previously unavailable comics epics in the grand Walt Disney tradition: expanding the lore of Mickey, Donald, and Scrooge, anthologizing the work of fan-favorite North American talents, and bringing you the best of the acclaimed international artists who have popularized Disney around the world.
Rediscover Duckburg… and rewrite history!.
Dan Watters & Dani: Arkham City – The Order of the World
Arkham Asylum has been destroyed—unleashing Ten-Eyed Man, Professor Pyg, Mad Hatter, and more onto the streets of Gotham. Can the Asylum's last remaining doctor retrieve her patients?
The Joker's attack on Arkham Asylum left the long-standing Gotham establishment in ruin, most of the patients killed or missing, and only a handful of surviving staff—a few nurses, a gravely injured security guard, and one doctor.
In the chaos of the assault, it is believed that several of the asylum's patients escaped and scurried off into the dark nooks and crannies of Gotham City.
Now, these Arkhamites walk among us, and it's up to the Asylum's one remaining doctor, Jocasta Joy, to round up her former patients.
Meet these Arkhamites: a woman with no face, a pyggy in search of perfection, a man who feels nothing and burns everything, a woman who must devour life to save herself, a man unfit for the waking world who looks instead for Wonderland, a body with more than one soul, a being unbound from time who lives in the present and the past, a boy who seeks the comfort of vermin, and the twisted man who sees them all for who they are.
And witness the avenging angel who stalks them.
This volume collects Arkham City: The Order of the World #1-6, the complete story by Dan Watters and Dani.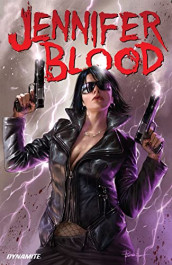 Fred Van Lente & Vincenzo Federici: Jennifer Blood 1
So…once upon a time, a suburban housewife spent her nights as a mobster-murdering assassin, named JENNIFER BLOOD. Then she died…or did she?
Because in the cozy cul-de-sacs of Bountiful, Utah, a noticeable number of normal people have gone missing. And by "normal," I mean "mobsters under witness protection."
And by "missing," I mean killed by someone that looks, sounds, and murders a lot like JENNIFER BLOOD…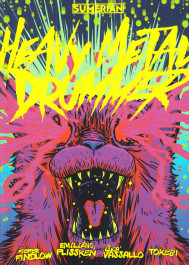 Kiefer Findlow & Emiliano Plissken: Heavy Metal Drummer
The first issue sold out of ten thousand units in just 24 hours! This trade collection contains all six issues under one spine. Created by Kiefer Findlow and Emiliano Plissken with visceral art by Luca Vassallo.
1986 A.D.: Under the streets of Los Angeles breeds the seeds of a gruesome interdimensional conflict between order and chaos.
Enter Dave, a junkee, heavy metal drummer whose life is about to get a whole lot shittier. Seek, destroy and return, warrior.
Moving at the will of the cosmic mirror, Dave trades his drumsticks in for an axe and is sent to hunt down the parasitic agents.
Meanwhile possessed elderly women seduce and capture unsuspecting johns…
Christos Gage & Sergio Dávila: Fortnite X Marvel – Zero War
The Marvel Universe collides with video game phenomenon Fortnite!
The inhabitants of the Island are locked in a neverending war, and only one thing has the potential to turn the tide — a crystallized fragment of the Zero Point that was cast into the Marvel Universe!
Spider-Man, Wolverine and Shuri must team with several Fortnite fighters to hunt down the elusive Zero Shard.
Can these allies find it in time and avert catastrophe? And can the heroes of the Marvel and Fortnite realities hold off the Imagined Order long enough to give them a fighting chance?
Epic Games' Chief Creative Officer, Donald Mustard, teams up with veteran Marvel writer Christos Gage (SPIDER-GEDDON, AVENGERS ACADEMY) and artist Sergio Dávila (CAPTAIN MARVEL) for a blockbuster crossover event with enormous ramifications for both universes!
COLLECTING: Fortnite X Marvel: Zero War (2022) #1-5.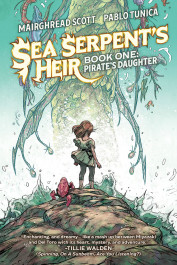 Mairghread Scott & Pablo Tunica: Sea Serpent's Heir 1 – Pirate's Daughter
For teenage Aella, growing up is hard.
Even harder when you find out that you're the reincarnation of an ancient sea serpent that's destined to destroy the world, in a graphic novel trilogy from acclaimed creators Mairghread Scott and Pablo Tunica.
THE END OF THE WORLD IS COMING.
For Aella, life on Kinamen Isle is one of boredom. Spending her days fishing and minding her aunts, she dreams of life beyond the horizon.
Everything changes, however, when she awakens an ancient evil within herself as it's revealed that she's the reincarnation of Xir, the serpent that almost destroyed the world. Worse yet, a fanatical religious organization has arrived on Kinamen Isle in search of Xir.
As Aella is forced to fight for her life, she'll discover that her entire world is not what it seems.
Her aunts know more than they let on and what exactly does the infamous Pirate Queen want with Aella?
From the team of Mairghread Scott (Star Wars: Resistance, Guardians of the Galaxy) and Pablo Tunica (TMNT Universe) comes an extraordinary tale of growing up and changing your fate.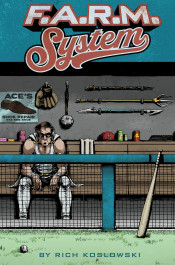 Rich Koslowski: F.A.R.M. System
They're superstrong, but are they powerful enough for the big leagues? If superheroes were real, they'd be a lot like pro athletes. In this quirky graphic novel, go behind the scenes with all the heroes waiting for their big breaks.
For every hero who saves the galaxy and makes the front page, there are a dozen staffers working behind the scenes…and a hundred up-and-comers hoping to take his place. F.A.R.M. System is your ticket to the hidden world of superpowered individuals hoping to make the Big Leagues."
In the Farm System, having an incredible and unique power is only the first step.
Guided by an army of agents, managers, and experts, recruits must undergo rigorous psychological evaluations, harassment and sensitivity seminars, marketing and endorsement workshops, and costume design meetings, all to boost their chances of recruitment into an A-list superhero team.
Some recruits make "the Bigs."
Some have fleeting moments of glory, then lose it all.
Some take "Blue Cowl" gigs as superpowered bodyguards for famous actors or powerful CEOs.
Some flounder in the System for years, never getting "the call."
And some find success by joining teams of a…less reputable ilk.
Following the profound pop-culture satire of Three Fingers, The King, and BB Wolf and the Three LPs, award-winning graphic novelist Rich Koslowski examines the hopes, disappointments, perseverance, and triumphs of the super-gifted…and the sometimes drastic lengths they will go to to achieve fortune and fame.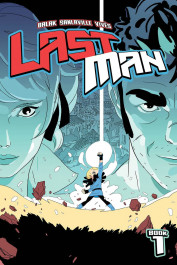 Michaël Sanlaville & Bastien Vivès: Lastman 1
The hit French fight comic comes to Skybound!
Adrian Velba has trained all year to fight in the Valley of the Kings' legendary tournament.
However, despite his ambition, he has no chance of winning.
Not only is his partner unable to compete, but at 12 years old, Adrian is the longest of longshots.
That is, until a mysterious, powerful stranger enters town, offering to join forces with Adrian. But who is Richard Aldana?
And why in a world of magic does he rely solely on his fists?
The multi-volume, action-packed LASTMAN series starts here! Perfect for readers of INVINCIBLE and ULTRAMEGA!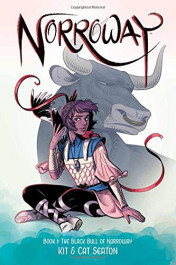 Cat Seaton & Kit Seaton: Norroway 1 – The Black Bull of Norroway
Sibylla always wanted adventure, but she didn't know it would come in the form of a giant, magical bull.
Is he a man or a monster? And who knew a prophecy could be so literal?
The first title in a new series co-created by sibling writer/artist team CAT SEATON and KIT SEATON, begins the adventure of a lifetime.
.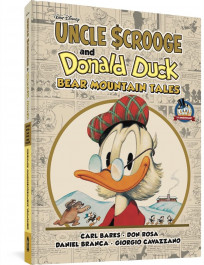 Carl Barks & Don Rosa: Uncle Scrooge & Donald Duck – Bear Mountain Tales
In this stand-alone collection of Scrooge McDuck's amazing comics adventures, which celebrates the 75th anniversary of the iconic character created by Carl Barks, Scrooge and Donald return to the site of their first meeting!
In 1947, Carl Barks's comics story "Christmas on Bear Mountain" didn't just introduce the Scrooge McDuck character ― it took Donald, Huey, Dewey, and Louie to Scrooge's Bear Mountain cabin, where beastly bruins made for holiday havoc!
In keeping with that memorable debut, Bear Mountain has been the site of countless Duckburg sagas ever since.
This special single volume edition collects Daniel Branca's "Return to Bear Mountain," in which Scrooge engages in a gambit with nasty gnomes; Don Rosa's "The Richest Duck in the World," which features Donald's first visit to the fabled Money Bin; and there's a crash course with Launchpad McQuack in "New Year's Daze."
An unforgettable batch of birthday stories and winter adventures is here!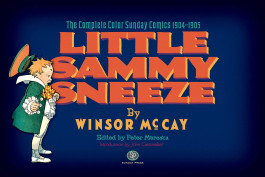 Winsor McCay: Little Sammy Sneeze – The Complete Color Sunday Comics 1904-1905
Today, Winsor McCay (1867-1934) is universally acknowledged as the first master of both the comic strip and the animated cartoon.
Although invented by others, both genres were developed into enduring popular art of the highest imagination through McCay's innovative genius.
From the publishers of the widely-acclaimed deluxe reprint series Little Nemo In Slumberland: So Many Splendid Sundays!, this book features all of the Little Sammy Sneeze color pages (1904-05) plus Hungry Henrietta, McCay's other comic, which appeared on the back of Sammy in the Sunday New York Herald.
The unique style of this book presents two other flipside comics of 1904: The Woozlebeasts and The Upside Downs, along with the complete 27-chapter saga of Hungry Henrietta.
All comics are digitally restored in the original size and colors.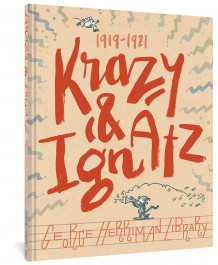 George Herriman: Krazy & Ignatz 1919-1921
This new deluxe hardcover collects full-sized Sunday newspaper comics from 1919 through 1921 in a handsome archival collection.
As the surreal comic strip continues into the 1920s, the likes of Joe Stork, Blind Pig, and Bum Bill Bee settle into the mesas of Coconino County.
Brand-new readers and Herriman aficionados alike will find out what happens when Ignatz the Mouse's brick supplier runs out of stock, how Krazy Kat fares after taking up boxing, and what happens when a new "Katnippery" opens providing libations to the locals.
Krazy & Ignatz 1919-1921 (Vol. 2) includes photographs, artwork, and introductory text by comic historians Bill Blackbeard and Michael Tisserand.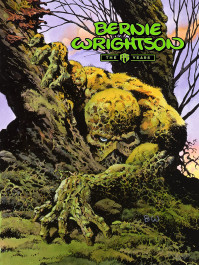 Bernie Wrightson: The FPG Years
Finally, a large art book that collects the incredible paintings that Bernie Wrightson spent two years creating!
It's been almost 30 years since Bernie Wrightson let his imagination run wild on his two trading card series.
For this once-in-a-lifetime creative endeavor, Bernie was given free rein to explore whatever ideas he wanted.
Over a two-year period, he created 150 fantastic NEW paintings. Vivid images of swamp creatures, vampires, werewolves, and beasties of all types congregate throughout these works.
It's a spellbinding collection of all the things for which Bernie is best known.
These paintings have never been assembled in book form. They have never been seen at close to the actual size at which they were produced.
All of the paintings have been lovingly photographed on museum-quality transparencies that were made when Bernie first completed the artwork in 1993 and 1994, so they will appear as fresh as they were the day that he sent them into the FPG offices.
This is a comprehensive hardcover collection that measures 9" x 12" and is a real trip through Bernie's hair-raising body of work for FPG.
Included is the original, insightful text that he wrote for each painting, as well as original documentation of the making of the two trading card series.
This is a book that is truly 30 years in the making, and we hope that you will join us for our celebration of Bernie Wrightson's world!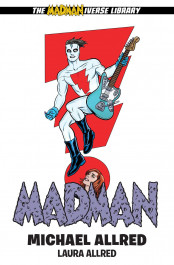 Michael Allred: Madman Library Edition 3
The Madman comics universe returns–with over 650 pages drawn by legendary comics creator Michael Allred in this true homage to superhero fiction, metaphysical philosophy, 1950s science fiction films, rock and roll pop music, and much more!
Volume three collects Michael Allred's popular comic series The Atomics #1-#15 and the cult classic graphic novel Red Rocket 7. Both essential Allred commentaries on superhero team antics, music pop culture, and zany sci fi fun!
This six-volume Madman universe omnibus library edition series collects all of Allred's award-winning Madman universe (a.k.a. the "Madmaniverse) stories in selected reading order for the ultimate Madman fan!
LEHDET JA KIRJAT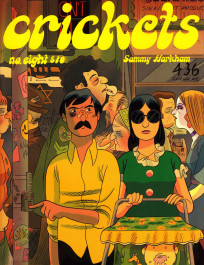 Sammy Harkham: Crickets #8
It's HERE!
The conclusion to "Blood of the Virgin" pulls of the hat trick of being a slow burn that delivers a knock out punch.
And there's more!
.
KÄYTETYT SARJAKUVAT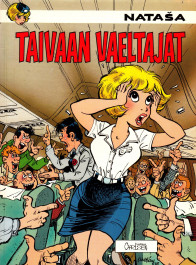 Francois Walthéry: Natasha 1 – Taivaan vaeltajat (K)
KÄYTETTY, HYVÄKUNTOINEN. Pientä kulumaa kansissa.
Nataša on kuvankaunis ranskalainen lentoemäntä, joka valloitti lukijansa jo aikoinaan esiintyessään Ruutu- ja Non Stop -sarjakuvalehdissä.
Tässä albumissa Natašan ja stuertti Walterin seikkailut ovat entistäkin vauhdikkaampia. Nataša joutuu kiertämään maailmaa Hawaijilta Nizzaan ja Skotlannista Ateenaan "taivaan vaeltajien" matkassa.
Nouse hyvän eurooppalaisen sarjakuvan siivillä taivaalle!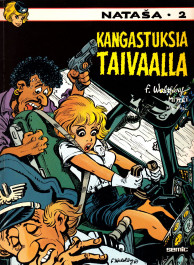 Francois Walthéry: Natasha 2 – Kangastuksia taivaalla (K)
KÄYTETTY. HYVÄKUNTOINEN.
Nataša on kuvankaunis ranskalainen lentoemäntä, joka yhdessä ystävänsä, stuertti Walterin kanssa matkaa seikkailusta seikkailuun eri puolille maailmaa.
Tässä albumissa Nataša joutuu yllättäen lentoemännäksi omaperäisen monimiljonäärin lentävään palatsiin.
Rauhallinen lentomatka Atlantin yli jää pelkäksi haaveeksi, kun taivaalla alkaa näkyä kangastuksia…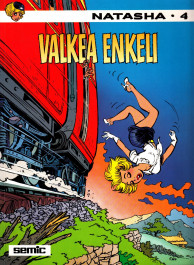 Francois Walthéry: Natasha 4 – Valkea enkeli (K)
KÄYTETTY. Takakannen ylänurkka taittunut.
Natasha on kuvankaunis ranskalainen lentoemäntä, joka yhdessä ystävänsä, stuertti Walterin kanssa matkaa seikkailusta seikkailuun.
Tiheä sumu pitää ystävämme maan kamaralla Englannissa.
Vauhtia ei silti puutu, sillä heidät temmataan mukaan vakoiluseikkailuun, jonka tiimellyksessä koetellaan niin Walterin huumorintajua kuin judomestari Valkean Enkelin taitoja.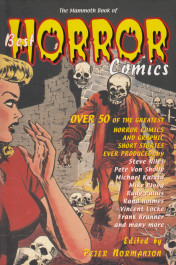 The Mammoth Book of Best Horror Comics (K)
KÄYTETTY. Ensimmäisellä sivulla edellisen omistajan nimi.
In over 500 pages this book collects the finest tales of terror from the past sixty years of comic book publishing.
It encompasses all eras of the genre, from the "weird menace" horror of the perennially popular 1950s pre-Code comics published by EC, to the dark modern gems of the 90s and 2000s.
Discover the tales that drove the American youth of the 1950s into a frenzy and resulted in legislation to put an end to their gruesome content – the pre-Code comic book macabre that was Dark Mysteries, Chamber of Chills, Weird Terror and Journey into Fear.
Contributors from these early years include Bernie Wrightson, master adapter of Lovecraft, Mary Shelley and Stephen King; Mike Kaluta, the man behind The Shadow, Metropolis, and The Spawn of Frankenstein; and Rudy Palais, the EC artist responsible for such twisted works as Marching Zombies.
Modern contributions include Pete Von Scholly's The Graveswellers (the man behind The Shawshank Redemption, The Mask, and The Green Mile), David Hitchcock's self-published Immortal – a Vampire Tale' (creator of the Jack the Ripper comic Whitechapel Freak), Thomas Ott's G.O.D. from Greetings from Hellville (acclaimed Swiss noir artist), Legendary Canadian counter-culture cartoonist Rand Holmes' Death Rattle, and Vincent Locke's One of These Days (famed for his underground hit zombie comic Deadworld), and comic-book legend Steve Ditko's Disaster Doom Death (co-creator of Spiderman).
Bringing together the finest names in comic book terror, here is a feast of terror only a ghoul could have dreamed up…