Luettelo:
Kotimaiset uutuudet
Manga-uutuudet
Ulkomaiset uutuudet
Lehdet ja kirjat
Alkuun
KOTIMAISET UUTUUDET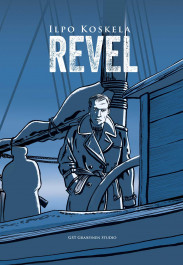 Ilpo Koskela: Revel
Revel on novellikokoelma, jossa ovat samoissa kansissa Ilpo Koskelan vuosina 1985–2008 käsikirjoittamat ja piirtämät, useana vuonna Kemin valtakunnallisessa sarjakuvakilpailussa palkitut ALEKS REVEL -sarjakuvanovellit.
Tarinoiden tapahtumat sijoittuvat Suomeen ja lähialueille 1930-luvun alkuun, kieltolain ajan viimeisille hurjille salakuljetusvuosille.
Aleks salakuljettaa pirtua Suomeen, välttelee virkavaltaa ja ottaa yhteen muiden salakuljetusjengien kanssa, törmäten mielenkiintoisiin ihmisiin, tapahtumiin ja ajan ilmiöihin.
Myöhemmin 1930-luvun lopulla Aleks seikkailee Espanjassa, toisen maailmansodan jälkeisinä vuosina jälleen Suomessa ja 1950-luvun lopulla Havannassa Kuubassa.
Mukana on myös kaksi keskeneräistä, ennen julkaisematonta tarinan aloitusta, joissa tarinakokonaisuus kerrotaan synopsiksena sarjakuvasivujen jälkeen.
MANGA-UUTUUDET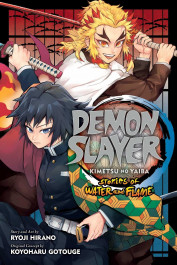 Ryoji Hirano: Demon Slayer – Kimetsu No Yaiba: Stories of Water and Flame
One volume featuring two action-packed tales from the universe of Demon Slayer: Kimetsu no Yaiba!
Savage demons devour unsuspecting humans in Taisho-era Japan.
Armed with special swords, the Demon Slayer Corps fights to stop the devastation demons spread. Giyu Tomioka, the sole Water Hashira, and Kyojuro Rengoku, a high-ranking Kinoe, embark on missions to eliminate demons and prove their mettle as two of the fiercest Demon Slayers.
Giyu heads north to an area where a band of hunters was killed.
He and the Insect Hashira meet Yae, the daughter of a slain hunter, who believes a bear killed her father, but the truth is harder to face.
Kyojuro also receives his newest assignment and hopes completing it will prove he's worthy of the title Flame Hashira, which his father abandoned.
An explosive battle unfolds as Kyojuro takes on a demon of the Twelve Kizuki who holds a grudge against Kyojuro's father.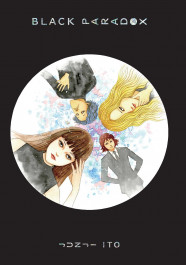 Junji Ito: Black Paradox
Three-time Eisner Award winner Junji Ito's legendary sci-fi thriller is finally available in English!
Four people intent on killing themselves meet through the suicide website Black Paradox: Maruso, a nurse who despairs about the future; Taburo, a man who is tortured by his doppelganger; Pii-tan, an engineer with his own robot clone; and Baracchi, a woman who agonizes about the birthmark on her face.
They wander together in search of the perfect death, fatefully opening a door that leads them to a rather bizarre destiny…
ULKOMAISET UUTUUDET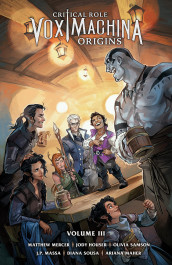 Jody Houser & Olivia Samson: Critical Role – Vox Machina Origins 3
The third series of the celebrated Vox Machina Origins comics, from Critical Role and Dark Horse!
Vox Machina enjoy a week in Westruun's lap of luxury leading up to the Winter's Crest Festival.
But that costs coin, which has a bad habit of running out, so they join an underground fighting ring and bash their way to cash.
Unfortunately, their ring-fighting turns out to be just a warm-up for a cold reality when a mysterious attack on Winter's Crest festivities leaves the whole town magically frozen—including one of their own.
Vox Machina will have to save the day again, against a much bigger foe than they first realized!
Prepare for more misadventure with series III of Critical Role: Vox Machina Origins, from the New York Times bestselling team of Jody Houser (Orphan Black, Stranger Things), Olivia Samson, MSASSYK (Isola, Gotham Academy), Diana Sousa (Isola, Crowded) and Ariana Maher (James Bond, Xena)!
Collects Critical Role: Vox Machina Origins III #1-6.
Sherri L. Smith & Guilherme Balbi: Avatar – The High Ground 1
It has been over a decade since the humans were forced to leave Pandora–but now they're returning–with an armada of heavily-armed starships!
After years of peace, Jake Sully has settled down with Neytiri and raised a family, so for him, the stakes are even higher than when he first went to war against the corporate might of the RDA.
During the development process of creating the four Avatar sequels, a lot of new ideas and stories were created and discussed.
One such EPIC original story idea that didn't make it into the sequels was James Cameron's original story–"The High Ground."
Cameron shared what he had written with Dark Horse Comics and it is now being adapted by award-winning author Sherri L. Smith ( The Toymaker's Apprentice, Orleans), and illustrated by Brazilian artist Guilherme Balbi.
Avatar: The High Ground Volume 1 ventures into all-new territory in the Avatar saga, and is a direct prequel to the highly-anticipated film sequel Avatar: The Way of Water!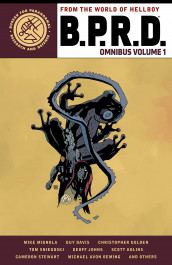 Mike Mignola: B.P.R.D. Omnibus 1
Join Hellboy creator Mike Mignola and a slew of talented writers and artists as they bring you the first volume in a series of omnibuses that collect the main B.P.R.D. storyline.
In 2001, Hellboy quit the B.P.R.D., leaving its roster of special agents to defend the world from any occult threats, and the growing menace of the frog army.
Now their adventures are collected in one continuous saga, following the exploits of Abe Sapien, Liz Sherman, Roger the Homunculus, Johann Krauss, Kate Corrigan, Ashley Strode, and many more from the war on frogs through the end of Ragna Rok.
Collects B.P.R.D.: Hollow Earth & Other Stories, B.P.R.D.: The Soul of Venice & Other Stories, and B.P.R.D.: Plague of Frogs.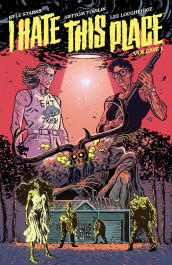 Kyle Starks & Artyom Topilin: I Hate This Place 1
After inheriting a farmhouse, Trudy and Gabby are ready to start the next chapter of their lives together…except it's already home to a mysterious force that's attracted ghosts, aliens, and all kinds of supernatural beings for decades.
Now, Gabby and Trudy must play by the "house rules" in order to survive living amongst the most frightening creatures on Earth in this new series from Kyle Starks (ASSASSIN NATION, THE SIX SIDEKICKS OF TRIGGER KEATON) and Artyom Topilin (Ice Cream Man Presents Quarantine Comix Special).
Collects I HATE THIS PLACE #1-6.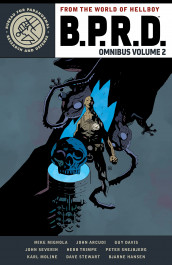 Mike Mignola & John Arcudi: B.P.R.D. Omnibus 2
Join Hellboy creator Mike Mignola and a slew of talented writers and artists as they bring you the second volume in a series of omnibuses that collect the main B.P.R.D. storyline.f
Volume 2 includes deeper explorations of Abe Sapien's origins, the Black Flame, and the introduction of more key characters!
In 2001, Hellboy quit the B.P.R.D., leaving its roster of special agents to defend the world from any occult threats, and the growing menace of the frog army.
Now their adventures are collected in one continuous saga, following the exploits of Abe Sapien, Liz Sherman, Roger the Homunculus, Johann Krauss, Kate Corrigan, Ashley Strode, and many more from the war on frogs through the end of Ragna Rok.
Collects B.P.R.D.: Born Again, B.P.R.D.: Revival, B.P.R.D.: The Dead, B.P.R.D.: War on Frogs, and B.P.R.D.: The Black Flame.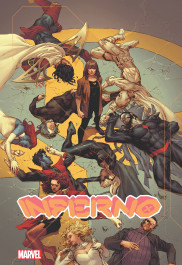 Jonathan Hickman: Inferno
He changed everything for mutantkind with HOUSE OF X and POWERS OF X.
He explored the new Krakoan era in X-MEN.
Now the keeper of the mutant flame, Jonathan Hickman, presents his final, incendiary X-saga!
Mystique, former terrorist and espionage agent supreme, is loyal to Professor X's Quiet Council for one reason only: the promise that someday he will resurrect her beloved Destiny.
But when Moira MacTaggert helped Professor X and Magneto realize their lifelong dreams for mutantkind, it came with one condition: Do not allow any precognitive mutants on the island of Krakoa.
What will Mystique do when she realizes she's being strung along? Vengeance burns hot, and Mystique is about to ignite an Inferno! And where has the elusive Moira been all this time, anyway?
COLLECTING: Inferno (2021) #1-4.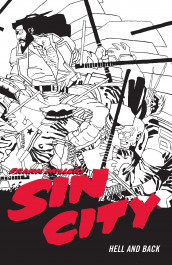 Frank Miller: Sin City 7 – Hell and Back
Experience the biggest, baddest yarn the harsh and blood-soaked burg has to offer!
This tome of the acclaimed crime noir is presented at original size with new wrap-around cover art by Frank Miller.
Wallace was living a pretty simple life, a good guy, an artist, trying to make his way but not willing to sacrifice his principles to do it. Then, he meets Esther.
He saves her from trying to take her own life, and falls in love.
But before she can explain her reasons, she's taken, kidnapped by a shadowy cabal up to serious no good.
Luckily there's more to Wallace than goodness. He isn't the kind to lose his head, he's really good at killing people. And he'll kill anyone that needs killing if it gets him closer to finding Esther again.
He's going to hell . . . and back.
The fourth editions of Frank Miller's signature series continue with Volume 7 Hell and Back.
This edition does include twenty-three pages of cover and pinup galleries from previous editions, with art from Eduardo Barreto, Brian Bolland, Geof Darrow, Gary Gianni, Paul Grist, R. C. Harvey, Russ Heath, Gil Kane, Jason Pearson, and Matt Wagner.
Devoted fans and new readers can again experience the groundbreaking and unparalleled noir masterpiece that has engrossed readers for nearly three decades!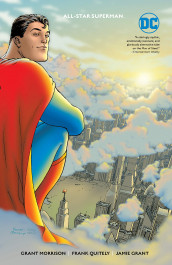 Grant Morrison & Frank Quitely: All-Star Superman
The Man of Steel goes toe-to-toe with Bizarro, his oddball twin, and the new character Zibarro, also from the Bizarro planet.
And Superman faces the final revenge of Lex Luthor in the form of his own death!
All-Star Superman is a spectacular reimagining of the Superman mythos, from the Man of Steel's origin to his greatest foes and beyond.
Combining their singular talents to create a new and brilliant vision of the Man of Steel, comics storytellers Grant Morrison and Frank Quitely are reunited with their WE3 collaborator Jamie Grant for one of the greatest Superman stories ever imagined.
Collects All-Star Superman #1-12.
Nicole Claveloux: The Green Hand and Other Stories
Now in paperback, a collection of "darkly humorous, existential, erotic, trance inducing" (The New York Times) short stories by the lauded French comics artist Nicole Claveloux.
Nicole Claveloux's short stories–originally published in the late 1970s and never before collected in English–are among the most beautiful comics ever drawn: whimsical, intoxicating, with the freshness and splendor of dreams.
In hallucinatory color or elegant black-and-white, she brings us into lands that are strange but oddly recognizable, filled with murderous grandmothers and lonely city dwellers, bad-tempered vegetables and walls that are surprisingly easy to fall through.
In the title story, written with Edith Zha, a new houseplant becomes the first step in an epic journey of self-discovery and a witty fable of modern romance–complete with talking shrubbery, a wised-up genie, and one very depressed bird.
This new selection, designed and introduced by Daniel Clowes, presents the full achievement of an unforgettable, unjustly neglected master of French comics.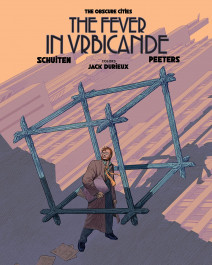 Francois Schuiten & Benoit Peeters: The Fever in Urbicande
Visit a land full of mystery, ancient alchemy, and modern technologies in this award-winning graphic novel series, now in a new edition with all-new colors and an updated translation!
The second book in the original The Obscure Cities series, The Fever in Urbicande was first published in English by NBM in 1990 in black-and-white.
This updated edition features an all-new translation and beautiful new coloring supervised by Francois Schuiten and Benoit Peeters.
Eugen Robick, Urbatect of Urbicande has been designing a new bridge to connect the southern portion of the city to the north, but his bid to commence construction has been denied by the Commission. Unconcerned with the politics of the situation, Eugen only cares about the balance it will bring to the city.
While contemplating how he can convince the Commission to see things his way, Eugen is brought a cube made of beams discovered during construction of another project.
Initially small enough to fit on his desk, it begins to grow, adding beam after beam, until it soon takes over his entire office.
Growing exponentially, it eventually takes over the entire city, disrupting the social order as citizens begin using the beams to travel back and forth between the southern and northern parts of the city, previously only accessible via the guarded bridges.
While the Commission wishes to put a stop to any such social change, the cube's impact is overpowering and irreversible.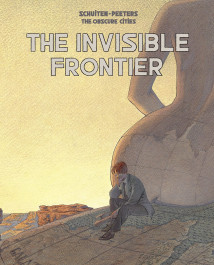 Francois Schuiten & Benoit Peeters: The Invisible Frontier
Uncover the strange magic of The Obscure Cities and be awed by the beautiful art and incredible storytelling! Features a new English translation of the classic graphic novel.
Roland de Cremer is a young man who has just been assigned to the Center of Cartography in Sodrovno-Voldachia.
It's a secluded place that is usually insulated from the outside world. But something is happening out there.
Rumors swirl of attacks, assassinations, war, and rebellions bloodily put down.
Meanwhile, Roland has fallen in love with a young woman named Shkodra, who the authorities have also shown an increased interest in. She has mysterious markings on her back, tattoos that look like a map.
As the threat to her increases, the two flee through deserts, mountains, and swamps. They have only one option for escape: to cross the border.
But will they be able to find their way through this land that bears no resemblance to the maps Roland is familiar with and will his desire to save her get them both killed?
First published in English in 2002, this new edition of the classic European graphic novel makes the critically acclaimed series accessible to a new generation of readers!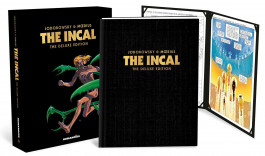 Alejandro Jodorowsky & Moebius: The Incal – The Deluxe Edition
A Special Edition Slipcase of the revered science fiction masterpiece from Alejandro Jodorowsky and Moebius.
This Oversized Deluxe Edition is a treasure both for fans of this best-selling science fiction work and for art collectors alike.
Its unique, streamlined design offers a luxury, cloth-bound hardcover of The Incal with gold-foil debossing, as well as a portfolio with two lithograph prints showcasing John Difool's iconic plummet down Suicide Alley in both color and black and white, highlighting Moebius' exceptional linework–all housed inside a gorgeous slipcase with never-before-used cover art.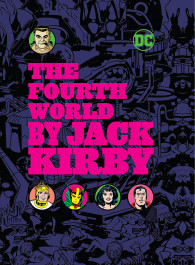 Jack Kirby: The Fourth World by Jack Kirby Box Set
These are the legendary tales written and illustrated by Jack King Kirby that introduced mythical new worlds and iconic characters with sweeping excitement!
Inside the warring worlds of Apokolips and New Genesis, Darkseid and Highfather, along with countless heroes and villains exist.
Follow the triumps and struggles of Orion, Lightray, Kalibak, Granny Goodness, and more in this box set perfect for any fan!
Contains four books in slipcase:
Superman's Pal Jimmy Olsen by Jack Kirby
New Gods by Jack Kirby
Mister Miracle by Jack Kirby
The Forever People by Jack Kirby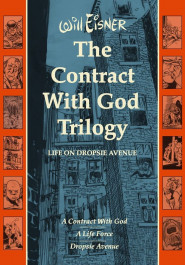 Will Eisner: The Contract with God Trilogy – Life on Dropsie Avenue
Published quietly in 1978, Will Eisner's revolutionary literary work A Contract With God marked the invention of the modern graphic novel, took on a life of its own, and inspired a generation of "sequential artists."
Will Eisner (1917–2005) saw himself as "a graphic witness reporting on life, death, heartbreak, and the never-ending struggle to prevail."
The publication of A Contract With God when Eisner was sixty-one proved to be a watershed moment both for him and for comic literature.
It marked the birth of the modern graphic novel and the beginning of an era when serious cartoonists could be liberated from their stultifying comic-book format.
More than a quarter-century after the initial publication of A Contract With God, and in the last few months of his life, Eisner chose to combine the three fictional works he had set on Dropsie Avenue, the mythical street of his youth in Depression-era New York City.
As the dramas unfold in A Contract With God, the first book in this new trilogy, it is at 55 Dropsie Avenue where Frimme Hersh, the pious Jew, first loses his beloved daughter, then breaks his contract with his maker, and ends up as a slumlord; it is on Dropsie Avenue where a street singer, befriended by an aging diva, is so beholden to the bottle that he fails to grasp his chance for stardom; and it is there that a scheming little girl named Rosie poisons a depraved super's dog before doing in the super as well.
In the second book, A Life Force, declared by R. Crumb to be "a masterpiece," Eisner re-creates himself in his protagonist, Jacob Shtarkah, whose existential search reflected Eisner's own lifelong struggle. Chronicling not only the Crash of 1929 and the Great Depression but also the rise of Nazism and the spread of left-wing politics, Eisner combined the miniaturist sensibility of Henry Roth with the grand social themes of novelists such as Dos Passos and Steinbeck.
Finally, in Dropsie Avenue: The Neighborhood, Eisner graphically traces the social trajectory of this mythic avenue over four centuries, creating a sweeping panorama of the city and its waves of new residents―the Dutch, English, Irish, Jews, African Americans, and Puerto Ricans―whose faces changed yet whose lives presented an unending "story of life, death, and resurrection."
The Contract With God Trilogy is a mesmerizing, fictional chronicle of a universal American experience and Eisner'' most poignant and enduring literary legacy.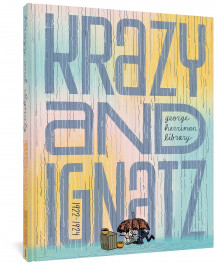 George Herriman: Krazy & Ignatz 1922-1924
One of the most renowned and celebrated comic strips in the art form's history waywardly treks on through the 1920s, with all its madcap animal inhabitants in tow, in this gorgeous, archival hardcover collection.
In this volume: precarious coconuts, incarcerated elephants, and witty weather patterns.
Krazy Kat themself take a swing at singing, astronomy, and starring in … their own comic strip!
It also features essays by Herriman scholars, plus ten rare full-color experimental strips by Herriman.
This Eisner Award-nominated series, featuring all the Krazy Kat Sunday strips' eternally beguiling love triangle, luminous language, and grand desert décor, makes it plain to Herriman fans and newcomers alike why historians, scholars, and cartoonists consider this the best comic strip ever created.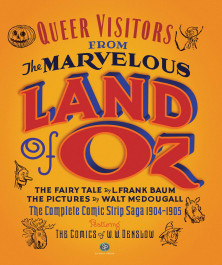 L. Frank Baum & Walt McDougall: Queer Visitors from the Marvelous Land of Oz
At the dawn of the 20th century, L. Frank Baum created a world of wonders that was to hold a permanent place in the culture of America: The Wonderful Wizard of Oz.
Then in 1904, to promote his second book, Baum, along with master cartoonist Walt McDougall, brought his famed characters to Earth in a new medium, the comic strip.
Queer Visitors from Marvelous Land of Oz had arrived.
At this same time, Oz illustrator W.W. Denslow, offered his own Sunday feature, Scarecrow and the Tinman.
Now both of these rare cartoon features are collected for the first time, magnificently restored and presented in full broadsheet size.
Join these timeless characters and explore the culture that was America over 100 years ago.
You surely won't be in Kansas (or anyplace like it) anymore!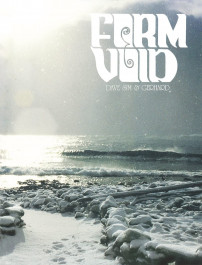 Dave Sim & Gerhard: Cerebus 14 – Form and Void
Aardvark-Vanaheim is proud to present the painstakingly and lovingly digitally remastered, long out-of-print 14th volume of the Cerebus series!
Reprinted for the first time since 2007, fully-restored page-by-page from the original art boards and collecting issues #251-265, this volume continues Cerebus and Jaka's fateful journey to Sand Hills' Creek, as they encounter Dave Sim's latest 20th century literary appropriation: Ernest Hemingway!
Includes the Africa Sequence, depicting the Hemingways' trip to Africa as recorded in Mary Hemingway's journal and Dave Sim's annotations "To Ham & Ham Not"!
Fifth Printing.
LEHDET JA KIRJAT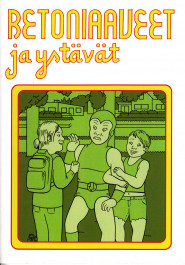 Betoniaaveet ja ystävät
Mukana Jenni Välikangas, Kaisa Åstrand, Nikke Lindholm, Antti Kurvinen, Siiri Viljakka, Onsku Franck, Miia Vistilä, Olli Kaihula ja Esko Heikkilä.
With English subtitles.
.
.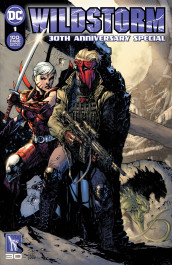 WildStorm 30th Anniversary Special #1
Written by Matthew Rosenberg, Brandon Choi, J. Scott Campbell, Brett Booth, Ed Brisson and others.
Art by Jim Lee, J. Scott Campbell, Bryan Hitch, Brett Booth, and others.
In 1992 Jim Lee changed the course of comics history with the founding of WildStorm Productions, which would revolutionize the business and launch the careers of so many top creators.
To this day, 30 years later, the impact of the imprint, its characters, and its creators is still felt!
In honor of this legacy comes a 100-page giant that pays homage to the past…and looks toward the future!
Part of this mammoth special will be reprinting–for the first time in periodical form!–short stories from the acclaimed WildStorm: A Celebration of 25 Years hardcover, including stories by Jim Lee, J. Scott Campbell, Brett Booth, Dustin Nguyen, and more…plus new stories featuring WildStorm characters in the DC core line, charting their future in the DC Universe…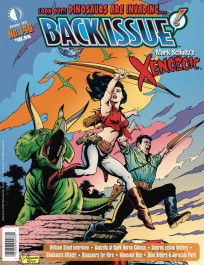 Back Issue! #140
Dinosaur Comics!
Interviews with Xenozoic's Mark Schultz and dino-artist extraordinaire William Stout!
Plus: Godzilla at Dark Horse, Sauron villain history, Dinosaurs Attack!, Dinosaurs for Hire, Dinosaur Rex, Dino Riders, Lord Dinosaur, and Jurassic Park!
Featuring Arthur Adams, Stephen Bissette, Chris Claremont, Dave Cockrum, Gary Gerani, Randy Stradley, Roy Thomas, and many more.
Re-presenting a 1992 Xenozoic cover by Mark Schultz.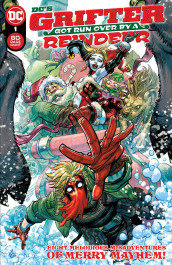 DC's Grifter Got Run Over By a Reindeer #1
Written by Derek Fridolfs, John Layman, Max Bemis, Cavan Scott, Michael Conrad, Scott Bryan Wilson, and more!
Art by Dustin Nguyen, Fico Ossio, Christopher Mitten, Skylar Patridge, and others!
Ho-ho-ho my gosh, it's time to deck the halls with holly…er, Harley Quinn, Batman, and more of your favorite DC superstars!
Who made it to the Nice List? Hawkman? Black Canary? Is that Animal Man on the naughty list?
And how did Grifter find himself in the targeting sights of those pesky reindeer!
Get one for you and an extra for a loved one's stocking (yule be glad you did!) in this holiday song celebration!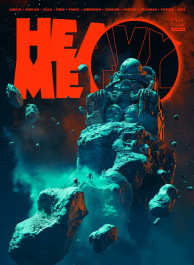 Heavy Metal #319
DARKWING, the mindbending sci-fi saga concludes!
THE AXE by Fall Out Boy's lead guitarist Joe Trohman and writer/actor Brian Posehn with Deadpool artist Scott Koblish nears its gruesome end!
DEATH DEFIED's alternate history story about the power of ideas continues!
SPACE PIRATES UNIT DOLORES resume its galactic mission!
THE ADVENTURES OF ADRIENNE JAMES reaches higher stakes!
Chris Anderson's surreal adventure SOMETHING SEEMS OFF returns!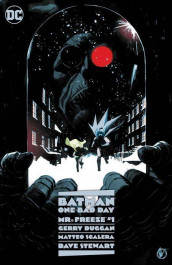 Gerry Duggan & Matteo Scalera: Batman – One Bad Day: Mr Freeze #1
Going back to the Dark Knight's early days in Gotham City: Batman and Robin, Dick Grayson, face down the coldest winter Gotham City has ever seen.
A winter so cold that Mr. Freeze, Victor Fries, no longer needs his containment suit to survive; he is in an element where he can thrive.
Robin empathizes with Mr. Freeze, all Freeze wants to do is save his wife, Nora – but Batman warns Robin not to give his empathy to Victor Fries.
He's a man who decided his own fate a long time ago and he deserves none of our warmth. And this winter… he will show his true wickedness and power.
The powerhouse creative team of bestselling writer GERRY DUGGAN (X-Men, Deadpool, Arkham Manor) and MATTEO SCALERA (WHITE KNIGHT PRESENTS: HARLEY QUINN, Black Science) brings you Mr. Freeze's most frigid story yet.