Luettelo:
Kotimaiset uutuudet
Ulkomaiset uutuudet
Lehdet ja kirjat
Käytetyt sarjakuvat
Alkuun
KOTIMAISET UUTUUDET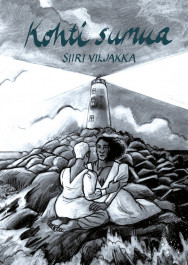 Siiri Viljakka: Kohti sumua
Kohti sumua on teos naisrakkaudesta, luopumisesta ja mystisestä majakkasaaresta.
Muistinsa menettänyt Natalie huuhtoutuu majakalle.
Hänet pelastaa saaren ainoa asukas, Eleonore.
Naisten yhteiselo eristyneellä saarella luo heidän välilleen läheisyyden, mutta paikan paljastuvat salaisuudet pakottavat heidät tekemään omat valintansa.
Siiri Viljakka (s. 1995, Varkaus) on monien reittien kautta Turkuun päätynyt sarjakuvataiteilija.
Hän on aiemmin työskennellyt sekä yksin että yhteistyössä pienlehtien, antologioiden ja sarjakuva-albumien parissa.
Tavoitteellinen sarjakuvatyöskentely alkoi vuonna 2014 Limingan taidekoulun sarjakuvalinjalla, ja jatkui Turun ammattikorkeakoulussa.
Viljakka valmistui kuvataiteilijaksi vuonna 2020. Sarjakuvien lisäksi hän nauttii hapanjuurileipomisesta ja maratonpuheluista.
Kohti sumua on Viljakan ensimmäinen sarjakuvaromaani.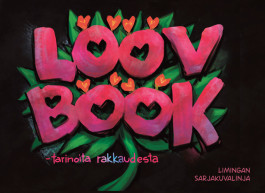 LÖÖV BÖÖK – Tarinoita rakkaudesta
Pikku enkelin seikkailu maan päällä, vaarin muistelmat ja koulukaveriin rakastumiset… LÖÖV BÖÖK kertoo ne ja monta muuta tarinaa.
Rakkauskirjaa valmisteltiin hartaudella, teimme selvitystä ja selontekoa järkevästä tavasta liitolle useiden tekijöiden intohimot ja tarpeet huomioiden. Kasa rakkausjuttuja syntyy vapaaehtoisuudesta, uteliaisuudesta ja hyväksyvästä ilmapiiristä.
Limingan taidekoulu on sivistänyt taideaineissa ihmisiä jo vuodesta 1966 saakka.
Kaksikymmenkaksivuotinen sarjakuva- ja animaatiolinja tuottaa vuosittain albumin tai omakustannesarjoja, joissa opiskelijat perehtyvät sarjakuvaan – yhteistyöstä ja ideasta valmiiseen painotuotteeseen.
LÖÖV BÖÖK on lukuvuoden 2021-2022 väen rakkaudentunnustus toisilleen, sarjakuvalle ja lukijakunnalle yksissä kansissa.
Haltioittavia lukuhetkiä!
Tekijä/toimitus: Tessa Astre, Mikko Jylhä
Piirtäjät ja käsikirjoitus: Kaisla Virta, Ahti Soininen, Phoebe Lehto, Minerva Asamäki, Lyre, Inka Miettunen, Kai Ohto, Iikka Backman, V. Mourujärvi, Jarkko Harakka, Anne Nuojua, Daniel Og, Janita Fagerström, Jasu Hakala, Kasperi Mustonen, Lauri Oksanen, Mauri Miettinen, Mursku Xenos, Sisko K., Tomi B. Nikula.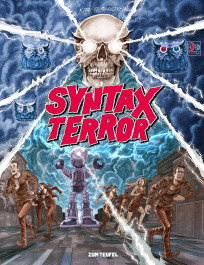 Kari A. Sihvonen: Syntax Terror (+ 3D-lasit)
Vaara uhkaa, oi galaksien vaeltaja.
Myrskypilvet kerääntyvät horisontissa mystisen voiman lähestyessä kotiplaneettaamme. Sukella syvälle kaaoksen värittämään tarinaan, jossa robottimainen pahuus kylvää pelkoa maapallolla!
Mars hyökkää! oli vain esimakua.
Maapallolla ihan kaikki kuulevat huutosi!
Syntax Terror on Kari A. Sihvosen (s. 1980) sanaton sarjakuvailoittelu, joka ammentaa innoituksensa vanhoista scifi- ja kauhusarjakuvista ja -elokuvista.
Mukana on 3D-lasit kolmiulotteisten sivujen katsomista varten. Kokeile ja ällisty!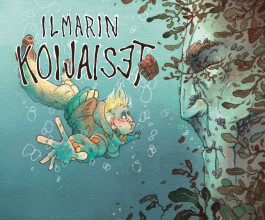 Jenni Välikangas: Ilmarin koijaiset
Ilmari lähtee koiravahdiksi Kolna-tätinsa saaristoasunnolle, mutta rauhallinen mökkiloma osoittautuu ikävästi punotuksi juoneksi, jonka keskiöön Ilmari on liimattu.
Lähtiessään tutkimaan asioiden laitoja, Ilmarin kauhuksi saari tuntuu täyttyvän niin noituudesta kuin mustasukkaisuudestakin.
Akvarellein ja puuvärein toteutettu "Ilmarin Koijaiset" on esteettinen seikkailu suomalaisessa saaristomaisemassa!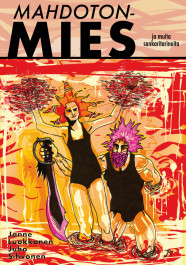 Janne Luokkanen & Juho Sihvonen: Mahdoton-mies ja muita sankaritarinoita
Mistä on supersankarit tehty?
Miten kaikesta tuli niin hankalaa?
Onko mitään mieltä siirtää tietoisuuttaan mammuttiin?
Löytävätkö sankarit hyvää palvelusväkeä enää mistään?
Kannattaako jutella tuntemattoman druidin kanssa?
Ota itse selvää ja lue: Mahdoton-mies ja muita sankaritarinoita!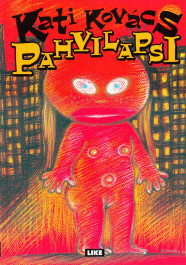 Kati Kovács: Pahvilapsi
Jännittävä ja hauska kertomus Sirkan rankasta elämästä kadulla, hänen uusista ystävistään ja kaipuustaan maailman rakkaimpaan paikkaan – kotiin.
Sarjakuvan supertähden Kati Kovácsin kolmas albumi.
.
.
ULKOMAISET UUTUUDET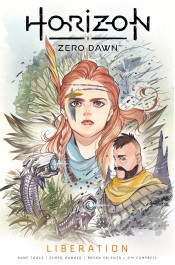 Anne Toole & Elmer Damaso: Horizon Zero Dawn 2 – Liberation
A brand new graphic novel expanding upon the story of the epic video game Horizon Zero Dawn, and its highly anticipated sequel, Horizon Forbidden West.
Horizon: a far-future Earth full of epic natural beauty and forgotten ruins, where awe-inspiring, animal-like machines are the dominant species and humans struggle to survive in pre-industrial tribes.
Set during the events of Horizon Zero Dawn, Erend and Aloy are on the hunt for the killer of an important member of the Oseram tribe, fending off deadly machines along the way.
As the hunt progresses, Erend reveals the sweeping tale of the liberation of Meridian, and how his sister, Ersa, Captain of the Carja Vanguard, was murdered.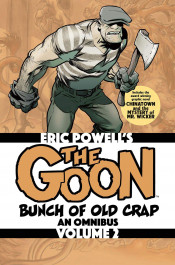 Eric Powell: The Goon – Bunch of Old Crap: An Omnibus Volume 2
From mad scientists to interdimensional chickens with teeth to a heart breaking betrayal, Lonely Street comes under all manner of threats both tragic and hilarious in this second omnibus volume of The Goon.
A mysterious new figure has entered the crime scene and is taking out the Goon's business operations one by one–systematically intercepting shipments, murdering contacts, and alienating friends.
As Goon struggles to keep the city's organized crime under his control, his mind is haunted by the memories of his darkest moments . . .
Collects The Goon Volumes 4-6 and full of bonus material!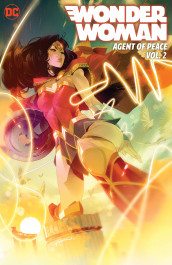 Wonder Woman, Agent of Peace 2
Diana, Princess of Themyscira fights for peace in Man's World…but her job isn't always easy.
Spinning together some of your favorite tales from the 2020 series Wonder Woman: Agent of Peace!
Starting with Wonder Woman working with Steve Trevor to secure peace in a war-torn country, when she learns that the Titan of memory has been manipulating events to serve the purposes of an arms dealer.
Then a teenage boy summoned a dark witch out of a book of spells to cover his town in the same darkness that consumes him. Wonder Woman arrives to drive the dark witch back to where she came from.
And is Wonder Woman really considering…teaming up with her most dangerous enemy? Cheetah is on a deadly rampage, and Wonder Woman is called in to stop her.
But when Diana discovers that the Cheetah is targeting wild animal poachers, she finds herself torn.
This collection even includes…a run-in with a minotaur?!
Find out how Wonder Woman fights against this and more in Wonder Woman: Agent of Peace Vol. 2, collecting Wonder Woman: Agent of Peace #12-23!
Eric Powell: The Goon – Bunch of Old Crap: An Omnibus Volume 3
Fear and misery plague the nameless town on the edge of Horse-Eater's Wood.
An ancient curse is drawing the most powerful and vile creatures to the town with only one hope for protection — the Goon.
But when it draws an enemy thought long gone, even the Goon's lifelong foe, the Zombie Priest, is subjugated to this power's evil will.
Collects The Goon Volumes 7-9 of Eric Powell's Eisner Award winning series with bonus material.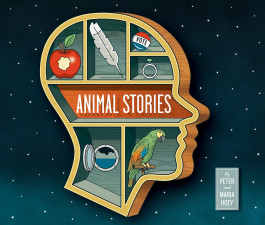 Peter Hoey & Maria Hoey: Animal Stories
What separates us from animals?
What connects us?
Award-winning cartoonists Peter and Maria Hoey probe these mysteries across six surreal and interconnected stories.
After tremendous acclaim for their series Coin-Op Comics, two brilliant creators present their first graphic novel: a menagerie of wild tales.
Pushing the boundaries of their dazzling and unique narrative style, Animal Stories weaves together six short stories exploring the mysterious relationships between humans and other animals.
A girl who keeps pigeons starts receiving messages from a new bird in her flock.
A ship's crew rescue a dog, only to find far stranger things in the sea around them.
A reincarnated cat with criminal intentions, a parrot who leads a revolution, and a squirrel who tempts a woman in a beautiful garden glade.
Drawing inspiration from Aesop's Fables, film noir, and the Old Testament, Peter and Maria Hoey apply their singular and sophisticated visual storytelling to create a new set of modern animal tales for modern times.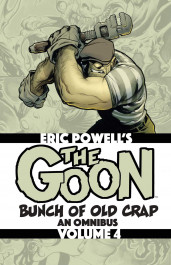 Eric Powell: The Goon – Bunch of Old Crap: An Omnibus Volume 4
After surviving the return of Labrazio, Goon wants nothing more than to settle onto a barstool with some whiskey, but a succession of cake-mad hobo gods, snake-hurling hillbillies, and bodacious burlesque dancers have other ideas.
And somewhere on Lonely Street, a resurgent Zombie Priest plots his next attack . . .
Collects The Goon Volumes 10-12.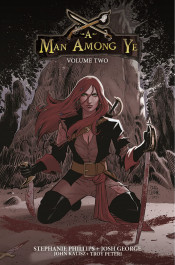 Stephanie Phillips & Josh George: A Man Among Ye 2
Pirate queen Anne Bonny is back with her crew of lady buccaneers after a harrowing escape from a Caribbean prison!
But can they find a safe haven on land or sea after Calico Jack Rackham's betrayal and the governor's promise to hunt down and execute Anne?
The second volume of A MAN AMONG YE hits the high seas thanks to writer Stephanie Phillips (Harley Quinn) and artist Josh George (2000AD Future Shock, Grimm Tales of Terror).
COLLECTS A MAN AMONG YE #5-8.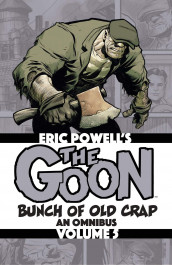 Eric Powell: The Goon – Bunch of Old Crap: An Omnibus Volume 5
What's left of the Zombie Priest's race of witches come after the Goon, forcing him to face his nightmares or lose his town!
The witch coven believe that control of Goon's town will soon be in their grasp and his tragic soul will contribute to the curse that increases their power.
But has their plot destroyed the Goon or created a monster too savage for them to withstand?
This edition collects The Goon Volumes 13-15 and The Goon Noir.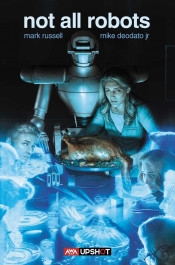 Mark Russell & Mike Deodato Jr.: Not All Robots 1
In the year 2056, robots have replaced human beings in the workforce.
An uneasy co-existence develops between the newly intelligent robots and the ten billion humans living on Earth.
Every human family is assigned a robot upon whom they are completely reliant.
What could possibly go wrong?
Meet the Walters, a human family whose robot, Razorball, ominously spends his free time in the garage working on machines which they're pretty sure are designed to kill them in this sci-fi satire from Mark Russell (The Flintstones, Second Coming) and Mike Deodato Jr. (The Amazing Spider-Man, The Resistance).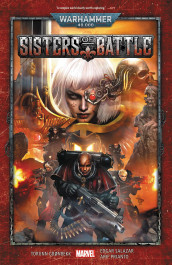 Torunn Gronbekk & Edgar Salazar: Warhammer 40,000 – Sisters of Battle
The saga of WARHAMMER 40,000 comes to Marvel Comics!
In the grim darkness of the far future, there is only war.
Marneus Calgar, the legendary Chapter Master of the Ultramarines, leads his elite Space Marines against humanity's greatest threats in a galaxy engulfed in endless war.
Writer Kieron Gillen (UNCANNY X-MEN, JOURNEY INTO MYSTERY, The Wicked + The Divine) spearheads a new publishing initiative with Marneus Calgar's never-before-told origin story – from his beginnings on Nova Thulium and his campaigns in the Black Crusades, to the unfolding mystery of the Black Altar, as a deadly threat from Calgar's past reemerges to threaten the present of the Ultramar system!
It's essential reading for 40K aficionados – and the perfect primer for those new to the universe of WARHAMMER 40,000! Be prepared!
Warhammer 40,000: Marneus Calgar (2020) #1-5.
Kyle Higgins & Felipe Watanabe: Ordinary Gods 1 – God Spark
The Luminary. The Prodigy. The Brute. The Trickster. The Innovator.
Five gods from a realm beyond our own, leaders in the War of Immortals. At least, they were before they were trapped, sent to a planet made into a prison, and forced into an endless cycle of human death and reincarnation.
Christopher is 22.
He's got two loving parents and a 12-year-old sister. He works at a paint store. He's in therapy. He's one of the Five.
To save everyone he cares about, Christopher will have to embark on a globe-spanning quest, reconnect with his past lives, and do the unthinkable: become a god again.
Collects ORDINARY GODS #1-6.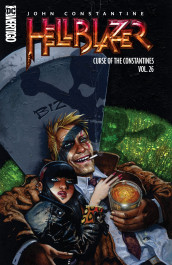 John Constantine, Hellblazer 26 – The Curse of the Constantines
It's up to the old mage to solve a few mysteries, but is John Constantine ready for what's about to be thrown at him?
A dying woman's desperate need to see her long lost son sends John Constantine on a mission in Suicide Bridge, a haunting tale of evil and melancholy that finds John using his occult connections to learn why so many young people are going missing.
It's a story full of strange places and desperate lives that leads Constantine to unearth his own connection to the mysterious disappearance of a boyhood friend…and that's just the beginning of Constantine's troubles in John Constantine, Hellblazer Vol. 26: The Curse of the Constantines.
Collecting Hellblazer #292-300; Hellblazer Special: Bad Blood #1-4; Hellblazer Annual #1!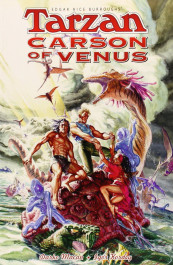 Darko Macan & Igor Kordey: Tarzan/Carson of Venus
The insidious cult of the Loveking is spreading through Carson Napier's kingdom on the ocean world of Venus.
If Carson can't break the Loveking's spell, the balance of power on Venus will be shattered and the woman Carson loves will be lost to him forever.
But a jungle howl from a faraway world signals the arrival of a powerful ally, Tarzan, whom Carson will desperately need to avert disaster on his adopted planet!
Also included in this volume is ""Tarzan: A Tale of Mugambi,"" never before collected!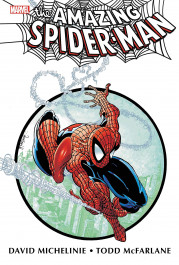 David Michelinie & Todd McFarlane: The Amazing Spider-Man by Michelinie & McFarlane Omnibus
Whether clad in classic blue-and-red or thrilling black, whether possessing spider-powers or cosmic might, Spider-Man stands ready to face any threat!
And as David Michelinie and Todd McFarlane take the creative reins, the threats to Spidey have never been greater!
From the introduction of the lethal Venom; to the return of old enemies like Mysterio, the Scorpion and more; to facing newcomers to his friendly neighborhood like Sabretooth, the Taskmaster, Magneto and the Sentinels, Spidey sure has his hands full!
Good thing he's got Mary Jane, Captain America, the Black Cat and the Hulk around to lend a hand!
Featuring the pulse-pounding prose of longtime IRON MAN scribe David Michelinie — and the groundbreaking artistry of the legendary Todd McFarlane!
COLLECTING: Amazing Spider-Man (1963) #296-329, material from Spectacular Spider-Man Annual (1988) #10.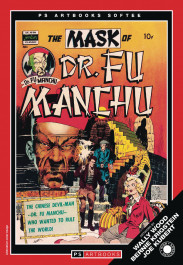 Classic Adventure Comics 1
Classic Adventure Comics is just like those old Saturday morning cinema clubs – there's the Son of Sinbad securing the release of the slave girl and recovering a fortune in gems and jewels in the process.
All reproduced completely from cover to cover, featuring some of the best comic book talent including Joe Kubert, Carmine Infantino, Wally Wood, Alvin Hollingsworth, Bernie Krigstein, Frank Borth, Art Peddy, Morris Waldinger and Enrico Bagnoli.
Collects Son of Sinbad #1 (1950), Secret Missions #1 (1950), The Mask of Dr. Fu Manchu #1 (1951), High Adventure #1 (1957), and Great Exploits #1 (1957).
LEHDET JA KIRJAT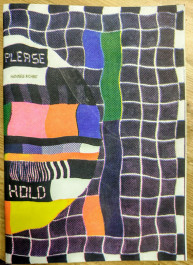 Hannele Richert: Please Hold + Please Stand By
Kaksi Hannele Richertin risopainettua lehteä, kylmäävän hieno Please Hold sekä aiempi versio samasta teemasta, Please Stand By.
.
.
.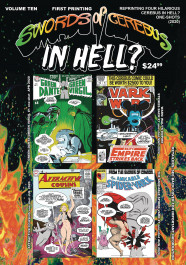 Dave Sim & Sandeep Atwal: Swords of Cerebus in Hell? 10
Further collecting Cerebus' adventures in Hell? (with a question mark)!
Read the First Team Up of Green Dante and Green Virgil while Green Virgil's ward, Cerebus, rocks a major Twitter Jones, hooked by the "Free Legal Advice" Twitter feed!
See the denizens of the Infernal Realms get "Disney-fied"! and discover which beloved Cerebus In Hell? character has fallen to the Dark Side and become Darth [REDACTED]!
First appearance of Super-Cerebus's super-attractive cousin, Super-Cerebus Girl (Eat your heart out Curt Swan)!
First appearance of The Amicable Spider-Vark and Spider-Whore!
Count all the Steve Ditko riffs!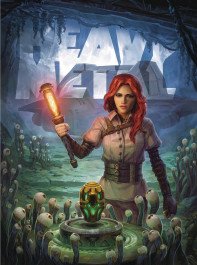 Heavy Metal #313
Heavy Metal kicks off a new year of publishing the best science-fiction, fantasy, and horror stories in the comic book industry!
David Arquette (Scream 5) and Cliff Dorfman introduce their new historical fiction tale Valentine, Ryan K. Lindsay and Sebastian Piriz conclude the saga of Black Beacon, Savage Circus comes to a gruesome end by Brendan Columbus and Al Barrionuevo, Matthew Medney's Darkwing reaches its penultimate chapter with German Ponce, the high-flying fantasy series Starward by Steve Orlando and Ivan Shavrin heads toward its final act, and legendary former Marvel E-I-C Jim Shooter discusses being blacklisted in comics in a no holds barred interview!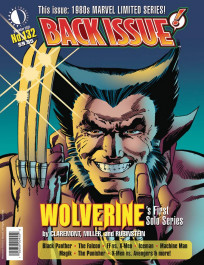 Back Issue! #132
1980s Marvel Limited Series, including Chris Claremont and Frank Miller's Wolverine!
Plus: Black Panther, The Falcon, The Punisher, Machine Man, Iceman, Magik, Fantastic Four vs. X-Men, Nick Fury vs. S.H.I.E.L.D., Wolfpack, and more! Featuring Jon Bogdanove, Denys Cowan, Tom Defalco, J.M. DeMatteis, Steven Grant, Larry Hama, Al Milgrom, Paul Neary, Paul Smith, Barry Windsor-Smith, and more.
Wolverine #1 cover recreation by Joe Rubinstein (after Frank Miller).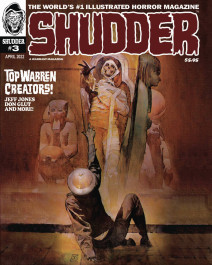 Shudder #3
Shudder revives the iconic Warren illustrated horror magazines of the 60's and 70's by replicating Warren's early page layouts and publishing new, classic-styled work by original Warren artists, writers, and editors.
Each issue is a highly collectible instant classic!
.
.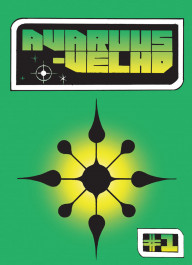 Matti Hagelberg: Avaruusvelho #1
28 sivua värisivua Agner Mangin seikkailuja.
Tämä pienlehti ei sisälly Läskimooses-boxiin.
.
.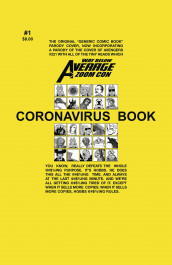 Dave Sim & David Birdsong: Coronavirus Book #1
Double-Sized Issue!
This "Generic Comic Book" parody originally appeared online and now incorporates on the cover an Avengers #221 parody with 25 (count 'em!) tiny CIH? heads (get out your desktop electron microscope or download Apple's iElectron iMicroscope app and see for yourself!).
No Avengers parody inside! Psych!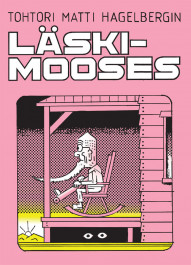 Matti Hagelberg: Läskimooses – Marsin mesimailla
20 sivua väreissä.
Tämä pienlehti ei sisälly Läskimooses-boxiin.
.
.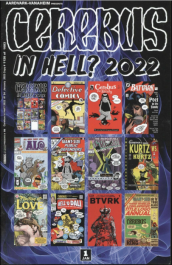 Dave Sim & David Birdsong: Cerebus In Hell? 2022 #1
Get an advance look at the entire Cerebus In Hell? 2022 "monthly-that-actually-is-monthly" comics lineup teaser.
Yes, they're all done (eat your hearts out, fellow comics publishers).
New gags that won't be included in the actual books.
Experience an uncanny feeling of deja vu all year ("I remember this from somewhere! But…WHERE?").
Wait a minute! Isn't this the same solicitation as last year, just with the dates changed?
Up until the last sentence, yes!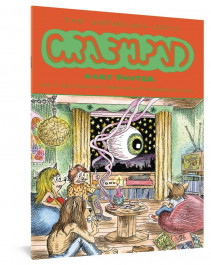 Gary Panter: Crashpad
Crashpad is Gary Panter's psychedelic ode to the underground comics that inspired him: creators such as Zap's R. Crumb, Victor Moscoso, and Robert Williams, presented as a standard black-and-white (with color covers) underground comic book.
Every new work by the legendary Panter is an event, and Crashpad is an exhilarating contribution to the tradition of underground comix.
This single-issue comic features all the material of the hardback Crashpad edition in an old-school comic book format.
KÄYTETYT SARJAKUVAT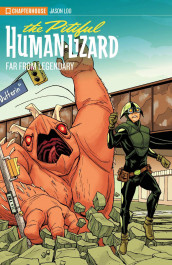 Jason Loo: The Pitiful Human Lizard Season 1 – Far from Legendary (K)
KÄYTETTY.
Lucas Barrett is an office clerk by day and a struggling superhero on evenings and weekends.
Since costume repairs and his Brazilian Jiu-Jitsu classes strain his tight budget, Lucas volunteers as a test subject for a pharmaceutical company's trial painkiller.
After a disgusting ordeal, Lucas realizes that the experimental drug left him with regenerative powers.
With his newfound powers, the Human-Lizard is ready to take on any challenge that awaits him – even a supervillain interrupting his first date.
Collecting issues #1-5 with bonus material from the limited-run "Made in Chinatown" mini-comics including the first crossover with Captain Canuck!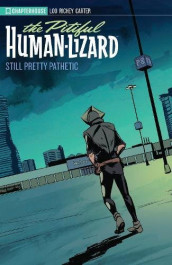 Jason Loo: The Pitiful Human Lizard Season 2 – Still Pretty Pathetic (K)
KÄYTETTY.
In this captivating second volume, join the Human-Lizard on new fantastic adventures!
Our hero teams up with surprising new allies (spoiler alert: one of them is his mom) and takes on his greatest adversary yet: unreliable public transit!
With new adventures starring Lady Accident, Mother Wonder, Majestic Rat, the Grizzly Biker, and introducing the biggest character to hit the Chapterverse: Razma-Foon!
Collects issues #6-11 of the Pitiful Human-Lizard series by Jason Loo, the Summer Special team-up story featuring Captain Canuck, plus more exclusive stories!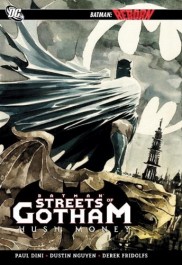 Paul Dini & Dustin Nguyen: Batman – Streets of Gotham: Hush Money (K)
KÄYTETTY.
How will the police feel about this new Batman — and can he control the crime in Gotham the way the old Batman did?
Commissioner Gordon's about to find out as teams with the new Batman to combat the fiery threat that Firefly has spread across Gotham City.
Then, Bruce Wayne has seemingly returned, promising to lead his city into a new golden age.
But while this phony devotes his fortune to rebuilding Gotham City, he fights violent opposition from Batman, Robin and a host of DC Universe heroes!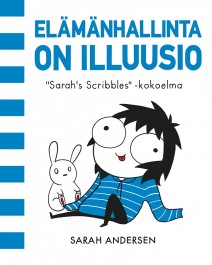 Sarah Andersen: Elämänhallinta on illuusio – Sarah's Scribbles -kokoelma (K)
KÄYTETTY.
Sarah Andersenin toinen albumi jatkaa ja jalostaa Aikuisuus on myytti -esikoisen teemoja: miksi piitata julman maailman vaatimuksista, kun voi sykertyä peittoläjän alle nauttimaan elämästä.
Kokoelman stripeissä seurataan itsetuntonsa kanssa kamppailevan nuoren aikuisen voittoja ja tappioita sekä muita elämän olennaisia asioita, kuten rahahuolia, vatsakramppeja, poikaystävän huppareiden pihistelyn jaloa taitoa sekä onnea, joka seuraa, kun päättää jumittaa koko päivän kotona ja tilata pitsaa.
Sarah Andersen on nuori taiteentekijä New Yorkin Brooklynistä. Kirja ei ole missään määrin omaelämäkerrallinen. Siis ei kertakaikkiaan missään määrin.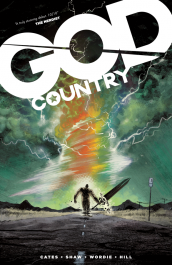 Donny Cates & Geoff Shaw: God Country (K)
KÄYTETTY.
SOUTHERN BASTARDS meets American Gods in a high-stakes fantasy series that masterfully blends high-octane action and jaw-dropping worldbuilding.
In GOD COUNTRY, readers meet Emmett Quinlan, an old widower rattled by dementia.
Emmett isn't just a problem for his children—his violent outbursts are more than the local cops can handle.
When a tornado levels his home—as well as the surrounding West Texas town—a restored Quinlan rises from the wreckage.
An enchanted sword at the eye of the storm gives him more than a sound mind and body, however.
He's now the only man who can face these otherworldly creatures the sword has drawn down to the Lone Star State… In GOD COUNTRY, salvation is a double-edged sword.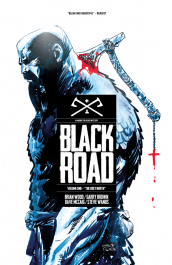 Brian Wood & Garry Brown: Black Road 1 – The Holy North (K)
KÄYTETTY.
1000 CE.
When a Vatican official under is murdered on the infamous "Black Road" while under the care of Magnus The Black, Magnus uncovers a secret so big it threatens to change the balance of power in all of Europe.
Collects BLACK ROAD #1-5.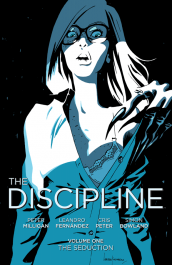 Peter Milligan & Leando Fernández: The Discipline 1 – The Seduction (K)
KÄYTETTY.
Superhot duo MILLIGAN and FERNÁNDEZ's controversial story of sex and metamorphosis.
When frustrated Manhattan wife Melissa Peake allows herself to be seduced by a mysterious stranger, she is drawn into an ancient war between The Discipline and the creatures known as The Stalkers… and must discover hitherto unimagined potential within herself to survive.
But at what cost? Whatever you've heard about it, won't prepare you for…THE DISCIPLINE.
Collects THE DISCIPLINE #1-6.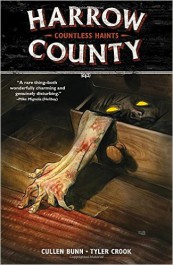 Cullen Bunn & Tyler Crook: Harrow County 1 – Countless Haints (K)
KÄYTETTY.
Emmy always knew that the woods surrounding her home crawled with ghosts and monsters.
But on the eve of her eighteenth birthday, she learns that she is connected to these creatures–and to the land itself–in a way she never imagined.
Collecting the first four issues of the southern gothic fairy tale from the creator of smash hit "The Sixth Gun," beautifully and hauntingly realized by "B.P.R.D."'s Tyler Crook!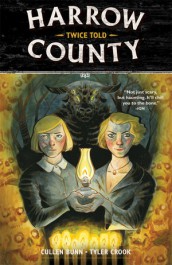 Cullen Bunn & Tyler Crook: Harrow County 2 – Twice Told (K)
After uncovering Harrow County's twisted history and her bizarre connection to its populace, Emmy forges a profound new relationship with the land and its creatures—but a familiar and sinister presence lurking just over the county lines seeks to wreak havoc on Emmy's new harmony.
Collects Harrow County #5-8.
.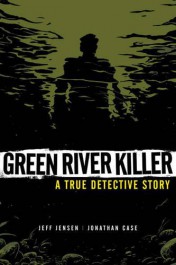 Jeff Jensen & Jonathan Case: Green River Killer (K)
KÄYTETTY. SELÄSSÄ MURTUMA.
The story of one of America's most notorious killers is revealed in this true-crime comic unlike any other!
Throughout the 1980s, the highest priority of Seattle-area police was the apprehension of the Green River Killer, the man responsible for the murders of dozens of women.
In 1990, with the body count numbering at least forty-eight, the case was put in the hands of a single detective, Tom Jensen.
After twenty years, when the killer was finally captured with the help of DNA technology, Jensen spent 180 days interviewing Gary Leon Ridgway in an effort to learn his most closely held secrets–an epic confrontation with evil that proved as disturbing and surreal as can be imagined.
Written by Jensen's own son, acclaimed entertainment writer Jeff Jensen, "Green River Killer: A True Detective Story" presents the ultimate insider's account of America's most prolific serial killer.
Robert Kirkman & Paul Azaceta: Outcast 1 – A Darkness Surrounds Him (K)
KÄYTETTY.
New horror series from the Walking Dead creator, Robert Kirkman!
Kyle Barnes has been plagued by demonic possession all his life and now he needs answers. Unfortunately, what he uncovers along the way could bring about the end of life on Earth as we know it!
Collects Outcast by Kirkman & Azaceta #1-6.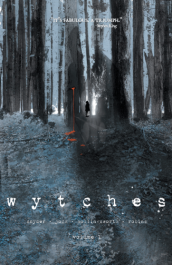 Scott Snyder & JOCK: Wytches 1 (K)
KÄYTETTY.
Everything you thought you knew about witches is wrong.
They are much darker, and they are much more horrifying.
Wytches takes the mythology of witches to a far creepier, bone-chilling place than readers have dared venture before.
When the Rooks family moves to the remote town of Litchfield, NH to escape a haunting trauma, they're hopeful about starting over.
But something evil is waiting for them in the woods just beyond town. Watching from the trees. Ancient…and hungry.
Collects Wytches #1-6.
Mike Carey: Lucifer 5 – Inferno
KÄYTETTY. KANSISSA TAITOKSIA JA JÄLKIÄ.
In the engrossing epic fantasy LUCIFER: INFERNO, supernatural characters of biblical origin act upon human emotions to reveal the dark underside of the politics of both Heaven and Hell.
After a devastating battle between the forces of good and evil, a powerless Lucifer returns to the underworld that he once ruled for a duel to the death with his brother, the angel Amenadiel.
But as the retired King of Hell prepares for a confrontation he cannot win, demons and angels create unholy alliances that will ensure Lucifer's eternal demise.
Now pursued by angelic assassins and possessed by nefarious demons, the fallen angel must find a way to simultaneously overcome his betrayers and defeat his bloodthirsty brother.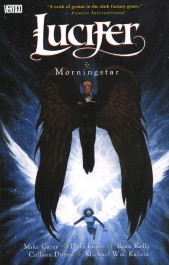 Mike Carey: Lucifer 10 – Morningstar
KÄYTETTY.
There is war in Heaven.
Hot war, not cold. Dirty, total and absolute, like the war that Lucifer brought when the worlds were young. But this time the Fallen One fights on Heaven's side.
A new host, born of Lilith, is on the march agains the Silver City, and the Lightbringer must descend into his former realm to find an army willing to defend Its holy walls. But his powers are waning, and Hell was a new king – one who is not at all sympathetic to Lucifer's cause.
As the chaos spreads across two creations, sinking the worlds into despair and bleeding the souls of humankind into the void, the champions of life make their last stand on the plain of Armageddon: a fallen angel, a demon and a human woman, set against the wold fo destruction and an army that cannot be numbered.
And, it seems, against God – for God may already have decided that they should lose…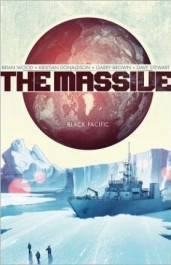 Brian Wood: The Massive 1 – Black Pacific (K)
KÄYTETTY.
What does it mean to be an environmentalist after the world has already ended?
For Callum Israel, leader of the Ninth Wave oceanic activist group, this is the question that cuts to the core of his identity.
In a post-war, post-Crash, post-disaster, post-everything world, nothing is certain and ideologies are meaningless. But the mission remains: search this crumbling world for answers to the cause of the Crash, and keep up the hunt for their missing sister ship, The Massive, lost and adrift in the chaos.
Brian Wood's new, sprawling, post-apocalyptic epic takes the crew of the Kapital from the flooded remnants of Hong Kong to Unalaska, with stops in Antarctica and Mogadishu, as post-Crash ethics and economics are explored across a broken world.
This volume reprints the comic-book series The Massive #1-#6 from Dark Horse Comics, as well as material originally published in Dark Horse presents #8-#10.
Tim Seeley & Mike Norton: Revival 2 – Live Like You Mean It (K)
KÄYTETTY.
For one day in rural central Wisconsin, the dead came back to life.
Now it's up to Officer Dana Cypress to deal with the media scrutiny, religious zealots, and government quarantine that has come with them.
In a town where the living have to learn to deal with those who are supposed to be dead, Dana must contend with paranoia, murder, black market organ dealers, and a sister who may be losing more of her humanity with each new day.
Collects Revival #6-11.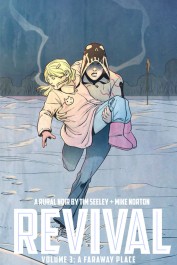 Tim Seeley & Mike Norton: Revival 3 – A Faraway Place (K)
KÄYTETTY.
For one day in rural central Wisconsin, the dead came back to life.
Now the living and the recently returned struggle to maintain a sense of normalcy amidst political and religious conflicts.
Officer Dana Cypress is hot on the trail of a man she believes may have murdered her sister Em, but Em herself is on a quest through the snowy woods to find the strange glowing creature that haunts a child.
Collects Revival #12-17.