Luettelo:
Kotimaiset uutuudet
Manga-uutuudet
Ulkomaiset uutuudet
Lehdet ja kirjat
Käytetyt sarjakuvat
Alkuun
KOTIMAISET UUTUUDET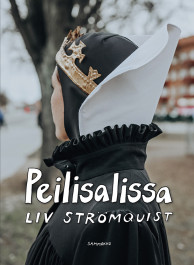 Liv Strömquist: Peilisalissa
Meillä nykyihmisillä on pakkomielteinen suhde kauneuteen.
Se miltä näytämme kuvissa on yhä tärkeämpää. Meistä on tullut voyeuristeja, vaikka tarkastelemme lähinnä itseämme.
Filosofisten ja sosiologisten teorioiden avulla sarjakuvataiteilija Liv Strömquist peilaa aikamme kauneusriippuvuutta ja kertoo ulkoiseen olemukseen satsanneiden naisten tarinoita historian ja mytologian hämäristä nykyaikaan, Nefertitistä ja Lumikin äidistä Marilyn Monroeen ja Kylie Jenneriin asti.
Liv Strömquist (s. 1978) on malmöläinen feministisen sarjakuvan kansainvälinen supertähti, joka kuvaa satiirisissa albumeissaan aikamme ydintä.
Hänen teoksensa ovat hauskoja, näkemyksellisiä ja kriittisiä. Strömquistiltä on aiemmin ilmestynyt viisi albumia suomeksi.
Albumit ovat Helena Kulmalan suomentamia.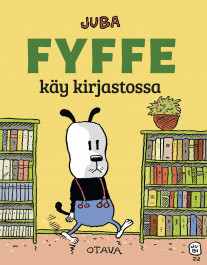 Juba: Fyffe käy kirjastossa
Fyffe menee kirjastoon.
Kirjastossa on vaikka mitä: kirjoja, sarjakuvia, levyjä, elokuvia – jopa kahvila.
Mutta kuinka Fyffe osaisi valita kaikkien tuhansien kirjojen joukosta juuri sen itselleen sopivan? Onneksi kiltti kirjastotäti auttaa!
Suomalaisen sarjakuvan mestarin Juba Tuomolan kaurismäkeläisen ytimekäs kuvakirja Fyffe-hauvan arkisista puuhista.
Sarjassa on aiemmin julkaistu Fyffe on rahaton (2021).
MANGA-UUTUUDET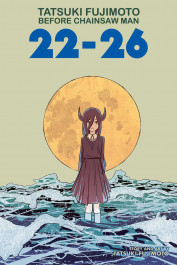 Tatsuki Fujimoto: Before Chainsaw Man 22-26
See the origins of the mad genius who created Chainsaw Man!
This short story manga collection features Tatsuki Fujimoto's earliest work. It's rough, it's raw, and it's pure Tatsuki Fujimoto!
Killer mermaids, gender swapping, and a devilish little sister with the power to end the world — four more unforgettable short stories that reveal the starting point of Tatsuki Fujimoto, the twisted mastermind behind Chainsaw Man.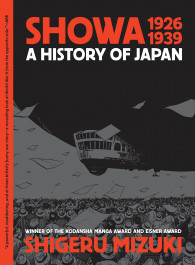 Shigeru Mizuki: Showa 1926-1939 – A History of Japan
A tumultuous period in Japanese history recounted by manga's most distinguished voic.
Showa 1926-1939: A History of Japan lays the groundwork for Eisner award-winning author Shigeru Mizuki's historical and autobiographical series about Japanese life in the twentieth century.
Depicted against his trademark photorealistic backdrops, Mizuki effortlessly portrays a nation forced into a period of upheaval and brings history into the realm of the personal.
Indeed, as a child coming of age in the Showa era, the author's earliest memories coincide with key events of the time.
It all begins with the Great Kanto Earthquake, a natural disaster that forces the country into a financial crisis.
The period leading up to World War II is thus a time of economic hardship and record unemployment.
Forthright descriptions of ensuing militarization reveal Mizuki's lifelong stance as a thoughtful pacifist, critical of domestically disputed events like the Nanjing Massacre clearly painted here as an atrocity.
This first volume in a four-part series is a captivating historical portrait tracking the industrial and societal developments that would come to shape Japan's foreign policy in the interwar period.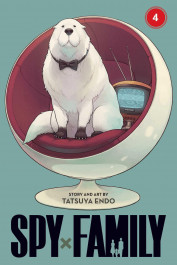 Tatsuya Endo: Spy X Family 4
The Forgers look into adding a dog to their family, but this is no easy task — especially when Twilight has to simultaneously foil an assassination plot against a foreign minister!
The perpetrators plan to use trained dogs for the attack, but Twilight gets some unexpected help to stop these terrorists.
.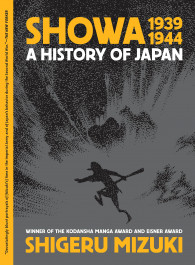 Shigeru Mizuki: Showa 1939-1944 – A History of Japan
An Internationally-renowned cartoonist and reluctant war vet details Japan's involvement in World War II.
Showa 1939-1944: A History of Japan continues Eisner award-winning author Shigeru Mizuki's historical and autobiographical account of Japanese life in the twentieth century.
This volume covers the devastation of the Sino-Japanese War and the first few years of the Pacific War–a chilling reminder of just how harsh life in Japan was during this hostile era.
Pivotal events like the attack on Pearl Harbor are reframed as part of a larger context detailing the country's brutal military expansion into Southeast Asia and elsewhere.
Its effects on the otherwise unseen Japanese populace similarly come to the fore.
On a personal level, these years mark a dramatic transformation in Mizuki's life too.
His idyllic youth in the countryside comes to an abrupt halt when he is conscripted into the Imperial Japanese Army against his will.
On the tiny island of Rabaul in Papua New Guinea, a constant struggle for survival ensues. Not only must he fend off attacks from Allied forces, but from the harsh discipline of his own commanding officers too.
It is here that Mizuki comes to understand the misery and beauty of the island itself, a place that will permanently mark and haunt him for the rest of his life.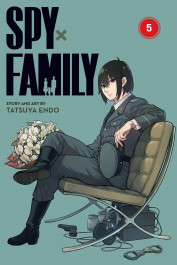 Tatsuya Endo: Spy X Family 5
Anya Forger has been trying her best to befriend Damian Desmond, the son of the powerful Ostanian political leader Donovan Desmond, but her attempts have been constantly rebuffed.
Despite the setbacks, Anya is determined to gain access to the Desmonds' inner circle and even devises a new plan–acing her midterm exams to earn stella stars!
Can the academically challenged Anya pull off this feat for the sake of world peace?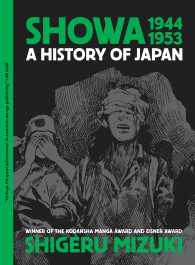 Shigeru Mizuki: Showa 1944-1953 – A History of Japan
A sweeping yet intimate portrait of World War II's legacy in Japan.
Showa 1944-1953: A History of Japan continues Eisner award-winning author Shigeru Mizuki's historical and autobiographical account of Japanese life in the twentieth century.
In this volume, the tail-end of the Pacific War and its devastating consequences upon the author and his compatriots loom large. Two rival navies engage in a deadly game of feint and thrust, waging a series of ruthless military campaigns across the Pacific islands.
From Guadalcanal to Okinawa, Japan slowly loses ground. When the United States unleashes the atomic bomb–then still a new and now enduringly terrible weapon–it is the ultimate, definitive blow.
The catastrophic fallout from both explosions surpasses the limits of popular imagination.
Mizuki's own life is irrevocably changed in the shadow of history.
After losing an arm during his time in service, the author struggles to forge a path into the future. Should he remain on the island of Rabaul as an honored friend of the local Tolai? Or should he return to the rubble of Japan and return to his earliest artistic inclinations?
This penultimate installment of a landmark series is a searing condemnation of war, told with the deft hand of Japan's most celebrated cartoonist.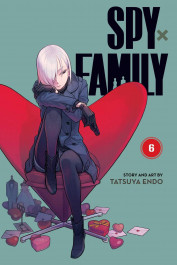 Tatsuya Endo: Spy X Family 6
Twilight and Nightfall enter an underground tennis tournament, hoping for an opportunity to obtain an intelligence document that threatens to bring the world to the brink of war!
But will their mission be compromised by Nightfall's secret crush on Twilight?!
.
.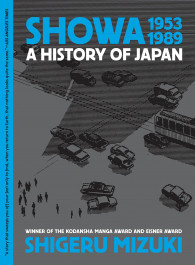 Shigeru Mizuki: Showa 1953-1989 – A History of Japan
The final, Eisner Award-winning chapter of a legendary cartoonist's history of Japan.
Showa 1953-1989: A History of Japan concludes award-winning author Shigeru Mizuki's stunning historical and autobiographical series about Japanese life in the twentieth century.
The final volume picks up in the wake of utter defeat in World War II, covering the United States' shift from enemy to ally.
Jobs, money, and opportunity are funneled along in a bid to establish the country as a bulwark against Communist expansion. Japan thus reinvents itself, emerging as an economic powerhouse.
Events like the Tokyo Olympiad and the World's Fair reintroduce the world to a much friendlier Japan, but this period of peace and plenty conceals a populace still struggling to come to terms with the devastation of their all-too-recent past.
Mizuki's own struggles mirror those of the nation during this period of recovery and reconciliation.
He fights his way back from poverty, rising to the rank of cartoon celebrity beloved by millions of manga-reading children.
However, prosperity cannot bring the happiness Mizuki craves, as he struggles to find meaning in the sacrifices made during the war.
This visionary series, told by a true man of his time, is a magnum opus fully representative of the graphic novel as world literature.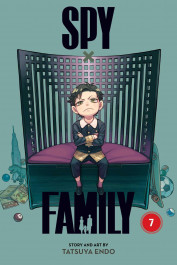 Tatsuya Endo: Spy X Family 7
As Donovan Desmond is about to share a rare family moment with his son Damian, Twilight cuts in to meet his target face-to-face for the first time.
Can Twilight find some way to endear himself to the inscrutable Donovan?
.
.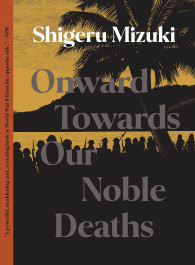 Shigeru Mizuki: Onward Towards Our Noble Deaths
The book that brought pre-eminent Manga-ka Shigeru Mizuki to the English-speaking world.
Kokopo, 1943.
A platoon of soldiers is ordered into battle. The objective is death. The alternative is certain execution as a consequence of survival.
Inspired by Eisner Award-winning author Shigeru Mizuki's own mandatory tour of duty as an active combatant in the Imperial Japanese Army, Onward Towards Our Noble Deaths portrays a flailing infantry unit on its last legs near the end of the Second World War.
This deeply personal and landmark anti-war work could only have been made by a pacifist.
The desperation and moral depravity on display is devastating. Mizuki's fanciful characters must make do against a photo-realistic backdrop teeming with tropical life that remains inhospitable.
Indeed, commanding officers prove even more ferocious than the wild unknown of Papua New Guinea. And yet the human instinct endures, seeing through the absurdity of such a rigid and outdated command structure with gallows humor.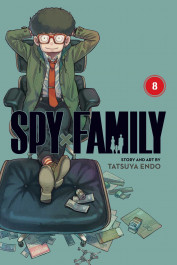 Tatsuya Endo: Spy X Family 8
Yor is assigned to be a bodyguard for a mafia family on a cruise ship by the secret organization Garden.
But with Lloyd and Anya also on board thanks to a giveaway they won, Yor is starting to have doubts about her secret life as an assassin…
.
.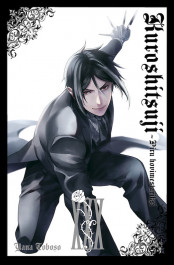 Toboso Yana: Kuroshitsuji – Piru hovimestariksi 30
Palvelusneitoja murhaavan paronin kartanolla Mei-Rin taistelee hengestään.
Tuiman kamppailun tiimellyksessä hän muistaa karun menneisyytensä ja tiensä Phantomhiven lihapatojen ääreen.
Petomainen selviytyjä ja sivistynyt sisäkkö kohtaavat jälleen.
Ikäsuositus 15+ / Fantasia/Jännitys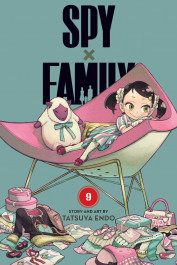 Tatsuya Endo: Spy X Family 9
Yor's on assignment and finds herself up against a gang of assassins on board a luxury cruiser.
Meanwhile, Loid and Anya each discover that bombs have been planted throughout the ship!
Will their best efforts be enough to save the vessel?
.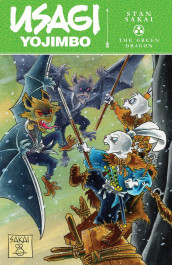 Stan Sakai: Usagi Yojimbo – The Green Dragon
The rabbit ronin's newest adventures continue in this fifth volume that sees Usagi and Yukichi on a mission to deliver a valuable object!
But first, in "A Ghost Story," Usagi and Yukichi come upon a young woman, Shizuye, praying at a shrine to a girl murdered fifty years ago by her married lover.
Shizuye is in the same predicament, and Usagi and Yukichi take it upon themselves to become her protectors.
However, all is not what it seems as the local priest warns them to beware of ghosts in the area.
Then, in "The Secret of the Green Dragon" Usagi and Yukichi are obligated to deliver a priceless jade dragon to a merchant.
During their journey they witness a courier delivering a parcel of jewels to the same merchant killed on the road ahead.
However, the killers left the jewels and escaped with the container leading them to the realization that the box they carry may be even more valuable than the jade within.
Collects issues #27-31 of the all-new full-color Usagi Yojimbo series published by IDW.
ULKOMAISET UUTUUDET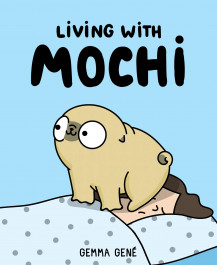 Gemma Gené: Living with Mochi
Gemma Gené's adorable comics celebrate fur-parenthood and the extreme love you experience when you look into your dog's eyes.
If you are never alone when you go to the bathroom, are forced to share your food, and find your life ruled by a sassy fur ball, Living With Mochi is the perfect book for you.
When architect-turned-cartoonist Gemma Gené first met her pet pug, Mochi, she felt as if time stopped. This dramatic moment and her adoring relationship with the rambunctious pug led her to begin chronicling her adventures with Mochi in a series of incredibly cute webcomics that have gained a social media following of half a million loyal readers.
The comics chronicle Mochi's life from puppyhood to adulthood, featuring Mochi's unrequited dog friendships, his jealousy of his two dog-brothers, and his love of food.
Readers and dog parents will love this humorous tale of a sincerely loyal friendship between one grumpy pug and his adoring owner.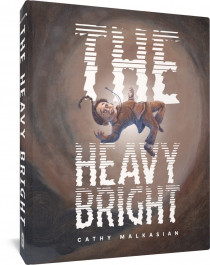 Cathy Malkasian: The Heavy Bright
In this allegorical, fantastical graphic novel, a queer young woman aims to dispel the greed and cruel masculine energy that has consumed the world.
Once, the world lived in harmony.
People trusted and aided each other, dreamed freely, and communed with their ancestors. And then one day the eggs appeared.
One thousand black eggs, heavy as pure lead, which by some mystical property, provoked greed and violence in all who came in contact with them.
A family of brutish men managed to hoard the eggs and build a misogynistic dynasty that held all of the land in an iron grip.
Years later, Arna, an orphaned young woman immune to the beguiling power of the eggs, is charged with a monumental mission: hunt down these formidable men, pilfer their eggs, and release the bright from the heavy. Along the way, she falls for the enchanting Sela, who shows her how beautiful the world can be.
In The Heavy Bright, masterful cartoonist and animator Cathy Malkasian propels the reader into a lushly watercolor, Ghibli-esque fantasy world tinged with equal parts whimsy and menace.
Her characters are vulnerable and relatable, made real through deep, psychological underpinnings. Perhaps Malkasian's most ambitious and impactful work to date, The Heavy Bright is an allegorical graphic novel that grapples with the themes of greed, corruption, ignorance and bigotry, toxic masculinity, female empowerment, gender and queerness, love, death, and the urgent necessity for all to come together to heal our ailing world.
Michael Allred: Madman Library Edition 4
The Madman comics universe keeps on keeping on–with over 500 pages drawn by legendary comics creator Michael Allred and friends in this true homage to superhero fiction, metaphysical philosophy, 1950s science fiction films, rock and roll pop music, and much more!
Volume four collects Michael Allred's hit comic series Madman Atomic Comics #1–#17, the interdimensional adventures of It Girl, and the super rare one-shots Spaceman and Mr. Gum.
This essential omnibus is perfect for all Madman and Allred fans alike featuring superhero team antics, music pop culture, and just plain ol' zany, sci fi fun!
This six-volume Madman universeomnibus library edition series collects all of Allred's award-winning Madman universe (a.k.a. the "Madmaniverse") stories in selected reading order for the ultimate Madman fan!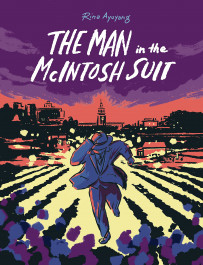 Rina Ayuyang: The Man in the McIntosh Suit
A Filipino-American take on Depression-era noir featuring mistaken identities, speakeasies, and lost love.
The year is 1929 and Bobot is just another migrant worker in rural California.
Or rather, a migrant worker with a law degree from the Philippines reduced to manual labor in America.
Bobot, like so many other young Filipinos, finds himself bunking in the fields, picking fruit by day. When his cousin writes claiming to have spotted his estranged wife in nearby San Francisco, he swipes a co-worker's favorite nightclub suit and heads to the big city to find her. What follows is classic noir with seedy dives, mouthy pool sharks, and obsession.
Rina Ayuyang indulges her passion for old Hollywood and elaborate movie musicals while exploring her immigrant roots in a playful and mysterious drama, creating something she never saw but always had hoped for―a classic tale about people who looked just like her.
The Man in the McIntosh Suit is a gripping, romantic, and psychological exploration of a fledgling community chasing the American dream in an unwelcoming society heightened by racial hostility and the bubbling undercurrent of the coming Great Depression.
Barry Windsor-Smith: Wolverine – Weapon X Deluxe Edition
WOLVERINE: WEAPON X is the character-defining origin of the man known only as Logan.
Written and illustrated by auteur creator and master storyteller Barry Windsor-Smith, it is undeniably one of the greatest Wolverine stories ever told.
After being taken hostage by an experimental Canadian military-science outfit, Logan is transformed into Weapon X, an unstoppable killing machine with an indestructible adamantium skeleton and razor-sharp claws.
But Weapon X cannot be contained by his captors – and trapped in their lab with the monster they have made, they will face his feral wrath!
It's a psychedelic horror story in the mold of Frankenstein, restored from original art and print sources for this stunning deluxe edition!
Collecting material from MARVEL COMICS PRESENTS (1988) #72-84, plus UNCANNY X-MEN (1981) #205 and material from WOLVERINE (1988) #166.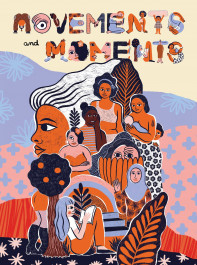 Movements and Moments
An ambitious feminist anthology chronicling Indigenous rebellions around the world.
In 1930s Bolivia, self-described Anarchist Cholas form a libertarian trade union.
In the Northern Highlands of Vietnam, the songs of one girl's youth lead her to a life of activism.
In the Philippines, female elders from Kalinga blaze a trail when pushed into impromptu protest.
Equally striking accounts from Brazil, Chile, Ecuador, India, Nepal, Peru and Thailand weave a tapestry of trauma and triumph, shedding light on not-too-distant histories otherwise overlooked.
Indigenous Peoples all over the world have always had to stand their ground in the face of colonialism. While the details may differ, what these stories have in common is their commitment to resistance in a world that puts profit before respect, and western notions of progress before their own.
Movements and Moments is an introductory glimpse into how Indegenous Peoples tell these stories in their own words. From Southeast Asia to South America, vibrant communities must grapple with colonial realities to assert ownership over their lands and traditions.
This project was undertaken in cooperation with the Goethe-Institut Indonesien in Jakarta. These stories were selected from an open call across 42 countries to spotlight feminist movements and advocacies in the Global South.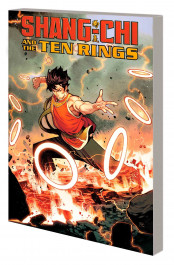 Gene Luen Yang & Marcus To: Shang-Chi and the Ten Rings
The true origin of the Ten Rings!
Shang-Chi has gained possession of some of the most powerful weapons in the universe, but so much concentrated energy has not gone unnoticed. Every bounty hunter, assassin and evil syndicate in the Marvel Universe is coming to take the Rings from him!
Bad timing for Shang-Chi's old flame, Leiko Wu, to show up with a mission to rescue their old spy ally, Clive Reston.
Can Shang-Chi save his friend while protecting the Ten Rings at the same time? Don't count on it!
The responsibility and the truth about his deadly weapons may be too much for him to bear as the stage is set for the fight of Shang-Chi's life! The Game of Rings is afoot!
Collecting SHANG-CHI AND THE TEN RINGS #1-6 and SHANG-CHI: MASTER OF THE TEN RINGS #1.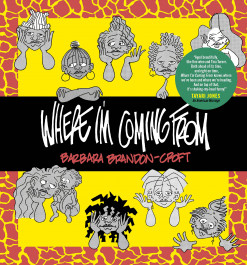 Barbara Brandon-Croft: Where I'm Coming from
A seasoned cartoonist of epic proportions, Brandon-Croft carves out space for Black women's perspectives in her nationally syndicated strip.
Few Black cartoonists have entered national syndication, and before Barbara Brandon-Croft, none of them were women. From 1989 to 2005, she brought Black women's perspectives to an international audience with her trailblazing comic strip Where I'm Coming From.
From diets to day care to debt to dreaded encounters with everyday racism, no issue is off-limits.
This remarkable and unapologetically funny career retrospective holds a mirror up to the ways society has changed and all the ways it hasn't.
The magic in Where I'm Coming From is its ability to present an honest image of Black life without sacrificing Black joy, bolstered by unexpected one-liners eliciting much-needed laughter.
As the daughter of the mid-century cartoonist Brumsic Brandon Jr .– the creator of Luther, the second nationally syndicated strip to feature a Black lead — Brandon-Croft learned from the best.
With supplementary writing by the author and her peers alongside throwback ephemera, this long-overdue collection situates Brandon-Croft as an inimitable cartoonist, humorist, and social commentator, securing her place in the comics canon and allowing her work to inspire new readers at a time when it is most needed.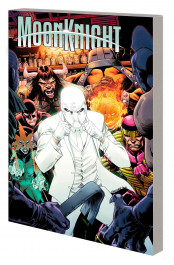 Jed MacKay & Alessandro Cappuccio: Moon Knight 2 – Too Tough to Die
The brilliant new phase of the Moon Knight, helmed by writer Jed MacKay, continues!
But Marc Spector has a conundrum: how does he fight someone that no one knows?
Moon Knight is out for blood, and hits the streets armed with only a name…yet, in the twilight half-world of NYC super villainy, sometimes the streets hit back!
And while Moon Knight fights his way through the super-crime underworld, looking for answers to a question he's barely grasped, he had better watch his back.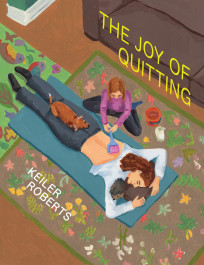 Keiler Roberts: The Joy of Quitting
From toddler antics to doctor appointments, Keiler Roberts breathes humour and life into the fleeting present.
Keiler Roberts affirms her status as one of the best autobiographical cartoonists working today with The Joy of Quitting, a work encompassing 8 years of hilarious moments in the author's life, mined from the universal.
It spans her frantic child-rearing, misfires in the workplace, and frustrating experiences with the medical system.
In one strip, the author and her daughter Xia have itchy scalps.
Roberts asks her husband to check her hair and all she gets is the cursory remark that he just sees a bunch of bugs."
In another, Xia describes her oddly shaped poop in precise detail.
We then see Xia sitting at the breakfast table telling the family that she recently learned the word "nuisance" and everyone agrees it's a good word for her to know.
As Xia grows from toddler to big kid, the family evolves and its dynamics shift in subtle ways, changes that pass all too suddenly in real life captured forever with Roberts's keen observational humor.
The Joy of Quitting is Roberts' magnum opus of domestic comedy, highlighting how she continues to work within and expand the rich tradition of autobiographical comics.
Again and again, Roberts shows us that most meaningful moments or gestures often don't have any meaning at all.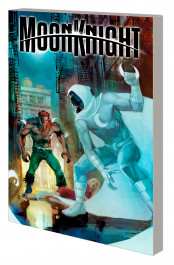 Jed MacKay & Alessandro Cappuccio: Moon Knight 3 – Halfway to Sanity
Moon Knight picks a new fight!
Marc Spector's war with the vampires of the Structure must be fought on two fronts: one on the midnight streets, and the other within his own mind!
Marc needs information, and he'll need to rely on some old allies to get it.
And while secrets are ferreted out from the steamiest gutters to the highest seats of power, Moon Knight must reveal a hidden truth to those closest to him!
Meanwhile, Hunter's Moon stalks the rooftops on his own, intent on his own definition of justice. What shocking revelations will Marc Spector learn about the Fists of Khonshu?
And Moon Knight once again encounters Jack Russell, the Werewolf by Night!
Collecting MOON KNIGHT (2021) #13-18 and MOON KNIGHT ANNUAL (2022) #1.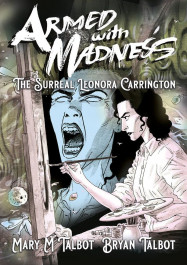 Mary M. Talbot & Bryan Talbot: Armed with Madness – The Surreal Leonora Carrington
A new perspective on the 1930s Paris art scene from a neglected artist, feminist icon, and influential surrealist.
Reluctant muse and feminist champion… society heiress and rebel refugee… the last of the Surrealists: Leonora Carrington played many roles in her long and extraordinary life.
Renouncing her privileged upbringing in pre-war England for the more exciting elite of Paris's 1930s avant-garde, she comes to rub shoulders (and more) with the likes of Pablo Picasso, Man Ray, and Salvador Dalí, after embarking on a complicated love affair with Max Ernst.
But the demons that have both haunted and inspired her work are gathering, and when the world goes mad with the outbreak of war and the Nazi invasion, Leonora's own hold on reality collapses into a terrifying psychotic episode of her own. Eventually fleeing war-torn Europe, she emerges into a new and richly creative life in Mexico City, establishing herself as a prodigious painter, writer, and advocate of women's rights.
This new work by the acclaimed partnership of Mary M. Talbot and Bryan Talbot celebrates the life and career of a truly remarkable woman – and artist.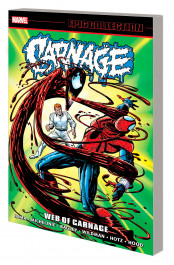 Carnage Epic Collection – Web of Carnage
Carnage's reign of terror continues!
When the hit video game Carnage Unleashed provides the psychopathic symbiote the opportunity to gain his freedom, can Venom keep Cletus Kasady from filling the streets with blood?
Then, when the planet of the symbiotes invades Earth, get ready for the attack of the 50-Foot Carnage!
Plus: A psychiatrist tries to analyze Carnage, but who will get into whose head?
How did Cletus' symbiote infect Ben Reilly? And when Venom goes on trial, can Spider-Man and Daredevil prevent Carnage from causing chaos in the courtroom?
Collecting AMAZING SPIDER-MAN (1963) #403 and #410, VENOM: CARNAGE UNLEASHED #1-4, CARNAGE: MIND BOMB, SENSATIONAL SPIDER-MAN (1996) #3, SPIDER-MAN (1990) #67, SPECTACULAR SPIDER-MAN (1976) #233, CARNAGE: IT'S A WONDERFUL LIFE and VENOM: ON TRIAL #2-3 – plus material from AMAZING SPIDER-MAN SUPER SPECIAL, SPIDER-MAN SUPER SPECIAL, VENOM SUPER SPECIAL, SPECTACULAR SPIDER-MAN SUPER SPECIAL and WEB OF SPIDER-MAN SUPER SPECIAL.
Yeong-Shin Ma: Artist
The satirical saga of three artists seeking recognition. But there can be only one Artist.
A novelist, single, forty-four years old.
A painter, divorced, forty-six years old.
A musician, single, forty-two years old.
On the outer limits of relevancy in an arts culture that celebrates youth, these three men make up the artist group Arcade.
Caught in circular arguments about what makes real art and concerned about the vapid interests of their younger contemporaries, none of them are reaping the benefits of success.
But there's always another chance to make it.
When it comes time, out of the three, who will emerge as an acclaimed artist? More important, when one artist's star rises, will he leave the rest behind?
Following Yeong-shin Ma's hit manhwa, Moms, this plunge into artistic friendships is as hilarious and infuriating as it is real.
With absurdist style and off-beat humor, Artist simultaneously caricatures and complicates the figure of the artist.
The friendships between the three are impassioned and mercurial, resulting in conflicts about fashion choices, squabbles with foreign children, and changes in one another's artistic fortunes for better and worse.
As the story progresses we see the ways that recognition―or lack thereof―molds each character's outlook, whether they will be changed by the scene or end up changing it to fit their ideals.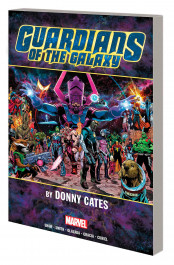 Donny Cates & Geoff Shaw: Guardians of the Galaxy by Donny Cates
Donny Cates' complete Guardians saga in one stellar volume!
Hundreds of worlds are at war.
More than ever, the galaxy needs the Guardians – but in the aftermath of the Infinity Wars, who is left to answer the call?
Thanos is dead, but the search for his successor has just begun. Who will it be? And who are the Dark Guardians?
Cosmic chaos commences when the new Guardians take on Thanos' Black Order – but could the Mad Titan be fighting his way back from the grave?!
Plus: The Universal Church of Truth returns at the worst possible time – because Rocket Raccoon is dying!
He's still got some fight left in him, but his allies are few and the odds are slim.
Can Rocket hold on long enough to make a difference?
Collecting GUARDIANS OF THE GALAXY (2019) #1-12 and GUARDIANS OF THE GALAXY ANNUAL (2019) #1..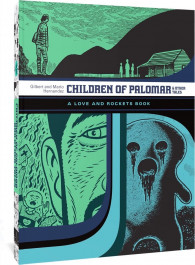 Gilbert Hernandez: Love and Rockets – Children of Palomar and Other Tales
This comics omnibus includes the graphic novels Julio's Day and The Children of Palomar, as well as never-before-collected work by brothers Mario and Gilbert Hernandez, some of which has never been available since its early 2000s run in comic book single issues.
Children of Palomar and Other Tales (the fifteenth volume in our Complete Love and Rockets Library omnibuses and the eighth Gilbert volume) begins with "Me for the Unknown," uncollected since its original 2001–2004 run in Love and Rockets Vol. II comic books.
Written by Mario Hernandez and drawn by Gilbert Hernandez, it traces the Rabelaisian journey of Tagg Lillard. A U.S. citizen with a seemingly perfect life working in Latin America, he escapes a death trap clutching important papers, and an imperious CEO and his manservant pursue him through a land plagued by colonialist/corporate greed.
Also collected: one of their joints from 2008, "Chiro el Indio." In The Children of Palomar suite of short stories (2006–2007; collected in 2013), there are many mysterious visitors, an apparition that haunts childless women, and readers learn how Chelo lost her eye.
And in Julio's Day, which originally ran from 2001–2008 and was collected in 2013, a man's life―threaded with war, loss, illness, and forbidden love―spans a century.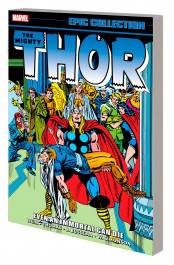 Thor Epic Collection – Even an Immortal Can Die
Writer Len Wein is joined by all-time great THOR artist Walter Simonson, and there's no question that what's in store will be legendary!
Odin has disappeared, and Asgard needs its All-Father, so Thor ventures across the vastness of space to find him.
But his quest will bring him into conflict with the Enchantress, the Executioner, the Destroyer and, of course, Loki!
Then, Roy Thomas and John Buscema take up the hammer!
Tapping deep into Thor's mythic roots, the duo crafts amazing adventures featuring the death of Balder, the Midgard Serpent and a new Norse Thor!
Also featuring rare Thor and Hercules stories from MARVEL PREVIEW, a team-up with the Guardians of the Galaxy against Korvac, and the beginning of the epic Eternals saga!
Collecting THOR (1966) #260-280 and ANNUAL #6-7, and MARVEL PREVIEW #10.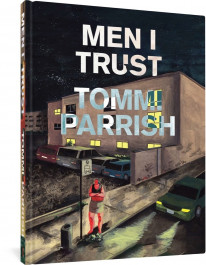 Tommi Parrish: Men I Trust
Tommi Parrish's sophomore graphic novel establishes them as one of the most exciting voices in contemporary literature.
Eliza is a thirtysomething struggling single mother and poet.
Sasha, a twentysomething yearning for direction in life, just moved back in with her parents and dabbles as a sex worker. The two strike up an unlikely friendship that, as it veers toward something more, becomes a deeply resonant exploration of how far people are wil­ling to go to find intimacy in a society that is increasingly not conducive to it.
In Sasha and Eliza, Parrish has created two of the most fully realized characters in recent contemporary fiction.
Parrish's gorgeously painted pages showcase a graceful understanding of body language and ear for dialogue, brilliantly using the medium of comics to depict the dissonance between the characters' interior and exterior experiences.
Men I Trust is about not-always-healthy people attempting to make healthy connections in a disconnected world, and is one of the most moving and insightful works of literary fiction in any medium this year.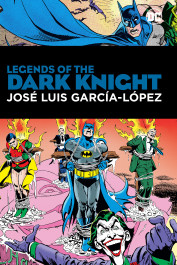 José Luis García-López: Legends of the Dark Knight – José Luis García-López
José Luis García-López's iconic depictions of DC's characters defined a generation–and he's illustrated some of the most immediately recognizable tales of the Dark Knight!
This incredible hardcover collection is a can't miss for any fan of José Luis García-López incredible work!
Legends of the Dark Knight: José Luis García-López contains Batman #272, #311, #313, #314, #318, #321, #336-337, and #353, Batman '66: The Lost Episode #1, Batman Confidental #26-28, Batman: Family #3, Batman: Dark Knight of the Round Table #1-2, Batman: Gotham Knights #10, Batman: Reign of Terror #1, DC Comics Presents #31 and #41, DC Special Series #21, Detective Comics #454, #458-459, #483, and #487, The Best of the Brave and the Bold #1-6, The Brave and the Bold #164 and #171, The Joker #4, The Untold Legend of the Batman #1-3, and World's Finest Comics #244, #255, and #258.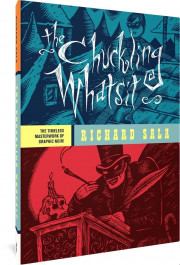 Richard Sala: The Chuckling Whatsit
Sala weaves the gothic cartooning traditions of Edward Gorey and Charles Addams with a melodramatic murder mystery involving astrology, ghouls, academia, and outsider art.
Part noir, part horror, and part comedy, this labyrinthine tale of intrigue follows an unemployed writer named Broom who becomes ensnared unwittingly in a complex plot involving mysterious outsider artist Emile Jarnac, the shadowy machinations of the Ghoul Appreciation Society Headquarters (GASH), and the enigmatic Mr. Ixnay.
Sala's deadpan delivery makes this ingeniously layered narrative a roller-coaster ride of darkly pure comic suspense.
Sala's drawing style also reveals the influence of everything from Hollywood monster movies and Dick Tracy to German expressionism and Grimm's fairy tales.
It's a style that's perfectly suited to the narrative, constantly flirting with Sala's fascination for the grotesque and lending palpable tension to the gruesome riddle of The Chuckling Whatsit.
Kelly Thompson: Deadpool by Kelly Thompson
Hail to the King!
Deadpool's unlikeliest career change yet sees him dethrone the King of Monsters – and become the Merc with a Monarchy!
His new kingdom? Staten Island – the place where monsters dwell!
But his royal highness soon finds himself neck deep in political intrigue – and facing major obstacles including Captain America and the monster-hunting Elsa Bloodstone!
Uneasy lies the head that wears a crown – and Wade will learn that lesson firsthand when Kraven the Hunter arrives with regicide on his mind!
But when Elsa learns she's dying, why is Deadpool the only one who can save her?
Learn the truth of the Bloodstone curse as action, adventure and a dimension full of hideous goo await!
Plus: Wade invades the X-Men's island-nation of Krakoa – and King Deadpool takes on the King in Black!
Collects Deadpool (2019) #1-10.
Sybille Titeux de la Croix & Amazing Ameziane: Ms Davis
In Ms Davis, the acclaimed French cartooning duo tell a story of this seminal, revolutionary, 1970s icon through an accessible graphic novel narrative.
Born in 1944 in Birmingham, Alabama, Angela Davis' family fought in the civil rights movement against racial segregation enforced by the Ku Klux Klan.
In 1968, she joined the Black Communist Party and traveled to Cuba, a journey which left its mark on her forever.
In 1971, the FBI put Davis on their 10 Most Wanted List. They accused her of orchestrating a politically motivated Marin County courtroom gunfight because she owned the guns. She went to prison despite her protestations of innocence.
The Black People in Defense of Angela Davis formed, and soon the entire world would know her story and demand her freedom.
In 1972, she was found not guilty by an all-white jury. Since then, she has dedicated her life to the fight for justice.
The graphic biography also includes illustrated educational supplementary material that adds historical context about the various political organizations and programs referred to in the book, such as COINTELPRO, an illegal FBI program dedicated to destroying U.S. political groups it deemed "subversive."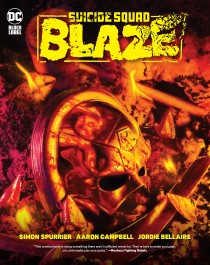 Simon Spurrier & Aaron Campbell: Suicide Squad – Blaze
To catch a monster, you have to become one–but some folks have a head start.
The critically acclaimed John Constantine: Hellblazer team deploy Task Force X on their most brutal and bizarre mission yet!
The attacks begin without warning. Brutal, sudden…cannibalistic.
A metahuman with all the power of Superman but none of his humanity. An unstoppable being ruled only by hunger and instinct, striking at random across the world.
To stop this threat, Harley Quinn, Peacemaker, Captain Boomerang, and King Shark have been assigned to corral, nursemaid –and if necessary, execute– five deadly new recruits: the expendable products of a secret government procedure called BLAZE.
They're ordinary prisoners, endowed with incredible power…and the certain knowledge that it'll burn through them like wildfire. They have six months to live, maximum.
If you're staring down life in prison, maybe that's a good deal — especially if you're Michael Van Zandt, desperate to reunite with the mad lover who forsook you after your Bonnie-and-Clyde crime spree. But that power? It's surprisingly transferable.
As each member of the Squad dies…the others get stronger. What would a hardened criminal do with that knowledge? Worse yet: What would a desperate, lovesick idiot do with it? One thing's certain: this time the Suicide Squad's bitten off more than it can chew.
Win or lose – they all burn.
Simon Spurrier and Aaron Campbell, the creative team behind the critically acclaimed John Constantine: Hellblazer, are turned loose on the one DC title even more horrific and blackhearted than that one. Brace yourselves!
Collects Suicide Squad Blaze #1-3.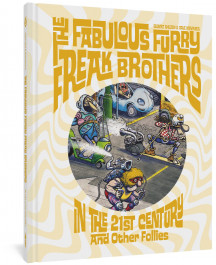 Gilbert Shelton & Paul Mavrides: The Fabulous Furry Freak Brothers – In the 21st Century
In this collection of hilarious and politically correct short comics, Freewheelin' Franklin, Phineas, and Fat Freddy form a band; bring home a stray container of plutonium; try to make it through a whole day without getting stoned; and help Phineas through his pregnancy, in "Phineas Gets an Abortion." (About which, say no more). (Oh, did we say: "politically correct?" Just kidding!)
In the titular title story, the Freak Brothers venture outside on a mission to score a little weed. It is their first encounter with the wonders of the 21st century. ("Still illegal?")
Plus: Fat Freddy's Cat stars in two solo adventures, including a visit to "Cat Heaven." Fat Freddy himself stars in a bonanza of satirical sketches skewering such targets as Star Wars, G.I. Joe, and Superman.
The Fabulous Furry Freak Brothers in the 21st Century and Other Follies by Gilbert Shelton and Paul Mavrides is the second release in this special series of seven graphic albums. (The series presents all the Freak Brothers' adventures chronologically, but individual albums will come out in a different order.)
The Fabulous Furry Freak Brothers comics have sold more than 45 million copies worldwide in 16 languages. The Freak Brothers, the animated series now streaming on Tubi, stars Woody Harrelson, Pete Davidson, John Goodman, and Tiffany Haddish.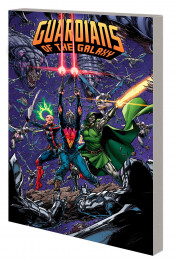 Al Ewing: Guardians of the Galaxy by Al Ewing
Al Ewing brings his cosmic brand of storytelling to the Guardians of the Galaxy!
Once, they were a team of misfits. Now they're a family, and they've earned their peace.
But the universe is not a peaceful place – and it's only getting worse. Someone has to guard the galaxy. And for their first mission, the Guardians of the Galaxy must grapple with the vengeful gods of Olympus!
Then, when the political map of the galaxy is radically redrawn, can the team handle a little peaceful diplomacy?
Meanwhile, everyone thinks Peter Quill is dead – but instead, he journeys through a mythic world on the other side of reality!
Knull and his symbiote dragons wreak havoc!
And an expanded Guardians team faces the mystic threat of the Last Annihilation, but what is Doctor Doom doing with them?!
Plus: When an old flame swims back into Rocket's life, it spells big trouble for the little furball.
Collecting GUARDIANS OF THE GALAXY (2020) #1-18, ROCKET #1-6 and material from GUARDIANS OF THE GALAXY ANNUAL (2021) #1.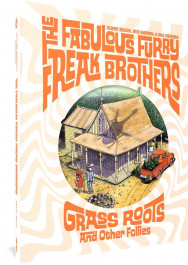 Gilbert Shelton & Dave Sheridan: The Fabulous Furry Freak Brothers – Grass Roots
The third release in our Freak Brothers Follies series follows the Fabulous Furry Freak Brothers back to their hippie origins!
The Fabulous Furry Freak Brothers — Freewheelin' Franklin, Phineas, and Fat Freddy — score some sinsemilla from a country cousin, start a softball league to score free drinks, adopt a possessed parakeet that outwits the D.E.A., and inadvertently take in a couple of undercover cops as housemates!
The title story collects an epic that ran for over six months in newspapers, in which the Brothers, evicted from their apartment, move to the country to get back to nature — only to discover that nature doesn't want them! Meanwhile, Fat Freddy's Cat adapts much more readily to outdoor living.
Then, in a bonus tale, the cat leads the way in the accidental animal rights adventure, "Animal Camp."
Grass Roots and Other Follies is the third release in this special series of seven volumes compiling the complete Freak Brothers comic adventures.
The Fabulous Furry Freak Brothers comics have sold more than 45 million copies worldwide in 16 languages, and these painstakingly restored hardcovers are the first North American bookshelf editions in more than thirty years.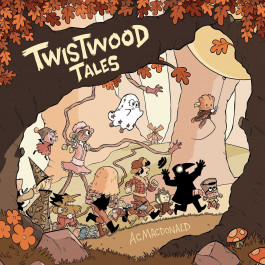 A.C. Macdonald: Twistwood Tales
Come and join Bucket Boy and the whole Twistwood gang as they live their lives in the forest.
Travel through a magical land and meet an enchanting cast of smart, snarky, and sweet characters from the popular webcomic, Twistwood Tales.
From the worrisome Loghead, to the not-so-helpful Dr. Crowley, to the terrifying Fairy-Gourd Mother, and many more, the forest of Twistwood contains plenty of kind and magical creatures.
Follow along as the characters explore moral quandaries, discuss mental health, and more.
An extended story details Bucket Boy's journey to learn that he is a valuable friend, whether or not he can be useful.
Full of wholesome lessons and witty jokes, Twistwood Tales will enchant and amuse readers for years to come.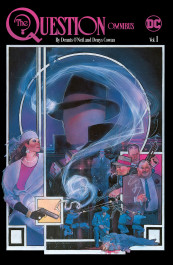 Dennis O'Neil & Denys Cowan: The Question Omnibus 1
Comics legends Dennis O'Neil and Denys Cowan reinvent DC's faceless detective in this massive hardcover collection of the acclaimed 1980s series The Question!
Just a few short years after co-creating Spider-Man, artist and writer Steve Ditko created the Question, who worked as an investigative journalist in public and a vigilante in secret.
Two decades later, writer Dennis O'Neil and artist Denys Cowan unleashed their acclaimed reinvention of the Question for the late 1980s, coinciding with one of the most creatively thrilling periods in comics.
While retaining familiar elements of the character—including his faceless mask—O'Neil and Cowan also imbued Vic Sage with a Zen philosophy and forced him to ask vital questions about his methods employed while fighting crime in the corrupt town of Hub City.
But with deadly martial artist assassins and political intrigue to contend with, will one man—even a master of unarmed combat—be able to make a difference?
This volume collects The Question #1-27, The Question Annual #1, Green Arrow Annual #1, andDetective Comics Annual #1.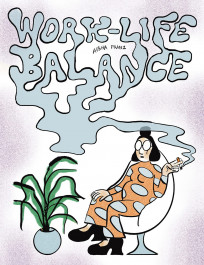 Aisha Franz: Work-Life Balance
A cutting portrayal of the pursuit of work-life balance from the cartoonist of Shit is Real.
To achieve the proper work-life balance perhaps we just need the right therapist to coach us through our day-to-day.
Anita, Sandra, and Dex have ambitions.
Anita wants to move from making utility ceramics to fine-art sculpture but her pent-up dissatisfaction results in an outburst that puts her studio mate's work at risk.
Sandra juggles her practical administrative day job at a startup with her wellness-influencer channel, finding both in jeopardy when a messy affair with a coworker comes to light.
In another corner of the same startup, Dex's innovative ideas are rejected, leading him to spend his days hacking and working as a bike courier.
All three are disillusioned with the daily grind. As the pressure for self-improvement builds, they end up looking to the same therapist for answers.
Soon the boundaries between work and life begin to bleed into each other and it becomes increasingly impossible to find balance. All the solace the characters expect their therapist to provide is obscured by her quirks, whims, and psycho-parlance, leading to sessions that are neglectful at best and actively inhibit growth at worst.
In striking colors and trippy transformational sequences, Aisha Franz captures the comedic absurdity of contemporary work life and the wellness culture in Work Life Balance.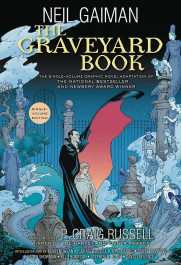 Neil Gaiman & P. Craig Russel: The Graveyard Book
Both volumes of the New York Times bestselling The Graveyard Book Graphic Novel are now available in a single-volume paperback edition!
Each chapter in this adaptation by P. Craig Russell–now combined into one splendid volume–is illustrated by a different luminary from the comic book world, showcasing a variety of styles from a breadth of talent.
Together, they bring Neil Gaiman's Newbery Medal-winning, nationally bestselling novel The Graveyard Book to new life in this gorgeously illustrated graphic novel adaptation.
Inventive, chilling, and filled with wonder, Neil Gaiman's The Graveyard Book reaches new heights in this stunning single-volume paperback edition.
LEHDET JA KIRJAT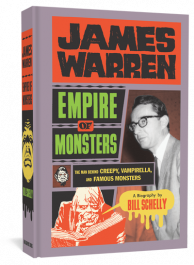 Bill Schelly: James Warren – Empire of Monsters
In Empire of Monsters, the award-winning biographer Bill Schelly digs beneath the hype and myth-making to tell the true story of James Warren, one of the 20th century's most influential and independent publishers.
Featuring numerous eye-opening, often outrageous anecdotes about the colorful, larger-than-life figure, this book covers Warren's childhood in the slums of south Philadelphia, a traumatic military injury during the Korean War, the hardscrabble origins of Warren Publishing, its great success and ignominious end — as well as his reemergence on the public scene in the 1990s, and the lawsuit to regain ownership of his literary properties.
For this impeccably researched biography, Schelly offers insight from new interviews with Warren's colleagues, editors, and friends, augmented by unpublished interviews gathered in past years with Frank Frazetta, Archie Goodwin, Al Williamson, Bill DuBay, Tom Sutton, Bernie Wrightson, Richard Corben, and Warren himself.
Originally published in 2019, Empire of Monsters quickly sold out.
Fantagraphics is pleased to make this groundbreaking biography of one of comics' central historical figures available again in an affordable paperback edition.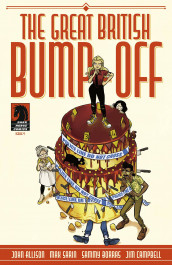 John Allison & Max Sarin: The Great British Bump-Off #1 (COVER A MAX SARIN)
Part 1/4.
An Agatha Christie-style murder mystery set in the world of English competitive baking from Giant Days' John Allison and Max Sarin.
When she enters her country's most beloved baking competition, Shauna Wickle's goal is to delight the judges, charm the nation, and make a few friends along the way.
But when a fellow contestant is poisoned, it falls to her to apprehend the culprit while avoiding premature elimination from the UK Bakery Tent… and being the poisoner's next victim!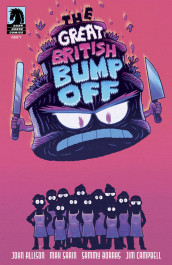 John Allison & Max Sarin: The Great British Bump Off #1 (COVER B DAN HIPP)
Part 1/4.
An Agatha Christie-style murder mystery set in the world of English competitive baking from Giant Days' John Allison and Max Sarin.
When she enters her country's most beloved baking competition, Shauna Wickle's goal is to delight the judges, charm the nation, and make a few friends along the way.
But when a fellow contestant is poisoned, it falls to her to apprehend the culprit while avoiding premature elimination from the UK Bakery Tent… and being the poisoner's next victim!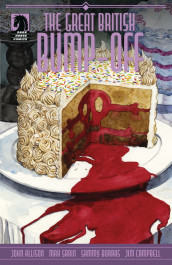 John Allison & Max Sarin: The Great British Bump Off #1 (COVER C JILL THOMPSON)
Part 1/4.
An Agatha Christie-style murder mystery set in the world of English competitive baking from Giant Days' John Allison and Max Sarin.
When she enters her country's most beloved baking competition, Shauna Wickle's goal is to delight the judges, charm the nation, and make a few friends along the way.
But when a fellow contestant is poisoned, it falls to her to apprehend the culprit while avoiding premature elimination from the UK Bakery Tent… and being the poisoner's next victim!
KÄYTETYT SARJAKUVAT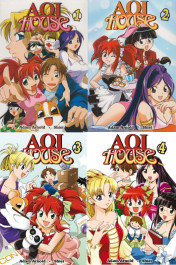 Adam Arnold & Shiei: Aoi House 1-4 (K)
KÄYTETTY.
KOKO SARJA.
Alex ja Sandy ovat tavallisia kavereita, jotka yrittävät selvitä kunnialla läpi yliopiston.
Lemmikkihamsteri Echiboon ansiosta se ei tule onnistumaan, sillä kaverukset heitetään ulos asuntolastaan ja heidän on pakko muuttaa anime-kerhon tiloihin, jossa komentoa pitävät villit yaoi-fanitytöt!
Ikäsuositus 15+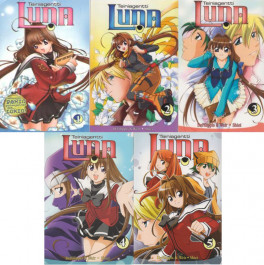 Nunzio DeFilippis & Shiei: Teiniagentti Luna 1-5 (K)
KÄYTETTY.
KOKO SARJA.
Hänen nimensä on Luna ja hän on täydellinen salainen agentti.
Yhdysvaltojen hallitus muokkasi Lunan salaisessa laboratoriossa parhaimmasta mahdollisesta geneettisestä materiaalista vertaansa vailla olevaksi vakoiluaseeksi.
Laboratoriossa syntynyt ja agenttien kasvattama tyttö saa nyt 15-vuotiaana uransa haasteellisimman tehtävän: hänet lähetetään lukioon.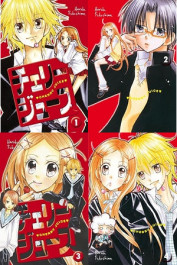 Haruka Fukushima: Cherry Juice 1-4 (K)
KÄYTETTY.
KOKO SARJA.
Kansissa jälkiä ja kulumaa.
Sarja kertoo sisapuoli Minamista ja Otomesta, jotka ovat eläneet saman katon alla jo vuosia.
Kuinka käykään, kun Minamin paras ystävä tunnustaa olevansa ihastunut kauniiseen Otomeen?
Tunteet kuumenevat siinä määrin, että kiintymys taitaa olla sisarrakkautta syvällisempää mallia.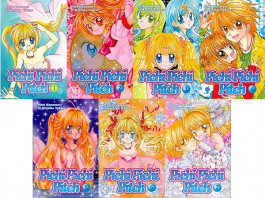 Michiko Yokote: Pichi Pichi Pitch 1-7 (K)
KÄYTETTY.
KOKO SARJA.
Merenneitojen taikaa!
Pink Hanamorin ja Michiko Yokoten seitsemänosaisen mangasarjan päähenkilö Lucia on kaunis lukiolaistyttö, mutta myös merenneito. Hänen tehtävänään on pelastaa maailman meret pahalta voimalta, joka uhkaa ottaa ne hallintaansa.
Taikahelmet antavat Lucialle ja hänen merenneitoystävilleen "pichi pichi" -äänet, joilla laulaessaan tytöt voivat tehdä ihmeitä.
Merenneidoksi muuttunut Lucia pelastaa komean surffaripojan ja rakastuu tähän poikaan, Kaitoon.
Kaitolla ei ole aavistustakaan siitä, että hänet pelastanut salaperäinen merenneito on Lucia, mutta Lucia on päättänyt voittaa Kaiton sydämen…
Ikäsuositus 12+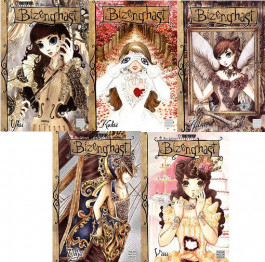 M. Alice LeGrow: Bizenghast 1-5 (K)
KÄYTETTY.
Kansissa jälkiä ja kulumaa.
Bizenghast kertoo orvon Dinahin elämästä Bizenghast-nimisessä syrjäisessä kylässä ja hänen seikkailuistaan elävien maailmaan jääneiden kuolleiden sielujen parissa.
Ikäsuositus: 12+ / Draama/kauhu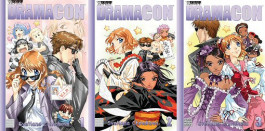 Svetlana Chmakova: Dramacon 1-3 (K)
KÄYTETTY.
KOKO SARJA.
Kun nuori ja innokas amatöörikirjailija Christie asettuu ensimmäisen animetapahtumansa taiteilijakujalle, kokee hän sen mahdollisuutena mainostaa taiteilijapoikaystävänsä kanssa aloittamaa mangaa.
Mutta asiat mutkistuvat, kun hän odottamatta ihastuu salaperäiseen cosplayeriin. Mitä tehdä kun rakastaa jotakuta, joka tulee olemaan kaukana poissa vain parin päivän kuluttua?!
Nettisarjakuvaveteraani Svetlana Chmakova näyttää hauskan ja romanttisen kulissien takaisen katsauksen animetapahtumaan – jossa kaksikin on joskus jo liikaa!
Ikäsuositus: 12+ / Komedia/romantiikka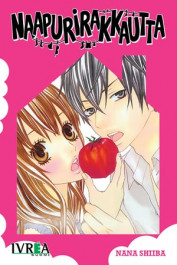 Nana Shiiba: Naapurirakkautta (K)
KÄYTETTY.
Ina on vihdoin päässyt toteuttamaan suuren unelmansa Tokioon muutosta lapsuudenystävänsä Kiichin kanssa.
Mutta mitä – perillä heitä odottaakin rähjäinen talonröttelö!
Eivätkä asiaa auta hämäräperäisen talon asukkaat, jotka ovat kaikki toinen toistaan komeampia mutta luonteiltaan sietämättömiä.
Ja näin, juuri kun Inalla tuntui menevän hyvin, hän menettääkin kaiken itsevarmuutensa…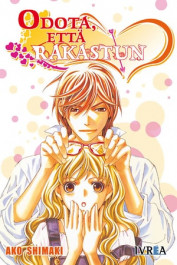 Ako Shimaki: Odota, että rakastun (K)
KÄYTETTY.
Kokoelma lahjakkaan Ako Shimakin lyhyitä tarinoita, joihin sisältyvät mm. "Suki ni Naru Made Matte", jossa eräs tyttö pudotettuaan veteen Hikamin kännykän joutuu tämän orjaksi korvatakseen puhelimen sekä "1/3 no Kareshi" jossa Yuuya ottaa vihjailevan kuvan Reista ja kertoo poistavansa kuvan mikäli he tapaavat myöhemmin samassa paikassa.
Intohimoa ja melkoinen soppa!
Ikäsuositus: 12+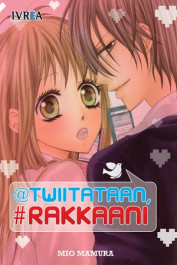 Mio Mamura: Twiitataan, rakkaani (K)
KÄYTETTY.
Muiden tahdissa pysyäkseen Reona avaa Twitteriin tilin.
Tänään hän näkee jälleen rakkaan Tokudansa, mutta Mori on tapansa mukaan hänestä huolissaan… Reonan seuraajien määrä kasvaa päivä päivältä ja….uskomatonta…Tokudakin alkaa seurata häntä!
Nyt, kun Reonalla olisi vihdoinkin hyvät saumat päästä lähestymään Tokudaa, hän huomaa lämpeävänsä Moristakin…
Ikäsuositus: 12+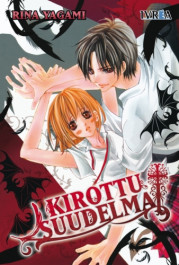 Rina Yagami: Kirottu suudelma (K)
KÄYTETTY.
Noa on ollut lukiossa jo puolisen vuotta, eikä ole vieläkään onnistunut löytämään poikaystävää.
Jälleen kerran iltamyöhällä koulusta palatessaan hän haaveilee, kuinka ihanaa olisi jakaa kotimatka jonkun kanssa… Ilmestyykö hänelle sillä hetkellä paholainen…?!
Skeittilaudalla kaahaten, kuin mustilla siivillä liidellen, mustine hiuksineen ja silmineen sekä ylimaallisen kauniine kasvoineen. Saako lumoutunut Noa suudelman?!
Ikäsuositus: 12+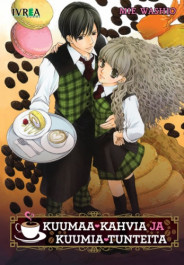 Mie Washio: Kuumaa kahvia ja kuumia tunteita (K)
KÄYTETTY.
Hatsuyuki työskentelee kahvilassa, joka on kuulu komeista työntekijöistään.
Pian hän huomaakin olevansa ihastunut Misawaan, joka oli niin ystävällinen hänelle hänen ensimmäisenä työpäivänään. Mutta jostain syystä Misawa suuttuukin Hatsuyukin kertoessa tunteistaan!
Rakkautta ei kuitenkaan ole niin helppo tukahduttaa! Hatsuyuki ei aio luopua toivosta, vaan jatkaa yrittämistä, kunnes…
Ikäsuositus: 12+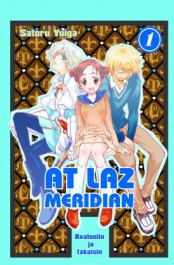 Satoru Yuiga: At Laz Meridian 1 – Avaloniin ja takaisin (K)
KÄYTETTY.
Koulutyttö Mana kauhistuu, kun hänen entinen kiusaajansa Chihiro palaa 10 vuoden jälkeen Englannista takaisin Japaniin. Chihiro on kokenut muodonmuutoksen, mutta onko hänen käytöksensä yhä julkeaa?
Chihiro antaa Manalle lahjaksi kummallisen sormuksen, jonka ansiosta Manan elämä muuttuu toden teolla!
Sormus nimittäin on taikaväline, ja sen avulla Mana singahtaa Avaloniin, maagiseen maailmaan. Hän tapaa nuoren ritari Lancelotin, joka on eksynyt Avaloniin ja kaipaa rakastettuaan Guineverea.
Voiko Mana auttaa? Ja mikä yhteys onkaan Avalonilla ja Manan omalla maailmalla?
Seikkailu/fantasia.
Satoru Yuiga: At Laz Meridian 2 – Avaloniin ja takaisin (K)
KÄYTETTY.
Rinnakkaisuus Avalonin tarumaailman ja Mana-tytön maailman välillä syvenee.
Jännittäviä seikkailuja on edessä, kun Lancelot vuorostaan ilmaantuu Manan ja tämän ystävien keskuuteen! Kuka tuo kumma vaihto-oppilas onkaan? Aivan kuin Chihiro olisi mustasukkainen…
Mana yrittää piilotella omia tunteitaan samalla, kun hän tutustuu valheelliseen kampaajapoikaan ja kalaksi muuttuvaan uimariin.
Mökkiretkellä tapahtuu kummia, eikä suudelmiltakaan vältytä!
Seikkailu/fantasia.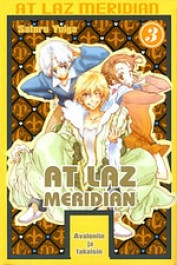 Satoru Yuiga: At Laz Meridian 3 – Avaloniin ja takaisin (K)
KÄYTETTY.
Mana on yhä enemmän ymmällään niin Chihiron kuin Laninkin käyttäytymisen vuoksi.
Kumpi on ihastunut – vaiko kummatkin? Myös Nagatani kokee hämmentävän tunteellisia hetkiä.
Tekemistä riittää, kun koko joukkio ryhtyy harjoittelemaan yllätyksellistä Hamlet-näytelmää.
Lisää selviää sekä Chihiroa kohdanneesta onnettomuudesta että Avaloniin liittyvästä mystisestä etsintätehtävästä.
Seikkailu/fantasia.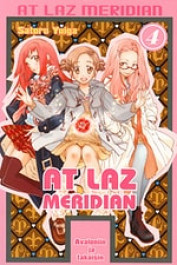 Satoru Yuiga: At Laz Meridian 4 – Avaloniin ja takaisin (K)
KÄYTETTY.
Rakkauskuviot mutkistuvat, kun Chihiro tunnustaa tunteensa Manalle!
Mana taas pohtii Lancelotin mukaan lähtemistä, Naga onnetonta sydämen valintaansa. Kukaan ei kuitenkaan osaa arvata, mitä tuleman pitää, kun Fay, Chihiron entinen tyttöystävä, ilmaantuu maisemiin!
Hänhän on aivan kuin Avalonin kiero haltiakuningatar. Joko Mana hahmottaa yhtäläisyydet Avalonin ja oman maailmansa välillä?
Seikkailu/fantasia.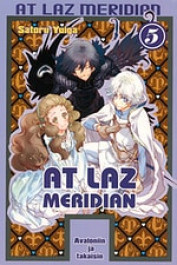 Satoru Yuiga: At Laz Meridian 5 – Avaloniin ja takaisin (K)
KÄYTETTY.
Lanille koittavat vaikeat ajat, kun hän alkaa muistaa, mitä ikävää Arthurille todella kävi.
Legenda herää eloon, ja kun syy Avalonissa oleiluun selviää, Mana järkyttyy. Ainoa keino palauttaa Lanin onnellisuus lienee haltiakuningatar Morganin tuhoaminen!
Entä Manan maailman ärsyttävä Fay – tuleeko hänetkin tuhota? Chihiron huikea opiskelusalaisuus paljastuu, tunteet kuohuvat, ja nyrkkitappeluita on tiedossa!
Seikkailu/fantasia.