Luettelo:
Ennakkotilaukset
Ulkomaiset uutuudet
Lehdet ja kirjat
Käytetyt ja vanhat sarjakuvat
Alkuun
ENNAKKOTILAUKSET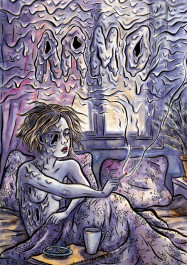 Emmi Valve: Armo (ENNAKKOTILAUS)
ENNAKKOTILAUS. ARVIOITU ILMESTYMISPÄIVÄ HUHTIKUUSSA 2022.
Jo lapsena jokin kiskaisee Emmin toiseen ulottuvuuteen.
Siellä asioiden ja toisten ihmisten pimeät puolet ovat hänelle näkyviä. Ihmisten katseet ja kosketukset tekevät häneen reikiä, ja hän yrittää piilottaa kaikkialle tunkeutuvan mustan mönjän, joka karkaa ulos hänen sieraimistaan tai suustaan.
Emmin elämä on helvettiä. On ollut niin kauan kuin hän muistaa.
Armo kertoo tästä elämästä, uskomattomista seikkailuista baarien, makuuhuoneiden, väkivallantekojen, harhojen ja mielisairaaloiden syövereissä.
Emmi Valveen omaelämäkerrallinen sarjakuvaromaani on suora, karu ja hurja ja höystetty isolla määrällä mustaa huumoria.
Emmi Valve (s. 1984) on porvoolainen sarjakuvataiteilija ja kuvittaja. Valveen esikoisteos, päiväkirja-albumi Sit kun sun naama räjähtää (Huuda Huuda) ilmestyi 2013.
Vuonna 2018 ilmestyi Girl Gang Bang Bang – Ei kenenkään tyttöjä (Zum Teufel).
Armo ilmestyi Aseman kustantamana vuonna 2017, ja se on käännetty myös ranskaksi.
Zum Teufel julkaisee kirjan kovakantisen painoksen keväällä 2022.
ULKOMAISET UUTUUDET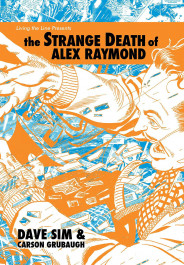 Dave Sim & Carson Grubaugh: The Strange Death of Alex Raymond
Comics' answer to Finnegan's Wake, an inspired work of obsessive genius that will take a long time to untangle.
– Rob Salkowitz, Senior Contributor, FORBES
The Strange Death of Alex Raymond is one of the most spectacular comics I have ever read or seen. I can't recommend it enough, although you may hate it. Bizarre and beautiful and completely unique.
– Jim Rugg, Cartoonist Kayfabe, Street Angel, The P.L.A.I.N. Janes
This is a master work. I'm honoured to have even laid eyes on it.
– E.S. Glenn, author of Unsmooth, cartoonist for The New Yorker
A must-read for anyone interested in the history and craft of comics
– Brandon Graham, King City, Warhead, Prophet
Grubaugh provides a brilliant and fitting conclusion to what would have otherwise been one of the most notable unfinished works of recent times. I for one am excited at holding the completed Strange Death of Alex Raymond in my hands. – Gary Spencer Millidge, Strangehaven, Alan Moore: Portrait of an Extraordinary Gentleman
Legendary creator Dave Sim is renowned world-wide for his groundbreaking Cerebus the Aardvark.
Now, in The Strange Death of Alex Raymond, Sim brings to life the history of comics' greatest creators, using their own techniques.
Equal parts Understanding Comics and From Hell, Strange Death is a head-on collision of ink drawing and spiritual intrigue, pulp comics and movies, history and fiction.
The story traces the lives and techniques of Alex Raymond ( Flash Gordon, Rip Kirby), Stan Drake ( Juliet Jones), Hal Foster ( Prince Valiant), and more, dissecting their techniques through recreations of their artwork, and highlighting the metatextual resonances that bind them together.
Foreword by Eddie Campbell.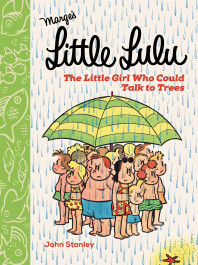 John Stanley: Little Lulu – The Little Girl Who Could Talk to Trees
The hijinks of a bold and brash little girl make these timeless comics laugh-out-loud funny.
Forget trying to break into the boys club, Lulu Moppet would rather tear it down!
In this volume of Drawn & Quarterly's landmark reprints of Marge's Little Lulu, our heroine plays pranks on her male counterparts, beating them at their own game and having a lot more fun because of it.
Many of the strips in Little Lulu: The Little Girl Who Could Talk to Trees are farcical retellings of classic nursery rhymes and fairy tales–stories Lulu is telling Alvin, the boy she babysits. Only, when Lulu's running the show, she casts herself as the main character, much to Alvin's dismay! And rather than barreling straight toward a simple moralistic ending about the importance of sharing or kindness, her yarns veer sideways for a rollicking punch line every time.
Lulu also ventures into the supernatural–encouraging a ghost who isn't bold enough to scare those around him, flying above her neighborhood on a magic rocking horse, and entering a haunted house alone, covered in a white sheet, when Tubby and the rest of the boys say she can't come with them because she's a girl.
This is the third in Drawn & Quarterly's best-of reprintings of one of the greatest comics of all time, penned by John Stanley. Younger readers will appreciate the audacity of these kids's pranks, while Stanley's hilariously true-to-life portrayals of wacky children make these comics extra funny for older readers.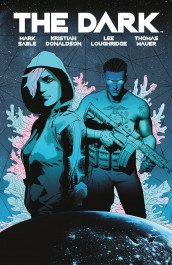 Mark Sable & Kristian Donaldson: The Dark
In this futuristic politically-charged thriller, a worldwide cyberwar with Russia ends our hyper-connected technological world as we know it.
A short time after this international internet shutdown event known as "The Dark", we follow Carver, a former special forces super-soldier who after losing his eyes during this event, gets caught up on a mission hunting down Camille, a NSA analyst who has stolen dangerous information.
With a potential war with China on the horizon, Carver and Camille are thrown together to get the world back on track while a shadowy force that is manipulating events is hot on their heels.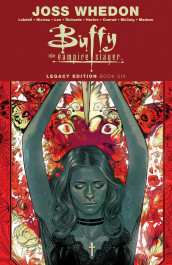 Joss Whedon: Buffy the Vampire Slayer Legacy Edition 6
The definitive collection of every Buffy the Vampire Slayer comic, for the first time presented in publication order, continues in this all-new volume.
Set during the fifth and sixth seasons of Buffy the Vampire Slayer television series, the Scooby Gang deals with two of their greatest tragedies.
Joyce Summers is dead – but while Buffy and her friends must all cope with their pain, one of them holds a secret that might be the only way to stop a demon invasion.
Then, Buffy herself dies and without the Slayer, it seems like Sunnydale has been left defenseless. Now the Scooby Gang must discover if they have what it takes to protect their home – and bring their friend back to life!
Collects Buffy the Vampire Slayer #39-50, previously published by Dark Horse Comics.
This volume also collects rare short stories including "Willow & Tara: Demonology Menagerie", "Rock 'N Roll All Night", "Mall Rats" and "Angels We Have Seen on High."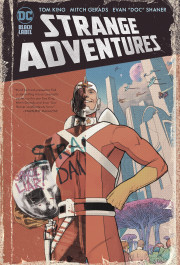 Tom King & Mitch Gerads: Strange Adventures
Bestselling writer Tom King is back with a new epic that reinvents one of DC's classic science-fiction adventurers, Adam Strange, examining whether his actions were heroic or disgraceful.
This new science fiction epic written by bestselling author Tom King reinvents one of DC's classic adventure characters, Adam Strange.
Born on Earth and hero of the distant planet Rann, Adam Strange is famous throughout the galaxy for his bravery and honor.
After leading his adopted home to victory in a great planetary war, Adam and his wife, Alanna, retire to Earth, where they are greeted with cheers, awards, and parades.
But not all is as it seems, as the decisions Adam made during battles on Rann come back to haunt his family. It will take an investigation by one of the most brilliant heroes in the DC Universe, Mr. Terrific, to uncover the truth and reveal whether Adam Strange is a hero or a disgrace.
The Mister Miracle team of writer Tom King and artist Mitch Gerads are joined by fan-favorite artist Evan Doc Shaner to bring you an epic tale in the tradition of Watchmen, The Dark Knight Returns, and DC: The New Frontier–a story of blood, war, and love that readers will be talking about for years to come.
Collects Strange Adventures #1-12.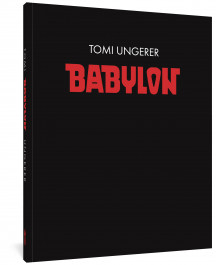 Tomi Ungerer: Babylon
This collection of drawings and one-page cartoons by the internationally infamous cartoonist (and beloved children's book author) is a universal condemnation of human rottenness.
The third book in Fantagraphics ongoing project to reprint Tomi Ungerer's 1970s-1980s satirical work, Babylon may be the most sobering collection so far, an example of his humor at its blackest.
Drawn entirely in pencil, these fully rendered images, reproduced in lush, dense, gray tones, rival the satirical vitriol of his anti-war posters of the previous decade, radiating repulsion at what human beings can do to one another in the guise of "civilization."
Taking on a political and social hue, his contempt for the ruling class etched on virtually every page, Ungerer depicts the bourgeoisie as vassals of the ruling class ― members of a voyeuristic tribe who accept their position as the natural order of things and take glee in the subordination of those beneath them and the exploitation of those who make their position possible. Trendy spiritualism and religious quackery are skewered.
Several drawings show people desperately trying to improve their appearance by putting lipstick on or having plastic surgery, clearly a transparent attempt to hide their inner ugliness.
This denouncement of bad behavior is as sadly relevant today as it was in 1979 when this book was first published, as we have proved over these last four years. It is another uncompromising moral statement by Ungerer in the form of a series of masterful images. "There's one thing I can tell you for sure," he once said. "There's no such thing as a sheltering sky."
And Babylon proves he means it.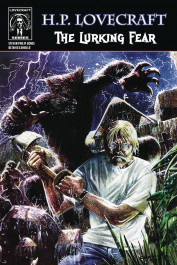 Steven Philip Jones & Octavio Cariello: H.P. Lovecraft – The Lurking Fear
Inexplicable murders in the Catskills.
A Hooverville of squatters plummets into a gigantic sinkhole during a ferocious thunderstorm, where their bodies are torn apart and devoured as if by some pack of wild animals.
Arthur Munroe, a journalist at the scene, follows a trail of legends to an abandoned Dutch colonial mansion at the top of one of the nearby mountains to find answers.
This Lovecraft tale is adapted by award winning comic writer Steven Philip Jones.
In addition to the comic book adaptation this volume also contains the original Lovecraft published story as written by him.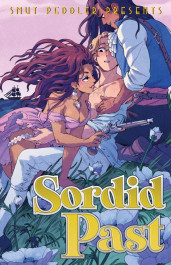 Smut Peddler Presents: Sordid Past
Shelve those dusty tomes, fold up your smoking jacket, and lock the door of the study; this research trip is going to be wild!
The latest in the Smut Peddler series of high-end erotic anthologies, Sordid Past is our most scholarly smutty journey yet as we dive into the annals of human history around the globe.
From the depths of antiquity to the ancient 1990s, this collection is a whirlwind hands-on history lesson in the tried-and-true Smut Peddler style: broadly diverse, sex-positive, consent-driven, and tons of fun!
Featuring some of the biggest names in mainstream and small press comics and illustration, including Eisner Award winner ERICA HENDERSON, Harvey and Lambda Award-winning EK WEAVER, tall-ship-sailing adventure cartoonist LUCY BELLWOOD, and many more!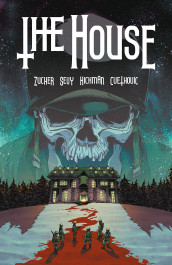 Drew Zucker & Phillip Sevy: The House
During the Battle of the Bulge, a squadron of US soldiers is caught in a blizzard while patrolling through the woods.
Seeking refuge from the impending white out, they stumble across an abandoned manor, seeking shelter and safety.
Once inside, however, the doors disappear, rooms begin to morph, exits become entrances, and they quickly realize there is no safety to be found!
As their eyes deceive them, their minds descend into madness, panic, and paranoia.
Is this real? Or is there more to this labyrinth than what resides within the walls?
Secrets are revealed, history is retold, and death is the only mercy.
The acclaimed, psychological tale of supernatural evil amid the horrors of war from Drew Zucker (Canto, Skybreaker) and Phillip Sevy (Tomb Raider, Triage). Now with a new cover and added bonus material!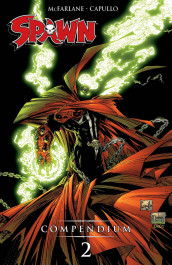 Todd McFarlane: Spawn Compendium 2
TODD McFARLANE unleashed his signature creation, SPAWN, in 1992. In doing so, he created the most successful independent comic book in history.
Now for the first time Issues 51-100 are collected in FULL Color.
Spawn: Compendium 2 presents the continued tales of Spawn, as he journeys from the back alleys of NYC to the pits of Hell itself.
Featuring incredible art from Greg Capullo (Batman) and stories from writers Todd McFarlane and Brian Holguin.
Collects SPAWN #51-100.
LEHDET JA KIRJAT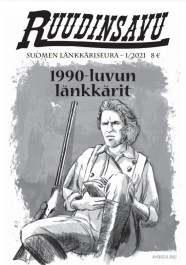 Ruudinsavu 1/2021
Sisällys:
Pääkirjoitus
Tommy Lee Jones, lännen antisankari
1990-luvun länkkärit
1990-luku – muista myös nämä
Suomentamattomia länkkäriklassikoita osa 5: The Hi Lo Country
Horna-tapahtumissa etsitään autenttisia villin lännen kokemuksia
Horna 2020: Saluunansoittajasta kaksintaisteluun – Klondyken tarina
Kirjat: Miekka ja revolveri
Elokuvat: Nomadland ja News of the World
DVD ja suoratoisto: The Son
Sarjakuvat: Lucky Luke, Louisianan lainvalvojat
Tosi Länsi: Billy the Kid osa 4: Pat Garret ja Billy the Kid
Klassikkoelokuva: Armoton (1992)
Dave Sim & Sandeep Atwal: Swords of Cerebus in Hell? 7
Further collecting Cerebus' adventures in Hell? (with a question mark)! Super-Cerebus eats a batch of Red Xenonite brownies which, in this case, causes his Amphetamine Vision to run wild, killing the infernal dead with heart attacks!
Super-Cerebus switches into his civilian identity as Kent Olsen, FOX NEWS Gehenna news anchor!
Get ready for Cerebus Woman, the tyrannical queen of Real Amazon.com Island and her legion of Mason-Dixon Greek Man O'Horsies!
First appearance of her invisible robot bulldozer!
Meet the Infernal Realms' most inclusive super group!
Watch, as the strangest heroes of all go head-to-head with Cerebus!
Collects Giant Super-Cerebus Annual #1, Cerebus Woman #1, LGBTQ People #1, and Fornicators Inc. #1.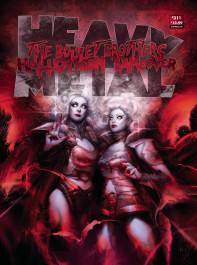 Heavy Metal #311
The Boulet Brothers (known individually as Dracmorda and Swanthula Boulet) are drag artists, television personalities, writers, and producers.
Their projects have included horror themed television shows, live nightlife productions, books, movies, and comic books.
Since 2016 the Boulet Brothers have produced and starred in the Netflix reality competition series The Boulet Brothers' Dragula.
The duo is considered to be "modern day horror hosts."
The Boulet Brothers are also widely celebrated as queer icons due to the inclusive nature of their creative endeavors.
The famed drag duo is now curating the legendary Heavy Metal magazine for the 2021 special Halloween edition.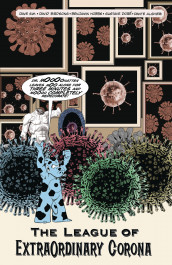 Dave Sim & David Birdsong: The League of Extraordinary Corona #1
We bet you thought we had forgotten The League of Extraordinary Cerebi from October of 2018!
Well, actually we had and then came the Weird Two Months of While Diamond Slept: 2020 when the entire Comic-Book Multiverse ceased to exist.
Our automatic second response had been "This Calls for An Alan Moore Parody!" (our automatic first response had been "Must binge-watch Tiger King").
KÄYTETYT JA VANHAT SARJAKUVAT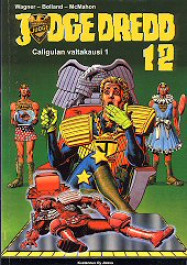 John Wagner & Mike McMahon: Judge Dredd 12 – Caligulan valtakausi 1
Caligulan valtakausi / Päivä, jolloin laki kuoli!
.
.
.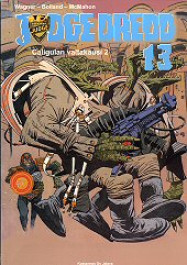 John Wagner & Mike McMahon: Judge Dredd 13 – Caligulan valtakausi 2
Caligulan valtakausi / Päivä, jolloin laki kuoli!
.
.
.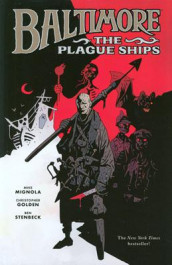 Mike Mignola & Ben Stenbeck: Baltimore 1 – The Plague Ships (K)
KÄYTETTY. Kansissa kulumaa.
After a devastating plague ends World War I, Europe is suddenly flooded with vampires.
Lord Henry Baltimore, a soldier determined to wipe out the monsters, fights his way through bloody battlefields, ruined plague ships, exploding zeppelins, and submarine graveyards on the hunt for the creature who's become his obsession.
.
.