Luettelo:
Manga-uutuudet
Ennakkotilaukset
Ulkomaiset uutuudet
Lehdet ja kirjat
Alkuun
MANGA-UUTUUDET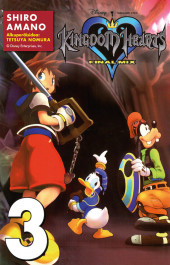 Shiro Amano: Kingdom Hearts Final Mix 3
Osa 3/3.
Lähde mukaan pelastamaan maailmoja sydämettömiltä, salaperäisiltä hirviöiltä!
Tässä toimintaroolipeliin pohjautuvassa seikkailussa saat seuraasi Disney-väkeä Akusta ja Hessusta Aladdiniin ja Arieliin. Mukana on myös Final Fantasy -pelisarjasta tuttuja hahmoja!
Kingdom Hearts Final Mix päättyy tähän osaan.
Tarina jatkuu sarjassa Kingdom Hearts Chain of Memories!
Seikkailu /Kaikenikäisille.
ENNAKKOTILAUKSET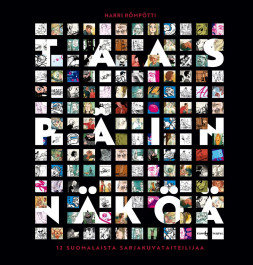 Harri Römpötti: Taas päin näköä – 12 suomalaista sarjakuvataiteilijaa (ENNAKKOTILAUS)
ENNAKKOTILAUS. KIRJA ILMESTYY 18.2.2022.
Suomalaisen sarjakuvan satavuotisjuhlien aikaan vuonna 2011 Ville Hänninen ja Harri Römpötti loivat katsauksen tärkeimpiin kotimaisiin taiteilijoihin haastattelukirjassaan Päin näköä.
Kymmenen vuotta myöhemmin Römpötti nostaa Taas päin näköä -kirjassa esiin tusinan seuraavan sukupolven taiteilijoita.
Mukana ovat JP Ahonen, Juliana Hyrri, Leo Kuikka, Kaisa Leka, Reetta Niemensivu, Emmi Nieminen, Jenna Oldén, Ville Pirinen, Heikki Rönkkö, Tiitu Takalo, Petteri Tikkanen ja Emmi Valve. Haastattelujen ohella kaikki ovat tehneet kirjaan uuden sarjakuvan ja kertovat sen synnystä.
Harri Römpötti on työskennellyt vapaana toimittajana ja kriitikkona vuodesta 1989. Sarjakuva on aina kuulunut hänen erikoisaloihinsa. Vuonna 2001 Suomen sarjakuvaseura nimitti Römpötin sarjakuvaneuvokseksi ansioistaan kriitikkona.
ULKOMAISET UUTUUDET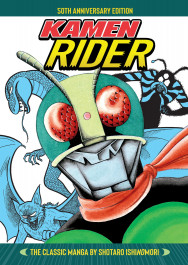 Shotaro Ishinomori: Kamen Rider – 50th Anniversary Edition
The original run of the legendary Kamen Rider manga, now in English as a special 50th anniversary hardcover omnibus!
Fans the world over have long been enthralled by tales of Kamen Rider, the masked, motorcycle-riding superhero who protects the world from injustice.
Kidnapped and experimented upon by the evil terrorist organization known as Shocker, Hongo Takeshi manages to escape their clutches and use his newfound strength to fight against their schemes.
These are the first adventures in a legacy that spans dozens of television series and films, drawn and written by series creator and manga superstar Shotaro Ishinomori.
Commemorating the 50th anniversary of the classic 1971 publication, this collection is the first hardcover edition of Kamen Rider in English. It features the original Kamen Rider manga series plus special bonus materials and full-color inserts.
Junji Ito: Deserter
An ever-increasing malice. A mind-numbing terror. The seeds of horror are sown in this collection of Junji Ito's earliest works.
A vengeful family hides an army deserter for eight years after the end of World War II, cocooning him in a false reality where the war never ended. A pair of girls look alike, but they're not twins. And a boy's nightmare threatens to spill out into the real world…
This hauntingly strange story collection showcases a dozen of Junji Ito's earliest works from when he burst onto the horror scene, sowing fresh seeds of terror.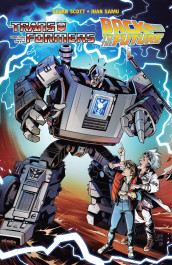 Cavan Scott & Juan Samu: Transformers/Back to the Future
Great Scott! Pop-culture juggernauts collide in the ultimate 1980s (and 1950s and 2010s) showdown! Things are getting heavy–and nothing's as heavy as a Cybertronian!
Marty McFly has just returned from the adventure of a lifetime to a new, better Hill Valley–everything's looking up for him!
That is, until Marty and his friend Doc Brown's time machine attracts the attention of the Decepticons!
With one small mistake, Marty finds himself once again thrust into adventure to stop the Decepticon plot in the past, present, and future… all with the help of a new time machine… the Autobot Gigawatt!
A must-read for fans of both franchises, this all-new adventure from writer Cavan Scott (Star Wars: The High Republic, Star Wars Adventures: Tales from Vader's Castle) and artist Juan Samu (Marvel Action: Black Panther) is jam-packed with thrills and humor.
Featuring Bumblebee, Biff, Optimus Prime, George McFly, Megatron, and more!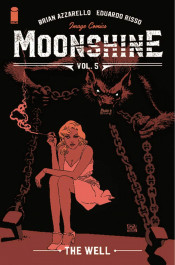 Brian Azzarello & Eduardo Risso: Moonshine 5 – The Well
Torpedo-turned-werewolf Lou Pirlo finally returns to NYC, and he's come at just about the worst possible time.
With Prohibition on its last legs, happy days are here no longer for those in the rum-running business. As an all-out war brews between Joe the Boss and the Holts of Appalachia – AND his lost love Delia returns – Lou's life is about to get a whole lot messier…or is it bloodier?
Writer BRIAN AZZARELLO and artist EDUARDO RISSO–the Eisner Award-winning creative team behind the crime classic, 100 Bullets–bring this brutal series to a sobering conclusion.
Collects MOONSHINE #23-28.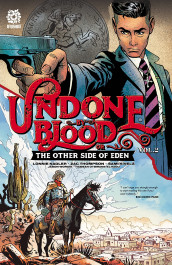 Lonnie Nadler & Sami Kivelä: Undone by Blood or the Other Side of Eden 2
The early 1930's: The height of the Great Depression and beginning of the Dust Bowl.
Silvano Luna Del Rio works as a postman in Buttar, Texas.
Reeling from a tragic past, with only a gun and a Western novel to his name, Silvano sets out to take back from the country that took so much from him by robbing the first skyscraper West of the Mississippi.
But acts of retribution are never as simple as they seem, as his target is home to an eccentric fraternal brotherhood hiding their own dark secrets.
By Silvano's side is an old west novel featuring famed gunslinger Solomon Eaton. As both stories unfold simultaneously, in true UNDONE BY BLOOD fashion, the mythic Western informs choices in reality, for better or worse.
From the minds of Lonnie Nadler and Zac Thompson (The Dregs, X-Men, HER INFERNAL DESCENT) and artist Sami Kivelä (Abbott, Machine Gun Wizards) comes the next story in the critically acclaimed neo-western series that depicts the hard truths of seeking vengeance in the real world.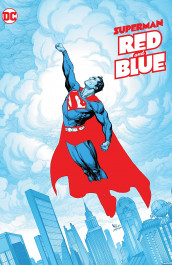 Superman – Red & Blue
The Man of Steel Stars in DC's New Superman: Red & Blue anthology mini-series!
In the spirit of DC's iconic Eisner Award-winning Batman: Black & White anthology series, DC proudly announces Superman: Red & Blue, a new anthology mini-series presenting fresh new takes on the Man of Steel.
Around the world, everyone knows that when they see a red and blue streak in the sky, it's not a bird…it's not a plane…it's Superman!
Academy Award-winning writer of DC Future State: The Next Batman John Ridley joins artist Clayton Henry ( Batman/Superman) to tell a story of Clark Kent as he confronts a villain who still haunts him, in a story that shows what Superman can mean to a whole country.
Brandon Easton (DC Future State's Mister Miracle) and Steve Lieber ( Superman's Pal Jimmy Olsen) take readers to the streets of Metropolis to show how one hero can mean so much to an individual in pain.
Writer/artist Wes Craig ( Deadly Class) tells a tale of Superman's early days and the man who inspired him to become the hero he is today!
Marguerite Bennett ( DC Future State: Kara Zor-El, Superwoman) and artist Jill Thompson ( The Sandman, Black Orchid) give us a tale of teenage Clark Kent, while Dan Watters and Dani, the team behind Coffin Bound, bring us an outlandish fable about what happens when all colors are stolen!
This collection includes Superman Red & Blue #1-6.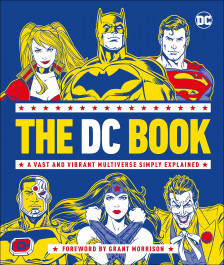 The DC Book – A Vast and Vibrant Multiverse Simply Explained
If you want to truly understand DC Comics, The DC Book is your one-stop guide to the DC Multiverse.
It is a unique and insightful examination of this mind-boggling comics universe that takes readers on a compelling journey from the dawn of Super Heroes to the formation of the Dark Multiverse… and beyond.
Meticulously researched and expertly written, The DC Book is packed with stunning, painstakingly selected artwork, illuminating infographics, and incisive, specially curated essays that shed new light on the ever-evolving DC Multiverse.
From the world's finest Super Heroes such as Superman, Batman, and Wonder Woman, to iconic villains like the Joker, Lex Luthor, and Darkseid, to mythic realms like Apokolips and Themyscira, to cosmic energies like The Source and The Speed Force, The DC Book explores the key concepts, characters, and events that have defined and shaped DC Comics over the past 80 years.
The book's content is divided into key subject areas–The Multiverse, Dark Multiverse, and Metaverse; Weird Science and Super Tech; Down to Earth; Mysteries from Space; Mystic Realms and Dream Worlds; and Time Warps and Other Earths–that form the foundations of DC Comics.
The DC Book is an invaluable roadmap to DC Comics that no fan will want to miss!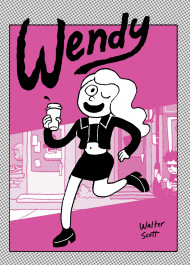 Walter Scott: Wendy
The outrageously funny and painfully relatable satire of an aspiring artist and millennial culture
Walter Scott's Wendy comics have become a critical sensation, with rave reviews in The New Yorker and The Guardian, and an appearance in the Best American Comics anthology.
Learn Wendy's origin story as Scott hilariously plumbs millennial culture, creative ennui, and the nepotism of the art world's institutions.
Wendy's an aspiring artist in a party city, and she's in a rut.
She spends her time snorting mdma in gallery bathrooms and watching Nurse Jackie reruns on her laptop while hungover.
So when she's accepted into the prestigious Flojo Island residency, Wendy vows to buckle down and get working. But during the remote, woodsy residency, Wendy and her collaborator/bff Winona put on a performance piece that becomes the centre of an art world controversy, and so Wendy returns to Montreal, getting a job in a coffee shop to make ends meet.
With Wendy, Scott launches the Wendyverse, brimming with painfully relatable characters like the back-stabbing frenemy Tina, the name-dropping Paloma, the cool drummer Wendy obsesses over, Jeff, and of course, our treasured Wendy, the hot mess we can't live without.
In blunt, laugh out loud funny vignettes with perfect punchlines, Scott illuminates the opacity of artspeak and the ceaseless anxieties plaguing a largely privileged generation.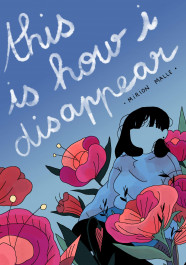 Mirion Malle: This Is How I Disappear
An affecting glimpse into the ways millennials cope with mental health struggles.
Clara's at a breaking point.
She's got writer's block, her friends ask a lot without giving much, her psychologist is useless, and her demanding publishing job leaves little time for self care.
She seeks solace in the community around her, yet, while her friends provide support and comfort, she is often left feeling empty, unable to express an underlying depression that leaves her immobilized and stifles any attempts at completing her poetry collection.
In This Is How I Disappear, Mirion Malle paints an empathetic portrait of a young woman wrestling with psychological stress and the trauma following a sexual assault.
Malle displays frankness and a remarkable emotional intelligence as she explores depression, isolation, and self-harm in her expertly drawn novel.
Her heroine battles an onslaught of painful emotions and while Clara can provide consolation to those around her, she finds it difficult to bestow the same understanding on herself. Only when she allows her community to guide her toward self-love does she find relief.
Filled with 21st century idioms and social media communication, This Is How I Disappear opens a window onto the lives of young people as they face a barrage of mental health hurdles.
Scenes of sisterhood, fun nights out singing karaoke, and impromptu FaceTime therapy sessions show how this generation is coping, connecting, and healing together.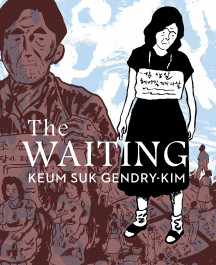 Keum Suk Gendry-Kim: The Waiting
The story begins with a mother's confession…sisters permanently separated by a border during the Korean War.
Keum Suk Gendry-Kim was an adult when her mother revealed a family secret: She had been separated from her sister during the Korean War.
It's not an uncommon story―the peninsula was split across the 38th parallel, dividing one country into two. As many fled violence in the north, not everyone was able to make it south.
Her mother's story inspired Gendry-Kim to begin interviewing her and other Koreans separated by the war; that research fueled a deeply resonant graphic novel.
The Waiting is the fictional story of Gwija, told by her novelist daughter Jina.
When Gwija was 17 years old, after hearing that the Japanese were seizing unmarried girls, her family married her in a hurry to a man she didn't know.
Japan fell, Korea gained its independence, and the couple started a family. But peace didn't come. The young family of four fled south. On the road, while breastfeeding and changing her daughter, Gwija was separated from her husband and son.
Then seventy years passed. Seventy years of waiting. Gwija is now an elderly woman and Jina can't stop thinking about the promise she made to help find her brother.
Expertly translated from the Korean by the award-winning translator Janet Hong, The Waiting is the devastating followup to Gendry-Kim's Grass, which appeared on best of the year lists from the New York Times, The Guardian, Library Journal, and more.
LEHDET JA KIRJAT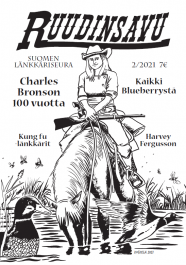 Ruudinsavu 2/2021
Sisällys:
Pääkirjoitus
Charles Bronson 100 vuotta
Charles Bronsonin lännenelokuvat
Mike Blueberry: Fort Navajosta OK Corraliin
Blueberry-sarjakuvateokset
Kamppailumestareja villissä lännessä
Suomentamattomia länkkäriklassikoita osa 6: Grant of Kingdom
Kirjat: Rautahevosta Tombstoneen, Once Upon a Time in Hollywood, Arizona Ranger, Walkean miehen kosto ja muita vanhoja lännentarinoita, Punasydän ja muita vanhoja länkkäreitä
Elokuvat: Power of the Dog, Cry Macho, The Harder They Fall, First Cow, Concrete Cowboy
Tosi Länsi: Billy the Kid osa 6: Todellinen Billy the Kid
Klassikkoelokuva: Huuliharppukostaja (1968)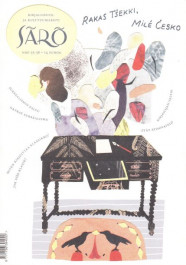 Särö nro 35-36 – Rakas Tšekki / Milé Česko
Joulukuussa 2018 julkaistu 160-sivuinen teemanumero Rakas Tšekki / Milé Česko on Suomen kaikkien aikojen kattavin tšekkiläistä taidetta ja kulttuuria käsittelevä lehti.
Pääartikkelissa folkloristi ja etnologi Petr Janeček keskustelee kustannustoimittaja, suomentaja Eila Kostamon ja kirjallisuusprofessori Yrjö Varpion kanssa siitä, miten klassikkokirja kirjoitetaan.
Kirjallisuuskriitikko Eva Klíčová analysoi laajassa esseessään Tšekin kirjallisuusvirtauksia 1800-luvulta nykypäivään. Lehden kansi on kuvittajaopiskelija Barbora Satranskán käsialaa.
Rakas Tšekki -numeron kansien välissä on muun muassa suomalaista runoutta tšekin kielellä, kirjallisuuskritiikkejä, Sofi Oksasen haastattelu Prahan kirjamessuilta, maagista tšekkiläistä kuvataidetta, keskitysleirivangin ja munkin välistä kirjeenvaihtoa 1920–1940-luvuilta sekä Tšekin kirjallisuuden kulmakivet Franz Kafka ja Václav Havel.
Kerromme myös, miten erilaiset mikroeliöt hallitsevat isäntäeläimiään – entä miten tämä liittyy Tšekkiin?
Lue Säröstä!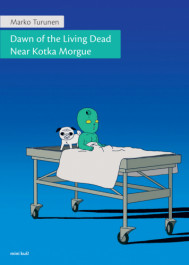 Marko Turunen: Dawn of the Living Dead Near Kotka Morgue
Alien is walking the dog.
His hometown Kotka, a small quiet coastal city near the Finnish-Russian border, is slowly changing into a city of fear.
Alien's panic reaches a climax when he discovers he might be infected by a lethal virus.
.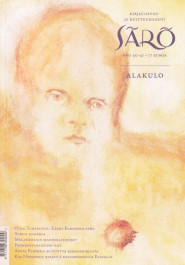 Särö nro 40-41 – Alakulo
Kansikuvataiteilijana on Virossa asuva suomalainen Mika Vesalahti. Kansien välissä käsitellään masennusta, vitkastelua ja alakuloa taiteen tekemisen ja kokemisen kannalta olennaisina, myös hyödyllisinä tekijöinä.
Kirjailijahaastattelussa esikoisteoksensa 50 vuotta sitten julkaissut Anita Konkka.
Nobel-palkittu kirjailija Olga Tokarczuk pohtii laajassa esseessään Keski-Euroopan ja mielen suhdetta. Nykyrunoilijan asemaa nyky-Venäjällä analysoi kirjailija Vladimir Jermakov.
Vastikään 70 vuotta täyttäneen Kai Niemisen runot ovat viestejä hänen edesmenneelle puolisolleen.
Numerossa ensiestradille nousevat Kallion ilmaisutaidon lukion opiskelija Deria Kurkan ja elokuvaopiskelija Maija Alander.
Särö on vuonna 2006 perustettu kahdesti vuodessa ilmestyvä kirjallisuuspainotteinen kulttuurilehti, jonka tärkeänä missiona on löytää uusia runoilija- ja prosaistikykyjä. Särössä julkaistaan myös kulttuuri- ja muuta elämää pohtivia ja analysoivia esseitä ja artikkeleita.
Kuvataide ja ylipäätänsä visuaalisuus on Särölle yhtä tärkeää kuin teksti.
Vuodesta 2008 Särössä on ollut myös tiedeosasto.
Lehteä julkaisevan kirjallisuus- ja kulttuuriyhdistys Särö ry:n muuhun toimintaan kuuluvat kirjoittajakoulutuksen ja klubi-iltojen järjestäminen.
Vuodesta 2010 Särö on ylläpitänyt kirjailija- ja taiteilijaresidenssiä Frankfurt an der Oderissa.
Helsingin toimistomme sijaitsee Vallilassa osoitteessa Nilsiänkatu 10 (sisäänkäynti B-rapusta), 00510 Helsinki.
Vuonna 2013 kulttuuriministeri myönsi Särölle kulttuurilehtien laatupalkinnon.