Luettelo:
Kotimaiset uutuudet
Manga-uutuudet
Ennakkotilaukset
Ulkomaiset uutuudeta
Lehdet ja kirjat
Alkuun
KOTIMAISET UUTUUDET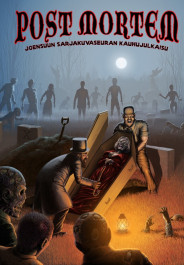 Post Mortem
Joensuun sarjakuvaseuran kymmenes julkaisu on matkalippusi aavelaivaan, tiesi pimeyteen, jonka syövereistä nousseet kaameudet vaanivat metsissä, huutavat nummilla ja tunkeutuvat ihosi alle niin, ettet ole tuholaistorjujan käynnin jälkeen enää entiselläsi.
Toivotamme sinulle hyvää matkaa yöhön. Älä eksy polulta.
Pimeästä löytyneet: Jimi Alppimaa, Jusa Hämäläinen, Miia Jääskeläinen, Noora Kaikkonen, Lauri Kinanen, Arttu Koistinen, Tuomas Koivurinne, Roope-Santeri Nieminen, Kimmo Niiranen, Sanna Nuutinen, Meri-Kukka Okkonen, Sami Pehkonen, Lili Peltola, Ville Rautiainen, Mika K. Saarelainen, Jokke Saharinen, Juho Sihvonen, Laura Torvinen, Esa Turunen, Vesa Vitikainen, Erkki Waan ja Juha Wuorinen.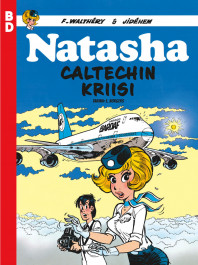 Francois Walthéry & E. Borgers: Natasha – Caltechin kriisi
Lentoemäntä Natasha on neuvokas ja viehkeä sankaritar, joka työnsä johdosta päätyy seikkailemaan eri puolille maapalloa, eksoottisiin ja jännittäviin paikkoihin.
Walthéryn luoma Natasha on yksi eurooppalaisen sarjakuvan suuria klassikkoja, ja hahmo on nauttinut suurta suosiota myös Suomessa 70-luvulta alkaen.
Natasha ja ystävänsä stuertti Walter saavat muutaman vapaapäivän amerikanlentojen välissä. Walter on onnistunut kuvaamaan taivaalla vilkkuvia salaperäisiä valoja, ja niin kaksikko päättää matkustaa Kalifornian yliopistolle Caltechiin selvittämään ilmiötä.
Onko kyseessä lentävä lautanen? Miksi hallituksen agentit jahtaavat Natashaa ja Walteria? Moninaisuuksia
Sukupuolen moninaisuus on osa ihmisyyden loputonta, rikasta varianssia. Tähän antologiaan on saatu 11 tekijältä sarjakuvia, joissa käsitellään trans- ja muunsukupuolisuutta eri näkökulmista. Mukaan mahtuu niin nykyhetkeen sijoittuvaa pohdintaa, historiallisten nyanssien selvittelyä ja vapaata tulkintaa sukupuolen merkityksestä tulevaisuudessa – puhdasta mielikuvituksen leikkiä unohtamatta.
Tekijät:
Onsku Franck
Jesse Ghost
Sirkku Lahti
Kaisa Lehikoinen
Nikke Lindholm
Mellu
Nallem
Aku Osmanen
Ana Rantala
Esa Turunen
Hanna Väätäinen
Toimittanut Katariina Lappi.
MANGA-UUTUUDET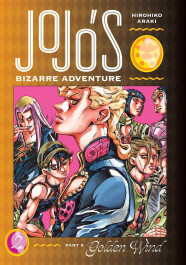 Hirohiko Araki: Jojo's Bizarre Adventure 5 – Golden Wind 2
A multigenerational tale of the heroic Joestar family and their never-ending battle against evil!
The legendary Shonen Jump series is now available in deluxe hardcover editions featuring color pages! JoJo's Bizarre Adventure is a groundbreaking manga famous for its outlandish characters, wild humor and frenetic battles.
Not too long ago, Giorno Giovanna was just an ordinary hoodlum, but now he dreams of being something bigger… He dreams of being a true mafioso!
Giorno is ready to join one of the most dangerous gangs in town, and the first step is learning everything he can about their operations. The second step is gathering the friends and allies he'll need in order to take control of the gang for himself!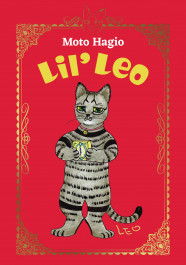 Moto Hagio: Lil' Leo
Two-year-old Leo is not your average house cat.
One day he notices his young neighbor Tatsuru on his way to elementary school and he then decides to follow him and enroll himself!
After receiving his own backpack and school supplies, young Leo realizes that anything Tatsuru can do, he can do as well!
Leo can go to school! Leo can find a part-time job, become a mangaka or even be actor!
Eventually Leo's life is full of wonderful memories, but it could have taken a very different turn if not for those who love him.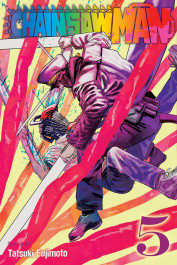 Tatsuki Fujimoto: Chainsaw Man 5
Broke young man + chainsaw dog demon = Chainsaw Man!
Denji was a small-time devil hunter just trying to survive in a harsh world. After being killed on a job, he is revived by his pet devil-dog Pochita and becomes something new and dangerous—Chainsaw Man!
It's Chainsaw vs. Sword as the bloody battle for Denji's heart heats up.
Denji is going to have to pull out all the stops against this crafty opponent. And when the dust settles, how will Special Division 4 move on from their losses?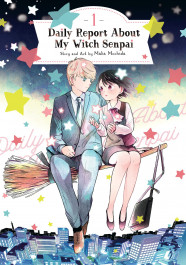 Maka Mochida: Daily Report About My Witch Senpai 1
A sweet workplace romance with a touch of magic!
Misono is an office drone with his own ups and downs at work, but thankfully he has an ally-his senpai Shizuka, who happens to be a witch.
Shizuka is always ready to lend a hand to those in need, but Misono thinks she should take better care of herself, since zipping around on a broomstick to run errands can be quite stressful.
Is Misono's overprotective concern for Shizuka driven by mere respect for this flustered witch, or could it be more?
Let this magical romantic comedy cast its spell on you!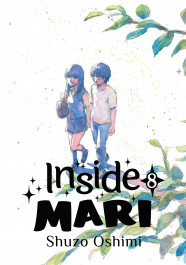 Shuzo Oshimi: Inside Mari 8
Without Isao in Mari's life her body is just a shell.
But what caused this catatonic state is more than a disassociation from that college dropout.
A peak at Mari's past reveals another side of her life that her family kept secret. Is that where the split truly began?
Ennakotilaukset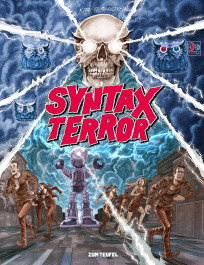 Kari A. Sihvonen: Syntax Terror (+ 3D-lasit) (ENNAKKOTILAUS)
ENNAKKOTILAUS. ARVIOITU ILMESTYMISPÄIVÄ 1.3.2022.
Vaara uhkaa, oi galaksien vaeltaja.
Myrskypilvet kerääntyvät horisontissa mystisen voiman lähestyessä kotiplaneettaamme.
Sukella syvälle käsittämättömän kaaoksen värittämään tarinaan, jossa robottimainen pahuus päästetään kylvämään pelkoa maapallolle!
Mars hyökkää! oli vain esimakua kauhuista, jotka tulet pian kohtaamaan!
Maapallolla ihan kaikki kuulevat huutosi!
Mukana 3D-lasit kolmiulotteisten sivujen katsomista varten.
Kokeile ja ällisty!
ULKOMAISET UUTUUDET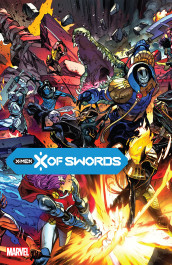 X of Swords
A tower. A mission. A gathering of armies.
Swords will be drawn in the first epic crossover of the astonishing Dawn of X! Wolverine, the X-Men, Cable, X-Force, Excalibur, X-Factor, the New Mutants, the Marauders, the Hellions and the rest of Krakoa's residents will all feel the effects — but which ten mutants will wield the blades?
Weapons both new and familiar are drawn from their scabbards, as the X-Men prepare to do mythic battle against a truly daunting foe!
Jonathan Hickman and his fellow visionary creators — who have painstakingly put all the pieces into place during Dawn of X — join forces to smash the board!
COLLECTING: X of Swords: Creation (2020) #1, X of Swords: Stasis (2020) #1, X of Swords: Destruction (2020) #1, X-Men (2019) #12-15, Excalibur (2019) #13-15, Marauders (2019) #13-15, X-Force (2019) #13-14, New Mutants (2019) #13, Wolverine (2020) #6-7, Cable (2020) #5-6, Hellions (2020) #5-6, X-Factor (2020) #4.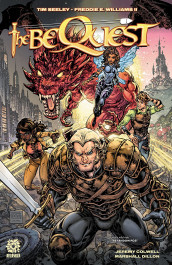 Tim Seeley & Freddie E. Williams: The Bequest
Welcome to the high fantasy world of Tangea!
A land where wizards and warriors battle dragons in dark dank dungeons! Where thieves pillage ancient ruins and priests answer the audible words of their great gods!
Welcome to Chicago, Illinois! Where the magical items from Tangea are being traded on the black market and are messing everything up.
Now, a group of Tangea adventurers must go undercover in our modern world to stop artifacts and monsters from falling into the wrong hands.
But how will they fare in a world without wizards and warriors? A world without heroes?
From Tim Seeley (DARK RED, BRILLIANT TRASH, MONEY SHOT) and Freddie E. Williams II (HeMan/Thundercats, Batman/Teenage Mutant Ninja Turtles, Injustice vs. Masters of the Universe) comes BEQUEST, a real-world fantasy tale.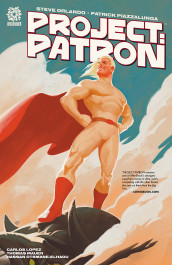 Steve Orlando & Patrick Piazzalunga: Project Patron
Thirty years ago, the world watched in horror as THE PATRON, a hero sent as humanitarian aid from a different dimension, went punch for punch with WOE, a primordial beast and a perfect match for our mighty protector.
In the end, hero and villain alike fell…but the Patron returned – and continues to defend us to this day!
At least, that's what we've all been told.
The truth is, the Patron died that day along with Woe.
The UN replaced the Patron with a Reploid, designed to mimic the real Patron and continue on his mission of protection.
Today, the Patron Reploid is secretly piloted by an elite team – a team prepared for anything… except for the death of one of their own.
A deep dive into the underside of the superhero mythos as only writer Steve Orlando (KILL A MAN, Midnighter, Martian Manhunter) can tell it. Illustrated by Patrick Piazzalunga (Siege, X-Factor).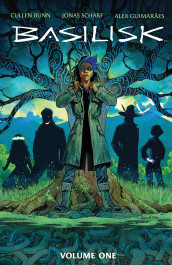 Cullen Bunn & Jonas Scharf: Basilisk 1
The Chimera are five young people that possess incredible powers stemming from the five human senses.
They are bound by a cult-like hive mind and leave death and destruction in their wake.
Regan, one of the Chimera, escapes the group and hides in cheap motels and dive bars crippled with the guilt of her past.
But the tables turn when a former victim of the Chimera, Hannah, appears and forces her to hunt down the other four of her kind.
New York Times bestselling horror writer Cullen Bunn (Harrow County, The Empty Man) reunites with his Bone Parish co-creator, artist Jonas Scharf (Avengers Of The Wasteland), to unleash the first chapter of a supernatural horror series that explores how we process the world through our senses.
Collects Basilisk #1-4.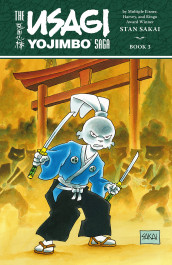 Stan Sakai: The Usagi Yojimbo Saga 3
Stan Sakai's epic series continues in the third volume of the definitive Usagi Yojimbo compilations featuring brand new original cover art by Stan Sakai!
Usagi faces a terrifying new foe who wears a demon mask, the Eisner-winning "Grasscutter" storyline receives a sequel, pickpocket Kitsune's history is revealed, fan-favorite character Sasuké the Demon Queller makes his debut, and a beloved ally long thought dead returns!
Collects Usagi Yojimbo Volume Three #31-#52, along with stories from Dark Horse Presents and more!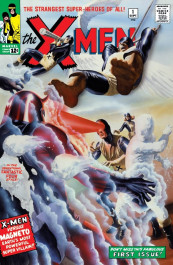 The X-Men Omnibus 1
In 1963, Stan Lee and Jack Kirby introduced their latest costumed creations to the burgeoning Marvel Universe. Cyclops, the Beast, Iceman, the Angel, Marvel Girl — and their leader, the mysteriously-named Professor X — were the X-Men…and little did anyone know that they would take the comic book business by storm!
Lee and Kirby billed them "The Strangest Super-Heroes of All!" and while their mutant powers were certainly weird, the binding concept of this band of heroes — a group feared and hated for being different — was pure Marvel relevance, striking at the heart of the Civil Rights battles of the time.
This Omnibus collects the earliest adventures of the X-Men as they encounter Magneto, the Brotherhood of Evil Mutants, the Juggernaut, Ka-Zar of the Savage Land, the Sentinels, and many more of Marvel's greatest heroes and villains!
COLLECTING: X-Men (1963) #1-31.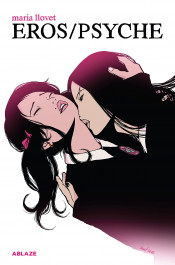 Maria Llovet: Maria Llovet's Eros/Psyche
From the artist of the bestselling Faithless series…comes Eros/Psyche.
La Rosa's female boarding school is paradise for young girls…but only if you follow the rules. Because, if you disobey them, you can end up expelled, or even worse, dead.
Sara and Silje are two students learning the rules of the school, which includes classes by day…and the casting of curses and spells by night.
A love develops between the two, which is tender, but threatens to break under the weight of the dark secret society within La Rosa.
Acclaimed creator Maria Llovet (Faithless, Heartbeat, Loud) brings you a surreal, bewitching tale of love, magic, and tragedy in Eros/Psyche.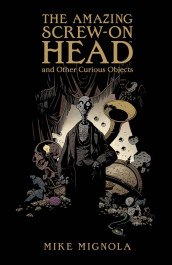 Mike Mignola: The Amazing Screw-On Head and Other Curious Objects
The triumphant return of Screw-On Head!
When Emperor Zombie threatens the safety of all life on earth, President Lincoln enlists the aid of a mechanical head.
With the help of associates Mr. Groin (a faithful manservant) and Mr. Dog (a dog), Screw-On Head must brave ancient tombs, a Victorian flying apparatus, and demons from a dimension inside a turnip.
This beloved collection of oddball Mignola creations also includes The Magician and the Snake from Dark Horse Maverick: Happy Endings, and all fifty pages of additional material from the original hard cover, available now for the first time in paperback!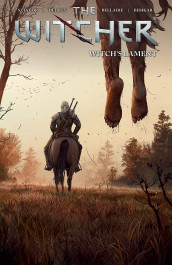 Bartosz Sztybor & Vanesa R. Del Rey: The Witcher 6 – Witch's Lament
Geralt faces a reckoning when a witch hunt casts doubt on his beliefs.
Flames rise as a witch is burned at the stake. As Geralt looks on, he hears a voice beckon to him. Nightmares plague his sight as he sees the burned witch appear before him–bringing an ominous warning . . . but is there more to her message than the ravings of a murderous hag?
A wealthy landlord enlists Geralt's help in the search for his missing daughter, believed to have been taken by witches. But this is far from a rescue mission, something is haunting Geralt, something from within, something he can't escape . . .
Created in close collaboration with the studio behind the games! Collects issues #1-4 of the Dark Horse Comics series The Witcher: Witch's Lament.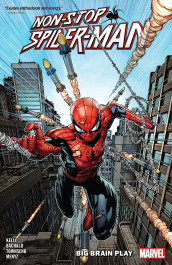 Joe Kelly & Chris Bachalo: Non-Stop Spider-Man – Big Brain Play
Buckle up, tiger!
Get ready for the most action-packed, pulse-pounding, adrenaline-pumping comic of all time! Once you read page one, panel one, Spider-Man just does not stop!
A mystery at Empire State University thrusts the webslinger into a thrilling adventure that starts in uptown Manhattan and takes him around the world — pitting Spidey against Marvel villains old and new and giving you a Spider-Man adventure (and a Spider-Man) the likes of which you've never seen!
Something terrible is happening to ESU's students — some of New York's brightest young minds — and to save the day this time is going to take a side of Peter Parker that neither you nor Peter thought existed. And the clock is ticking!
This book is not for the faint of heart, so check with your doctor before reading!
COLLECTING: Non-Stop Spider-Man (2021) #1-5.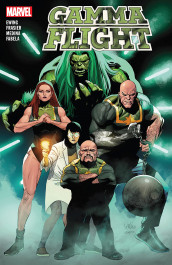 Al Ewing & Lan Medina: Gamma Flight
Gamma Flight had one job: Find and stop the immortal Hulk.
But when push came to smash, the team sided with the green goliath — and now the human world intends to make them regret it.
Puck, Absorbing Man, Titania, Doc Sasquatch, Dr. Charlene McGowan and a horribly changed Rick Jones are fugitives from every known authority — but a team this full of gamma energy is bound to break before long!
Go on the run with the outlaws of Gamma Flight in this action-packed addition to the IMMORTAL HULK mythos!
COLLECTING: Gamma Flight (2021) #1-5.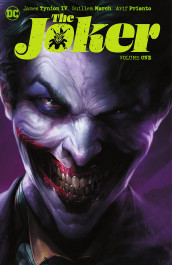 James Tynion IV & Guillem March: The Joker 1
Batman: The Joker War was only the beginning!
Arkham Asylum has been attacked and all eyes are on the Joker. A mysterious benefactor hires former Gotham City Police Commissioner Jim Gordon to go on a global manhunt to catch…and possibly kill…the Clown Prince of Crime!
But nothing with the Joker is ever as easy as it seems. What Gordon finds and what the Joker wants him to see…will change his perspective on the world forever. And he's not the only one who wants the Joker found…
Who are the wicked Sampson family? And who is Vengeance, daughter of Bane, striking fear into the world's heart?!
Brought to you by the all-star creative team behind Batman: Their Dark Designs, James Tynion IV and Guillem March, this volume includes a special Year One flashback issue co-written with Matthew Rosenberg ( Legends of the Dark Knight) and Francesco Francavilla ( Batman: The Black Mirror).
Originally published in single magazine form in The Joker #1-5, Batman #100, and Batman: the Joker War Zone.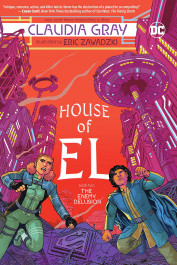 Claudia Gray & Eric Zawadzki: House of El 2 – The Enemy Delusion
Welcome to a brand-new vision of one of comics' most famous tragedies, from New York Times bestselling author Claudia Gray and illustrator Eric Zawadzki.
In this second book of a graphic novel trilogy, two teenagers on opposite sides of the same extinction-level event get drawn deeper into conspiracies that could doom them–if the planet doesn't self-destruct first.
Sera is a young soldier, bred her entire life to fight for Krypton. She would die for this planet, but she's never had the time or inclination to enjoy it.
Zahn, however, is a young scientist, full of hope and ideas for how to improve Krypton for all its citizens. And yet, the cracks in his world are beginning to appear.
In fact, both Sera and Zahn are unique in ways that will soon drive them from their destinies and toward each other–toward a cataclysmic ending to all that they once held true.
Having learned of Krypton's possible fate, Sera and Zahn find it increasingly difficult to continue with their everyday lives.
Sera's enhanced fighting skills may impress General Zod, but they seem to raise suspicions among her fellow soldiers.
Zahn finds it equally challenging to maintain his studies and his friendships, as he carries both the knowledge of an underground rebel group's plans and the experiments conducted by Jor-El and Lara.
Jor-El himself attempts to alert the tribunes about the looming danger to the planet.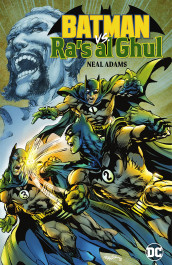 Neal Adams: Batman vs. Ra's Al Ghul
From comics industry titan and Ra's al Ghul's original artist, Neal Adams, comes an all-new story featuring one of the Dark Knight's greatest enemies!
Gotham City is under seige by terrorists, and Batman is determined to find the source.
But when Boston Brand tries to intervene, he discovers an even more disturbing and deadly truth: the terrorists are led by an inhuman monster.
Ra's al Ghul has volunteered his own private security force to aid the GCPD, and now they are the only thing standing between nuclear terror and the townspeople.
But al Ghul's true goal is hidden from everyone's eyes. He will destroy the city and kill Batman — this time for good. Watching in horror is…Bruce Wayne?
Collects Batman vs. Ra's Al Ghul issues #1-6.
Antoine Charreyron & Mario Alberti: The Wall
In a post-apocalyptic future, civilization is no more and humanity lives on looting and hacking, organizing itself into makeshift villages or caravans of roaring wrecks.
In this brutal society, a young repairman named Solal does what he can to protect his sister Eva, who suffers from a respiratory illness.
But when their medication runs out, they have only one hope: to go to the "Wall", a gigantic impregnable enclosure guarded by monstrous robots.
Inside that fabled shelter lives a community of powerful people with the resources to help them… but all is not as optimistic as it seems…
Collecting the full dystopic trilogy created by film director Antoine Charreyron and artist Mario Alberti, THE WALL is a fast-paced survival story mixing elements of science fiction and horror in perfect blockbuster proportions.
Brimming with the nihilism of Mad Max and The Walking Dead, this gripping drama plunges us into a maelstrom of dust, rust, and blood.
A graphic feat for a wild and post-apocalyptic road movie that, in the purest tradition of the genre, questions the future of humanity and the consequences of our actions.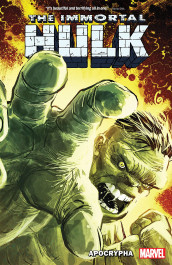 Al Ewing: Immortal Hulk 11 – Apocrypha
Complete your collection of Al Ewing's incredible saga of the IMMORTAL HULK!
Stephen Strange is dead. All that is left is a charred skeleton.
Bruce Banner wants to know why — and he won't stop until he knows the truth. The road to answers will lead to the return of the Defenders!
Then, the symbiotic nightmares of ABSOLUTE CARNAGE and KING IN BLACK engulf two very different Hulks!
And when Jennifer Walters falls in battle during EMPYRE, she steps through the Green Door…and learns the full horror of being an Immortal She-Hulk. Plus, revisit the tortured relationship between Bruce and his father that inspired IMMORTAL HULK!
COLLECTING: Immortal Hulk: The Best Defense (2018) #1, Defenders: The Best Defense (2018) #1, Absolute Carnage: Immortal Hulk (2019) #1, Immortal Hulk (2020) #0, Immortal She-Hulk (2020) #1, King in Black: Immortal Hulk (2020) #1.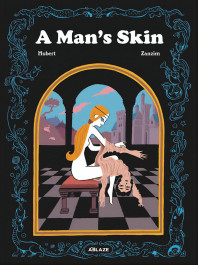 Hubert & Zanzim: A Man's Skin
In Renaissance Italy, Bianca, a young lady from a good family, is of marriage age.
Her parents find her a fiancé to their liking: Giovanni, a rich merchant, young and pleasant. The wedding looks set to go smoothly even though Bianca can't hide her disappointment at having to marry a man she knows nothing about.
But before the marriage, she learns the secret held and bequeathed by the women of her family for generations: a man's skin!
By donning it, Bianca becomes Lorenzo and enjoys all the attributes of a young man of stunning beauty.
She can now visit the world of men incognito and get to know her fiancé in his natural environment. In her male skin, Bianca frees herself from the limits imposed on women and discovers love and sexuality.
The moral of the Renaissance then acts as a mirror to that of our century and poses several questions: why should women have a different sexuality from that of men?
Why should their pleasure and freedom be the object of contempt and coercion?
Finally, how can morality be the instrument of both severe and unconscious domination?
Tackling universal themes such as gender, sexuality, LGBTQ+, compassion, religion, and morality through a captivating and subtle fable, Hubert and Zanzim brilliantly question our relationship to gender and sexuality… but not only that. By mixing religion and sex, morality and humor, nobility and outspokenness, A Man's Skin invites us both to the liberation of morals and to the mad and noble quest for love.
This edition includes a lesson plan and discussion guide.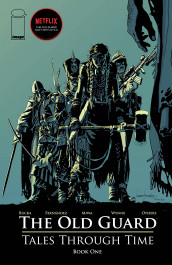 The Old Guard – Tales Through Time 1
A STAR-STUDDED ANTHOLOGY EVENT!
The bestselling, critically acclaimed THE OLD GUARD, now a hit Netflix movie starring Charlize Theron, returns with NEW stories by GREG RUCKA, LEANDRO FERNÁNDEZ, and an all-star lineup of guest creators, expanding the world of the immortal warriors in shocking ways!
Meet the immortals' families, witness never-before-seen adventures, and discover the first appearance of a major new character!
Featuring writers BRIAN MICHAEL BENDIS, KELLY SUE DeCONNICK, MATT FRACTION, VITA AYALA, JASON AARON, DAVID F. WALKER, and more, and artists VALENTINE DE LANDRO, NICOLA SCOTT, MICHAEL AVON OEMING, RAFAEL ALBUQUERQUE, MIKE HENDERSON, MATTHEW CLARK, KANO, and more!
Collects THE OLD GUARD: TALES THROUGH TIME #1-6.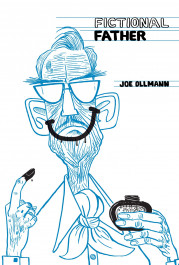 Joe Ollmann: Fictional Father
A dysfunctional family lives in the shadow of a world famous comic strip and its tyrannical creator.
Caleb is a middle-aged painter with a non-starter career.
He also happens to be the only child of one of the world's most famous cartoonists, Jimmi Wyatt. Known for the internationally beloved father and son comic Sonny Side Up, Jimmi made millions drawing saccharine family stories while neglecting his own son.
Now sober, Caleb is haunted by his wasted past and struggling to take responsibility for his present before it's too late.
His always patient boyfriend, James, is reaching the end of his rope. When Caleb gets the chance to step out from his father's shadow and shape the most public aspect of the family business, he makes every bad decision and watches his life fall apart.
Is it too late to repair the harm? Are we forever doomed to make the same mistakes our parents did?
Joe Ollmann is a master at portraying inner torment. His characters vacillate and sob and rage. His furrow-browed and deeply-lined cartooning has never been more expressive than in Fictional Father. Caleb storms around and slumps in equal measure as he tries to figure out who he is beyond the neglected son of a famous man.
In addition to being a devastating portrait of the Wyatt family, Fictional Father is a hilariously sardonic interrogation of art-making and cartooning in particular.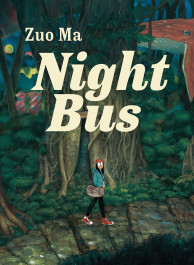 Zuo Ma: Night Bus
Journey through the countryside in this magical realist debut from an underground Chinese cartoonist.
In Night Bus, a young woman wearing round glasses finds herself on an adventurous late night bus ride that constantly makes detours through increasingly fantastical landscapes.
Meanwhile a young cartoonist returns home after art school and tries his hand at becoming a working artist while watching over his aging grandmother whose memory is deteriorating.
Nostalgic leaps take us to an elementary school gymnasium that slowly morphs into a swamp and is raided by a giant catfish. Beetles, salamanders, and bug-eyed fish intrude upon the bus ride of the round-glasses woman as the night stretches on.
Night Bus blends autobiography, horror, and fantasy into a vibrantly detailed surreal world that shows a distinct talent surveying his past.
Nature infringes upon the man-made world via gigantism and explosive abundance-the images in Night Bus are often unsettling, not aimed to horrify, but to upset the balance of modern life.
Zuo Ma is part of a burgeoning Chinese art comics scene that pushes emotion to the forefront of the story while playing with action and dreams.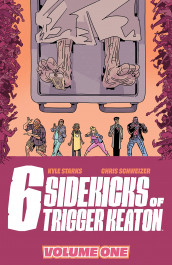 Kyle Starks & Chris Schweizer: 6 Sidekicks of Trigger Keaton 1
For fans of Chew and Assassin Nation comes a new action-mystery series from Eisner Award nominees Chris Schweizer (Crogan Adventures) and Kyle Starks (Sexcastle).
The world's most unlikable action star has been found dead and his previous TV sidekicks are looking to solve the mystery. But how can you catch a murderer when almost everyone hated the victim?
Now these sidekicks are going to learn what it means to the stars of the show…that is, if anyone of them survive the STUNTMAN WAR!
Collects THE SIX SIDEKICKS OF TRIGGER KEATON #1-6.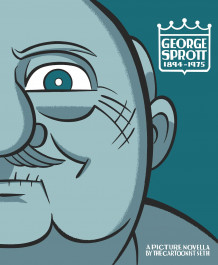 Seth: George Sprott 1894-1975
First serialized in The New York Times Magazine Funny Pages.
The celebrated cartoonist and New Yorker illustrator Seth weaves the fictional tale of George Sprott, the host of a long-running television program.
The events forming the patchwork of George's life are pieced together from the tenuous memories of several informants, who often have contradictory impressions.
His estranged daughter describes the man as an unforgivable lout, whereas his niece remembers him fondly.
His former assistant recalls a trip to the Arctic during which George abandoned him for two months, while George himself remembers that trip as the time he began writing letters to a former love, from whom he never received replies.
Invoking a sense of both memory and its loss, George Sprott is heavy with the charming, melancholic nostalgia that distinguishes Seth's work.
Characters lamenting societal progression in general share the pages with images of antiquated objects–proof of events and individuals rarely documented and barely remembered.
Likewise, George's own opinions are embedded with regret and a sense of the injustice of aging in this bleak reminder of the inevitable slipping away of lives, along with the fading culture of their days.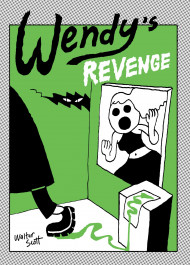 Walter Scott: Wendy's Revenge
In Wendy's Revenge, Scott's titular heroine returns with a fresh set of awkward misadventures and messy nights out. When the book opens, aspiring artist Wendy has decided to move to the west coast to clear her head.
She plans on getting some quality time with her collaborator and friend Winona, only to find Winona packing up to leave, having decided to move back in with her mom on the rez.
All alone, Wendy endeavours to foster community in Vancouver's bleak art scene. When her hope and optimism are all used up, she packs her bags for an artist residency in Japan.
Wendy then gallery hops and parties around the globe until she stumbles upon the opportunity to unite with former foe Paloma. Together they enact revenge on VVURST, the German publication that once tore her performance art to shreds.
Young artists struggle with mental health issues, they get wasted and hook up with men with gross piercings, and they're afflicted with an insatiable longing for a stable identity―stability they themselves undermine.
Scott's deceptively simple, inky character drawings evoke millennial culture with such Jungian accuracy that you can't help but stare and giggle in equal measure.
Praised by The New Yorker, Guardian, Globe and Mail, and with an appearance in the Best American Comics anthology, it's clear why Walter Scott's Wendy comics have taken critics by storm.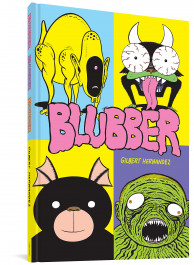 Gilbert Hernandez: Blubber
The great Gilbert Hernandez's unfettered Id unleashed! Absurd, explicit, and profanely funny, Blubber makes all other comics blush.
Drawn from the first five issues of Gilbert Hernandez's comic book series Blubber, an absurdly X-rated showcase for the most surreally transgressive of Hernandez's short stories, weirdos (Blubberoo, Mr. Elvis, John Dick, the Mentor), creatures (the Mau Guag, Doogs, and Orlats…), and anthropomorphs (the Cloarks, the Kekeppy) visit places where most comics fear to go.
Blubber veers between an absurdist satire of porn (and occasionally nature documentaries) and a celebration of unbridled hedonism, serving as a defiant provocation to those unable to appreciate the difference between cartooning and obscenity.
As R. Crumb said, "It's only lines on paper, folks!" It is also a howlingly funny book, filled with a rogues gallery of colorful comic book monsters (the Pollum, the Junipero Molestat, the mythical Forest Nimmy) and characters (T.A.C. Man, Mr. Hippy, Padre Puto, the Snowman, Baron Mungo, Red Tempest) that echoes the sheer visual imagination of Jack Kirby.
Rutu Modan: Tunnels
A race for the Ark of the Covenant finds an exploration into the ethics and world of the international antiquity trade.
When a great antiquities collector is forced to donate his entire collection to the Hebrew University in Jerusalem, Nili Broshi sees her last chance to finish an archaeological expedition begun decades earlier―a dig that could possibly yield the most important religious artifact in the Middle East.
Motivated by the desire to reinstate her father's legacy as a great archaeologist after he was marginalized by his rival, Nili enlists a ragtag crew―a religious nationalist and his band of hilltop youths, her traitorous brother, and her childhood Palestinian friend, now an archaeological smuggler.
As Nili's father slips deeper into dementia, warring factions close in on and fight over the Ark of the Covenant!
Backed by extensive research into this real-world treasure hunt, Rutu Modan sets her affecting novel at the center of a political crisis.
She posits that the history of biblical Israel lies in one of the most disputed regions in the world, occupied by Israel and contested by Palestine. Often in direct competition, Palestinians and Israelis dig alongside one another, hoping to find the sacred artifact believed to be a conduit to God.
Two time Eisner Award winner Rutu Modan's third graphic novel, Tunnels, is her deepest and wildest yet. Potent and funny, Modan reveals the Middle East as no westerner could.
Ishai Mishory is a longtime New York City―and newly Bay Area―based translator and sometimes illustrator. He is currently conducting research for a PhD dissertation on 16th century Italian printing.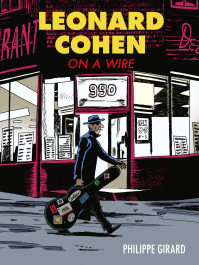 Philippe Girard: Leonard Cohen – On a Wire
A captivating, revealing biography of the legendary musician and poet.
Leonard Cohen opens in Los Angeles on the last night of the man's life in 2016. Alone in his final hours, the beloved writer and musician ponders his existence in a series of flashbacks that reveal the ups and downs of a storied career.
A young Cohen traded in the promise of steady employment in his family's Montreal garment business for the unlikely path of a literary poet.
His life took another sharp turn when, already in his thirties, he recorded his first album to widespread international acclaim. Along the way he encountered a who's who of musical luminaries, including Lou Reed, Nico, Janis Joplin, and Joni Mitchell. And then there's Phil Spector, the notorious music impresario who held a gun to Cohen's head during a coke-fueled, all-night recording session.
Later in Cohen's life, there's the story of "Hallelujah," one of his most famous songs, and its slow rise from relative obscurity when first recorded in the 1980s to its iconic status a decade later with covers by John Cale and Jeff Buckley.
And the period when Cohen went broke after his manager embezzled his lifetime savings, which ironically sparked an unlikely career resurgence and several worldwide tours in the 2000s.
Written with careful attention to detail and drawn with a palette of warm, lush colors by the Quebec-based cartoonist Philippe Girard, Leonard Cohen is an engaging portrait of a cultural icon.
LEHDET JA KIRJAT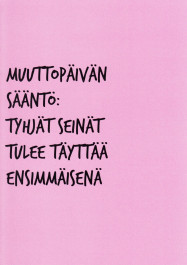 Sara Ahola: Muuttopäivän sääntö
Lyhyt tarina yhteen muuttamisesta.
Yksinäisyyden, roolien ja muurien taakse jättämisestä.
.
.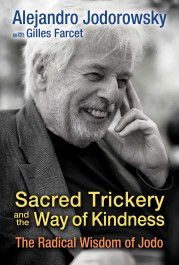 Alejandro Jodorowsky & Gilles Farcet: Sacred Trickery and the Way of Kindness
Enter the mind of Jodo and follow his initiatory saga from Zen disciple to revolutionary filmmaker to spiritual teacher
– Explores the sacred trickery of shamans he encountered, including Carlos Castaneda, and how intention and action matter more than notions of "true" and "false"
– Explains the Way of Kindness and how small acts of generosity and goodness can have a profound effect on your spirit, infusing life with a wealth of happiness
– Includes contributions from friends and students of Jodorowsky on their experiences with him, including his son Adan Jodorowsky
Known for his surrealist films, his unique approach to tarot, his symbolic comics, and his shamanic therapeutic method of psychomagic, Alejandro Jodorowsky has accomplished an extraordinary amount in his more than 80 years.
In this book, we get an intimate look into the inner workings of the cult figure of Jodo.
What is revealed is a man who has evolved since his groundbreaking films of the 1970s, El Topo and The Holy Mountain, a man who has grown from a sacred trickster, a shaman of psychomagic, into a brilliant spiritual maverick of the 21st century.
We get to see Jodo's own reflections on the rich tapestry of his remarkable life, including the initiatory failure of the Dune film project, which combined the talents of a multitude of creative greats, including Moebius, Salvador Dali, Orson Welles, Mick Jagger, and H. R. Giger.
We learn about Jodo's years with Marcel Marceau and with great masters such as Ejo Takata, whose Zen training featured strenuous physical and mental ordeals; the sorceress Pachita, who performed psychic surgery on Jodo; and the mysterious Carlos Castaneda, whose sacred trickery reveals how intentions matter more than notions of "true" and "false."
Discussing the Way of Kindness that he now follows, Jodo reveals how intentionally practicing small acts of generosity and goodness can have a profound effect on your spirit, infusing life with a wealth of happiness.
From sacred trickery to the path of kindness, Jodo's radical wisdom discerns the timeless within the immediate and gauges the everyday by the measure of eternity.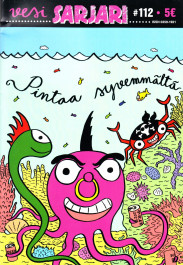 Sarjari 112 – Vesi
Johanna Sinisalo & Hannu Mänttäri: Tiskivuoro
Vesa-Heikki Hietanen: Kuplivaa elämää
Ruth Johansson: Kattilakauppaa
Annastina Sonné: Inkku-Pinkku – Vesilintu-
Jussi Heinonen: Kuolemanloitsu H2O
P.A. Manninen: ?!
Aleksi Siirtola: Requiem of a Pirate
Aura Ijäs
Harri István Mäki
Oskari Siirtola
Krisse Tuominen: Welcome to the Leather Lagoon
Markku Myllymäki: Elämän vesi
Juho Sihvonen: Paasveden piru
Mikael Salo: Satu Sammalkorpi – "Children of the Sea"
P.A. Manninen: Kaaosmagiaa lasten liikennepuistossa
Kansi: Vesa-Heikki Hietanen.