Ei niin vakavaa-osasto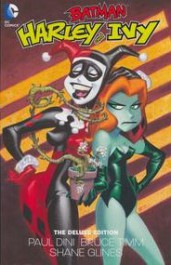 Paul Dini & Bruce W. Timm: Harley & Ivy
The complete BATMAN: HARLEY AND IVY miniseries, accompanied by more than 100 pages of Paul Dini's other stories featuring the villainous BFFs. Breaking the law is never more fun than when your best friend's beside you!
Writer PAUL DINI and artist BRUCE TIMM, the creative minds behind the critically acclaimed "Batman: The Animated Series," follow up their Eisner-winning BATMAN: MAD LOVE with another tale featuring the loony but loyal moll Harley Quinn, this time teaming up with her best gal pal, Poison Ivy. The duo s latest scheme will take them from the streets of Gotham to the jungles of South America to the bright lights of Hollywood!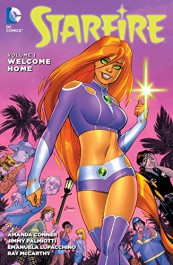 Amanda Conner & Jimmy Palmiotti: Starfire 1 – Welcome Home
Amanda Conner and Jimmy Palmiotti the twisted minds behind the "New York Times" best-selling series HARLEY QUINN introduce Starfire's first ongoing series!
Life is bright and beautiful in Florida's Conch Republic. Warm weather, laidback attitudes, an orange-skinned alien warrior princess, tons of sunshine wait a minute. That's right: Princess Koriand'r of the planet Tamaran, the former Outlaw known as Starfire, has relocated to Key West.
Starfire is determined to start a new life for herself a normal life. But assimilation is easier said than done. Though she quickly makes new friends (some of whom want to get very friendly), Kori finds the Sunshine State more challenging than she expected. She ll fly through the eye of a raging hurricane and battle aliens and subterranean creatures; but, first and foremost, she'll need to find a roof to put over her head and a job to pay for it.
Is Kori ready for a life in Key West? Is Key West ready for a life with Starfire?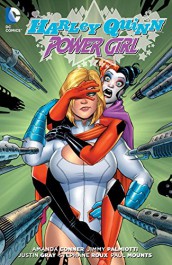 Amanda Conner & Jimmy Palmiotti: Harley Quinn and Power Girl
Spinning out of the hit series HARLEY QUINN, this six-issue miniseries tells the story-within-the-story of the unlikely super-duo's adventures in outer space!
Hey, remember the panel gutter between panels 3 and 4 of page 20 of HARLEY QUINN #12? What? You don't? It's only, like, the most memorable panel gutter of the twenty-first century! We'll jog your memory our heroes, Harley Quinn and Power Girl, were tossed through a teleportation ring, dropping them into galaxies unknown.
It's a cosmic adventure beyond your wildest imaginings: Power Girl and Harley Quinn, stranded in a forgotten dimension, on the homeworld of the amorous warlord Vartox! They'll sacrifice anything they have to in order to get home except their dignity. Kidding! That'll be the first thing to go.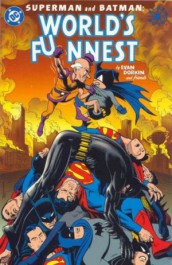 Superman and Batman – World's Funnest
Spanning more than 60 years of comics, WORLD'S FUNNEST collects some of the best Mxy and Bat-Mite tales ever written, from their very first appearances to their modern-day adventures!
Superman and Batman may hold the title of World's Finest, but Mr. Mxyzptlk and Bat-Mite are definitely the World s "Funnnest"! The two fifth-dimensional troublemakers never fail to bring chaos and magic to the lives of their favorite heroes but always in the name of fun!
Teräsmies/Superman-osasto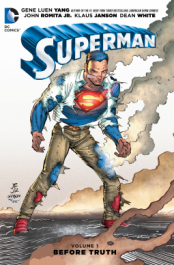 Gene Luen Yang & John Romita Jr.: Superman 1 – Before Truth
A new era for the Man of Steel begins here crafted by National Book Award nominee Gene Luen Yang ("American Born Chinese") and legendary artists John Romita Jr. ("Kick-Ass," "The Amazing Spider-Man") and Klaus Janson (BATMAN: THE DARK KNIGHT RETURNS).
Superman is going through some changes. First, there s his new solar flare power, which releases tremendous amounts of energy but leaves him functionally human fragile, vulnerable, prone to hangovers for 24 hours. But an even bigger change is coming. A new company called Hordr has sprung up, and its business is secrets. If you have one that you want to keep hidden, Hordr can control you and no one has a bigger secret than Clark Kent.
Now, Hordr is threatening to expose Clark s alter ego unless he does everything they command. Will Superman play into the hands of blackmailers to keep his loved ones out of danger? And if the truth that Superman has been hiding is exposed, will it set him free or ruin his life?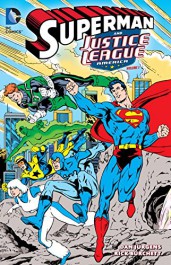 Dan Jurgens & Rick Burchett: Superman and Justice League America 1
Dan Jurgens takes over as writer and artist on the classic JUSTICE LEAGUE OF AMERICA leading directly into the legendary DEATH OF SUPERMAN!
The Justice League of America is in disarray. With only a few heroes left on the team, they are now a shadow of their former selves. Superman, seeing that the JLA is in crisis, decides to rejoin and inadvertently becomes their leader. Now the Man of Steel alongside Blue Beetle, Booster Gold, Fire, Ice and new members Bloodwyn and Maxima must face some of the deadliest threats that the League has ever seen.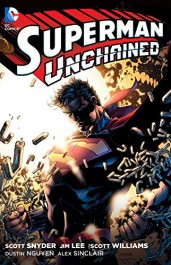 Scott Snyder & Jim Lee: Superman Unchained
Comics' biggest writer! Comics' biggest artist! Comics' greatest hero! Unchained at last!
From the skies above Metropolis to the four corners of the globe to the star-streaked spaceways beyond, one man is synonymous with the word "hero." Since his arrival marked the dawn of the superhero age, Superman has waged a never-ending battle for truth and justice, no matter when or where.
But before the dawn came the darkness. When another with incredible power, far more than that of mortal man, fell to the Earth. One who could spell the end for the Man of Steel.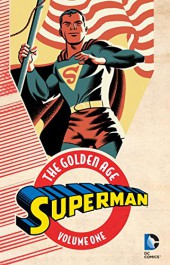 Jerry Siegel & Joe Shuster: Superman – The Golden Age 1
Historic first appearances from Jerry Siegel and Joe Shuster s legendary Man of Steel!
Faster than a speeding bullet, Superman burst onto the comic book scene in 1938, just as America was on the terrifying precipice of a world war. In a desperate time, legendary creators Jerry Siegel and Joe Shuster brought to life the world s first modern superhero. The Man of Steel emerged as a champion of the oppressed, taking down any enemy with his super-strength and speed, both foreign and near to home. In his distinctive royal blue, red and yellow costume, complete with cape, the stalwart Kryptonian emanated strength and fearlessness. He swiftly became a symbol of hope for a downtrodden America..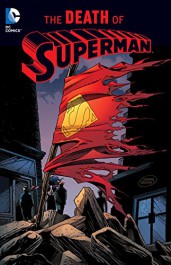 Superman [1] – The Death of Superman
THE EPIC EVENT THAT SHOCKED A NATION AND CHANGED SUPERMAN FOREVER!
Doomsday. A creature with single-minded purpose of death and destruction. He has landed on Earth, laying waste to anything–and anyone–who dares stand in his way. The Justice League makes a valiant, but ultimately desperate, attempt to stop the unknown juggernaut. When the beast nears Metropolis, Superman answers the call to stop him. And then the unthinkable happens. The Man of Steel…is dead.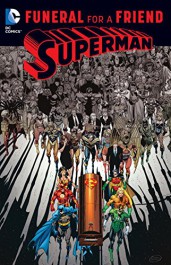 Superman [2] – Funeral for a Friend
A WORLD WITHOUT A SUPERMAN.
Superman was Earth's greatest hero until he sacrificed his life to stop the monster known only as Doomsday. Now the world and those who loved him must learn how to continue on without the Man of Steel. In this time of need, heroes like Supergirl, the Guardian and Gangbuster rise to the challenge and try to continue the Last Son of Kryton's legacy. But can they really fill the void left by Superman's death?
As the planet mourns the man who symbolized the best humanity had to offer, Ma and Pa Kent truly grieve the death of their only son, while Lois Lane shoulders on the only way she knows how…by being a reporter. Through all this, a greater mystery begins to unfold, where is Superman's body?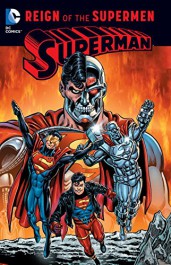 Superman [3] – Reign of the Supermen
SUPERMAN IS DEAD.
But now, four mysterious beings appear–all with the powers and abilities of the Man of Steel! One claims he is a clone from the DNA of Superman. Another–half-man and half-machine–says he is Superman with a cyborg body. Still another, a cold redeemer of justice, states that he alone has the right to wear the "S" shield. And, finally, an armored figure who says he fights with the heart and soul of Superman.
Who is the true Superman?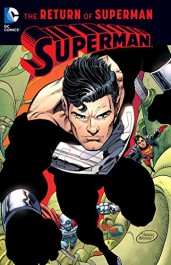 Superman [4] – The Return of Superman
SUPERMAN LIVES.
As an unknown alien warship, unnoticed and unchallenged, approaches the Earth, the world still doesn't know who–if any–of the four replacement Supermen is the real Man of Steel. Though each of them have their own claim to the title, two are beginning to show their true colors when they begin to battle the others for supremacy. Unknown to all, the true Superman–recently restored by a Kryptonian regeneration matrix–begins to plot his homecoming. But will he be too late to save Coast City from the clutches of a traitor and the return of the alien warlord, Mongul?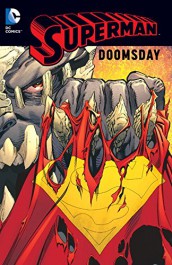 Superman [5] – Doomsday
HE IS RELENTLESS. HE IS UNSTOPPABLE. HE IS DOOMSDAY.
Superman travels to the nightmare world of Apokolips for a confrontation with Doomsday, the creature who cost the Man of Steel his life. With the help of the mysterious, time-traveling Waverider, Superman at last discovers the shocking truth of his greatest enemy's origin. And just when he thinks the terror is finally over, the murderous juggernaut returns to Earth even more powerful than ever!
Lepakkomies/Batman-osasto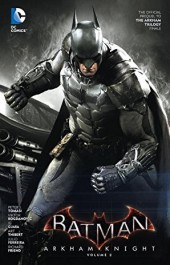 Peter J. Tomasi & Victor Bogdanovic: Batman – Arkham Knight 2
The Venom-fueled super-villain Bane has broken out of Gotham Stone Ridge Penitentiary, and this time he s amassed an army of followers ready to overrun the city and install him as ruler of Gotham. To defeat him, Batman will need an army of his own, and he ll stand shoulder to shoulder with allies and enemies alike to fight for their city.
But Bane isn't the only threat facing the Dark Knight. While Jim Gordon runs for mayor as part of Bruce Wayne s Gotham Reborn city revitalization plan, Harley Quinn and the rest of the Suicide Squad are after the billionaire s head, as ordered by none other than the Penguin himself! And through it all, someone new is watching from the shadows.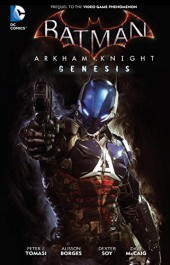 Peter J. Tomasi & Alisson Borges: Batman – Arkham Knight Genesis
Blasting out of the smash-hit video game BATMAN: ARKHAM KNIGHT comes an action-packed look at the game s mysterious antihero, the Arkham Knight!
He is Gotham City s newest vigilante, and his deadly tactics put him in direct opposition to Batman. But the Knight s connections to the Caped Crusader run deep and he has much more planned than just cleaning up Gotham s crime. The Arkham Knight is here to make Batman and every one of his allies pay for what they did to him.
So who is the Knight and why does he hate Batman so much?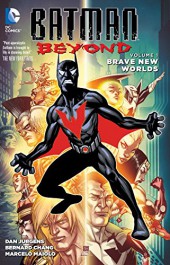 Dan Jurgens & Bernard Chang: Batman Beyond 1 – Brave New Worlds
Spinning out of the epic event FUTURES END and the world of the classic animated series, BATMAN BEYOND is reimagined within the DC Universe continuity!
Tim Drake has been a lot of things teen genius, teen hero, Teen Titan. As Red Robin, he carried on Batman s legacy, but he never thought he d be the one to assume the cowl and become Batman himself. Of course, Tim never thought he d find himself flung decades into the future into a world where the evil A.I. Brother Eye has all but exterminated life on Earth. Now only Neo-Gotham remains, and the city needs its defender. Gotham needs Batman!
Now, Tim must save Batman's allies, including Barbara Gordon, before Brother Eye can crack their minds and discover Neo-Gotham s hidden location. But with the world s greatest heroes transformed into Brother Eye s sinister agents, will Batman be Gotham s salvation or will Tim Drake find out he doesn t have what it takes to wear the mantle of the Bat?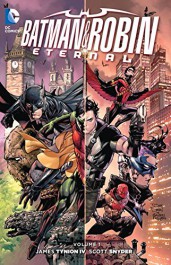 Scott Snyder & James Tynion IV: Batman & Robin Eternal 1
Scott Snyder and James Tynion IV kick off an epic mystery in the sequel to their blockbuster hit BATMAN ETERNAL, joined by such comics all-stars as Tim Seeley, Genevieve Valentine, Tony S. Daniel, Paul Pelletier and more.
Bruce Wayne may no longer be Batman, but his legacy lives on. When an assassin begins targeting all of Batman s past partners, the former Robins must join forces to untangle a mystery that stretches back to the early days of the Dark Knight s career.
Years ago, Batman encountered a human trafficker known as Mother. Then-Robin Dick Grayson knew nothing of it at the time, but the case was much more complex than he could have ever imagined. Now, without Bruce to guide them, a grown-up Grayson and his allies must rely on the help of the silent, mysterious Cassandra Cain to pick up the trail and stop Mother s deadly plans. But with Mother s army of sleeper agents all around, they can t trust anyone even each other!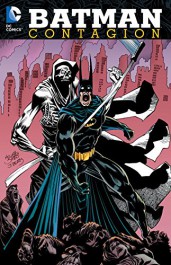 Batman – Contagion
The complete BATMAN: CONTAGION storyline is available for the first time ever, along with chapters that lead into the thrilling confrontation with the mastermind behind the outbreak in BATMAN: LEGACY.
A mysterious and lethal virus is unleashed on the unknowing inhabitants of Gotham City, causing excruciating pain and ultimately death within 48 hours of contact. Batman, Robin and Nightwing must race to contain the chaos while finding a cure with the help of unlikely allies Azrael, Huntress, Catwoman and Poison Ivy.
But can the Dark Knight and his team of vigilantes stop an invisible enemy? And what happens when one of them is infected?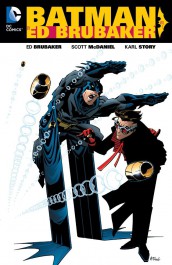 Ed Brubaker: Batman by Ed Brubaker 1
Award-winning writer Ed Brubaker begins his legendary run on the title as the Batman goes head-to-head with a seemingly unstoppable assassin.
Someone has been spying on the Dark Knight from the shadows, studying his fighting style and planning a counterattack. The killer known as Zeiss is prepared for every trick Batman might try. And with experimental surgeries enhancing his eyes and reflexes, Zeiss can react at lightning speed, blocking any punch with ease.
Batman is one of the most skilled fighters on the planet, but can he defeat an enemy who can anticipate his every move?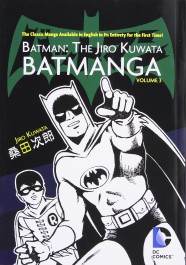 Jiro Kuwata: Batman – The Jiro Kuwata Batmanga 3
In the 1960s, during the height of Bat-mania, mangaka (comic book creator) Jiro Kuwata was commissioned to write and draw a series of original Batman comics for the Japanese market.
Many Western readers were only recently introduced to the existence of this unique take on the Caped Crusader. Now DC Comics presents the series in its entirety for the first time, fully translated and unabridged!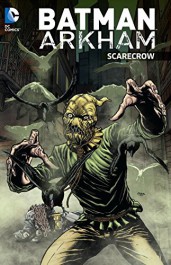 Batman Arkham – Scarecrow
The iconic Batman villain's greatest stories from the past 60 years are collected here for the first time ever! Featuring work from legendary creators, including Peter J. Tomasi (BATMAN AND ROBIN), Doug Moench (SPECTRE), Gardner Fox (FLASH), Bill Finger (DETECTIVE COMICS), Kelley Jones (SWAMP THING), Gene Colan (NIGHT FORCE) and many more!
Professor Jonathan Crane has always been obsessed with one thing: fear. Using his twisted experiments to discover people's darkest phobias, he has become one of the Dark Knight's deadliest foes.
When the Scarecrow decides to commit a crime, the main motivation isn't money or revenge it's to learn his victim's greatest fear and use it to further his own twisted agenda. In their showdowns, the Caped Crusader must contend not only with the Scarecrow, but his own hidden fears!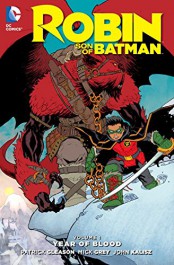 Patrick Gleason & Mick Grey: Robin, Son of Batman 1 – Year of Blood
Bruce Wayne's son is Robin in this thrilling new series from Patrick Gleason (BATMAN AND ROBIN) and artists MICK GREY and JOHN KALISZ.
Back from the dead, Damian Wayne is reassessing his life and that includes being raised and trained by Talia and Ra's al Ghul. To complete that training, he spent a year doing seemingly impossible tasks in the service of the Demon's Head the Year of Blood. The time has come for Damian to atone for his sins and make right from wrong the Year of Atonement.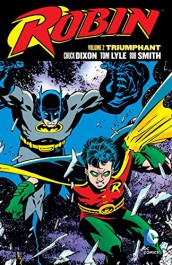 Chuck Dixon & Tom Lyle: Robin 2 – Triumphant
Presenting Tim Drake's first adventures as the Dark Knight's partner by legendary comic creators CHUCK DIXON (NIGHTWING), TOM LYLE (STARMAN) and BOB SMITH (CATWOMAN)!
Tim Drake is the latest teenager to take up the mantle of Robin, and now he makes his debut as the Caped Crusader s crime-fighting partner on the streets of Gotham City! He must confront the return of his first major adversary, King Snake, who is trying to build a drug empire in Gotham. Luckily, he has both Batman and the mysterious Huntress to aid him. But the Boy Wonder will have to face his greatest challenge alone, when the Joker escapes from Arkham Asylum and the Dark Knight is nowhere to be found. The Clown Prince of Crime will be Tim's baptism by fire will it end in tragedy or triumph?
Värityskirja-osasto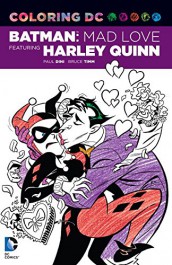 Coloring DC: Batman feat. Harley Quinn – Mad Love
DC Comics joins the Adult Coloring Book craze with all of its most popular characters in DC COMICS COLORING BOOK: BATMAN ADVENTURES: MAD LOVE! DC Comics presents classic adventures in a whole new way: in black and white, on heavy stock suitable for coloring! This adult coloring book features the popular characters Batman, Joker and Harley Quinn, drawn in the style popularized by Bruce Timm from BATMAN: THE ANIMATED SERIES!
This Eisner Award-winning tale includes the origin of Harley Quinn from MAD LOVE, plus stories from BATMAN ADVENTURES ANNUAL #1 and BATMAN ADVENTURES HOLIDAY SPECIAL #1.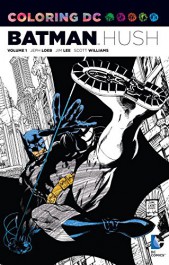 Coloring DC: Batman – Hush
DC Comics joins the Adult Coloring Book craze with all of its most popular characters in DC COMICS COLORING BOOK: BATMAN HUSH! DC Comics presents classic adventures in a whole new way: in black and white, on heavy stock suitable for coloring! This adult coloring book features chapters from one of the greatest graphic novels of all-time, BATMAN: HUSH. Illustrated by Jim Lee, known for his intricate lines and exceptional detail, this tale is perfect for coloring.
DC COMICS COLORING BOOK: BATMAN HUSH collects the opening chapters of "Batman: Hush," from BATMAN #608-611 and a story from WIZARD #0, all featuring spectacular artwork by Lee and Scott Williams!
Batman&Superman-osasto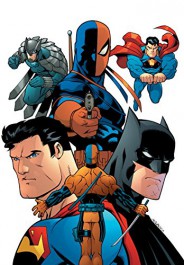 Superman/Batman 3
Writer Mark Verheiden (SUPERMAN) along with artist Ethan Van Sciver (FLASH: REBIRTH, BATMAN: THE DARK KNIGHT) and others take Superman and Batman on an edge-of-your-seat adventure!
When the Caped Crusader is attacked by one of his oldest and most powerful allies, the Martian Manhunter, he seeks the aid of Superman. Soon, Batman and the Man of Steel are ambushed by off-worlders both friend and foe alike. As the madness spreads and the Dark Knight finds himself in danger from his Kryptonian friend, Batman must take desperate measures and make dangerous deals to defeat Superman and save the human race. When the smoke clears, will both heroes survive? Will their friendship?
Ryhmä-seikkailut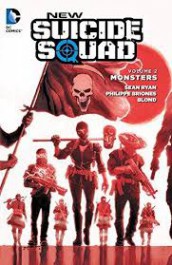 Sean Ryan: New Suicide Squad 2 – Monsters
Writer Sean Ryan ("Nova") and artist Philippe Briones ("Captain America Corps") set villain against villain in an epic battle for the greater good in NEW SUICIDE SQUAD VOL. 2: MONSTERS!
A splinter sect has broken off from the legendary League of Assassins. Like their predecessors, this new League is made up of some of the deadliest killers on the planet. But unlike Ra's al Ghul's followers, these renegade assassins have no plans to remain hidden in the shadows.
With countless innocent lives at stake, there's only one team ready to handle this new terrorist threat: Deadshot. Black Manta. Captain Boomerang. Harley Quinn. Reverse Flash. Parasite.
It's up to Amanda Waller's Task Force X to destroy this terrorist organization from the inside, and that means going deep undercover. They're being sent far behind enemy lines to face a foe like nothing they've ever encountered. And if they don't all make it back? That's why they're called the Suicide Squad.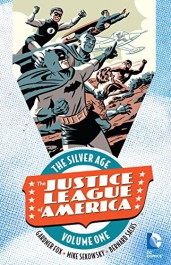 Justice League of America – The Silver Age 1
More than 300 pages of the famous super-team's inaugural exploits!
Superman. Batman. Wonder Woman. The Flash. Green Lantern. Aquaman. The Martian Manhunter. Green Arrow. As individuals, their names are legend. Together, they are even greater than the sum of their parts. They are the Justice League of America, and they stand for truth, justice and the American way!
Since they were first commissioned by renowned DC Comics editor Julius Schwartz in 1960, the Justice League has thrilled audiences across the globe in tales that span time and space.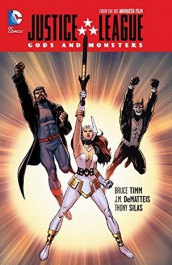 Justice League – Gods and Monsters
The prequel to the critically acclaimed animated film, from an all-star lineup of creators including Bruce Timm (BATMAN: THE ANIMATED SERIES), J.M. DeMatteis (JUSTICE LEAGUE INTERNATIONAL), Thony Silas (BATMAN BEYOND) and many more!
In this alternate universe, the Justice League isn t a team of the world s greatest superheroes who protect Earth from evil and save it from disaster. No this Justice League is a trio of ruthless heroes who answer to no one and will stop at nothing to destroy their enemies. The names are the same, but not the people they re attached to: Superman is the son of Zod, Batman is an inhuman vampire, and Wonder Woman is a tragic former resident of New Genesis. These are the world s best and only hope.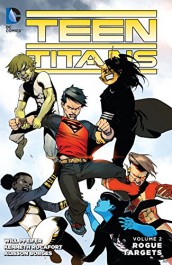 Will Pfeifer & Kenneth Rocafort: Teen Titans 2 – Rogue Targets
Writer Will Pfeifer (CATWOMAN) and artists including Kenneth Rocafort (SUPERMAN) and Alisson Borges (BATMAN: ARKHAM KNIGHT GENESIS) turn the Titans world upside down!
After saving New York City from a nuclear bomb, the Teen Titans are more famous than ever. TV appearances, reality shows, tribute bands the sky's the limit for the country's favorite teenage superheroes!
But when their former teammate Superboy appears out of nowhere, public opinion does a fast 180. It looks to the world like Kon-El is responsible for a senseless mass murder, and even Kon himself can't remember what really happened. Superboy turns to his friends for help, but not all the Titans are ready to put their blind faith in the Kryptonian clone.
Soon, it's Titan against Titan as they struggle to find the truth. With the team fractured and their attention divided, will they be able to see the bigger picture? Or will the mysterious threat manipulating their loyalties from the shadows get the best of the Teen Titans?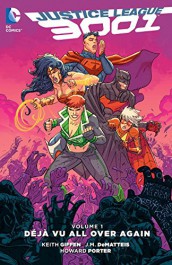 Keith Giffen & J.M. DeMatteis: Justice League 3001 1 – Déjà Vu All Over Again
The Justice League's wildest year yet, from superstar creative team KEITH GIFFEN (LEGION OF SUPER-HEROES), J.M. DEMATTEIS (JUSTICE LEAGUE OF AMERICA) and HOWARD PORTER (JLA)!
Thanks to Wonder Twins Terry and Teri Magnus, the original JL's DNA has been resurrected in 31st-century bodies. Their powers may be on the fritz and their memories may be patchy, but Superman, Batman, Wonder Woman, Flash and Green Lantern are, well, trying their best.
Since they were brought together a year ago, the team has endured countless threats, endless in-house bickering, death, rebirth, death again, and various states in between. But now things are really getting serious: Starro, one of the original League's oldest enemies, has enslaved an entire planet's population "legally."
Meanwhile, it's becoming obvious to everyone except the Justice League that their leader, Ariel Masters, is, in fact, trying to kill them, and old friends from the distant past are making their mysterious reappearances (and having some very mixed feelings about the whole thing). Not to mention there's a new Gal Gardner in town.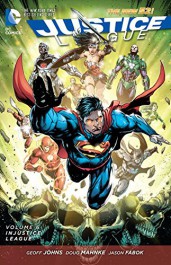 Geoff Johns & Doug Mahnke: Justice League 6 – Injustice League
When the Crime Syndicate nearly destroyed our world, Lex Luthor led the fight against them. Now, with public opinion of him at an all-time high, Superman s former nemesis has decided to continue fighting for good full time as a member of the Justice League! But does Lex really have only good intentions? And even if he has changed sides, can his teammates work alongside a man who once persecuted them?
Superstar writer Geoff Johns (SUPERMAN) and a league of comics greatest artists including Doug Mahnke, Jason Fabok, Ivan Reis and Scott Kolins present JUSTICE LEAGUE: INJUSTICE LEAGUE. It s an unforgettable tale of enemies, allies and the thin line in between.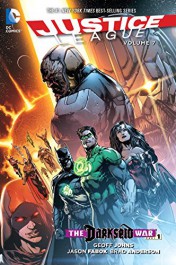 Geoff Johns & Jason Fabock: Justice League 7 – Darkseid War Part 1
DC superstars Geoff Johns (FOREVER EVIL) and Jason Fabok (DETECTIVE COMICS) bring you the start of the Darkseid War, the epic event that has been building since the formation of the Justice League.
The Justice League first came together years ago to stop Darkseid and his Parademon army from invading our Earth. Now Darkseid will once again make the planet a war zone, as Earth becomes the frontline in his battle with the Anti-Monitor one of the most powerfully destructive creatures ever created.
Wonder Woman, Superman, Batman and the rest of the Justice League are working with Mister Miracle to stop the coming bloodshed, but when two unstoppable forces of evil go to war, even the world s greatest heroes might not be enough to save the world!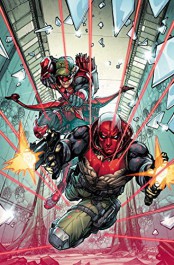 Scott Lobdell & Denis Medri: Red Hood/Arsenal 1 – Open for Business
Jason Todd: a former dead Robin turned Outlaw. Roy Harper: a self-destructive tech guru whose perfect aim falters when it comes to alcohol, women and finances. Alone, they ve fallen on hard times. Together well, they re still falling on hard times. With the Outlaws disbanded, Red Hood and Arsenal go into business for themselves first as on-staff outlaws for mysterious fixer Tara Battleworth, then as freelance problem solvers. Unfortunately for them, business is literally booming after a jolting job interview with Underbelly, a seemingly invincible crime boss who claims to have a hand in the corruption running through every major city on Earth.
Traveling to Gotham City to root out society s Underbelly, the armed brothers-in-arms must also contend with a techno-suited Batman that s unfamiliar to Jason, and the Hero Manifesto, a villainous organization looking to follow Red Hood and Arsenal s business model by eliminating the competition. The duo even earns a bonus: facing the self-proclaimed offspring of Gotham City s greatest mass murderer.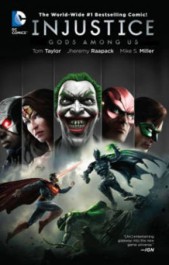 Tom Taylor: Injustice – Gods Among Us Year One: The Complete Collection
Inspired by the video game phenomenon, INJUSTICE: GODS AMONG US YEAR ONE THE COMPLETE EDITION collects the initial year of the best-selling series in its entirety for the first time!
Superman is Earth s greatest hero. But when the Man of Steel can t protect the thing he holds most dear, he decides to stop trying to save the world and start ruling it.
Now, the Last Son of Krypton is enforcing peace on Earth by any means necessary. Only one man stands between Superman and absolute power: Batman. And the Dark Knight will use any method at his disposal to stop his former friend from reshaping the world in his shattered image.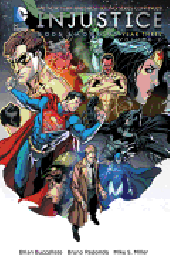 Brian Buccellato: Injustice – Gods Amongs Us Year Three 2
Superman has beaten back Batman and the resistance's forces at every turn.
With his back against the wall, Batman asks the one person he would never trust for help–John Constantine!
But even with the might of the dark mage's power, will it be enough against the primal and eternal forces of magic that oppose Batman and his allies?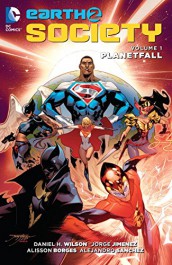 Earth 2 Society 1 – Planetfall
Continuing the saga that began in EARTH 2, writer Daniel H. Wilson (EARTH 2: WORLD S END) and artists Jorge Jimenez (SUPERBOY) and Alisson Borges (LOBO) start civilization from scratch in EARTH 2: SOCIETY VOL. 1: PLANETFALL!
A year has passed since Earth-2 was destroyed by the armies of Apokolips. The survivors of the catastrophic tragedy have now made planetfall on a new world, and, with the help of heroes old and new, built a home.
But some threats can survive even Apokolips. New super-villains have arisen to capitalize on the confusion, even as heroes like Batman, Power Girl, Superman, Green Lantern and The Flash struggle to find their place on an unfamiliar world.
And unknown to all, Terry Sloan has developed technology with the power to change everything. Some will want to use his Genesis Machine to re-make this planet into an exact copy of the Earth they left behind; others, to build a brand new society, free from the mistakes of the past. Who wins this debate will determine the course of a civilization, but one thing is certain: in the wrong hands, this device has the power to destroy the last hope of a people who thought they d already lost everything.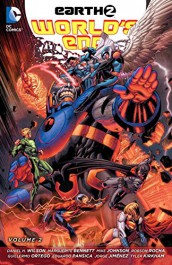 Earth 2 – World's End 2
The end times come for the Wonders of Earth 2 in WORLD's END volume 2!
Racing against time to find out what really happened to Superman, the Wonders of Earth 2 find themselves deep beneath the earth in the clutches of Desaad and his twisted creations. Meanwhile the Avatars of all different realms come to the aid of Green Lantern to fend off the Furies of Apokolips but will their combined might be enough or should they have stayed in captivity? The line between friend and foe is extraordinarily thin in a series that will leave you breathless!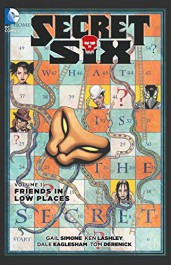 Gail Simone: Secret Six 1 – Friends in Low Places
Superstar writer Gail Simone (BIRDS OF PREY, BATGIRL, WONDER WOMAN) reinvents her fan-favorite super-team-up!
Six strangers captured, drugged and thrown together in a prison cell in the middle of the ocean. All of them with certain special abilities. None of them exactly superheroes.
How are they connected? Why were they taken?
With no answers coming, these unlikely allies must band together to escape the shadowy figure who locked them away and continues to hunt them down for reasons they don't understand. If they can manage not to kill each other first, they may just stay alive long enough to get their revenge on the mysterious Mockingbird. And a taste for revenge, it turns out, is the one thing they all have in common.
Not quite heroes, not quite villains; one thing's for sure these ain't the Justice Dorks.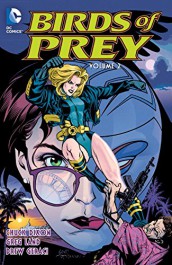 Chuck Dixon & Greg Land: Birds of Prey 2
The continued adventures of the loveliest and deadliest crime-fighters in the DCU from the critically acclaimed superstar team of Chuck Dixon, Greg Land and Drew Geraci.
The Birds of Prey have become a tight-knit partnership, even though Black Canary has never seen Oracle face to face. But their friendship and their lives could be cut short when Black Canary finds herself in the middle of a deadly hunt led by the ruthless cult leader Kobra for a long-forgotten piece of Russian technology. And as Black Canary fights for her life, Oracle has her own troubles when the U.S. Army begins tracking down the person hacking into their systems. All of this, plus guest stars Batman, Nightwing and Guy Gardner?
Brad Meltzer & Rags Morales: Identity Crisis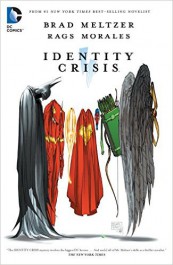 Novelist Brad Meltzer's #1 "New York Times" best-selling miniseries that rocked the DC Universe and influenced new storylines for years to come.
When Sue Dibny, wife of the Elongated Man, is murdered in her own home, the superhero community is devastated. They come together in mourning, hold their loved ones closer, and immediately begin a worldwide search to find her killer. But a handful of heroes think they already know who murdered Sue Dibny.
Years ago, to protect Sue and others like her from super-villains, Green Arrow, Hawkman, Black Canary, the Atom and Zatanna crossed a line. Now, their long-buried secret will break the superhero community apart.
Muut sankarit/roistot
Mark Russell & Ben Caldwell: Prez 1 – Corndog-in-Chief
America's first teenaged president is on the job in this contemporary twist on a DC classic!
Oregon teen Beth Ross has just been elected President of the United States of America. Age restrictions were abolished when corporations gained the right to run for office and voting booths have been replaced by Twitter, making just about anyone eligible for the nation s top job, including the viral-video-famous Corndog Girl!
Now the eyes of the nation are on Beth. But in a world so out of control that the poor are willing to shoot themselves on TV for a chance at a better life, will even the new president have the power needed to overthrow the nation s true leaders Boss Smiley and his corporate shadow government?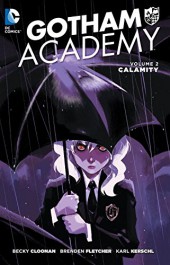 Becky Cloonan & Karl Kerschl: Gotham Academy 2 – Calamity
Gotham Academy is haunted!
At the beginning of the term, Olive Silverlock returned to Gotham Academy a shadow of her former self. But thanks to her new friendships and their Detective Club sleuthing, Olive was finally starting to feel whole again.
Then, abruptly, Olive's mother died or, she seemed to. In the weeks after the funeral, Olive begins seeing her mother around the school. An Arkham Asylum patient with a deadly dark side, Sybil Silverlock was a powerful and complicated woman. Could her spirit be reaching out from beyond the grave? And if so, is it motherly Sybil who haunts Olive or her deadly alter ego Calamity? Plus, the kids hunt a werewolf on campus and Maps teams up with the Academy's newest transfer, Damian Wayne!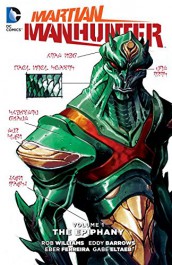 Rob Williams & Eddy Barrows: Martian Manhunter 1 – The Epiphany
An unforgettable new take on J'onn J'onzz is presented here by up and coming writer Rob Williams ("Star Wars: Rebellion") with stunning art by comic veterans Eddy Barrows (NIGHTWING) and Eber Ferreira (TEEN TITANS).
For some time now, the Martian Manhunter has been lost in our world. An alien in every aspect, he has struggled to find his place even after joining the Justice League of America, Justice League United and Stormwatch. Now his past has come back to haunt him as an alien invasion threatens to destroy the world. In order to prove to the world, and to himself, that he is the hero he knows himself to be, the Martian Manhunter must make the ultimate sacrifice. What happens next is truly alien!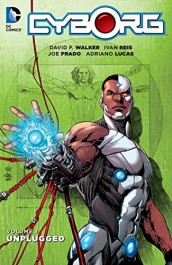 David F. Walker & Ivan Reis: Cyborg 1 – Unplugged
The fan-favorite Justice League hero headlines his own solo series from rising star writer David F. Walker ("Shaft") and superstar artists Ivan Reis and Joe Prado (BLACKEST NIGHT, JUSTICE LEAGUE).
Victor Stone has had his share of near-death experiences it's part of what made him the cyber-enhanced superhero Cyborg in the first place. But after his latest brush with death, something has changed with Vic s cybernetics. They're evolving, and no one can explain why!
But there's more to Vic's evolution than a new look and new powers. Something in his technology is calling out between worlds and the message has been received by invaders who will stop at nothing to possess it. These Technosapiens aim to absorb all of humanity into their collective if it means a chance to get their hands on Cyborg.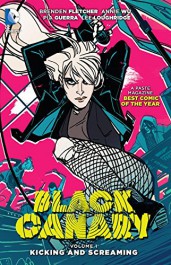 Brenda Fletcher & Annie Wu: Black Canary 1 – Kicking and Screaming
Dinah Lance hits the road!
After years as a soldier and vigilante, the last place Dinah saw herself is on stage … but she's quickly learning she'd die to protect the gang of misfits she's fallen into. And she just might have to for some reason, the newly rechristened band Black Canary seems to be a magnet for trouble … and Dinah's not gonna believe it when she finds out the reason why!
Cullen Bunn: Sinestro 3 – Rising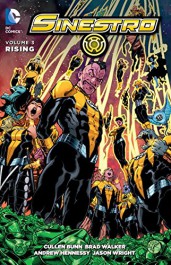 The Green Lantern Corps is gone. And with no one to protect the universe, the Sinestro Corps steps up to fill the void. As the new guardians of justice in the universe, Sinestro must keep his corps of fear mongers in check. Without the right leadership, the Sinestro Corps could spread fear and destruction throughout the sectors of the universe. But now with an established base on Warworld, Sinestro can dig in his heels as rebuild the broken society of his homeworld and establish is Corps as a force to be reckoned with. Cullen Bunn's epic new series continues here in SINESTRO VOL. 3.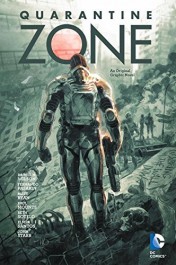 Daniel H. Wilson & Fernando Pasarin: Quarantine Zone
In the future, humanity has discovered the root of all evil: a virus that modifies the neural pathways for empathy. Those infected with the malnoro virus have been forcibly imprisoned in the Quarantine Zone (whether they choose to do good or evil). Meanwhile, the rest of the cured world is sterile and crime-free, but permeated by an oppressive, paranoid fear of new outbreaks of the malnoro virus.
Written by NEW YORK TIMES bestselling novelist Daniel H. Wilson, QUARANTINE ZONE is an action/sci-fi original graphic novel that raises hard questions about free will and the nature of good and evil. If we could "cure" ourselves of the capability to do evil–should we? And could a person truly be good without the choice to do evil?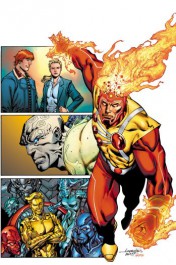 Legends of Tomorrow 1
It's four powerhouse tales in one colossal comic, as some of comics' most legendary talents launch new tales of Firestorm, Metamorpho, Metal Men and Sugar and Spike—that's right, Sugar and Spike!
FIRESTORM
Written by GERRY CONWAY
Art by EDUARDO PANSICA and ROB HUNTER
Firestorm is back! To save Jason Rausch, Firestorm will need to retrieve Danton Black's stolen research from Professor Stein's lab. But if Jason can't fuse with Ronnie by the Firestorm Protocol…who can?
METAL MEN
Written by LEN WEIN
Art by YILDIRAY CINAR and TREVOR SCOTT
Doctor Will Magnus' Metal Men may be the next step in robotics technology, but when the mysterious cyber-terrorist known only as Nameless comes after them, they may have met their match!
METAMORPHO
Written by AARON LOPRESTI
Art by AARON LOPRESTI with MATT BANNING
Metamorpho—a prisoner of millionaire industrialist Simon Stagg! Now, the only person who can save him is Stagg's beautiful daughter, Sapphire!? But can they defeat Stagg's prehistoric bodyguard, Java?
SUGAR & SPIKE
Written by KEITH GIFFEN
Art by BILQUIS EVELY
The last time we saw Sugar and Spike, they were still in diapers! Now, they're grown up, and they've become private investigators who specialize in cleaning up embarrassing problems for the DCU's greatest heroes. Sugar & Spike's first assignment: retrieve a cache of Batman's retired costumes that have been stolen by Killer Moth!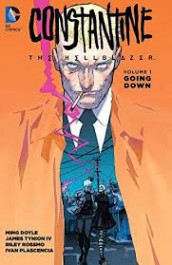 Ming Doyle & James Tynion IV: Constantine, The Hellblazer 1 – Going Down
Jump into the opening chapter of this wickedly funny and racy modern reintroduction of John Constantine!
The dead can t die again even within the supernatural circles that surround John Constantine, some things are impossible. But when the ghosts that haunt the occult detective start being murdered, it becomes clear the rules have changed. Far worse than ordinary death, this second death means oblivion no afterlife, no way back. To stop it, Constantine must explore the barriers between the mundane and the extraordinary: the thin places.
The investigation takes the Hellblazer from New York City back home to London, where he joins up with an old rival, now an exorcist in Her Majesty s Secret Service. Their dark, tangled history together is filled with music and magic, failed friendships and disastrous romance.
But even if Constantine somehow survives the supernatural serial killer, the price involved could leave whatever s left of his soul beaten and broken.
George Pèrez: Wonder Woman – War of the Gods
Legendary comics author George Perez's epic Wonder Woman saga!
On Wonder Woman's island home of Themyscira, angry voices are rising. Following a massacre in man s world, Queen Hippolyta is presumed dead, and the Amazons thirst for revenge is strong. But even as her people teeter on the brink of war, Princess Diana is forcibly summoned to Olympus, where Zeus and the Greek gods are being attacked by their Roman counterparts in defiance of all heavenly order. The realms of the gods are being turned upside down and inside out, and if left unchecked the chaos will quickly engulf the earth.
Beneath it all lies a tangled web of magic and deceit that ensnares everyone from Superman and Captain Marvel to Lobo and the Suicide Squad. But even as the world s greatest heroes unite to stop the warring pantheons, mortals and immortals alike remain pawns in a single mastermind s twisted game.
The evil sorceress Circe will stop at nothing to have her revenge on Wonder Woman even if it means destroying the universe itself!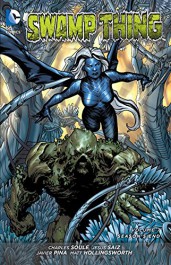 Charles Soule & Jesus Saiz: Swamp Thing 7 – Season's End
Witness the rise of the Machine Kingdom and the end of the Green as you know it in this heart-pounding collection from creators Charles Soule (SUPERMAN: DOOMED) and Jesus Saiz (GREEN LANTERN: LOST ARMY).
A new Kingdom has emerged a new form of life to stand alongside the animals of the Red and the fungi of the Grey. As the Avatar of the Green and all plant life on Earth, Swamp Thing is keenly interested in what this new Kingdom the artificial intelligence of the Machine might want.
Unfortunately, what the Machine wants is to run the Green or else destroy it completely! Now, war is declared and sides are drawn. As the Machine creates its own human avatar and forms alliances with some of the Green s deadliest enemies, Swamp Thing must turn to the person he trusts most who happens to be the one person who can do the most harm to him: Abigail Arcane, his true love and Avatar of the Rot.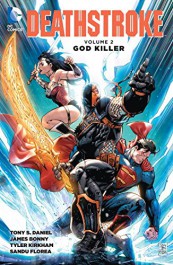 Tony S. Daniel: Deathstroke 2 – God Killer
The world's deadliest assassin faces the fight of his life.
If it can be killed, Slade Wilson, a.k.a. Deathstroke the Terminator, assassin for hire, will find a way to kill it. At least, that s what he tells his employers. But this next contract may be too much for even Deathstroke to handle.
Slade's newest assignment comes from Hephaestus himself, armorer to the gods of Olympus. In order to reach his target Lapetus, the imprisoned god of mortality, Slade will have to travel through the gates of Tartarus on the Amazon homeland of Themyscira.
To protect her home and fellow Amazons, Wonder Woman will do whatever it takes to stop Slade on his fool's errand, and Superman is right by her side. With the Man of Steel, the God of War and an army of the undead out for his blood, this final fight might just be a dead end for Deathstroke!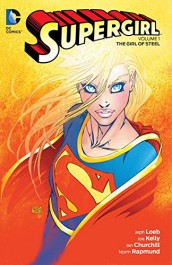 Jeph Loeb: Supergirl 1 – The Girl of Steel
This now-classic run by Jeph Loeb features the first chapter of Kara Zor-El s triumphant return!
When Superman s Kryptonian parents rocketed their infant son to Earth, his aunt and uncle did the same with their young daughter, Kara Zor-El. The two cousins were meant to arrive on Earth together, but instead Kara arrived just a few months ago, after spending decades in space in suspended animation.
Now taking the name Supergirl, Kara possesses strength and speed that rivals (or even surpasses) her cousin Superman s. As she searches for her role in this new world, she ll cross paths (and trades blows) with the JSA, the Teen Titans and the Outsiders. But while she's facing off against other heroes, Superman s nemesis Lex Luthor has uncovered a truth that could change the Girl of Steel forever!