Cullen Bunn & Tyler Crook: Harrow County 2 – Twice Told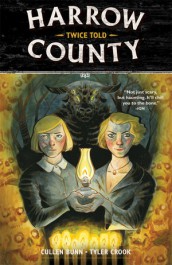 After uncovering Harrow County's twisted history and her bizarre connection to its populace, Emmy forges a profound new relationship with the land and its creatures—but a familiar and sinister presence lurking just over the county lines seeks to wreak havoc on Emmy's new harmony.
Collects Harrow County #5-8.
.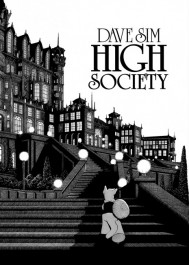 Dave Sim: Cerebus 2 – High Society
Hard to believe that it's the 30th anniversary of the serialization of High Society in the pages of Cerebus (#26 to 50).
Even harder to believe that there's never been a signed-and-numbered edition of Comics' first 500-page graphic novel! Well, now there is! The edition will be limited to number of orders received before PREVIEWS' order deadline.
All this and a snazzy gold logo!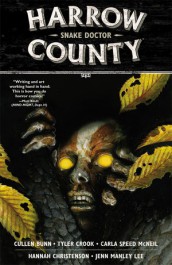 Cullen Bunn & Tyler Crook: Harrow County 3 – Snake Doctor
The Skinless Boy seeks to understand the mysteries of his past, Emmy investigates a haunted house, and a malevolent serpent sows madness and malice in the minds of the Holler's residents.
Collects issues #9-12 of the hit series!.
.
.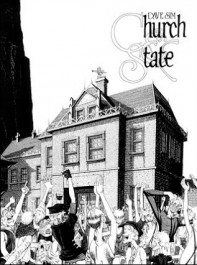 Dave Sim: Cerebus 3 – Church & State I
Thirty years ago, the idea that a genocidal, absolutist 'fire and brimstone' faith-based ideology could actually steamroll its way across national borders, financing itself by looting its own citizenry was considered too far-fetched 'even for comic books' so that it could only be addressed in the broad confines of the Ultimate Parody Comic, Dave Sim & Gerhard's Cerebus.
Says Dave Sim: 'Sean Robinson and Mara Sedlins of Living the Line continue their astonishing restoration of the World's Longest Graphic Novel with Church & State I, arguably the most challenging of the 16 books to reproduce accurately, because a good 60 to 80 pages consist of Gerhard drawing for reproduction for the first time, learning what works and what doesn't work. Sean and Mara make it ALL work, bringing out levels of detail never seen before.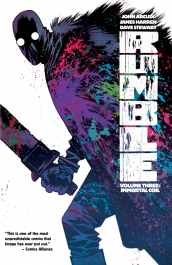 John Arcudi & James Harren: Rumble 3 – Immortal Coin
The bizarre "resurrection" of Bobby's mother is just the first puzzle to be solved in the weirdest arc of RUMBLE yet.
And Rathraq? The remains of the once mighty warrior god are alive again—possessed by the soul of an angry, vengeful demon!
Now Rathraq has to decide if he should fight against his own living corpse—or alongside it.
This 160-page trade marks the third chapter of a unique urban fantasy by the killer team of JOHN ARCUDI and JAMES HARREN, and is jam-packed with extras including many pinups and variant covers by the very best artists in the business!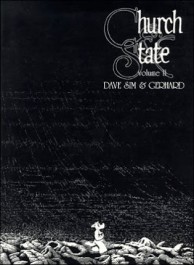 Dave Sim: Cerebus 4 – Church & State II
Dave Sim's Cerebus began as a parody of Conan, but evolved into something much, much more!
Intellectual, entertaining, and thought-provoking, Cerebus is the longest running independent black-and-white comic being published today!
Cerebus seeks to regain his lost throne despite warnings of a larger crisis, and sets the stage for the stories that follow.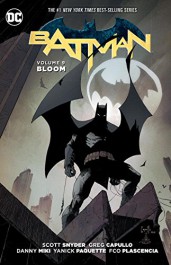 Scott Snyder & Greg Capullo: Batman 9 – Bloom
Bruce Wayne has a nearly perfect life.
He's in love with an amazing woman and works by her side every day at one of Gotham's youth centers, helping the children of the city he loves. His memory has been patchy ever since he nearly died in the last Joker attack, but even so, he's confident that this is the happiest he's ever been. And yet…he sometimes feels himself being tugged back to another life. In the negative space of his missing past is a half-remembered history, filled with violence and darkness, but also greatness.
The Batman is calling Bruce back.
But if he returns to his past, what will become of the perfect, happy life he has built? Scott Snyder and Greg Capullo conclude their character-defining run on the Dark Knight and demonstrate why Batman truly is forever. Collects BATMAN #46-50, as well as a story from DETECTIVE COMICS #27.
Dave Sim & Gerhard: Cerebus 5 – Jaka's Story
Dave Sim's Cerebus began as a parody of Conan, but has expanded and grown into much, much more!
Intellectual, entertaining, and thought provoking, Cerebus was one of the longest running independent black-and-white comics published!
Jaka's Story, the fifth volume, reprints issues #114-136.
.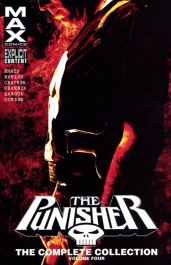 Garth Ennis: The Punisher Max – The Complete Collection 4
The Punisher's fiercest foe returns!
As if a load of buckshot to the chest in shark-infested waters could put Barracuda down for good. But is even he man enough to play bodyguard to the hemophiliac son of a dangerous mob boss? If Barracuda can survive that gig, he'll be out to settle his score with Frank Castle.
Meanwhile, the skull-chested vigilante hunts his biggest game of all, and makes Riker's prison his own personal playground. Plus, tales from Frank Castle's beginning and end!
Artists: Goran Parlov, Howard Chaykin, John Severin, Lewis LaRosa, Richard Corben
COLLECTING: PUNISHER PRESENTS: BARRACUDA #1-5, PUNISHER MAX (2004) #50-60, PUNISHER: THE TYGER, PUNISHER: THE CELL, PUNISHER: THE END.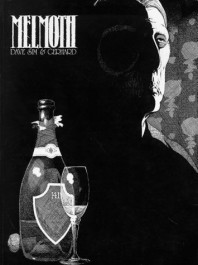 Dave Sim & Gerhard: Cerebus 6 – Melmoth
This sixth Cerebus trade paperback finds our Aardvark hero, believing Jaka to be dead, taking up residence in Dino's Cafe, clutching her childhood doll, Missy, and his sword.
.
.
.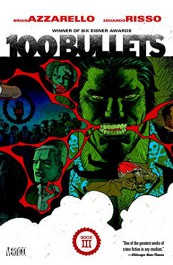 Brian Azzarello & Eduardo Risso: 100 Bullets Book 3
To kill without consequence: If you were given a chance at deadly retribution with a guarantee that the law could not touch you, would you take it?
That's the opportunity that Agent Graves provides, in the form of a special briefcase containing an untraceable gun and one hundred rounds of ammunition. To the damaged and downtrodden living on the fringes of society, the offer is a once-in-a-lifetime chance to even their scores.
But beyond the dilemma of whether or not to pull the trigger lies a deeper and even more troubling concern: Just who is making these actions possible-and why?
This third of five volumes reprinting all 100 issues of writer Brian Azzarello and artist Eduardo Risso's 100 BULLETS collects issues #37-58 of their acclaimed Vertigo series, and includes never-before-seen character sketches by Risso for an unproduced 100 BULLETS video game.
Dave Sim & Gerhard: Cerebus 7 – Flight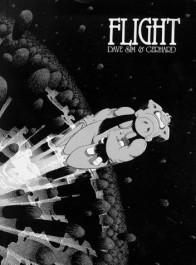 The fight between the newly established matriarchy and the opposing 'daughterarchy' ensnares Cerebus as he tries to regain the power he lost when the matriarchal Cirinists took over.
The first two chapters in the epic Mothers & Daughters storyline.
.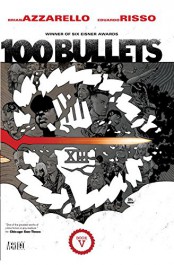 Brian Azzarello & Eduardo Risso: 100 Bullets Book 5
The conclusion to Brian Azzarello and Eduardo Risso's critically acclaimed 100 BULLETS.
How far would you go for revenge? If you were given a chance at deadly retribution with a guarantee that the law could not touch you, would you take it?
That's the opportunity that a man called Agent Graves provides, in the form of a special briefcase containing an untraceable gun and 100 rounds of ammunition. T
o the damaged and downtrodden living on the fringes of society, the offer is a once-in-a-lifetime chance to even their scores. But beyond the dilemma of whether or not to pull the trigger lies a deeper and even more troubling concern: just who is making these actions possible and why?
Collects 100 BULLETS #81-100.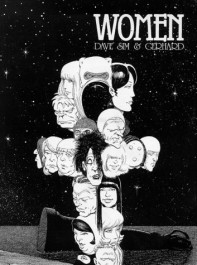 Dave Sim & Gerhard: Cerebus 8 – Women
The fight between the newly established matriarchy and the opposing 'daughterarchy' ensnares Cerebus as he tries to regain the power he lost when the matriarchal Cirinists took over.
The second chapter in the epic Mothers & Daughters storyline.
.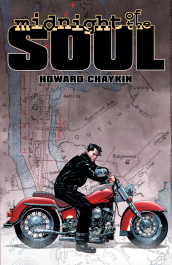 Howard Chaykin: Midnight of the Soul 1
Joel Breakstone, a GI liberator of Buchenwald and brutally damaged goods, follows a path of vengeance that leads to redemption in a violent journey into his own heart of darkness—in a spiritual adventure from comics' contemporary master of crime and punishment, HOWARD CHAYKIN.
Collects MIDNIGHT OF THE SOUL #1-5.
.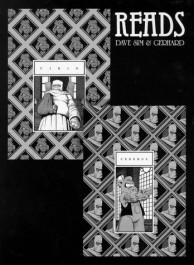 Dave Sim & Gerhard: Cerebus 9 – Reads
An examination of creativity, the traditional role of the creator in a capitalistic society, an experiment in autobiography, and the long-awaited showdown between Cerebus and Cirin, was called everything from 'the Mein Kampf of comics' to 'the nearest reproduction of a mystical experience in print form.'
Is it neither? Both?
Or something in between?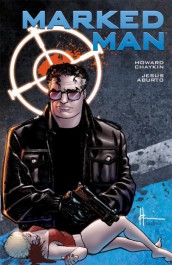 Howard Chaykin & Jesus Aburto: Marked Man
To the casual observer, Mark LaFarge has it going on.
He's got a beautiful wife, cute kids, a McMansion in the South Bay… the guy is the living embodiment of the American dream.
But nothing is ever as it seems.
LaFarge is a career criminal who's never done an honest day's work in his life… and that life of crime, completely separate from the life he presents to the world, is about to catch up with him.
And there will be blood… a great deal of blood.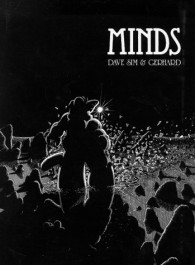 Dave Sim & Gerhard: Cerebus 10 – Minds
In Minds, the Cerebus the Aardvark reflects on his past and faith, while seeing glimpses of possible futures with Jaka.
Minds collects issue #187-200.
.
.
.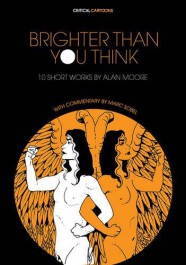 Alan Moore: Brighter Than You Think – 10 Short Works by Alan Moore
Brighter Than You Think is an essential collection of short stories by Alan Moore, the acclaimed author of several award-winning graphic novels including Watchmen, V for Vendetta, and From Hell.
Spanning three decades, this diverse anthology shines new light on ten of Moore's long out-of-print comics. These forgotten masterpieces showcase Moore's creative versatility, intellectual curiosity,and unparalleled talent. Each story is accompanied by an insightful essay by Marc Sobel, who delves into Moore's ideas, influences, and inspirations.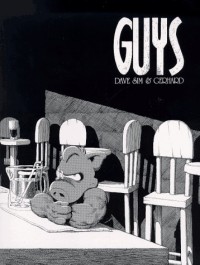 Dave Sim & Gerhard: Cerebus 11 – Guys
In Guys, reprinting issues #201-219, the Aardvark becomes a bartender in a return to the style of the earlier, funnier Cerebus storylines.
Thanks from Capt Chuck!
.
.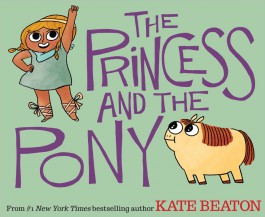 Kate Beaton: The Princess and the Pony
Introducing Kate Beaton, a major new picture book talent, and author/illustrator of #1 New York Times bestseller Hark! A Vagrant!
Princess Pinecone knows exactly what she wants for her birthday this year. A BIG horse. A STRONG horse. A horse fit for a WARRIOR PRINCESS! But when the day arrives, she doesn't quite get the horse of her dreams…
From the artist behind the comic phenomenon Hark! A Vagrant, The Princess and the Pony is a laugh-out-loud story of brave warriors, big surprises, and falling in love with one unforgettable little pony.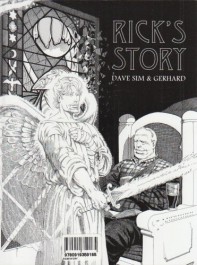 Dave Sim & Gerhard: Cerebus 12 – Rick's Story
Dave Sim's Cerebus began as a parody of Conan, but has expanded and grown into much, much more!
Intellectual, entertaining, and thought provoking, Cerebus was the longest running independent black-and-white comic to be published!
.
.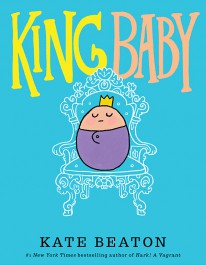 Kate Beaton: King Baby
All hail King Baby!
He greets his adoring public with giggles and wiggles and coos, posing for photos and allowing hugs and kisses. But this royal ruler also has many demands, and when his subjects can't quite keep up, King Baby takes matters into his own tiny hands.
Created by Kate Beaton, author of The Princess and the Pony and #1 New York Times bestsellers Hark! A Vagrant and Step Aside, Pops!, this modern, funny, and (let's be honest) realistic take on life with a new baby is the perfect gift for anyone with an adorable little monarch in their world.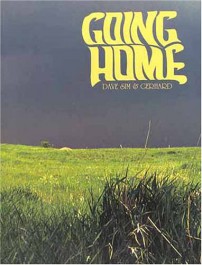 Dave Sim & Gerhard: Cerebus 13 – Going Home
After Jaka's return, she and Cerebus head north to Cerebus' boyhood home in Sand Hills Creek.
But will they get there?
Features guest appearances by Greg Hyland, Rick Veitch, Alan Moore, and others, including F. Stop Kennedy. Reprints the notes on 'Fall and the River' and 'Chasing Scott.'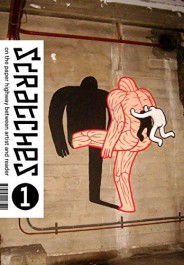 Scratches 1
A new, English-language comics magazine featuring new and previously unpublished work by Dutch, Flemish and international authors.
The first issue contains work by among others Robert Crumb, Art Spiegelman, Chris Ware, Joost Swarte, Brecht Evens, Judith Vanistendael, Milan Hulsing, Wasco, Tobias Schalken, Herr Seele, Aart Taminiau, Guido van Driel, David B., Ever Meulen and many more.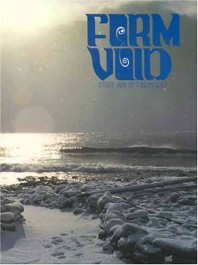 Dave Sim & Gerhard: Cerebus 14 – Form and Void
Dave Sim's Cerebus began as a parody of Conan, but has expanded and grown into much, much more!
Intellectual, entertaining, and thought provoking, Cerebus was the longest running independent black-and-white comic to be published!
Volume 14, Form and Void, collects issues #251-265.
.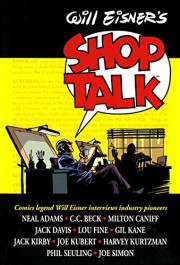 Will Eisner: Will Eisner's Shop Talk
Will Eisner is a master of the comics medium, and when he got together to chat with other masters of the medium, what came of it was a collection of information vital to everyone working in the industry, and indispensable to anyone looking to get into it.
Featuring interviews with Jack Kirby, Joe Simon, Gil Kane, Joe Kubert, Jack Davis, Neal Adams, C.C. Beck, Milton Caniff, Gill Fox, Harvey Kurtzman, and distribution guru Phil Seuling, Will Eisner's Shop Talk is chock full of golden tidbits of comics knowledge.
Previously serialized in the now long out-of-print Spirit Magazine and Will Eisner's Quarterly, the interviews flow naturally into a compendium of technical secrets, light-hearted anecdotes, and informative history lessons.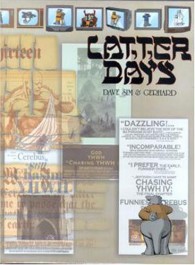 Dave Sim & Gerhard: Cerebus 15 – Latter Days
Follow Cerebus' last days on Earth as he deals with debilitating aches and pains, memory loss, political turmoil, indigestion, and incontinence in the final two volumes in Comics' first 6,000-page graphic novel.
And when, exactly, is his son going to come to pay a visit?!
.
.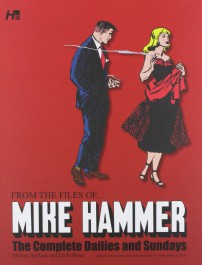 Mickey Spillane & Ed Robbins: From the Files of Mike Hammer
America's most well-known, hardboiled detective, Mike Hammer, returns with Hermes Press' complete archival reprint of the entire continuity, 'From the Files of… Mike Hammer!
Reprinting all of the dailies and Sunday strips (in digitally reconstructed color) this book is the final word on this pop culture icon. The strip, which was distributed to newspapers by the Phoenix Features Syndicate only ran for one year, 1953-1954, but what a year it was! The strip is pure Mickey Spillane and was crafted under his watchful eye with art by Ed Robbins. The feature has everything fans of Mike Hammer would expect: Mike, Velda, good girls, bad girls, gun-play and lots of action.
Accompanying the strips are two in-depth essays by noted mystery writer and Mickey Spillane expert Max Allan Collins (Road to Perdition).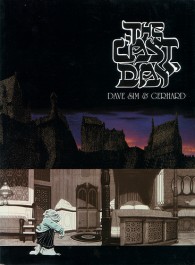 Dave Sim & Gerhard: Cerebus 16 – The Last Days
The 240-page conclusion to comics' first 6,000-page graphic novel.
Follow Cerebus' last day on Earth as he deals with debilitating aches and pains, memory loss, political turmoil, indigestion, and incontinence.
And when, exactly, is his son going to come to pay a visit? Includes complete annotations by Dave Sim.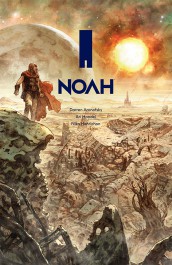 Darren Aronofsky & Ari Handel & Niko Henrichon: Noah
From acclaimed filmmaker DARREN ARONOFSKY (Black Swan, The Wrestler) and artist NIKO HENRICHON (Pride of Baghdad), NOAH is a fresh take on the biblical epic for the 21st Century.
A fantastical world is about to be destroyed and one man is chosen to start a new one. As wicked forces try to take his Ark, Noah must hold his family together while they watch the annihilation of all they know.
Infusing the Book of Genesis with fantasy and science fiction, NOAH both reinvents the elements of the Flood story everyone knows and simultaneously takes the reader beyond them and into the unexpected.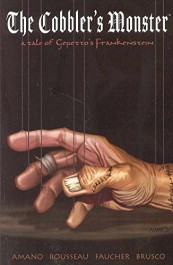 Jeff Amano & Craig Rousseau: The Cobbler's Monster
Grieving over the death of his only son, Gepetto mixes the new science of DNA with the age-old magic of the golem to resurrect his son.
But in truth, he was never very close to Victor. And the anger that burns within the heart of the monster he birthed and created, destroys everything and everyone around him.
Now, Gepetto must hunt his own son.
This is the story of a man and a monster who, through unspeakable horror, find their way to becoming father and son for the very first time.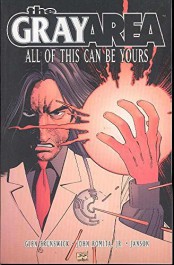 Glen Brunswick & John Romita Jr.: The Gray Area 1 – All of This Can Be Yours
After his execution for double-crossing a drug cartel, Rudy Chance — a brutal, corrupt cop and womanizer — expects he'll wind up in Hell. I
nstead, he finds himself in the Gray Area, where he is forced to combat evil for an afterlife police force in order to gain a shot at redemption. Given extraordinary powers, Chance hunts down the wicked to condemn and the worthy to heal. But can he control his own dark side, or will it lead him to eternal damnation?
Comic book legend John Romita Jr.'s first creator-owned work- collected!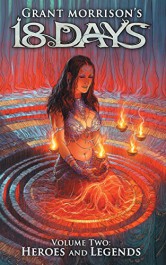 Grant Morrison's 18 Days 2 – Heroes and Legends
From legendary creator Grant Morrison (All Star Superman, Batman & Robin, The Invisibles) comes the second volume in his epic creation, as the battle between two armies of super warriors plays out on the battlefield as we flashback to see the events that brought people to the war.
18 Days is the story of three generations of super-warriors, meeting for the final battle of their age, a climactic war that concludes the age of the gods and begins the age of man. Collecting the second story arc from the series.
"This is not a Lord of the Rings or a Star Wars where the good guys win because they are right. The good guys in 18 Days are forced to cheat and lie and break rules to win. Although it has fantastic, mythic trappings, this is a very modern story of realpolitik and the failure of ideals in the face of harsh truth." – Grant Morrison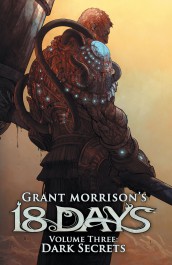 Grant Morrison's 18 Days 3 – Dark Secrets
Written and illustrated by a group of acclaimed artists and writers, this third volume focuses on the battle taking place on the fields of Kurukshetra, as warriors from both sides prove their names worthy of legend.
Witness the battle of the Indian epic The Mahabharata as never seen before.
.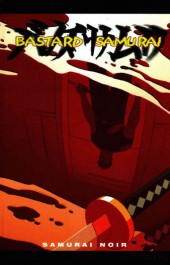 Michael Avon Oeming & Kelsey Shannon: Bastard Samurai 1 – Samurai Noir
Jiro is a student of the KoZu Sword School, an underground training camp in midtown Manhattan that takes in orphans and twists and transforms them into Bushido warriors.
The Yakuza use these kids in death matches staged across the city rooftops where Japanese businessmen gamble heavily on the always-fatal outcome. This killing life is all Jiro has ever known.
But a rendezvous with fate is about to change all of that. In one moment Jiro realizes that everything he has lived for is a lie. The Samurai live by the Bushido code, one of which is rectitude: the rightings of wrongs.
Now with the only ally he has-his sword — Jiro is forced to make the hardest decision of his life.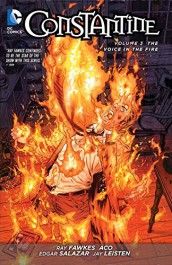 Guy Fawkes: Constantine 3 – The Voice in Fire
Lost and confused in the face of the fallout from his actions in "Forever Evil: Blight," John Constantine has sold himself out to the Cold Flame and is vulnerable to attack by Spellbinder! How will DCU's con man deal with the reprecussions of this universe changing event?
Written by Eisner Award nominee Ray Fawkes, John Constantine continues his reemergence as DC Comics' most infamous magician! Collects CONSTANTINE #13-17 and CONSTANTINE: FUTURES END #1.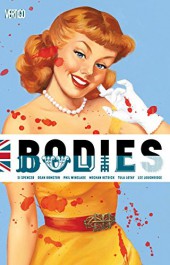 Si Spencer: Bodies
LONDON, 1890. As Jack the Ripper stalks the streets, Inspector Edmond Hillinghead-the city's most diligent detective-applies his skills to an even harder case. The victim is an unidentified male. The killer may have powerful allies. And Edmond's darkest secret may be exposed if he gets too close to the truth….
LONDON, 1940. As the Blitz rains bombs down on the city, Inspector Charles Whiteman reigns over its streets. He escaped the Nazis in Poland only to run the very rackets he's supposed to shut down. But when he discovers a mysterious murder victim, his double life may be destroyed…
LONDON, 2014. As racist rioters wreak havoc in the name of their prejudiced patriotism, Detective Sergeant Shahara Hasan leads the fight against them. As a Muslim cop, she's English to the core. But the corpse she's uncovered may reveal something rotten deep below the surface…
LONDON, 2050. As the mind-scrambling pulsewave plagues the last survivors of a terrifying techno-apocalypse, the amnesiac young woman known only as Maplewood can barely understand the body she's discovered. But this ritual killing is identical to those from decades past-and the link between them all is stronger, and stranger, than anyone could dream…
In BODIES, writer Si Spencer teams up with Meghan Hetrick, Dean Ormston, Tula Lotay and Phil Winslade-four incredible artists, one for each era-to slice open the modern murder mystery and uncover the strange secret heart within! Collects issues #1-8.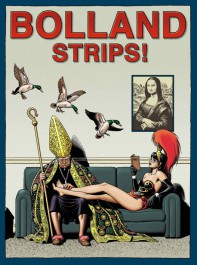 Brian Bolland: Bolland Strips!
In the late 70's Brian Bolland left an indelible mark on many a comic fan with his work on 2000AD's Judge Dredd.
He attracted a US audience with Camelot 3000 and BatmanThe Killing Joke and remains a popular and much sought-after cover artist.
This collection of short strips, on which Bolland is sole author, takes you away from the guns & testosterone and into a world of wit and whimsy exclusively his own.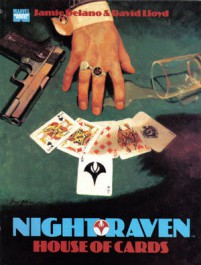 Jamie Delano & David Lloyd: Night-Raven – House of Cards
Night Raven tries to save an innocent from a life of depravity, but discovers too late that not everyone wants to be saved.
.
.
.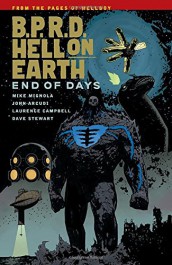 Mike Mignola & John Arcudi: B.P.R.D. Hell on Earth 13 – End of Days
The Hell on Earth as we know it comes to an end.
In a drastic change, one of the most terrifying creatures in existence has been released.
Can the BPRD defend the world–and humanity–or is this finally the end?
This volume collects B.P.R.D. Hell on Earth #135-139.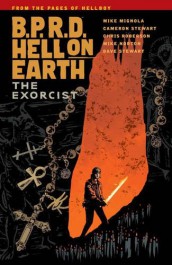 Mike Mignola & Cameron Stewart: B.P.R.D. Hell on Earth 14 – The Exorcist
Cameron Stewart (Fight Club 2, Batgirl) writes and draws the two-arc story following Ashley Strode from agent-in-training to fully-fledged exorcist.
BPRD field agent Ashley Strode attempts to purge a demon from a 100-year-old exorcist, utilizing a deadly rite that sends both of them into a spiritual hell.
When she returns, her commitment to fighting the forces of evil in the world leads her to a rural town where a demon-worshipping cult is believed to be kidnapping children.
Collects B.P.R.D. Hell on Earth: Exorcism #1-2 and B.P.R.D. Hell on Earth #140-142.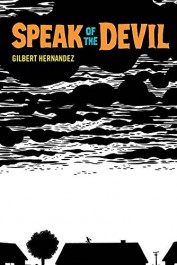 Gilbert Hernandez: Speak of the Devil
There's a peeping tom prowling the neighborhood. Eyewitness reports vary, but one thing is agreed upon: he wears a devil mask.
This is the story of Val Castillo, a promising gymnast with a strange hobby. She is secretly the neighborhood peeping tom.
At first she is alone in this, but when a male friend discovers her doings he joins her into a dark journey of spying and making discoveries about their neighbors that may have been better left alone. Especially secrets that threaten all involved. Like Val spying on her own father and stepmother in their bedroom.
This snowballs into a journey darker than even the most cynical would care to endure.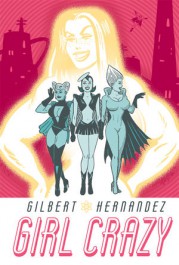 Gilbert Hernandez: Girl Crazy
Kitten, Maribel, and Gaby are three very different childhood friends about to celebrate their sixteenth birthdays, which all happen to fall on the same day.
But someone's missing–their fourth friend, Una, who's imprisoned in Tijuana. So the trio set out to give Una the ultimate birthday gift–freedom–even if it means taking on an entire city!
Prepare yourself for some sweet sixteen super-action, madcap plot twists, identity crises aplenty, and–of course–gorgeous girls galore! You'll go crazy over this lighthearted, rowdy, and sexy romp from Pen Center USA Award winner Gilbert Hernandez!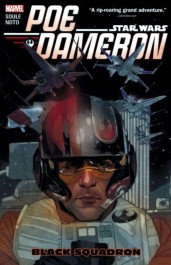 Charles Soule & Phil Noto: Star Wars Poe Dameron 1 – Black Squadron
Poe Dameron, former Republic flyer turned Resistance fighter, is the best pilot in the galaxy.
Hand-picked for the resistance by General Leia Organa to lead a squadron on a top secret and vital mission…Poe sets off investigating sites of historical importance to the Force.
Revealing backstory leading directly into the holidays' greatest adventure, follow Poe and his X-Wing squadron on covert missions against the First Order brought to you by writer Charles Soule (Star Wars: Lando, Daredevil) and artist Phil Noto (Star Wars: Chewbacca, Black Widow)!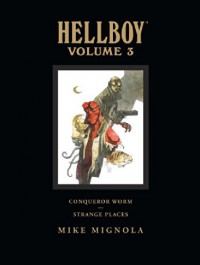 Mike Mignola: Hellboy Library 3 – Conqueror Worm/Strange Places
Hellboy Library Edition Volume 3 collects three pivotal stories of Hellboy's journey, as he leaves behind the world of men and journeys into the unknown: the award-winning Conqueror Worm, which brings back some of Hellboy's earliest foes, in the story that ends his career with the B.P.R.D., and marks his first run-in with the fan-favorite masked hero Lobster Johnson; the haunting fairy tale The Third Wish; and The Island, a dark and surreal glimpse into the true origin of the Right Hand of Doom and Hellboy's own destiny; along with a new, expanded sketchbook of never-before-seen Mignola artwork.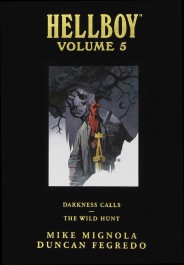 Mike Mignola: Hellboy Library 5 – Darkness Calls/The Wild Hunt
Hellboy has racked up multiple Eisner Awards, numerous spinoffs, a novel line, video games, cartoons, and two feature films.
Hellboy Library Volume 5 collects two complete trade paperbacks: Darkness Calls and The Wild Hunt, the short story The Mole, as well as an extensive selection of previously unreleased sketches and designs.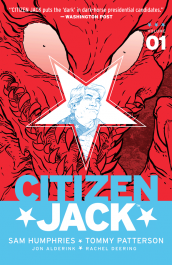 Sam Humphries & Tommy Patterson: Citizen Jack
A scandal-plagued, smalltown politician named Jack should in no way be president.
But he's got a secret weapon: Marlinspike, a malevolent demon of high ambitions.
Together, they're running for president in an outrageous campaign that America will never forget!
Collects CITIZEN JACK #1-6.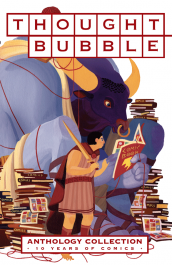 Thought Bubble Anthology Collection
Commemorating the 10th anniversary of the Thought Bubble Festival, which takes place in Leeds, Northern England, from Nov 1-6, 2016, this collection features short stories and art by: ALISON SAMPSON, CHARLIE ADLARD, GABRIEL BAUTISTA, GABRIEL BÁ, KATE BEATON, JORDIE BELLAIRE, IVAN BRANDON, JEFFERY BROWN, MARK BUCKINGHAM, CLARK BURSCOUGH, ADAM CADWELL, MIKE CAREY, EMILY CARROLL, CLIFF CHIANG, BECKY CLOONAN, BOO COOK, FAREL DALRYMPLE, RUFUS DAYGLO, ANDY DIGGLE, D'ISRAELI, MARC ELLERBY, MING DOYLE, WARREN ELLIS, GARY ERSKINE, CARLOS EZQUERRA, RAY FAWKES, DUNCAN FEGREDO, ROBIN FURTH, LEIGH GALLAGHER, STUART GORDON, BRANDON GRAHAM, NICHOLAS GUREWITCH, TONY HARRIS, WILL MORRIS, ANTONY JOHNSTON, BARRY KITSON, ALES KOT, EMI LENOX, TULA LOTAY, SARAH MCINTYRE, FABIO MOON, STEPHEN MOONEY, RAMON PEREZ, SEAN PHILLIPS, RICK REMENDER, EMMA RÍOS, TIM SALE, FIONA STAPLES, CAMERON STEWART, RICHARD STARKINGS, BABS TARR, EMMA VIECELI, ANNIE WU & SKOTTIE YOUNG. All profits from this collection go to Barnardo's, one of the largest children's charities in the UK.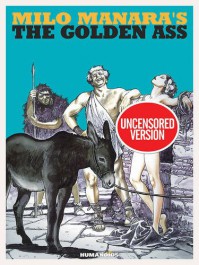 Milo Manara: Milo Manara's the Golden Ass
Suomenkielisessä versiossa on aasin kikkeli peitetty puhekuplilla. Tässä näkyy dongi koko komeudessaan.
Uncensored, oversized deluxe version.
The adventures of the young Lucius transformed into a donkey and subject to the vicissitudes of a life of wandering. An array of thieves, sorcerers and beautiful women cross his path, challenging him in more ways than one… Inspired by "The Golden Ass of Apuleius," a titillating tale that is a must-have for Manara fans.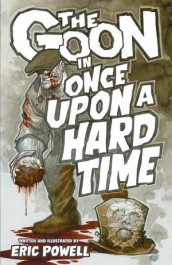 Eric Powell: The Goon 15 – Once Upon a Hard Time
After the tragic events of Occasion of Revenge, the witch coven believes that control of the unnamed town will soon be in their grasp and the Goon's tragic soul will contribute to the curse that increases their power. But has their plot destroyed the Goon or created a monster too savage for them to withstand?
Once upon a Hard Time is a climactic miniseries that has major consequences for the Goon and his supporting cast. If you're a Goon fan, you can't miss this.
Collects issues #1-4.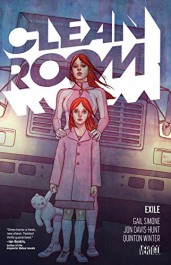 Gail Simone & Jon Davis-Hunt: Clean Room 2 – Exile
Astrid Mueller is a world-famous horror novelist, a publicly reviled huckster and the all-powerful leader of a secretive cult whose tentacles reach into every sphere of American life.
She's also humanity's last hope.
You see, her organization's apocalyptic beliefs are neither fraud nor fiction. Ever since she was a child, Astrid has been able to see the extradimensional entities preying on our unsuspecting world, and she's used every ounce of her fame and fortune to stop them.
But what if it's not enough?
When a shocking attack takes the seemingly indestructible Astrid down, it's up to reporter Chloe Pierce and Mueller's inner circle to root out the conspirators who are plotting against her and the entire human race.
Because behind closed doors—and underneath the skin—unimaginable evil is preparing its ultimate assault, and not even Astrid's inner sanctum, the Clean Room, can keep them out forever.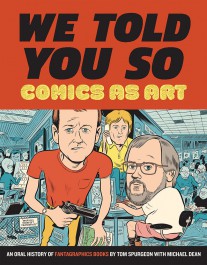 We Told You So: Comics as Art
This is an oral history of Fantagraphics, the iconoclastic independent comic book publisher who reshaped the medium so that cartoonists such as Daniel Clowes, Chris Ware, Joe Sacco, and many more could thrive.
In 1976, a group of young men and women coalesced around a fledgling magazine and the idea that comics could be art. In 2016, comics intended for an adult readership are reviewed favorably in the New York Times, enjoy panels devoted to them at Book Expo America, and sell in bookstores comparable to prose efforts of similar weight and intent.
Comics As Art: We Told You So tells of Fantagraphics Books' key role in helping build and shape an art movement around a discredited, ignored and fading expression of Americana the way insiders share the saga with one another other: in anecdotal form, in the words of the people who lived it and saw it happen. Comics historian and critic Tom Spurgeon and longtime Comics Journal editor Michael Dean assemble an all-star cast of industry figures, critics, cartoonists, art objects, curios, and groundbreaking publications to bring you a detailed account of Fantagraphics' first 40 years.
Comics as Art is a detailed catalog of the look of a cultural awakening. It's a story that includes appearances by Chris Ware, Art Spiegelman, Harlan Ellison, Jim Shooter, Stan Lee, Dan Clowes, Frank Miller, Peter Bagge, Jaime Hernandez, Gilbert Hernandez, Dave Sim, Steve Geppi, Todd McFarlane and every other major figure in the arts or business end of modern comics. More than a corporate history or a fond look back, Comics As Art: We Told You So makes the warts-and-all case for Fantagraphics Books' position near the heart of the modern reclamation of the comics art form.
Prose with photos and illustrations throughout.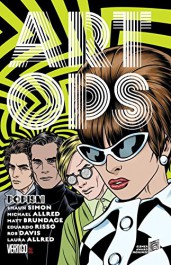 Shaun Simon & Mike Allred: Art Ops 2 – Popism
Once a garden-variety rebel without a clue, Reggie Riot found a new lust for life after losing his arm in a severe art attack. Now, with living paint serving as his prosthetic, he's turning visions into reality as the new leader of a top-secret organization known as the Art Operatives.
This specialized crew of culture warriors has sworn to protect the world's masterpieces by any means necessary—including pulling them straight through the fourth wall and into full-blooded life.
Reggie and his motley band, however, are only the tattered remains of a much larger force—one led by his high-achieving mother, who disappeared into thin air along with nearly all of her colleagues some months ago.
Enter Danny Doll, Reggie's long-lost dad and the former head of Art Ops. Doll was the enfant terrible of New York's Pop Art/Op Art scene—until an unspeakable incident sent him down a darker and more dangerous path. Now Doll has returned, ready to reconnect with his son. But is he moving back towards the light—or preparing to plunge the world into a permanent midnight?
The acclaimed VERTIGO series from writer Shaun Simon and artists Michael Allred, Matt Brundage, Eduardo Risso and Rob Davis comes to its shattering conclusion in ART OPS VOL. 2: POPISM, collecting issues #7-12 and featuring a special sketchbook section from Brundage.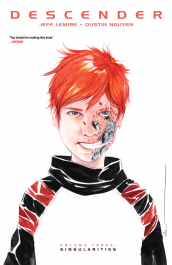 Jeff Lemire & Dustin Nguyen: Descender 3 – Singularities
This third collection of the bestselling series by JEFF LEMIRE and 2016 Eisner Award winning artist DUSTIN NGUYEN dives deep into the secret histories of each cast member with revelations that will propel young robot Tim-21's sci-fi adventure into dangerous and exciting new territory.
Collects DESCENDER #12-16.
.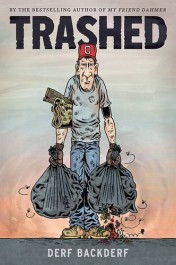 Derf Backderf: Trashed
Every week we pile our garbage on the curb and it disappears—like magic!
The reality is anything but, of course. Trashed, Derf Backderf's follow-up to the critically acclaimed, award-winning international bestseller My Friend Dahmer, is an ode to the crap job of all crap jobs—garbage collector.
Anyone who has ever been trapped in a soul-sucking gig will relate to this tale. Trashed follows the raucous escapades of three 20-something friends as they clean the streets of pile after pile of stinking garbage, while battling annoying small-town bureaucrats, bizarre townfolk, sweltering summer heat, and frigid winter storms. Trashed is fiction, but is inspired by Derf's own experiences as a garbage­man. Interspersed are nonfiction pages that detail what our garbage is and where it goes. The answers will stun you.
Hop on the garbage truck named Betty and ride along with Derf on a journey into the vast, secret world of garbage. Trashed is a hilarious, stomach-churning tale that will leave you laughing and wincing in disbelief.
Soon to be a major motion picture from director Bradley Jay Kaplan (Stealing Cars).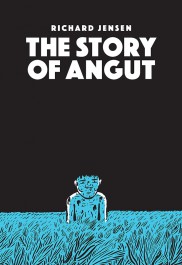 Jensen Richard : The Story of Angut
Once upon a time, there was a little boy…
The Story of Angut begins with a random encounter on a local train where a homeless man recounts his childhood to a young passenger.
We follow Angut as he is taken from his birthplace in Greenland to a foster home in Denmark, in a haunting tale of exploitation, struggle and loss.
Jim Zub & Jon Malin: Thunderbolts 1 – There Is No High Road
FROM THE PAGES OF STANDOFF!
They're a renegade team rampaging across the Marvel Universe under the direction of the Winter Soldier!
But are the Thunderbolts heroes or villains?
Do even they know for sure?
.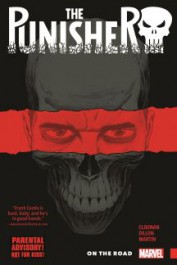 Becky Cloonan & Steve Dillon: The Punisher 1 – On the Road
A by-the-numbers drug bust is about to take Frank Castle by surprise…and he HATES surprises.
The horrible fallout threatens to send The Punisher into the heart of darkness, but Castle won't make that journey alone: A DEA agent is on his trail and attempting to get into his head…but what horrors will she find there, and will she survive the experience?
Writer Becky Cloonan and quintessential Punisher artist Steve Dillon are forcing Frank Castle out of his comfort zone and taking him to the edge of the world he thought he knew!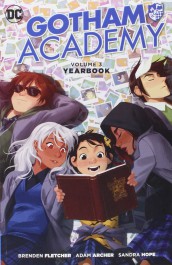 Gotham Academy 3 – Yearbook
"Another turning point, a fork stuck in the road. Life grabs you by the wrist…" and hands you this year's Gotham Academy yearbook!
The students of Gotham's most prestigious prep school are back and they've just survived one heck of a year within the walls of Gotham Academy.
Now it's time for everyone to look back and experience some of the lost adventures from the school year that was.
Featuring stories and art by some of comics' best and brightest creators including Dustin Nguyen (BATMAN: L'IL GOTHAM), Derek Fridolfs (BATMAN: L'IL GOTHAM) and Rafael Albuquerque (AMERICAN VAMPIRE), as well as from regular series writer Brenden Fletcher (BATGIRL)!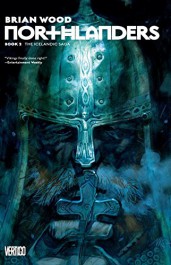 Brian Wood: Northlanders 2 – The Icelandic Saga
In A.D. 871, the Norsemen arrived on Iceland's shores.
They sought land, freedom and a new way of life. Over the course of centuries, these humble settlers built farms, clans and towns until they shaped a new nation and its path through history.
A daring man named Dag becomes the first man ever to turn his Viking boat west and sail to unknown shores in "The Sea Road."
Twenty years after being exiled, Sven of Orkney comes face to face with his own mythology as a group of mercenaries comes to hunt him down in "Sven the Immortal."
An old Icelandic fisherman discovers the body of a young girl embedded in the ice and then finds himself accused of her murder in "The Girl in the Ice."And in the epic "The Icelandic Trilogy," a small family with the name Hauksson builds a powerful crime family only to clash with the rising Church.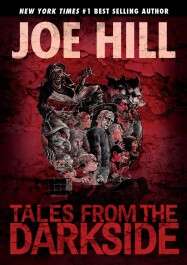 Joe Hill: Tales from the Darkside – Scripts by Joe Hill
The storied history of TALES FROM THE DARKSIDE winds ever darker and weirder with this collection of scripts by JOE HILL from the never-broadcast 2015 television reboot.
TV's loss is your gain as these all-new tales break out of the shadows and spring to vivid life at Hill's command, accompanied by striking illustrations provided by Charles Paul Wilson III (Wraith).
Fans of horror, Darkside, and Hill will not be disappointed.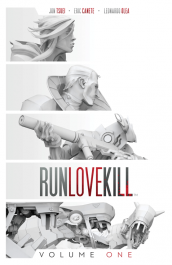 Jonathan Tsuei & Eric Canete: Runlovekill 1
The Origami, a mysterious military organization, is on the hunt for one of their former assassins, Rain Oshiro.
Their grasp over the city of Prygat is tightening and Rain has less than twenty-four hours to get out before she's trapped forever.
Rain must face the decisions of her past while using everything at her disposal to avoid capture or even worse, death.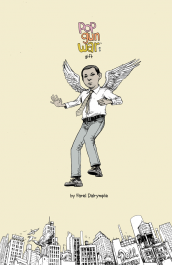 Farel Dalrymple: Pop Gun War – Gift
POP GUN WAR is about childhood, self-discovery, oppression, guilt, dreams, loneliness, whatever, and an inner city boy named Sinclair, who discovers a pair of discarded angel wings.
With these wings, Sinclair flies around the city and gets into adventures.
.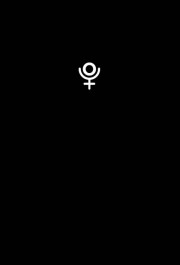 Jeff Lemire & Emi Lenox: Plutona
Five kids discover the body of the world's greatest super hero, Plutona, in the woods after school one day.
This discovery sends them on a dark journey that will threaten to tear apart their friendship and their lives.
Collects PLUTONA #1-5 in a limited hardcover format edition. .
.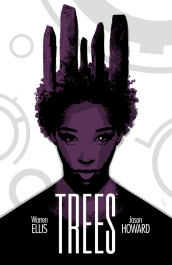 Warren Ellis & Howard Jason: Trees 2 – Two Forests
A survivor of the Blindhail Event looks for signs of imminent global disaster among the megaliths and relics of Orkney, while the new mayor of New York plans to extract his revenge for the awful thing that happened the day the Tree landed on Manhattan.
.
.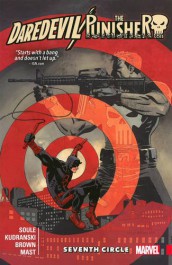 Charles Soule & Szymon Kudranski: Daredevil/Punisher – Seventh Circle
A simple change of venues for one of Matt Murdock's cases becomes more complicated when THE PUNISHER attempts to send the defendant away…permanently!
If DAREDEVIL and BLINDSPOT want to get this mobster his day in court, it will take every ounce of wit and wile they have. All Frank needs to get what he wants is a bullet.
The race is on!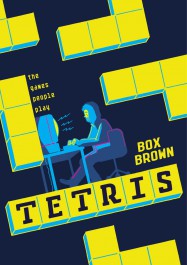 Box Brown: Tetris – The Games People Play
It is, perhaps, the perfect video game. Simple yet addictive, Tetris delivers an irresistible, unending puzzle that has players hooked. Play it long enough and you'll see those brightly colored geometric shapes everywhere. You'll see them in your dreams.
Alexey Pajitnov had big ideas about games. In 1984, he created Tetris in his spare time while developing software for the Soviet government. Once Tetris emerged from behind the Iron Curtain, it was an instant hit. Nintendo, Atari, Sega―game developers big and small all wanted Tetris. A bidding war was sparked, followed by clandestine trips to Moscow, backroom deals, innumerable miscommunications, and outright theft.
In this graphic novel, New York Times–bestselling author Box Brown untangles this complex history and delves deep into the role games play in art, culture, and commerce. For the first time and in unparalleled detail, Tetris: The Games People Play tells the true story of the world's most popular video game.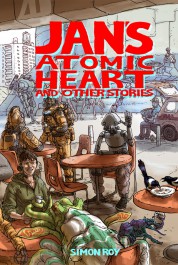 Simon Roy: Jan's Atomic Heart and Other Stories
From the mind of Simon Roy, co-writer and artist of the Eisner Award-nominated series Prophet, comes a collection of tales that span time, space, and species.
.
.
.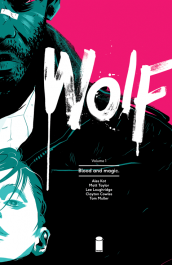 Ales Kot & Matt Taylor: Wolf 1 – Blood and magic.
Los Angeles, California: Antoine Wolfe, a hard-boiled paranormal detective with a death wish, has to cope with sudden responsibility for an orphaned teenage girl who might be the key to the impending apocalypse.
The road to hell and back begins.
ENTER THE WORLD WHERE MYTHS AND REALITY MEET—AND BLEED!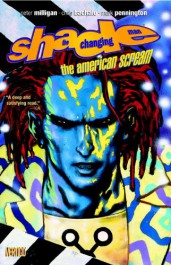 Peter Milligan & Chris Bachalo: Shade, the Changing Man 1 – The American Scream
Shade is back in this new printing of the groundbreaking Vertigo trade from writer Peter Milligan.
Collecting the first six SHADE issues, beginning with Kathy George's encounter with Shade's arrival on Earth from his home dimension of Meta – in the body of her parents' killer. From there, Shade and Kathy journey into America's collective unconscious to find the evil known only as The American Scream.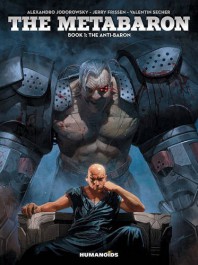 Alejandro Jodorowsky & Valentin Secher: The Metabaron 1 – The Techno-Admiral & the Anti-Baron
The return of the greatest warrior in the universe: The Metabaron!
The Metabaron once single-handedly brought the Techno-Techno Empire to its knees.
But in the chaos that followed, a new regime within the Techno-Techno civilization has rebuilt by seizing control of the galaxy's most precious fuel, the Epiphyte.
When this tyrannical new force learns that the Metabaron is back and headed towards Marmola, the only known source of Epiphyte, the Empire dispatches its most trusted servant: the notoriously invulnerable and cruel Wilhelm-100, The Techno-Admiral. Can the Metabaron save the universe once more, or has he finally met his match?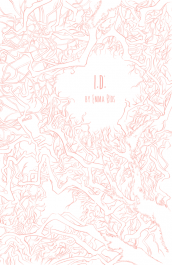 Emma Ríos: I.D.
A dystopian tale that analyzes the conflict between perception and identity through the struggle of three people who consider a "body transplant" as a solution to their lives.
.
.
.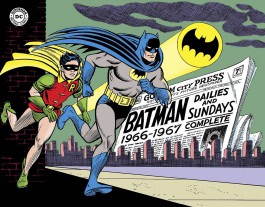 Batman – The Silver Age Newspaper Comics: 1966-1967
The Silver Age Caped Crusader comes to IDW's Library of American Comics! In partnership with DC Entertainment, the Eisner and Harvey Award-winning imprint gives the deluxe archival treatment to the classic 1960s Batman newspaper strip.
The complete series, which ran from 1966 until 1972, has never been reprinted and will be collected in three definitive volumes. The strip debuted in May 1966 on the heels of the Batmania craze resulting from the hit television program. The series boasted stories by longtime editor Whitney Ellsworth and art by DC stalwarts Shelly Moldoff, Joe Giella, and Carmine Infantino.
The first volume, reprinting all B&W dailies and color Sundays from 1966 and 1967, features an all-star list of Batman and Robin characters, including Catwoman, the Penguin, the Joker, Poison Ivy, and Batgirl!
Batman – The Silver Age Newspaper Comics: 1968-1969
In this second volume, produced in partnership with DC Entertainment, Batman's rare 1960s newspaper adventures continue.
Will Batman and Robin survive the double dealings of Madame Zodiac, not to mention the redoubtable Blue Max? If so, can the Caped Crusader then survive being trapped on an island with an atomic time bomb beneath him? Can his friend Superman save him when the Man of Steel might not be able to save himself? Can Aquaman come to rescue them both?
The answers to these questions — and many more — are in this breathtaking Bat-Volume, reprinting all daily and Sunday strips from January 1, 1968 through May 31, 1969!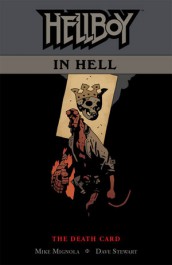 Mike Mignola: Hellboy In Hell 2 – The Death Card
The final chapter! After facing off for a second time against the Vampire of Prague, Hellboy, dead and in Hell, comes down with a fatal illness and seeks the help of an incompetent team of doctors.
As he explores the geography of Hell, learning little from a confused pair of mapmakers, Hellboy gets a glimpse of the new World Tree that he helped to create, stands accused by his own sister of a terrible murder, and causes the destruction of Pandemonium itself in the climactic chapter of the series that the LA Times calls "the best work of [Mike Mignola's] career."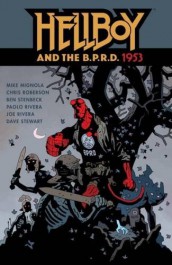 Mike Mignola & Ben Stenbeck: Hellboy and the B.P.R.D – 1953
Mike Mignola unearths Hellboy's first adventures in England, and his new cowriter Chris Roberson (iZombie) makes his debut.
Five ghostly stories drawn by Ben Stenbeck (Frankenstein Underground) and Michael Walsh (Secret Avengers) are followed by a dark look at the early days of suburbia in the three-part Beyond the Fences, drawn by Eisner Award winner Paolo Rivera (Daredevil).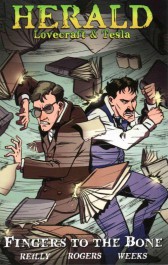 John Reilly & Tom Rogers: Herald – Lovecraft & Tesla: Fingers to the Bone
While Tesla performs a demonstration at Mark Twain's retirement party, an uninvited guest with an unmatched intellect threatens everything Tesla has worked for.
Meanwhile, Susan and Houdini enjoy a quiet evening of séances and astral travel with Aleister Crowley. In Vienna, the Cult continues its attempts to recruit a starving artist with a unique destiny.
Rich Tommaso: Dark Corridor – The Complete Series
For decades the city of Red Circle has been in the firm and ruthless grip of the mob.
That is going to change, as a small, but deadly, group of assassins begins to wipe them all out.
Confused as to who is behind these mass killings, the mob families start to turn on one another.
.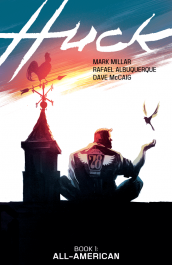 Mark Millar & Rafael Albuquerque: Huck 1 – All-American
In a quiet seaside town, a gas station clerk named Huck secretly uses his special gifts to do a good deed each day.
When his story leaks, a media firestorm erupts, bringing him uninvited fame.
As pieces of Huck's past begin to resurface, it's no longer clear who his friends are—or whose lives may be in danger.
Collects HUCK #1-6.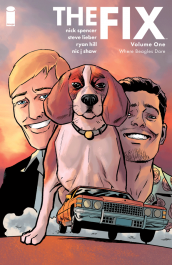 Nick Spencer & Steve Lieber: The Fix 1 – Where Beagles Dare
THE FIX is a story of the crooked cops, scheming mobsters, and corrupt politicians that run Los Angeles—and the sex toy that can bring them all down.
Oh, and the hero is a drug-sniffing beagle named Pretzels.
.
.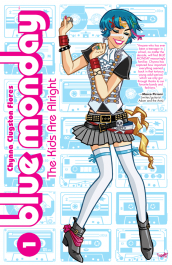 Chynna Clugston Flores: Blue Monday 1 – The Kids Are Alright
Experience the Pepsi- fueled misadventures of Bleu L. Finnegan, comics' favorite blue-haired, Buster Keaton-obsessed, Adam Ant- worshipping teenager from the very beginning!
Featuring an introduction from KIERON GILLEN (THE WICKED + THE DIVINE), this volume collects the original miniseries as well as early short stories and more.
.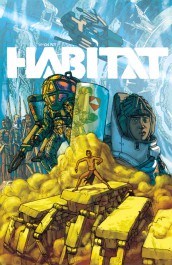 Simon Roy: Habitat
All his life, Hank Cho wanted to join the ranks of the Habsec—the rulers of the orbital habitat his people call home.
But when he finds a powerful, forbidden weapon from the deep past, a single moment of violence sets his life—and the brutal society of the habitat—into upheaval.
Hunted by the cannibalistic Habsec and sheltered by former enemies, Cho finds himself caught within a civil war that threatens to destroy his world.
A new barbarian sci-fi adventure by SIMON ROY (PROPHET, JAN'S ATOMIC HEART), originally serialized in ISLAND MAGAZINE.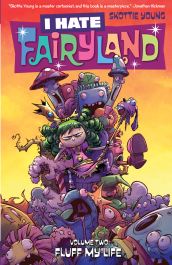 Skottie Young: I Hate Fairyland 2 – Fluff My Life
All hail Gertrude, the new Queen of Fairyland!
After thirty years of wreaking havoc across this magical world to find her way back home, she must now overcome her biggest challenge yet…ruling the place she hates most.
Join Gert as she continues her never-ending quest to get the FLUFF out of Fairyland. The hilariously brutal fairytale adventure continues by superstar cartoonist SKOTTIE YOUNG.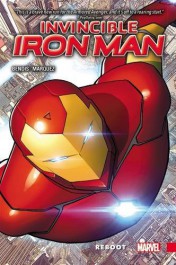 Brian Michael Bendis & David Marquez: Invincible Iron Man 1 – Reboot
One of the most popular super heroes in the world soars to fresh heights!
Tony Stark has a new armor, a new supporting cast, new villains and a new purpose that's going to tear itself across the entire Marvel Universe and beyond.
It begins with a shocker of a twist and only gets more surprising from there, with the return of one of Tony's biggest nemeses and the quest to find his biological parents!
As Iron Man chases Madame Masque, her actions threaten to rip all of reality apart! Shellhead's incredible armor will be put through its paces in a story that will shock and awe – but it is who exactly Tony teams up with that will have everyone talking.
Brian Michael Bendis takes the genius, billionaire, playboy philanthropist and makes him a superstar!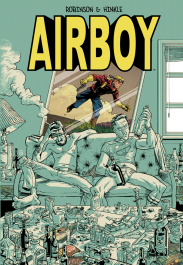 James Robinson & Greg Hinkle: Airboy Deluxe
When acclaimed comics author JAMES ROBINSON (Starman, Fantastic Four) is hired to write a reboot of the 1940s action hero Airboy, he's reluctant to do another Golden Age reboot. But it's nothing that a drink can't fix.
Then, after a night of debauchery with artist GREG HINKLE, Airboy himself appears and suddenly no one in this story has their life go according to plan.
Read the whole unexpected miniseries, as well as bonus material and conceptual art from Greg and James.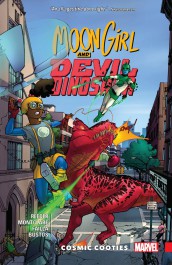 Amy Reeder & Brandon Montclare: Moon Girl and Devil Dinosaur 2 – Cosmic Cooties
She's been so busy worrying about the Terrigen Cloud that would turn her Inhuman, Luna Lafayette might instead fall prey to…Cosmic Cooties?!
Because when a new boy moves to town from far, far away, he's oddly interested in her. Meanwhile, the most wanted T-Rex in NYC is running out of places to lie low – a problem that won't get any easier when our darling duo undergo a body swap!
It's a big change up that will see Luna spending a freaky Friday (or whatever day it happens to be) as Devil Dinosaur, and vice versa! Will Luna evade capture? Will DD scrape a passing grade on his test? And who exactly is Moon Girl's new 9-year-old archnemesis, Kid Kree? As his plans unfold, there'll be major revelations about Luna's abilities!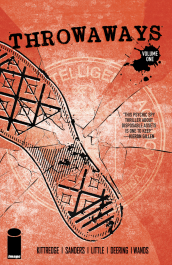 Caitlin Kittredge & Steven Sanders: Throwaways 1
Abby Palmer and Dean Logan are two broken people with one thing in common: they're both victims of a brutal government mind control experiment—and they're the only two who escaped alive.
When the program finds them again, they become the other's only chance to survive. The program gifted them both with abilities beyond a normal human's imagination—and as Dean and Abby realize what was done to them, they're determined to use those abilities to destroy the program and its sinister architect, Dr. Elizabeth Ostrander, once and for all.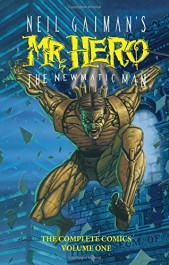 Neil Gaiman's Mr. Hero The Newmatic Man – The Complete Comics 1
From the mind of New York Times Best-selling author and Eisner Award-winning author Neil Gaiman, comes Mr. Hero!
Created by the villainous Henry Phage (aka Teknophage) as a sleeper agent, steampunk robot Mr. Hero is the toast of the late 19th century carnival scene. But when an accident during a boxing match causes him to seriously harm a patron, he's boxed up and forgotten. Rediscovered 100 years later by a young street magician, Mr. Hero struggles to overcome his original programming and become the hero his new friend (and the world) needs.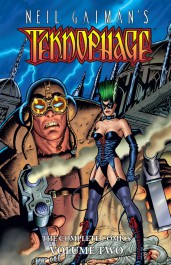 Neil Gaiman's Teknophage – The Complete Comics 2
The 65 million year-old intelligent dinosaur known as Teknophage has begun to lose his grip on his awesome power over untold universes and possibly what passes for his sanity.
Has his insatiable lust for power lead to his ultimate downfall? Complicating matters, and perhaps sensing his weakness, assassination plots, once considered unthinkable, are happening more frequently.
What are the plans of the mysterious Messalina, and the man known as the Freedom Fighter? And what happens when, finally, Teknophage is assassinated? Is that really even possible? Who will rule Kalighoul then? And who are Agnes and Johua? And what role do they play in all this madness?
Writers: Bryan Talbot, Paul Jenkins, James Vance
Artists: David Pugh, Fred Harper, Ted Slampyak, Bryan Talbot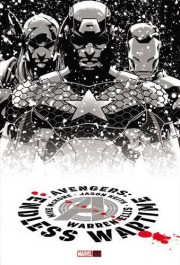 Warren Ellis & Mike McKone: Avengers – Endless Wartime
An abomination, long thought buried, has resurfaced in a war-torn land. But now it wears an American flag.
Faced with another nightmare reborn, Captain America will not stand for yet more death at the hands of a ghost from his past.
Haunted by his greatest shame, Thor must renew the hunt for a familiar beast.
At their side, an assemblage of allies united to end the threats no one of them could face alone.
They are soldiers. Warriors. Comrades-in-arms. Mighty heroes led by a living legend, stronger together than apart. They are the Avengers.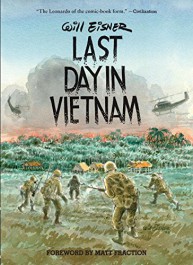 Will Eisner: Last Day in Vietnam
Last Day in Vietnam recounts the artist's own experiences with soldiers engaged not only in the daily hostilities of war but also in larger, more personal combat.
Some of the stories in this novel are comical, some heartrending, some frightening, yet all display the incredible insight into humanity characteristic of Eisner's entire oeuvre.
Printed with special sepia ink and in hardcover for the first time, this new edition gives this modern classic the literary presentation it deserves!