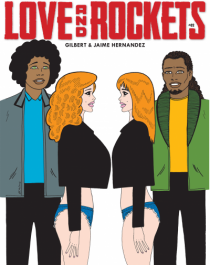 Gilbert Hernandez & Jaime: Love and Rockets #2
The second issue of Love and Rockets picks right upfrom Issue #1!
Over on Jaime's side, it's La Llorona's turn to hit the stage at the punk rock reunion and the Hellmets are closing in on Princess Animus. Is Hopey ready? Is Isla ready? Are you ready?
On Gilbert's side, Fritz and her twin daughters meet, making Fritz crazier than ever, while Pipo and her new squeeze visit the mysterious Dr. Emil in prison in an effort to learn just what his secret cosmetic treatment actually is…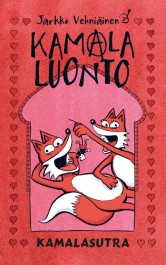 Jarkko Vehniäinen: Kamala luonto – Kamalasultra
Klassinen Kamasutra unohtuu ilveksen ja kumppaneiden osoittaessa, että mikään hinduklassikko ei tätä porukkaa auta. Kamalassa luonnossa kun ei tule parittelusta eikä niin ollen hienoista seksiasennoistakaan yhtään mitään.
Yhä useammat jo tuntevatkin porukan: ilves ja kärppä, jotka ilahtuvat jokakeväisistä paritteluajatuksista, vaikka itse touhusta ei ole kokemusta. Epäonninen hirvi, joka on valmis seurustelemaan vaikka hippiäisen kanssa, kunhan saisi vain jakaa ylitsevuotavaa rakkauttaan. Ja niin edelleen, tässä metsässä ainoa taatusti lisääntyvä laji ovat jänikset, joista suurin osa kuitenkin päätyy parempiin suihin. Ei ole helppoa, mutta hauskaa kyllä – ainakin sarjan uskollisella ja kasvavalla ystäväjoukolla.
Kamalasutra liittyy Jarkko Vehniäisen Kamala luonto -sarjan teemakirjojen asiaviihteelliseen joukkoon. Seksuaaliset ilot ja harmit ovat luomakunnan keskeisiä puheenaiheita kaikkina aikakausina ja kaikissa kulttuureissa, suhtauduttiinpa asioihin avoimesti tai peitellymmin.
Chesty Matt: Paid for It
Joe Matt offers up a wonderful send up of his pal Chester Brown's 'Paying for It'.
In this 8-page comic, Joe turns the tables and wonders what Chet's life would be like if HE were the prostitute.
In pure Joe Matt fashion, this comic is hilarious, sweet, and a little dirty.
.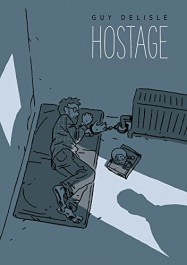 Guy Delisle: Hostage
How does one survive when all hope is lost?
In the middle of the night in 1997, Doctors Without Borders administrator Christophe André was kidnapped by armed men and taken away to an unknown destination in the Caucasus region.
For three months, André was kept handcuffed in solitary confinement, with little to survive on and almost no contact with the outside world.
Close to twenty years later, award-winning cartoonist Guy Delisle (Pyongyang, Jerusalem, Shenzhen, Burma Chronicles) recounts André's harrowing experience in Hostage, a book that attests to the power of one man's determination in the face of a hopeless situation.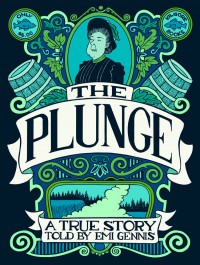 Emi Gennis: The Plunge
Emi Gennis delivers the incredible story of Annie Edson Taylor, the first person to go over Niagara Falls and live.
Instead of fame and fortune, however, Annie finds herself adrift in the world with few options and no support.
.
.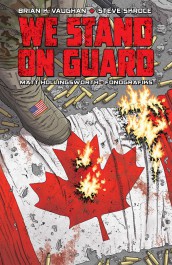 Brian K. Vaughan & Steve Skroce: We Stand on Guard
SAGA writer BRIAN K. VAUGHAN teams with Hollywood storyboard artist STEVE SKROCE for a subversive, action-packed military thriller.
Set 100 years in our future, WE STAND ON GUARD follows a heroic band of Canadian civilians turned freedom fighters who must defend their homeland from invasion by a technologically superior opponent…the United States of America.
Collects WE STAND ON GUARD #1-6 in trade paperback for the very first time!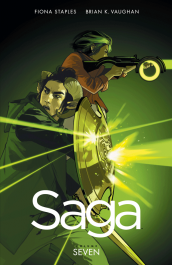 Brian K. Vaughan & Fiona Staples: Saga 7
From the worldwide bestselling team of FIONA STAPLES and BRIAN K. VAUGHAN, "The War for Phang" is an epic, self-contained SAGA event!
Finally reunited with her ever-expanding family, Hazel travels to a war-torn comet that Wreath and Landfall have been battling over for ages.
New friendships are forged and others are lost forever in this action-packed volume about families, combat, and the refugee experience.
Collects SAGA #37-42.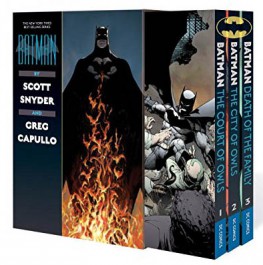 Scott Snyder & Greg Capullo: Batman by Scott Snyder and Greg Capullo Box set
From creating the deadly Gotham City cabal known as the Court of Owls to orchestrating the menacing return of the horrifying JO Snyder and Capullo have made their mark as one of the great duos in Batman's history.
Their first three critically acclaimed, award-winning graphic novels–BATMAN VOL. 1: THE COURT OF OWLS, BATMAN VOL. 2: CITY OF OWLS and BATMAN VOL. 3: DEATH OF THE FAMILY–are featured here in a slipcase edition box set.
This new collection is the perfect addition for any hardcore fan, as well as a great jumping-on point to one of the greatest comic book runs of all time.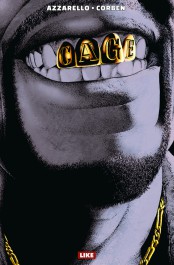 Brian Azzarello & Richard Corben: Cage
Luke Cage on New Yorkin laitakaupungin kovanaamainen supersankari, joka hoitaa hankaluudet kuin hankaluudet, jos vain palkkio on sopiva.
Kun huumediilerien välienselvittelyssä lapsensa menettänyt äiti palkkaa hänet kostamaan syyttömän tytön kuolemaa, Cage sotkeutuu kolmen eri liigan veriseen sotaan.
70-luvulla luotu Luke Cage on Marvelin ensimmäisiä mustaihoisia supersankareita. Hahmosta kertova suuren budjetin Netflix-sarja sai ensi-iltansa syksyllä 2016.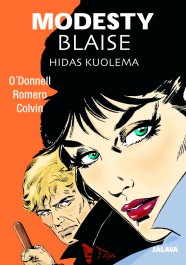 Peter O'Donnell: Modesty Blaise – Hidas kuolema
Hidas kuolema sisältää neljä Modesty Blaise ­seikkailua vuosilta 1982–1990.
Albumin nimitarinassa suurrikollisen leski jättää hänen miehensä vankilaan toimittaneen poliisin ja tämän tyttären Saharan autiomaan armoille. Ainoa, joka haistaa palaneen käryä, on poliisin vanha ystävä Modesty.
Kohtalokkaassa ennustuksessa sokea bangladeshilainen eukko ennustaa viidakkosairaalan lääkärille, että Modesty Blaise pelastaa tämän huumekauppiaiden kynsistä. Ennustuksen synkkä puoli on, että Modesty saa surmansa, ellei joku uhraa henkeään…
Salametsästäjien jahdissa Modestyn vanha tuttava joutuu vastakkain vaarallisten norsunluunhimoisten salametsästäjien kanssa. Onneksi eläimetkin ovat Modestyn puolella, ja paha saa palkkansa.
Ilmapallolla sotaan ­tarinassa italialainen lehtimies houkuttelee Modestyn mukaansa ilmapalloretkelle. Ilmasta käsin he näkevät vanhan linnan pihalla kaksintaistelun, jonka häviäjä kuolee oikeasti.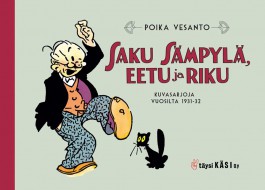 Poika Vesanto: Saku Sämpylä, Eetu ja Riku
Foksia ja funkista, jatsia ja jojottelua!
Mestaripiirtäjä ja -kuvittaja Poika Vesanto (1908–1950) tallensi kaupungistumisen aikakauden saapumisen Pohjolaan.
Hänen svengaavat kuvansa näyttävät, miten maailman ilmiöt ja muotivirtaukset tuulettivat suomalaista yhteiskuntaa.
Tähän teokseen on koottu kaikki Vesannon 1930-luvulla ilmestyneet Eetu, Riku ja Saku Sämpylä -sarjakuvat sekä muita harvinaisia kuvituksia taustoittavien artikkelien kera.
Toimittanut Pertti Jarla ja työryhmä: Ville Hänninen, Vesa Kataisto, Timo Kokkila, Timo Ronkainen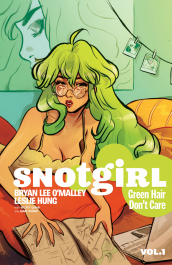 Bryan Lee O'Malley & Leslie Hung: Snotgirl 1 – Green Hair Don't Care
From bestselling BRYAN LEE O'MALLEY (Scott Pilgrim) and superstar newcomer LESLIE HUNG!
Lottie Person is a glamorous fashion blogger living her best life—at least that's what she wants you to think.
The truth is, her friends are terrible people, her boyfriend traded her up for someone younger, her allergies are out of control, and she may or may not have killed somebody! SNOTGIRL VOL. 1 is the perfect introduction to one of 2016's most buzzed-about titles! Collects SNOTGIRL #1-5.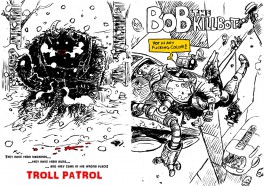 Tuomas Myllylä: Troll Patrol/Bob the Killbot
Kääntölehti.
Toisella puolella peikkoja talvisodassa ja toisella tappajarobotteja!
.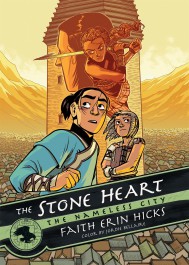 Faith Erin Hicks: The Stone Heart – The Nameless City
Kaidu and Rat have only just recovered from the assassination attempt on the General of All Blades when more chaos breaks loose in the Nameless City: deep conflicts within the Dao nation are making it impossible to find a political solution for the disputed territory of the City itself.
To complicate things further, Kaidu is fairly certain he's stumbled on a formula for the lost weapon of the mysterious founders of the City. . . . But sharing it with the Dao military would be a complete betrayal of his friendship with Rat.
Can Kai find the right solution before the Dao find themselves at war?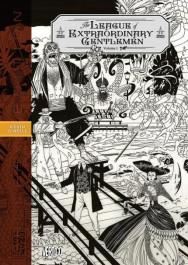 Alan Moore & Kevin O'Neill: The League of Extraordinary Gentlemen 1 Gallery Edition
As the Victorian era draws to a close, Allan Quatermain, Captain Nemo, Hawley Griffin, Dr. Henry Jekyll, Mr. Edward Hyde and Mina Murray have been gathered together to save their nation.
Now, the original adventures of this group have been collected and sourced from the original art for the first time ever in THE LEAGUE OF EXTRAORDINARY GENTLEMEN: KEVIN O'NEILL GALLERY EDITION.
This Smythe-sewn hardcover edition includes all of Kevin O'Neill's artwork from the original six-issue THE LEAGUE OF EXTRAORDINARY GENTLEMEN miniseries Vol. I, scanned in full color from the original art boards. Also included are the covers and various League artwork that showcase Kevin's incredible craftsmanship.
Graphitti Designs' Gallery Editions replicate the look, feel and attitude of the artwork. Every page is reproduced at original size on heavy paper stock to provide the fan and collector with museum-quality reproductions that are obtainable nowhere else. THE LEAGUE OF EXTRAORDINARY GENTLEMEN: KEVIN O'NEILL GALLERY EDITION captures the intricate art of Kevin's artwork as never seen before.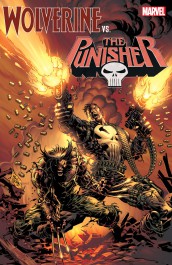 Wolverine vs. The Punisher
Which are better, claws or guns?
Find out in this brutal collection of Wolverine/Punisher fights — and grudging team-ups!
From their first throwdown in the heart of Africa, there's no love lost between two stone-cold killers whose combined body count is off the charts!
They'll take on the Punisher's cyborg doppelganger Damage, go to war with the Architect, and head underground for a revelatory mission!
They'll rumble in the jungle, melee in Madripoor and literally battle a small army!
But nothing can top the sublime violence Garth Ennis's Punisher visits on his sparring partner — except maybe Logan's swift revenge! Snikt! Snikt! Bang! Bang!
Collects Punisher War Journal (1988) #6-7, Wolverine/Punisher: Damaging Evidence #1-3, Punisher War Zone (1992) 19, Wolverine/Punisher: Revelation 1-4, Punisher (2001) 16-17, Wolverine (1988) 186, Wolverine/Punisher (2004) #1-5, Astonishing Tales: Wolverine/Punisher #1-6.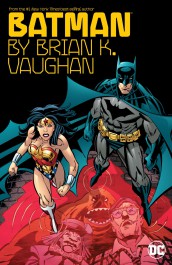 Brian K. Vaughan: Batman by Brian K. Vaughan
In the first of these tales of the DCU, Bruce Wayne adopts the guise of Matches Malone–the seedy identity he uses to infiltrate the Gotham underworld.
But when Matches is shot, it's up to Batman to determine what really happened…and how Scarface is involved!
Plus, in other stories, Batman takes on the Mad Hatter, and Wonder Woman and Donna Troy square off against Clayface! This new graphic novel edition collects BATMAN #588-590, DETECTIVE COMICS #787, WONDER WOMAN #160-161 and BATMAN: GOTHAM CITY SECRET FILES #1!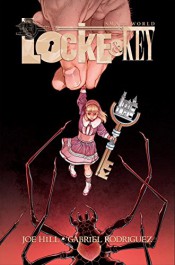 Joe Hill & Gabriel Rodriguez: Locke & Key – Small World
Three years after wrapping up their award-winning, best-selling Locke & Key saga, the team that built Keyhouse returns to Lovecraft, Massachusetts with a new tale of terror and suspense!
An impossible birthday gift for two little girls unexpectedly throws open a door to a monster on eight legs!
This deluxe hardcover edition contains the new 24-page story and adds pages from various drafts of Joe Hill's scripts, from the earliest hand-written pages to the various revisions; process pages from Gabriel Rodriguez; a special pinup from Brian Coldrick, and more!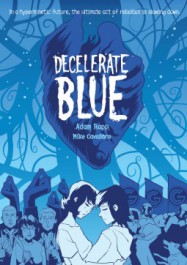 Adam Rapp & Mike Cavallaro: Decelerate Blue
The future waits for no one.
In this new world, speed and efficiency are everything, and the populace zooms along in a perpetually stimulated haze. Angela thinks she's the only person in her family―maybe the only person on the planet―who sees anything wrong with this picture. But the truth is she's not alone.
Angela finds herself recruited into a resistance movement where the key to rebellion is taking things slow. In their secret underground hideout, they create a life unplugged from the rapid-fire culture outside. Can they free the rest of the world before the powers that be shut down their utopian experiment?
From revolutionary and award-winning playwright Adam Rapp and veteran cartoonist and animator Mike Cavallaro comes Decelerate Blue, a dark, breath-taking new vision of an all-too-plausible future for America.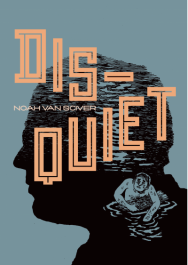 Noah Van Sciver: Disquiet
Featuring over a dozen literary comic shorts by acclaimed cartoonist Noah Van Sciver.
Whether in his fiction (Fante Bukowski) or nonfiction (The Hypo: The Melancholic Young Lincoln), Van Sciver has carved a niche as a keen observer of the human condition, exploring the decisions people make that make, break, and define them.
Disquiet showcases the best of his short work, including: "The Death Of Elijah Lovejoy," the story of the midwestern abolitionist in the 1830s who published a radical newspaper that denounced slavery and provoked local mobs to destroy his printing presses; "The Lizard Who Laughed," a painfully dysfunctional reunion between an absent father and his adult son; and "Punks V. Lizards," an anarchic and darkly comic piece of absurdity that blends Quadrophenia with Jurassic Park.
As writer/musician Robin Edwards (Lisa Prank) notes in her introduction, "The stories in this book run all over the place … What comes through is wholeheartedly Noah: anxious and funny and depressed and weird and brilliant."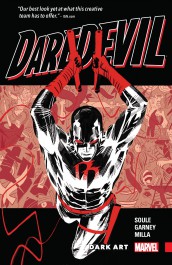 Charles Soule: Daredevil – Back in Black 3: Dark Art
The creepiest Daredevil story of the century!
Losing a big case has landed A.D.A. Matt Murdock in hot water with the city, leaving him less time to clean up the streets as DD.
But as his protégé, Blindspot, tries to take up the slack, the young hero gets in over his head when he stumbles upon a horrific crime scene — one that will terrify even the Man Without Fear!
Muse — a serial killer who turns his victims into works of art — is on the loose, and Daredevil and Blindspot are no fans of his "masterpieces." But DD, for so long a solo hero, will have yet another partner on the case — an Inhuman!
Muse's sadistic art installations will strike close to home — and there's nothing Matt can do about it!
Collects Daredevil (2015) #10-14.
Neil Gaiman & P. Craig Russell: Murder Mysteries
Neil Gaiman and P. Craig Russell venture into the world of myth and angels in this new edition of their noir-fantasy tale.
Constructing and maintaining all of heaven and earth is an immense task, which God has divided up amongst the various ranks and stations of angels.
As with any huge effort, there are bound to be casualties. Lights is shed on the lords behind creation as one lonely man in Los Angeles hears the story of one particular unspeakable crime: a murder in Paradise.
Cinema Purgatorio #9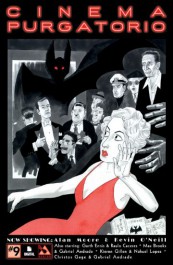 Who doesn't have fond memories from their youth of sneaking into the theater to see a movie they were too young to view?
But in this world of Alan Moore's surreal cinema, viewing those features can be hazardous to your sanity.
Hiding in the back of the dark theater you wait for the feature to start and the ushers to leave… but something is horribly wrong.
The air is so dusty it's hard to breathe and you feel like something is watching you.
This is where the madness begins.
Join a master class of horror creators as they spin stories to terrify and delight.
Now showing: Cinema Purgatorio by Alan Moore and Kevin O'Neill, A More Perfect Union by Max Brooks and German Ponce, Code Pru by Garth Ennis and Raulo Caceres, Modded by Kieron Gillen and Nahuel Lopez, and The Vast by Christos Gage and Gabriel Andrade.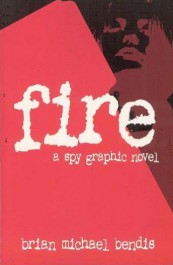 Brian Michael Bendis: Fire
YOUR GOVERNMENT DOES NOT WANT YOU TO READ THIS BOOK!
Loosely based on events in the American intelligence community during the Reagan administration, FIRE tells the unique and powerful story of a young man's virgin journey through the complex world of international intelligence.
This is a complete globe spanning thriller for fans of "Bond," pulp spy novels, and true world crime stories.
This definitive presentation of Eisner Award-winner Brian Michael Bendis' first cinematic noir comic features re-mastered art, lettering, and a newly revised script.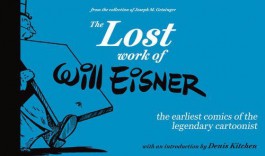 Will Eisner: The Lost Work of Will Eisner
Unearthed as part of a massive collection of pre-WWII newspaper printing plates, the mid-1930s comic strips UNCLE OTTO and HARRY KARRY represent the earliest known cartooning of the great comics and sequential art pioneer Will Eisner.
In these strips you can see the young Eisner's imagination expanding, as he experiments with the possibilities of serialized storytelling and works through his numerous influences. The comics collected within document the genesis of one of the most iconic and brilliant cartoonists of all time.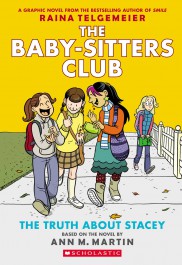 Raina Telgemeier: The Baby-Sitters Club – The Truth About Stacey
Poor Stacey.
She just moved to a new town, is still coming to terms with her diabetes, and is facing baby-sitting problems left and right.
Fortunately, Stacey has three new friends — Kristy, Claudia, and Mary Anne. Together they're the BSC — and they will deal with whatever's thrown their way… even if it's a rival baby-sitting club!
This graphic novel adapted by Raina Telgemeier, the #1 New York Times bestselling, multiple Eisner Award-winning author of Smile, is now available in full color! Raina Telgemeier, in the same signature style featured in Smile and Sisters, perfectly captures all the drama and humor of the original novel!
Tapani Koivula & EQ Halminen: Intiaani Morning Star & Ada
Intiaanipäällikkö Morning Starin ja intiaanityttö Adan vuoropuhelu on kiehtova matka Maa-planeetan, elämän ja universumin mysteerioihin.
Se perustuu ufotutkija ja kirjailija Tapani Koivulan henkiseen romaaniin Aamutähti (2016).
Sarjakuvakirjan ovat koostaneet Tapani Koivula sekä pitkän linjan sarjakuvataiteilija Esa EQ Halminen.
Sadan kappaleen numeroitu painos.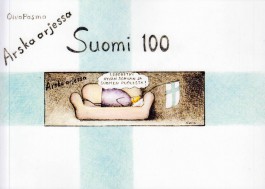 Oiva Pasma: Arska arjessa – Suomi 100 vuotta
Kolmas kokoelma Arskaa.
.
.
.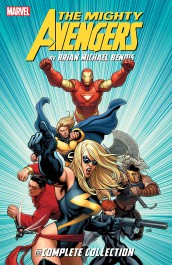 The Mighty Avengers by Brian Michael Bendis – The Complete Collection
In the wake of Civil War, a new team of Avengers assembles – and it's the mightiest of all!
Iron Man! Wasp! Black Widow! Ms. Marvel! Wonder Man! Sentry! And Ares, god of war!
But even a team this powerful will have its hands full with threats like Ultron and the Venom bomb!
And an even more insidious menace is about to be revealed: a Skrull Secret Invasion!
Just how long has it been underway, and can anyone be trusted? Nick Fury is the man with a plan to save the Earth -but who are the young warriors he has up his sleeve? And the return of legendary Kree hero Mar-Vell raises even more questions – what role will he and young Marvel Boy play?
Collects Mighty Avengers (2007) #1-20.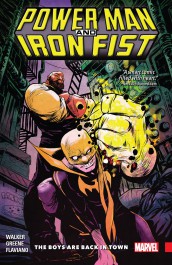 David F. Walker: Power Man and Iron Fist 1 – The Boys Are Back in Town
The best buddy team in comics, reunited at last!
Luke Cage and Danny Rand, the Heroes for Hire turned Avengers, are going back to street-level basics — and there's a mystery to solve that will draw in crime lords, hired goons and old friends! But which of the three pose the most trouble?
The Big Apple may end up poisoned by magic unless Luke and Danny can put a stop to whoever is wielding the mystical Supersoul Stone! Business starts to boom, with a flurry of big-hitting, kung-fu-fighting action. Luke brings the power, Danny brings the fists — you bring the snacks!
Collects Power Man and Iron Fist (2016) #1-5.
Batgirl and the Birds of Prey 1 – Who Is Oracle?
Barbara Gordon is no stranger to secrets.
She's the daughter of GCPD Jim Gordon, the vigilante known as Batgirl and was once Oracle, the most powerful hacker on the planet.
Someone new has resurrected the Oracle mantle that Babs once controlled, and whoever is behind it is sending Batgirl on a wild chase all across Gotham City.
By her side are two equally dangerous vigilantes–Dinah Lance, the rock star-turned-hero known as Black Canary, and Helena Bertinelli, the lethal spy code-named the Huntress.
Can this mismatched trio come together in time to solve the mystery of the new Oracle and defeat the villainous forces arrayed against them? Or will these Birds of Prey have their wings clipped before they can even get off the ground?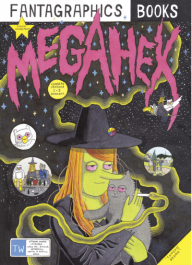 Simon Hanselmann: Megahex
Megg is a depressed, drug-addicted witch.
Mogg is her black cat.
Their friend, Owl, is an anthropomorphized owl.
They hang out a lot with Werewolf Jones.
This may sound like a pure stoner comedy, but it transcends the genre: these characters struggle unsuccessfully to come to grips with their depression, drug use, sexuality, poverty, lack of work, lack of ambition, and their complex feelings about each other in ways that have made Megg and Mogg sensations on Hanselmann's Girl Mountain Tumblr.
This is the first collection of Hanselmann's work, freed from its cumbersome Internet prison, and sure to be one of the most talked about graphic novels of 2014, featuring all of the "classic" Megg and Mogg episodes from the past five years as well as over 70 pages of all-new material.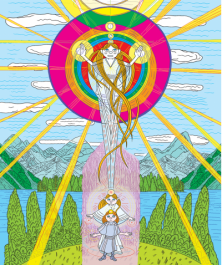 Ron Regé Jr.: The Cartoon Utopia
Ron Regé, Jr. is a very unusual yet accomplished storyteller whose work exudes a passionate moral, idealistic core that sets him apart from his peers.
The Cartoon Utopia is his Magnum Opus, a unique work of comic art that, in the words of its author, "focuses on ideas that I've become intrigued by that stem from magical, alchemical, ancient ideas & mystery schools."
It's part sci-fi, part philosophy, part visual poetry, and part social manifesto. Regé's work exudes psychedelia, outsider rawness, and pure cartoonish joy.
In The Cartoon Utopia, "Utopians" of the future world are attempting to send messages through consciousness, outside of the constricts of time as we understand it.
They live in a world of advanced collective consciousness and want to help us understand how to achieve what they have accomplished. They get together to perform this task in a way that evolved out of our current system of consuming information and entertainment. In other words, the opposite of television.
Instead, these messages appear in the form of art, music and storytelling.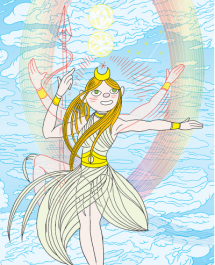 Ron Regé Jr.: What Parsifal Saw
What Parsifal Saw collects work produced by artist Ron Regé, Jr. following the release of 2012's acclaimed opus, The Cartoon Utopia (which is being re-released in paperback this season).
Regé's interest in esoteric ideas and spirituality has permeated into all aspects of his work, as highlighted by "Cosmogenesis," his adaptation of selections from the writings of 19th century occultist Helena Petrovna Blavatsky.
"Cosmogenesis" concerns the magical, alchemical, ancient, and mysterious ideas that strongly influenced The Cartoon Utopia as well. Regé's work continues to a cosmic consciousness, psychedelia, outsider rawness, and pure cartoonish joy.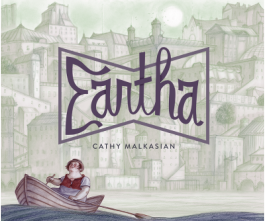 Cathy Malkasian: Eartha
Eartha is Cathy Malkasian's fourth graphic novel — a metaphorical fable that resonates with contemporary themes.
For a thousand years the unfinished dreams from the City Across the Sea came to Echo Fjord to live out their lives.
Sex fantasies, murder plots, wishful thinking, and all manner of secrets once found sanctuary in Echo Fjord. Emerging from the soil, they took bodily form and wandered the land, gently guided by the fjord folk who treasured their brief and wondrous lives.
But recently, city dreams have stopped coming to Echo Fjord, and without their ethereal tourists the fjord folk suddenly feel lost. Has their ancient way of life ended for good? Has something happened to the city? Are all the dreamers gone?
One of Echo Fjord's inhabitants wants answers: The story's eponymous protagonist Eartha wants to visit the City Across the Sea, but how will she get to a place no one's gone to for a thousand years? The city isn't on any map, or in anyone's memory.
Without thought or hesitation she ventures into the limitless waters, hoping to find the City and solve the mystery.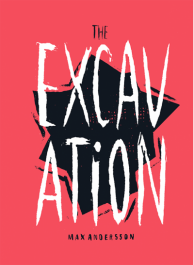 Max Andersson: The Excavation
A man and his girlfriend go to visit his family, only to find their home destroyed and his father Frankensteining his siblings.
What's going on? The couple is about to discover that nothing is as it seems: not their bodies; not the structures they inhabit (there are no doors); and not the police that wander in and out of their lives.
And, no matter how many armed standoffs and car chases there are, you can never escape your parents — or the dead body under the kitchen table.
Drawn in a slashing pen and ink style with raw crosshatching and heavy blacks, the author's German Expressionist-influenced visual approach adds to the intense, claustrophobic feel of the work, like a graphic novel collaboration between Gary Panter and Edvard Munch. Based on the author's dreams, The Excavation's surreal verisimilitude recalls cult films like The Forbidden Zone and Eraserhead.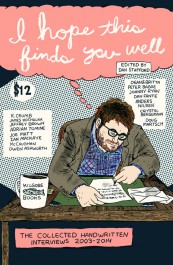 Dan Stafford: I Hope This Finds You Well
Compiled over a period of twelve years, 'I Hope this Finds You Well' collects the hand-written interviews of Dan Stafford in 112 pages.
Includes fifteen interviews done entirely by hand with:
R. Crumb, Adrian Tomine, Joe Matt, Crystal Bergemann, Ian MacKaye, Mac, Dean & Britta, Anders Nilsen, Doug Martsch, Johnny Ryan, Peter Bagge, Dan Fante, Owen Ashworth, Jeffrey Brown, and Jame Kochalka
Manuele Fior: The Interview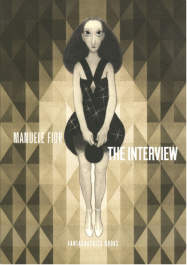 The Interview is the second graphic novel by Manuele Fior, author of the critically acclaimed and international award-winning debut 5,000 KM per Second.
Set in Italy in 2048, it follows Raniero, a fifty-something psychologist in a failing marriage.
In the sky, strange bright triangles appear, bearing mysterious messages from an extraterrestrial civilization. Dora, his young patient, is part of the "New" Convention, a movement of young people preaching free love and alternative models to coupling and family.
She declares that her telepathic abilities can parse the signal — a warning of some kind. Initially skeptical, Raniero's curiosity and attraction grows.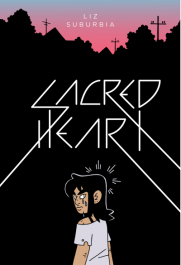 Liz Suburbia: Sacred Heart
There's an absence of authority in the town of Alexandria, and the teens are trying to keep their makeshift society together until their parents return.
But students keep dying mysteriously, local band The Crotchmen rock the nights away, freshmen palm readers and seers have lines out the door, and Ben Schiller has had it up to HERE with her sister Empathy's disappearing act.
It's a punk summer vacation that might not make it to fall.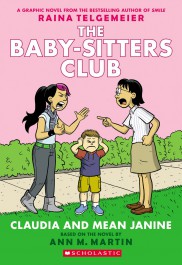 Raina Telgemeier: The Baby-Sitters Club – Claudia and Mean Janine
Claudia and her sister, Janine, may as well be from two different planets.
Claudia, who pays more attention to her artwork and The Baby-sitters Club than her homework, feels like she can't compete with her perfect sister.
Janine studies nonstop, gets straight As, and even takes college-level courses!
But when something unexpected happens to the most beloved person in their family, will the sisters be able to put aside their differences?
Raina Telgemeier, using the signature style featured in her acclaimed graphic novels Smile and Sisters, perfectly captures all the drama and charm of the original novel!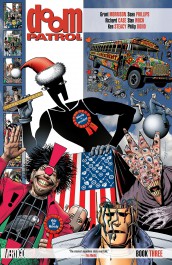 Grant Morrison: Doom Patrol Book Three
The Doom Patrol must face new challenges: the final fate of the Brotherhood of Dada, the rise of the unstoppable Candlemaker, Danny the Street meeting his cosmic destiny and Crazy Jane attempting to find her place in the world. Sound strange? Well, not as strange as the superhero team fighting them.
This exciting continuation from author Grant Morrison picks up in DOOM PATROL BOOK THREE, with art by Brian Bolland, Richard Case, Philip Bond, Ken Steacy, Sean Phillips and more.
Collects DOOM PATROL #51-63 and the legendary DOOM FORCE SPECIAL #1.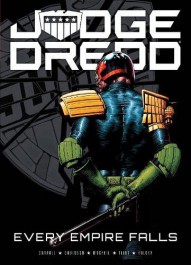 Judge Dredd – Every Empire Falls
Mega-City is no longer the world power it used to be… and its enemies know it!
After an attempt on Judge Joyce's life by a world-class assassin, Judge Dredd himself must accompany him on a mission to the Irish Judge's homeland.
They find themselves at odds with a deadly conspiracy that may change the fate of Mega-City One, but the conspirators soon find out what happens when you target Mega-City Judges!
With Justice Department still recovering from recent disasters, Chief Judge Hershey is forced to send some of her best Judges to investigate a series of raids in the Cursed Earth leaving her badly understaffed.
Enlisting the help Texas City to keep the peace, she learns that their aid comes at a high price! As the city-spanning conspiracy unfolds it may spell the end for Mega-City One… and for Judge Dredd!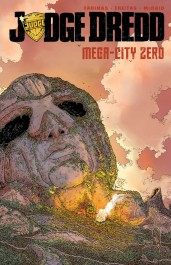 Judge Dredd – Mega-City Zero 1
Ushering in a brave new era, Judge Dredd awakens to find that Mega-City One has been sent back to the Stone Age, with city blocks overgrown and nary a citizen to be found.
Witness as Dredd struggles to unravel the mystery as he copes with being just an ordinary Joe.
Collects issues #1–4.
.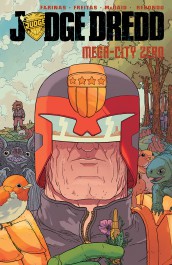 Judge Dredd – Mega-City Zero 2
Dredd finds himself the only Judge in a Mega-City One that he barely recognizes.
Joined by a trio of feral girls, he has taken on his most challenging case yet: to uncover what happened to the city he has sworn to serve and protect.
Collects issues #5–8
.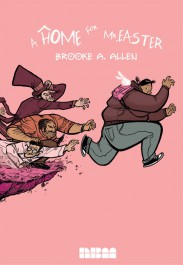 Brooke A. Allen: A Home for Mr. Easter
By the co-creator of the bestselling Lumberjanes!
You will love this crazy energetic book by a refreshing new talent!
Tesana has never really fit into anything before but her daydreams. But when making an attempt to connect to her peers by joining in a pep rally planning committee she suddenly discovers a little white rabbit that lays brightly colored eggs.
Realizing that she may have found the real life Easter bunny, Tesana embarks on an epic quest in an effort to get him back to his natural habitat and into safe hands.
However as she progresses on her fanciful journey she gains more and more undesired attention until the quest becomes an increasingly madcap race to stay ahead of greedy pursuers and find a safe place for her new friend…wherever that place may be.
It's Tesana against the world!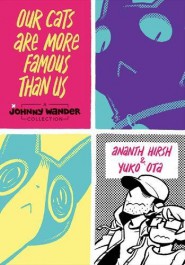 Ananth Hirsh & Yoko Ota: Our Cats Are More Famous Than Us
In 2008, Ananth Hirsh and Yuko Ota launched the auto-bio webcomic Johnny Wander.
Eight years, four cats, and three moves are chronicled in this gorgeous hardcover omnibus, which includes a foreword by Raina Telgemeier (Smile, Ghosts). H
irsh and Ota's charming reverie about new adulthood will appeal to fans of Kate Beaton, Bryan Lee O'Malley, and Jeffrey Brown—along with anyone who's just winging it.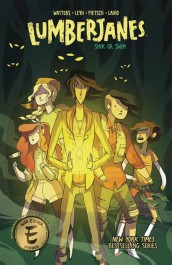 Shannon Watters & Carey Pietsch: Lumberjanes 6 – Sink or Swim
A crazy storm is coming and the Lumberjanes have to help their counselor Seafarin' Karen get her boat back from some renegade selkies. Knot On Your Life!
Camp is about more than just crafts and acquiring badges when you're a Lumberjane. When April, Jo, Mal, Molly, and Ripley all decide to learn more about the mysterious Seafarin' Karen, things take a turn for the strange. Shapeshifters, strange portals, and friendship to the max make for one summer camp that never gets boring!
This New York Times bestseller and multiple Eisner Award-winning series is a story of friendship, hardcore lady-types and kicking a lot of butt. Don't miss out on these brand-new adventures written by Shannon Watters and Kat Leyh (Super Cakes) and illustrated by Carey Pietsch (Adventure Time: Marceline Gone Adrift).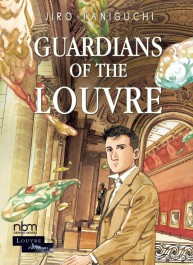 Jiro Taniguchi: Guardians of the Louvre
Acclaimed manga artist Jiro Taniguchi provides the latest entry in the Louvre collection of graphic novels.
After a group trip to Europe, a Japanese artist stops in Paris alone, intent on visiting the museums of the capital.
But, bedridden in his hotel room with fever, he faces the absolute solitude of one suffering in a foreign land, deprived of any immediate or familiar recourse.
When the fever breaks somewhat, he sets out on his visit and promptly gets lost in the crowded halls of the Louvre.
Very soon, he discovers many unsuspected facets to this world in a museum in a journey oscillating between feverish hallucination and reality, actually able to speak with famous painters from various periods of history, led to crossroads between human and personal history by… the Guardians of the Louvre.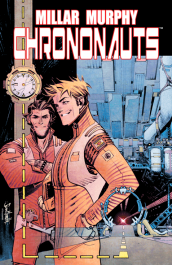 Mark Millar & Sean Murphy: Chrononauts
Corbin Quinn and Danny Reilly are time travelers whose plans go off-course, leading to wild adventures in the time-stream.
Collects CHRONONAUTS #1-4.
.
.
.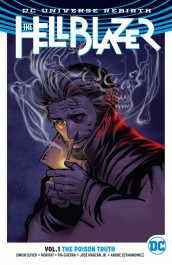 Simon Oliver: The Hellblazer 1 – Poison Truth
John Constantine, the hard-hearted Hellblazer returns home to London to face an impossible choice: live an immortal life bonded to a demonic curse, or shift that curse to eight million people—killing each and every one of them!
What to do, what to do…
The Hellblazer is back in the first volume of the continued story of one of DC's most iconic and long-lasting characters by writer Simon Oliver (FBP) with art by Moriat (The Spirit). Collects THE HELLBLAZER: REBIRTH #1 and THE HELLBLAZER #1-6.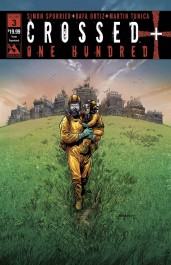 Simon Spurrier & Martin Tunica: Crossed + One Hundred 3
The future world of Alan Moore's evolved Crossed saga takes another leap forward as Crossed: Wish You Were Here scribe, Simon Spurrier, catapults Future Taylor five more years into the uncertain future.
The world has continued to change as the Crossed have developed their own alien culture and grand plan.
Towns continue to fall and suspicions about infiltrators are at an all-time high.
But when Future finds an infected baby and decides to keep it alive, she begins to see another side to the snapping, snarling, fury that is innate within the Crossed.
This volume collects issues #13 – 18 of the ongoing Crossed +100 series.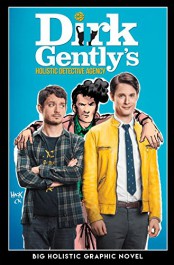 Dirk Gently's Holistic Detective Agency – Big Holistic Graphic Novel
Douglas Adams' holistic detective Dirk Gently has his first two comic book adventures collected here.
Containing two stand-alone series, enjoy A Spoon Too Short and The Interconnectedness of All Kings. But that's not all! Also includes bonus material showing a behind-the-scenes look at the making of the DIRK GENTLY TV show.
In A Spoon Too Short, Dirk finds himself investigating a bizarre case of poaching, dumbstruck tourists, and the inner membranes of a rhinoceros' nose.
In The Interconnectedness of All Kings, Dirk has been forced to leave his beloved England behind, coming to the too-sunny, too-cheery, and altogether too-bizarre-even-for-Dirk city of San Diego, California, where he gets embroiled in three separate (or are they?) cases involving reincarnated Egyptians, golden cell phones, and copycat killers.
All this in a new town seemingly incapable of making even a single proper cup of tea.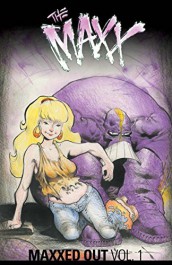 Sam Kieth: The Maxx – Maxxed Out 1
Sam Kieth's opus, The Maxx, is collected here in all its freshly-colored glory. Taking remastered pages from The Maxx: Maxximized, this new series of trade paperbacks packs 12-issues of Kieth goodness between the covers.
Originally published by Image Comics starting in 1993, The Maxx became a cult hit of independent comics spawning a TV show on MTV.
The series follows its titular hero in the real world as a vagrant and in an alternate reality called The Outback, where he sees himself as a superhero and protector of the Jungle Queen, represented by Julie Winters, a social worker and friend.
The series lasted for 35 issues and ended in 1998.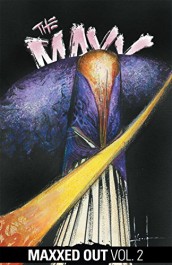 Sam Kieth: The Maxx – Maxxed Out 2
Sam Kieth's and William Messner-Loeb's opus, The Maxx, is collected here in all its freshly re-colored glory. Volume 2 collects issues #13–24.
Originally published by Image Comics starting in 1993, The Maxx became a cult hit of independent comics spawning a TV show on MTV. The series follows its titular hero in the real world as a vagrant and in an alternate reality called The Outback, where he sees himself as a superhero and protector of the Jungle Queen, represented by Julie Winters, a social worker and friend. The series lasted for 35 issues and ended in 1998.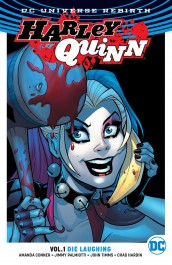 Amanda Conner & Jimmy Palmiotti: Harley Quinn 1 – Die Laughing
Harley's back in this new Vol. 1 graphic novel from DC Rebirth!
Her name is Dr. Harleen Quinzel-better known to her friends and enemies as Harley Quinn.
Her very-very-ex-boyfriend the Joker may be the Clown Prince of Crime, but Harley's the Queen of Coney Island!
So when the zombie apocalypse threatens her li'l seaside stretch of paradise, who else would ya call to give the undead a blow to the head?
In these platitudinous pages, the baddest bad girl in the entire DC Universe joins forces with everyone from her gal pal Poison Ivy to the New York City punk scene to take down anyone who stands between her and a good time-living, dead or undead.
Fists will fly, hammers will fall, dudes will be brutalized and the ladies will rule the night!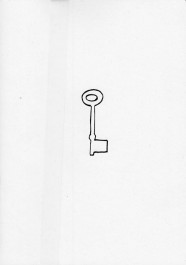 Iida Ojanperä: One
Sanaton.
Nelivärinen.
Signeerattu.
Numeroitu.
.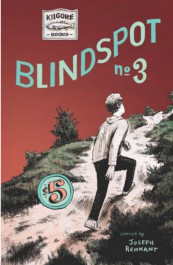 Joseph Remnant: Blindspot #3
In Blindspot, Joseph Remnant continues the resurgence of the one-man-anthology comic.
With four short stories, the reader gets humor, loss, surrealism, depression and rebirth. Pretty good for a comic book.
Joseph is perhaps best known as the illustrator to work on Harvey Perkar's last book, Cleveland.
With Blindspot, Joseph shows he's got a unique and talented voice all his own.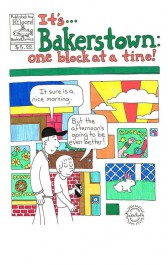 Jake Roth: Bakerstown – One Block at a Time
In this delightful and heartwarming story, two brothers roam around Bakerstown buying comics and hanging out.
Sweet nostalgia that doesn't give you a toothache from one of Denver's most talented cartoonists.
A truly unique voice.
.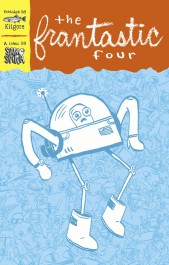 Sam Spina: The Frantastic Four
Sam Spina, now a fixture on the Cartoon Networks 'The Regular Show', created this delightful cute and twisted story of an explorer trying to live up to his dead brother.
Maybe it's about making a family with what you've got.
Maybe it's about aliens.
Who knows?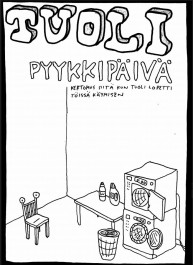 Puntti Virveli: Tuoli Pyykkipäivä
"PYYKKIPÄIVÄ" – noin 12-sivuinen kertomus siitä miksi Tuoli lopetti työnteon ja jättäytyi toimeentulotuen varaan.
.
.
.
.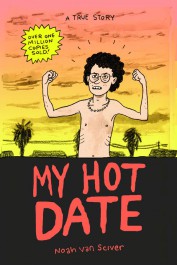 Noah Van Sciver: My Hot Date
In 'My Hot Date', Noah delivers a great autobiographical comic.
Covering his youth in suburban Phoenix as a poor, skateboarding, poser who gets his first 'hot date', this comic contains all the humor, sadness, empathy, and honesty we've come to expect from every comic this guy puts out.
.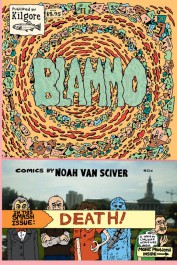 Noah Van Sciver: Blammo #6
This Ignatz-nominated issue contains the story Abby's Road, which would appear in the Best American Comics series.
Robert Crumb loved this comic.
You should too.
.
.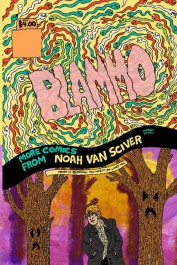 Noah Van Sciver: Blammo #7
This issue contains the incredible stories 'Because I Have To' and 'Who Are You, Jesus?', along with a Chicken Strips and other wonderful peaks inside the brain of Noah Van Sciver.
.
.
.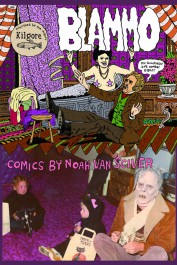 Noah Van Sciver: Blammo #8
Another wonderful issue of Blammo from the prolific Noah Van Sciver.
In a handful of short pieces, Noah again demonstrates his mastery of comedy, pathos, heartbreak, and snark.
Equal parts fiction, mythology, and true life, Blammo is quickly becoming a modern classic of independent comics.
.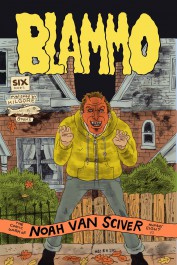 Noah Van Sciver: Blammo #8 1/2
Twenty-four full color pages make up this incredible issue of Blammo.
In his classic style, Noah renders monsters both real and imagined.
Blammo is a one man anthology in the vein of Eightball, and is a great place to watch one of today's best independent cartoonist work on his craft.
Full of humor, sorrow, heartbreak and weirdness, this issue is not to be missed!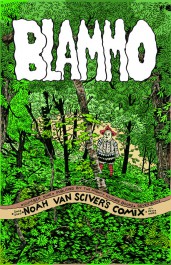 Noah Van Sciver: Blammo #9
It's always a celebration when there's a new Blammo!
Noah's long-running one-person anthology returns with a handful of great stories.
Catch up on Noah, hear some of his dad's stories, and get creeped in a way that only Blammo can creep you out.
.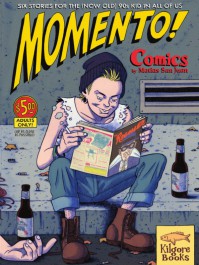 Matias San Juan: Momento!
Momento! contains six stories of dysfunction, terror and social commentary packed into thirty-two pages.
Combining murder, drug use, cannibalism, game shows, and much more, Matias San Juan delivers a comic that distills the best of Kurtzman, Clowes and Los Bros.
If you love great stories with a bunch, and clean comic art, this is the mag for you.
Sam Spina: Vulture City Stories
He's back!
With 48 pages of wild west hijinks, the incredible Sam Spina knocks us all on our asses again.
Known for his work on 'The Regular Show' and in Nickelodeon Magazine, Sam delivers seven stories of a wild west town with his classic humor, sorrow and absurdity.
.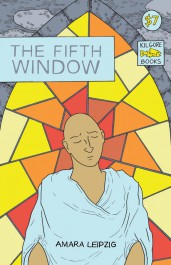 Amara Leipzig: The Fifth Window
LA cartoonist, print & bookmaker Amara Leipzig's new comic, 'The Fifth Window' is an incredible offering of meditations from a lone monk in a tower.
The monk is working to complete the tower's fifth stained glass window, and Amara tells the stories the window could tell with a subtle beauty.
.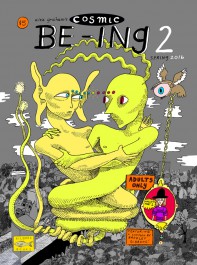 Alex Graham: Cosmic Be-Ing #2
Combining the best of the underground sensibilities – questions about the meaning of the universe, positivism/negativism, and what are aliens REALLY up to – with none of the macho garbage that makes so many of the undergrounds simply unreadable.
.
.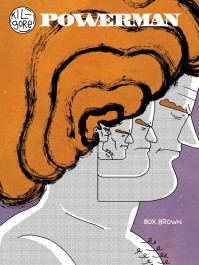 Box Brown: Powerman
Powerman tells the story of a meglomaniac who may or may not come to terms with himself and his family, and like all of Box's work, Powerman will at times crack you up, at times make you cringe, and in the end will make you feel compassion.
.
.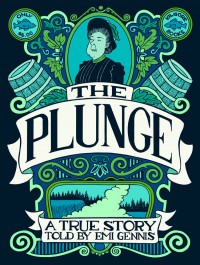 Emi Gennis: The Plunge
Emi Gennis delivers the incredible story of Annie Edson Taylor, the first person to go over Niagara Falls and live.
Instead of fame and fortune, however, Annie finds herself adrift in the world with few options and no support.
.
.
Simon Moreton: What Happened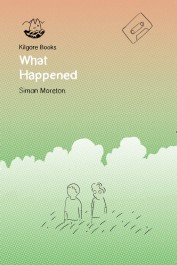 British cartoonist Simon Moreton delivers another powerhouse of quiet elegance in this story of youth, friendship, nostalgia, and nature.
Elegantly rendered, Moreton's comics read as much as visual poetry as they do comics.
.
.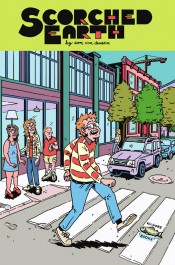 Tom Van Deusen: Scorched Earth
Tom Van Deusen delivers the incredible horrific story of the OTHER Tom Van Deusen, a man who stomps and plods his way through people's lives.
He's a boor, a drunk, and not very likable.
Thankfully, these comics deliver some of the funniest comics of the year.
A must.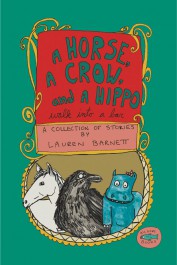 Lauren Barnett: A Horse, A Crow, and a Hippo Walk Into a Bar
ZOMG, Lauren Barnett is one of the funniest cartoonist working today.
Compiling three different stories, this book will knock your socks off.
Lauren is a painter and cartoonist whose 2012 book, 'Me Likes You Very Much' was nominated for an Ignatz Award, and she edited the Hic and Hoc humor collection.
Tiina Tuomala: Kalterikaupunki
Kalterikaupunki sijoittuu Venezuelaan vuoteen 2002, jolloin maassa tapahtui vallankaappaus.
Kirja pohjautuu Tiina Tuomalan kokemuksiin tuolta ajalta. Hallituksen vastaiset protestit ovat jatkuneet tähän päivään saakka.
Keväällä 2014 Venezuelassa puhkesivat jälleen koko maanlaajuiset mielenosoitukset. Yhteiskunnan rakenteet horjuvat, ruokaa jonotetaan ja lääkkeistä on pulaa. Väkivaltaisuus lisääntyy.
Kirjan tapahtumat ovat monille totta tälläkin hetkellä.
KIRJAT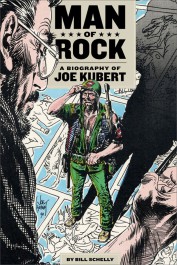 Bill Schelly: Man of Rock – A Biography of Joe Kubert
Joe Kubert's extraordinary career spans the history of the comic book in America: he began drawing comics in 1938, just as Superman made his debut in Action Comics #1, and continues to be one of the most vital cartoonists working today, writing and drawing both mainstream comic book characters as well as, more recently, graphic novels of his own conception.
Kubert made his name working for DC Comics on acclaimed series starring Sgt. Rock of Easy Co., Hawkman, Tarzan, and has worked on many of DC's most commercially successful properties (Superman, Batman, Flash, et al.). Kubert has created comics for virtually every major publisher over an incredible 70 years in the business, including Marvel and EC.
He started the Joe Kubert School of Cartoon and Graphic Art in the 1980s.
In the 1990s, he wrote and drew his own graphic novels, including Fax from Sarajevo, which won the Will Eisner Comics Industry Award for Best Graphic Novel.
He was subsequently inducted into both the Harvey Awards' Jack Kirby Hall of Fame and the Will Eisner Comic Book Hall of Fame.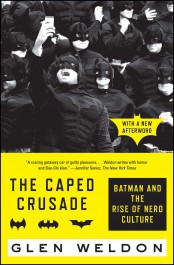 Glen Weldon: The Caped Crusade – Batman and the Rise of Nerd Culture
"A roaring getaway car of guilty pleasures" (The New York Times Book Review), Glen Weldon's The Caped Crusade is a fascinating, critically acclaimed chronicle of the rises and falls of one of the world's most iconic superheroes and the fans who love him—now with a new afterword.
Since his debut in Detective Comics #27, Batman has been many things: a two-fisted detective; a planet-hopping gadabout; a campy Pop Art sensation; a pointy-eared master spy; and a grim ninja of the urban night.
Yet, despite these endless transformations, he remains one of our most revered cultural icons. In this "smart, witty, and engrossing" (The Wall Street Journal) cultural critique, NPR contributor and book critic Glen Weldon provides "a sharp, deeply knowledgeable, and often funny look at the cultural history of Batman and his fandom" (Chicago Tribune) to discover why it is that we can't get enough of the Dark Knight.
For nearly a century, Batman has cycled through eras of dark melodrama and light comedy and back again. How we perceive his character, whether he's delivering dire threats in a raspy Christian Bale growl or trading blithely homoerotic double entendres with Robin the Boy Wonder, speaks to who we are and how we wish to be seen by the world. It's this endless adaptability that has made him so lasting, and ultimately human.
But it's also Batman's fundamental nerdiness that uniquely resonates with his fans and makes them fiercely protective of him.
As Weldon charts the evolution of Gotham's Guardian from Bob Kane and Bill Finger's hyphenated hero to Christopher Nolan's post-9/11 Dark Knight, he reveals how this symbol of justice has made us who we are today and why his legacy remains so strong. The result is "possibly the most erudite and well-researched fanboy manifesto ever" (Booklist). Well-researched, insightful, and engaging, The Caped Crusade, with a new afterword by the author, has something for everyone: "If you're a Bat-neophyte, this is an accessible introduction; if you're a dyed-in-the-Latex Bat-nerd, this is a colorfully rendered magical history tour redolent with nostalgia" (The Washington Post).
TUOTTEET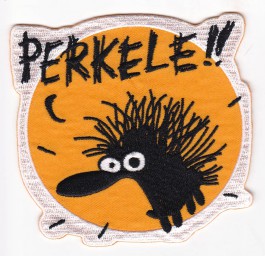 Milla Paloniemi: Kiroileva siili -kangasmerkki
Kiroileva siili -kangasmerkki.
Ympyrän halkaisija n. 10 cm.
.
.
.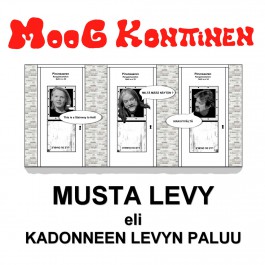 Moog Konttinen: Musta Levy eli Kadonneen Levyn paluu (LP)
Moog Konttisen uusi soololevy vinyyliformaatissa! Mukana sanaliite, jota ei ole CD:n mukana. Limited edition 300 kpl.
A
1. Väärä bändi, väärässä paikassa, väärään aikaan
2. Mä etsin uutta naista -Crossroads-
3. Ontuva myrkky 40 v.
4. Valehtelijoiden Klubi
5. Sing-Singistä Alcatraziin (Rannikolta rannikolle)
6. Isä ja poika -Father and Son-
B
1. Barokki Beethoven -Roll Over Beethoven-
2. Kadonneiden sukkien planeetta
3. Pienet punkkarit
4. Silmä pieni
5. Kun mä kuolen
6. Kurttu -Squeeze Box-
7. Ei tullut Joulu taaskaan
Moog Konttinen – laulu
Tommi Kekoni – kitara ja takalaulut
Jukka Viitasaari – kitara
Juuso Nordlund – basso
Paavo Salo – rummut
Aurora Konttinen – sello (B2) ja takalaulu (A4)
Kustantaja: Schräge Musik
SCHRÄGELP 001