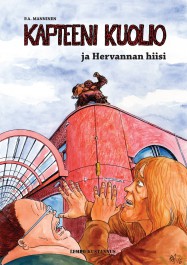 P.A. Manninen: Kapteeni Kuolio ja Hervannan hiisi
Hervanta, kuuluisa Tamperelainen kaupunginosa on rakennettu myyttiseen metsään, josta alkaa ilmaantua karvaisia jättiläisiä ihmisten ilmoille.
Muualla maailmassa nämä otukset olisivat isojalkoja tai lumimiehiä, mutta Suomessa ei sellaisia ole koskaan tavattu – paitsi että on. Meillä niiden perinnenimi on hiisi.
Tampereen oma supersankari Kapteeni Kuolio joutuu hyvän ystävänsä Kapteeni Kökön kanssa sankarilliselle matkalle Hikivuorelle ja Hervantaan. Mukana on myös hiidenmetsästäjä, joka pukeutuu sangen huolestuttavalla tavalla.
Sarjakuva on kuvattu aidoilla tapahtumapaikoilla ja perustuu tositapahtumiin.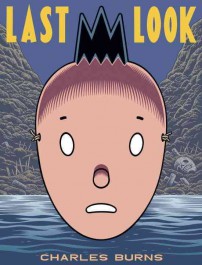 Charles Burns: Last Look
A true graphic milestone: the epic trilogy that began with X'ed Out, continued in The Hive, and concluded in Sugar Skull—now in one volume.
The long strange trip of Doug in all its mind-bending, heartbreaking totality.
The fragments of the past collide with the reality of the present, nightmarish dreams evolve into an even more dreadful reality, and when you finally find out where all of this has been going, and what it means . . . it will make you go right back to the first page and read it all again with new eyes. Just like Doug.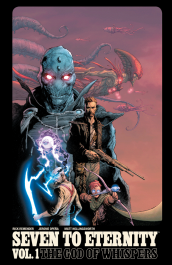 Rick Remender & Jerome Opeña: Seven to Eternity 1
The God of Whispers has spread an omnipresent paranoia to every corner of the kingdom of Zhal; his spies hide in every hall spreading mistrust and fear.
Adam Osidis, a dying knight from a disgraced house, must choose between joining a hopeless band of magic users in their desperate bid to free their world of the evil God, or accepting his promise to give Adam everything his heart desires.
Writer RICK REMENDER reteams with collaborators JEROME OPEÑA (Uncanny X-Force, Fear Agent) and MATT HOLLINGSWORTH (TOKYO GHOST, WYTCHES) to take you on a hard road through the strange fantasy world of Zhal.
All men have surrendered their freedom for fear, and now one last free man must choose.
Smut Peddler Presents: My Monster Boyfriend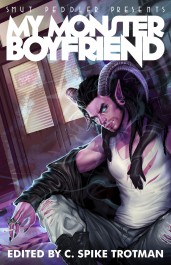 My Monster Boyfriend is an erotic comics anthology unlike any other.
220 pages of cute monster boys. Robots, demons, aliens and spirits, with their human and not-so-human lovers, in ten incredible stories by comics' best and brightest.
Hold on.
It's about to get weird.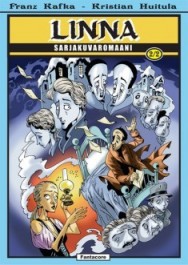 Franz Kafka & Kristian Huitula: Linna – sarjakuvaromaani osa 2/2
Maanmittari K on saapunut kaukaiseen vuoristokylään, jonne hänet on palkattu työskentelemään kylää valvovan linnan alaisuudessa.
K kuitenkin kohtaa ylitsepääsemättömältä tuntuvia esteitä yrittäessään löytää tiensä linnaan. Kylässä hän tutustuu henkilöihin joiden avulla uskoo pääsevänsä määränpäähänsä, ja menneisyyden tapahtumiin liittyvä salaperäisyyksien vyyhti alkaa hiljalleen keriytyä auki…
Kristian Huitulan sarjakuvasovitus kertoo Franz Kafkan klassikkoteoksen koko tarinan. Sarjakuvaromaanin jälkimmäinen osa päättää Kafkan kolmannen, viimeiseksi jääneen romaanin kertomuksen.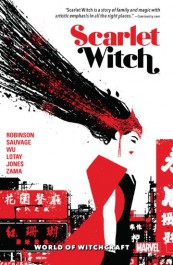 James Robinson: Scarlet Witch 2 – World of Witchcraft
Wanda Maximoff 's magical mystery tour continues!
On the streets of Paris, she will find the broken hearted hero Le Peregrine. Can Wanda mend his broken wings and help him soar again? She'll risk life and limb to try!
Next stop, Hong Kong, where an ancient warlock named the Dark Tongi has taken a powerful hold. Wanda must seek the help of a young witch, known as the Wu – but she has her own battle to fight!
The former Avenger's personal journey gets reflective as she explores her early memories and attempts to reconcile the sins of her past, but it's time for a family reunion with her twin brother Pietro! He seeks her aid in the superhuman Civil War…but what happens when the Scarlet Witch and Quicksilver are on opposing sides?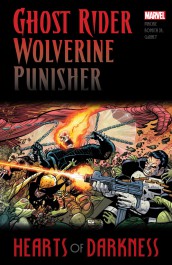 Howard Mackie & John Romita Jr.: Ghost Rider/Wolverine/Punisher – Hearts of Darkness
Three of Marvel's most hardcore heroes take on Blackheart, demonic son of Mephisto!
When Danny Ketch, Logan and Frank Castle are lured to the Mid-West town of Christ's Crown, they are offered a devilish deal: kill the king of hell, and the answers to secrets that plague them will be revealed!
But with the life of a local girl in the balance, can Ghost Rider, Wolverine and the Punisher resist Blackheart's pact? As the demon's design unfolds, and his deadly Corrupt overrun the town, all hope lies with the vigilante trio. Will they be overcome by the darkness in their hearts, or will it prove to be their greatest source of strength?
Collects Ghost Rider/Wolverine/Punisher: Hearts of Darkness OGN, Ghost Rider/Wolverine/Punisher: The Dark Design #1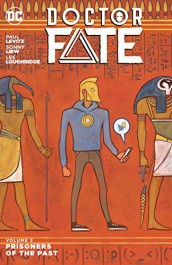 Paul Levitz & Sonny Liew: Doctor Fate 2 – Prisoners of the Past
Gifted with the power of Nabu, armed with the Helmet of Fate, Egyptian-American medical student Khalid Nassour is getting a crash course in the ways of the world beyond.
Unfortunately, our world's a big enough mess as it is.
As Khalid struggles to reconcile everything he thought he knew about life and faith with the angels, demons, gods and monsters facing him at every turn, the people of his ancestral homeland face monsters of their own.
So when protests against the police state turn violent outside the Egyptian consulate in New York, it's Khalid's fate to investigate.
What he discovers is a dictatorship much older—and potentially deadlier—than the one the protesters face. The spirit of none other than Julius Caesar himself has risen again, and he's determined to finish what he started and conquer Egypt for good.
Stopping Caesar will take everything the new Doctor Fate knows about space and time, magic and history. And it may bring a former Fate out of retirement in the bargain…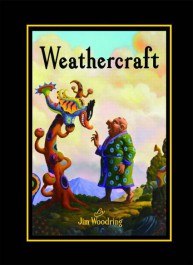 Jim Woodring: Weathercraft
Weathercraft is acclaimed cartoonist and painter Jim Woodring s first full-length graphic novel (and first of a graphic novel trilogy, all to be re-released by Fantagraphics).
Weathercraft stars Manhog, who, after 32 pages of almost incomprehensible suffering, embarks upon a transformative journey and attains enlightenment.
He wants to go to celestial realms but instead altruistically returns to the Unifactor to undo a wrong he has inadvertently brought about: The transformation of the evil politician Whim into a mind-destroying plant-demon who distorts and enslaves Frank and his friends.
The new and metaphysically expanded Manhog sets out for a final battle with Whim…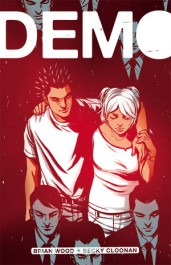 Brian Wood & Becky Cloonan: Demo
It's hard enough being a teenager.
Now try being a teenager with powers.
Demo chronicles the lives of young people who are on their separate journeys to self-discovery in a world—just like our own—where being different is feared.
Collects volumes 1 and 2 of the indie classic Demo.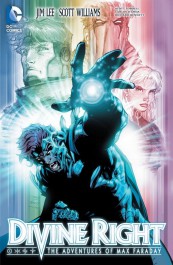 Jim Lee & Scott Williams: Divine Right – The Adventures of Max Faraday
Max Faraday was an ordinary college student who spent all his time on the Internet — until the day he accidentally downloaded the Creation Equation.
Suddenly able to access to the limitless powers of the universe itself, this part-time pizza delivery boy instantly found himself the target of a secret government agency, the Coda Sisterhood, and the immoral Cardinal Lazarus.
Now, aided by a band of warriors sworn to protect the formula, Max, his sister, and his best friend must stay one step ahead of the deadly assassins, ancient warriors and horrific demons that are hunting them down. But when his actions begin to wreak havoc across the globe, Max turns from messiah to megalomaniac. With the universe"s fate hanging in the balance, the heroes of the world must unite against the power-crazed Max.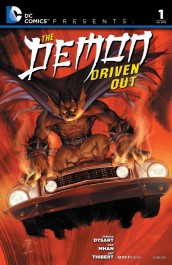 Joshua Dysart & Pop Mhan: DC Comics Presents – The Demon Driven Out
In this 6-issue epic from 2003, Jason Blood cuts a deal with a cult of modern-day alchemists to divorce him from The Demon for good… but the ceremony goes horribly wrong!
In a fiery car crash, The Demon crosses paths with a young, troubled street racer.
To tame The Demon and stop a Yakuza war, she'll need the help of Jason Blood!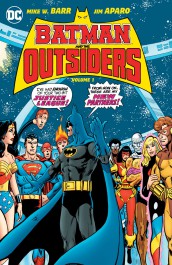 Mike W. Barr & Jim Aparo: Batman and the Outsiders 1
For years, the Batman has waged war on crime.
Whether patrolling the streets of Gotham City or battling evil worldwide with the Justice League, he will face any foe, no matter the cost.
But wars have a way of spreading.
And when a deadly conflict abroad hits close to home, the Dark Knight must abandon his old allies and form a new force for justice-a team of heroes who aren't afraid to operate outside the rules.
Katana.
Black Lightning.
Metamorpho.
Geo-Force.
Halo.
Some are experienced combatants who've been driven to the fringes of the metahuman community. Others are new to their powers-and the danger that comes with them. But together, under the shadow of the Bat, they will redefine what it means to be a superhero team…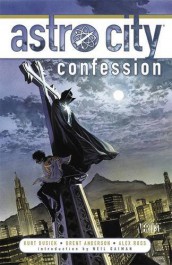 Kurt Busiek & Brent Anderson: Astro City – Confession
Astro City, after dark: What becomes of the world of wonders—of noble heroes and sinister villains—once the sun retreats?
Walk the night streets of Astro City to discover the secrets of the reclusive Confessor—and face a crisis that could destroy the city and everyone in it.
After leaving his rural home and working his way into the superhero scene as a busboy and waiter, Brian Kinney attracts the attention of Astro City's vigilante, Confessor.
Dubbed "Altar Boy," Brian becomes the Confessor's sidekick just in time to witness Astro City suffer under the looming threat of a serial killer on the loose.
As shadows approach and the city's leaders move to ban superheroes altogether, Brian is forced to question the actions of his mentor. Will their partnership be doomed before it can even begin?
Kurt Busiek & Brent Anderson: Astro City – Private Lives
Behind the masks.
In Astro City, ordinary people walk side by side with heroes, villains, monsters and more.
Acclaimed creators Kurt Busiek, Brent Anderson and Alex Ross invite you to step behind the headlines, beyond the adventures, and experience a world of heroes in a whole new way: up close and personal.
Take a walk into the private lives that create public wonders, and see it all for yourself.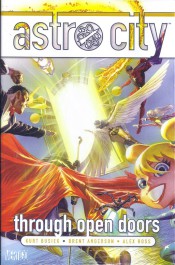 Kurt Busiek & Brent Anderson: Astro City – Through Open Doors
Kurt Busiek and Brent Anderson launch their next epic in the world of Astro City when a mysterious door appears, heralding the arrival of the Ambassador.
But when an ordinary man is caught in a cosmic conflict, it is up to favorites like Samaritan and Honor Guard, as well as new heroes, to rise to the occasion and save the world!
.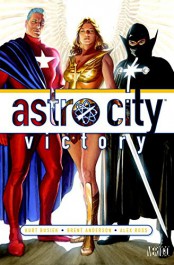 Kurt Busiek & Brent Anderson: Astro City – Victory
When criminal charges are brought against Winged Victory, the Confessor must investigate and it leads to open combat with Samaritan!
Can Astro City's three greatest heroes find a way to work together against this mystery threat?
.
.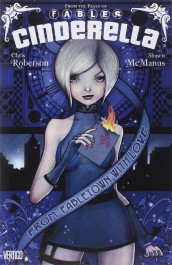 Chris Roberson & Shawn McManus: Cinderella – From Fabletown with Love
When supernatural artifacts from the Homelands begin surfacing in the modern world, it falls to Cinderella, Fabletown's best kept (and best dressed) secret agent to stop the illegal trafficking.
But can Cindy foil the dark plot before Fabletown and its hidden, exiled inhabitants are exposed once and for all? And how does her long lost Fairy Godmother factor into the equation?
Whether she's soaring through clouds, deep-sea diving, or cracking jaws, Cindy travels from Manhattan to Dubai and hooks up with a handsome, familiar accomplice who may be harboring secret motives of his own.
Meanwhile, trouble brews back home in Fabletown when Cindy's overworked, underappreciated assistant decides to seize control of The Glass Slipper, Cindy's exclusive shoe boutique.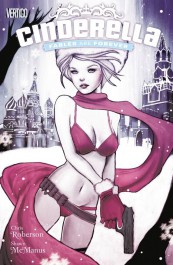 Chris Roberson & Shawn McManus: Cinderella – Fables Are Forever
Fabletown's favorite secret agent and bon vivant Cinderella is back on the job again in this follow up limited series to CINDERELLA: FROM FABLETOWN WITH LOVE.
Someone is killing sorcerers out on the Farm, and all signs point to Cinderella's archnemesis from the old days.
The only problem is, Cinderella has always believed that her nemesis has been dead for years.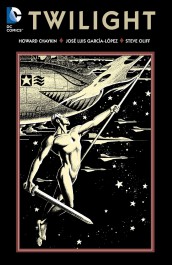 Howard Chaykin & José Luis Garcia-López: Twilight
DC's wide-eyed science fiction heroes, most of whom first appeared in the 1950s, are reimagined in this dark tale from writer Howard Chaykin and artist Jose Luis Garcia-Lopez.
Originally published in 1990, TWILIGHT tells the story of how one of the Star Rovers, Karel Sorenson, became a living god when caught in an explosion with a race of immortal creatures called Methuseloids.
It"s up to renegade hero Tommy Tomorrow to stop his former ally — but he ends up absorbing Sorenson's power and becoming an all-powerful tyrant himself.
Also includes appearances by Star Hawkins, Manhunter 2070, Ironwolf, Space Ranger, Space Cabbie and other heroes.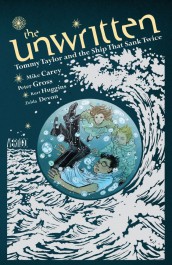 Mike Carey & Peter Gross: The Unwritten – Tommy Taylor and the Ship That Sank Twice
Tom Taylor has lived his life being mistaken for Tommy Taylor, the boy wizard from the world-famous series of novels penned by Tom's long-lost father Wilson.
However, after a series of strange events start to parallel the lives of both Taylors–fictional and real–Tom realizes that he might be the character on page made flesh.
In this first-ever original graphic novel spinning off from the pages of the critically acclaimed THE UNWRITTEN series, writer Mike Carey explores the origins behind Tom's mysterious powers and the odyssey his father has sent him on.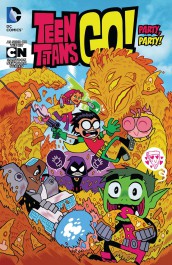 Teen Titans Go! – Party, Party!
JUSTICE HAS NEVER BEEN THIS MUCH FUN!
Robin, Starfire, Cyborg, Raven, and Beast Boy are the Teen Titans the coolest teenage superhero team in the universe!
Watch as they battle a pizza monster, a video game console that becomes alive, and a legion of incompetent super villains.
The Teen Titans are always getting into crazy hijinks like destroying a superhero themed mini golf course, becoming CEOs of a Silicon Valley startup company, playing a deadly game of go fish, making intergalactic prank phone calls, or throwing a girls only superhero slumber party.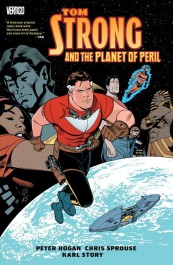 Peter Hogan & Chris Sprouse: Tom Strong and the Planets of Peril
At last, it's the return of Tom Strong–too bad he's powerless!
The lives of his daughter Tesla and her unborn child both hang in the balance, and there's nothing Tom can do to save them…until he remembers the one thing that just might.
To find it, he and Val Var Garm must journey to the far side of the galaxy, and the mysterious world known as…TERRA OBSCURA!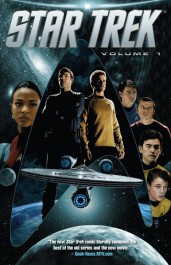 Mike Johnson & Stephen Molnar: Star Trek 1
The adventures of the Starship Enterprise continue in this new story that picks up where the blockbuster 2009 film left off!
Featuring the new cast of the film, these missions re-imagine the stories from the original series in the alternate timeline created by the film, along with new threats and characters never seen before!
With creative collaboration from STAR TREK writer/producer Roberto Orci, this new series begins the countdown to the much-anticipated movie sequel premiering in 2012.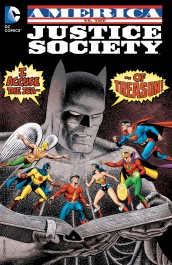 Roy Thomas: America vs. The Justice Society
Do you swear to tell the truth, the whole truth, and nothing but the truth?
Years after his death, Batman's diary is made public only to excuse his old teammates, the Justice Society of America, of being Nazi collaborators with Hitler himself.
Not wanting to fight their own country, the Justice Society surrender themselves to the law and now stand trial for crimes they did not commit.
Who is the mastermind behind framing the World's Greatest Superheroes? And why would they tarnish their pillars of society?
Marc Guggenheim & Andrew Kreisberg: Arrow 2
Spinning out of the hit CW television show, these digital-first chapters, written by show creators Marc Guggenheim and Andrew Kreisberg, fill in the gaps between the television show and the comics.
This volume explores the mystery of what really happened to Deadshot after his dramatic showdown with Oliver during season one of Arrow!
.
Mike Grell & Ed Hannigan: Green Arrow 2 – Here There Be Dragons
In these cult favorite stories from the 1980s, Green Arrow heads to Alaska to investigate a gang's activities at the behest of the CIA, only to run afoul of the mysterious archer known as Shado.
The two are forced to work together to stay one step ahead of Yakuza killers while trying to learn who set them up.
.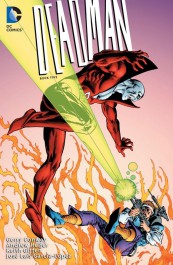 Gerry Conway & Keith Giffen: Deadman 5
Deadman, the groundbreaking undead super hero driven to find his own murderer, returns in this fourth collection of his 1970s adventures.
Featuring appearances by Swamp Thing, the Challengers of the Unknown and more, this title finds Deadman continuing his quest to bring his killer to justice while battling occult menaces throughout the DC Universe.
.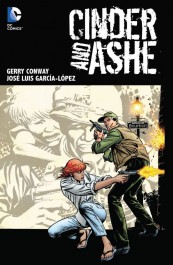 Gerry Conway & José Luis Garcia-López: Cinder and Ashe
Cinder & Ashe are a team of private investigators hired to find a kidnapped girl–but as they travel across the U.S. on her trail, their own traumatic pasts come back to haunt them.
Ashe is a veteran of the Vietnam war, while Cinder is the daughter of another U.S. soldier and a native Vietnamese woman.
.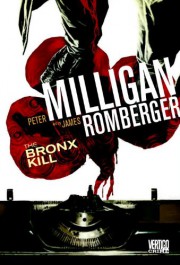 Peter Milligan & James Romberger: The Bronx Kill
Literary writer Martin Keane's life takes a deadly turn when his wife suddenly disappears without a trace.
Martin Keane has a police officer father he can barely stand — and his latest book has received scathing reviews.
Then, just as Keane is starting on a new book he hopes will help him work through his family issues, Martin's wife suddenly disappears without a trace.
And as people start to suspect that Martin might be responsible, he senses there's more going on than meets the eye.
He's sure there are clues to her abduction that he's overlooking, ones which can perhaps be found in the novel he's obsessively writing.
As Keane and his father investigate the disappearance, he'll find the truth is much more shocking than he thought in a twist no one could ever see coming.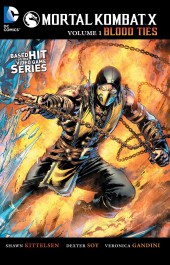 Shawn Kittelsen: Mortal Kombat X 1 – Blood Ties
THE PREQUEL TO THE VIDEO GAME PHENOMENON IS HERE!
For years, a tenuous peace has existed between the realms, time enough for old champions to fall and a new generation to rise. But peace can never last for long . . .
The Thunder God Raiden has seen visions of a great evil entering our world, one so powerful it could change the very face of the universe. The one hope to stop the sinister force lies in six ancient relics, mystical blades imbued with the Blood Magick of the One Being-the Kamidogu daggers.
But Raiden and his allies are not the only ones searching for the all-powerful weapons. Another has spent years acquiring each blade through cunning and guile. For not only can the Kamidogu daggers contain a god, they also have the power to create one . . .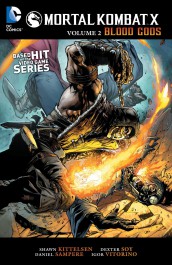 Shawn Kittelsen: Mortal Kombat X 2 – Blood Gods
The quest for the Kamidogu daggers continues…fight!
Great changes are coming to Outworld and Earthrealm alike. Whether they seek to protect the worlds of gods and men or to rule them, Kombatants new and old are heading toward bloody conflict.
Hoping to thwart the coming evil, Raiden has conscripted Hanzo Hasashi-Scorpion-and his charge, Takeda Takahashi, to gather the mystical Kamidogu daggers. Their journey leads them to an old foe, who holds one of the powerful cursed weapons-Kuai Liang, the ninja known as Sub-Zero! With Sub-Zero corrupted by the Blood Magik of the dagger and Scorpion's deadly thirst for vengeance, the two will lock in a Mortal Kombat for the ages!
Elsewhere, Kotal Kahn faces a challenge to his rule from the scorned tribe of the Shokan. King Gorbak is leading an army of Shokan and Oni warriors powerful enough to decimate the Emperor of Outworld.
Though Kahn refuses to unleash his Kamidogu's Blood Magik again, he has an unlikely group of allies in the Earthrealmers Johnny Cage and Sonya Blade. The pair only wishes to rescue their daughter from the clutches of Reiko, but first they'll have to help Kahn protect his throne-which means an alliance with Kano and the Black Dragon!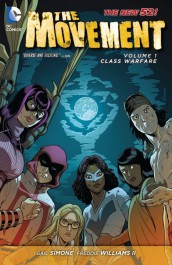 Gail Simone & Freddie Williams II: The Movement 1 – Class Warfare
Coral City is infected by corruption and crime and its up to the citizens to fight back!
The Movement sees a young group of super-heroes rise up and take back the streets of their corrupt city.
But when one of their own is captured by the police, its Coral City's finest against the citizens they have neglected to protect.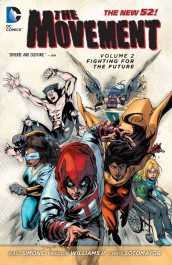 Gail Simone & Freddie Williams II: The Movement 2 – Fighting for the Future
Its the corrupt cops and politicians of Coral City vs a rag-tag group of young super powered vigilantes known as the Movement.
But after The Movement has been taken down, only the powerless Vengeance Moth is left to protect the streets from the Graveyard Faction!
Critically acclaimed writer Gail Simone concludes her run on this fascinating new series.
Smut Peddler 2012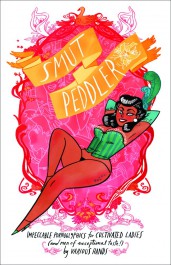 Impeccable pornoglyphics for cultivated ladies (and men of exceptional taste!) by various hands.
Indie comics' most sex-positive, lady-friendly, dirty little mini is back as a FULL-SIZED ANTHOLOGY!
Smut Peddler began life in 2003 as a digest-sized minicomic, published by Saucy Goose Press. It was an anthology of erotic comics, with contributions from some of the best and the brightest creators.
There were three issues, and they were AWESOME. But that was it. The third Smut Peddler mini was followes by a years-long publishing hiatus…
Until NOW.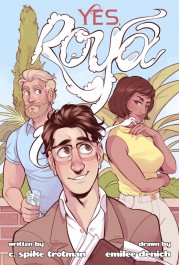 C. Spike Trotman & Emilee Denich: Yes, Roya
Wylie Kogan is an aspiring artist, stumping for work in 1963 California.
When a fawning fan letter grants him access to his cartoonist hero, the wealthy and celebrated Joseph Ahlstrom, he's quick to take advantage of a proffered portfolio review . . . but winds up learning more than he ever wanted to about Joe when he stumbles across some of his idol's illicit fetish art.
His hasty, ill-considered theft of a drawing triggers a series of events he never planned on . . . most of which involve Joseph's imposing and resolute partner, Roya.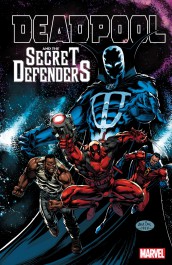 Deadpool and the Secret Defenders
The Merc with a Mouth joins the non-team without a known lineup!
But can a talkative guy like Wade Wilson keep things hush-hush?
Following Deadpool through the ever-rotating door of the Secret Defenders are the Heroes for Hire and a future Guardian of the Galaxy!
Luke Cage is among the first recruits for new leader Doctor Druid, taking on the malevolent Malachi! But will he and Deadpool dig Cadaver, their newest ally?
Then, Iron Fist, Giant-Man, Iceman and Archangel will feel the sting of Swarm!
Spider-Woman, Venom and U.S.Agent enlist for a showdown with Slaymaker, while the mysterious Shadowoman transforms into Sepulchre!
Then, Dagger, Deathlok and Drax the Destroyer join the fun when the Secret Defenders battle…the Defenders?!
Is this the end for comics' most surreptitious super group?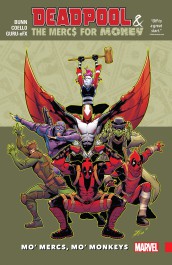 Cullen Bunn & Iban Coello: Deadpool & The Mercs for Money 1 – Mo' Mercs, Mo' Monkeys
Deadpool is one of the best mercenaries on the planet.
He may even be a passable Avenger -the jury's still out.
But one thing's for sure: he's a terrible team leader. Example?
Wade Wilson has taken on a high-paying mission to take out radioactive super villains.
But his employees aren't nearly as immune to radiation as he is.
Fingers crossed that Mercs for Money has a good medical plan! (But knowing Wade, it almost certainly does not.)
First target on the irradiated hit list: Negasonic Teenage Warhead. But defusing her won't be easy – in fact it could be a very bad idea. And if the MfMs find her too hot to handle, wait 'til they take on Radioactive Man!
Deadpool's got mo' mercs, mo' money and, naturally, mo' problems!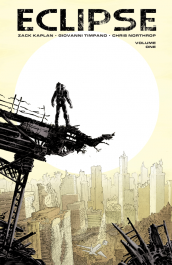 Zack Kaplan & Giovanni Timpano: Eclipse 1
Imagine if sunlight burned you alive.
In the near future, a mysterious solar event has transformed the sun's light into deadly immolating rays.
The world's few survivors now live in nocturnal cities.
But a killer who uses sunlight to burn his victims emerges, and when he targets the daughter of a solar power mogul, it falls to a disillusioned solar engineer to protect her.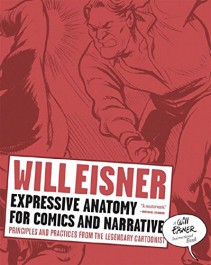 Will Eisner: Expressive Anatomy for Comics and Narrative
Designed and outlined by Will Eisner before his death in 2005, this posthumous masterwork, the third and final book in the Will Eisner Instructional Series, finally reveals the secrets of Eisner's own techniques and theories of movement, body mechanics, facial expressions, and posture: the key components of graphic storytelling.
From his earliest comics, including the celebrated Spirit, to his pioneering graphic novels, Eisner understood that the proper use of anatomy is crucial to effective storytelling.
His control over the mechanical and intuitive skills necessary for its application set him apart among comics artists, and his principles of body grammar have proven invaluable to legions of students in overcoming what is perhaps the most challenging aspect of creating comics.
Buttressed by dozens of illustrations, which display Eisner's mastery of expression, both subtle and overt, Expressive Anatomy for Comics and Narrative will benefit comics fans, students, and teachers and is destined to become the essential primer on the craft.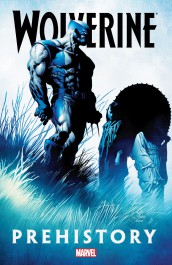 Wolverine – Prehistory
Fill in the gaps in Logan's mysterious past in this collection of adventures set between his uncanny origin and his official debut!
Follow the man who will be Wolverine from the wild frontier to World War II, through Canada, Germany and Japan!
Ghost stories, espionage drama and bloody tales await! Revisit the days just after Weapon X, and uncover early encounters with Nick Fury, Carol Danvers, Ben Grimm, Cable and the Agents of Atlas!
Plus: Will Logan form the first mutant team, years before the X-Men?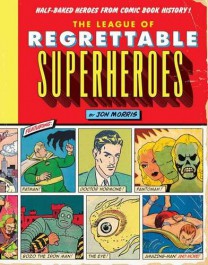 Jon Morris: The League of Regrettable Superheroes
You know about Batman, Superman, and Spiderman, but have you heard of Doll Man, Doctor Hormone, or Spider Queen?
In The League of Regrettable Superheroes, you'll meet one hundred of the strangest superheroes ever to see print, complete with backstories, vintage art, and colorful commentary.
So prepare yourself for such not-ready-for-prime-time heroes as Bee Man (Batman, but with bees), the Clown (circus-themed crimebuster), the Eye (a giant, floating eyeball; just accept it), and many other oddballs and oddities. Drawing on the entire history of the medium, The League of Regrettable Superheroes will appeal to die-hard comics fans, casual comics readers, and anyone who enjoys peering into the stranger corners of pop culture.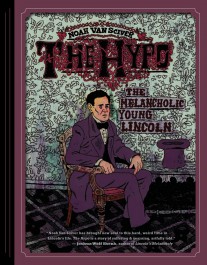 Noah Van Sciver: The Hypo – The Melancholic Young Lincoln
The debut graphic novel from Noah Van Sciver follows the twentysomething Abraham Lincoln as he loses everything, long before becoming our most beloved president.
Lincoln is a rising Whig in the state's legislature as he arrives in Springfield, IL to practice law.
With all of his possessions under his arms in two saddlebags, he is quickly given a place to stay by a womanizing young bachelor who becomes his friend and close confidant.
Lincoln builds a life and begins friendships with the town's top lawyers and politicians. He attends elegant dances and meets an independent-minded young woman from a high-society Kentucky family, and after a brisk courtship, becomes engaged.
But, as time passes and uncertainty creeps in, young Lincoln is forced to battle a dark cloud of depression brought on by a chain of defeats and failures culminating into a nervous breakdown that threatens his life and sanity. This cloud of dark depression Lincoln calls "The Hypo."
Dense crosshatching and an attention to detail help bring together this completely original telling of a man driven by an irrepressible desire to pull himself up by his bootstraps, overcome all obstacles, and become the person he strives to be. All the while, unknowingly laying the foundation of character he would use as one of America's greatest presidents.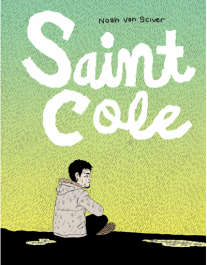 Noah Van Sciver: Saint Cole
Saint Cole depicts four days in the life of a twenty-eight-year-old suburbanite named Joe who feels trapped working overtime at a pizza restaurant to support his girlfriend, Nicole, and their infant child.
Especially when Nicole invites her troubled mother, Angela, to move into their two-bedroom apartment until she lands on her feet again.
Joe reacts to this development by further retreating into alcohol. He thinks he loves Nicole but resents her at the same time. They probably wouldn't still be with each other if she hadn't become pregnant.
Joe wants out. He's angry. He's in a position to act rashly. And he does.
This sophomore graphic novel from Noah Van Sciver may seem like a left turn from his critically acclaimed debut graphic novel biography of Abraham Lincoln (The Hypo), yet upon closer reflection, it continues Van Sciver's interest in pathos and the human condition.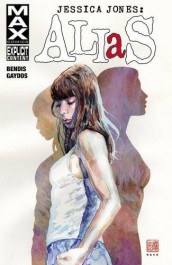 Brian Michael Bendis & Michael Gaydos: Jessica Jones – Alias 1
Meet Jessica Jones.
Once upon a time, she was a costumed super hero…but not a very good one.
Her powers were unremarkable compared to the amazing abilities of the costumed icons that populate the Marvel Universe.
In a city of Marvels, Jessica Jones never found her niche. Now a chain-smoking, self-destructive alcoholic with a mean inferiority complex, Jones is the owner and sole employee of Alias Investigations – a small, private-investigative firm specializing in superhuman cases.
When she uncovers the potentially explosive secret of one hero's true identity, Jessica's life immediately becomes expendable. But her wit, charm and intelligence just may help her survive through another day.