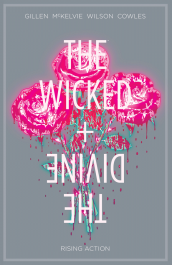 Kieron Gillen & Jamie McKelvie: The Wicked + The Divine 4 – Rising Action
Every ninety years, twelve gods are reincarnated as young people.
They are loved.
They are hated.
And sometimes – just sometimes – they fall into open Superstar wars.
Kieron Gillen & Jamie McKelvie: Phonogram 1 – Rue Britannia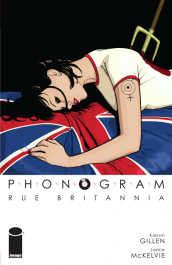 Britannia is ten years dead.
Phonomancer David Kohl hadn't spared his old patron a thought for almost as long… at which point his mind starts to unravel.
Can he discover what's happened to the Mod-Goddess of Britpop while there's still something of himself left?
A dark modern-fantasy in a world where music is magic, where a song can save your life, or end it.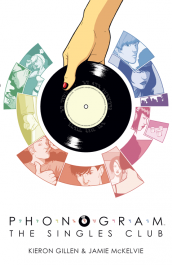 Kieron Gillen & Jamie McKelvie: Phonogram 2 – The Singles Club
The second series of Phonogram separates itself from the frenzied mob of adoring critics just long enough to transform into this handsome collected volume.
Seven individual-yet-interconnected stories set in a single night in a single club, each staring a young phonomancer, each exploring a different mystery of music and magic.
Includes a cover gallery and 'Making Of' extras.
We've put you on the guest list. Don't be late. This is one night you'll never forget.
Kiero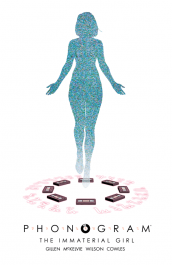 n Gillen & Jamie McKelvie: Phonogram 3 – The Immaterial Girl
The creators of the award-winning THE WICKED + THE DIVINE return to their founding critical smash-hit, PHONOGRAM: THE IMMATERIAL GIRL.
In a world where music is magic, phonomancer Emily Aster sold half her personality for power.
Now, after a decade of brittle perfection, the deal starts to go bad as the girl behind the screen comes looking for revenge. You'll never look at the "Take On Me" video the same ever again.
Includes copious "making of" material.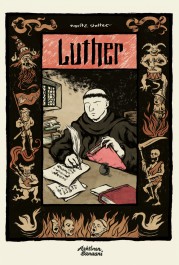 Moritz Stetter: Luther
Tarinan alussa vuonna 1505 nuori opiskelija on palaamassa lomalta vanhempiensa luota.
Käytyään puun varjoon lepäämään nuorukainen torkahtaa, mutta herää kohta salamaniskuun ja hirvittäviin tuomiopäivää enteileviin näkyihin.
Kauhistunut matkalainen rukoilee apua Pyhältä Annalta ja lupaa: "Jos annat minun elää, ryhdyn munkiksi!" Pian rajuilma tyyntyy ja Martti täyttää lupauksensa.
Mutta kaikki ei ole vain suurta graafisesti leiskuvaa draamaa. Moritz Stetter valottaa myös näitä tapahtumia edeltävää historiaa. Tärkeintä on tietenkin se, mitä tuosta kaikesta seurasi. Reformaation eli uskonpuhdistuksen juhlavuotena on hyvä tutustua kirkkohistoriallisen mullistuksen takana olevaan mieheen, josta – kuten useimmista merkkihenkilöistä kautta aikojen – on paljon vääriä käsityksiä.
Sarjakuva-albumi kuvaa vaikuttavasti 500 vuoden takaista saksalaista yhteiskuntaa ja henkistä ilmapiiriä, joka johti luterilaisen kirkon syntyyn.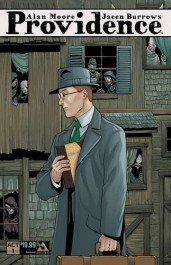 Alan Moore & Jacen Burrows: Providence Act 1
Due to overwhelming demand, we offer one final printing of the Providence Act 1 Hardcover!
Alan Moore's quintessential horror series has set the standard for a terrifying reinvention of the works of H.P. Lovecraft.
It is being universally hailed as one of Moore's most realized works in which the master scribe has controlled every iota of the story, art, and presentation.
The result has been a masterpiece like no other and a true must-have addition to his essential works in the field.
We present a collected Providence Act 1 Hard Cover edition that contains Providence issues #1-4, and all the back matter, in this one-time printing of the edition.
There will be Act 2 and Act 3 Hardcovers in the coming months, also limited to single production runs.
This will not be kept in print any further and this is the final opportunity to get a hardcover edition of the first chapter of Alan Moore's horror masterpiece.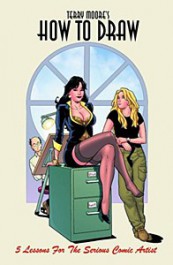 Terry Moore: How to Draw – 5 Lessons for the Serious Comic Artist
Terry Moore's How To Draw is a treasure trove of answers and insights into the challenges facing today's comic artist.
With a focus on information not found in other "How To" books, these chapters cover the secrets of drawing the female form, expressions, beauty, funny and preparing your book for print or digital publishing.
From pencils to Photoshop, print to digital, Moore shares his own observations, techniques, and templates developed during the creation of his award-winning comics Strangers In Paradise, Echo, and Rachel Rising.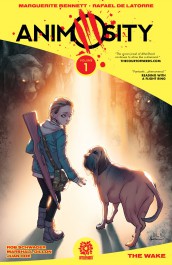 Marguerite Bennett & Rafael de Latorre: Animosity 1 – The Wake
One day, for no reason, the Animals woke up.
They started thinking. They started talking. They started taking REVENGE.
Collecting the first four issues of the best-selling series, plus the special one-shot issue ANIMOSITY: THE RISE.
The world is plunged into chaos as the newly-intelligent Animals fight humanity, and simply fight each other, for their own life, liberty, and pursuit of happiness.
In the midst of the turmoil is Jesse, an 11-year-old girl, and her dog, Sandor, who is devoted to her and her protection. One year after the incident, Jesse and Sandor begin a cross-country journey to find Jesse's half-brother, Adam, who is living in San Francisco.
Jim Zub & Edwin Huang: Skullkickers 1 – 1000 Opas and a Dead Body
Two nameless mercenaries are mashing monsters and making a name for themselves.
Image's new hit fantasy action-comedy series has gone through multiple printings of each issue released so far and is getting rave reviews from readers and critics alike.
Pick up the first collection and find out what all the excitement is about.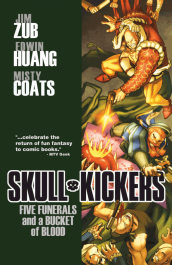 Jim Zub & Edwin Huang: Skullkickers 2 – Five Funerals and a Bucket of Blood
The second SKULLKICKERS adventure is a wondrous tornado of action-adventure: a den of thieves, a city of danger, nobility, stupidity, plant monsters, dinner parties and bloodthirsty faerie folk.
Collects SKULLKICKERS #6-11 plus Bonus Material!
.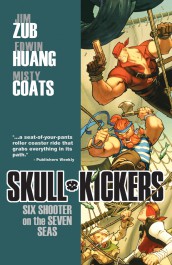 Jim Zub & Edwin Huang: Skullkickers 3 – Six Shooter on the Seven Seas
The third SKULLKICKERS adventure is a tidal wave of adventure: a pirate ship of lady buccaneers, dangerous cargo, sea monsters, food fights and the strange secret of the mysterious gun at the center of the SKULLKICKERS mythos.
Jump on board and see why the Young Adult Library Services Association (YALSA) added SKULLKICKERS to their list of "Great Graphic Novels For Teens 2012"! Collects SKULLKICKERS #12-17.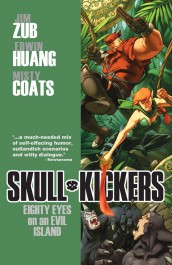 Jim Zub & Edwin Huang: Skullkickers 4 – Eighty Eyes on an Evil Island
The fourth SKULLKICKERS adventure is madcap island mayhem with tropical terror, savage stupidity, beach brawls and jungle jams alongside surprising revelations about the SKULLKICKERS mythos.
Collects SKULLKICKERS #18-23 (including the five 'unbooted' issues Uncanny, Savage, Mighty, All-New Secret, and Dark Skullkickers Dark).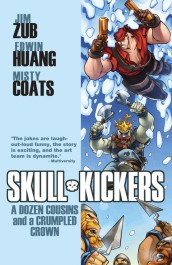 Jim Zub & Edwin Huang: Skullkickers 5 – A Dozen Cousins and a Crumpled Crown
In this volume: The dwarf has been forcibly returned to his homeland and the deranged diminutive denizens of Dwayre will make sure it's a homecoming like no other.
Get ready for compressed calamity, small skirmishes, truncated troubles, and pint-sized pugilism along with the history of dwarves (y'know, the "short" version). Collects SKULLKICKERS #24-29.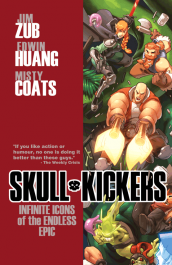 Jim Zub & Edwin Huang: Skullkickers 6 – Infinite Icons of the Endless Epic
In this volume the SKULLKICKERS story comes to end, but it's not going out without a fight!
Beer, blood, and battle collide in the ultimate brawl to end it all!
"If you like action or humor, no one is doing it better than these guys." -The Weekly Crisis
Collects SKULLKICKERS #31-33 & #100.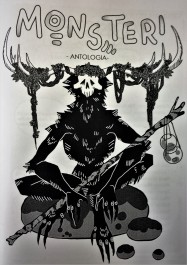 Sarjakuvakeskuksen perjantaipaja: Monsteri
Sarjakuvakeskuksen perjantaipajan julkaisu 1
.
.
.
.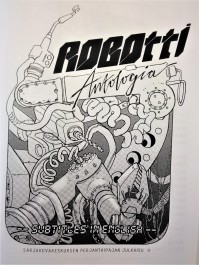 Robotti
Robotti antologia on Sarjakuvakeskuksen perjantaipajan julkaisu 2
.
.
.
.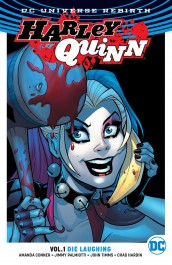 Amanda Conner & Jimmy Palmiotti: Harley Quinn 1 – Die Laughing
Harley's back in this new Vol. 1 graphic novel from DC Rebirth!
Her name is Dr. Harleen Quinzel-better known to her friends and enemies as Harley Quinn.
Her very-very-ex-boyfriend the Joker may be the Clown Prince of Crime, but Harley's the Queen of Coney Island!
So when the zombie apocalypse threatens her li'l seaside stretch of paradise, who else would ya call to give the undead a blow to the head?
In these platitudinous pages, the baddest bad girl in the entire DC Universe joins forces with everyone from her gal pal Poison Ivy to the New York City punk scene to take down anyone who stands between her and a good time-living, dead or undead. Fists will fly, hammers will fall, dudes will be brutalized and the ladies will rule the night!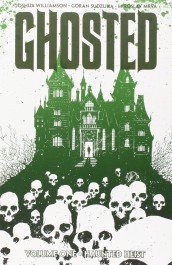 Joshua Williamson & Goran Sudzuka: Ghosted 1 – Haunted Heist
Jackson T. Winters is one of the greatest criminal masterminds to ever live…except he's rotting in jail after his last doomed score.
But when a filthy rich collector breaks Winters out, he's tasked to put together an elite team of paranormal experts to do the impossible: steal a ghost from a haunted house of horrors!
Skybound's horror/crime mash-up is equal parts Ocean's 11 and The Shining, by writer JOSHUA WILLIAMSON (MASKS AND MOBSTERS, Captain Midnight) and artist GORAN SUDZUKA (OUTLAW NATION, Y: The Last Man)!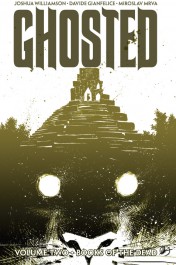 Joshua Williamson & Davide Gianfelice: Ghosted 2 – Books of the Dead
After his last job, Jackson Winters won his freedom.
But even now, he can't put his very real ghosts to rest.
News of his reappearance has spread, and there are people who have waited a long time to use his peculiar talents for all the wrong reasons.
.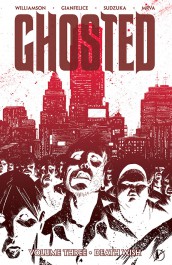 Joshua Williamson & Davide Gianfelice: Ghosted 3 – Death Wish
A magician that grants death wishes.
A biker gang that sacrifices virgins.
A supernatural black market.
It's time for Jackson to stop running from his past and face it head on.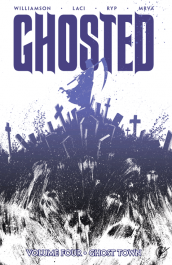 Joshua Williamson & Vladimir Krstic Laci: Ghosted 4 – Ghost Town
In a newly created ghost town, a portal to the afterlife has emerged—setting the stage for the greatest heist of Jackson's career.
.
.
.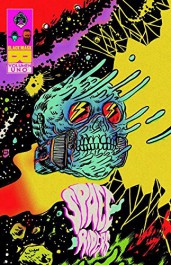 Fabian Rangel Jr. & Alexis Ziritt: Space Riders
From the galactic core to the outer quadrants, one name strikes terror in the hearts of evil beings everywhere: The Space Riders!
Sailing the cosmos in the Skullship Santa Muerte, Capitan Peligro and his fearless crew deal harsh justice to the scum of the galaxy while searching for the hidden truths of the universe!
Collecting the four sold out issues of the psychedelic revenge tale from the minds of Alexis Ziritt and Fabian Rangel, Jr!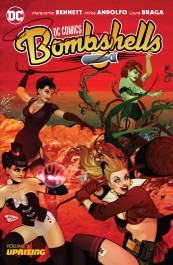 Marguerite Bennett: DC Comics Bombshells 3 – Uprising
Based on the hit DC Collectibles product line!
As World War II rages across Europe, the Allied forces issue a call to arms for the greatest heroines the world has ever known!
With an old villain arising from beyond the grave, Wonder Woman, Batwoman, Kara Starikov, Kortni Duginova and Mera must aid the Allied forces while at home, a brave group of Batgirls must defend the homeland!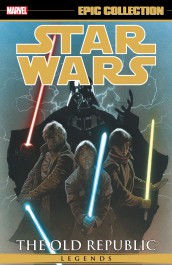 Star Wars Legends Epic Collection – The Old Republic 2
Daze of hate, knights of suffering!
Fugitive Zayne Carrick joins forces with the Jedi Masters who killed his fellow Padawan in a bid to save the galaxy from the Mandalorians!
But will the megalomaniac Lord Adasca outmaneuver them all?
Then, in a story that reverberates across every era of Star Wars, the clandestine Jedi Covenant is rocked by a terrifying vision of the far future — and one of its Shadows, Celeste Morne, faces the monstrous task of recovering an ancient Sith artifact!
But will Zayne Carrick achieve vindication at last, clear his name and end his days as a renegade?
Plus: the ultimate guide to the state of the galaxy 4,000 years before the rise of the Empire!
Grant Morrison's 18 Days 1 – War Begins
From legendary creator Grant Morrison (All Star Superman, Batman & Robin, The Invisibles) comes the first chapter in his newest creation.
18 Days is the story of three generations of super-warriors, meeting for the final battle of their age, a climactic war that concludes the age of the gods and begins the age of man. Collecting the first story arc from the series.
"This is not a Lord of the Rings or a Star Wars where the good guys win because they are right. The good guys in 18 Days are forced to cheat and lie and break rules to win. Although it has fantastic, mythic trappings, this is a very modern story of realpolitik and the failure of ideals in the face of harsh truth."
– Grant Morrison –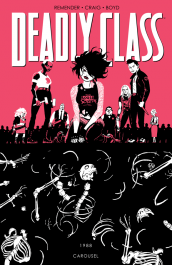 Rick Remender & Wes Craig: Deadly Class 5 – Carousel
It's morning in America, and those who lived through last arc's brutal finale barely have had time to consider what they've done before a new class of kids enroll in the school, eager to pick up the bloody mantle.
Sophomore survivor Saya Kuroki is given a chance to ascend in the ranks of the school's deadliest and most ruthless students, and all it will cost her is what's left of her humanity. RICK REMENDER & WES CRAIG present a new beginning to the dark saga of DEADLY CLASS.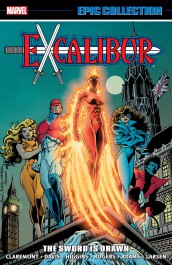 Chris Claremont & Alan Davis: Excalibur Epic Collection – The Sword is Drawn
A legendary team is born!
Meet the United Kingdom's champion, Captain Britain, and his paramour, the metamorphic Meggan!
They'll band together with former X-Men Nightcrawler and Kitty Pryde when Gatecrasher and her Technet are sent to capture Rachel "Phoenix" Summers!
From their lighthouse base, the heroes of Excalibur will tackle the ferocious Warwolves, the unstoppable Juggernaut and Mojo mayhem! Things get wild with Arcade, the Crazy Gang and the X-Babies — and really heat up as Excalibur is drawn across the Atlantic to an Inferno raging in New York!
And don't forget Lightning Squad, the alternate Nazi versions of Excalibur!
Plus: Who or what is Widget?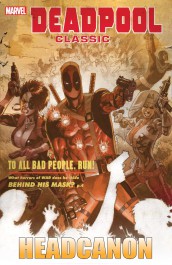 Deadpool Classic 17 – Headcanon
They may be alternate-reality Deadpools, but they're still just as Mercky and just as Mouthy!
Like the Wade Wilson who was part of an ultra-secret special-ops team along with allies named Bullseye, Silver Sable and Domino! But a bloody Mexican massacre will leave this Agent Deadpool with a lot of explaining to do!
And how about the Cold War Wade Wilson, codename: Deadpool? He's the CIA's most valuable asset — but also certifiably insane! It's lies, spies and shapely thighs as DP goes pulp!
Then, Wade is a dash of color in a black-and-white world ravaged by zombies. When the dead walk, Deadpool is mankind's only hope — but if he triumphs, who will save us from him?
Collects Deadpool: Wade Wilson's War #1-4, Deadpool Pulp #1-4, Night of the Living Deadpool #1-4, Return of the Living Deadpool #1-4.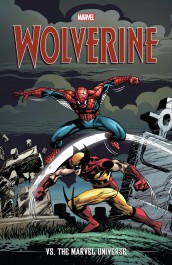 Wolverine vs. The Marvel Universe
Wolverine takes on all comers in a collection of his classic brawls with Marvel's finest!
Sparks fly as Adamantium claws strike Captain America's shield!
Wolverine and Daredevil battle over Bushwhacker!
Spider-Man's world is forever changed in an espionage thriller!
Wolverine renews rivalries with a gray Hulk; has a nightmarish showdown with Venom; and tackles Avengers, New Warriors and more — but his mighty melee with Thor will be legendary!
And in an incredible tale, Logan faces the entire Marvel Universe when a deadly plague transforms everyone — human and superhuman — into savage, cannibal predators. Who will make a stand against the endless slaughter? One word: SNIKT!
Neil Gaiman & Dave McKean: Signal to Noise
A film director is dying of cancer.
His greatest film would have told the story of a European village as the last hour of 999 AD approached, bringing Armageddon.
Now that story will never be told.
But he's still working it out in his head, making a film that no one will ever see.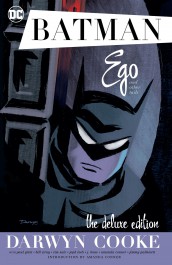 Darwyn Cooke: Batman – Ego and Other Tails
A collection of pulse-pounding stories of the Dark Knight, Catwoman and more of Gotham's finest.
Featuring Darwyn Cooke's unique visions of Batman and Catwoman, now available as a Deluxe Edition hardcover!
.
.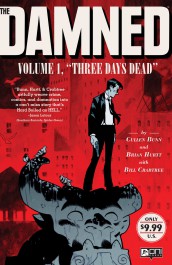 Cullen Bunn & Brian Hurt: The Damned 1
During prohibition, gangsters grew rich on our vices, and rivalries between criminal organizations resulted in open war.
But unknown to the masses, a more sinister power controlled the crime cartels, using greed, gluttony, lust and other sins to fuel a more lucrative trade: mortal souls.
Enter Eddie, a mortal who lost his soul long ago.
Caught in the middle of competing demonic families, any other human would've gotten the ax long ago. But Eddie's got a special talent that keeps him on his feet. One man's curse is another man's gift.
THE DAMNED is hard-boiled noir with demons, and the team behind THE SIXTH GUN is bringing it back with new colors, a new format, and a new ongoing tale of tommy guns and hellfire.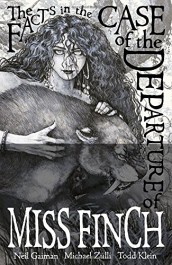 Neil Gaiman & Michael Zulli: The Facts in the Case of the Departure of Miss Finch
Come and hear of the terrible tale of Miss Finch, an exacting woman befallen by mystery and abduction deep under the streets of London!
Join a group of friends, with the stern Miss Finch in tow, as they enter musty caverns for a subterranean circus spectacle called "The Theatre of Night's Dreaming."
Step inside, get out of the pounding rain, and witness this strange world of vampires, ringmasters, illusions, and the Cabinet of Wishes Fulfill'd.
New York Times best-selling author Neil Gaiman and his longtime collaborator Michael Zulli (Creatures of the Night, The Sandman) deliver This "mostly true story", combining Gaiman's trademark magic realism with Zulli's sumptuous paintings, newly re-designed for this beautiful new edition!
Neil Gaiman & Michael Zulli: Creatures of the Night
Two magical stories featuring strange creatures that are not quite what they seem!
In "The Price", a mysterious feline engages in a nightly conflict with an unseen, vicious foe.
"The Daughter of Owls" recounts a tale of an orphan girl, and how those who wronged her faced bizarre consequences!
From New York Times best-selling author Neil Gaiman (The Sandman)! Gorgeously redesigned new edition!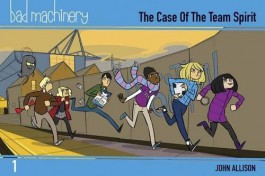 John Allison: Bad Machinery 1 – The Case of the Team Spirit
The first volume of the beloved Bad Machinery series, now at a new size and introductory price!
The Case of the Team Spirit introduces readers to Jack, Linton, Sonny, Shauna, Charlotte, and Mildred: six kids navigating the treacherous waters of school and adolescence while also exploring the strange mysteries that abound in their peculiar English town of Tackleford.
Jack, Linton, and Sonny look for cures to their football club's unexplainable woes, while Shauna, Charlotte, and Mildred try to find a way for compassion and justice to triumph in the face of die-hard sports fanaticism. But all of them should probably be more concerned with keeping on the good side of their history teacher, Mr. Bough. That is, if he has a good side…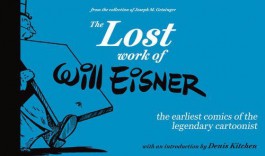 Will Eisner: The Lost Work of Will Eisner
Unearthed as part of a massive collection of pre-WWII newspaper printing plates, the mid-1930s comic strips UNCLE OTTO and HARRY KARRY represent the earliest known cartooning of the great comics and sequential art pioneer Will Eisner.
In these strips you can see the young Eisner's imagination expanding, as he experiments with the possibilities of serialized storytelling and works through his numerous influences. The comics collected within document the genesis of one of the most iconic and brilliant cartoonists of all time.
Brian Buccellato & Jennifer Young & Matias Bergara: Cannibal 1
A category five hurricane sweeps through the Southeast, uprooting ancient mosquitoes carrying a virus that causes the infected to crave human flesh.
One year later, with no cure in sight, the region has become split over what to do with the victims.
For the Hansen family, the answer is simple: kill them. However, all of that changes when the virus infects people they love.
CANNIBAL is about a small Everglades town that is just trying to hold onto their everyday lives at the dawn of a cannibal pandemic. Told through the eyes of the Hansen family, it's an anti-apocalypse story about a community that is too damn stubborn to give in.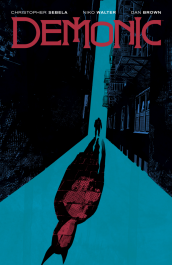 Christopher Sebela & Niko Walter: Demonic
Detective Scott Graves will do anything to protect his family… even bargain away his soul.
Now, the only thing to fear isn't New York's worst criminals, but what's already raging inside of him.
After all, what's the cost of your soul when it's already damaged?
Created by ROBERT KIRKMAN, this vigilante answers to no man, only the demon within.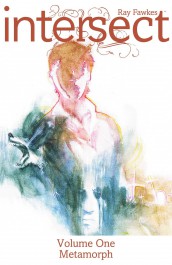 Ray Fawkes: Intersect 1 – Metamorph
The terrifying, surreal journey of the Intersected begins in this volume!
Start at the beginning with the book critics have called "truly original, truly unreplicable, and truly terrifying…"
.
.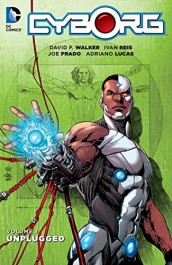 David F. Walker & Ivan Reis: Cyborg 1 – Unplugged
The fan-favorite Justice League hero headlines his own solo series from rising star writer David F. Walker ("Shaft") and superstar artists Ivan Reis and Joe Prado (BLACKEST NIGHT, JUSTICE LEAGUE).
Victor Stone has had his share of near-death experiences it's part of what made him the cyber-enhanced superhero Cyborg in the first place.
But after his latest brush with death, something has changed with Vic s cybernetics. They're evolving, and no one can explain why!
But there's more to Vic's evolution than a new look and new powers. Something in his technology is calling out between worlds and the message has been received by invaders who will stop at nothing to possess it. These Technosapiens aim to absorb all of humanity into their collective if it means a chance to get their hands on Cyborg.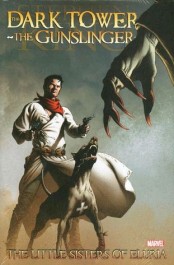 Stephen King's The Dark Tower – The Gunslinger: The Little Sisters of Eluria
Near death from an attack by Slow Mutants, Roland Deschain is taken in by a group of Sisters who specialize in anything but the healing arts.
These hideous, corpse-like creatures known as the Little Sisters of Eluria have murder on their twisted minds.
And in his current, wounded condition, there's almost nothing the last gunslinger can do to prevent their tender mercies from taking hold.
It's the beginning of a new DarkTower story arc featuring the fine pencils of Luke Ross, whose work on this story will astound you!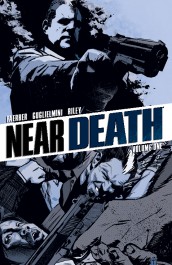 Jay Faerber & Simone Guglielmini: Near Death 1
Meet Markham, a professional killer who has a near-death experience during a botched mission.
Determined to avoid ever returning to the Hell he glimpsed, Markham has dedicated himself to balancing the scales. He's going to save a life for every life he's taken. And he's taken a lot of lives…
The critically acclaimed crime series is collected for the first time, featuring exclusive bonus material.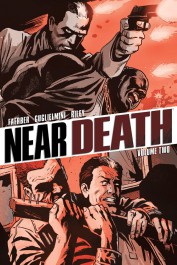 Jay Faerber & Simone Guglielmini: Near Death 2
In this second collection of the series BRIAN K. VAUGHAN calls "a killer crime book with a very sharp hook," former hitman Markham has relocated to Los Angeles, where he continues his efforts to balance the scales by saving people instead of killing them.
But try as he might, Markham can't outrun his dark past.
If you like THIEF OF THIEVES and FATALE, you'll love NEAR DEATH.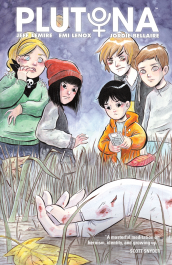 Jeff Lemire & Emi Lenox: Plutona
Five kids discover the body of the world's greatest super hero, Plutona, in the woods after school one day.
This discovery sends them on a dark journey that will threaten to tear apart their friendship and their lives.
Collects PLUTONA #1-5 in a limited hardcover format edition. Collects PLUTONA #1-5.
.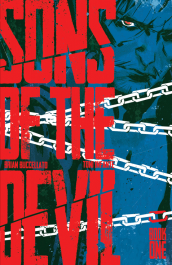 Brian Buccellato & Toni Infante: Sons of the Devil 1
Collects the first five issue of the critically-acclaimed ongoing series from New York Times bestselling writer BRIAN BUCCELLATO and artist TONI INFANTE.
Also includes a twelve-page origin story of Jennifer that is not available in the monthly comic.
Collects SONS OF THE DEVIL #1-5.
.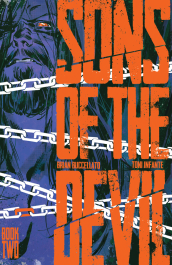 Brian Buccellato & Toni Infante: Sons of the Devil 2
Travis and Jennifer commit to unite their long-lost family and begin searching for their siblings who survived the Cult Massacre 25 years ago.
When these siblings start disappearing, Travis is forced to reevaluate his alliances and whom he can trust.
From New York Times bestselling author BRIAN BUCCELLATO and TONI INFANTE.
Collects SONS OF THE DEVIL #6-10.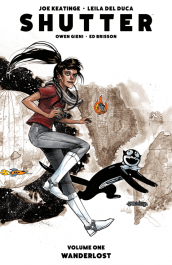 Joe Keatinge & Leila Del Duca: Shutter 1
JOE KEATINGE (GLORY, TECH JACKET, Adventures of Superman) teams up with artist extraordinaire LEILA DEL DUCA for her Image Comics debut in the very first collection of their all-new ongoing series combining the urban fantasy of Fables and the globe-spanning adventure of Y: The Last Man.
Kate Kristopher, once the most famous explorer of an Earth far more fantastic than the one we know, is forced to return to the adventurous life she left behind when a family secret threatens to destroy everything she spent her life protecting. Collects SHUTTER #1-6.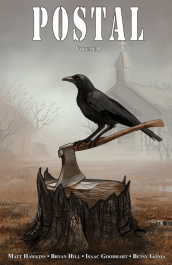 Matt Hawkins & Ryan Hill & Isaac Goodhard: Postal 1
The first volume of Top Cow's bold new ongoing series POSTAL brings readers into the fictional town of Eden, Wyoming, a place founded by criminals for criminals.
A place where, despite its inhabitants, no crime is allowed. Local postman Mark Shiffron has Asperger's, and through his peculiar eyes we see a town struggling to keep its fragile peace, a town on the constant brink of chaos.
When a murdered woman's body is found on Eden's main street, Mark's need to solve her crime leads him into darkness and truth about the town he's known his entire life and the hidden realms of his own psychology.
Co-writers BRYAN HILL & MATT HAWKINS work with newcomer ISAAC GOODHART to take an unflinching look at the cost of justice and the price of redemption through a tale set in the murky soul of America's heartland.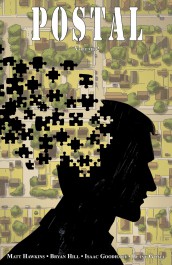 Matt Hawkins & Ryan Hill & Isaac Goodhard: Postal 2
Small town. Big problems.
Mark Shiffron is more than the mailman of Eden, Wyoming. Now he's the problem solver, working with his mother, the Mayor, to keep a town full of criminals from tearing itself apart.
As ambition and desire grow within him, Mark uses his unique perspective to try and keep Eden under his mother's control. But can the Mayor keep her son under her control?
The second arc of the controversial and unflinching POSTAL once again journeys into the strange darkness of human nature, making one thing clear: every paradise comes at a price.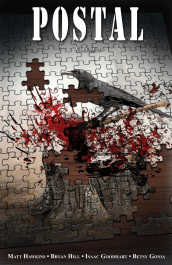 Matt Hawkins & Ryan Hill & Isaac Goodhard: Postal 3
Mark Shiffron can protect his innocence or he can protect the small town he's always known.
He won't have much time because a new FBI agent has come to Wyoming, intent on understanding Eden's secrets, starting with Mark's fugitive father: Issac Shiffron…but Mark's father has plans that will push Mark beyond the threshold of good and evil, changing him forever.
.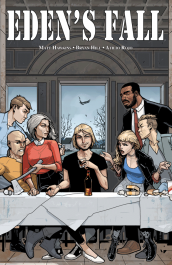 Matt Hawkins & Bryan Hill & Attilio Rojo: Eden's Fall
Top Cow combines three of its most provocative titles (THINK TANK, THE TITHE, POSTAL) in an unflinching fable of revenge and consequence.
FBI Agent James Miller (THE TITHE) follows a sociopath into the off -the-grid town of Eden, Wyoming, on a personal mission of vengeance.
The price of this vigilante justice will be paid in blood, and both Eden and James Miller will never be the same.
Collects EDEN'S FALL #1-3, THINK TANK #1, POSTAL #1, THE TITHE #1.