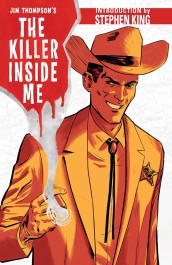 Devin Faraci & Vic Malhotra: Jim Thompson's The Killer Inside Me
Celebrated crime novelist Jim Thompson's sinewy, brutal, and beloved novel comes to life in this graphic noir-novel!
In THE KILLER INSIDE ME, Thompson went where few have dared, giving us a pitch-black glimpse into the evil mind of the American serial killer years before Charles Manson, John Wayne Gacy, and Brett Easton Ellis's American Psycho. Thompson's novel will forever be known as the masterwork of the greatest crime novelist of all time.
Lou Ford is the deputy sheriff of a small unsuspecting Texas town. The worst thing most people can say against him is that he's a little slow and a little boring.
But most people don't know about the sickness—the sickness that almost got Lou put away when he was younger—the psychosis that is about to surface again.
Introduction by Stephen King.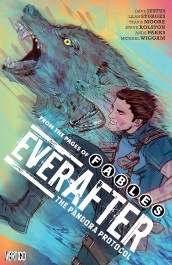 Dave Justus & Lilah Sturges: Everafter 1 – The Pandora Protocol
Spinning off from the Eisner Award-winning FABLES, the magical and the mundane now coexist in an uneasy and fractured peace.
Some of the remaining Fables seek to use their freshly revealed powers for the greater good. Others, however, have darker desires and instead plot to unleash supernatural terror on an unprecedented scale.
It's a brave new world-and the Shadow Players are the bravest of them all. This elite network of agents-Fable and Mundy alike-travel the globe to battle the magical threats that have arisen across the newly enchanted Earth. They include such legendary Fables as Peter Piper and Bo Peep, and Connor Wolf, the rookie on the team.
Ruthless mercenaries. Ancient artifacts. Undead hordes. The Shadow Players must take them all on-and guard against corruption from within-if the world is to have its happy ending.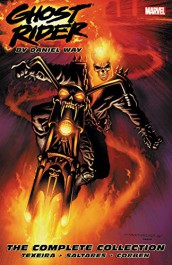 Ghost Rider by Daniel Way – The Complete Collection
Once upon a time, Johnny Blaze made a deal with the Devil – and to no one's surprise but his own, he got shafted.
Now trapped in hell, with the Spirit of Vengeance bonded to his immortal soul and weighing him down, Johnny may have finally found a way out.
But at what cost?
From the depths of Hell to the glittering spires of Heaven, the Ghost Rider rides again, blazing new trails and dispensing fiery vengeance in his wake. T
he demonic team of Daniel Way, Mark Texeira and Javier Saltares reunite to put ol' Flamehead back in the saddle where he belongs. Ready or not, here he comes! Two issues is drawn by Richard Corben.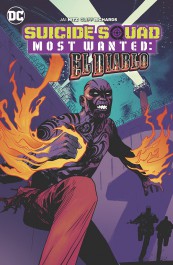 Suicide Squad Most Wanted – El Diablo
When a sudden pardon springs the powerful pyro-kinetic formerly known as Chato Santana from Belle Reve Prison-and frees him from the control of Task Force X's ruthless commander, Amanda Waller-his only desire is to return home to reunite with his family.
But a vicious attack cuts short his plan and puts him on the radar of Checkmate, a metahuman black ops organization that puts the Suicide Squad to shame.
Alongside his new comrades, El Diablo embarks on a whirlwind tour of the DC Universe's most dangerous hotspots, from the technological terrors of Metropolis to the dark nights of Gotham City, making strange allies and unstoppable enemies along the way. With his old team closing in and his new team's agenda shrouded in mystery, will the devil get his due, or is El Diablo doomed to die once more?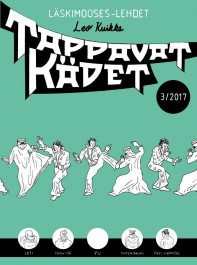 Leo Kuikka: Tappavat kädet 3/2017
Läskimooseslehdet / Kreegah Bundolo ylpeänä esittää Leo Kuikan TAPPAVAT KÄDET 3!
.
.
.
.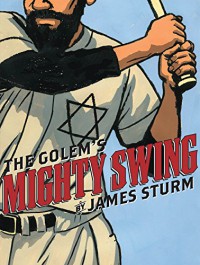 James Sturm: The Golem's Mighty Swing
A new edition of the classic tale of a barnstorming Jewish baseball team during the great depression
By reuniting America's greatest pastime with its hidden history, the graphic novel tells the story of the Stars of David, a barnstorming Jewish baseball team of the depression era.
Led by its manager and third baseman, the nomadic team travels from small town to small town providing the thrill of the sport while playing up their religious exoticism as a curio for people to gawk at, heckle, and taunt.
When the team's fortunes fall, the players are presented a plan to get people in the stands. But by placing their fortunes in the hands of a promoter, the Stars of David find themselves fanning the flames of ethnic tensions.
Sturm's nuanced composition is on full display as he deftly builds the climax of the game against the rising anti-semitic fervor of the crowd. Baseball, small towns, racial tensions, and the desperate grasp for the American Dream: The Golem's Mighty Swing is a classic American novel.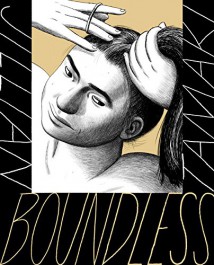 Jilliam Tamaki: Boundless
The cartoonist of This One Summer and SuperMutant Magic Academy explores the virtual and IRL world of contemporary women via a lens both surreal and wry
Jenny becomes obsessed with a strange "mirror Facebook," which presents an alternate, possibly better, version of herself. Helen finds her clothes growing baggy, her shoes looser, and as she shrinks away to nothingness, the world around her recedes as well. The animals of the city briefly open their minds to us, and we see the world as they do. A mysterious music file surfaces on the internet and forms the basis of a utopian society–or is it a cult?
Boundless is at once fantastical and realist, playfully hinting at possible transcendence: from one's culture, one's relationship, oneself. This collection of short stories is a showcase for the masterful blend of emotion and humour of award-winning cartoonist Jillian Tamaki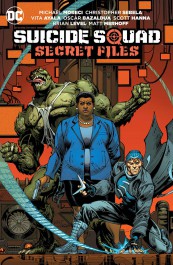 Suicide Squad Secret Files
Three of the most dangerous members of the DC Universe's least predictable team share the spotlight in this killer collection, starring characters from the blockbuster movie!
KILLER CROC is the Suicide Squad's biggest, baddest beast, which makes him the right monster for the job when an island full of terrifying creatures becomes a threat to the world at large. But when he's confronted with the horrible truth of these mutant menaces, will humanity or monstrosities win in the end?
BOOMERANG is a hardcore mercenary who thinks his mission to take down a Central American dictator is just another job-but trouble has a way of returning to him like one of his trademark weapons. Alone behind enemy lines, can Boomerang make a comeback?
AMANDA WALLER may be a regular human, but she has perhaps the greatest ability of all: she understands how power works-and how to wield it. That's how she's kept the Squad under control and become one of the best deprogrammers of brainwashed villains. But when one of her subjects turns the tables on her, can she save the Squad from a killer who knows all their secrets?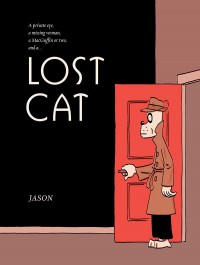 Jason: Lost Cat
In this reprint of Jason's first long-form graphic novel, a detective meets a woman who has a lost cat, and, in true noir fashion, nothing is as it seems.
.
.
.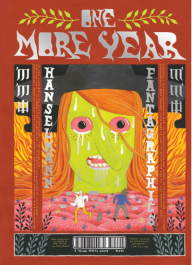 Simon Hanselmann: One More Year
Simon Hanselmann's previous two Megg & Mogg books — 2014's Megahex and 2016's Megg and Mogg in Amsterdam — have both been New York Times bestsellers, and One More Year continues to cement
Hanselmann as one of his generation's defining cartoonists. Megg the witch, Mogg the cat, and their friends Owl and Werewolf Jones are imbued with far more pathos and depth than seems plausible given the stock comic premise — drugged-out, slacker roommates.
Depressing, hilarious, and exceedingly human — despite being about a witch, a cat, and an anthropomorphic owl — One More Year continues to give more substance to the characters and personalities of its protagonists in ways that never fail to surprise, delight, and horrify.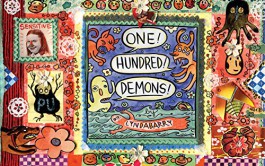 Lynda Barry: One Hundred Demons
Inspired by a sixteenth-century Zen monk's painting of a hundred demons chasing each other across a long scroll, acclaimed cartoonist Lynda Barry confronts various demons from her life in seventeen full-color vignettes.
In Barry's hand, demons are the life moments that haunt you, form you, and stay with you: your worst boyfriend; kickball games on a warm summer night; watching your baby brother dance; the smell of various houses in the neighborhood you grew up in; or the day you realize your childhood is long behind you and you are officially a teenager.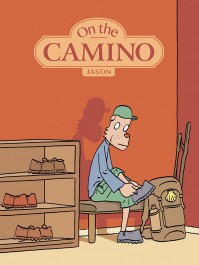 Jason: On the Camino
Internationally acclaimed cartoonist Jason's first full-length graphic memoir is about his experiences walking a 500-mile pilgrimage for his 50th birthday.
Northwestern Spain, observed with the eye of an artist, chronicling both the good (people, conversations) and the bad (blisters, bedbugs) he encountered on his journey.
Full of quiet incidents, odd encounters, small triumphs, and the occasional setback, On the Camino is the first implicitly autobiographical long-form work by a master cartoonist.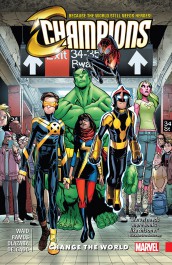 Mark Waid & Humberto Ramos: Champions 1 – Change The World
One of the great team names in Marvel history returns, in incredible new fashion!
During the fallout of Civil War II, Ms. Marvel, Nova and Spider-Man quit the Avengers and strike out on their own! With Viv Vision and the Totally Awesome Hulk by their side, these young heroes are determined to change the world their own way – and they're only the beginning!
It starts as an idea.
It becomes an ideal.
But what happens when it turns into a movement – one so big even the Hulk can't stop it? And will one of the greatest X-Men of all forge a new future by their side? Welcome to the Champions, Cyclops! Unfortunately, not all of your new would-be teammates are glad to see you!
Mike Mignola & Gary Gianni: Hellboy – Into the Silent Sea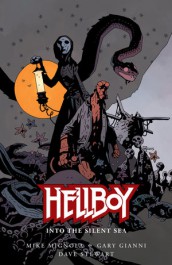 Hellboy sets sail from the wreckage of a deserted island only to cross paths with a ghost ship.
Taken captive by the phantom crew that plans to sell him to the circus, Hellboy is dragged along by a captain who will stop at nothing in pursuit of a powerful sea creature.
Following the events of Hellboy: The Island, Gary Gianni draws Hellboy in a brand-new graphic novel.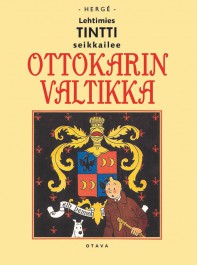 Hergé: Lehtimies Tintti seikkailee – Ottokarin valtikka
Tämä näköispainos alkuperäisestä Tintti-albumista vie toimeliaan lehtimiehen itäeurooppalaiseen Syldaviaan, jossa Tintti pyrkii estämään katalan vallankaappausyrityksen.
Klassinen sarjakuva sellaisena kuin tekijä sen alun perin piirsi!
.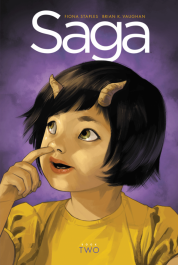 Brian K. Vaughan & Fiona Staples: Saga Book 2
At long last, it's finally time for the second hardcover collection of SAGA, the New York Times best-selling series praised by everyone from Alan Moore to Lin-Manuel Miranda!
Created by the multiple Eisner Award-winning team of artist FIONA STAPLES (Mystery Society, North 40, Archie Comics) and writer BRIAN K. VAUGHAN (THE PRIVATE EYE, PAPER GIRLS, WE STAND ON GUARD), SAGA BOOK TWO continues the action-packed education of Hazel, a child born to star-crossed parents from opposite sides of a never-ending galactic war.
Collecting 18 issues of the smash-hit comic, this massive edition features a striking original cover from Fiona Staples, as well as a brand-new gallery of exclusive, never-before-seen SAGA artwork from legendary creators including CLIFF CHIANG, PIA GUERRA, FAITH ERIN HICKS, KARL KERSCHL, JASON LATOUR, SEAN GORDON MURPHY, STEVE SKROCE, and MORE!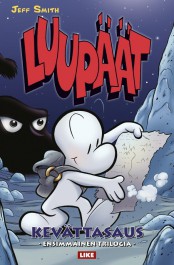 Jeff Smith: Luupäät 1 – Kevättasaus
Serkukset Leppo, Auvo ja Tahvo Luupää karkotetaan kotoaan Luumäestä Tahvon hämärien liiketoimien takia. He löytävät tiensä ihmeellisten olentojen kansoittamaan syvään, metsäiseen laaksoon…
Luupäät on maailmanlaajuista mainetta niittänyt koko perheen sarjakuva, jossa satumainen fantasia ja piinaava jännitys yhdistyvät hykerryttävään huumoriin ja taidokkaaseen piirrosjälkeen.
Sarja on saanut 10 Eisner-palkintoa ja 11 Harvey-palkintoa, ja vuonna 2005 Time-lehti kohotti Luupäät kymmenen kaikkien aikojen tärkeimmän sarjakuvaromaanin joukkoon.
Jeff Smithin mestariteos julkaistaan nyt ensimmäistä kertaa suomeksi väreissä, ja mukana on myös aiemmin suomentamattomia kohtauksia. Tämä kirja sisältää sarjan kolme ensimmäistä albumia: Pois Luumäestä, Suuret lehmäravit ja Myrskyn silmät.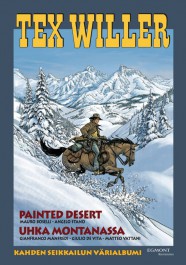 Boselli & Stano & Manfredi & De Vita: Tex Willer suuralbumi 35 – Painted Desert/Uhka Montanassa
Italialaisen lännensarjakuvan maestrot esittelevät parasta osaamistaan tässä suuralbumien sarjassa.
Värien ansiosta mestarien paletilla on tarjolla tavallista enemmän vivahteita ja kuvittajat käyttävät lisäarsenaalinsa Villin lännen upean luonnon ja sen sankareiden uljaaseen esillepanoon.
Mauro Bosellin ja Angelo Stanon tarina Painted Desert vie meidät Arizonan karun kauneuden keskelle, jossa roistojoukon aarrejahti värjää autiomaata viattomien verellä. Armottomien konnien kintereillä on Yön Kotkan ja Tiger Jackin muodostama vieläkin armottomampi parivaljakko.
Uhka Montanassa on Gianfranco Manfredin kirjoittama jännitysnäytelmä, jossa Texin vanha ystävä pyytää apua turkiskomppanian palkkaamaa murhanhimoisten asemiesten joukkoa vastaan.
Giulio De Vita ja Matteo Vattani vastaavat talvisen verioopperan kuvituksesta.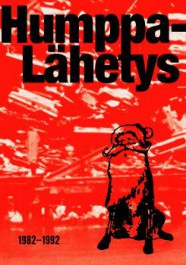 Humppa-Lähetys 1982-1992
Haluatko tietää mitä TODELLA tapahtui vuosina 1982-1992?
Maan johtava uutislehti Humppa-Lähetys kertoo kaiken sen, mistä valtamedia syystäkin vaikenee.
Tiesitkö mm. että Ahvenanmaalla käytiin veristä sisällissotaa, Suomen ilmatilassa havaittiin vieraan vallan sukellusvene, tai että raivohullu seebuhärkä riehui Torniossa?
Entä kertoivatko uutiset miten muurari söi betonimyllynsä tai että Matti & Teppo loikkasivat Neuvostoliittoon?
Näiden kansien sisään on koottu kaikki "oleellinen" materiaali Humppiksen ajat sitten loppuunmyydyistä numeroista 1-13, häpeämättömästi uudelleeneditoituna ja julkeasti muokattuna
"Humppa-Lähetyksessä kulminoituu kaikki se hyvä, mitä ihmiskunta on viisitoistavuotisen olemassaolonsa aikana saanut aikaiseksi."
– Boston Tribüne
"Voisin tähän yhteyteen myös mainita Humppa-Lähetyksen erinomaisuudesta jos vain humalaltani kykenisin."
– Jonathan Gourgois III
"Helvetin hieno opus, saatana!"
– Georg Henrik von Wrikht
"Humppis oli suurena apuna selvittäessäni Jön F. Kennedyn murhamysteeriä."
– Timo T.A. Kekkonen
"Ilman Humppa-Lähetystä olisin tuskin elänyt 300-vuotiaaksi."
– Arvo Ylpppö
"Humppa-Lähetys jatkaa ansioituneesti Raton, Urkin ja Punalipun viitoittamalla tutkivan journalismin kapealla tiellä."
– Helsinkin Sanomat
"Pikkusen hyvä!"
– Kim Jong Il
"Joko sumppi kiehuu?"
– Paavo Löppönen, SDB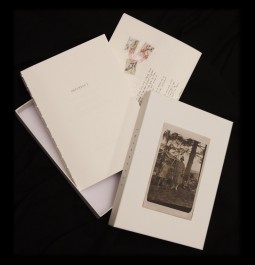 Kaisa Leka & Christoffer Leka: Imperfect
Imperfect koostuu postikorteista, jotka on piirretty pyörämatkalla New Yorkista San Franciscoon kesällä 2016.
110 korttia lähetettiin Suomeen postitoimistoista, joista pienin sijaitsi 3 asukkaan Rileyssä Oregonissa ja suurin 1 644 518 asukkaan Manhattanilla New Yorkissa.
104 korttia saapui perille.
Kirja on pakattu laatikkoon, josta löytyy myös näyttävä 90 x 64 cm kokoinen kartta.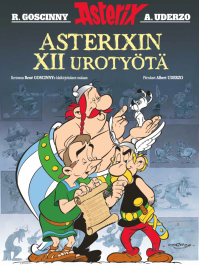 René Goscinny & Albert Uderzo: Asterix – Asterixin XII urotyötä
Asterix valloittaa Rooman -elokuvaan perustuva kuvakirja, jonka käsikirjoituksen on tehnyt Renè Goscinny ja kuvituksen Albert Uderzo.
Alkuperäinen teos (Les XII travaux d'Asterix) on julkaistu vuonna 1976.
Uudistettu laitos.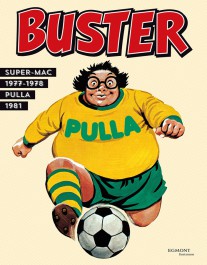 Buster 2
Buster oli 70-luvun lopussa ja 80-luvun alussa jalkapalloa harrastaneelle nuorisolle sarjakuvalehdistä tärkein. Busterin sivuilla seikkailleista vihreän veran sankareista suosituimmiksi nousi kaksi hyvinkin erityislaatuista superfutaria…
SUPER-MAC. Ulko-Hebridien karuilta nummilta ponnistava järkälemäinen Mac Mahony on varsinainen muurinmurtaja kentällä ja sen ulkopuolella. Hyväsydäminen ja kuumapäinen jätti teutaroi tiensä kommelluksesta toiseen ja naurattaa isänsä tuittupäisellä taustatuella lukijan vatsalihakset hyytelöksi.
PULLA. Super-Maciin verrattuna päinvastaisella tavalla järkälemäinen Kevin "Pulla" Mouse yrittää rakentaa uraa sekä aivokirurgina että jalkapalloilijana.
Teräville hoksottimille löytyy jalkapalloilun ihmeellisessä maailmassa runsaasti käyttöä lääkintätaidoisat puhumattakaan. Onhan Pullankin pelityyli ajoittain hyvinkin fyysinen…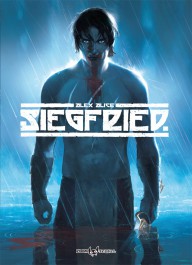 Alex Alice: Siegfried 1
Siegfried on kolmiosainen sarja, joka on saanut innoituksensa Richard Wagnerin oopperasta Nibelungin sormus.
Tarina perustuu useisiin eri myytteihin ja jumaltaruihin, mm. skandinaaviseen Eddaan.
Tuloksena on kiehtova ja eeppinen sarjakuva jumalista, jättiläisistä ja ihmisistä.
Tarinan pääosasssa on nuori orpo Siegfried, joka on syntynyt kuolevaisen miehen ja valkyyrian rakkaudesta mutta kasvanut kääpiöiden ja susien parissa pimeässä metsässä.
Hänen sijaisvanhempansa haluaisivat elää rauhassa, mutta Siegfried janoaa tietoa oikeista vanhemmistaan ja itsensä kaltaisista.
Hän ei kuitenkaan tiedä, että ylijumala Odinilla on suunnitelmia hänen varalleen. Odin haluaa Siegfriedin taistelevan Reininkullan vartijaa, Fafnir-lohikäärmettä vastaan!
Sarjan toinen osa julkaistaan loppuvuodesta 2017 ja kolmas osa keväällä 2018.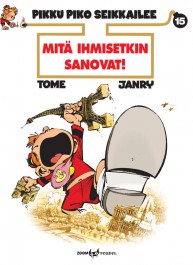 Tome & Janry: Pikku Piko 15 – Mitä ihmisetkin sanovat!
Pitkän tauon jälkeen ilmoitamme ilouutisen!
Pikku Piko kavereineen tekee paluun sarjan 15. albumilla "Mitä ihmisetkin sanovat!"
Pikkuisen tuhma ja suuresti hauska Pikku Piko on runsaasti palkittujen tekijöiden, Tomen ja Janryn, näkemys ison seikkailija-Pikon lapsuudesta.
Supersuosittu sarja täyttää jo 25 vuotta, mutta Pikku Piko ei ole yhtään sen aikuisempi kuin tarinansa alussa. Kunnes! Identiteettikriisi iskee kesken normipäivän puuhastelujen, uimahallissa pelleilyn ja uimapukuisten tyttöjen tirkistelyn. Pikku Piko alkaa tuntea itsensä vanhaksi, ja pyytää nuorennuseliksiiriä ystävältään Mamadoulta. Mutta annostus menee pieleen ja Pikku Piko huomaakin äkkiä muuttuneensa …aikuiseksi.
Isona oleminen ei ole kovin hauskaa. Pitäisi tehdä töitä ja huolehtia itsestään, kaikenlaista mistä Pikku Piko ei yhtään tykkää. Ennen muuta lapsellista hulluttelua on vielä runsaasti tekemättä, joten on löydettävä ratkaisu palautua takaisin kahdeksan ja puolivuotiaaksi ja pysyä siinä iässä vielä hyvin pitkään.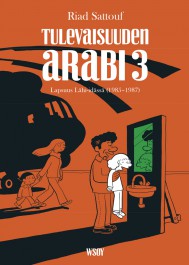 Riad Sattouf: Tulevaisuuden arabi 3 – Lapsuus Lähi-idässä (1985-1987)
Ilmiömäiseen suosioon Ranskassa nousseen omaelämäkerrallisen Tulevaisuuden arabi -sarjan kolmannessa osassa nuoren Riadin ranskalainen äiti on saanut tarpeekseen elämästä alkeellisessa kyläpahasessa Syyriassa.
Tulevaisuuden arabi 3 kertoo Riad Sattoufin nuoruudesta 6–9-vuotiaana, joka alkaa vähitellen ymmärtää, millaisessa yhteiskunnassa hän varttuu 1980-luvun Syyriassa.
Voiko Tirma'lassa viettää joulua? Millaisia videoita myydään Homsissa pikkupojille? Oliko Conan Barbaari ympärileikattu? Entä kohdellaanko eläimiä paremmin Bretagnessa kuin syyrialaiskylässä? Ja tuleeko Riadin isästä vielä jonain päivänä suurmies Hafez al-Assadin diktatuurissa?
"Tekijän suurin saavutus on asettuminen omiin lapsuuden saappaisiinsa. Hän välttää kiusauksen jälkiviisauteen, ei selittele ja taustoittaa vain välttämättömimmän", kirjoitti Harri Römpötti Tulevaisuuden arabi 2:sta Helsingin Sanomissa.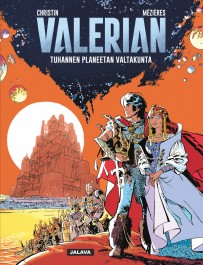 Mézières & Christin: Valerian – Tuhannen planeetan valtakunta
Kaukaisessa galaksissa on suurenmoinen Syrte, Tuhannen planeetan valtakunnan keskus ja kukoistava kauppakaupunki, jossa myydään ihmeellisiä tuotteita kaikkialta aurinkokunnasta.
Syrtellä ei ole keksitty aikamatkustamisen taitoa, joten avaruusagentit Valerian ja Laureline ovat ensimmäiset, jotka ovat saaneet Maasta yhteyden tähän korkeaan kulttuuriin ja matkustavat tutkimaan sitä.
Ennen niin loistelias kaupunki on kuitenkin rappeutumassa, ja todellista valtaa näyttävät käyttävän metallinaamion taakse kätkeytyvät tietäjät, jotka sanovat olevansa ruumiin ja sielun tuntijoita. Keitä tietäjät oikeastaan ovat, ja onko Syrte uhka Galaxitylle?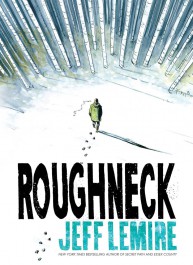 Jeff Lemire: Roughneck
From the New York Times bestselling author and award-winning creator of Essex County, Secret Path, Descender, and The Underwater Welder comes an all-original graphic novel about a brother and sister who must come together after years apart to face the disturbing history that has cursed their family.
Derek Ouelette's glory days are behind him.
His hockey career ended a decade earlier in a violent incident on ice, and since then he's been living off his reputation in the remote northern community where he grew up, drinking too much and fighting anyone who crosses him.
But he never counts on his long-lost sister, Beth, showing up one day out of the blue, back in town and on the run from an abusive boyfriend.
Looking to hide out for a while, the two siblings hunker down in a secluded hunting camp deep in the local woods. It is there that they attempt to find a way to reconnect with each other and the painful secrets of their past…even as Beth's ex draws closer, threatening to pull both Derek and Beth back into a world of self-destruction that they are fighting tooth and nail to leave behind.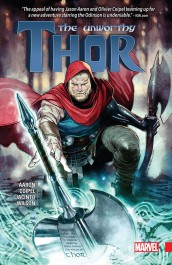 Jason Aaron: The Unworthy Thor
Unfit to lift his hammer, with another now wielding the power of Thor, the Odinson's desperate quest to regain his worthiness takes him out into the cosmos – where he's learned of the existence of a mysterious other Mjolnir!
This weapon of ultimate power, a relic from a dead universe, is the key to the Odinson's redemption – but some of the greatest villains of the Marvel Universe are anxious to get their hands on it as well.
And when the Realm of Old Asgard vanishes, the Odinson's hopes might go with it – unless good tidings from Beta Ray Bill offer fresh hope! Can the Odinson reclaim his honor, or will the power of thunder be wielded for evil? Let the battle for the hammer commence!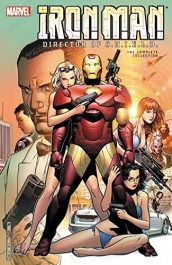 Iron Man: Director of S.H.I.E.L.D. – The Complete Collection
Tony Stark takes on the Marvel Universe's hardest job: Director of S.H.I.E.L.D.!
And he's just the futurist to bring the peacekeeping intelligence organization up to date!
But with Tony in the hot seat, what will that mean for Iron Man?
He'll face techno-zombies, an old hero with a grudge, a traitor in the Initiative and regime change in the nation of Madripoor! Will Tony Stark crack under the pressure of being the world's top cop?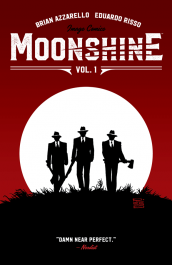 Brian Azzarello & Eduardo Risso: Moonshine 1
From writer BRIAN AZZARELLO and artist, EDUARDO RISSO–the Eisner Award-winning creative team behind the crime classic, 100 Bullets–comes a brutal new series that puts a horror twist on a classic gangster tale!
Set deep in Appalachia during Prohibition, MOONSHINE tells the story of Lou Pirlo, a city-slick "torpedo" sent from New York City to negotiate a deal with the best moonshiner in West Virginia, Hiram Holt.
Lou figures it a milk run, but what he doesn't figure is that Holt's just as cunning and ruthless as any NYC crime boss. Not only will Holt do anything for his illicit booze operation, he'll stop at nothing to protect a much darker, bloodier family secret…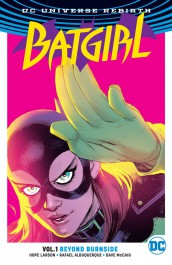 Hope Larson & Rafael Albuquerque: Batgirl 1 – Beyond Burnside
Spinning out of DC UNIVERSE: REBIRTH comes the newest adventures of Batgirl in BATGIRL VOL. 1: BEYOND BURNSIDE!
Barbara Gordon's heart belongs to Burnside, the ultra-hip Gotham City neighborhood. But some threats are bigger than Burnside. And when those threats come calling, Batgirl will answer!
When Babs plans a trip to train with the greatest fighters in the Far East, she has no idea her vigilante life will follow her. Lethal warriors are out to take her down, each bearing the mysterious mark of "The Student." And where there are Students, there must also be…a Teacher.
Batgirl's quest to track down her enemies' master will take her from Okinawa to Singapore to Seoul to Shanghai. Along the way, she'll enhance her martial arts skills, and meet legendary heroes.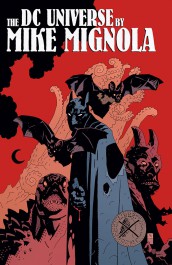 Mike Mignola: The DC Universe by Mike Mignola
Mike Mignola, best known as the creator of Hellboy, started out his comics art career drawing the adventures of the World's Greatest Super-Heroes, applying his moody artwork to tales of Superman, Batman, Swamp Thing and more.
Now, this new collection assembles these stories written by John Byrne, Roger Stern, Neil Gaiman, Paul Kupperberg, and others for the first time.
Collects: SUPERMAN: THE WORLD OF KRYPTON #1-4, ACTION COMICS ANNUAL #2, SUPERMAN #18 and 23, BATMAN: LEGENDS OF THE DARK KNIGHT #54, BATMAN: GOTHAM KNIGHTS #36, SWAMP THING ANNUAL #5, PHANTOM STRANGER #1-4 and much more.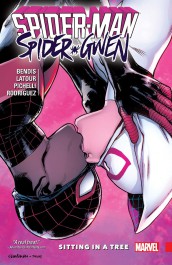 Spider-Man/Spider-Gwen – Sitting in a Tree
K-I-S-S-I-N-G!
That's just one of the things that makes this a very modern Marvel team-up, as the two most sensational web-spinners of the 21st century cross paths — and lock lips!
Miles Morales and Gwen Stacy are two young heroes from different Earths, but what threat could unite the Spider-Man and Spider-Woman of the new generation?
The answer will rock both their worlds! Not for the first time, Miles will find himself in another universe — and he's in pursuit of someone he holds dear. But will that description soon apply to Gwen?
Or, as the stakes are raised, will this spider-crossed pair see teen romance give way to arachnid animosity? First comes love, then comes much worse, then comes chaos in the Multiverse!
Shigeru Mizuki: Kitaro – The Great Tanuki War
Kitaro faces off against a swamp monster, a paper screen come to life, and an army of mythical raccoon dogs.
Kitaro and the Great Tanuki War features adventures of Shigeru Mizuki's beloved yokai boy.
In the epic title story, Kitaro battles the tanuki, a Japanese animal that features prominently in the country's yokai legends.
The furry beasts draw on the power of the blood moon to awaken the monstrous catfish that lives in the depths of the earth. The twisting of the catfish causes earthquakes that threaten to destroy all of Japan. With his yokai allies captured, Kitaro is the only one left who can take on the great tanuki and his army. Will he be up for the challenge?
This volume contains two additional stories about traditional folklore monsters as seen through Mizuki's whimsical and genre-defining lens. In "Mokumokuren," Kitaro faces off against a paper screen come to life, while "The Obebenuma Yokai" introduces a grisly swamp creature. Kitaro and the Great Tanuki War showcases the golden age of the Gegege no Kitaro series from the 1960s―and has never before appeared in English.
D+Q's Kitaro series celebrates Mizuki's expert blend of folklore, comedy, and horror, sharing the all-ages stories that made Kitaro one of Japan's most beloved characters. This kid-friendly edition also features a "History of Kitaro" essay by the award-winning series translator and Mizuki scholar Zack Davisson.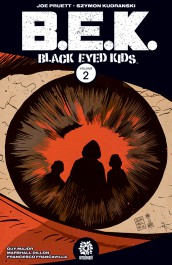 Joe Pruett & Szymon Kudranski: Black-Eyed Kids 2 – The Adults
The urban legend come to life.
The Black-Eyed Children have announced their presence with horrific authority, leaving lives shattered and multiple bodies in their wake.
Jim Loudin and his family, along with a local police officer and a mysterious stranger, seemingly with past ties to these devil children, fight not only for their own lives, but for potentially mankind's very existence.
Collecting issues #6-10 of the critically-acclaimed series, and the original short story from the AFTERSHOCK GENESIS one-shot.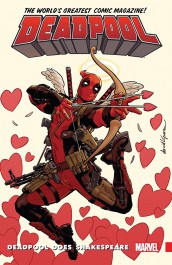 Gerry Duggan: Deadpool World's Greatest 7 – Deadpool Does Shakespeare
All the world's a stage, and he's a major player!
Forsooth, Deadpool will face a comedy of errors when he gets trapped in the works of William Shakespeare!
Whether it turns out to be a midsummer night's dream, or much ado about nothing, it's sure to be Deadpool as you like it!
Fingers crossed that all's well that ends well, so Wade can return to the tragedy that is his regular life in the Marvel Universe!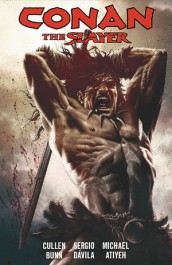 Cullen Bunn & Sergio Dávila: Conan the Slayer – Blood in His Wake
Alone, on the brink of death, and with nothing but his sword, Conan of Cimmeria finds refuge in a camp of Kozaki raiders. As Conan's wounds heal, he gains acceptance into the clan . . . only to discover that mortal danger is closer than ever.
Penned by Cullen Bunn (Harrow County) and with art by Sergio Dávila (Red Sonja), this volume collects issues #1–6 of Conan the Slayer!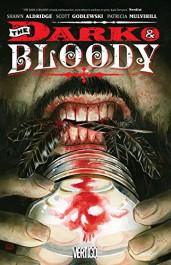 Shawn Aldridge & Scott Godlewski: The Dark & the Bloody 1
Iris Gentry thought the worst was over. A veteran of the Iraq war, he returned home shaken and psychologically scarred, but with body and spirit intact.
A dry county in rural Kentucky, however, isn't an easy place to make a living. To provide for his loved ones, he's fallen back on an old family tradition: moonshine.
Breaking the local liquor laws isn't what's keeping Iris awake at night, though. Something very bad happened in Iraq—something that not even the strongest white lightning can erase from his memory.
As soldiers, Iris and his squad sowed the wind. Now, the whirlwind has come for them—and, as always, the innocent and guilty alike will suffer in the reaping.
A terrifying tale of crime, combat and the evils they unleash, THE DARK AND BLOODY collects the six-issue VERTIGO miniseries by acclaimed creators Shawn Aldridge and Scott Godlewski.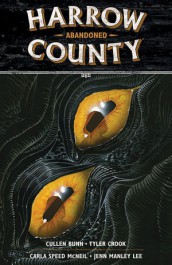 Cullen Bunn & Tyler Crook: Harrow County 5 – Abandoned
The Abandoned, a giant monster with haunting yellow eyes, rarely leaves his ramshackle cabin deep in the woods of Harrow County.
But it wasn't always so.
And when hunters travel to Harrow County in search of big game, they get a lot more than they bargained for.
As Emmy meets more visitors from the outside world, she discovers secrets of her own past and the very foundations of Harrow County.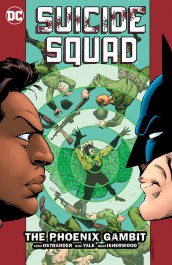 Suicide Squad 6 – The Phoenix Gambit
Amanda Waller has been imprisoned for a year, and her Task Force X disbanded after they fled her custody while taking down LOA.
But the U.S. government isn't finished with the Suicide Squad. Political unrest in the Eastern European country of Vlatava causes Sarge Steel to turn to the dirtiest black ops team in the business, but this time Waller has a price: full autonomy. The Suicide Squad are now free agents.
With the help of Batman, Waller reassembles her team of former-prisoners-turned-reluctant-government agents, and from Vlatava to Israel, Task Force X is free to follow where the mission–and the money–takes them. But when a deadly enemy they thought they'd defeated rises from the grave, can the Suicide Squad survive long enough to enjoy their newfound freedom?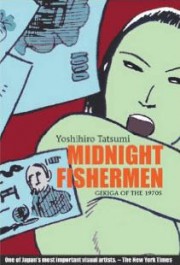 Yoshihiro Tatsumi: Midnight Fishermen
Yoshihiro Tatsumi's gekiga plumbs the depths of the lost Japanese youth of the 1970s.
Today, 'youth' of every age group appreciates Yoshihiro Tatsumi.
They are attracted too him because they connect with the struggles and the darkness of modern life which he portrays.
.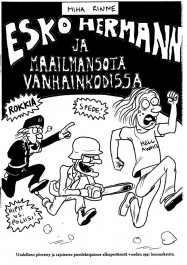 Miha Rinne: Esko Hermanni ja maailmansota vanhainkodissa
Uudelleenpiirretty ja rajoitettu pienlehtipainos alkuperäisistä vuoden 1991 luonnoksista.
.
.
.
Bryan Hitch & Tony S. Daniel: Justice League 1 – The Extinction Machines
Part of the most critically acclaimed, best-selling, all-new line of volume one graphic novels, DC Universe Rebirth!
Superman has fallen.
The Man of Steel died protecting his adopted home, leaving his allies in the Justice League to fight on without him-and leaving the older, wiser Superman of a vanished universe to pick up the torch.
But to Batman, Wonder Woman and the rest of the League, this new "Superman" is a stranger.
And just like Jessica Cruz and Simon Baz, the rookie Green Lanterns left by Hal Jordan to guard the globe in his absence, the replacement Superman has a lot to prove.
He'd better do it quickly. Because a godlike threat unlike any the League has ever fought is coming. Vast engines of destruction are about to be unleashed, remaking the planet's surface and forging its people into living weapons.
They are the extinction machines. And it will take every member of the Justice League to shut them down…
Tim Seeley & Mike Norton: Revival 8 – Stay Just a Little Bit Longer
The final collection in the acclaimed REVIVAL series. The existence of the Revivers is killing the world, and an unlikely alliance of Dana, Em, and Em's murderer must travel across a community in the midst of civil war to stop it.
.
.
Noah Van Sciver: Fante Bukowski Two
The hilarious struggle continues one year after the first book as we catch up with Fante Bukowski attempting to establish himself in a new city's literary scene, self-publishing his first zine, and coming to terms with his feelings for an old friend.
Noah Van Sciver's newest graphic novella continues to plumb the depths of the life of the self-styled, aspiring young writer, Fante Bukowski, as he delusively bumbles his way to literary fame and fortune, one drink at a time.
Living in a cheap hotel, consorting with the debased and downtrodden, searching for that golden idea that will rocket him to the success he yearns for as the great American novelist, and to get respect from his father once and for all.
But, there's just one problem: Fante Bukowski still has no talent for writing.
This latest book from emerging talent Van Sciver is another unique character study that mines the author's interest in pathos and the human condition. 2015's Fante Bukowski garnered Van Sciver a 2016 Eisner nomination for "Best Writer/Artist," one of the major awards in the comics industry.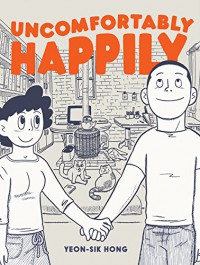 Yeon-Sik Hong: Uncomfortably Happily
When the gentler pace and stillness of the countryside replace the roar of the city, but your editor keeps calling.
With gorgeously detailed yet minimal art, cartoonist Yeon-Sik Hong explores his move with his wife to a small house atop a rural mountain, replacing the high-rent hubbub of Seoul with the quiet murmur of the country.
With their dog, cats, and chickens by their side, the simple life and isolation they so desperately craved proves to present new anxieties. Hong paints a beautiful portrait of the Korean countryside, changing seasons, and the universal relationships humans have with each other as well as nature, both of which are sometimes frustrating but always rewarding.
Uncomfortably Happily is translated by American cartoonist Hellen Jo from the acclaimed Manhwa Today award-winning Korean edition.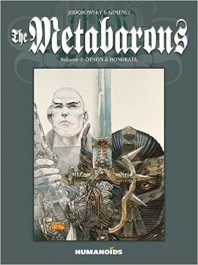 Alejandro Jodorowsky & Juan Gimenez: The Metabarons 1 – Othon & Honorata
The must-read cult spin-off from The Incal, by Moebius and Jodorowsky, that centres around the fascinating lineage of the universe's ultimate warrior.
Now available in an affordable level-entry quartet of paperbacks, this series introduces the Metabaron's bloodline and reveals the origins of their deep-seated principles.
Discover the source of the family's vast wealth, learn why every Metabaron has cybernetic implants, and why the only way to become the next Metabaron is for him to defeat his own father in mortal combat.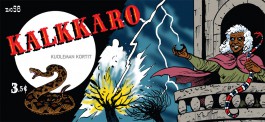 Petri Hiltunen: Kalkkaro 58
Kuoleman kortit 4/4.
Kalkkaro on Petri Hiltusen piirtämä ja käsikirjoittama lännensarja, joka on ilmestynyt sanomalehdissä vuodesta 2005 alkaen.
Sarja sijoittuu Yhdysvaltojen eteläosaan 1860-luvun lopulle.
Tarinoita ei ole aikaisemmin julkaistu albumeissa. Kalkkaro ilmestyy kerran kuukaudessa.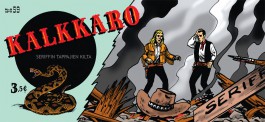 Petri Hiltunen: Kalkkaro 59
 Seriffin tappajien kilta 1/7.
.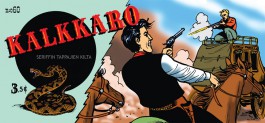 Petri Hiltunen: Kalkkaro 60
Seriffin tappajien kilta 2/7.
.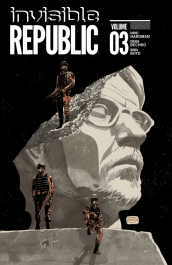 Gabriel Hardman & Corinna Bechko: Invisible Republic 3
The Hugo Award finalist continues!
Jump into this fast-paced, poli-sci-fi thriller and see why critics call INVISIBLE REPUBLIC "smart" and "fantastically sordid."
When idealism becomes brutality, it's hard to pick a side.
No one knows this better than Maia, but is she willing to give up her dreams for the sake of security?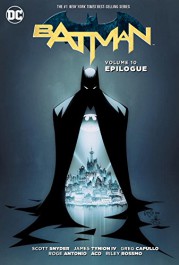 Scott Snyder & Greg Capullo: Batman 10 – Epilogue
The conclusion of creative team Scott Snyder and Greg Capullo's #1 New York Times best-selling run!
The people of Gotham all know who truly runs their city: Gotham is Batman. The fate of their home is time and time again tied to that of the Dark Knight, who would do anything to protect it.
After months of living an ordinary civilian life while other heroes stood in for him, Bruce Wayne has finally returned to his rightful role as Gotham's vigilante protector.
As a grateful city welcomes back its savior, both Batman and the people he protects consider the legacy he has created. What would Gotham be without its hero? Could it survive? And furthermore, what would Bruce Wayne be without the Batman?
As acclaimed writer Scott Snyder draws the final curtain on his game-changing Batman series, the newly returned Dark Knight battles familiar foes and new enemies. These exquisite standalone stories take the Dark Knight into an alternate dystopian future, as well as deep into his own past, questioning who he is, how he came to be and what his legacy must be…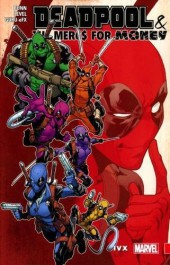 Cullen Bunn & Brian Level: Deadpool & The Mercs for Money 2 – IVX
The Mercs for Money are under new management, and now Domino is calling the shots!
But that doesn't mean that Deadpool can't still have input – like, for instance, on the squad's uniforms!
Yes! The Rainbow Deadpool Squad is back – new and improved!
It's a kaleidoscope of colorful chaos!
But imagine if Deadpool had formed a team in the 1980s, on Saturday morning TV. Prepare to discover the secret, unearthed, never-before-viewed pilot of…Deadpool and his Insufferable Pals! Featuring…wait, Iceman and Firestar? Something isn't right…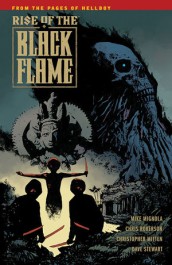 Mike Mignola & Christopher Mitten: Rise of the Black Flame
The BPRD's greatest foe was not always a man… Little English girls are going missing, and the trail leads to a bloodthirsty cult wielding an ancient power of evil—the Cult of the Black Flame.
No villain in the history of Mike Mignola's line of books has caused as much death and destruction as the Black Flame.
See what it was like when that power belonged to a secret order of priests hidden in the jungles of Siam.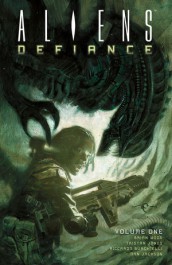 Brian Wood & Tristan Jones: Aliens – Defiance 1
Battling demons from her past while fighting for her life, Colonial Marine Private First Class Zula Hendricks, in the company of Weyland-Yutani synthetics, is forced to question her strength and loyalty when the discovery of an insidious alien species on a derelict hauler sends her on a dangerous journey across the stars.
.
.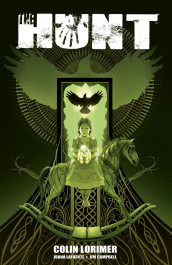 Colin Lorimer: The Hunt
At her father's deathbed, Orla Roche came face-to-face with the age-old myth of The Sluagh; a group of soul-stealing spirits so evil that not even hell would take them.
Years later, and with the belief that her father's soul is still trapped in some form of the netherworld, she goes looking for answers–beginning a journey that leads her down a path to discover what really happens to us after we die.
.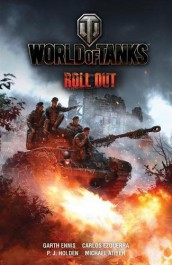 Garth Ennis & Carlos Ezquerra: World of Tanks
Superstar scribe Garth Ennis (Preacher, Battlefields) joins forces with the legendary Carlos Ezquerra (Judge Dredd, Strontium Dog) to create a tense war story inspired by the globally popular (over 110 million players!) online game World of Tanks.
As an untested British tank crew advances into France shortly after the D-Day invasion, they discover their Cromwell tank, "Snakebite," isn't quite what they were expecting.
And with a veteran German Panzer unit on the hunt, the Brits will need all the luck they can get in order to survive.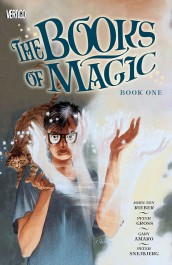 John Ney Rieber: The Books of Magic 1
Continuing from celebrated author Neil Gaiman's iconic graphic novel, the complete chronicles of Tim Hunter are finally brought together in a definitive new trade paperback.
Once, Timothy Hunter was just an ordinary 13-year-old boy living in suburban London.
Then four legendary sorcerers took him on a journey beyond time and space, and his life changed forever.
Traveling through realms long consigned to myth and legend, he also discovered an unsettling truth about his future: like it or not, fate has decreed that young Tim is destined to become the world's greatest magician!
Unfortunately for him, this innocence smells intoxicatingly like weakness to the hungry predators that haunt the shadows of existence, and the extraordinary power they sense within his frail human form is too enticing to resist.
Greg Rucka & Shawn Martinbrough: Batman – New Gotham
After spending a year cut off from the rest of the nation as the lawless "No Man's Land," Gotham is rebuilding.
The people have returned and law has been restored-as much as it ever can be in Gotham. Crime and gang activity are still rampant, and tensions are growing between factions of Gothamites who remained in the city throughout the military cordon and those who evacuated but are now returning to their homes.
With so much at stake, Batman and the police department have their hands full maintaining the newly restored peace. But that fragile status quo is threatened when Ra's al Ghul and his shape-shifting accomplice, Whisper A'Daire, spur the city's gangs into a turf war over a mysterious serum that offers eternal life to whoever drinks it…
Allan Heinberg & Terry Dodson: Wonder Woman – Who Is Wonder Woman?
Acclaimed television scribe and co-writer of the film Allan Heinberg presents a new story about Wonder Woman.
Is she Diana Prince, secret agent of the Department of Metahuman Affairs?
Donna Troy, sister to Diana and the current bearer of the costume?
Or villainous Circe, who has stolen all of Diana's powers?
The answer to that question is as complicated as the woman herself, and with Circe augmenting the powers of all of Wonder Woman's deadliest rogues, there will be intense battles and ultimate challenges for whoever takes on the mantle.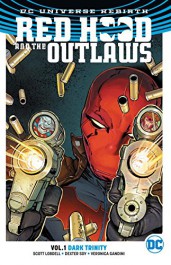 Scott Lobdell & Dexter Soy: Red Hood and the Outlaws 1 – Dark Trinity
Jason Todd, a.k.a. Red Hood has been many things–a Robin, dead, the Red Hood–now he's back and he's embracing his bad side!
With his new status as a villain, Red Hood plans to take down Gotham's underworld from the inside.
Joined by a fallen Amazon named Artemis and a half-baked Superman clone named Bizarro, this dark trinity will soon discover that the line between hero and villain is harder to discern than they might think.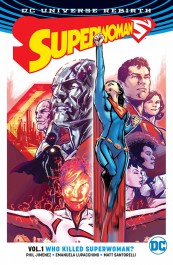 Phil Jimenez: Superwoman 1 – Who Killed Superwoman?
Imbued with the powers of Superman, Lois Lane pledges to use her powers to protect Metropolois as the new Superwoman.
The only problem is, Lois' new powers are killing her, and neither she nor her friend and confidant Lana Lang know what to do about it.
Will Lois even survive long enough to uncover the deadly secret of her new foe, ULTRA-WOMAN?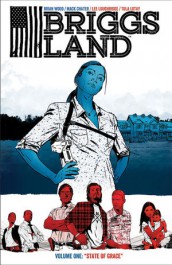 Brian Wood & Mack Chater: Briggs Land 1 – State of Grace
Briggs Land, nearly a hundred square miles of rural wilderness, contains the largest antigovernment secessionist movement in the United States.
When matriarch Grace Briggs wrests control of the operation from her incarcerated husband, she sparks a war within the community—and her immediate family—that threatens to bring the full power of the federal government down on their heads.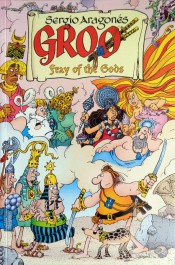 Sergio Aragones: Groo – Fray of the Gods
The gods did not bless Groo with brains, only with the ability to battle.
Now, they themselves are in conflict over the spirit and future of mankind . . . and it is Groo who becomes the pawn (unwitting, of course) in their war.
If the future of humanity depends on the wanderer–who barely qualifies–we're all in a lot of trouble.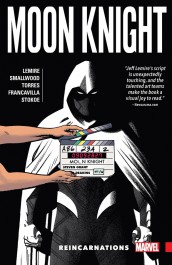 Jeff Lemire: Moon Knight 2 – Reincarnations
Meet the many men inside Moon Knight's head as the focus shifts to his various incarnations!
Marc Spector broke his body to escape the prison Khonshu built for his mind…but what if he's still trapped?
Steven Grant awoke in New York City, ready to produce Marvel's next box-office smash – is he losing his mind, or will Moon Knight: The Movie be a blockbuster?
And Jake Lockley is under arrest for murder!
With the world calling on him to protect those who travel at night, Marc is losing control. The muddled mind of Moon Knight is reaching its limit!
Dave Sim: Cerebus 1 – Remastered Edition
Intellectual, entertaining, and though-provoking, Cerebus was the longest running independent black and white comic of all time!
Cerebus, a small, gray, and chronically ill-tempered aardvark, makes his living as a barbarian, but soon his adventures will lead to much greater things!
Featuring extensive restoration notes by Sean Michael Robinson.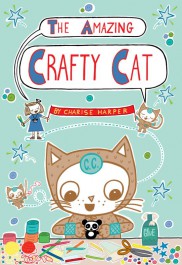 Charise Mericle Harper: The Amazing Crafty Cat
Sometimes school can be scary and even embarrassing, but not today.
Today is Birdie's birthday, and everything will be perfect! Birdie's panda-riffic cupcakes are beautiful, and there's one for everyone. She will be the star of the class. But then . . . disaster!
A trip and fall on the way to school means no more cupcakes! Who can save the day? Who can make the class smile again? This is a job for Birdie's alter ego . . . the Amazing Crafty Cat!
After a quick transformation, Birdie is ready. She's not afraid of sticky paws or paper cuts. She's not afraid of anything, even Anya, the class bully. It's time to get crafting!
From Just Grace and Fashion Kitty author Charise Mericle Harper comes the first volume in a hilarious, charming, and sweet graphic novel trilogy for young readers about a little girl who can craft her way out of any situation. Each volume includes fun and simple instructions for do-it-yourself crafting activities. Get your paws ready for crafty time!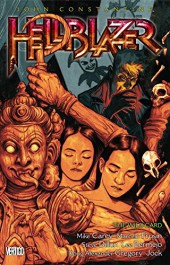 John Constantine, Hellblazer 16 – The Wild Card
After spending a year and a half wandering through the darkest corners of America, John Constantine has returned home!
His port of entry is Liverpool, where the decaying landscape and gentle undercurrent of despair match his frame of mind.
Of course, no sooner does he set foot upon his native land than he stumbles into a small-time necromancy-and-murder ring centered on his own sister's apartment building.
More worrying than this sordid little power trip is the disappearance of his niece, Gemma, who's turning out to be a bit too much like her uncle for anybody's good.
In her eagerness to learn the family trade, Gemma has gone to London and fallen in with a bad crowd, and pulling her out means that Constantine will have to join the search for a distinctly nasty magical artifact—one that shouldn't fall into anyone's hands, least of all those of the man determined to find it.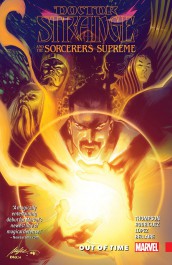 Robbie Thompson: Doctor Strange and the Sorcerers Supreme 1 – Out of Time
An ancient evil threatens to unravel the fabric of reality, and one Master of the Mystic Arts may not be enough to stop it.
Doctor Strange must unite Sorcerers Supreme past, present and future to stem the coming darkness – including Merlin, the Ancient One and Wiccan!
Then there are the surprise packages – Sir Isaac Newton!
A Ghost Rider from the 1800s!
And the mysterious Nina!
But Strange should watch his back with this super-group of spellcrafters, as not all of these mages have his best interests in mind! When the Forgotten arrives, it will take the whole team to put him down – but if anything happens to the young Ancient One from the past, what will that mean for Stephen?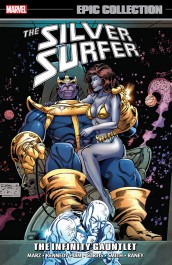 The Silver Surfer Epic Collection – Infinity Gauntlet
To Infinity and beyond!
Follow the sentinel of the spaceways into a Marvel Universe-spanning cosmic extravaganza against the Mad Titan Thanos – who wears the Infinity Gauntlet!
Drax battles Firelord, the Surfer fights the Rhino and Thanos forces Norrin to get introspective!
But is this dimension big enough for the ultimate duel between the Silver Surfer and the Mad Titan? When the dust settles on Earth, the Surfer heads back into space, only to face Midnight, the Inhumans and the Collector!
But how will that lead to him coming face to face with…Captain Mar-Vell?
Plus, the Surfer faces the undead, joins Mr. Fantastic on an emergency mission, and takes on the Guardians of the Galaxy in the 26th century! And Nova goes solo!
Kirjat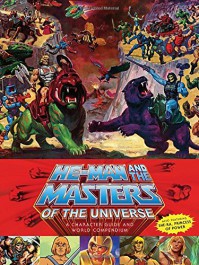 He-Man and the Masters of the Universe – A Character Guide and World Compendium
This is the most comprehensive guide ever published, covering all things Masters of the Universe and Princess of Power from 1982 through today!
The universe of He-Man and She-Ra is full of mystery.
And thanks to over four thousand individual entries covering characters, beasts, vehicles, locations, weapons and magic, you can learn the secrets of this entire universe!
Marvel – Kaikki mitä haluat tietää
Tämä tuhti tietopaketti esittelee Marvelin sarjakuvauniversumin supersankarit ja roistot Hämähäkkimiehestä Kostajiin.
Muistatko, missä kaikissa muodoissa ja väreissä Hulk on esiintynyt?
Entä kuinka pitkän matkan päästä Tohtori Mustekala pystyy hallitsemaan lonkeroitaan telepaattisesti? Vastaukset löytyvät tästä oppaasta!