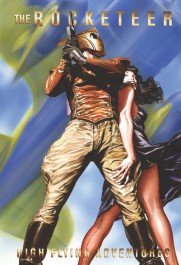 The Rocketeer – High Flying Adventures
The Rocketeer: High Flying Adventures continues where Dave Stevens' original masterpiece left off, creating for the first time new stories involving the ace stunt pilot Cliff Secord.
This oversized deluxe edition collects all 24 stories by some of the most talented creators in comics including: Kurt Busiek, Darwyn Cooke, Dave Gibbons, Bill Sienkiewicz, Walter Simonson, Bruce Timm, Stan Sakai, Gene Ha, John Byrne, Matt Wagner and more!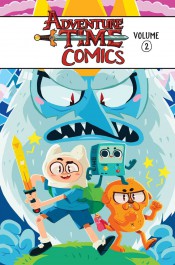 Adventure Time Comics 2
C'MON, GRAB YOUR FRIENDS! It's ADVENTURE TIME COMICS time!
These sweet shorts come in many shapes and sizes, featuring all of the beloved characters from the Land of Ooo, written and illustrated by acclaimed cartoonists and storytellers from all over the world.
These stories are in the artist's own style and feel, really capturing the creativity that ADVENTURE TIME inspires!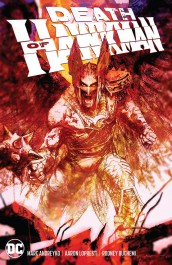 Marc Andreyko & Aaron Lopresti: Death of Hawkman
Collected for the first time, the acclaimed miniseries from writer Marc Andreyko (BATWOMAN, WONDER WOMAN '77) and artist Aaron Lopresti (WONDER WOMAN), DEATH OF HAWKMAN-the last great adventure of one of comics' most legendary heroes!
Traveling through space with the incredible power of the Zeta Beam, he once soared the skies of the faraway world of Rann as its greatest guardian.
Now he's retired to his home planet of Earth, trying to live a normal life. Normal, that is, until he's unexpectedly beamed back to the world he once protected-and finds it in ruins. The perpetrators: the winged warriors of Thanagar.
So why has Thanagar's mightiest hero, Hawkman, come soaring to Adam Strange's rescue?
Hawkman knows that his people have been framed for Rann's destruction. Only he and Strange can bring justice to the real mastermind: the interstellar tyrant called Despero. But the forces of both worlds see them as fugitives from justice-and they've sent none other than Hawkwoman herself to take them down.
Can Hawkman and Adam Strange put aside their distrust and save what remains of their civilizations?
One thing is for sure: someone will pay the ultimate price…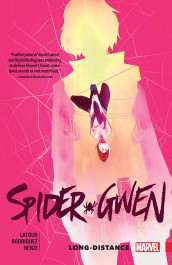 Jason Latour & Robbi Rodriguez: Spider-Gwen 3 – Long-Distance
Will Thanksgiving be a happy one for Spider-Gwen and friends?
That very much depends on what crime lord Matt Murdock and his ninjas bring to dinner!
It's time for Gwen Stacy to stop running from Earth-65's Kingpin of Crime — but Matt may have a thing or two to teach the budding Spider-Woman!
Plus: The Mary Janes get loud, and Gwen spends some time with her ever-expanding social circle — including a secret mission with Captain America! She-Hulk! And her BPFF (best pig friend forever), Spider-Ham!
But when Gwen and All-New Wolverine Laura Kinney undergo a transdimensional body-swap team-up, is this the start of a beautiful friendship?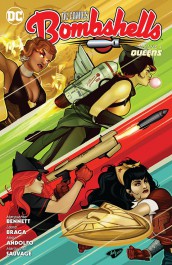 Marguerite Bennett: DC Comics Bombshells 4 – Queens
The explosive creative team of writer Marguerite Bennett (BATWOMAN) and artists including Laura Braga (Witchblade), Mirka Andolfo (Ms. Marvel) and Marguerite Sauvage (Faith) bring an all-new chapter in the acclaimed alternate-history saga inspired by the hit DC Collectibles in DC COMICS: BOMBSHELLS VOL. 4: QUEENS.
Technology and terror form an unholy alliance in a world at war, and only the heroines known as the Bombshells can shut it down!
As World War II rages around them, Batwoman, Catwoman and Renee Montoya take a journey to Africa to get help from an old ally: Vixen, Queen of Zambesi and co-founder of the Bombshells.
But they're not alone. The lethal Cheetah has her claws out, and she's digging them directly into a forbidden site: the dwelling place of the mechanical gods, whose incredible powers could spell triumph for the Reich and the destruction of all that the Bombshells hold dear.
Now Vixen, her fellow Bombshells founder Hawkgirl and the rest of the squadron must face their biggest threat yet! Can this brilliant but beleaguered African queen count on the support of a fellow royal-Wonder Woman-to turn the tide?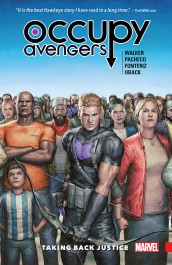 David F. Walker & Carlos Pacheco: Occupy Avengers 1 – Taking Back Justice
Super heroes — they're a privileged class.
Doing what they want, when they want, and never facing the consequences.
They have no regard for the ordinary people left behind to suffer in their wake. Who will stand up for the little guy? Clint Barton, the original Hawkeye, will!
Clint doesn't look for trouble, but trouble keeps finding him — and he'll quickly drag Red Wolf and Nighthawk into his street-level heroics, as well!
But what happens when Nick Fury — the original Nick Fury — arrives on the scene? Isn't he dead?
If so, someone who looks a lot like him is out to kill Clint and his renegade team! What's going on, and can Clint keep his eye on the ball while dealing with spymasters and sabotage?
Plus: Relive Red Wolf's classic debut!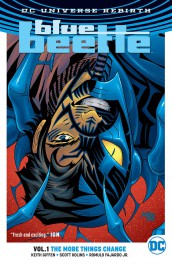 Keith Giffen & Scott Kolins: Blue Beetle 1 – The More Things Change
Bonded to the Blue Beetle Scarab, teenager Jamie Reyes has no idea what he's doing with one of the most powerful weapons in the universe.
But he's in luck, because his predecessor–Ted Kord–is back in the DC Universe and here to serve as the young hero's mentor! Alongside fellow teen hero Doctor Fate, this duo will have to learn how to be heroes on the fly!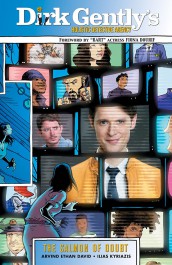 Arvind Ethan David & Ilias Kyriazis: Dirk Gently – The Salmon of Doubt 1
Plagued by nightmares about a childhood he never had, Dirk returns to Cambridge University to seek the advice of his former tutor, the time-traveling Professor Reg Chronotis.
There he discovers that a holistic detective can have more than one past, and his adventures have only just begun.
Featuring fan-favorite characters from the original books as well as the cast from the TV series, including Samuel Barnett and Elijah Wood.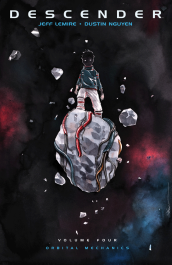 Jeff Lemire & Dustin Nguyen: Descender 4 – Orbital Mechanics
Tim-21, Telsa, and Quon finally escape the Machine Moon and head out on a quest to find the ancient robot who may hold the key to the Harvesters.
Meanwhile Andy and his ragtag team close in on Tim, but their fragile alliance is shattered by Driller's revelations.
A new chapter of the heartfelt sci-fi epic by superstar creators JEFF LEMIRE & DUSTIN NGUYEN begins here.
Collects DESCENDER #17-21.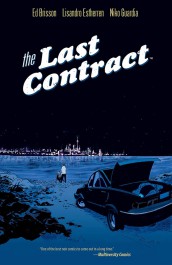 Ed Brisson & Lisandro Estherren: The Last Contract
From crime comics writer Ed Brisson (Bullseye) comes a story about a retired hitman known only as The Man whose list of his kills is leaked by a mysterious blackmailer—making targets of anyone associated with his previous jobs.
Forced back into the game he left behind, The Man fights to protect those the list exposed and uncover the identity of the blackmailer, unaware of the consequences the truth may hold. Collects the complete limited series.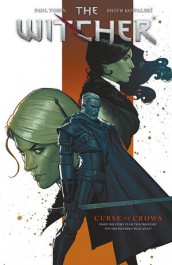 Paul Tobin & Piotr Kowalski: The Witcher 3 – Curse of Crows
Explore the dark and gritty world of the hit video game series as Geralt and Ciri become embroiled in a brutal story of revenge.
In this ruthless world, the past always comes back to haunt you, and nothing is as it seems.
Collects issues #1-5 of the Dark Horse Digital series The Witcher: Curse of Crows.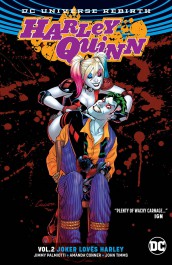 Amanda Conner & Jimmy Palmiotti: Harley Quinn 2 – Joker Loves Harley
Exploding from the blockbuster DC Universe Rebirth event from the best-selling creative team of Amanda Conner, Jimmy Palmiotti and John Timms comes HARLEY QUINN VOL. 2: JOKER LOVES HARLEY.
It ain't easy being the world's most psychotic psychiatrist, but hey, Harley Quinn just might pull it off.
With her tight-knit Coney Island crew and her gal-pal Poison Ivy by her side, things are looking up for the mistress of mirth and mayhem. From nudist colonies to roller-derby rinks, she's livin' the good life.
But the joke's on her.
That's right, folks: the Clown Prince of Crime has come crawling (and killing!) back into Harley's life.
This time around, the Joker's promising to show her a kinder, gentler side of himself-the stuff that made her fall for him in the first place, back when she was his shrink and he was her most dangerous patient.
Can Harley trust her ex? (Please!) Will she ditch it all to join him in his war on sanity? (Again!) One thing's for sure: if the Joker betrays her again, this time puddin' will go SPLAT!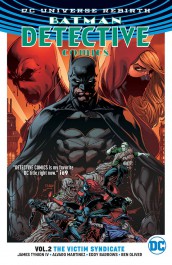 James Tynion IV: Batman Detective Comics 2 – The Victim Syndicate
Innocent victims maimed or broken by Batman's greatest enemies band together, and they blame Batman and his fellow vigilantes for what happened to them just as much as they blame the psychopaths who hurt them.
Batman and his newly trained team of allies must take on these troubled souls, but one of Batman's teammates can't help but think they might have a point…
From writer James Tynion (BATMAN/TMNT) and artist Alvaro Martinez (BATMAN ETERNAL) comes the second volume of the return of DETECTIVE COMICS! Collects DETECTIVE COMICS #943-949.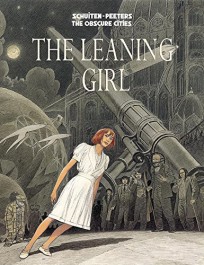 Francois Schuiten & Benoit Peeters: The Leaning Girl
Winner of the coveted Gaiman Award as the No. 1 translated foreign comic book series published in Japan in 2013, this story of perseverance and a young girl's search for love has been translated from it's original French into ten languages.
Author and publisher Stephen D. Smith has now translated The Leaning Girl into English and it features an introduction by Karen Green, Graphic Novel Librarian at Columbia University.
After a freak accident on the Star Express roller coaster, 13 year-old Mary Von Rathen begins to lean.
Doctors can not help her, so she is sent by her selfish mother and hen-pecked father to a private school in Sodrovni.
Mary escapes and joins the Robertson Circus where she remains for several years, until she hears from newspaper editor, Stanislas Sainclair, that a scientist, Axel Wappendorf, might be able to help her. Wappendorf is working on a rocket to reach a planet that could hold the secret to Mary's trouble.
Meanwhile an artist, Augustin Desombres, has run away from the busy world and buys an empty building on the High Plains of Aubrac in the French countryside. He begins painting murals of strange globes.
Now as a young woman, Mary decides to join Wappendorf in the rocket. On the alien planet, they discover an area with many globes where she has a chance meeting with the artist.
Nominated for two 2015 Eisner Awards: BEST U.S. EDITION OF INTERNATIONAL MATERIAL and BEST PENCILER/INKER – François Schuiten.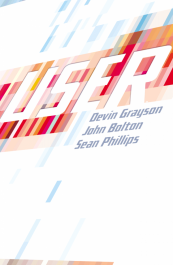 Devin Grayson & John Bolton & Sean Phillips: User
Originally published as a groundbreaking three-part Vertigo miniseries, DEVIN GRAYSON's USER explores sexual identity and online role-playing in the text-based MUDs of the nineties.
Featuring breathtaking art by SEAN PHILLIPS and JOHN BOLTON, USER—which was nominated for a GLAAD Media Award for its authentic portrayal of gender fluidity—is as relevant and powerful today as it was when first created.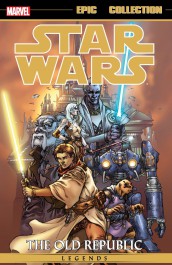 Star Wars Legends Epic Collection – The Old Republic 1
A long, LONG time ago…Discover the state of the Star Wars galaxy in the distant past in this first volume of an Epic Collection series focusing on the ancient Knights of the Old Republic!
When young Jedi Zayne Carrick is framed for the murder of his fellow Padawans, he is forced into an unlikely alliance with the Snivvian con artist Marn Hierogryph.
Their quest to reveal the horrifying truth, and to obtain justice for the Padawan Massacre, joins them with Jarael and Camper aboard the junk hauler The Last Resort – and their adventures will take them from the research station Flashpoint to the banking planet Telerath!
Brace yourself for days of fear – and nights of anger!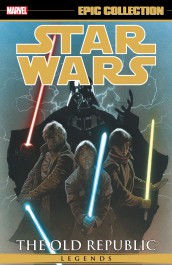 Star Wars Legends Epic Collection – The Old Republic 2
Daze of hate, knights of suffering!
Fugitive Zayne Carrick joins forces with the Jedi Masters who killed his fellow Padawan in a bid to save the galaxy from the Mandalorians!
But will the megalomaniac Lord Adasca outmaneuver them all?
Then, in a story that reverberates across every era of Star Wars, the clandestine Jedi Covenant is rocked by a terrifying vision of the far future — and one of its Shadows, Celeste Morne, faces the monstrous task of recovering an ancient Sith artifact!
But will Zayne Carrick achieve vindication at last, clear his name and end his days as a renegade?
Plus: the ultimate guide to the state of the galaxy 4,000 years before the rise of the Empire!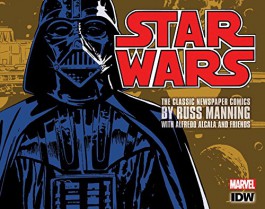 Star Wars Classic Newspaper Comics 1
The first of three volumes collecting the original Star Wars newspaper strip from 1979 through 1984. Includes every Sunday's title header and "bonus" panels, meticulously restored in original color, making this the first-ever complete collection of this comics classic.
When the strip launched, Russ Manning accurately predicted that "People today can't get enough science fiction, especially if it is original and full of creative adventure. The Star Wars characters are like Mickey Mouse. They will be loved forever."
Initially the color Sundays and black-and-white dailies told separate stories, but within six months the incomparable Russ Manning and company merged the adventures to tell brand new, epic seven-days-a-week sagas that rivaled the best science fiction comics of all time.
Volume One contains nearly 600 sequential comics from the strip's premiere on March 11, 1979 to October 5, 1980.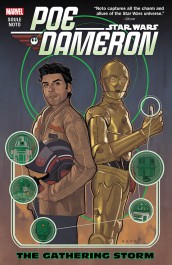 Charles Soule & Phil Noto: Star Wars Poe Dameron 2 – The Gathering Storm
Continuing the adventures of the ace-pilot hero of Star Wars: The Force Awakens!
Poe Dameron faces the wrath of a vengeful Agent Terex!
But how does Terex always seem to know what Black Squadron is doing? Could there truly be a traitor in the Squadron's midst?
Poe will undertake a secret mission from General Leia Organa herself: to escort none other than C-3PO on a dangerous journey to the planet Kaddak!
Can they complete the mission and keep their key informant intact? Or will Terex's past somehow come back to haunt them?
Join Poe and Threepio as they take on the First Order!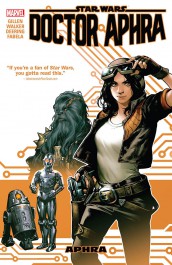 Kieron Gillen & Kev Walker: Star Wars Doctor Aphra 1 – Aphra
Following her time in the clutches of Darth Vader, Doctor Aphra has barely escaped with her life.
If the Dark Lord of the Sith ever learns of her survival, he'll hunt her to the ends of the galaxy.
But for now, it's time for a return to what she does best.
With droids Triple-Zero and BeeTee-One in tow, she's off in search of rare artifacts from the galactic center to the Outer Rim — and everywhere in between.
Aphra's got debts to pay, after all.
Just as long as she can stay one step ahead of the Empire, some bounty hunters…and just about everyone else in the galaxy!
Collects Doctor Aphra #1-6.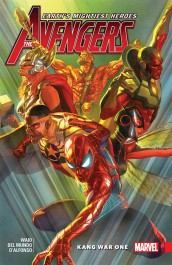 Mark Waid & Mike del Mundo: Avengers: Unleashed 1 – Kang War One
The time has come!
Their ranks shattered by CIVIL WAR II, their spirits weighted down by a toll both personal and spiritual, Earth's Mightiest Heroes must find the resolve to stand united one final time against their greatest foe!
The Avengers will assemble once more: Captain America! Thor! Vision! Wasp! Spider-Man! Hercules!
But when the dust settles, will any of these valiant warriors make it out alive from an all-out war with Kang the Conqueror?!
And when the Vision sets out hell-bent on revenge against Kang, all of history will be in jeopardy if the Avengers can't stop the synthezoid! The Firewall of Time will be shattered — and it will fall to the Avengers to stop the dangers it held back!
When war after war ends, not everything — or everyone — will be the same!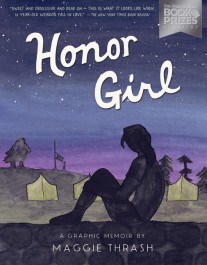 Maggie Thrash: Honor Girl
All-girl camp. First love. First heartbreak. At once romantic and devastating, brutally honest and full of humor, this graphic-novel memoir is a debut of the rarest sort.
Maggie Thrash has spent basically every summer of her fifteen-year-old life at the one-hundred-year-old Camp Bellflower for Girls, set deep in the heart of Appalachia. She's from Atlanta, she's never kissed a guy, she's into Backstreet Boys in a really deep way, and her long summer days are full of a pleasant, peaceful nothing . . . until one confounding moment.
A split-second of innocent physical contact pulls Maggie into a gut-twisting love for an older, wiser, and most surprising of all (at least to Maggie), female counselor named Erin.
But Camp Bellflower is an impossible place for a girl to fall in love with another girl, and Maggie's savant-like proficiency at the camp's rifle range is the only thing keeping her heart from exploding.
When it seems as if Erin maybe feels the same way about Maggie, it's too much for both Maggie and Camp Bellflower to handle, let alone to understand.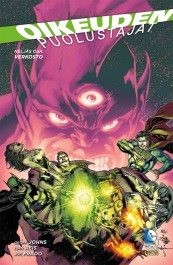 Geoff Johns & Ivan Reis: Oikeuden Puolustajat 4 – Verkosto
Verkostoja ja verikostoja!
Edes maailman mahtavimmat sankarit eivät pysty jatkuvasti suojelemaan koko planeettaa.
Tästä syystä Oikeuden Puolustajat eli Teräsmies, Batman, Ihmenainen, Salama, Kyborgi ja Vesimies avaavat rivinsä etsiessään uusia jäseniä.
Samalla he kuitenkin avaavat oven eräälle ehdokkaalle, jonka pyrkimyksenä on tuhota ryhmä sisältä käsin!
Jo vuosien ajan on ollut käynnissä suunnitelmia Oikeuden Puolustajien murtamiseksi. Kun yksi pahimmista vihollisista tekee paluun ja iskee Vahtitorniin, alkunsa saa ketjureaktio, joka ajaa sankarimme toinen toistaan vastaan.
Eikä vain yksittäisiä sankareita, vaan myös kokonaisia ryhmiä, sillä mukana ovat myös Amerikan Oikeuden Puolustajat sekä Synkän Oikeuden Puolustajat.
Kun sankarimme ottavat keskenään yhteen, vain heidän vihollisensa voivat voittaa! Jääkö Oikeuden Puolustajista mitään lopulta jäljelle?
Tämä Geoff Johnsin käsikirjoittama ja mm. Ivan Reisin sekä Joe Pradon kuvittama kokoelmateos sisältää alkuperäisen Justice League -lehden numerot 18–20 ja 22–23.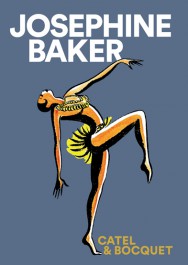 Catel & Bocqueet: Josephine Baker
Josephine Baker (1906–1975) was nineteen years old when she found herself in Paris for the first time in 1925.
Overnight, the young American dancer became the idol of the Roaring Twenties, captivating Picasso, Cocteau, Le Corbusier, and Simenon.
In the liberating atmosphere of the 1930s, Baker rose to fame as the first black star on the world stage, from London to Vienna, Alexandria to Buenos Aires.
After World War II, and her time in the French Resistance, Baker devoted herself to the struggle against racial segregation, publicly battling the humiliations she had for so long suffered personally.
She led by example, and over the course of the 1950s adopted twelve orphans of different ethnic backgrounds: a veritable Rainbow Tribe.
A victim of racism throughout her life, Josephine Baker would sing of love and liberty until the day she died.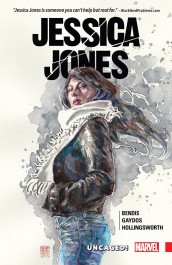 Brian Michael Bendis & Michael Gaydos: Jessica Jones 1 – Uncaged!
After a decade, Jessica Jones is back in her own solo series!
A lot has changed in the Marvel Universe and there are many secrets hiding in the shadows – secrets only a special woman like Jessica Jones can hope to uncover.
Alias Investigations is open for business, and of all the many mysteries to discover, her new case may be the most dangerous one!
This blistering new series is filled with haunting revelations from Jessica's past, and answers to some of the biggest questions about the new Marvel NOW! universe!
From Jessica Jones' original creators comes an all-new chapter in the world-famous private eye's ongoing adventures!
Collecting Jessica Jones (2016) #1-6.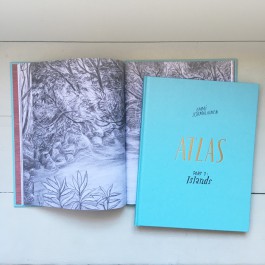 Emmi Jormalainen: Atlas Part 1 – Islands
"Every time I start planning a trip, I read maps and weather reports.
Still I'm always surprised by the unknown landscapes and the beauty of the remote places.
This book is about four journeys to islands which have enchanted me. Hillesøya (Norway), Taiwan, Yakushima (Japan) and Iceland."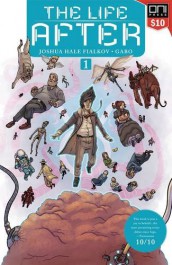 Joshua Hale Fialkov & Gabo: The Life After 1
Jude's life is nothing special.
It seems like every day is just a repeat of the last one, until one day, he meets a woman and can suddenly see into her past — revealing that he is actually in Purgatory for suicides.
Now that he's awake, he and the legendary Ernest Hemingway are on the path to change things in the afterlife for the better. Of course, that might not sit very well with the bigwigs down below or up above.
Can just a few people change the course of billions of souls?
Collects the first five issue of the ongoing series.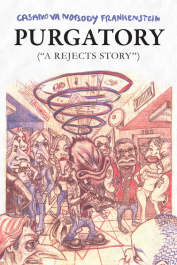 Casanova Nobody Frankenstein: Purgatory ("A Reject's Story")
For the committed outsider, adolescence can be a nightmare of constructing elaborate strategies in order to avoid the narrow paths society has paved for us.
Purgatory by Casanova Frankenstein may at first appear to be a classic case of avoidance – but this is not a story about dysfunctional coping techniques.
It's the triumphant tale of an individual who doggedly refuses to be atomized into the mass.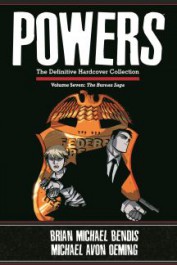 Brian Michael Bendis & Michael Avon Oeming: Powers – The Definitive Hardcover Collection 7
The complete collection of Powers: Bureau is here — and it's a bold game changer!
Now that all powers cases are federal cases, Christian Walker and Deena Pilgrim are now federal agents, and must learn to live by the new rules.
But when they find themselves dealing with the biggest powers cases in the entire country, will this new life close the closet full of skeletons Deena carries with her? (Absolutely not!)
Who are THE SEVEN? An explosive new super-team with a secret that could rock the world! Get on board the creator-owned series that shows cops and capes like you've never seen them before!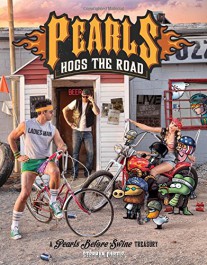 Stephan Pastis: Pearls Hogs the Road
Move over!
Pearls Before Swine is back and badder than ever in the new treasury collection Pearls Hogs the Road.
The Pearls gang returns with characteristically misanthropic humor (but with more leather): no self-aggrandizing is too flagrant for Rat, no subject is too erudite for Goat, and no sensory input is too basic for Pig.
All topics are fair game for Stephan Pastis and his brass-knuckle punch lines. Comic strip censors, apathetic baristas, and IRS employees are all strongly advised to laugh or get out of the way.
Pearls Hogs the Road also features three comic strips illustrated by the legendary Bill Watterson of Calvin and Hobbes, who ended a 19-year hiatus from the comics page to collaborate with Pastis.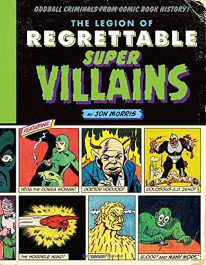 Jon Morris: The Legion of Regrettable Supervillains
The oddest supervillains in comics history, in one amazing art-filled collection of overlooked crooked characters.
From the golden age to the modern graphic novel, comic book superheroes need villains to battle.
This collection affectionately spotlights the most ridiculous, bizarre, and cringe-worthy ever published, from fandom favorites like MODOK and Egg Fu to forgotten weirdos like Brickbat (choice of weapon: poison bricks).
Casual comics readers and diehard enthusiasts alike will relish the hilarious commentary by author Jon Morris and vintage art from obscure old comics.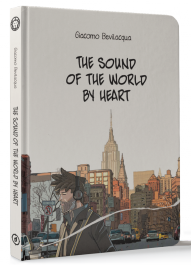 Giacomo Bevilacqua: The Sound of the World by Heart
An experiment in social isolation turns into a journey of self-discovery as a photojournalist commits to spending sixty days in New York city without talking to a single person.
More than just an exercise in observation and self-control, he's hoping to forget a troubled past and mend a broken heart.
But the city has a sneaky way of throwing the best laid plans and noble efforts to waste, revealing secrets that lie right in front of him. All he has to do is open his eyes…
A touching, vividly illustrated journey through contemporary modern New York, exploring what it takes to find yourself — and maybe your soul mate — in the middle of a crowded, bustling modern world.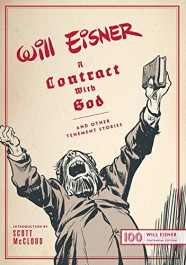 Will Eisner: A Contract with God and Other Tenement Stories
The revolutionary work of graphic storytelling that inspired a new art form.
Will Eisner was present at the dawn of comics.
In the 1940s, he pushed the boundaries of the medium with his acclaimed weekly comic strip The Spirit, and with the publication of A Contract with God in 1978, he created a new medium altogether: the graphic novel.
It was unlike anything seen before, heralding an era when serious cartoonists were liberated from the limiting confines of the comic strip. Eisner's work was a shining example of what comics could be: as inventive, moving, and complex as any literary art form.
Eisner considered himself "a graphic witness reporting on life, death, heartbreak, and the never-ending struggle to prevail." A Contract with God begins with a gripping tale that mirrors the artist's real-life tragedy, the death of his daughter. Frimme Hersh, a devout Jew, questions his relationship with God after the loss of his own beloved child. Hersh's crisis is intertwined with the lives of the other unforgettable denizens of Eisner's iconic Dropsie Avenue, a fictionalized version of the quintessential New York City street where he came of age at the height of the Depression.
This centennial edition showcases Eisner's singular visual style in new high-resolution scans of his original art, complete with an introduction by Scott McCloud and an illuminating history of Eisner's seminal work. Now readers can experience the legendary book that launched a unique art form and reaffirmed Will Eisner as one of the great pioneers of American graphic storytelling.
Dean Motter: Mister X – The Archives
When Mister X hit the shelves over thirty years ago, no one had ever seen anything like it.
A fusion of film noir, art deco, and German expressionism, it is still as inspiring and compelling as the first time it saw print.
This paperback includes issues #1–#14 of Dean Motter's original Mister X; Heartsprings and Watchstops,written by Neil Gaiman and illustrated by Dave McKean; and a foreword by Warren Ellis!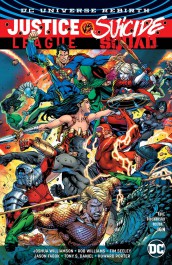 Justice League vs. Suicide Squad
The members of the Justice League are Earth's most powerful and famous superheroes…but they aren't the only team in town.
The Suicide Squad strikes from the shadows and does the jobs too dirty for superheroes to handle.
Under the iron fist of Director Amanda Waller, these monsters and maniacs have operated in total secrecy…until now. Batman is on their trail and the Squad's existence isn't something he or the Justice League can tolerate. It must be shut down.
But while the heroes and antiheroes are distracted fighting each other, twisted mastermind Maxwell Lord assembles a nightmarish army of DC's deadliest villains to take out both teams!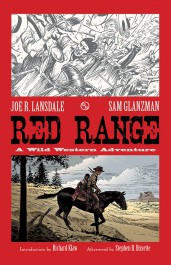 Joe R. Lansdale & Sam Glanzman: Red Range – A Wild Western Adventure
Set during the 19th century, and combining an unusual mix of racial unrest, odd ball characters, and strange happenings, Red Range is a unique take on "The Western."
During a Klan lynching, a mysterious rider appears, and proves to be a deadly shot!
It is the Red Mask, a tough, lethal, black man who wisely keeps his identity concealed, especially while battling his enemies.
Through a series of events, the Red Mask continues to thwart the violent and hateful actions of the Klan, while picking up an orphan along the way, and teaching him how to turn his hate into something more positive.