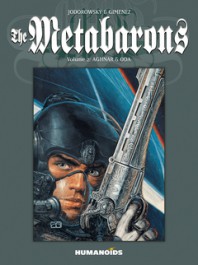 Alejandro Jodorowsky & Juan Gimenez: The Metabarons 2 – Aghnar & Oda
A must-read cult spin-off of "The Incal," by Moebius and Jodorowsky, centering around the fascinating lineage of the ultimate warrior.
This collection introduces the Metabaron's bloodline and reveals the origins of their deep-seated principles. Find out the source of the family's vast wealth, learn why every Metabaron has cybernetic implants, and why the only way to become the next Metabaron is for him to defeat his own father in a mortal combat.
Follow each successive generation as it struggles to overcome the forces amassed against it in a galaxy corrupted by greed, power, and terror.
A true classic in the pantheon of graphic storytelling and Science Fiction as a whole.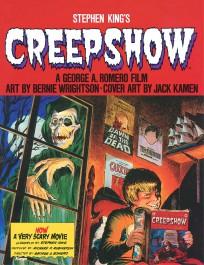 Stephen King & Bernie Wrightson: Creepshow
Now back in print: the graphic novel adaptation of Stephen King's Creepshow, based on the 1982 horror anthology and cult classic film directed by George Romero (Night of the Living Dead, Dawn of the Dead)—and featuring stunning illustrations by the legendary Bernie Wrightson and cover art by the acclaimed Jack Kamen!
A harrowing and darkly humorous tribute to the controversial and influential horror comics of the 1950s, Creepshow presents five sinister stories from the #1 New York Times bestselling author—"Father's Day," "The Lonesome Death of Jordy Verrill," "Something to Tide You Over," "The Crate," and "They're Creeping Up on You"…unforgettable tales of terror to haunt your days and nights!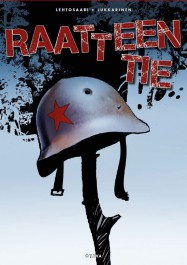 Pekka Lehtosaari & Hannu Lukkarinen: Raatteen tie
Upea sarjakuvaromaani Raatteen tien taistelusta.
Toisen maailmansodan ankarat hetket heräävät eloon Hannu Lukkarisen upeissa kuvissa.
Käsikirjoittaja Pekka Lehtosaari oli mukana laatimassa aiheesta kertovaa dokumenttia, joka innoitti häntä kirjoittamaan tämän albumin.
Mustavalkoinen sarjakuvaromaani kertoo maineikkaan taistelun taustat ja tapahtumat dramaattisesti ja uskottavasti.
Heikki Paakkanen: Suomi sata vuotta ja risat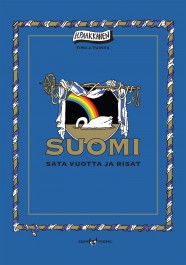 Heikki Paakkasen suurjuhlateos Suomi sata vuotta ja risat paljastaa maamme itsenäisyyden historian hirveimmät salaisuudet.
Palkittu sarjakuvataiteilija esittää alastomia totuuksiaan kansallissankareistamme ja kansallisista tabuaiheista. Kiitetty historiantutkija FT Timo J. Tuikka kommentoi maata vavisuttavia kuvia hätkäyttävin historiaessein. Tässä teoksessa kuva ja teksti yhdistyvät lopultakin saumattomaksi kokonaisuudeksi.
Muita täsmäesseitä ovat laatineet Jouni Hokkanen, Vesa Kaartinen, Jukka K. Korpela, Harri Manner, Hannu Saha, Roman Schatz ja Ari Turunen.
Suomi sata vuotta ja risat kuvaa uusia historiallisia arkistolöytöjä railakkaalla otteella. Kirjassa esitetään ensimmäistä kertaa, mihin tähtäsi taistolaisten tappolista, esitetään Urho Kekkosen salainen vaikuttajaverkosto, ja kerrotaan miten Suomen valtiojohto käytti keväällä 1941 selvännäkijöitä hyväkseen liittoutuessaan natsi-Saksan kanssa. Tästä kirjasta tullaan puhumaan vielä pitkään!
Kirjassa on kolme lukunauhaa ja kultapainatus jokaisella sivulla.
Kris Kerä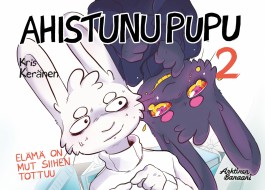 nen: Ahistunu Pupu 2 – Elämä on mut siihen tottuu
Ahistuneen Pupun paluu!
Tai no, ei Ahistunut Pupu ole mennyt tässä välillä mihinkään, koska ei tahdo eikä uskalla. Edes kotoa ulos. Ulkona voi joutua kohtaamaan tuntemattomia tyyppejä, ja päätyä heidän kanssaan tekemisiin, peräti sanomaan jotakin!
Kris Keräsen sarjakuvahahmo Ahistunu Pupu tuo lukijoilleen turvaa ja lohtua toimimalla äärimmäisenä esimerkkinä siitä, miten käy kun oma elämä menee täydelliseen umpisolmuun. Miten paljon onkaan maailmassa kaikkea mitä on pakko tehdä! Tai olisi, jos pystyisi.
Ahistuneella Pupulla on paljon kiitollisia seuraajia niin somessa kuin todellisenkin elämän puolella. Blogisarjakuvasta paperille loikannut Pupu todistaa, että jaettu ahdistus voi muuttua yhteiseksi iloksi!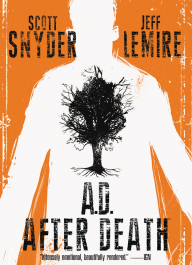 Scott Snyder & Jeff Lemire: A.D. After Death
Two of comics' most acclaimed creators, SCOTT SNYDER (WYTCHES, Batman, American Vampire) and JEFF LEMIRE (DESCENDER, PLUTONA, Moon Knight, Sweet Tooth) unite to create an epic like no other, set in a future where a genetic cure for death has been found.
Years after the discovery, one man starts to question everything, leading him on a mind-bending journey that will bring him face-to-face with his past and his own mortality.
A unique combination of comics, prose, and illustration, A.D.: AFTER DEATH is an oversized hardcover graphic novel written by SNYDER and fully painted by LEMIRE.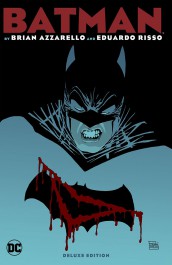 Brian Azzarello & Eduardo Risso: Batman by Brian Azzarello and Eduardo Risso
DC Comics proudly presents BATMAN BY AZZARELLO & RISSO: THE DELUXE EDITION – tales of one of comics' most iconic characters by two of its trailblazing talents.
They transformed the modern crime comic with their legendary series 100 BULLETS. Here Eisner Award-winning writer Brian Azzarello (JOKER; LUTHOR) and artist Eduardo Risso (Logan) take aim at an even darker target-the Dark Knight himself-in a deluxe hardcover that brings all of their Batman stories together in one volume.
BROKEN CITY
Gotham is a city of shadows, as twisted and dangerous as the monsters and maniacs who haunt it. As he pursues a murderer down a path that leads to some of his greatest enemies, can even the Dark Knight Detective withstand its psychological horrors?
KNIGHT OF VENGEANCE
The world has hit a flashpoint. Suddenly history has changed, and an aging, ruthless Thomas Wayne wears the mantle of the Bat in place of his slain son, Bruce. Will the sins of the father destroy the city?
BATMAN: WEDNESDAY COMICS
A murder draws the Batman into a battle over a billionaire's estate. Money is the root of all evil, and the Dark Knight's about to dig deep.
GOTHAM KNIGHTS
In this stunning black-and-white Batman story, Gotham's protector probes the mind of a madman in a search for the true nature of power-over life and death.
Collects BATMAN: GOTHAM KNIGHTS #8, BATMAN #620-625, WEDNESDAY COMICS #1-12 and FLASHPOINT: BATMAN – KNIGHT OF VENGEANCE #1-3.
Marjorie Liu & Sana Takeda: Monstress 2 – The Blood
The Eisner-nominated MONSTRESS is back!
Maika, Kippa, and Ren journey to Thyria in search of answers to her past…and discover a terrible new threat.
Collects MONSTRESS #7-12.
.
.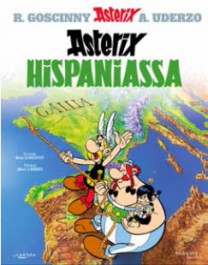 René Goscinny & Albert Uderzo: Asterix 14 – Asterix Hispaniassa
Asterixin seikkailut vierailla mailla ovat fanisuosikkeja hyvästä syystä: harva osaa tehdä yhtä hersyviä kansallisia karikatyyrejä kuin René Goscinnyn ja Albert Uderzon tiimi.
Tällä kertaa käsittelyssä ovat tulisieluiset ja ylpeät espanjalaiset.
Olé!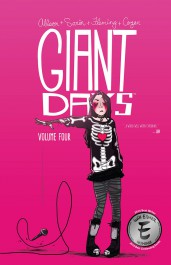 John Allison & Max Sarin: Giant Days 4
It's springtime at Sheffield University—the flowers are blooming, the birds are singing, and fast-pals Susan, Esther, and Daisy continue to survive their freshman year of university.
Susan is barely dealing with her recent breakup with McGraw, Esther is considering dropping out of school, and Daisy is trying to keep everyone and everything from falling apart! Combined with house- hunting, indie film festivals, and online dating, can the girls make it to second year?
Collects issues #13-16.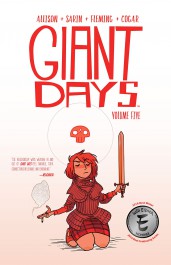 John Allison & Max Sarin: Giant Days 5
Written by John Allison (Bad Machinery, Scary Go Round) and illustrated by Max Sarin, Giant Days Volume 5 finishes off freshman year in style, collecting issues #17-20 of the Eisner Award-nominated series.
Their freshman year is finally coming to a close and Daisy, Susan, and Esther say goodbye to Catterick Hall forever. Literally forever.
It's being bulldozed and re-purposed as a luxury dorm next semester. But as one door closes, another opens and between end of semester hookups, music festivals, and moving into their first home together, their life experiences are just getting started.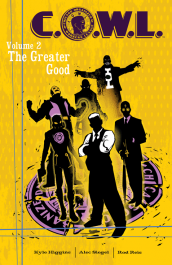 Kyle Higgins & Alex Siegel & Rod Reis: C.O.W.L. 2 – The Greater Good
With super villain threats a problem of the past, a strike on his hands, and scandal on the horizon, Geoffrey Warner has taken drastic steps to breathe life back into the Chicago Organized Workers League.
But how far will his false-flag operation reach? Is there any line he won't cross for "the greater good?"
Collects C.O.W.L. #7-11.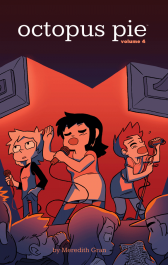 Meredith Gran: Octopus Pie 4
In the fourth installment of OCTOPUS PIE, dreams and harsh reality are beginning to blur.
This volume follows our Brooklynite heroes as they descend into the throes of heartbreak.
.
.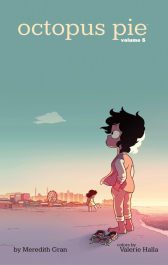 Meredith Gran: Octopus Pie 5
As they watch the days of their youth roll by, Brooklynites Eve, Hanna, and friends must confront the truth about themselves—whether They're ready to or not.
The award-winning webcomic series comes to a close in this final laugh-filled, heartrending installment.
.
.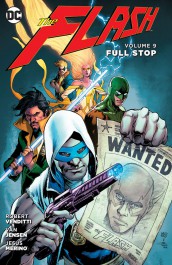 Robert Venditti & Van Jensen: The Flash 9 – Full Stop
He's the Fastest Man Alive.
But now, the Flash is really on the run.
After his climactic confrontation with Zoom, the Scarlet Speedster has been declared a threat to Central City, the town he's sworn to protect both as the Flash and as Barry Allen, member of the CCPD.
Now he's on the wrong side of the law, racing to clear his name. But it's not just cops in hot pursuit: it's his worst enemies, the Rogues!
Captain Cold, Mirror Master, Weather Wizard, Trickster and Golden Glider have been deputized to track the Flash and take him down by any means necessary. The tables have truly turned—and the time is perfect for another villain to swoop in and claim the city as his own. Riddle me this: Which criminal mastermind decides to ditch Gotham City for easier pickings?
Can the fugitive Flash save Central City from certain doom? Find out in THE FLASH VOL. 9—a thrill-a-minute tale of all-out action from writers Robert Venditti and Van Jensen, and artists Jesus Merino, Paul Pelletier, Phil Briones and Gus Vasquez!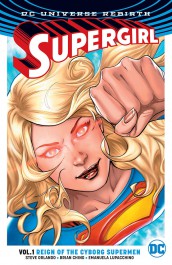 Steve Orlando & Brian Ching: Supergirl 1 – Reign of the Cyborg Supermen
Supergirl moves to National City!
As Kara Danvers, average American teenager and high school student, Supergirl must balance her life as a superhero with her new life on Earth.
But some demons from her Kryptonian past are coming back to haunt her, and Kara will find herself face-to-face with her father: the sinister Cyborg Superman!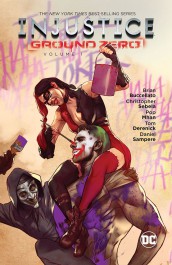 Brian Buccellato & Christopher Sebela: Injustice – Ground Zero 1
Writers Christopher Sebela (SUICIDE SQUAD MOST WANTED) and Brian Buccellato (DETECTIVE COMICS) and artists Pop Mhan (HE-MAN: THE ETERNITY WAR), Tom Derenick (INFINITE CRISIS: FIGHT FOR THE MULTIVERSE) and Daniel Sampere (GREEN ARROW) delve deep inside the twisted mind of Harley Quinn for her unique take on the events of Injustice: Gods Among Us, straight from ground zero!
Following the release of the most-anticipated fighting game sequel, Injustice 2, this is the story behind the original hit game Injustice: Gods Among Us…but this time, told like never before!
For her entire career as a criminal, Harley Quinn lived in the shadow of her beloved Joker. But when one joke went too far and drove Superman to kill, Harley found herself on her own for the first time…and teamed up with the very heroes she used to fight!
With Superman now a brutal despot, Batman must lead a team of heroes and villains to form the resistance to the Man of Steel…and Harley is on the frontlines, whether Batman wants her there or not! For the first time in her life, Harley has her own identity, her own gang and a new sense of purpose.
But will Harley throw it all away when her beloved Mr. J seemingly returns from the dead? Or will she take her place as a true hero in this strange new world?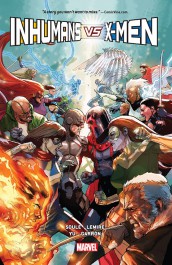 Charles Soule & Jeff Lemire: Inhumans vs. X-Men
The X-Men and Inhumans have been on a collision course ever since the link was proven between the Inhumans' precious Terrigen Mist and the sickness and death of many mutants.
And when Beast discovers that the mutants have only two weeks left before planet Earth becomes completely uninhabitable for them, an Inhuman/mutant war is unavoidable!
It all begins with one choice, and the world will never be the same! INHUMANS VS. X-MEN delivers sensational set pieces and gargantuan grudge matches that promise to shatter the Marvel Universe as you know it!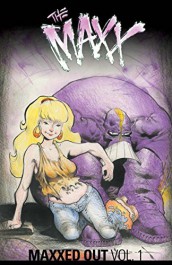 Sam Kieth: The Maxx – Maxxed Out 1
Sam Kieth's opus, The Maxx, is collected here in all its freshly-colored glory.
Taking remastered pages from The Maxx: Maxximized, this new series of trade paperbacks packs 12-issues of Kieth goodness between the covers.
Originally published by Image Comics starting in 1993, The Maxx became a cult hit of independent comics spawning a TV show on MTV.
The series follows its titular hero in the real world as a vagrant and in an alternate reality called The Outback, where he sees himself as a superhero and protector of the Jungle Queen, represented by Julie Winters, a social worker and friend. The series lasted for 35 issues and ended in 1998.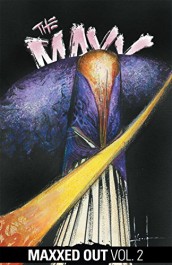 Sam Kieth: The Maxx – Maxxed Out 2
Sam Kieth's and William Messner-Loeb's opus, The Maxx, is collected here in all its freshly re-colored glory.
Volume 2 collects issues #13–24.
Originally published by Image Comics starting in 1993, The Maxx became a cult hit of independent comics spawning a TV show on MTV.
The series follows its titular hero in the real world as a vagrant and in an alternate reality called The Outback, where he sees himself as a superhero and protector of the Jungle Queen, represented by Julie Winters, a social worker and friend.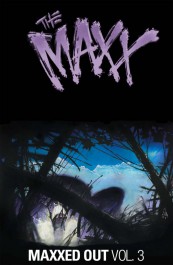 Sam Kieth: The Maxx – Maxxed Out 3
Sam Kieth's opus, The Maxx, is collected here in all its freshly-recolored glory.
Taking remastered pages from The Maxx: Maxximized, this new volume collects the final 11 issues of the series, #25–35.
.
.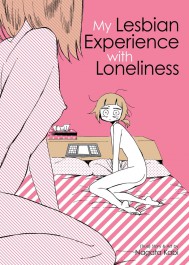 Nagata Kabi: My Lesbian Experience with Loneliness
The heart-rending autobiographical manga that's taken the internet by storm!
My Lesbian Experience with Loneliness is an honest and heartfelt look at one young woman's exploration of her sexuality, mental well-being, and growing up in our modern age.
Told using expressive artwork that invokes both laughter and tears, this moving and highly entertaining single volume depicts not only the artist's burgeoning sexuality, but many other personal aspects of her life that will resonate with readers.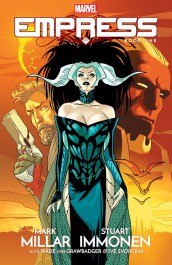 Mark Millar & Stuart Immonen: Empress Book One
Imagine you're married to the worst bad guy from your favorite sci-fi movie, an alien dictator feared throughout the universe, who will kill you if you leave — but you need to escape for the sake of your three children.
That's the life of Queen Emporia. All she has are her wits, her bodyguard, and three guns to get her kids across the galaxy — and her husband Morax's forces are in hot pursuit. Easy, right?
Their desperate race for their lives will take them through interplanetary war zones, across dead worlds and into the path of monstrous beasts! Danger piles upon danger when slavers circle, and a tribal priestess thirsts for a blood sacrifice! All the while, Morax executes anyone and everyone in his way. Welcome to EMPRESS, your new favorite comic!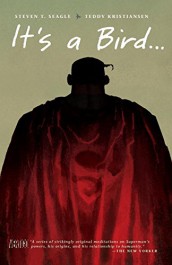 Steven T. Seagle & Teddy Kristiansen: It's a Bird…
In this new edition of the stunning semi-autobiographical graphic novel, acclaimed writer Steven T. Seagle tells one of the most realistic Superman tales ever—without featuring Superman.
Steve's given the assignment every writer dreams of: to write Superman.
Only he can't relate to a Man of Steel—not when his own fears of death haunt him.
Explore the cultural significance of a comic book icon as Steve comes to terms with Superman's importance and power as a fictional ideal.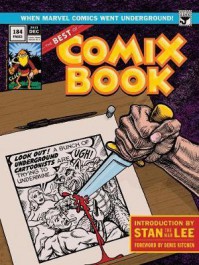 The Best of Comix Book – When Marvel Comics Went Underground
Winner of TWO Harvey Awards in 2014!
In 1974, Marvel publisher Stan Lee and underground pioneer Denis Kitchen collaborated on a series: Comix Book.
Featuring underground comix by Joel Beck, Kim Deitch, Justin Green, Trina Robbins, Art Spiegelman (first national appearance of Maus), Skip Williamson, and S. Clay Wilson, this best-of collects them all!
Introduction by the legendary Stan Lee and foreword by Denis Kitchen!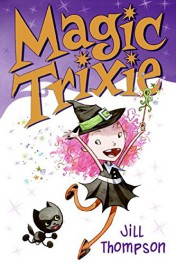 Jill Thompson: Magic Trixie
Magic Trixie doesn't understand why no one will take her seriously!
First, she's not allowed to do anything fun, while her baby sister gets away with everything, and then she needs to come up with a trick that's really special to impress her friends.
Luckily Trixie has the best plan ever…
.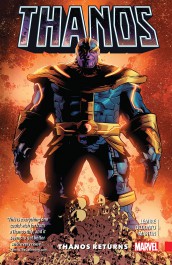 Jeff Lemire & Mike Deodato Jr.: Thanos 1 – Thanos Returns
Thanos, possibly the most diabolical individual in the Marvel Universe, is back — and he's out for vengeance on all who would oppose him!
Unfortunately for the Mad Titan, he's also heading for an unexpected reckoning…with his family.
Take an ongoing walk on the dark side of the galaxy, and follow the deadly trail of destruction left in the wake of…Thanos! He is pure evil. He is unstoppable. And it's time for someone — anyone — to take him down.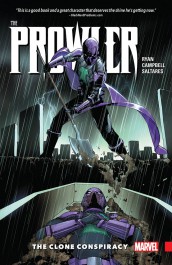 Sean Ryan & Jamal Campbell: Prowler – The Clone Conspiracy
Even a super hero's life can get boring.
Double-check your gear.
Patrol the city.
Save the innocent.
Report back to your boss, the Jackal. Wait, what? Why is Prowler working for the Jackal, not Spider-Man? What does the resurrected Madame Web have to do with it? And what has Prowler already done that may have compromised him?!
Hobie Brown, a.k.a. the Prowler, may believe in what the Jackal is doing, but that doesn't mean it's easy. As his assignments get more dangerous, Hobie will be forced to wrestle not only with the meaning of his existence, but also the underground army of unruly super villains the Jackal has created!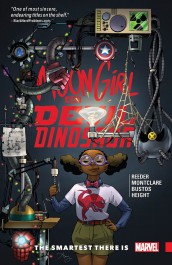 Amy Reeder & Brandon Montclare: Moon Girl and Devil Dinosaur 3 – The Smartest There Is
Tony Stark, Reed Richards, Victor von Doom, T'Challa, Amadeus Cho…the greatest minds in the Marvel Universe all have one thing in common: they're not smarter than a 4th grader!
That's right, the rumors are true – Lunella Lafayette is the smartest there is!
Now it's time to put her unrivaled intellect to the ultimate test. Thankfully her best friend, Devil Dinosaur, is thirty feet of mutated prehistoric muscle, making for the perfect combination of brains and brawn!
And they're going to need it to stand up to some of the worst villains the world has to offer – and maybe even one of the greatest heroes!
Because, while Reed Richards, the guy who used to be the cleverest one around, is away, his best pal Benjamin J. Grimm is here to defend his pole position!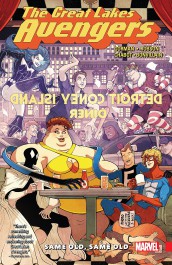 Zag Gorman & Will Robson: Great Lakes Avengers – Same Old, Same Old
"All New, All Different?"
No, thank you! New things are bad and different things are scary!
Instead, why not join everybody's least favorite super-hero team in their first ever ongoing series — the Same Old, Same Old, Great Lakes Avengers!
When Squirrel Girl's former teammates get reinstated as permanent members of the Avengers and uprooted to Detroit, the GLA has one more shot at super hero glory…but can they all answer the call?
With their former leader Mr. Immortal buried alive out in the middle of nowhere, the group struggles to find their footing under the uncertain guidance of Flatman.
And after a confrontation with some noisy super villain neighbors lands the entire team in jail, it's all he can do to keep them together!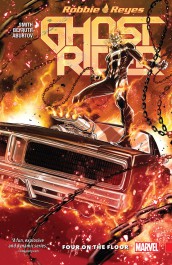 Felipe Smith & Danilo S. Beyruth: Ghost Rider – Four On The Floor
The return of Robbie Reyes!
And it's hell on wheels as the Ghost Rider makes his roaring return!
When a mysterious object from space crash-lands in southern California, some of the brightest minds in the Marvel Universe are drawn to Robbie's backyard — including Amadeus Cho, the Totally Awesome Hulk!
What mayhem will be unleashed as the high-octane hothead comes face-to-face with the jade genius? And with Robbie still possessed by the ghost of his evil uncle Eli…who's really in the Ghost Rider's driver's seat?
An all-new villain debuts — and who's that on the tail of Ghost Rider? None other than the Wolverine! Strap in and start your engines, this one's gonna be a scorcher!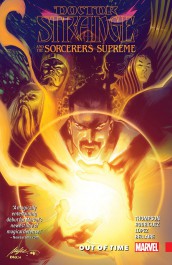 Robbie Thompson: Doctor Strange and the Sorcerers Supreme 1 – Out of Time
An ancient evil threatens to unravel the fabric of reality, and one Master of the Mystic Arts may not be enough to stop it.
Doctor Strange must unite Sorcerers Supreme past, present and future to stem the coming darkness – including Merlin, the Ancient One and Wiccan!
Then there are the surprise packages – Sir Isaac Newton! A Ghost Rider from the 1800s! And the mysterious Nina! But Strange should watch his back with this super-group of spellcrafters, as not all of these mages have his best interests in mind!
When the Forgotten arrives, it will take the whole team to put him down – but if anything happens to the young Ancient One from the past, what will that mean for Stephen?
Vesa Si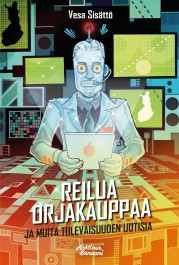 sättö: Reilua orjakauppaa ja muita tulevaisuuden uutisia 
Ennustaminen on vaikeaa, erityisesti tulevaisuuden ennustaminen.
Tämä teos on laadittu, jotta kaikki tuleva ei kaatuisi päälle täysin yllätyksenä. Kirjassa käsitellään muun muassa millaista olisi elämä todellisuudessa, jossa Paavo Väyrynen hallitsee elinikäisenä presidenttinä, jossa reilun kaupan orjat luovat hyvinvointia ja someväki kokoontuu omille suviseuroilleen.
Synkkiäkin asioita saattaa tapahtua, ihmiskunta voidaan käännyttää Linnunradalta paperittomuuden vuoksi tai maailma tuhoutua, koska joku oli liian monta kertaa väärässä internetissä.
Reilua orjakauppaa -teoksen satiiriset mutta enteelliset uutiset ovat ilmestyneet Vihreä lanka -lehden kolumneina. Aiheet liikkuvat maan ja taivaan välillä ja kokeneen kuvittajan, Kari Sihvosen tyylikäs visualisoi nämä mahdolliset tapahtumat ytimekkäästi.
Vesa Sisättö (s. 1969) on espoolainen toimittaja ja tietokirjailija. Hän on ollut mukana tekemässä useita kirjallisuusaiheisia tietoteoksia sekä kirjoittanut itse fiktiivisiä romaaneja. Sisättö on erikoistunut tieteis- ja fantasiakirjallisuuteen.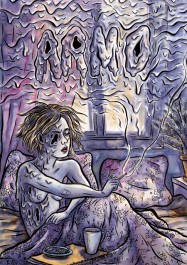 Emmi Valve: Armo (ENNAKKOTILAUS)
Jo lapsena jokin kiskaisee Emmin toiseen ulottuvuuteen.
Siellä asioiden ja toisten ihmisten pimeät puolet ovat hänelle näkyviä. Ihmisten katseet ja kosketukset tekevät häneen reikiä, ja hän yrittää piilottaa kaikkialle tunkeutuvan mustan mönjän, joka karkaa ulos hänen sieraimistaan tai suustaan.
Emmin elämä on helvettiä. On ollut niin kauan kuin hän muistaa. Armo kertoo tästä elämästä, uskomattomista seikkailuista baarien, makuuhuoneiden, väkivallantekojen, harhojen ja mielisairaaloiden syövereissä.
Emmi Valveen omaelämäkerrallinen sarjakuvaromaani on suora, karu ja hurja ja höystetty isolla määrällä mustaa huumoria.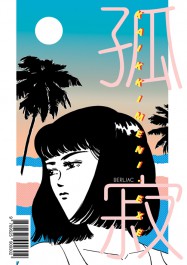 Berliac: Kaikkimeni.exe (ENNAKKOTILAUS)
Kaikkimeni.exe on sarja surrealistisia sarjakuvanovelleja, jotka kääntävät näkyville ihmisen sisällä kuplivat aineet: pelon, vainoharhaisuuden, raukkamaisuuden. Berliacin ihmiset ovat piinaavan hauskoja ja heidän tekonsa ovat aina epätoivoisia ja harvoin tahdonalaisia.
Berliacin kuvallinen tyyli ammentaa japanilaisesta mangasta ja pop-kulttuurista.
Berliac (s. 1982) on syntynyt Argentiinassa ja asuu nykyään Berliinissä. Hänen töitään ovat julkaisseet mm. New York Times, Le Monde Diplomatique ja Vice.
Mariko Tamaki & Nico Leon: She-Hulk 1 – Deconstructed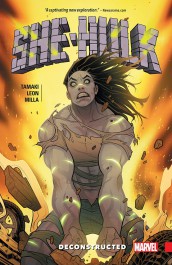 Jennifer Walters has survived the second Civil War…barely.
But, having risen from the rubble, she re-enters the world a very different kind of hero.
Fueled by a quiet rage, she is determined to move forward, to go on with her life – but the pain of the past and all that she's lost is always there.
An undercurrent, a pulse waiting to quicken -and trigger Jen's transformation into the one thing she doesn't have control over…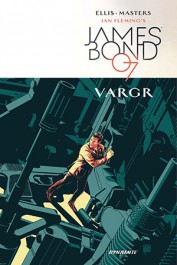 Warren Ellis & Jason Masters: James Bond – Vargr
After a mission of vengeance in Helsinki, James Bond returns to London and assumes the workload of a fallen 00 Section agent.
His new mission takes him to Berlin, presumably to break up an agile drug-trafficking operation. But Bond has no idea of the forces ranged in secret against him, the full range of an operation that's much scarier and more lethal than he could possibly imagine.
Berlin is about to catch fire… and James Bond is trapped inside.
Dynamite Entertainment proudly presents VARGR, the debut storyline in the all-new James Bond comic book series, as crafted by masterful writer Warren Ellis (Transmetropolitan, The Authority) and artist Jason Masters (Batman Incorporated, Guardians of the Galaxy).
Warren Ellis & Jason Masters: James Bond – Eidolon
James Bond is trapped in Los Angeles with a MI6 agent under fire and a foreign intelligence service trying to put them both in bags… and possibly more than one foreign intelligence service.
And things may not be any safer in Britain, with bodies dropping and ghosts moving in the political mist…
Collecting issues #7-12 of the ongoing James Bond comic book series written by Warren Ellis, the New York Times bestselling author of Gun Machine and critically-acclaimed comic book writer (Iron Man, Planetary, Astonishing X-Men), and featuring artwork by Jason Masters (Wolverine, Batman Incorporated).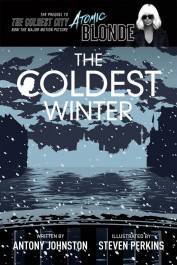 Antony Johnston & Steven Perkins: The Coldest Winter
EIGHT YEARS BEFORE "THE COLDEST CITY"… BERLIN FROZE.
Bestselling author ANTONY JOHNSTON returns to The Coldest City for a tale even more complex, compelling, and cold than the first!
After a string of botched assignments for MI6 in Berlin, David Perceval is being sent home. Even his final mission before leaving — the defection of a Soviet scientist — goes badly wrong, as the coldest winter for 30 years descends on Europe.
With transport out of Berlin impossible, and the KGB searching everywhere for their lost scientist, Perceval must improvise a deadly game of cat and mouse through the frozen city to keep the Russians at bay, and deliver his own unique brand of revenge!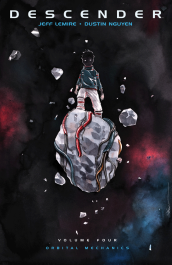 Jeff Lemire & Dustin Nguyen: Descender 4 – Orbital Mechanics
Tim-21, Telsa, and Quon finally escape the Machine Moon and head out on a quest to find the ancient robot who may hold the key to the Harvesters.
Meanwhile Andy and his ragtag team close in on Tim, but their fragile alliance is shattered by Driller's revelations.
A new chapter of the heartfelt sci-fi epic by superstar creators JEFF LEMIRE & DUSTIN NGUYEN begins here.
Collects DESCENDER #17-21.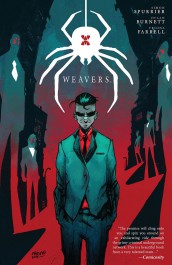 Simon Spurrier & Dylan Burnett: Weavers
Written by Eisner-nominated writer Simon Spurrier (The Spire, X-Men: Legacy) and illustrated by Dylan Burnett (Interceptor), Weavers is a twisted blend of Lovecraftian horrors and mafia family drama that explores the unnerving effects of power and addiction.
In the aftermath of a gang-related attack, Sid Thyme becomes an unlikely new addition to the Weavers, a brutal East Coast crime family.
Members of this syndicate are bound to loyalty thanks to the supernatural spiders inside each of them, granting them powerful and grotesque abilities. Once he realizes what he's capable of, Sid sets out to uncover the truth behind the mysterious attack, counter to the group's objectives.
Collects the complete limited series.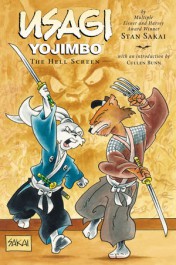 Stan Sakai: Usagi Yojimbo 31 – The Hell Screen
In this thrilling volume, the rabbit ronin teams up with—and faces off against—a multitude of unexpected characters: destitute bandits, a renegade kappa, and a komori ninja!
Then, Inspector Ishida returns to investigate a ghastly painting known only as the Hell Screen!
Collects Usagi Yojimbo issues #152-158. Foreword by Cullen Bunn (Conan, Harrow County)!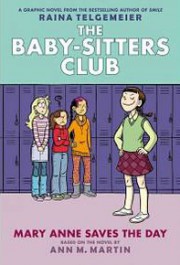 Raina Telgemeier: The Baby-Sitters Club – Mary Anne Saves the Day
When The Baby-Sitters Club gets into a huge fight, Mary Anne is left to her own devices.
She has to eat by herself in the school cafeteria, figure out how to make new friends, and deal with her overprotective father.
But the worst happens when she finds herself in a baby-sitting emergency and can't turn to her friends for help.
Will Mary Anne solve her problems and save The Baby-sitters Club from falling apart?
Raina Telgemeier, using the signature style featured in her acclaimed graphic novels Smile and Sisters, perfectly captures all the drama and humor of the original novel!
Max Bemis & Dalibor Talajic: Foolkiller – Psycho Therapy
Greg Salinger was just your typical merc for hire — killing those he deemed "foolish" for money.
But that life is behind him now.
Today, he's a psychiatrist, trying to help others.
But now S.H.I.E.L.D. wants him to try to rehabilitate super villains. The catch? If these "patients" don't make enough progress, they're dead! Sounds like a job for Foolkiller!
But when he finds himself alone with an arsenal of weapons against an army of skinhead Red Skull sympathizers, he'll be asking questions about his own career choices! Who's the fool now, Salinger?
Collects Foolkiller #1-5.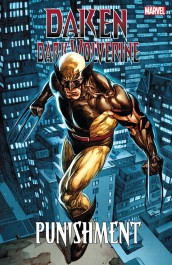 Daken: Dark Wolverine – Punishment
In Norman Osborn's "Dark Reign," Wolverine's son Daken is an Avenger!
And that means he's supposed to be one of the good guys – in public, anyway. But when a tape revealing his true colors is leaked onto the internet, Daken will be forced to clean up his act! But who is pulling Osborn's strings?
Then, Daken will face a bloody reckoning with his father Logan and father-figure Romulus – and begin a violent rivalry with the Punisher! Osborn sends Daken to put the skull-chested vigilante down once and for all – but when that doesn't quite work, Daken will battle the reanimated Franken-castle! And when the Dark Reign ends in a climactic Siege of Asgard, will Daken be hero or villain?
Collects Dark Wolverine #75-89, Dark Reign: The List – Punisher, Wolverine: Origins #47-48, Franken-Castle #19-20, Dark Wolverine Saga.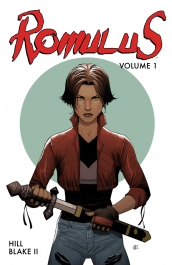 Bryan Hill & Nelson Blake II: Romulus 1
Our world isn't free.
All of us, for generations, have lived under the secret control of The Ancient Order of Romulus.
One young woman, raised by them, trained by them, betrayed by them, must push through her fear to take a stand against the silent evil that masters our world.
Her name is Ashlar, and her war begins with the brutal first chapter of the new Image series ROMULUS, from writer BRYAN HILL (POSTAL) and artist NELSON BLAKE II (MAGDELENA). Collects ROMULUS #1-4.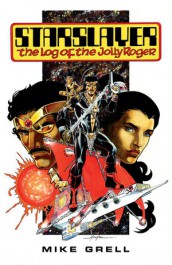 Mike Grell: Starslayer – The Log of the Jolly Roger
A Celtic warrior from the days of the Roman Empire is compelled to join the crew of the pirate spaceship Jolly Roger in the distant future.
The director's cut of this wildly popular classic comic, originally published by Windjammer at Valiant (issues #1–#8), is collected with a wealth of extras, including sketches and commentary from legendary comic creator Mike Grell.
.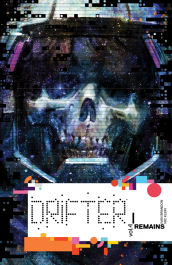 Ivan Brandon & Nic Klein: Drifter 4 – Remains
Ghost Town is destroyed.
The planet Ouro is coming apart at the seams. But even with the world breaking around him, Abram Pollux can only think of revenge on the man named Bell Emmerich.
IVAN BRANDON & NIC KLEIN are proud to present the final chapter in their brooding sci-fi epic.
All mysteries will be solved.
All questions answered.
All scores settled.
Collects DRIFTER #15-19.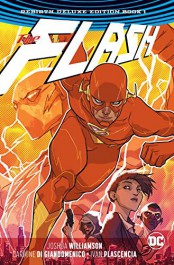 Joshua Williamson: The Flash Rebirth Deluxe Edition 1
The creative team of Joshua Williamson and artists Carmine Di Giandomenico and Neil Googe proudly present THE FLASH: THE REBIRTH COLLECTION—DELUXE EDITION BOOK ONE!
Exploding from the pages of the blockbuster DC Universe Rebirth event, this hardcover collects the first two paperback volumes of the acclaimed series together in one volume for the first time!
The Speed Force that fuels the incredible powers he uses as the Flash has been unleashed upon the unsuspecting citizens of Central City, creating an entire army of speedsters. Even if the Flash trains a new team of metahuman crime-fighters—a true "speed force"—will it be enough to combat criminals who have the same godlike powers?
Plus, when Kid Flash decides to prove his abilities to Barry by investigating reports of a strange creature made of shadows in downtown Central City, he finds himself in a whole world of trouble…literally! Suddenly, Flash, Kid Flash and Iris West all become trapped in the Shadowlands of Flash's old nemesis turned ally the Shade—only the Shade is no longer in control of his own shadows.
Includes THE FLASH: REBIRTH #1 and THE FLASH #1-13!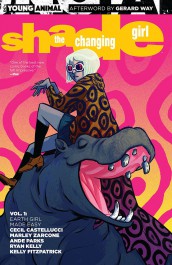 Cecil Castellucci & Marley Zarcone: Shade, the Changing Girl 1 – Earth Girl Made Easy
From writer Cecil Castellucci and artist Marley Zarcone, SHADE, THE CHANGING GIRL VOL. 1: EARTH GIRL MADE EASY—a bold new reimagining of one of comics' maddest and most memorable characters and part of the DC's Young Animal imprint led by rock-star Gerard Way.
Loma Shade may be from another planet, but she's still like every other twenty something who feels that their life is going nowhere fast. Bored out of her mind, her solution is to drop out of school, dump her boyfriend and leave her homeworld of Meta behind—courtesy of the infamous "madness coat" of renegade poet Rac Shade, which is not so much a garment as it is a multidimensional gateway.
After stealing the coat and astrally projecting herself across space, Loma ends up in the body of Megan Boyer, an Earth girl who seems to have it all: youth, beauty and a conveniently damaged brain. Following her "miraculous" recovery, however, Loma finds there's just one problem with being Megan: Everyone hates her. She was a bully who terrorized her enemies and her friends alike, and now Loma's stuck with the consequences.
To make matters worse, back on Meta there are dark forces that want Rac's dangerously valuable coat for their own nefarious purposes, and they're closing in on Loma's vulnerable physical body. At the same time, the primal madness that the coat channels is slowly, irresistibly eroding Loma's equally vulnerable soul.
With two new lives to live, can this Changing Girl survive either one without losing her mind?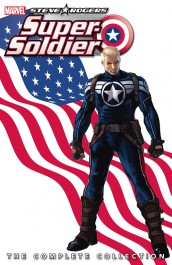 Steve Rogers: Super-Soldier – The Complete Collection
Steve Rogers is back from the dead!
But with Bucky Barnes wielding the shield, it's time for a new guise for the Living Legend!
Long ago, the serum that transformed Steve Rogers into a Super-Soldier was lost, seemingly forever.
But now, its creator's grandson has rediscovered the formula and plans to sell it to the highest bidder.
Confronted with the nightmare scenario of an unstoppable army in the hands of any despot or dictator with enough cash, can the former Captain America prevent the serum from changing hands before it's too late?
Then, when X-Men including Cyclops and Namor find themselves trapped in the Negative Zone, they could use a hand against Blastaar, the Living Bomb-Burst! Enter: Steve Rogers, Super-Soldier!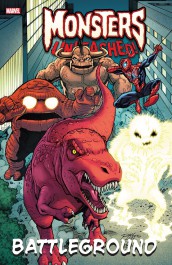 Monsters Unleashed! Battleground
MONSTERS UNLEASHED!
Marvel's finest are caught off-guard by a monstrous invasion from the sky!
An all-star line-up of heroes – including the Avengers, Champions, Guardians of the Galaxy, Inhumans, and X-Men – band together to battle behemoths in an attempt to save Earth from total destruction.
Collects Avengers #1.MU, Spider-Man/Deadpool #1.MU, All-New X-Men #1.MU, Champions #1.MU, Doctor Strange #1.MU, Uncanny Inhumans #1.MU, Guardians of the Galaxy #1.MU, The Totally Awesome Hulk #1.MU.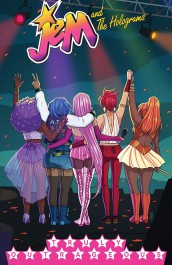 Kelly Thompson: Jem and the Holograms 5 – Truly Outrageous
Jem and The Holograms head to Hawaii for some much needed rest and relaxation but with The Stingers renting the beach house next door they instead get shenanigans, betrayals, hi-jinx, and… volcanoes?!
Meanwhile, has Jerrica finally made a decision about her future and thus the future of JEM?
Collects issues #24–26, and the double-sized 2017 Annual!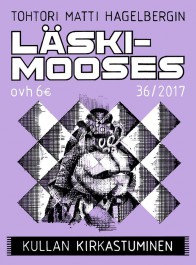 Matti Hagelberg: Läskimooses 36/2017
36: Kullan kirkastuminen
.
.
.
.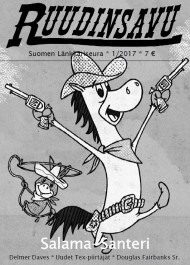 Ruudinsavu 1/2017
Sisällys: 
Pääkirjoitus
Delmer Davesin lännenelokuvat
Douglas Fairbanksin unohdetut lännenelokuvat
Salama-Santerin kiva Villi länsi
Tex Willerin uuden sukupolven kuvittajat
Tex Willerin piirtäjä Pasquale Del Vecchio Helsingin kirjamessuilla
Yksinäinen ratsastaja
DVD: Sweet Vengeance, In a Valley of Violence, Slow West, Jane Got a Gun
Sarjakuvat: Sinitakit
Kirjat: Ruudinsavua valkokankaalla
Kuolleita: Powers Boothe, Michael Parks, Mike Connors
Tosi länsi: Bill Minerin tarina, osa 1
Klassikkoelokuva: Armoton ase (3:10 to Yuma, 1957)

Ränni GmbH: Prinsessan Prrrutt och den flamberande draken
Kolmihenkisen Ränni GmbH -ryhmän Prinsessan Prrrutt och den flamberande draken on sanaton sarjakuvasatu väkevästä prinsessasta, sohvaperunaprinssistä ja porkkanoita lohturuoakseen liekittävästä lohikäärmeestä. Konventiot, hyvät tavat ja jäykät rakenteet saavat kyytiä tahtojen taistellessa.
Sarjakuvan sivut olivat esillä Ränni GmbH:n näyttelyssä Söderkullan kirjastossa syksyllä 2015. Ränni GmbH on Pasi Kedon, Leo Kuikan, Heikki Rönkön ja Tuomas Tiaisen muodostama taiteilijakollektiivi.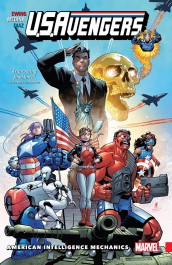 Al Ewing & Paco Medina: U.S.Avengers 1 – American Intelligence Mechanics
In a world beset by danger, the United States of America needs a team of heroes they can rely on.
Welcome to…American Intelligence Mechanics!
A.I.M. will dare any danger – no matter how awesome that danger might be – to save their nation from the wildest, weirdest threats of all!
The most patriotic super-group ever is here to save the day. And they'll do it all looking tried and true in the red, white and blue!
Can you live without…the U.S.Avengers?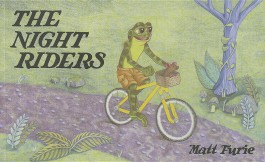 Matt Furie: The Night Riders
Matt Furie's glorious first picture book — now in paperback, too!
A nocturnal frog and rat wake at midnight, share a salad of lettuce and bugs, and strike off on an epic dirtbike adventure toward the sunrise.
As the friends make their way from forest to bat cave to ghost town to ocean to shore and beyond, new friends are discovered, a huge crab is narrowly avoided, and a world is revealed.
Packed with colorful characters and surprising details on every hand-drawn page, The Night Riders is the ideal book for anyone who has ever wanted to surf to the mountains on the back of a dolphin.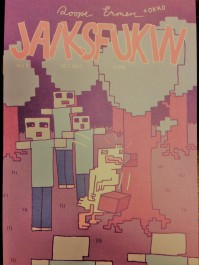 Roope Eronen: Jaiksfukin #8
Jaiksfukin tuo mahtava ankka!
.
.
.
.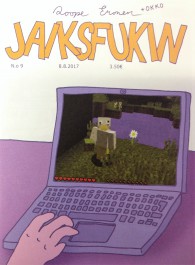 Roope Eronen: Jaiksfukin #9
Jaiksfukin tuo mahtava ankka!
.
.
.
.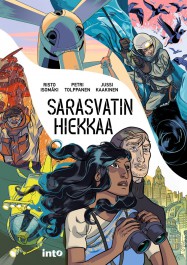 Risto Isomäki & Petri Tolppanen & Jussi Kaakinen: Sarasvatin hiekkaa
Kuinka paljon aikaa on ennen hyökyaaltoja?
Sarasvatin hiekkaa sijoittuu lähitulevaisuuteen, Suomeen ja maailmalle, Grönlannin mannerjäätikölle ja Intian valtameren alueelle.
Venäläinen tutkija Sergej yrittää yhdessä intialaisen tutkijayhteisön ja kollegansa Amritan kanssa selvittää Cambaynlahdesta meren alta löytyvän vajonneen kaupungin arvoitusta.
Samaan aikaan suomalainen Kari Ahola yrittää kehittää ratkaisua jäätiköiden sulamisongelmaan. Jäätiköitä tukii myös Grönlannissa tukikohtaansa pitävä tutkimusyksikkö ja filippiiniläissyntyinen erakko Susan Chang.
Kaksi erillista tutkimuslinjaa tangeeraavat toisiaan, ja tutkijat ymmärtävät, että jäätiköiden sulamisen seurauksena maapalloa uhkaa kaiken tuhoava tsunamikatastrofi ja vedenpaisumus. Vaikka tutkijat ovat osanneet ennustaa jättiaaltojen synnyn, onko heillä aikaa estää niiden vyöry?
Komea sarjakuvasovitus Risto Isomäen ekologisesta trilleristä palkittiin Sarjakuva-Finlandialla maaliskuussa 2009. Into Kustannus julkaisee sarjakuva uudistettuna laitoksena sekä suomeksi että englanniksi.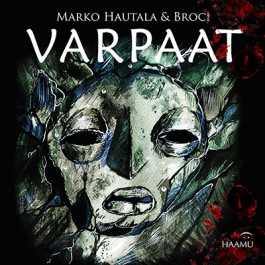 Marko Hautala & Broci: Varpaat
Kriisiin ajautunut reppureissaajapariskunta päätyy ranskalaiseen pikkukylään.
Majatalossa heidän pöytäänsä tunkeutuu mies, jolla on villi retkiehdotus muinaisiin luolastoihin, joihin ei virallisten oppaiden kanssa ole asiaa. Muukalainen nostaa pöydälle jalkansa, jossa on jäljellä vain isovarvas.
Puuttuvien varpaiden arvoitus vie pariskunnan syvälle maan uumeniin, kylmän kiven ympäröimään pimeyteen.
Sarjakuvataiteilija Brocin ja kauhukirjailija Marko Hautalan yhteistyö kutsuu piinaavalle matkalle ihmismielen syvyyksiin.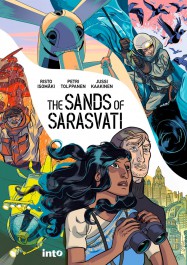 Risto Isomäki & Petri Tolppanen & Jussi Kaakinen: The Sands of Sarasvati
How much time do we have before the tsunami?
Sergei Savelnikov and his research colleague Amrita Desai are trying to explain the cause of the destruction of a ruined city submerged off the coast of India.
A Finnish researcher Kari Alanen is investigating solutions to the melting of the continental ice sheets and makes a disturbing discovery while vacationing in the Caribbean. Susan Cheng and her team in Greenland are also studying the glaciers.
Amrita believes that the ancient accounts of Atlantis, the Flood, lost civilizations and seven sages being saved in the ark seem to have something to do with all of this. From these seemingly unrelated observations a frightening picture begins to take shape of a future that is already knocking at he door.
New, updated version of award-winnig comic novel is skillfully dramatized and visualized. It's based on the novel by Risto Isomäki, and it is charged with hard fact, spine-tingling action and a stark view of the possible fate of mankind.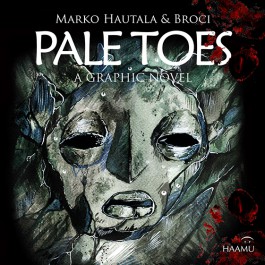 Marko Hautala & Broci: Pale Toes
A backpacker couple arrive at a village in Southern France.
At the local inn, they meet a man who offers to take them to prehistoric underground caves that are off limits for regular tourists. He shows them his bare foot which has only one toe left. The rest, he says, are still somewhere in the caves.
The mystery of the missing toes takes the couple deep into the timeless darkness underground.
Artist Broci and author Marko Hautala will take you on a claustrophobic journey to the center of your deepest fears.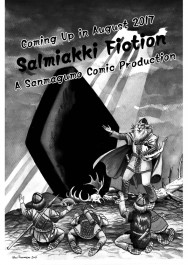 Salmiakki Fiction
Salmiakki Fiction is an international comic anthology… with a wide selection of speculative fiction genres… each story has something to do with salmiakki, a salty liquorice that the Finns hold dear but others often don't… for some reason…
Stories and art: Andrew Scott, Anna Heinonen, Chiru, Jaana Suorsa, Katsumi Tada, Marika Velin, OnecupP, P.A. Manninen, Perynne, Pesuri, Petri Hiltunen, Reima Mäkinen, Sai, Shisaki, Skky and Cosmos, Suomio, Taija/Tiikeri, Vaisto and Yoko Nakaoka.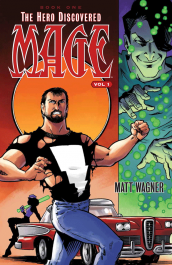 Matt Wagner: Mage – Hero Discovered 1
The first of two volumes reprinting the classic early issues of creator MATT WAGNER's epic fantasy trilogy. THE HERO DISCOVERED reveals the fledgling adventures of the reluctant everyman hero, Kevin Matchstick.
After encountering a shaggy and beguiling wizard, Kevin soon discovers that he is more than he ever imagined.
This seminal work has found an enduring popularity with readers for decades and marks creator MATT WAGNER's emergence as a powerful story-teller.
With the release of the final part of the MAGE trilogy, this series will spark interest with new readers and older fans alike.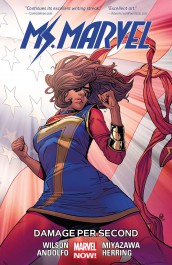 G. Willow Wilson: Ms. Marvel 7 – Damage Per Second
Civil War II is behind her, and a brand new chapter for Kamala Khan is about to begin!
But it's lonely out there for a super hero when her loved ones no longer have her back.
It's time for Kamala to find out exactly who she is when she is on her own.
Plus: it's election time! Kamala gets out the vote!
Collects Ms. Marvel #13-18.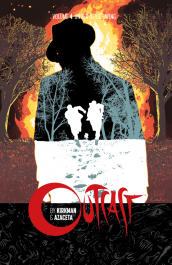 Robert Kirkman & Paul Azaceta: Outcast 4 – Under Devil's Wing
Answers are given and secrets are revealed as Kyle Barnes and Sidney have a conversation that will change EVERYTHING.
Kyle has never been in more danger.
THE WALKING DEAD creator ROBERT KIRKMAN's latest horror hit is now a Cinemax TV show, available on iTunes and Steam now.
Collects OUTCAST BY KIRKMAN & AZACETA #19-24.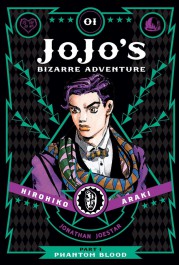 Hirohito Araki: Jojo's Bizarre Adventure 1 – Phantom Blood 1
The legendary Shonen Jump series, now available in English for the first time, in a deluxe edition featuring color pages and newly drawn cover art!
JoJo's Bizarre Adventure is a groundbreaking manga famous for its outlandish characters, wild humor and frenetic battles. A multigenerational tale of the heroic Joestar family and their never-ending battle against evil!
Young Jonathan Joestar's life is forever changed when he meets his new adopted brother, Dio. For some reason, Dio has a smoldering grudge against him and derives pleasure from seeing him suffer.
But every man has his limits, as Dio finds out. This is the beginning of a long and hateful relationship!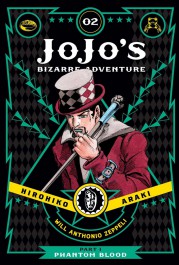 Hirohito Araki: Jojo's Bizarre Adventure 1 – Phantom Blood 2
As if Dio wasn't diabolical enough, now he's an immortal vampire with incredible strength!
But Jonathan Joestar's not one to back down, even when it seems like victory is impossible!
It's a classic battle!
Good versus evil! Grit and determination against power and arrogance! Who will win?!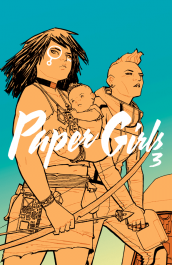 Brian K. Vaughan & Cliff Chiang: Paper Girls 3
The multiple Eisner and Harvey Award-winning series from BRIAN K. VAUGHAN and CLIFF CHIANG continues, as newspaper deliverers Erin, Mac, and Tiffany finally reunite with their long-lost friend KJ in an unexpected new era, where the girls must uncover the secret origins of time travel…or risk never returning home to 1988.
Collects PAPER GIRLS #11-15.
.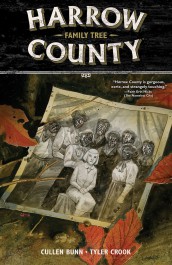 Cullen Bunn & Tyler Crook: Harrow County 4 – Family Tree
Emmy believes she is one of a kind, that there is no one else in the world quite like her.
As strangers arrive in Harrow County, though, she discovers just how wrong she is. Are these beings, each possessing strange and ghastly supernatural abilities, her family?
Collects Harrow County #13-16. Harrow County is under development to become a SyFy show!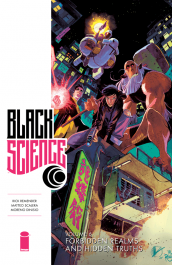 Rick Remender & Matteo Scalera: Black Science 6 – Forbidden Realms and Hidden Truths
After years adrift in the chaotic Eververse, the McKay family finally reunites in their home dimension.
But it's far from the happy end they expected.
To save all there is and ever will be, the Dimensionauts need to cut deeper into the Onion than ever before!
RICK REMENDER & MATTEO SCALERA present the sixth chapter of the runaway pulp sci-fi smash hit BLACK SCIENCE! Collects BLACK SCIENCE #26-30.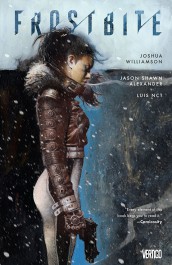 Joshua Williamson & Jason Shawn Alexander: Frostbite
From writer Joshua Williamson (JUSTICE LEAGUE VS. SUICIDE SQUAD) and artist Jason Shawn Alexander (BATMAN: ARKHAM CITY) comes a stunning science fiction saga of subzero survival in FROSTBITE!
In the arctic wilderness of post-apocalyptic America, death comes in many forms—but none is worse than the terrifying plague that freezes its victims from the inside out. They call it frostbite, and it is slowly, inexorably infecting the struggling remnants of humanity. Frostbite has no vaccine, no immunity, and no cure.
Until now.
In snowbound Mexico City, Dr. Henry Bonham and his daughter, Victoria, have found the key to destroying the disease. In order to make their theoretical cure a reality, however, they have to travel 2,000 treacherous miles to a secret government installation on Alcatraz Island.
Enter Keaton, captain of the cross-country cargo hauler Icebreaker, and her hard-bitten mercenary crew. They've spent years learning how to survive on the ice, but they've never before gone on a run with such high stakes—or with such determined enemies.
Will these unlikely saviors make it across the frozen wasteland, defeat the relentless forces gunning for their lives, and bring warmth to the world? Or will frostbite continue to consume all life in its icy jaws?
Discover the shocking answers in FROSTBITE.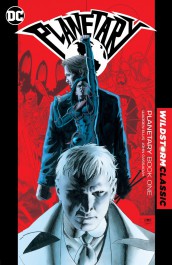 Warren Ellis & John Cassaday: Planetary Book 1
From critically acclaimed author Warren Ellis (THE AUTHORITY, TRANSMETROPOLITAN) and artist John Cassaday comes the ultimate collection of PLANETARY in PLANETARY BOOK ONE.
This book collects the adventures of Elijah Snow, a powerful hundred-year-old man, Jakita Wagner, an extremely powerful but bored woman, and the Drummer, a man with the ability to communicate with machines.
Infatuated with tracking down evidence of superhuman activity, these mystery archaeologists of the late twentieth century uncover unknown paranormal secrets and histories, such as a World War II supercomputer that can access other universes, a ghostly spirit of vengeance and a lost island of dying monsters.
This new cut of the classic series includes extras from the Absolute Edition, including sketches and variant covers. Collecting PLANETARY #1-14, PLANETARY SNEAK PEAK, PLANETARY/AUTHORITY TO RULE THE WORLD.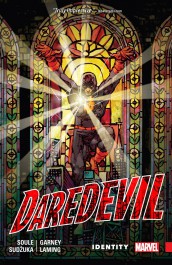 Charles Soule: Daredevil – Back in Black 4: Identity
There's a bounty on DAREDEVIL's head big enough to bring out every contract killer in New York City.
And you'll never believe who the client is! A man who never misses and only needs to pull the trigger once sets his sights on Matt Murdock; will the Man Without Fear survive the encounter?
Collects Daredevil #15-20.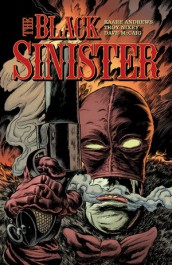 Kaare Andrews & Troy Nixey: The Black Sinister
A pitch-black tale of a city that lives in fear—not of crime or gangs, but the billionaire vigilante sworn to protect them.
Emerson Black's superhero identity is no secret: patrolling the night skies as the Black Sinister, he enforces his own brand of psychotic justice, no matter the cost.
Joined by his unhinged butler Danby, Emerson protects the citizens of Coal City from kidnappers, gangs, and jaywalkers alike.
But who will protect the city from the Black Sinister? And what happens when the mayor hatches a plan to finally rid Coal City of its deranged antihero?
From the creator of Renato Jones, and the artist on Lobster Johnson and director of Guillermo del Toro's horror masterpiece Don't Be Afraid of the Dark!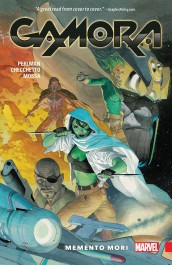 Nicole Perlman & Marco Checchetto: Gamora – Memeto Mori
From screenwriter Nicole Perlman – co-writer of the Guardians of the Galaxy screenplay – and Marvel superstar artist Marco Checchetto, comes a killer new ongoing series!
Once upon a time, Gamora was Thanos' heartless pet assassin and favorite adopted daughter.
Today, she is the backbone of the Guardians of the Galaxy, putting her life on the line to defend the innocent throughout the universe.
What was it that transformed her from being used as a tool of her oppressor, to a champion of the powerless? Embark on a journey of revenge and redemption, and witness how Gamora earned her reputation as the Deadliest Woman in the Galaxy.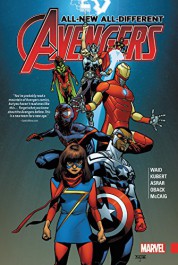 Mark Waid: All-New, All-Different Avengers
The Avengers are dead…long live the Avengers!
When a threat from beyond the stars targets our world, fate draws Captain America, Thor, Vision and Iron Man together again -alongside a group of young adventurers who will reinvigorate Earth's Mightiest Heroes like never before!
Welcome to the big leagues, Nova, Ms. Marvel and Miles "Spider-Man" Morales!
But who is the familiar villain pulling the reassembled Avengers' strings? And can the new lineup last long enough to be more than a footnote in the team's great history?
Maybe not, when the events of Standoff make them forget their true identities! Then, feel the sting of the all-different Wasp! Will she be friend or foe?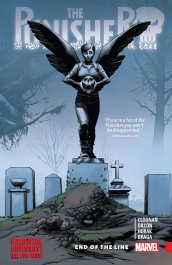 Becky Cloonan & Matt Horak: The Punisher 2 – End of the Line
You can't keep Frank Castle buried for long.
And the Punisher's mission to bring down a super-powered drug ring is about to reach new heights.
As his quest sends him deep into the woods of the Northeast, it's time for Frank to go off-road.
But as he gets deeper into the wilderness, has the predator finally become the prey?
Agent Ortiz chased Frank into hell and came out the other side. Now she's out for revenge! And while Frank gets help from an unlikely source, trouble's not far behind! If you go out in the woods today, you're sure for a big surprise…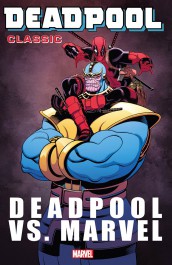 Deadpool Classic 18 – Deadpool vs. Marvel
The Merc with a Mouth takes on Marvel's greatest heroes and vilest villains!
Everything you knew about Deadpool's first encounter with Cable was wrong – now get the full story!
Can X-Force save history from Deadpool?
Wade Wilson goes to Infinity and beyond throwing down the gauntlet against the Mad Titan, Thanos! But who will win Death's fair, bony hand?
It's the ultimate battle of good-crazy and bad-crazy as Deadpool takes on Carnage – there will be blood!
And the regenerating degenerate hangs out with Hawkeye on Halloween – the horror! Plus, Madcap really gets inside Wade's head, and DP helps out his "best bud" Spidey by wearing his webs! Winning friends and influencing people, Deadpool style!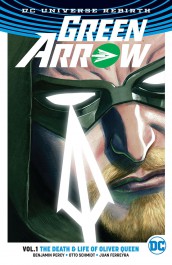 Benjamin Percy: Green Arrow 1 – The Death & Life of Oliver Queen
By day he's Oliver Queen, playboy socialite, CEO of Queen Industries and philanthropic do-gooder.
But at night he patrols the streets of Seattle, where he champions the oppressed as a true social justice warrior. He is Green Arrow.
But how can you fight the man when you are the man? That's the question left with Oliver after an electric, love-at-first-sight encounter with Black Canary, the superhero rock star who challenges everything he thought he knew about protecting the innocent.
As if that weren't enough, a sinister organization with ties to his nearest and dearest prepares to tear down Oliver's financial empire, destroy his family' s legacy and end his life.
Without fortune or friends, can Green Arrow defeat this unholy alliance of traitors? Or has death finally caught up with Oliver Queen?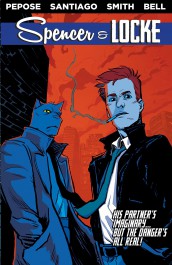 David Pepose & Jorge Santiago Jr.: Spencer & Locke
Collecting the hit mini-series, Spencer & Locke follows hard-boiled Detective Locke as he investigates a brutal murder with the strangest of partners — his childhood imaginary panther, Spencer.
But when they face brutal gunfights, deadly car chases and memories of Locke's traumatic upbringing, can this unlikely pair survive long enough to find the truth?
.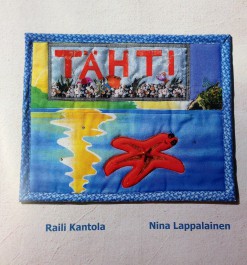 Raili Kantola: Tähti
Tekstitön sarjakuva ei vaadi kielitaitoa, vaan antaa lukea ja tulkita kuvia omaan tahtiin.
Tarinaa kuljettavat ainutlaatuiset, aplikoimalla toteutetut ja käsin koristellut tekstiilitaulut.
.
.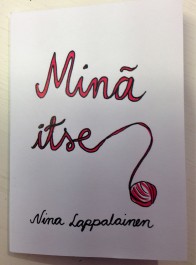 Nina Lappalainen: Minä itse
Pienlehti
.
.
.
.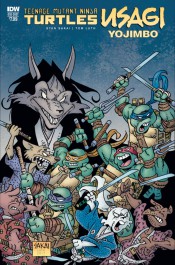 Stan Sakai: Teenage Mutant Ninja Turtles/Usagi Yojimbo
The TMNT are teleported to a world of talking animals—the world of Usagi Yojimbo!
When the samarai rabbit embarks on a quest to save Japan and the deadly Jei blocks his path, a Turtle team-up may be the only chance for survival!
.
.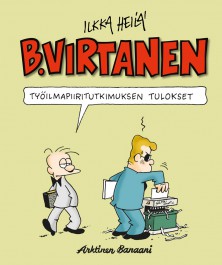 Ilkka Heilä: B. Virtanen 23 – Työilmapiiritutkimuksen tulokset
Nykyisten ja entisten palkansaajien keskuudessa tunnetaan kolme todella pahaa asiaa: B. Virtanen ei ilmesty aamulla töihin, B. Virtanen ei jää illaksi ylitöihin ja pahimpana kaikista, uusi B. Virtanen ei ilmesty syksyn tullen. Ei huolta, mitään näistä ei tapahdu tänäkään vuonna.
Puoluekannasta riippumatta lienee pakko myöntää, että viime vuosina Suomen hallitusten toimet ovat onnistuneet työllistämään ainakin humoristeja – ja vieläpä tekemällä sen luvattoman helpoksi.
Ilkka Heilä ei ole poliittinen piirtäjä, mutta jälleen kerran hän onnistuu työelämän pahimpien naurettavuuksien kuvaamisella todistamaan, että pienen ihmisen puolella voi olla puhtain huumorin asein.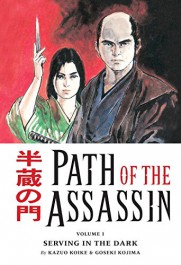 Kazuo Koike & Goseki Kojima: Path of the Assassin 1 – Serving in the Dark
Path of the Assassin, called Hanzo no Mon in Japan, is the story of Hattori Hanzo, the fabled master ninja whose duty was to protect Tokugawa Ieyasu.
Ieyasu was the shogun who would unite Japan into one great nation.
But before he could do that, he had to grow up and learn how to love the ladies!
As the secret caretaker of such an influential future leader, not only does Hanzo use vast and varied ninja talents, but in living closely with Ieyasu, he forms a close friendship with the young shogun.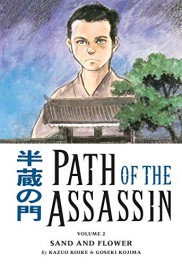 Kazuo Koike & Goseki Kojima: Path of the Assassin 2 – Sand and Flower
It's not easy being Hattori Hanzo.
If he's not teaching the young and upcoming shogun how to love, then he's either behind the scenes teaching Ieyasu how not to die in case of a momentary lapse of protection.
Or he might be in the shadows making sure Ieyasu's leadership is effective by any means necessary.
If you thought you had a tough job, try taking a pudgy, protected youngster, and making him into the leader who would unite Japan under his singular rule.
In this quasi-historical tale from the masters of Japanese samurai culture, Path of the Assassin shows a side of feudal japan that entertains with action as well as political drama.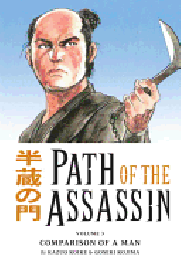 Kazuo Koike & Goseki Kojima: Path of the Assassin 3 – Comparison of a Man
Koike and Kojima's story of the famed ninja, Hanzo Hattori and his trials and tribulations protecting the shogu-to-be, Tokugawa Ieyasu.
Each page builds upon the two warriors and the women they love.
.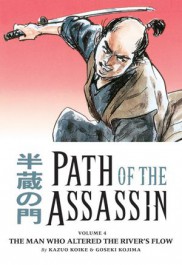 Kazuo Koike & Goseki Kojima: Path of the Assassin 4 – The Man Who Altered the River's Flow
War! Ninjas! Love! Political intrigue!
It's all packed into Path of the Assassin.
Drafted by classic samurai manga creators Kazuo Koike and Goseki Kojima of Lone Wolf and Cub fame, Path of the Assassin is the story of a young shogun on his way to unite Japan, and the trusty ninja assigned to protect him.
Be it in crafty maneuverings of war, political push and pull, or bedroom adventures, young Hattori Hanzo will not be kept from his duties.
Kazuo Koike & Goseki Kojima: Path of the Assassin 5 – Battle of One Hundred and Eight Days
It's a battle of ninja vs. ninja, with all the stops pulled out and every trick in the book.
Well, almost every trick.
Our protagonist/ninja, Hanzo's young ninja wife, Tsukumo, must avenge her father's death at the hands of another shadow warrior, but he's as crafty as they come.
This mystical, imaginative faceoff consumes all 300-plus pages of this action-stuffed volume.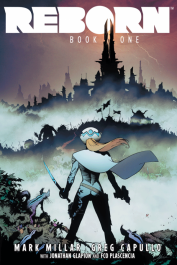 Mark Millar & Greg Capullo: Reborn Book One
The MILLAR-CAPULLO smash-hit, sell-out REBORN is here.
Where do you go when you die?
Not heaven or hell–somewhere else. Somewhere you have to fight to survive. Somewhere the people from the past are waiting for you–the good and the bad.
Superstar creators MARK MILLAR and GREG CAPULLO join forces to create the sci-fi story of the year, collecting issues #1-6.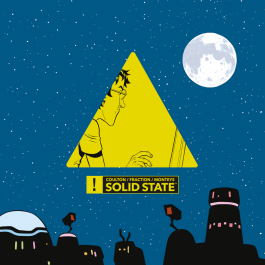 Jonathan Coulton & Matt Fraction: Solid State
From musician, singer-songwriter, and internet superstar JONATHAN COULTON comes the graphic novel accompaniment (in square-bound, 10″ x 10″ format) to his new concept album, SOLID STATE.
Two guys, connected by a name and hundreds of years, somehow stand at the end of man's beginning, and the beginning of man's end. But…it's funny?
Also kind of a nightmare. But mostly funny?
A funny science FACTion nightmare about the end of everything, but how that's all kind of okay.
Teaming up with MATT FRACTION, the writer of SEX CRIMINALS, CASANOVA, and ODY-C; and the award-winning Spanish artist of Universe! ALBERT MONTEYS, COULTON's SOLID STATE is a tech mashup where 2001: A Space Odyssey meets Office Space and getting all we ever wanted might just be a terrible idea.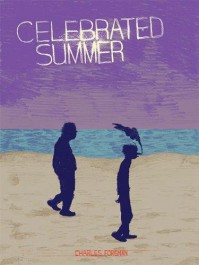 Charles Forsman: Celebrated Summer
This original graphic novella is a funny and moving story of escalating humor and tension between two disaffected teens, Mike and Wolf, who take a spontaneous summer road trip after dropping acid.
As the stark black and white of Forsman's cartooning indicates, however, this is not a psychedelic, Kandy-Kolored Tangerine-Flake Streamline Baby kind of trip.
Instead of the escapism they crave from their fragile home lives, the LSD only heightens their sense of ennui, exacerbates their fears about the world they're about to enter as adults, and creates doubts about everything they think they know.
Though not entirely what they bargained for, will Mike and Wolf look back on their adventure as part of the "celebrated summer" of their never-to-be recaptured youth, or a carelessly wasted part of the best years of their lives? Or both?
Muñoz & Sampayo: Billie Holiday
Born in Philadelphia in 1915, and dead too early in New York in 1959, Billie Holiday became a legendary jazz singer, even mythical.
With her voice even now managing to touch so many people, we follow a reporter on the trail of the artist on behalf of a New York daily.
Beyond the public scandals that marred the life of the star (alcohol, drugs, violence…), he seeks to restore the truth, revisiting the memory of Billie.
Through this investigation, Muñoz and Sampayo trace, through the undertones of racism, and in the wake of the blues, the slow drift of a singer who expressed the deepest emotions in jazz.
By internationally renowned Argentine artists, featuring Muñoz' strikingly raw heavy blacks, this is not just a biography but a spell-binding art book tribute.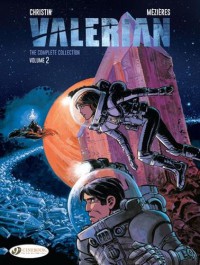 Mézières & Christin: Valerian – The Complete Collection 2
In this book you will find volumes 3 to 5: The Land Without Stars, Welcome to Alflolol and Birds of the Master – three stories that introduce the societal criticism aspect of the series.
Battle of the sexes, totalitarianism and extreme productivism are lambasted, but never at the expense of fantasy or of the action.
And as they travel from world to distant world, Laureline becomes a truly equal partner, far from the stereotypical female sidekick roles of the time.
Finally, the second part of the exclusive interview with the authors and director Luc Besson is followed by an in-depth portrait of Pierre Christin, the writer.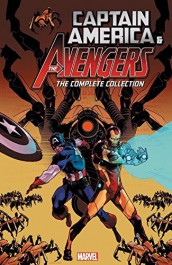 Captain America & the Avengers – The Complete Collection
Captain America spends some one-on-one time with his Avengers buddies!
Something is eating the locals in the San Andres Mountains – Cap and Hawkeye had better hope that arrows and a shield will be enough to defeat a hive of dino-monstrosities!
Then, Cap and Iron Man head to Madripoor for a technology expo – but when Batroc's Brigade shows up, a nightmare is unleashed!
Back in World War II, Invaders Cap and Namor face a huge problem when the Thule Society releases the Kraken!
And Captain America and Black Widow are chased across countless worlds by Kashmir Vennema and her multiversal corporation! It's all leading to a huge confrontation involving Hawkeye, Iron Man and…Doctor Doom?
Ta-Nehisi Coates: Black Panther 1 – A Nation Under Our Feet
A new era for the Black Panther begins as the kingdom of Wakanda enters its final days!
Award-winning writer Ta-Nehisi Coates confronts T'Challa with dramatic upheaval in his homeland that will make leading the African nation tougher than ever before.
When a superhuman terrorist group that calls itself The People sparks a violent uprising, the land famed for incredible technology and proud warrior traditions will be thrown into turmoil.
As Zenzi, leader of The People, poisons the populace against their king, the former queen Shuri's spirit makes an uncanny journey through the Djalia, and a new Crew is formed!
If Wakanda is to survive, it must adapt – but can its monarch, one of a long line of Black Panthers, survive the necessary change? Heavy lies the head that wears the cowl!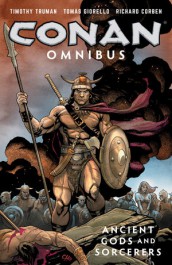 Conan Omnibus 3 – Ancient Gods and Sorcerers
Dark Horse's critically acclaimed Conan, now available in a value-priced omnibus!
Showcasing the work of fan favorites Timothy Truman and Tomás Giorello, this action-packed omnibus includes adaptations of Robert E. Howard's "The Hand of Nergal" and "Black Colossus," plus tales detailing Conan's return to his homeland of Cimmeria.
Also features work by horror master Richard Corben!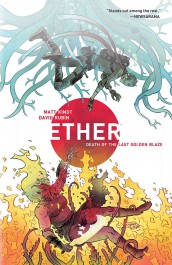 Matt Kindt & David Rubin: Ether 1 – Death of the Last Golden Blaze
A science-minded adventurer gets mixed up in the mysteries of a fantasy world in this charming new adventure from an award-winning creative team.
Boone Dias is an interdimensional explorer, a scientist from Earth who has stumbled into great responsibility.
He's got an explanation for everything, so of course the Ether's magical residents turn to him to solve their toughest crimes.
But maybe keeping the Real and the Abstract separate is too big a job for just one man.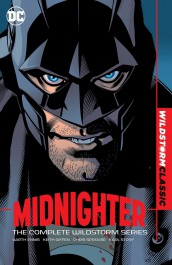 Midnighter – The Complete Wildstorm Series
The Midnighter, is the most dangerous man on the planet—able to plan a fight a million moves ahead, capable of killing ruthlessly, relentlessly and without remorse.
Fed up with his teammates in the Authority (including his husband, Apollo) and their lost mission of saving the world from itself, Midnighter strikes out on his own.
Despite possessing superhuman abilities to see every move his opponents will make, Midnighter can't see what's ahead for himself. He's blackmailed into assassinatinge Hitler before the start ofs World War II; he's given a chance to find out about his past, before he became a superhuman killing machine; and he's hunted by an assassin with unlimited means.
He's the Midnighter, what soldiers dream of becoming—what children see when they first imagine what death is like.
This collection includes the entire WildStorm series, MIDNIGHTER #1-20 and MIDNIGHTER: ARMAGEDDON #1!
OHEISTUOTTEET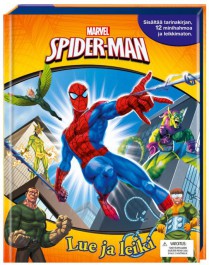 Spider-Man – Lue ja leiki
Jännittävä puuhapaketti sisältää hauskan tarinakirjan lisäksi leikkimaton ja 12 minihahmoa, jotka herättävät leikit eloon.
Kirjan tarinassa Hämähäkkimies kohtaa Vihreän menninkäisen, tohtori Mustekalan ja muita vihollisiaan – onnistuuko hän peittoamaan heidät kaikki?
.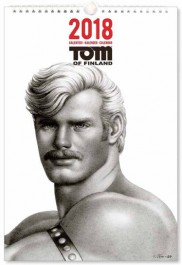 Tom of Finland: Tom of Finland -seinäkalenteri 2018
Tom of Finland -seinäkalenteri 2018.
.
.
.
.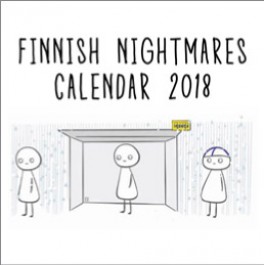 Karoliina Korhonen: Finnish Nightmares -seinäkalenteri 2018
Finnish Nightmares -seinäkalenteri 2018
.
.
.
.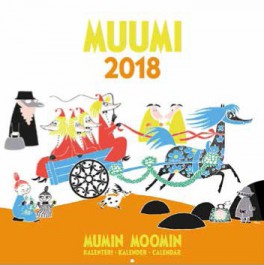 Tove Jansson: Muumit Seinäkalenteri 2018
Seinäkalenteri vuodelle 2018.
Suomalaiset ja suomenruotsalaiset nimi- ja liputuspäivät.
Kielet: suomi, ruotsi & englanti.
.
.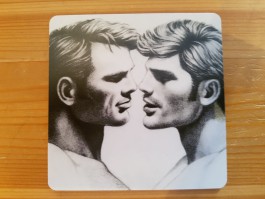 Tom of Finland: Tom of Finland -lasinalunen 1
Lasinalunen.
Koko 10.2 x 10.2 cm
.
.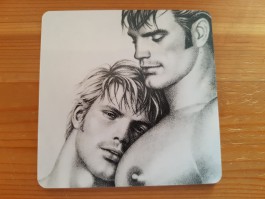 Tom of Finland: Tom of Finland -lasinalunen 2
Lasinalunen.
Koko 10.2 x 10.2 cm
.
.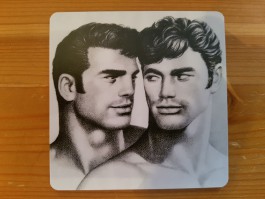 Tom of Finland: Tom of Finland -lasinalunen 3
Lasinalunen.
Koko 10.2 x 10.2 cm
.
.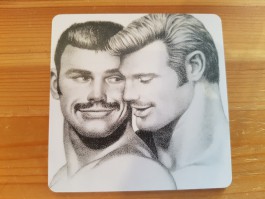 Tom of Finland: Tom of Finland -lasinalunen 4
Lasinalunen.
Koko 10.2 x 10.2 cm
.
.
ENNAKKOTILAUKSET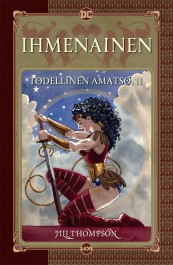 Jill Thompson: Ihmenainen – Todellinen amatsoni (ENNAKKOTILAUS)
ENNAKKOTILAUS. KIRJA ILMESTYY 14.8.2017.
Tämä ainutlaatuinen ja omaperäinen tulkinta Ihmenaisen alkuperästä esittelee uudenlaisen prinsessa Dianan.
Jill Thompsonin kirjoittamassa ja kuvittamassa tarinassa pilalle hemmoteltu nuori kuninkaallinen tekee kauhean teon, jonka hyvittääkseen hänen on pakko kasvaa sankarin mittoihin.
Palkitun tekijän maalattu taide herättää myyttien sankarittaret henkiin ainutlaatuisella herkkyydellä.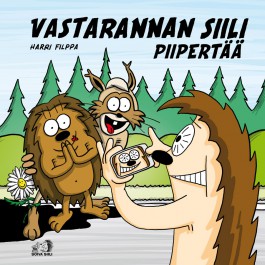 Harri Filppa: Vastarannan Siili piipertää (ENNAKKOTILAUS)
ENNAKKOTILAUS. ALBUMI SAATAVILLA 15.8.2017.
Ajatuksemme täyttyvät päivittäin monenlaisista kysymyksistä.
Myös Vastarannan Siili pohtii maailman suuria ja pieniä ihmeitä. Merkillisen piipertäjän etsiminen saattelee sankarimme puutarhan lumoista ystävän syntymäpäiville ja sieltä nolojen tilanteiden kautta saunan lämpöön. Elämä on yhtä piiperrystä, kuten tämä seikkailu osoittaa… Millainen piipertäjä sinä olet?
Harri Filpan Vastarannan siili piipertää on jatko-osa Vastarannan Siili unten mailla -sarjakuva-albumille. Filppa on kerännyt aineksia kirjan villiin, värikkääseen ja mukaansatempaavaan tarinaan Vastarannan siili kuuluu kaikille – levyn kappaleista. Kirjassa Vastarannan Siili piipertää kuitenkin omia polkujaan.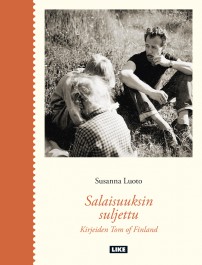 Susanna Luoto: Salaisuuksin suljettu – Kirjeiden Tom of Finland (ENNAKKOTILAUS)
ENNAKKOTILAUS. KIRJA ILMESTYY 21.8.2017.
Touko Laaksosen (1920–1991) mittava kirjeenvaihto vetää vertoja Tom of Finlandin tuhansien piirrosten tuotannolle.
Toukon eli Tomin kirjeenvaihto kattaa vuodet 1940–1991. Näissä kirjeissä on äänessä veli, nuori sotilas, muusikko ja mainosmies mutta myös fetisisti, taiteilija, maailmanmatkaaja, ystävä, liikekumppani ja lopulta keuhkoahtaumasta kärsivä vanheneva mies.
Susanna Luoto (s. 1961) on taiteen maisteri ja toimittaja.
Hän on tehnyt yhteistyötä Tom of Finland Foundationin kanssa vuodesta 1990. Sysäyksen kirjalle antoi Luodon Postimuseolle vuonna 2014 kuratoima näyttely Tom of Finlandin kirjeenvaihdosta ja elämästä.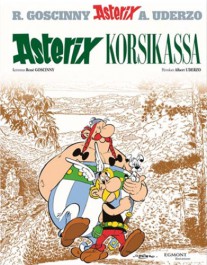 René Goscinny & Albert Uderzo: Asterix 20 – Asterix Korsikassa (kovak.) (ENNAKKOTILAUS)
ENNAKKOTILAUS. ALBUMI ILMESTYY ELOKUUSSA 2017.
Asterix Korsikassa on järjestysnumeroltaan 20. Asterix-albumi ja sarjan myydyin yksittäinen osa.
Albumissa vieraileekin muikea katras aikaisemmista osista tuttu väkeä, ja Albert Uderzo ja René Goscinny pistävät parastaan eurooppalaisten heimojen hulvattomimpien erityispiirteiden kuvaajina.
Ja kuten aina, albumi tarjoilee runsaasti bongattavaa historian harrastajille.
Jana Vasiljević: Manet's Diner (ENNAKKOTILAUS)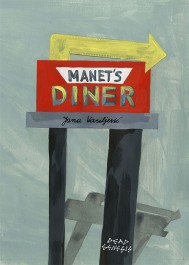 ENNAKKOTILAUS. ALBUMI ILMESTYY 1.9.2017.
Puhetta, hälinää, kofeiinin siivittämää ainaista jaarittelua… Miten kukaan jaksaa kuunnella kaikkia noita ihmisiä päivästä toiseen?
Kulmakuppilan tarjoilijan on pakko. Paikka on Manet's Diner, jossa kahvi on hyvää ja santsikuppi sisältyy hintaan. Tervetuloa.
Jana Vasiljević (s. 1990) on Belgian Gentissä asuva kuva- ja sarjakuvataiteilija. Hän tarinoi sodasta, rakkaudesta, jalkapallosta (josta ei tiedä mitään), tietokonepeleistä, 1990-luvun popkulttuurista, Talking Headsistä, ihmisluonnosta ja kyseenalaisista tieteellisistä teorioista. Vasiljević on sarjakuva-antologioistaan tunnetun Tieten Met Haar -kollektiivin perustajajäsen.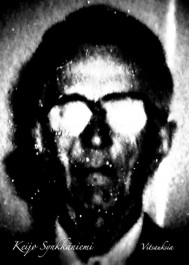 Keijo Synkkäniemi: Vitsauksia (ENNAKKOTILAUS)
ENNAKKOTILAUS. LEHTI ILMESTYY 1.9.2017.
Vitsauksia on kokoelma Keijo Synkkäniemen tummia ja hirtehisiä sarjakuvia.
Sivun mittaisissa sarjoissaan hän tutustuttaa meidät leegioon kovaonnisia hahmoja.
Andrew Andrews meni kiellettyyn huoneeseen eikä koskaan palannut.
Walton Moorhouse sairastui kulkutautiin ja kuoli.
Henry Swartz sai raivokohtauksen ja sidottiin aloilleen.
Synkkäniemen maailmassa ainut varma asia on väistämätön loppu.
Keijo Synkkäniemi (s. 1935) laukaalaislähtöinen omakustannekirjailija ja kotiseutuhistorioitsija. Hän asuu ja työskentelee Rovaniemellä.
Sarjakuvan ovat julkaisseet yhteistyössä Dead Genesis ja Nälkämaan kirkkoapu ry. Dead Genesis on vuonna 2012 perustettu sarjakuvaan keskittynyt pienkustannepaja. Nälkämaan kirkkoapu on Ristijärvellä vuodesta 1951 toiminut herätysevankelinen avustus- ja kirkkoperinneyhdistys.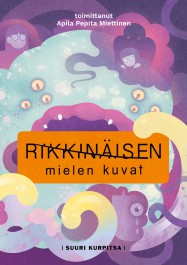 Apila Pepita Miettinen (toim.): Rikkinäisen mielen kuvat (ENNAKKOTILAUS)
ENNAKKOTILAUS. ALBUMI SAATAVILLA 1.9.2017. 
Rikkinäisen mielen kuvat antaa puheenvuoron mielenterveysongelmien kanssa eläville ihmisille.
Mielen sairauksiin liittyvät ennakkoluulot ja häpeä ajavat ongelmista kärsivät liian usein piiloon. Valmiiksi rikkinäisiltä ihmisiltä odotetaan suuria ponnistuksia, jotta he saisivat hankituksi tarvitsemaansa apua.
Nyt yli kaksikymmentä rohkeaa ja lahjakasta taiteilijaa tarttuu sarjakuvin, tekstein ja kuvituksin vaikeisiin aiheisiin. Joukkoon kuuluvat mm. Tiitu Takalo, Wolf Kankare, Miia Vistilä, Kimmo Lust, Siiri Viljakka, Emma Heinonen, Juliana Hyrri, Piri Huhtanen, Iita Järn, Taneli Kemppi ja Sade Lehti.
Aino Su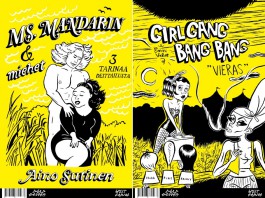 tinen & Emmi Valve: Dead Genesis Split Series #4 (ENNAKKOTILAUS)
ENNAKKOTILAUS. LEHTI ILMESTYY 1.9.2017.
Dead Genesis Split Series -kääntösarjakuvasarjan neljännen osan jakavat Aino Sutinen ja Emmi Valve.
Aino Sutinen (s. 1983) kertoo kolme tarinaa deittailusta, pääosassa Ms. Mandarin ja miehet. Takavuosien kansikomistus Fabio osoittautuu tyhjästä täydeksi. Kirjeenvaihtokumppanuuden lopussa ei kiitos seiso. Entä mikä mahtaa olla tavoitesuuntautuneella Chatbot-Petellä mielessä?
Emmi Valveen (s. 1984) tyttöjengi Girl Gang Bang Bang on joukko kaupungin laitamilla majailevia itsellisiä ihmisiä. Tarina alkaa, kun oveen koputetaan myrsky-yönä. Kynnykselle ilmestynyt odottamaton vieras sysää lähimmäiset radoiltaan – yhdet törmäyskurssille, toiset uuteen nousuun.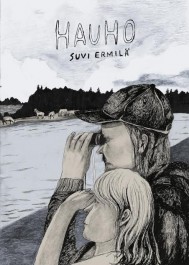 Suvi Ermilä: Hauho (ENNAKKOTILAUS)
ENNAKKOTILAUS. ALBUMI SAATAVILLA 4.9.2017.
Suvi Ermilä on Tampereella syntynyt ja kasvanut sarjakuvantekijä, joka opiskelee Aalto-yliopistossa visuaalista kulttuuria.
Hän vietti lapsuutensa kesät Hauhon mökillä.
Hauho on Ermilän ensimmäinen sarjakuvakirja. Se kuvaa järven rannalla vietettyä kesäistä viikonloppua ja kertoo ulkopuolisuuden ja läheisyyden kokemuksista, joita perheyhteisössä ei voi olla kohtaamatta.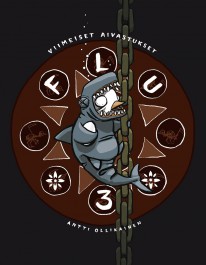 Antti Ollikainen: Flu 3 – Viimeinen aivastus (ENNAKKOTILAUS)
ENNAKKOTILAUS. ALBUMI SAATAVILLA 4.9.2017.
Antti Ollikaisen nimetön ja peloton tutkimusmatkailija jatkaa Flu-trilogian viimeisessä osassa seikkailujaan, joita rytmittävät järisyttävät aivastukset.
Tällä kertaa sankari etsii aarretta ja välttelee viikatelintua pääasiassa maan- ja merenpinnan alapuolisissa maailmoissa. Kauniisti piirretty tekstitön sarjakuva sopii kaikille kekseliään ja kovavauhtisen kuvakerronnan ystäville ikään, sukupuoleen ja äidinkieleen katsomatta.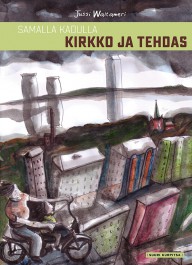 Jussi Waltameri: Samalla kadulla kirkko ja tehdas (ENNAKKOTILAUS)
ENNAKKOTILAUS. ALBUMI SAATAVILLA 4.9.2017.
Samalla kadulla kirkko ja tehdas on Jussi Waltameren maanläheinen ja korkealentoinen esikoisalbumi.
Iäkkään äidin vakava sairaus hallitsee kertojan nykyhetkeä, muistot ja mielikuvitus lennättävät pakomatkalle lapsuuden avaintapahtumiin.
Kirkko ja tehdas sijaitsevat Kotkassa. Niiden takaa näkyy meri. Ajatuksen notkeudella soljuva kerronta, maalauksellinen kuvakieli ja kaakkoissuomalainen puheenparsi tekevät lukukokemuksesta poikkeuksellisen voimakkaan.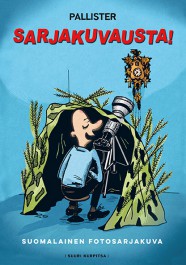 Pallister: Sarjakuvausta! (ENNAKKOTILAUS)
ENNAKKOTILAUS. ALBUMI SAATAVILLA 4.9.2017. 
Kari Pällin nimimerkki Pallister on tuttu valokuvauksen harrastajille ja ammattilaisille huumorisarjoista, joita on nähty vuodesta 2012 lähtien alan kahdella suurimmalla foorumilla, Kamera-lehdessä ja Sulantoblogissa.
Yli 30 vuoden kokemus fotoalalta edistää ideoiden kehittelyä ja puujalkojen veistelyä. Kuvaaminen on lisääntynyt räjähdysmäisesti, mutta sitä käsittelevät sarjakuvat ovat harvinaisuuksia. Sarjakuvausta! on päänavaus, joka lyö fotofriikit pällikällä!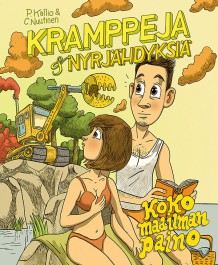 Pauli Kallio & Christer Nuutinen: Kramppeja & nyrjähdyksiä – Koko maailman paino (ENNAKKOTILAUS)
ENNAKKOTILAUS. ALBUMI SAATAVILLA 4.9.2017.
Pauli Kallion kirjoittama ja Christer Nuutisen piirtämä Kramppeja & nyrjähdyksiä on antanut uskollisille lukijoilleen ajattelemisen aiheitta jo runsaan neljännesvuosisadan verran.
Kuinka monta kertaa viikossa avioparin pitäisi harjoittaa seksiä? Täytyykö aina olla 100 % rehellinen? Mistä hameenhelmojen lyheneminen kertoo? Ja ennen kaikkea, kuinka kotikaupunki pelastetaan grynderien ylivallalta ja koko maailma höyrypäisten hallitsijoiden narsistisilta pakkomielteiltä?
Koko maailman paino on kuudes ja tähän asti tuhdein Suomen Kuvalehdessä ilmestyneiden jaksojen kokoelma.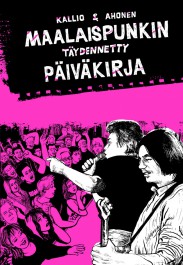 Pauli Kallio & Kyky Ahonen: Maalaispunkin täydennetty päiväkirja (ENNAKKOTILAUS)
ENNAKKOTILAUS. ALBUMI SAATAVILLA 4.9.2017. 
Käsikirjoittaja Pauli Kallio ja piirtäjä Kyky Ahonen elivät teini-ikänsä tähtihetkiä, kun punk mullisti suomalaisen rockin.
Maalaispunkin täydennetty päiväkirja kertoo, millaista oli olla Nivalan ensimmäinen punkki ja ystävystyä muiden kapinallisten kanssa.
Tekstiosuus käy läpi suomipunkin alkuaikoja sekä pureutuu Pihtiputaalla toimineen Ratsia-yhtyeen uraan ja tuotantoon.
Kirjan kolmas painos sisältää 44 uutta sivua: sarjakuvia, Pertti Pulkkasen yksityiskohtaisen Ratsia-historiikin ja reilusti ennen julkaisemattomia valokuvia bändin fanien arkistoista.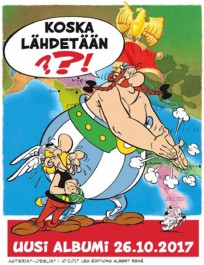 Jean-Yves Ferri & Didier Conrad: Asterix 37 (kovak.) (ENNAKKOTILAUS)
ENNAKKOTILAUS. ALBUMI ILMESTYY 26.10.2017.
Uusi Asterix-seikkailu vie meidät tällä kertaa Italiaan, joka on paljon muutakin kuin vain Rooma.
Saatavana myös pehmeäkantisena.