Evan Dorkin & Sarah Dyer & Erin Humiston: Calla Cthulhu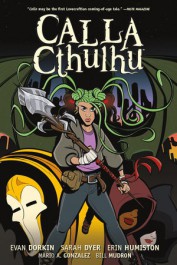 Being a teenager isn't easy, especially after you learn you carry the bloodline of Lovecraft's Great Old Ones in your veins.
Instead of a summer job and checking out colleges, Calla Tafali finds herself battling supernatural monsters, human assassins, and her uncle, the King in Yellow.
She must resist his call to embrace her own chaotic heritage and join the family business, as well as prevent the awakening of the terrible deity asleep and dreaming in the corpse city of R'lyehthe Dread Dead One!
Prepare yourself for weird action, adventure, and mystery in the Mighty Mythos Manner!
From the writers of the Eisner award-winning Beasts of Burden!
Nick Spencer & Steve Lieber: The Fix 2 – Laws, Paws & Flaws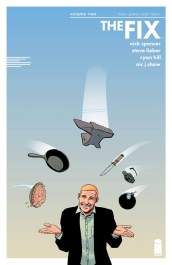 The adventures of Roy and Mac continue…
Who killed the actress?
What's that deal with Deal?
And of course, Pretzels. Always more Pretzels.
A crime comedy with twists and turns you won't believe (and maybe shouldn't).
Collects THE FIX #5-8.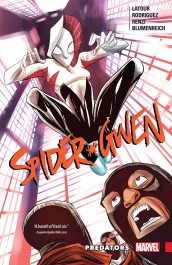 Jason Latour & Robbi Rodriguez: Spider-Gwen 4 – Predators
After her adventure with Miles Morales, Gwen finds herself thrown into her toughest, most intense encounter yet.
One word: Gwenom!
It's the mash-up to end all mash-ups, but the stakes are very high and the consequences are very real!
Will Spider-Gwen be able to get through this new challenge in one piece?
Collects Spider-Gwen (2015B) #19-23.
Tom Gauld: Baking with Kafka
A best-of collection of literary humour cartoons from the critically-acclaimed Guardian cartoonist.
In his inimitable style, British cartoonist Tom Gauld has opened comics to a crossover audience and challenged perceptions of what the medium can be. Noted as a "book-lover's cartoonist," Gauld's weekly strips in The Guardian, Britain's most well-regarded newspaper, stitch together the worlds of literary criticism and pop culture to create brilliantly executed, concise comics.
Simultaneously silly and serious, Gauld adds an undeniable lightness to traditionally highbrow themes. From sarcastic panels about the health hazards of being a best-selling writer to a list of magical items for fantasy writers (such as the Amulet of Attraction, which summons mainstream acceptance, Hollywood money, and fresh coffee), Gauld's cartoons are timely and droll–his trademark British humour, impeccable timing, and distinctive visual style sets him apart from the rest.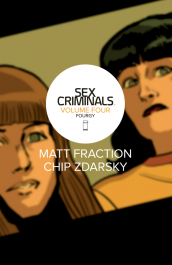 Matt Fraction & Chip Zdarsky: Sex Criminals 4 – Fourgy
Everybody's favorite sex-having, time-freezing, bank-robbing crew of lovable love-misfits come together and ask themselves the big question: are we still into this?
THE ANSWER MIGHT SURPRISE YOU (if you think the answer is no).
Collects SEX CRIMINALS #16-20.
.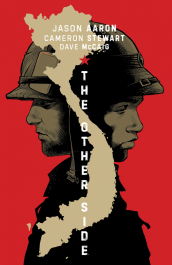 Jason Aaron & Cameron Stewart: The Other Side
THE OTHER SIDE SPECIAL EDITION is a hardcover collection of the Eisner-Award nominated miniseries that started it all for writer JASON AARON (SOUTHERN BASTARDS, THE GODDAMNED, Scalped)!
With amazingly visceral artwork from CAMERON STEWART (MOTOR CRUSH, Fight Club 2) and vivid colors from DAVE McCAIG (American Vampire), THE OTHER SIDE tells an unforgettable Vietnam War story from the point of view of two young soldiers on both sides of the conflict.
THE OTHER SIDE SPECIAL EDITION will not only showcase this powerful war story but also include loads of extra materials straight from the files of both writer and artist. CAMERON STEWART was so committed to this project that he traveled to Vietnam to do preliminary research, and this collection will feature pictures, drawings, and journal entries from that trip.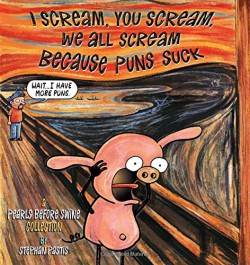 Stephan Pastis: I Scream, You Scream, We All Scream Because Puns Suck
We know it's coming.
The telltale signs are all there: the oddly specific setup, the unusual word choice, and, just visible out of the corner of our eye, the final panel of Stephan sitting at his desk awaiting the chastisement of one of his characters. Somehow the pun still manages to elicit a groan larger than we expected.
Fortunately for us—and for Stephan's job security—there are more than just puns in I Scream, You Scream, We All Scream Because Puns Suck.
The entire Pearls Before Swine crew returns in some of the strip's most raucous cartoons yet. Rat tries his hand at public service as a judge and presidential candidate (he's accepting tips), Goat has a nasty run-in with Internet trolls (maybe it's time to get off social media), and Pig is dismayed to learn that there is no European city of "Hamsterdam" (much less a dam that holds back a river of hamsters).
And like always, the Zebras can congratulate each other on a safe day and hope for a Croc-less tomorrow—in other words, the preys praise and pray.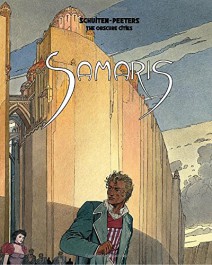 Francois Schuiten & Benoit Peeters: Samaris
Against the urging of his friends and his lover, Franz, a young officer in the Xhystos government, is sent on a mission to the remote and elusive city of Samaris to investigate the disappearance of several of his colleagues.
After weeks of travel, Franz reaches Samaris, to find a practically deserted city of enveloping and deceptive architecture. He is immediately bewitched by a mysterious young woman, drawing the suspicion of the other residents. Can Franz escape the impending doom of this sprawling metropolis?
The first in the Obscure Cities series, The Great Walls of Samaris was originally published in Europe in 1983 and in the US in 1987 by NBM.
The story has been slightly altered to include characters who appear later in the canon, and reveal Peeter's Kafkaesque storytelling prowess. Schuiten's art in this edition has been reworked to be much truer to the originally intended color palette, and includes 32 additional pages of early Obscure Cities stories, comprising the Mysteries of Pâhry, never before published in English.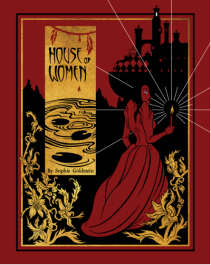 Sophie Goldstein: House of Women
When Sarai and her fellow emissaries from the Empire disembark from their ship, they find themselves on an unknown planet teeming with life and mystery.
The natives, whom they intend to "civilize," are not as malleable as expected and their only other human contact, a man with some unexpected genetic modifications, only causes further conflict within their ranks. Something dark is growing in Mopu.
The only question is whether the danger that will undo the women's delicate camaraderie is outside the gates—or within.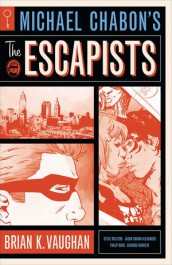 Brian K. Vaughan: Michael Chabon's The Escapists
Inspired by the Pulitzer Prize-winning novel The Amazing Adventures of Kavalier & Clay, this story of three aspiring comics creators with big dreams, small cash, and publishing rights to one forgotten Golden Age hero–the Escapist–is Brian K. Vaughan's love letter to his chosen medium.
The lives of creators Max, Denny, and Case–latter-day versions of Joe Kavalier and Sam Clay–are brilliantly woven together with the world of their creations.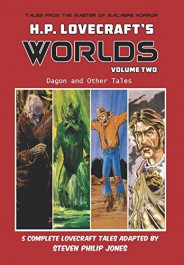 Steven Philip Jones: H.P. Lovecraft's Worlds 2 – Dagon and Other Tales
A collection of five Lovecraft tales adapted by award winning comic writer Steven Philip Jones.
Lovecraft is considered one of America's most innovative and popular American horror writers. The master of the weird tale during the first decades of the 20th Century until his premature death in 1937, Lovecraft's distinctive style and canon of work has influenced many authors.
Jones takes the classic tales and while remaining true to the source, brings them into the modern age which can sometimes make the horror even more terrifying. These tales are illustrated by comic artists Sergio Cariello (MARVEL's Deadpool, Captain America), Christopher Jones (DC's Young Justice, Teen Titans Go!), Aldin Baroza (Family Guy, One Fisted Tales), Rob Davis (Star Trek, Quantum Leap), and Wayne Reid (El Cid, Storyville).
The five illustrated stories within this Volume are "Dagon", the U.S.S. Augustus is a nuclear submarine, its crew is unaccustomed to picking up castaways, especially on uncharted islands in the middle of the Atlantic. But that is where the Augustus finds Emma Loveless, sole survivor of a private jet crash.
"Arthur Jermyn", the Jermyns have lived in their Gothic estate in Cambridgeshire for centuries. Explorers and adventurers, they are a wild and violent bunch with a cursed, black history of sudden murder and blood. Until the birth of Arthur Jermyn.
"Picture in the House", Lorraine Claude is fascinated with the morbid and weird, but Lorraine does not count on a sudden thunderstorm driving her into the farmhouse of a very friendly and very old cannibal.
"The Statement of Randolph Carter", Harley Warren is an expert on violent criminals and assists the FBI in their profiling and pursuit of criminals. When Warren reads a book about a location that can reveal the darkest and oldest mysteries of the stygian unknown, Warren wastes no time packing up his reluctant chronicler and assistant, Randolph Carter, to explore the site.
"Music of Erich Zann", each night when American astronomer Max Finn comes home, an old man plays haunting melodies on his violins. Melodies that plague Finn's dreams at night and give him nightmares about a cosmic land ruled by Nyarlathotep, also known as The Crawling Chaos, the messenger of the elder gods.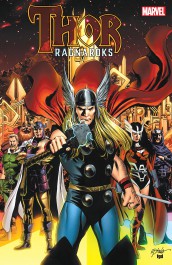 Thor – Ragnaroks
Three Asgardian epics in one legendary volume!
In a tale from Asgard's glory days, Thor stands beside his brothers-in-arms when the Warriors Three are put on trial for murder – and ties himself to their fate!
Years later, the end is nigh for the gods – and only Thor and his Avengers allies might be able to stave off Ragnarok, the end of all things! But will the Odinson be Asgard's savior, or the architect of its downfall?
And will noble alien warrior Beta Ray Bill escape the end of one world – only to face the end of his own? Bill must face a creature of who turns his enemies to dust to fuel the stars! Can he save his people from cosmic immolation?
Writers: Michael Avon Oeming, Daniel Berman
Artists: Scott Kolins, Andrea Di Vito
Collects Thor: Blood Oath #1-6, Thor (1998) #80-85, Stormbreaker: The Saga of Beta Ray Bill #1-6.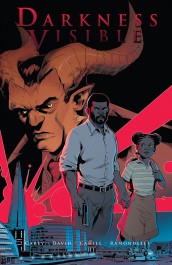 Mike Carey & Brendan Cahill: Darkness Visible
When the demons came, humanity reluctantly learned to share the world with another sentient race.
Sixty years later, this uneasy co-existence has spawned an endless terrorist conflict.
Detective Daniel Aston, charged with being the thin blue line between the two sides, is tested to the limit when a demon sets up house inside his soul.
But to save his daughter, he'll pay any price—including genocide.
Collects issues #1-6.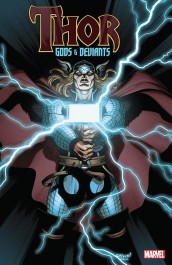 Thor – Gods & Deviants
Rob Rodi and his incredible artistic collaborators present their epic take on Thor and his world – and Asgard has rarely been this astonishing!
There are two sides to every story. You've heard Thor's, now it's time to hear Loki's, as Odin's least favorite son rewrites Asgardian lore from his own twisted perspective!
When Odin leaves Thor in charge of Asgard, the Thunder God is assailed from all sides – with his kingdom on the brink of collapse, is Ragnarok inevitable?
It's battle on a cosmic scale when Thor is caught between Ego, the Living Planet…and the odious orb's long-lost brother!
And when villainess Ereshkigal finds a weapon capable of dissolving all reality, Thor stands alone against the entire Deviant race!
Writer: Robert Rodi
Artists: Esad Ribic, Simone Bianchi, Mike Choi, Stephen Segovia
Collects Loki (2004) #1-4, Thor: For Asgard #1-6, Astonishing Thor #1-5, Thor: The Deviants Saga #1-5.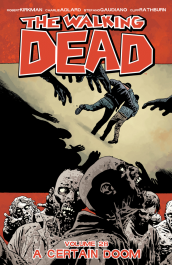 Robert Kirkman & Charlie Adlard: The Walking Dead 28 – A Certain Doom
In the aftermath of The Whisperer War—ALL IS LOST.
Collects THE WALKING DEAD #163-168.
.
.
.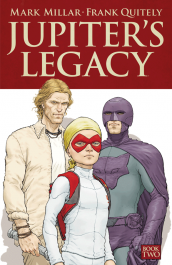 Mark Millar & Frank Quitely: Jupiter's Legacy 2
IT'S HERE! Industry sales beast JUPITER'S LEGACY is back with MARK MILLAR & FRANK QUITELY!
Superhero offspring Hutch and Chloe have come out of hiding with son Jason to assemble a team of super-crooks from around the globe.
Collects JUPITER'S LEGACY, VOL. 2 #1-5.
.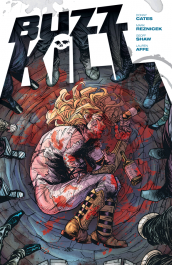 Donny Cates & Geoff Shaw: Buzzkill
Ruben is an unconventional superhero who gets his powers through the consumption of alcohol and illicit drugs.
On one fateful day, facing a world-ending threat, Reuben drank so much that he blacked out. He saved the world…but he has no idea how or why.
Now, he's in recovery, trying to get sober and piece together not only the events of the night in question, but the broken parts of his life as an alcoholic and an addict.
Now back in print from Image Comics, BUZZKILL is a critically acclaimed miniseries from the creative team that brought you GOD COUNTRY and The Paybacks, and the writer of REDNECK, Babyteeth, Ghost Fleet, and more.
Collects BUZZKILL #1-4.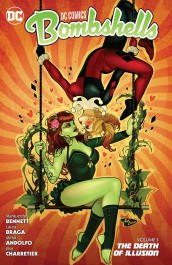 Marguerite Bennett: DC Comics Bombshells 5 – The Death of Illusion
The extraordinary heroines known as the Bombshells are fighting on all fronts in an increasingly brutal war.
Will the return of two long-lost allies—and a squad of unlikely teammates—be enough to secure victory?
One of those ready to rejoin the fight is Supergirl—but Lex Luthor and Hugo Strange have plans of their own for the Maid of Might.
When Supergirl is pitted against her clone, will they find there's room for more than one Kryptonian on this planet? Meanwhile, Raven stows away with Harley Quinn and Poison Ivy, but a mission of mercy becomes one of revenge when she meets Lois Lane!
Plus, meet French flying ace Barbara Gourdon—also known as Batgirl. Her search for her lost love brought her to the Louisiana bayou, where she disappeared for years. But when Bombshells commander Amanda Waller sends Lieutenant Francine Charles on a mission to recruit her, Batgirl and her friends Ravager and Enchantress will form a new kind of super-team: the Suicide Squad!
Jeff Lemire: Royal City 1 – Next of Kin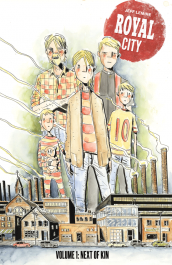 In his most ambitious and most personal project to date, JEFF LEMIRE spins the captivating and engaging story of a family from the small factory town of Royal City and the ghosts that haunt them.
In a return to the literary and thematic territory of LEMIRE's breakthrough graphic novel Essex County, ROYAL CITY follows Patrick Pike, a fading literary star who reluctantly returns to the once-thriving factory town where he grew up.
Patrick is quickly drawn back into the dramas of his two adult siblings, his overbearing mother, and his browbeaten father, all of whom are still haunted by different versions of his youngest brother, Tommy, who drowned decades ago.
As each member of the family struggles to keep themselves above water, it quickly becomes clear that Tommy's death isn't the only dark secret tearing the town, and this family, apart at the seams.
Can each member of the Pike family come to terms with their own guilt over Tommy's death, and make peace with the many versions of Tommy that still haunt them, or will they all be dragged down below the river along with his lingering ghost?
ROYAL CITY promises to be a sprawling serialized graphic novel that will chart the lives, loves, and losses of a troubled family and a vanishing town, across three decades.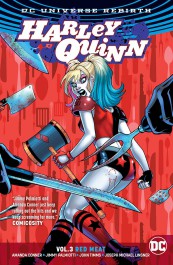 Amanda Conner & Jimmy Palmiotti: Harley Quinn 3 – Red Meat
The latest chapter in the smash-hit action-comedy saga from Amanda Conner, Jimmy Palmiotti, John Timms and more is here in HARLEY QUINN VOL. 3: RED MEAT!
With her life finally clear of psychotic clowns, Harley Quinn is eager for things in Coney Island to get back to (ab)normal. If only! Comics' most adorable antihero is about to face the fight of her life!
First, she's taking on the corrupt mayor of New York City, whose evil plan for the homeless population will take a bite out of the Big Apple in more ways than one. They say you can't fight city hall, but they haven't met Harley Quinn!
Next, it's the return of Harley's former adversary, Harley Sinn! This twisted sister is out of prison with plans for revenge. When Sinn targets someone Harley loves—and thought she'd lost—can anything stop the wrath of the mighty Quinn?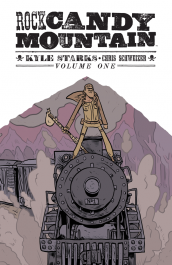 Kyle Starks: Rock Candy Mountain
It's the first collection of the manic hobo-fighting epic that is ROCK CANDY MOUNTAIN.
Come inside and meet the mysterious, unbeatable hobo Jackson on his quest to find the mythical hobo heaven.
Meet his sidekick Pomona Slim.
But watch out for the Devil! And the FBI! And the Hobo Mafia too! It's a fantastical fisticuff frolic through post-World War II America via the rails and backroads, through underground fight clubs, prison, and the hobo jungles wrought with dangers, hobo fights, jokes, and locomotive excitement.
Collects ROCK CANDY MOUNTAIN #1-4.
Matt Fraction & Steven Sanders: The Five Fists of Science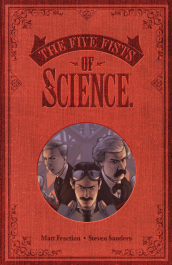 True story: in 1899, Mark Twain and Nikola Tesla decided to end war forever.
With Twain's connections and Tesla's inventions, they went into business selling world peace.
So, what happened? Only now can the tale be told—in which Twain and Tesla collided with Edison and Morgan, an evil science cabal merging the Black Arts and the Industrial Age.
Turn-of-the-century New York City sets the stage for a titanic battle over the very fate of mankind. Now back in print, this new edition of the steampunk classic features new cover art.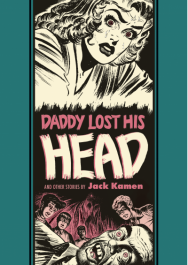 Jack Kamen: Daddy Lost His Head and Other Stories
Jack Kamen's characters plot, scheme, and steal, but find their plans thwarted by magic, monsters, and madness.
Famed for his deft delineations of beautiful, scheming women, handsome jealous husbands, and not-so-innocent children, Kamen returns with a collection of classic EC horror tales from The Vault of Horror, Tales From the Crypt, and The Haunt of Fear.
In the title tale, a cruel stepfather sends his stepdaughter to bed without her supper, but the old crone next door gives the hungry girl a candy figure made in the likeness of her father …
In "What the Dog Dragged In" — one of the EC's earliest adaptations of a Ray Bradbury story — a wheelchair-bound blind woman asks her faithful dog to go find her fiancé, unaware that he had been killed in an auto accident…
In "Loved to Death," a rejected suitor spends one dollar to buy a potion that makes a woman fall in love with him, but when it works too well he discovers the price of the antidote is more than he can afford …
Plus over 20 more tales of madness and horror as only EC can do them! Like every book in the Fantagraphics EC Artists' Library, Daddy Lost His Head and Other Stories also features essays and notes by EC experts on these superbly crafted, classic masterpieces.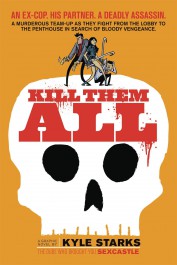 Kyle Starks: Kill Them All
The new gonzo graphic novel love letter to 90s action movies by Eisner-nominated cartoonist Kyle Starks (Sexcastle, Rick and Morty).
A betrayed murderess wants revenge.
A hard drinking former cop wants his job back.
For either to get what they want, they're going to have to fight their way through fifteen flights of criminals, assassins, drug lords, murderers, yup, even accountants, and…
KILL. THEM. ALL.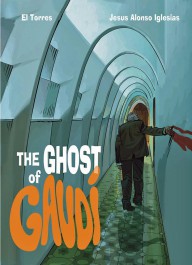 El Torres & Jesús Alonso Iglesias: The Ghost of Gaudi
He was called a genius, a madman, and God's own architect.
His designs have inspired and bewildered both mathematicians and artists for generations. His monuments defy comparison.
And someone is leaving a trail of horrific murders among them, baffling local police. Only one girl may hold the key to catching the killer. But she insists she's seen a ghost.
A visual tour through the beautiful streets of Barcelona on a true edge-of-your-seat thriller. Winner of several awards in Spain.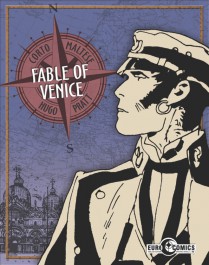 Hugo Pratt: Corto Maltese – Fable of Venice
In this affectionate tribute to his hometown, Hugo Pratt offers a complex mystery thriller involving Freemasons, occultists, and esotericists set during the rise of Fascism in 1921.
Corto Maltese's return to Venice is ostensibly a search for an emerald known as the Clavicle of Solomon, but by the end he is left questioning whether the object of his quest will open the hidden doors of magic and unravel the nature of time and space in this city of secrets… or if it's merely "the stuff that dreams are made of," as was the black bird of Dashiell Hammett's novel featuring another Maltese.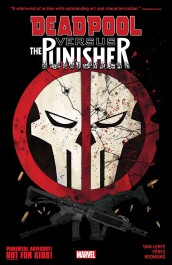 Fred Van Lente & Pere Pérez: Deadpool vs. The Punisher
It's the Merc with a Mouth vs. the One-Man Army!
When a man known simply as the Bank hires Deadpool to kill Frank Castle, it should be a simple task for Wade Wilson to execute, right?
Except taking out the Punisher is a lot harder than Deadpool could have anticipated–especially since he likes the Punisher.
A straightforward job becomes a knock-down-drag-out fight as they trade shot for shot.
But things get complicated when the mercenary and the merciless Castle wind up embroiled in a bigger, messier conflict with the Bank front and center.
The bloody and brutal fight never ceases regardless of what side Wade and Frank are on, even when it's seemingly the same side–just because they have a common enemy doesn't make them partners in crime.
To the victor belong the spoils, but is there a clear winner here?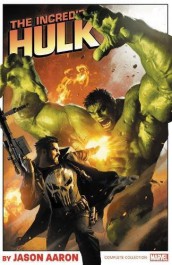 Jason Aaron: The Incredible Hulk by Jason Aaron – The Complete Collection
When Jason Aaron takes on the Hulk, the results are incredible!
Bruce Banner and his monstrous alter ego are together no more! They have become separate beings – and the Hulk is assigned to take Banner down!
But the brilliant scientist sure won't give up without a fight. As the Hulk makes an alliance that changes his destiny forever, Banner unleashes his army of gamma-fueled monsters!
It's the fight everyone's been waiting for: Hulk vs. Banner! But when the dust settles, why must the Hulk stay angry? Whatever the reason, he's picking fights against drug cartels, sea monsters, Russian Super-Soldiers and a lost city of Sasquatches -oh, and the Punisher, Kraven the Hunter, Wolverine and the Thing! Are Hulk and Banner destined for a date with Doom?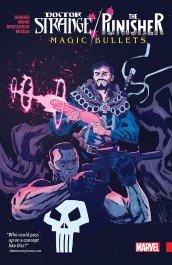 John Barber & Jason Muhr: Doctor Strange/Punisher – Magic Bullets
The Master of the Mystic Arts and the One-Man War on Crime unite their unique talents in the strangest team-up in comics!
Because, when mafia demons strike, it'll take the combined skills of Doctor Strange and the Punisher to stop them!
But does this mean that Stephen Strange is about to adopt Frank Castle's lethal ways? Or will the Punisher be learning some new tricks?
The Sorcerer Supreme must work on being a little more grounded, while Frank has to expand his worldview in surprising new directions.
But with monstrous mobsters on the rampage, this mismatched pair has their work cut out for them! The very different worlds of two of Marvel's most individual characters collide, and the fate of New York is at stake!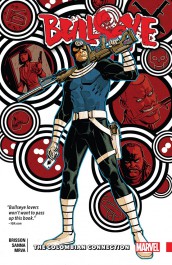 Ed Brisson & Guillermo Sanna: Bullseye – The Colombian Connection
He's a ruthless hitman who never misses, a deadly foe who can turn any object into a lethal weapon!
But why is the Marvel Universe's most dangerous assassin heading to Colombia to take aim at a drug cartel?
Find out as Bullseye takes charge!
Collects Bullseye (2017) #1-5.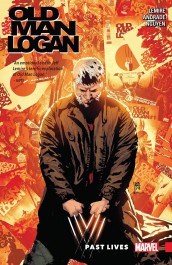 Jeff Lemire & Eric Nguyen: Wolverine – Old Man Logan 5: Past Lives
A failure from the past haunts Logan – and to correct his mistakes, he'll need magical assistance!
But when he faces opposition, the man who was once Wolverine will turn to an unlikely – and potentially treacherous – ally!
Will an encounter with the young Spider-Man, Miles Morales, convince Logan to alter his path? Or will a time-torn trip through his past lives – from his youth in the 1800s, to his first encounter with the Hulk, to his stint with the X-Men – derail Logan's mission completely?
Spiraling through his own living memories, and forced to relive moments both poignant and painful, will Logan be tempted to try to put right what once went wrong? And what will the consequences be?
Collects Old Man Logan #19-24.
Ryan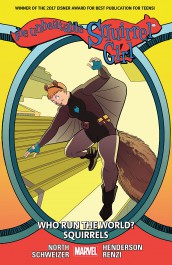 North & Erica Henderson: The Unbeatable Squirrel Girl 6 – Who Run The World? Squirrels
It's a normal, quiet day at Empire State University, filled with lots of lectures and higher education and students learning quietly.
But don't turn away, there's also going to be a fistfight! A big one! And Doreen Green will also get a new Flying Squirrel suit from a mystery benefactor that would render her even more unbeatable, if such a thing were scientifically possible!
That pretty much means crime is over forever. There definitely can't be a new super villain in town conspiring to mold Squirrel Girl into the perfect minion…or is there?!
Gasp at a secret invasion of character motivations!
Thrill at a civil war of emotions!
Boggle as monsters truly get unleashed and Doreen's fate hangs in the balance!
Also, machine-gun-wielding bears! It's squirrels and girls and punching, oh my!
Collects The Unbeatable Squirrel Girl (2015B) #17-22.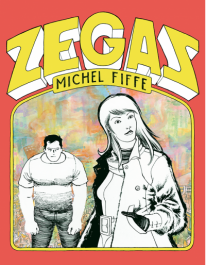 Michel Fiffe: Zegas
Drawn with a dynamic pen line and explosive color, Zegas tells the story of two young siblings adrift in a surreal, futuristic city.
Upbeat Emily dreams of becoming a fashion designer but in the meantime needs to make rent money, while her moody brother, Boston, seeks to overcome his social anxiety and pursues an intriguing woman who is—unfortunately for him—seeing someone else.
Throughout these lushly rendered stories, the Zegas siblings navigate their way through bad drugs, worse jobs, and confoundingly vague drunk texts.
In this strange world full of alien creatures, neon buildings, and dreamlike landscapes, the relatable Emily and Boston bring us down to earth.
Joe K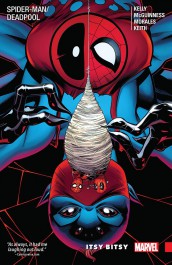 elly & Ed McGuinness: Spider-Man/Deadpool 3 – Itsy Bitsy
Take a little bit of Spidey and a touch of Deadpool, take away the Y chromosomes, blend it all together and what do you get?
Peter Parker and Wade Wilson's worst nightmare -the murderous, mixed-up miss named Itsy Bitsy!
The "daughter" of our two heroes is stronger than them, faster than them and has seriously creepy daddy issues – but what crazed mind could have conceived of her in the first place?
As the body count begins to rise, somehow Spider-Man and Deadpool must work together to take down Itsy-Bitsy -and the person who has been pulling their strings from the start! But how is a trip to Weirdworld going to help wash that spider out?
It's the most disturbing Spidey/Deadpool story yet!
Collects Spider-Man/Deadpool #9-10, 13-14, 17-18.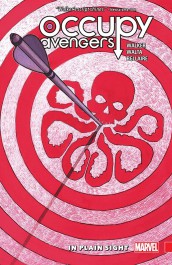 David F. Walker: Occupy Avengers 2 – In Plain Sight
Welcome to Dungston, Iowa, the manure capital of the state…and home of a deadly secret!
When the team's van breaks down in town, Hawkeye and friends find themselves in the last place on Earth anyone would want to be, up against an enemy that no one could see coming.
An unlikely menace has come to destroy Small Town, USA, and that means Clint Barton and his team are caught in the middle of a deadly showdown of intergalactic proportions. And that's just the beginning of their problems…
Collects Occupy Avengers #5-9.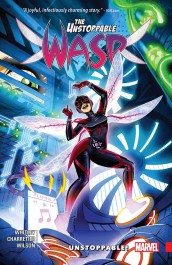 Jeremy Whitley & Elsa Charretier: The Unstoppable Wasp 1 – Unstoppable!
Nadia spent the entire first half of her life a captive of the Red Room, but now this teenage super scientist is spreading her wings!
Hank Pym's daughter has a lot of time to make up for, and she's determined to change the world.
With Jarvis at her side, she's on a mission to bring together the brightest girl geniuses of the Marvel Universe – starting with Lunella Lafayette, the miraculous Moon Girl!
But Nadia didn't count on evil scientists, man-eating giant rats or Devil Dinosaur – or the lethal lady wrestlers known as the Grapplers!
And even as Nadia's recruiting drive continues, the Red Room is on her trail – and they'll pull out all the stops to get her back!
Can the geniuses of G.I.R.L. find a way to save Nadia from being dragged back to the bunker?
Collects The Unstoppable Wasp #1-4; All-New, All-Different Avengers #14.
Deadpool Classic 19 – Make War, Not Love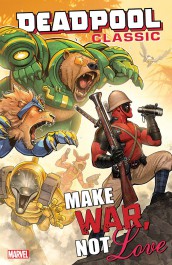 War! Who is it good for? Deadpool!
And these are his very best combat classics!
Dig into Wade Wilson's take on Sun Tzu's Art of War, the definitive work on military strategy. (What? It's totally in the public domain, and ripe for being ripped off !)
Then, get the real story behind 1984's Marvel Super Hero Secret Wars!
You think Wade wasn't there? You think he hadn't even been invented yet? Think again! He's on Battleworld, and he even has his own secret shield! He isn't on that other Battleworld though, only his ghost is.
But Deadpool's widow Shiklah can wage war better than Sgt. Fury – and she has her own, monstrous Howling Commandos! Plus: Deadpool vs. Brute Force!
Collects Deadpool Bi-Annual #1, Deadpool's Art of War #1-4, Deadpool's Secret Secret Wars #1-4, Mrs. Deadpool and the Howling Commandos #1-4.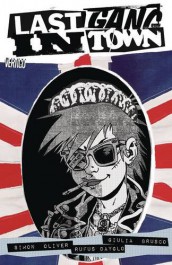 Simon Oliver & Rufus Dayglo: Last Gang in Town 1
It's 1977, and crime on the once-swinging streets of London is as soft and flabby as an overfed corgi.
Nearly a decade has gone by since the brothers Kray were locked away, and it's high time for the torch to be passed—preferably straight through a bank window.
Luckily, a new generation of snot-nosed Robin Hoods filled with attitude, alcohol and anarchy are ready to burst onto the scene.
Now, as Great Britain prepares to celebrate its glorious monarch's Silver Jubilee, a rising gangland queen and her punk-rock robbers are about to pull off the heist of the century—and breaking into Buckingham Palace is only the start!
Acclaimed creators Simon Oliver (FBP: FEDERAL BUREAU OF PHYSICS) and Rufus Dayglo (TANK GIRL) proudly present the punk-noir crime saga LAST GANG IN TOWN—a brash, bold, and bloody brilliant take on the English underworld!
Alan Martin & Brett Parson: Tank Girl – Two Girls One Tank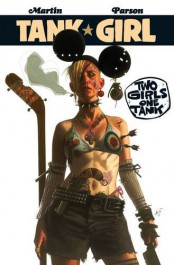 The first of a brand new Tank Girl trilogy from series originator, Alan Martin, and artist extraordinaire, Brett Parson!
Expect a healthy dose of delirium and plenty of ball-crunching action in this high-octane cross-country skirmish that asks the question: is this world really big enough for TWO Tank Girls?
Strap yourself in, folks; it's gonna be one helluva ride!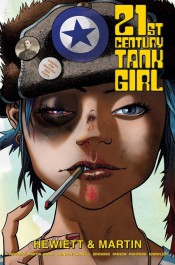 Jamie Hewlett & Alan Martin: 21st Century Tank Girl
After a break of 20 years, artist extraordinaire Jamie Hewlett (GORILLAZ) is leaping back on the Tank Girl wagon, re-teaming with series co-creator Alan Martin to bring you a whole new take on the foul-mouthed, gun toting, swill-swigging hellion!
Featuring riotous 100% original content from Hewlett & Martin along with contributions from a host of series stalwarts and newcomers, get your head down, put your hands over your private parts, and prepare for a chaotic collection of strips, pin-ups, and random carnage!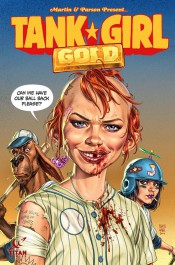 Alan Martin & Brett Parson: Tank Girl – Gold
Tankie and her trigger-happy family are going for gold in this brand new series from Tank Girl originator, Alan Martin.
Take a trip with us down the Furry Road for this four-part adventure packed with vim, volatility and verbal abuse!
The Empire Strikes Back of the new Tank Girl trilogy and anticipated follow-up to Tank Girl: Two Girls One Tank From the mind of original Tank Girl co-creator, Alan Martin
Art by incredible rising star Brett Parson (New Romancer, 21st Century Tank Girl).
Featuring variant cover art from top comix rebels including Black Frog, Phil Bond, Chis Wahl, Lora Zombie and many more!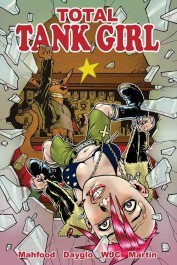 Alan Martin: Total Tank Girl
Tank Girl returns for more classic carnage in this bumper-sized collection of three madcap adventures – Everybody Loves Tank Girl, Solid State Tank Girl, and Bad Wind Rising! Written by Tank Girl co-creator Alan Martin!
Illustrated by Jim Mahfood, Warwick Johnson-Cadwell and Rufus Dayglo!
Tank Girl: Bad Wind Rising: A holiday. A hold-up. A murder. A car chase. A mound of dog poo. A very large vodka. A fistfight. A kick in the groin. An earthquake. A mutant surfer. A lorry heist. A thousand pairs of panties. A tiny moped. And a gang of killer kangaroos after Tank Girl's scalp. Don't miss this twisted action adventure!
Tank Girl: Everybody Loves Tank Girl: Everyone's favorite outback anarchist is back to blow things up, swear profusely and offend the elderly! Alan C. Martin teams up with wunderkind Jim Mahfood to bring you Tank Girl as you've never seen her: wild, raw, foul-mouthed and forever rockin' but rendered in a style that will bring pleasure to thine eyes. Meet The Wee Wee Brothers, travel south to a Hippie Fest with all the gang, take a tour around Booga's factory, and let Tank Girl show you How To Dress Quite Good.
Tank Girl: Solid State Tank Girl: Spawned in Booga's testicle, Anti Tank Girl is the worst nemesis Tank Girl has ever faced, and she's out to replace Tank Girl for good! TG and her gang of misfits will have to draw on all their innermost powers to defeat the disgusting doppelgänger before it's too late!
Tim Seeley: Nightwing – The Rebirth Deluxe Edition 1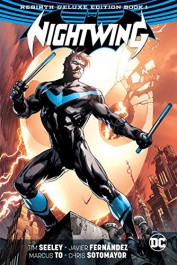 Back in blue, the latest hit NIGHTWING series is now collected in hardcover in NIGHTWING: THE REBIRTH DELUXE EDITION BOOK 1!
Dick Grayson is his name. Heroism is his one true calling.
To heed that call, he's worn many faces.
He was the first Robin and a replacement Batman, a superspy and a dead man walking. But the greatest of the masks he's worn into battle against evil is the one he created himself—the one he's just won a hard-fought battle to take back.
He's Nightwing. And he's returned to reclaim the streets of the cities he loves.
From Gotham City to his adopted home of Blüdhaven, Nightwing is taking the war on crime personally—and he's taking it right to the enemy.
The all-powerful Court of Owls and their rogue agent Raptor.
The old foes out for his blood and the new serial killer framing him for crimes he didn't commit.
Even his mentor, the Dark Knight, and his longtime love interest Barbara Gordon, a.k.a. Batgirl, won't stand in his way.
Now more than ever, the night belongs to Nightwing!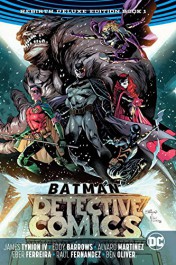 James Tynion IV: Batman Detective Comics – The Rebirth Deluxe Edition 1
Someone is targeting Batman's allies in Gotham—young and untested heroes who model themselves after the Dark Knight but don't yet have his training or resources.
With the help of Batwoman, the Caped Crusader recruits these young vigilantes, training them to be a team worthy of Gotham's biggest threats.
Red Robin, Spoiler, Orphan and Clayface are the first heroes to get recruited.
But can a team inspired by Batman and trained by Batwoman take on an entire anti-vigilante army? Or will Batman's vision of a team of Bat-Heroes go down in flames?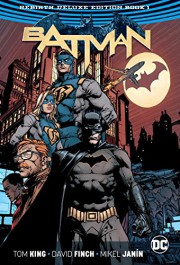 Tom King & David Finch: Batman – The Rebirth Deluxe Edition 1
The first two volumes of BATMAN as a part of DC Universe Rebirth are collected here in hardcover for the first time ever!
The Caped Crusader has never been stopped.
Not by the Joker. Not by Two-Face. Not even by the entire Justice League.
But now, in the wake of DC UNIVERSE: REBIRTH, Batman must face his most challenging foe ever–a hero who wants to save Gotham…from the Batman!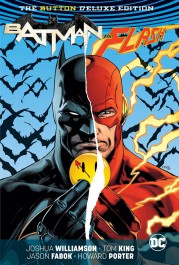 Batman/The Flash – The Button Deluxe Edition (Cover 1)
The road to DOOMSDAY CLOCK begins here, with the invasion of the Watchmen into the DC Universe! BATMAN/THE FLASH: THE BUTTON DELUXE EDITION is the prelude to this epic story, complete with a lenticular motion cover!
During the unforgettable events of DC UNIVERSE: REBIRTH, Batman found a mystery he can't even begin to solve—a strange bloodstained smiley-face button embedded in the Batcave wall. All analysis suggests the button is not of this universe…so where did it come from? And who left it here? These are questions only the Flash can help answer.
When the button is stolen by Reverse-Flash, Batman and Flash follow his trail to a parallel world, a twisted alternate timeline that shouldn't exist.
Someone is sending the heroes on a bizarre trip through reality, showing them glimpses of fallen loved ones and forgotten friends—but who?
Wally West warned the Flash of an unseen force influencing our world—distorting histories, pulling the strings, watching all—and the strange yellow button could be the key to finding it.
Tom King & David Finch: Batman 3 – I Am Bane
He is not a joke.
He is not a riddle.
He is not a bird or a cat or a penguin, not a scarecrow or a plant or a puppet.
He is not a fairy tale or a circus act, a broken friend or a regretful mentor.
He is no rich boy pretending to be a knight.
He is Bane.
The Batman invaded his home, scarred his mind and broke his back. Now Bane has returned to Gotham City for a single purpose: break the Batman once and for all. But first, he'll destroy everyone the Dark Knight has ever loved…or loathed.
The young heroes who've worn the mantle of Robin. The cops, crime-fighters and vigilantes who make up Batman's army of allies. Even the madmen and monsters that haunt the halls of Arkham Asylum. Batman will need all of their help—and more—to fend off this unstoppable challenger.
Because both Bane and Batman know one thing: only one of them will walk away from their final confrontation unbroken…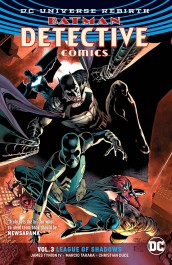 James Tynion IV: Batman Detective Comics 3 – League of Shadows
Batwoman, an accomplished crime-fighter who's overcome the darkest of betrayals.
Clayface, a reformed villain whose potential is eclipsed only by his astonishing powers.
New heroes like Azrael, an avenging angel, and Batwing, whose incredible armor makes him a true dark knight.
Led by the Batman himself, this team of guardians stands ready to protect Gotham City.
But the secrets of the team's most mysterious member, Cassandra Cain, are about to come to light. And that light will cast a shadow darker than anything they've ever seen before.
They thought the League of Shadows was just a rumor—a secret society of nihilistic killers often whispered about but never seen.
But now the League is here, in Gotham. They're destroying Batman's team one by one. And their sinister leader, Lady Shiva, has come to reclaim her daughter—or destroy her.
Can even Batman's arch-enemy Ra's al Ghul and his League of Assassins stop the onslaught? Or have the Shadows come to stay?
Greg Rucka: Wonder Woman – The Rebirth Deluxe Edition 1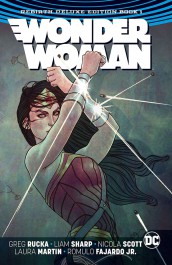 She is one of the greatest heroes the world has ever known—an icon of equality, a symbol of power, a tireless champion of peace and justice.
But who is Wonder Woman really? She's about to find out.
Themyscira, the island paradise she left behind to defend Earth from the war god Ares, has vanished, and the magical power of her Lasso of Truth has disappeared along with it.
In a sprawling saga that bridges her first year as a hero with the present day, the Amazon Princess must team up with her greatest enemy—the brutal beast-woman Cheetah—to find her vanished homeland and seek the truth about her origins.
Can this unlikely alliance save her sisters and the world? Or will Wonder Woman's quest for answers lead to even deeper, darker and deadlier places?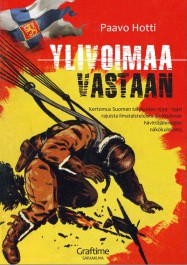 Paavo Hotti: Ylivoimaa vastaan
Paavo Hotin upea sarjakuva aloittelevan hävittäjälentäjän kamppailuista armottomalla pakkastaivaalla 1939-1940.
Sarjakuva kertoo Suomen talvisodan rajuista ja katkerista ilmataisteluista idästä vyöryvää ylivoimaista ilmaterroria vastaan.
Lentokaluston riittämätön määrä sekä kova pakkanen asettivat lisäksi oman haasteensa puolustajien vähälukuiselle ja sinnikkäälle sankarijoukolle.
Tarina piirrettiin jo 50 vuotta sitten ja se on aiheensa puolesta edelleen ajankohtainen myös juuri nyt, Suomi 100 -juhlavuoden loppuhuipentuman aikana.
Tekijä on toisen maalimansodan lentokoneiden harrastaja jo pikkupojasta eli 50-luvun alusta lähtien. Paavo Hotin piirroksia ja sarjakuvia aiheesta julkaistiin 60- sekä 90-luvuilla Siivet- ja Korkeajännitys-lehdissä.
Varsinaisen elämäntyönsä Hotti on tehnyt mainostaiteilijana sekä yrittäjänä mainosalalla ja nauttii nykyään ansaituista eläkepäivistään Kurkimäen rauhallisessa lähiössä Helsingissä.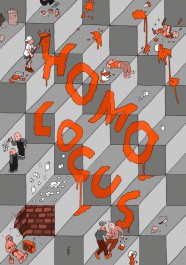 Heikki Rönkkö: Homo Locus
20-sivuinen, 2-värinen, A5-kokoinen hupiräiskäle HOMO LOCUS.
Kuvakokonaisuus, jonka mukana postikortti.
.
.
.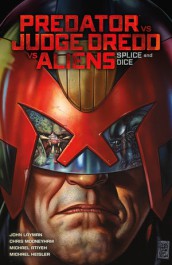 Predator vs Judge Dredd vs Aliens – Splice and Dice
The ultimate science-fiction crossover pits the legendary lawman, Judge Dredd, against the universe's supreme hunters, the Predators, as they both try to survive an onslaught by the galaxy's ultimate killing machines, the Aliens!
Judge Dredd and Judge Anderson have tracked a criminal cult across the Cursed Earth and into the Alabama morass, where a mad genetic scientist with destructive designs has acquired the best genes that evolution has to offer–a xenomorph skull!
A Predator, attracted to the warm climate and superior prey, has declared hunting season as he calls for backup.
All paths will cross in a mind-blowing scifi showdown with the fate of the Earth at stake!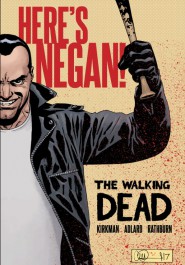 Robert Kirkman & Charlie Adlard: The Walking Dead – Here's Negan!
Who is Negan?
Since his debut in THE WALKING DEAD #100, the charismatic psychopath has antagonized Rick Grimes, murdered his friend with a baseball bat wrapped in barb wire (which he calls "Lucille"), and led the Saviors into war against Alexandria and the neighboring communities.
But who was he before society broke down?
That question will be answered here, collecting the "HERE'S NEGAN!" story originally serialized in IMAGE+ magazine.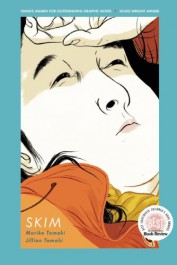 Mariko Tamaki & Jilliam Tamaki: Skim
"Skim" is Kimberly Keiko Cameron, a not-slim, would-be Wiccan goth who goes to a private girls' school in the early '90s.
When her classmate Katie Matthews is dumped by her boyfriend, who then kills himself — possibly because he's (maybe) gay — the entire school goes into mourning overdrive.
It's a weird time to fall in love, but that's what happens to Skim when she starts meeting secretly with her neo-hippie English teacher, Ms. Archer.
But then Ms. Archer abruptly leaves the school, and Skim has to cope with her confusion and isolation while her best friend, Lisa, tries to pull her into "real" life by setting up a hilarious double-date for the school's semi formal.
Suicide, depression, love, homosexuality, crushes, cliques of popular, manipulative peers — the whole gamut of teen life is explored in this poignant glimpse into the heartache of being 16.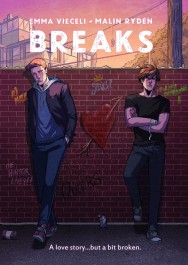 Emma Vieceli & Malin Rydén: Breaks
Cortland Hunt has made some dangerous mistakes.
Now he's waiting quietly for those mistakes to catch up with him.
Ian Tanner coasts through life denying the spark of anger beneath his laid back exterior.
When school politics and personal lives become a battleground, the pair find that what they share may just be their only safe haven.
Bringing the world of LGBT young adult fiction into the realm of comic books, and collecting the first arc of the acclaimed weekly web series (2014-2016), Breaks is the story of two young men discovering who they were, who they are, and who they will become. It's a love story…but a little broken.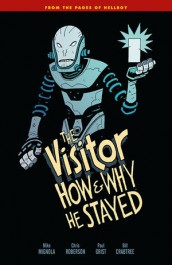 Mike Mignola & Paul Grist: The Visitor – How and Why He Stayed
In 1944 Hellboy was conjured in a ceremony meant to give Hitler the ultimate occult weapon.
Fortunately, Professor Trevor Bruttenholm was there to witness and to guide Hellboy to become the world's greatest paranormal detective.
But Bruttenholm wasn't the only witness to Hellboy's arrival. This collection reveals the aliens who monitored Hellboy's arrival, and why the assassin they sent to Earth stayed his hand.
Collects The Visitor: How and Why He Stayed #1-5 and the The Visitor: How and Why He Stayed short story from Hellboy Winter Special 2017.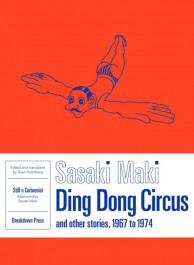 Sasaki Maki: Ding Dong Circus and Other Stories
Ding Dong Circus collects the best of Sasaki Maki's work from alt-manga super magazine Garo.
Drawn between 1967 and 1974, the fifteen stories follow Sasaki's exploration of collage methods in comics storytelling.
Weaving through references to the Beatles, the Vietnam War, and Andy Warhol, Ding Dong Circus demonstrates that Sasaki was not only a manga pioneer, but also an essential figure in Japanese Pop Art and the critical avant garde art scene of the 1960s.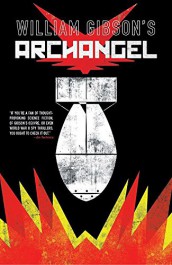 William Gibson's Archangel
Science-fiction superstar William Gibson's first graphic novel!
The political leaders of 2016 have destroyed the world.
Now they want a bright new reality to corrupt.
To do it, they'll abuse the power of humanity's last hope: the Splitter, a colossal machine that will allow them to travel back into the past to entrench their hold on the future.
With his characteristic grim sarcasm and militaristic pragmatism, Gibson leads us from the toxic environs of the present to war-torn 1945 Berlin, where RAF officer Naomi Givens will persevere against inconceivable, ruthless future forces, with the fates of epochs at stake.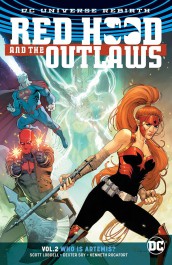 Scott Lobdell & Dexter Soy: Red Hood and the Outlaws 2 – Who Is Artemis?
Little is known about the Amazon warrior Artemis, even by her teammates in the so-called "Outlaws."
But Red Hood and Bizarro are about to get a crash course when her past comes back to haunt all three of them—with a vengeance!
Soon the team finds itself a long way from the streets of Gotham in Qurac.
Not only is the war-torn Middle Eastern country Artemis' former home, it's also the site of great personal tragedy for both the wayward Amazon and for Red Hood.
It was in Qurac where Artemis lost her best friend, and where Jason Todd got himself murdered by the Joker, back before Robin became the Red Hood.
Now someone in Qurac is using the ancient weapon of Artemis' people—the Bow of Ra—to commit genocide, and only an Amazon can tame its incredible power.
But stopping the Bow means marching right into the middle of a war zone…and in a war between Amazons and mankind , whose side will Artemis take?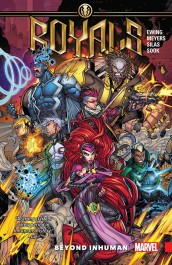 Al Ewing: Royals 1 – Beyond Inhuman
A myth from the future.
A quest to the stars.
A legend written across galaxies.
Guided by the other-dimensional Kree warrior called Marvel Boy, the Inhuman Royal Family departs on an odyssey across all creation!
Their mission: to search for lost secrets – and the last hope of their people!
The knowledge the Royals seek could change the course of Inhuman destiny, but it cannot be attained without cost…for at the end of days, the Last Inhuman tells the tale of how seven left Earth for the stars, but only six returned!
And sure enough, as the Royal Family exit the solar system, they head straight into trouble – an oncoming Chitauri invasion of Earth!
Plus, Black Bolt reveals something that could end their mission before it even starts.
The Inhuman "ResurrXion" begins here!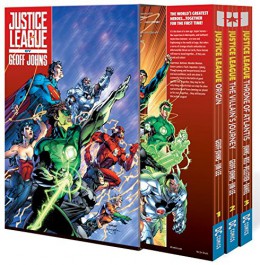 Geoff Johns: Justice League by Geoff Johns Box Set 1
The first three collections of Geoff Johns' stellar run on JUSTICE LEAGUE are here in JUSTICE LEAGUE BY GEOFF JOHNS BOX SET VOL. 1, a slipcase collecting trade paperbacks from the all-star creative team, including legendary artist Jim Lee and fan-favorite Scott Williams.
Don't miss the fast-paced action from the pages of JUSTICE LEAGUE VOL. 1: ORIGIN, JUSTICE LEAGUE VOL. 2: THE VILLAIN'S JOURNEY and JUSTICE LEAGUE VOL. 3: THRONE OF ATLANTIS.
Collecting JUSTICE LEAGUE #1-17 and AQUAMAN #15-16.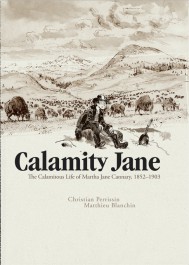 Christian Perrissin & Matthieu Blanchin: Calamity Jane – The Calamitous Life of Martha Jane Cannary
Return to the real-life days of the wild, wild West where the living wasn't so easy… especially for women.
Martha Jane Cannary was a bona fide frontierswoman, a professional scout, a drunk, and sometime whore, doing whatever it took to stay alive in the hardscrabble days of American expansion.
Writer Christian Perrissin (El Niño, Cape Horn) joins forces with Alph-Art-winning artist Matthieu Blanchin to tackle the legend of this formidable prairie girl and her daring life alongside the likes of Buffalo Bill Cody and Wild Bill Hickok. Presented in English for the first time ever, this is the true story of an extraordinary, independent woman with gumption, the incredible Calamity Jane!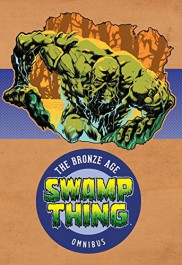 Swamp Thing – The Bronze Age Omnibus
Now, all of the Swamp Thing's early adventures are collected for the first time in SWAMP THING: THE BRONZE AGE OMNIBUS.
This hardcover edition features work from comics legends Len Wein, Bernie Wrightson, Nestor Redondo, Martin Pasko, Tom Yeates, Stephen Bissette, John Totleben and more!
Deep in the bayous of Louisiana, far from civilization's grasp, a shadowed creature seen only in fleeting glimpses roils the black waters…a twisted, vegetative mockery of a man…a SWAMP THING!
One of the most acclaimed creations to emerge from the Bronze Age of Comics, this shambling, muck-encrusted figure swiftly became one of DC's iconic characters, and his shocking stories are universally hailed as some of the finest tales of gothic horror in the history of American comics.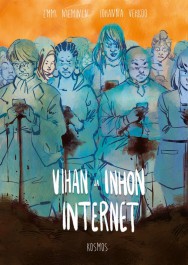 Emmi Nieminen & Johanna Vehkoo: Vihan ja inhon internet
Internet täyttyy toinen toistaan kovemmista ja julmemmista äänistä.
Vanhat asenteet, seksismi, misogynia ja rasismi, ovat jo arkipäivää, kun asiansa voi huutaa oman kodin seinien sisältä ja profiilin takaa – usein myös anonyymisti.
Verkkovihan kohteeksi joutuvat tyypillisimmin naiset ja vähemmistöihin kuuluvat. Vihapuhetta oikeutetaan sananvapaudella, mutta se on johtanut sananvapauden kaventumiseen: naiset pelkäävät ottaa kantaa mielipiteitä jyrkästi jakaviin aiheisiin. Vihapuheesta ilmiönä puhutaan paljon, mutta nyt pääsevät ääneen myös sen kohteet.
Vihan ja inhon internet purkaa ilmiön syitä ja seurauksia: Miten sen kohteet kokevat ilmiön? Mikä siihen johtaa ja mikä vihaajia motivoi? Miten vihapuheeseen tulisi reagoida ja miten siltä voi suojautua? Entä sitten, kun vihapuhe siirtyy internetistä tosielämän tekoihin?
Toimittaja Johanna Vehkoo ja sarjakuvataiteilija Emmi Nieminen ovat luoneet teoksen, joka käsittelee yhtä aikamme vaikeimmista ilmiöistä journalistisen sarjakuvan keinoin.
KIRJAT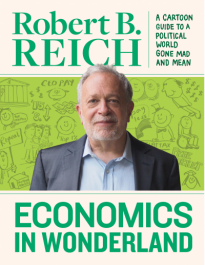 Robert B. Reich: Economics in Wonderland
Who knew that Robert Reich, the former U.S. Secretary of Labor, and a frequent commentator and debater on CNBC and The Daily Show, is also a skilled cartoonist?
Anyone who watches his podcast, viewed on his Inequality Media website, that's who.
For years, Reich has taken a large sketchpad and a magic marker on speaking tours to help teach the most important topics of the day with illustrations.
What do we do about student debt, social security, and gerrymandering? Every week, Reich delivers an informal lecture accompanied by a quick-draw cartoon illustrating the major points of his talk.
Economics in Wonderland is a collection of both his mini essays and the cartoons he drew to illustrate them.
Read the text, follow the cartoon.
Reich is well known as a tireless advocate of liberalism, and tackles the most volatile issues in our country's uncertain future — minimum wage, voting rights, wealth distribution, war, how to talk to relatives on the other side of the political spectrum — with only a felt-tipped marker and his signature wit.
Reich's erudite talks are collected here for the first time, accompanied by his clean-line and confident cartoons, clearly explaining the consequences of the disastrous policies of global austerity with humor, insight, passion, and warmth.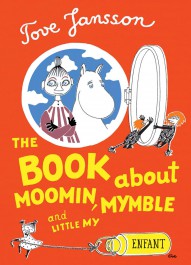 Tove Jansson: The Book about Moomin, Mymble and Little My
In a delightful, curious game of what comes next, Moomintroll travels through the woods to get home with milk for Moominmamma.
A simple trip turns into a colorful adventure as Moomintroll meets Mymble who has lost her sister Little My.
Along the way, they endue the hijinks of all the charming characters of the Moomin world including the Fillyjonks and Hattifatteners.
Will Moomin ever make it home safe and sound?
A beautiful and boisterous story by internationally acclaimed children's author Tove Jansson, this picture book is sure to tickle the fancies of parents and kids as well as Moomintroll fans everywhere!
OHEISTUOTTEET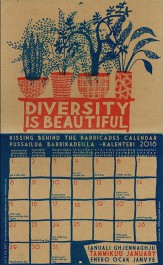 Tiitu Takalo: Tiitu Takalon seinäkalenteri 2018
Tiitun kuvittama seinäkalenteri vuodelle 2018.
.
.
.
.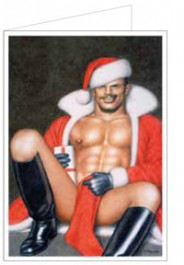 Tom of Finland: Tom of Finland / Joulusukka-postikortti (2-os.)
Kaksiosainen Tom of Finland -joulukortti.
Koko (taitettuna) 10,5 x 14,8 cm, tyhjä sisus.
Sellofaanipakattu, sisältää kirjekuoren.