Joe Pruett & Sz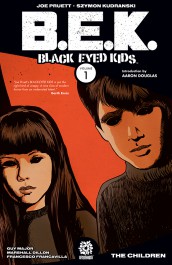 ymon Kudranski: Black-Eyed Kids 1 – The Children
When the lull of night falls over a sleeping midwestern town, an ancient unimaginable horror creeps violently and purposely through the night.
That's when the children come out to play.
Children with eyes of solid back, devoid of emotion and remorse, and only asking for one thing… to come inside.
But there are some who will not go quietly in the night. Some who will fight back to save not only their own souls, but their own children's.
This is their story.
Collecting the first five issues of the sleeper hit series from Eisner Award winner Joe Pruett and artist Szymon Kudranski.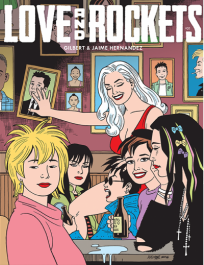 Gilbert Hernandez & Jaime: Love and Rockets #1
The comic book event of 2016!
Love and Rockets is back as an all-new, ongoing comic book series (Vol. IV for those keeping track at home)!
On Jaime's side: What do you do when none of your old punk friends want to be punk any more? And just who does the evil Princess Animus think she is? (Hint: She doesn't know, she has amnesia.)
On Gilbert's side: Family drama takes center stage when a Fritz discovers a grandchild she didn't know existed! Old fans and new fans are sure to enjoy the most diverse cast of characters in comics, including Maggie, Hopey, Pipo, Fritz, Tonta, Baby, and many more! Plus other surprises! Grrrowl!
Shitty Watchmen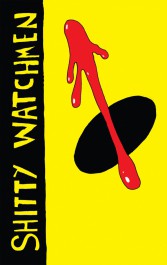 Shitty Watchmen is a formalist exercise analyzing the language of comics as utilized by Alan Moore and, more importantly, Dave Gibbons.
Created by Dave Baker, Nicole Goux, Rachel Dukes, Malachi Ward, Nick Diaz, Emilie Vo, Sam Ancona, Chuck Kerr, Colby Bluth, Robert Negrete, and Sabrina Deigert, Shitty Watchmen seeks to scrutinize the masterful use of composition and panel breakdown within the most undeniably complex comic book ever created.
The means by which these staggering artistic achievements are deconstructed? Super shitty drawings.
Thus…
Shitty Watchmen.
This comic comes signed by Rachel Dukes.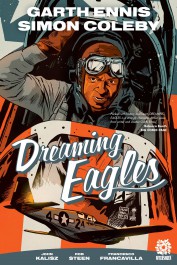 Garth Ennis & Simon Coleby: Dreaming Eagles
From GARTH ENNIS, the creator of the hit AMC television show PREACHER!
Collecting the critically-acclaimed six issue limited series.
Dreaming Eagles tells the story of the first African-American fighter pilots to join the United States Army Air Force in WWII and whose humble beginnings in Tuskegee, Alabama propelled them into the deadly skies above Adolf Hitler's Third Reich.
Not only were they instrumental against the Nazi war machine, but also braved an equally great challenge, overcoming everyday bigotry amongst their fellow American soldiers as well as civilians at home. High in the heavens, they fought a battle that would change their country for all time.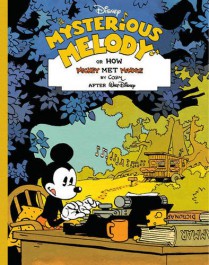 Bernard Cosey: Mickey Mouse – Mysterious Melody
What was life like for Mickey before 1928… before Hollywood stardom struck?
In this riveting, phantasmagorical "what-if" tale, we follow the Mouse from his humble origins―as Oswald Rabbit's screenwriter!―through a tangled web of trains, rocket ships, and stolen Shakespeare scripts!
Will a haunting tune bring Mickey and Minnie together for the first time? Will Goofy find success as a… ferryboat driver? Or will big boss Mr. Casey and relentless Pegleg Pete strike again?
Award-winning Swiss cartoonist Bernard Cosey (Lost in the Alps) brings us an amazing Mouse adventure with a thoughtful, emotive twist.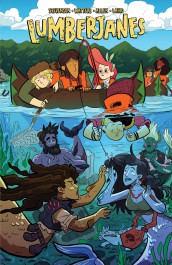 Noelle Stevenson: Lumberjanes 5 – Band Together
The Lumberjanes meet rock n' roll mermaids!
Excited for the annual Bandicoot Bacchanal, Ripley recruits her friends to help her get ready for the dance.
But before the Lumberjanes know it, something mysterious begins to bubble to the surface of the lake near camp! Will the Lumberjanes be able to bring peace to the lake in time for the Bacchanal?
This New York Times Best Seller and multiple Eisner Award-winning series written by Shannon Watters with Kat Leyh, and illustrated by Carolyn Nowak (Rungs), follows the Lumberjanes as they face new challenges in their friendships and embark on fantastical adventures!
And ever wonder how the Lumberjanes first met? Find out in the story written by Noelle Stevenson (Nimona, Runaways), and illustrated by Brooke Allen (A Home for Mr. Easter), when they take a trip back to the first day of camp and witness how the Lumberjanes "friendship to the max" began!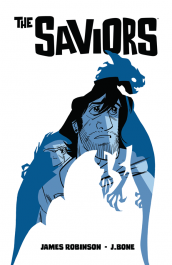 James Robinson & J. Bone: The Saviors
When Tomas Ramirez stumbles upon an extraterrestrial conspiracy to take over the world, his life is forever altered.
Now he's banding together with those other few souls who share the knowledge that we are under attack as they attempt to defeat a shadowy alien cabal that is both indestructible and eager to kill anyone who threatens it.
Eisner Award winner JAMES ROBINSON (AIRBOY, Starman, Earth 2) and artist J. BONE (The Rocketeer: Hollywood Horror, The Spirit) present an adventure story of monstrous proportions.
Collects THE SAVIORS #1-5.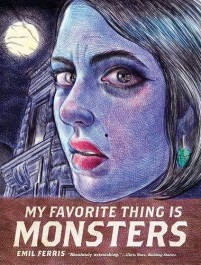 Emil Ferris: My Favorite Thing Is Monsters
In this debut, which takes the form of a fictional graphic diary, a 10-year-old girl tries to solve a murder.
Set against the tumultuous political backdrop of late '60s Chicago, My Favorite Thing Is Monsters is the fictional graphic diary of 10-year-old Karen Reyes, filled with B-movie horror and pulp monster magazines iconography.
Karen Reyes tries to solve the murder of her enigmatic upstairs neighbor, Anka Silverberg, a holocaust survivor, while the interconnected stories of those around her unfold.
When Karen's investigation takes us back to Anka's life in Nazi Germany, the reader discovers how the personal, the political, the past, and the present converge.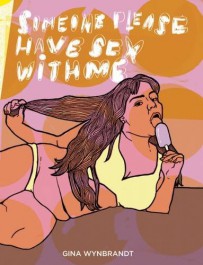 Gina Wynbrandt: Someone Please Have Sex with Me
Gina Wynbrandt's debut graphic novel is a refreshing and wry look at sexual frustration, shot through with American pop-culture erudition.
"It's impossible not to fall in love with this hilarious minx as she lunges across the page, nostrils flared, hurling herself into increasingly ridiculous romantic misadventures. Bow down to Gina as she explores what it means to be horny as hell!" — Lisa Hanawalt, production designer/producer of BoJack Horseman, author of My Dirty Dumb Eyes
"Someone Please Have Sex With Me plays with conventions of style and color, featuring pleasingly feminine sherbet-y tones juxtaposed against a storyline about a woman looking for love in all the wrong places—in all the wrong ways." — The LA Times
"Smart, wickedly funny, and transgressive. More comics like this, please!" — John Porcellino, author of The Hospital Suite
Someone Please Have Sex With Me is a refreshing and wry look at sexual frustration from our young heroine and author.
From failed erotic photoshoots and late-onset teen popstar obsessions to fairy Kardashians and Pokémon-inspired future-sex, Wynbrandt isn't one to hold back. SPHSWM finds its footing at the surreal and hilarious juncture between autobiography and fantasy.
Kieron Gillen & Daniel Gete: Über 5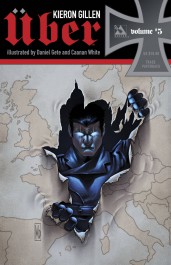 Kieron Gillen's groundbreaking, alternate war history begins a new terrifying chapter in super human World War II warfare.
The Nazi's have enacted Hitler's master plan — the Great Burn is now turning all of Europe into a fire-blasted wasteland. City after city, country after country, the very earth itself is being purged by the unparalleled power of the German onslaught.
With no answer on the horizon to stopping the Axis from purifying the entire continent, the Allies turn to Stephanie and the monster that is the HMH Churchill for a glimmer of hope. The horrors of super human warfare continue to rage throughout Europe and the destruction mounts to global levels.
Uber is an unforgettable vision of the misery of war turned apocalypse.
This volume collects issues #23-27 of the ongoing Uber comic book series and the Uber 2014 Free Comic Book Day Special.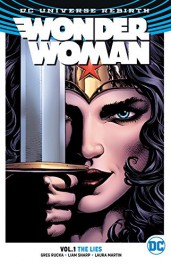 Greg Rucka & Liam Sharp: Wonder Woman 1 – The Lies
Heroic.
Iconic.
Unstoppable.
Armed with her Lasso of Truth and imbued with the power of the gods themselves, Princess Diana of Themyscira—known to the world as Wonder Woman—is one of the greatest superheroes in history.
But who is she…really? Not even Wonder Woman herself knows for sure. Diana's links to both the Amazons and the Gods of Olympus have been severed. Her memories are a tangle of contradictions that even her lie-detecting lasso cannot untangle.
To solve the riddle of her origin, she must embark on her greatest quest of all: finding a way back to her vanished home. To get there, she must team up with her greatest enemy, the feral beast-woman, Cheetah. Will this unlikely alliance shine the light of truth on Diana's darkest secrets, or bury them—and her—forever?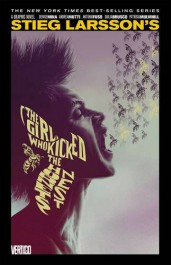 Denisa Mina & Andrea Mutti: Stieg Larsson's The Girl Who Kicked the Hornet's Nest
In this final graphic novel adaptation of Stieg Larsson's international bestseller, Lisbeth Salander lies in critical condition, a bullet wound to her head, in the intensive care unit of a Swedish city hospital.
She's fighting for her life in more ways than one: If and when she recovers, she'll be taken back to Stockholm to stand trial for three murders.
With the help of journalist Mikael Blomkvist, she will not only have to prove her innocence, but also identify and denounce those in authority who have allowed the vulnerable, like herself, to suffer abuse and violence.
And, on her own, she will plot revenge–against the man who tried to kill her, and the corrupt government institutions that nearly destroyed her life.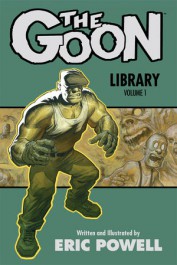 Eric Powell: The Goon Library 1
Lonely Street comes under all manner of threats both tragic and hilarious in this deluxe hardcover edition of The Goon.
The Nameless Man, the Zombie Priest, has come to town to build a gang from the undead.
Yet even with an unlimited supply of soldiers, the Priest cannot move in on the territory controlled by the crime boss Labrazio and his unstoppable enforcer—the Goon.
But when the Priest discovers Goon's most closely held secret, the balance of power threatens to change forever!
A deluxe presentation of Rough Stuf, Nothin' but Misery, My Murderous Childhood, and Heaps of Ruination!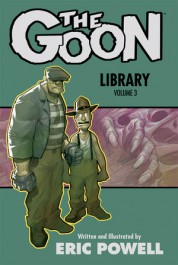 Eric Powell: The Goon Library 3
Fear and misery plague the town on the edge of Horse-Eater's Wood.
After the death of a friend and ally reveals the return of Labrazio, the Goon's sworn enemy thought long gone, the Goon realizes that something darker is going on in the town than anyone suspected: a decades-old curse has befallen them, drawing darkness and gloom to the town and everyone who lives there, and an ominous warning reveals that the Goon is the only one who can break the curse.
Collects The Goon Volumes 7–9.
John Lewis & Andrew Aydin & Nate Powell: March – Trilogy Slipcase Edition
Discover the inside story of the Civil Rights Movement through the eyes of one of its most iconic figures, Congressman John Lewis.
March is the award-winning, #1 bestselling graphic novel trilogy recounting his life in the movement, co-written with Andrew Aydin and drawn by Nate Powell. This commemorative set contains all three volumes of March in a beautiful slipcase.
#1 New York Times and Washington Post Bestseller
First graphic novel to receive a Robert F. Kennedy Book Award
Winner of the Eisner Award
A Coretta Scott King Honor Book
One of YALSA's Outstanding Books for the College Bound
One of Reader's Digest's Graphic Novels Every Grown-Up Should Read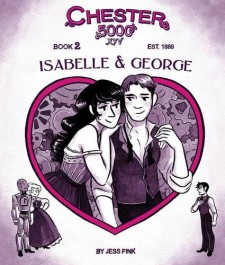 Jess Fink: Chester 5000 XYV 2 – Isabelle & George
1889: an age of industrial revolution and sexual frustration.
Isabelle is a lonely orphan, reprimanded at every turn by her strict matron.
George is an inventor on the cusp of a brilliant discovery. Together they find love, but in an age of violent mechanization and military secrets, can their passion survive?
After the smash success of CHESTER 5000's first volume (the tale of a Victorian woman and her robot lover), beloved webcartoonist Jess Fink returns with another triumphant story of boundary-breaking love, sex, and technology. Discover the origins of your favorite characters along with all-new thrills. All the drama and adventure of the silent film era is here, enlivened with modern whimsy and erotic charm.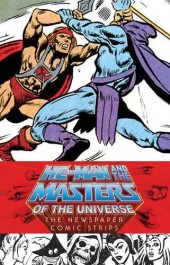 He-Man and the Masters of the Universe – The Newspaper Comic Strips
For over four years, Masters of the Universe had its own newspaper comic strip!
This story continued the tales from the Filmation cartoon bridged the saga to the space-themed New Adventures of He-Man cartoon relaunch.
The comic strip only ran in selected newspapers and was never reprinted, so most fans have never read it… until now!
For the first time ever Dark Horse brings you a collection of these strips, restored and ready for you to unleash the Power!
Ronald Wimberly: Prince of Cats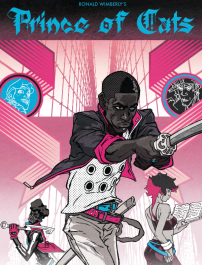 PRINCE OF CATS is the B side to Shakespeare's Romeo and Juliet, played at an eighties block party in an NY where underground sword dueling blossomed alongside hip-hop, punk, disco, and no wave.
It's the story of the minor players with Tybalt at the center.
The definitive printing of RONALD WIMBERLY's critically-acclaimed first work, presented as intended for the first time.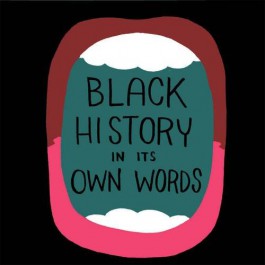 Ronald Wimberly: Black History in It Own Words
A look at Black History framed by those who made it.
BLACK HISTORY MONTH IN ITS OWN WORDS presents quotes of dozens of black luminaries with portraits & illustrations by Ronald Wimberly.
Featuring the memorable words and depictions of Angela Davis, Jean-Michael Basquiat, Kanye West, Zadie Smith, Ice Cube, Dave Chappelle, James Baldwin, Spike Lee and more.
Hugo Pratt: Corto Maltese – Celtic Tales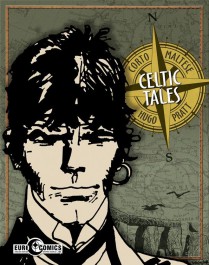 In this third volume in the definitive English language edition of Hugo Pratt's masterpiece, the action moves from South America to Europe against the backdrop of the First World War.
In these six stories Pratt further explores such complicated themes as patriotism and greed, revolution and opportunism, and betrayal and seduction.
Events take Corto from a small island in the Venetian lagoon, where he comes face to face with a beautiful blonde spy, to Stonehenge and an adventure with Merlin, Morgana, and Puck.
Along the way he meets Ernest Hemingway and future billionaire Aristotle Onassis, Irish revolutionary Banshee O'Danann, the legendary Red Baron, and an intense cast of characters who weave in and out of a series of labyrinthine plots and counter-plots.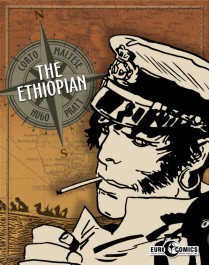 Hugo Pratt: Corto Maltese – The Ethiopian
When Corto Maltese arrives in the Middle East and Africa in 1918 the shifting sands and loyalties reveal colonial powers still battling for domination over each other and the indigenous people.
The desert of Yemen, controlled by the fading Ottoman Empire, is the setting for "In the Name of Allah, the Merciful and Compassionate," where Corto meets Cush, the Danikil warrior with whom he establishes a close yet conflicted relationship.
In "The Coup de Grace" the stubborn racism of an English commander of a small fort in British Somaliland leads to conflict with Cush and the Dervish army of Sayyid Mohamed, whom the British call "The Mad Mullah."
The action moves to Ethiopia amidst inter-tribal conflict in "…and of Other Romeos and Other Juliets," as Cush introduces Corto to the mysterious and powerful shaman Shamael, who hears the voices of the dead and of devils.
German East Africa is the background of "The Leopard-Men of the Rufiji," where Corto is engulfed in a dreamlike atmosphere that reveals how African justice operates outside the constraints of "white" law.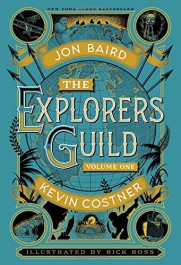 Jon Baird & Rick Ross: The Explorers Guild 1 – A Passage to Shambhala
Return to the golden age of adventure with this gorgeously wrought, action-packed, globetrotting tale that combines the bravura storytelling of Kipling with the irresistible, illustrative style of Hergé's Adventures of Tintin.
Behind the staid public rooms of an old world gentlemen's club operates a more mysterious organization: The Explorers Guild, a clandestine group of adventurers who bravely journey to those places in which light gives way to shadow and reason is usurped by myth.
The secrets they seek are hidden in mountain ranges and lost in deserts, buried in the ocean floor and lodged deep in polar ice. The aim of The Explorers Guild: to discover the mysteries that lie beyond the boundaries of the known world.
This beautifully produced combination graphic novel and adventure tale, set against the backdrop of World War I, concerns the Guild's quest to find the golden city of Buddhist myth.
The search will take them from the Polar North to the Mongolian deserts, through the underground canals of Asia to deep inside the Himalayas, before the fabled city finally divulges its secrets and the globe-spanning journey plays out to its startling conclusion.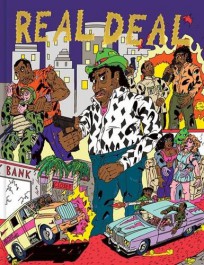 Real Deal Comix
A vital piece of alternative comic history about black culture by black cartoonists.
Inspired by magazines like Mad and traditional superhero comics, Real Deal magazine was a self-published, independent comic book created in the 1990s by Lawrence Hubbard (a.k.a "RawDog") and H.P. McElwee (a.k.a. "R.D. Bone").
Peopled with a cast out of a blaxploitation movie ― convicts, hustlers, drug addicts,crack whores, car thieves,and murderers ― these cult-classic comics straddle the line between satirizing and showing the harsh realities of urban life.
Black & white with 36 pages of color.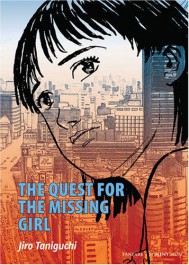 Jiro Taniguchi: The Quest for the Missing Girl
Mountaineer Shiga made a promise to his best friend following his tragic death in the Himalayas.
Twelve years later and he is called upon to honor that promise.
When 15-year-old student, Megumi, fails to arrive home from school her mother calls on her dead husband's best friend for help.
Shiga abandons his mountain refuge and enters the city to look for the girl.
With the police investigation at a standstill, Shiga decides to go it alone.
But the metropolis can be a much more hostile and dangerous ground than the mountains. What has happened to the youngster and will Shiga find her before it is too late?
Multi-award winning creator, Jiro Taniguchi, builds the tension to a massive climax in this exciting drama!
Joan Cornélla: Mox Nox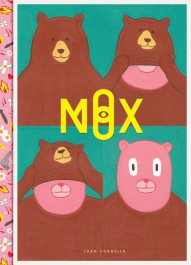 This book collects the Spanish cartoonist's twisted comics, which are popular on Facebook.
Spanish cartoonist Joan Cornella's viciously funny Mox Nox single-page strips are wordless, full-color, hand-painted marvels of the form.
That his visually inviting artwork is in the service of Cornella's graphic sense of humor/horror only heightens the appeal.
Mox Nox is populated almost exclusively by smiling psychopaths who invariably turn even the most mundane situation into a side-splitting and cringe-inducing farce.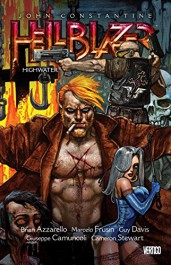 John Constantine, Hellblazer 15 – Highwater
It's been a long, hard road that John Constantine has followed across the badlands of America.
After walking out of a burning maximum-security prison, into the hollows of Appalachia and through the snows of the Great Plains, England's greatest magician is approaching the final leg of his intracontinental trek—and closing in on the real reason for the suicide of Richard "Lucky" Fermin, the trigger that set everything in motion to frame Constantine for murder.
To reach the end of this long and dangerous trail, however, he will have to pass through the bellies of two very different beasts: first, a nest of white supremacists in rural Montana, where Fermin's widow has settled; and then, finally, Los Angeles—capital of an entire empire of decadence and home to the singularly American corruption that has hounded Constantine halfway around the globe.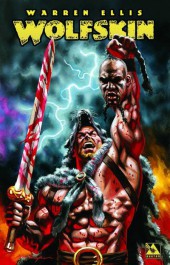 Warren Ellis & Juan Jose Ryp: Wolfskin 1
Before history was recorded in stone and ink, some men wrote it in blood!
From the time before history began…
From the time when the continents were still connected by land…
From the harsh climes at the top of the world, a Northish soldier wrapped in a cape of wolfpelts walks south, into the forests of the High Midlands that are now Europe, to find a village cut in two by travelers from the East.
Soon, he too is torn – between duty to the lives he has ruined just by finding them, and duty to the hideous murder-god of the Northish wastes and the berserker drugs that are his sacrament!
Warren Ellis' barbarian epic is finally collected, just in time for the new series coming late 2009! This first volume collects the original three-issue series with art by Ryp, Annual #1 with art by Pagliarani, and a huge cover gallery all wrapped in a stunning, new painted cover by Felipe Massafera!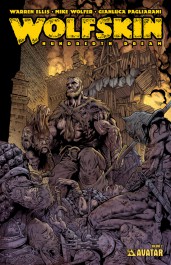 Warren Ellis & Gianluca Pagliarani: Wolfskin 2 – Hundredth Dream
Wolfskin, a nomadic warrior, hopes to find a new purpose in life after the accidental slaughter of his own tribe while in the throes of an uncontrollable berserker rage.
Hired as a guide and swordsman for a rescue mission to the volcanic ice plains, he travels north with a band of misfits and magicians whose skills and ideology is perched between prehistory and the advent of technology.
What dreadful enemy will they face on the outskirts of civilization, and will Wolfskin even have a place in the world should he slay it?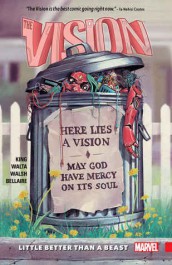 Tom King & Michael Walsh: The Vision 2 – Little Better Than a Beast
Once upon a time a robot and a witch fell in love.
What followed was a tale of the dead and the dying, of the hopeful and the lost, of the wronged and the avenged.
And in the end, after both had fallen, the witch and the robot rose from their dirt and eyed each other across a field of blood and bone.
Forty-five years in the making, this is the story of Scarlet Witch and the Vision.
Before family, there was love. And war.
Marian Churchland: Beast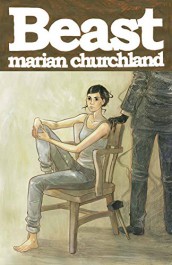 An aspiring sculptor, Colette, is hired to draw a portrait from a massive block of Carrera marble.
It seems an ideal job until, in a shabby house in a once-grand neighborhood, she meets her client– a figure of shadows known only as Beast.
.
.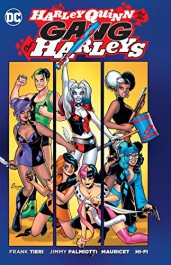 Frank Tieri & Jimmy Palmiotti: Harley Quinn and Her Gang of Harleys
Spinning out of the New York Times best-selling HARLEY QUINN series comes HARLEY QUINN AND HER GANG OF HARLEYS.
Harley Quinn has gone into the vigilante-for-profit business…but there are so many folks who deserve a walloping, there's no way she can do it all herself! That's why she hired the Gang of Harleys—Harley Queens, Harlem Quinn, Bolly Quinn, Harvey Quinn, Carli Quinn and Hanuquinn. But are the Harleys heroes in their own rights, or are they just coasting on their boss' famous and fabulous tailwind?
They're about to find out…because Harley Quinn has been kidnapped!
Who could be dastardly enough to kidnap Harley…and actually keep her in one place? Who has the method and the motive to target the Gang's loved ones? Can these heroes step up and save their boss, or will the Gang of Harleys become a gang of corpses?
Christopher Yost & Scott Wegener: Killer of Demons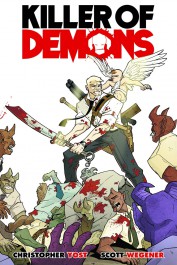 Hell has invaded Earth and only one man can stop it — junior account executive Dave Sloan, aka the Killer of Demons!
With an angel by his side, Dave can see the demons that have infiltrated our world… and they all have to die!
But these 'demons' are mostly Dave's co-workers, or people that annoy Dave in some way, leading him to believe that he's gone totally insane.
Or has he? Dave has to fight to survive and find out the truth, but is he a whacked-out mass-murderer, or the last hope the world has against the forces of Hell?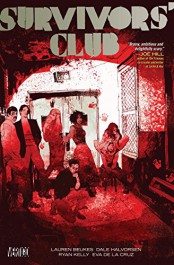 Lauren Beukes & Ryan Kelly: Survivor's Club
What if the horror movies of the 1980s were real? Where are those kids today?
The haunted house, the demonic doll, the cursed video game, the monstrous neighbor, the vengeful ghost, the killer imaginary friend…in 1987 a wave of horrors struck six communities around the globe. Six traumatized kids survived those events, and grew up haunted by what happened to them.
Almost 30 years later, the six survivors are drawn together in Los Angeles to confront a terrifying childhood nightmare that has returned, bringing up their own traumas and dragging their dark secrets into the light. Somehow, they're all connected. But when personal horrors collide, they'll be forced to confront one another's demons.
And then they'll discover that staying alive was only the beginning…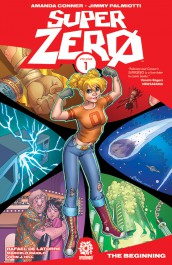 Amanda Conner & Jimmy Palmiotti: Superzero 1 – The Beginning
Collecting the first six issues of the hit series SUPERZERO, from Amanda Conner, Jimmy Palmiotti and Rafael De Latorre.
Meet Dru Dragowski, a nineteen-year-old comic book fan who yearns to escape the normalcy of teenage life.
Dreaming to become a real-life superhero for as long as she can remember, Dru recreates the origins of her favorite superheroes in the hope that she too, can become a hero herself.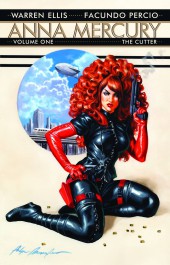 Warren Ellis & Facundo Percio: Anna Mercury 1 – The Cutter
Warren Ellis introduces you to the sultry Anna Mercury in this collection of the first action-packed series!
Dancing amid the spires of a city called New Ataraxia, there is a woman who can cloud men's minds, leap across buildings as if weightless, unerringly fire twin automatic pistols in the most insane conditions, and disappear in a crowded room.
She fights against the political repression of an insane technocratic society, and she comes from a place that no one in New Ataraxia has ever heard of… and she's got one hour to save the city from itself!
A high-octane blend of The Shadow, Tomb Raider, retro-punk science fiction, and 21st century Weird Pulp Action, Anna Mercury is a headlong adventure serial about a beautiful and mysterious spy-adventurer who is not what she seems. Anna Mercury Volume 1 features all five of the original issues with art by all-new talent Facundo Percio as well as a special super-sized cover gallery!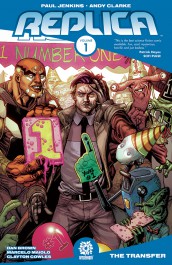 Paul Jenkins & Andy Clarke: Replica 1 – The Transfer
Collecting the first five issue of the hit series REPLICA, from Paul Jenkins and Andy Clarke.
Meet Trevor Churchill, an Earth-born peacekeeping agent on the intergalactic hub known as The Transfer.
When Trevor's already near impossible assignment becomes a bit too much for the errant detective, he turns to the only logical approach, REPLICATION.
More of a good thing can't hurt, right? A single clone could be helpful; unfortunately the replication process doesn't go as planned!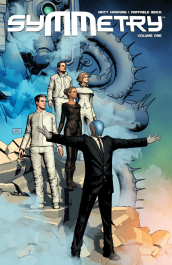 Matt Hawkins & Raffaele Ienco: Symmetry 1
Utopia is here.
Hunger, sickness, work… all relics of a long forgotten past.
All individuality, creativity, and negative emotions have been genetically bred out and medically suppressed.
The population is limited to segregated areas, but when a natural disaster disrupts the status quo and Michael and Maricela from two different worlds meet and fall in love, their relationship sparks a revolution.
Will their love cause the salvation or destruction of mankind?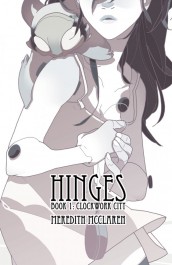 Meredith McClaren: Hinges 1 – Clockwork City
New to the city of Cobble, Orio must depend on help wherever she can find it, but her assigned familiar Bauble has other interests.
And as the two explore the walls of their city, they find that they are not the only new arrivals.
.
.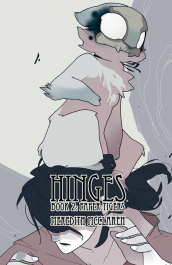 Meredith McClaren: Hinges 2 – Paper Tigers
An important character is introduced (Abernathy) and an important character is separated (Bauble).
.
.
.
.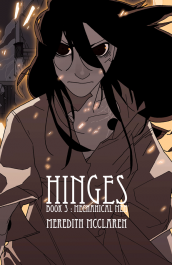 Meredith McClaren: Hinges 3 – Mechanical Men
Adrift without Bauble, Orio returns to the only comfort she has left in the city of Cobble.
But dark days have visited the city in her absence.
And the mechanizations of single-minded men will threaten them further unless Orio can find it within herself to stop it.
HINGES, BOOK 3: MECHANICAL MEN will conclude this fantasy webcomic series.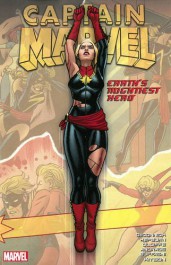 Captain Marvel – Earth's Mightiest Hero 2
Captain Marvel and the Avengers face the enemy within!
When vicious echoes from the past of Earth's Mightiest Heroes crop up all over Manhattan, Carol Danvers refuses to be grounded by her recent and mysterious loss of power.
But who is the sinister figure behind the madness, and what does it have to do with Carol's calamitous condition? And the most disturbing question of all…is this villain even real?
Things get worse as the events of Infinity unfold.
Carol goes cosmic – Binary cosmic – in an epic that rocks worlds, not least hers! But when she comes back to Earth with a bump, will her biggest fan be the key to rebuilding her life? You just can't keep a good Captain down!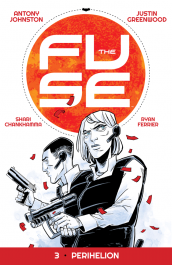 Antony Johnston & Justin Greenwood: The Fuse 3 – Perihelion
A DAY OF CHAOS — 22,000 MILES UP!
"Perihelion," the day when the Fuse space station is closest to the Sun, has arrived.
For the next 24 hours, Ristovych and Dietrich struggle to deal as the orbiting city's population goes a little nuts!
Escaped convicts, crazed gunmen, anarchist protesters, attempts on the Mayor's life… oh yeah, and two new homicide cases to boot.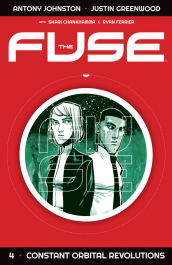 Antony Johnston & Justin Greenwood: The Fuse 4 – Constant Orbital Revolutions
RALPH'S MYSTERY SOLVED—AT LAST?!
Retirement beckons for Midway's oldest, crankiest Homicide detective!
But before Klem can hang up her space boots, there's one final case to solve—and it will hit closer to home for her secretive young partner Ralph than he'd like, when what begins as a simple murder case soon entangles the detectives in a deadly terror plot!
Ralph's secret mission is about to explode…and no one will escape unscathed!
Peter David & Gary Frank: Supergirl 1
From writer Peter David (THE INCREDIBLE HULK, X-FACTOR) and artist Gary Frank (ACTION COMICS, JUSTICE LEAGUE) comes the start of the classic series that created a revolutionary new identity for the Maid of Might!
WHO IS LINDA DANVERS?
To her parents, Linda is a former good girl who now dabbles on the wrong side of the law. To her friends, she's a struggling artist and the ultimate Supergirl fan. To her boyfriend, Buzz, she's an eager accomplice as they try to harness dark forces more powerful than either of them can control. And after Buzz tries to use her to summon a demon, Linda Danvers is…dead?
To save Linda's life, Matrix, a protoplasmic version of Supergirl, uses her powers to fuse the two of them together. Now, sharing memories, sharing superpowers, the entity formerly known as Linda Danvers is something else entirely. Is Linda still a human with the same damaged soul? Or has Supergirl done the unthinkable and stolen a new life for herself?
There are no easy answers, but Linda knows she must use her new powers to atone for her past sins. Because whatever else she may be, for now, she's…
SUPERGIRL!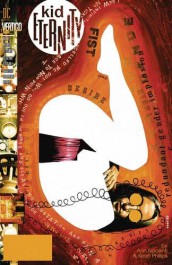 Ann Nocenti & Sean Phillips: Kid Eternity 1
He died as a child, decades before his time, and spent the next 30 years in Hell thanks to a mix-up in the afterlife's bureaucracy.
Then a miracle occurred, and the Kid escaped perdition for Earth. His mission: become the new Messiah. His gift: the ability to summon any human, god or devil who ever existed—or who anyone once believed existed—with the cry of a single word…
"ETERNITY!"
Redeeming humanity, however, is trickier than it seems. From America's forgotten highways to the endless realms of cyberspace, from the clamor of TV talk shows to the chaos of insane asylums, from the siren song of sex to the menace of mad gods, a whole host of forces—good, bad and ugly—have united to thwart the utopian efforts of this savior in sunglasses.
Fortunately, he has a little help from his friends—including a hacker, a hobo, Zeus, Freud, Neal Cassady, Marilyn Monroe and many more. When it comes to saving the world, not even the power of Eternity can do it alone…
KID ETERNITY BOOK ONE collects the first nine issues of legendary writer Ann Nocenti and superstar artist Sean Phillips' classic VERTIGO saga of magic, madness and the strangeness of the twentieth-century psyche.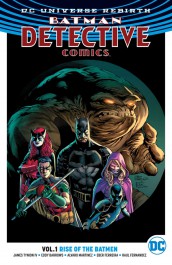 James Tynion IV: Batman Detective Comics 1 – Rise of the Batmen
Batman puts together his own team of Gotham City vigilantes in this great new starting-point graphic novel, BATMAN – DETECTIVE COMICS VOL. 1: RISE OF THE BATMEN, from DC Rebirth!
An elite fighting force modeled after the Dark Knight has invaded the streets of Gotham. Their armor, weaponry and surveillance equipment are based on Batman's tech and tactics, but they're far beyond anything he's ever seen. And while these Batmen's motives remain a mystery, their targets are all too clear…
They're gunning for Gotham's vigilantes.
Batman knows he can't face this foe alone, and neither can the crime-fighters caught in the crossfire. So with Batwoman—secretly Bruce Wayne's cousin, Kate Kane—as his general, he's organizing the next generation of Gotham heroes into an army.
Tim Drake, a.k.a. Red Robin. Stephanie Brown, a.k.a. Spoiler. Cassandra Cain, a.k.a. the Orphan. And reformed criminal Basil Karlo, a.k.a. Clayface. These are the shock troops in Batman and Batwoman's war. When they finally see the face of their true enemy, will they stand together…or fall apart?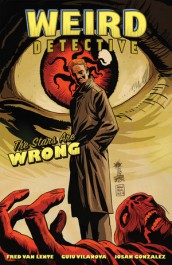 Fred van Lente & Guiu Vilanova: Weird Detective – The Stars Are Wrong
The streets of New York have been plagued by a pattern of crimes too weird and bizarre for the average detective.
Lurking in the evidence are shadows of loathsome horrors from beyond space and time, seeking to usher in the unimaginable evil of the Old Ones.
And the only man capable of fighting against the unspeakable terrors isn't a man at all.
Detective Sebastian Greene is one of them.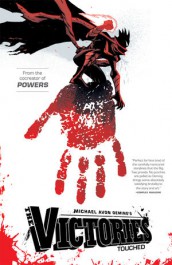 Michael Avon Oeming: The Victories 1 – Touched
Not long from now, all that will stand between you and evil are THE VICTORIES: heroes sworn to protect us from crime, corruption, and the weird designer drug known as Float.
As one member hits the streets looking for blood, he discovers himself touched by a painful past through the powers of a psychic.
Will this trauma cause him to self-destruct or to rejoin the good fight?
Collects the five-issue miniseries.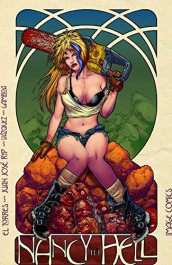 El Torres & Juan Jose Ryp: Nancy in Hell
Take a white-knuckle tour of Hell… because it seems it's the only choice in the afterlife!
Nancy claims to be a good girl — but, now she's a sexy, chainsaw-wielding chick wandering a tormented landscapes filled with tortured souls, lusty demons, and a broken-hearted Lucifer!
.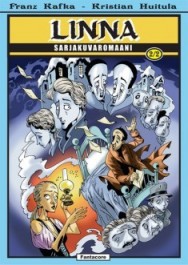 Franz Kafka & Kristian Huitula: Linna – sarjakuvaromaani osa 2/2
Maanmittari K on saapunut kaukaiseen vuoristokylään, jonne hänet on palkattu työskentelemään kylää valvovan linnan alaisuudessa.
K kuitenkin kohtaa ylitsepääsemättömältä tuntuvia esteitä yrittäessään löytää tiensä linnaan.
Kylässä hän tutustuu henkilöihin joiden avulla uskoo pääsevänsä määränpäähänsä, ja menneisyyden tapahtumiin liittyvä salaperäisyyksien vyyhti alkaa hiljalleen keriytyä auki…
Kristian Huitulan sarjakuvasovitus kertoo Franz Kafkan klassikkoteoksen koko tarinan. Sarjakuvaromaanin jälkimmäinen osa päättää Kafkan kolmannen, viimeiseksi jääneen romaanin kertomuksen.
Petri Hiltunen: Kalkkaro 56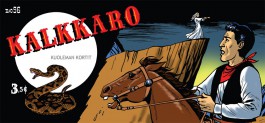 Kuoleman kortit 2. osa
Kalkkaro on Petri Hiltusen piirtämä ja käsikirjoittama lännensarja, joka on ilmestynyt sanomalehdissä vuodesta 2005 alkaen. Sarja sijoittuu Yhdysvaltojen eteläosaan 1860-luvun lopulle. Tarinoita ei ole aikaisemmin julkaistu albumeissa. Kalkkaro ilmestyy kerran kuukaudessa.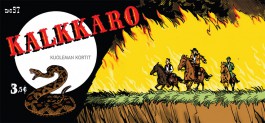 Petri Hiltunen: Kalkkaro 57
Kuoleman kortit 3. osa
.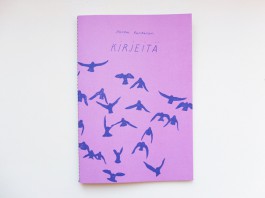 Rantanen Miisa: Kirjeitä
Kirjeitä miehelle jolla on ollut vauhdikas nuoruus, jota jopa on epäilty terroristiksi.
Lehdessä on myös mukana vastaus kirjeisiin.
Finnish with English translation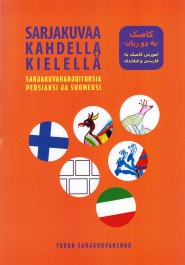 Sarjakuvaa kahdella kielellä – Sarjakuvaharjoituksia persiaksi ja suomeksi
Kaksikielinen sarjakuvan opetus- ja tehtäväkirja yhdistää kielen opettelun tarinankerronnan ja piirtämisen harjoitteluun ja on siksi oivallinen paketti niin kotiin, kerhoon kuin kouluun.
Kirja on tehty Suomessa asuville, persiaa kotikielenään puhuville lapsille, mutta monet tehtävistä sopivat kaikille persian kielestä kiinnostuneille iästä riippumatta.
Tehtäväkirjan käyttö ei vaadi sekä suomen että persian kielen tuntemusta, mutta kylläkin luku- ja kirjoitustaitoa jommallakummalla kielellä.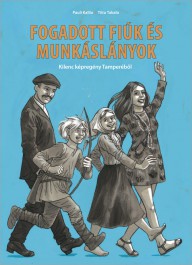 Pauli Kallio & Tiitu Takalo: Fogadott fiúk és munkáslányok
Unkarinkielinen versio albumista Ottopoikia ja työläistyttöjä.