Luettelo:
Kotimaiset uutuudet
Manga-uutuudet
Ennakkotilaukset
Ulkomaiset uutuudet
Elokuvat
Alkuun
KOTIMAISET UUTUUDET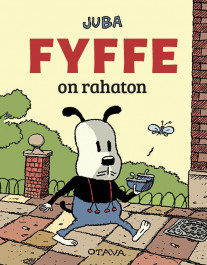 Juba: Fyffe on rahaton
Sarjakuvan mestarin ensimmäinen kuvakirja esittelee uuden valloittavan koirahahmon.
Fyffen vatsa kurnii. Mutta lompakossa ei ole kolikon kolikkoa.
Jotta saisi ruokaa, tarvitaan rahaa. Mistähän sitä saisi?
Supersympaattinen Fyffe tuo kaurismäkeläisen lakonisuuden suomalaiseen kuvakirjaan.
MANGA-UUTUUDET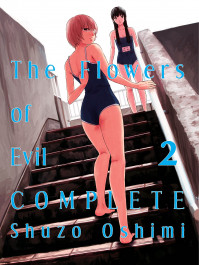 Shuzo Oshimi: The Flowers of Evil – Complete 2
Takao makes a decision… he will try to win the affection of one of his muses.
This will be no simple task, as the teens are all now damaged and warped. Takao is in search of a utopia, one that can only be shared with his only friend, that will sit just briefly among the rice paddies of his rural hometown.
But then Takao and Nakamura are wrongly accused of a crime, and the local authorities want to pin all strange behavior this small town has seen recently on the two teens.
Will being treated as outcasts in their own community keep these two from crossing over to the other side…?
Alkuun
ENNAKKOTILAUKSET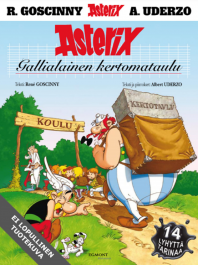 René Goscinny & Albert Uderzo: Asterix 32 – Gallialainen kertomataulu (ENNAKKOTILAUS)
Yhden pitkän seikkailun sijaan tämä Asterix-albumi sisältää peräti 14 lyhyttä tarinaa.
Vanhin tarinoista on vuodelta 1962 ja tuorein on Albert Uderzon tätä albumia varten tekemä Kiekulix vuodelta 2003.
Mainio tapa nauttia Asterix-tarinoita viideltä vuosikymmeneltä!
.
ULKOMAISET UUTUUDET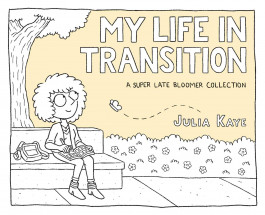 Julie Kaye: My Life in Transition – A Super Late Bloomer Collection
The follow-up to the critically acclaimed autobiographical comics collection Super Late Bloomer, documenting transgender artist Julia Kaye's life post-transition.
My Life in Transition is a story that's not often told about trans lives: what happens beyond the early days of transition.
Both deeply personal and widely relatable, this collection illustrates six months of Julia's life as an out trans woman—about the beauty and pain of love and heartbreak, struggling to find support from bio family and the importance of chosen family, moments of dysphoria and misgendering, learning to lean on friends in times of need, and finding peace in the fact that life keeps moving forward.
After the nerve-wracking, anxiety-ridden early transition period has ended and the hormones have done their thing, this book shows how you can be trans and simply exist in society.
You can be trans and have a successful future.
You can be trans and have a normal life full of ups and downs.
In our current political and social climate, this hopeful, accessible narrative about trans lives is both entertaining and vital.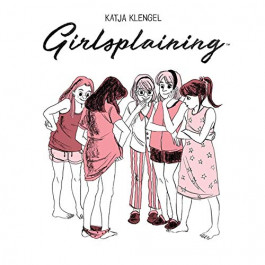 Katja Klengel: Girlsplaining
Cartoonist Katja Klengel tackles the subjects that have shaped her life: from body shaming to the exploration of female sexuality, from the representation of women in the media, and the social pressure on women who have not yet started a family all with a sense of humor, an open heart, and an unsparing candor.
Do we really have to be ashamed of our body hair?
Why do gender roles in children's toys seem stuck in the 50s?
In seven chapters, cartoonist Katja Klengel tackles the subjects that have shaped her life: from body shaming to the exploration of female sexuality, from the representation of women in the media, and the social pressure on women who have not yet started a family.
With a sense of humor, an open heart, and an unsparing candor, Klengel draws inspiration from her own life as she examines what being a woman today means to her (and really, a whole lot of us!).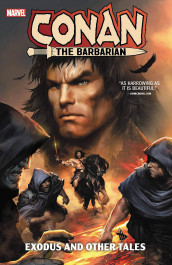 Conan – Exodus and Other Tales
Savage tales of Conan the Barbarian by blockbuster creators!
First, visionary artist Esad Ribic writes and illustrates the never-before-told story of Conan's first journey from Cimmeria! Fifteen winters in his homeland have toughened the young warrior, but his greatest challenge lies ahead. Braving the elements without food, shelter or weapons, Conan must learn to survive even as nature itself conspires against him!
Then, Frank Tieri and Andrea Di Vito send Conan on a hunt for a demonic sect in Argos! But a hellish mystery arises – and he may very well doom the nation if he can't solve it in time!
And legendary Conan scribe Roy Thomas returns in a king-sized tale fit for a barbarian!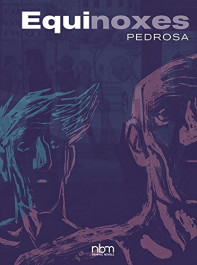 Cyril Pedrosa: Equinoxes
In an equinox, day is as long as night, as if the world found perfect equilibrium between shadow and light, a fleeting equilibrium, similar to the stakes of our human destinies.
Segmented into four tableaux for four seasons, unrelated people of all social backgrounds seeking equilibrium cross paths with other solitudes, weaving in and out of one another's lives- all captivated and tormented by the enigmatic meaning of life.
Every season has its visual identity and its individual voice, culminating in summer and, possibly, an answer.
Equinoxes is a unique ground-breaking work of rare intensity and narrative sensibility by a rising bestselling star of European comics.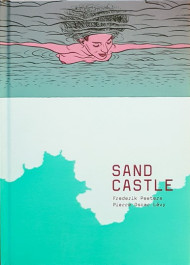 Pierre Oscar Lévy & Frederik Peeters: Sandcastle
The inspiration for Old, a Blinding Edge Pictures production, directed and produced by two-time Oscar nominee M. Night Shyamalan, from his screenplay based on the graphic novel Sandcastle by Pierre Oscar Lévy and Frederik Peeters. The movie is scheduled to be released July 23, 2021.
It's a perfect beach day, or so thought the family, young couple, a few tourists, and a refugee who all end up in the same secluded, idyllic cove filled with rock pools and sandy shore, encircled by green, densely vegetated cliffs.
But this utopia hides a dark secret.
First there is the dead body of a woman found floating in the crystal-clear water.
Then there is the odd fact that all the children are aging rapidly.
Soon everybody is growing older–every half hour–and there doesn't seem to be any way out of the cove. Levy's dramatic storytelling works seamlessly with Peeters's sinister art to create a profoundly disturbing and fantastical mystery.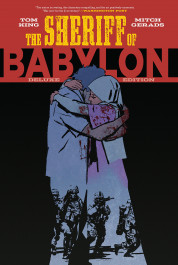 Tom King & Mitch Gerads: The Sheriff of Babylon – The Deluxe Edition
Inspired by his real-life experiences as a CIA operations officer in Iraq, writer Tom King teams with artist Mitch Gerads–the creative team behind the critically acclaimed Mister Miracle–to deliver a wartime crime thriller like no other.
The Sheriff of Babylon: The Deluxe Edition collects all 12 issues of the groundbreaking Vertigo series. This special hardcover volume also features a new introduction by King and afterword by Gerads, as well as a gallery of preliminary artwork from Gerads and cover artist John Paul Leon.
Baghdad, 2003. The reign of Saddam Hussein is over. The Americans are in command. And no one is in control.
Former cop turned military contractor Christopher Henry knows that better than anyone.
He's in country to train up a new Iraqi police force, and one of his recruits has just been murdered.
With civil authority in tatters and dead bodies clogging the streets, Chris is the only person in the Green Zone with any interest in finding out who killed him–and why.
Chris' inquiry brings him first to Sofia, an American-raised Iraqi who now sits on the governing council, and then to Nassir, a grizzled veteran of Saddam's police force–and probably the last real investigator left in Baghdad.
United by death but divided by conflicting loyalties, the three must help each other navigate the treacherous landscape of post-invasion Iraq in order to hunt down the killers.
But are their efforts really serving justice–or a much darker agenda?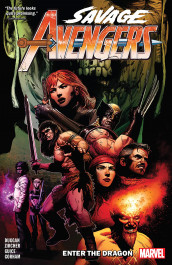 Gerry Duggan & Patch Zircher: Savage Avengers 3 – Enter The Dragon
The terrible secret of Kulan Gath's power is revealed!
Can Doctor Strange and Elektra deal with this unbelievable horror?
Speaking of horror, something is killing the Shuma-Goraths!
That would usually be great news, but Kulan Gath thinks he's finally figured out how to consume the elder god — and that's bad news for our plane of existence!
Strange and Elektra have a plan, though, and the Savage Avengers will assemble! Conan the Barbarian, Wolverine, Black Widow, Hellstrom, Brother Voodoo, Magik and more draw up a last-ditch battle plan — and Conan must wield a most unexpected weapon in the fight against darkness!
When Kulan Gath's plan involves the international drug trade, you can bet on the Punisher crashing the party — but what brings the Black Knight and the Juggernaut into the fray?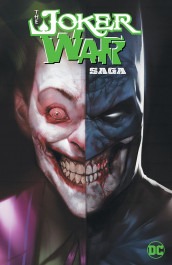 The Joker War Saga
The summer 2020 blockbuster "The Joker War" is collected in this new hardcover that includes the tie-in chapters starring Batgirl, Red Hood, Nightwing, Catwoman, and, of course, Harley Quinn!
As the Clown Prince of Crime battles the Dark Knight Detective head-to-head one last time.
The Joker has never wanted to win before – he's never wanted his battle with Batman to end.
But now his motivation has shifted.
This collection features the Joker's confrontation with Batgirl; his manipulation of the amnesiac Nightwing; and a turf war between Gotham City's many evildoers!
Plus, the debut of Clownhunter, a cameo by Ghost-Maker, and an epic battle between Harley Quinn and Punchline!
ELOKUVAT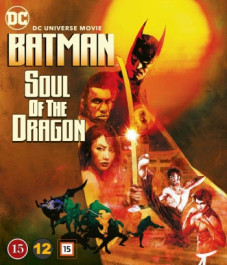 Batman: Soul of the Dragon (Blu-ray)
MUOVEISSA.
1970-luvun mielikuvitusmaailmaan sijoittuva seikkailu vie Bruce Waynen opiskelijaystävineen harjoittelemaan mestari sensein opissa.
Tappavan uhan noustessa elinikäiset siteet joutuvat testiin, kun niin Batman kuin maailmankuulut taistelulajitaitajat Richard Dragon, Ben Turner ja Lady Shiva pakotetaan taisteluun kaikenmaailmaisia hirviöitä vastaan!
Pohjoismainen versio.