Luettelo:
Kotimaiset uutuudet
Manga-uutuudet
Ennakkotilaukset
Ulkomaiset uutuudet
Lehdet ja kirjat
Käytetyt sarjakuvat
Oheistavarat
Elokuvat
Alkuun
KOTIMAISET UUTUUDET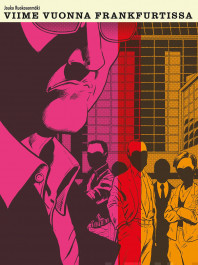 Jouko Ruokosenmäki: Viime vuonna Frankfurtissa
Millaista on sarjakuvatoimittajan työ?
Tämä sarjakuvaalbumi antaa siihen vastauksen, joka saattaa yllättää monet lukijat.
Viime vuonna Frankfurtissa esittelee kustannusmaailmaa aina 80-luvulta lähtien sarjakuvatoimittajan vinkkelistä – kehyksenä Frankfurtin kirjamessut, jossa neuvotellaan vuosittain myös sarjakuvien julkaisuoikeuksista.
Ajassa ja paikassa tempoileva ja eri tyylisuunnilla leikittelevä teos kertoo käännössarjakuvan kultakaudesta Suomessa ja tarjoaa ainutlaatuisen kurkistuksen kulissien taakse.
.
.
.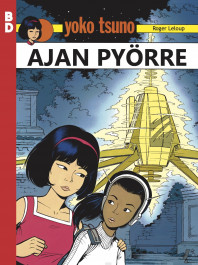 Roger Leloup: Yoko Tsuno – Ajan pyörre
Roger Leloupin luoma Yoko Tsuno on terävä ja rohkea sankaritar, jonka seikkailut ovat viihdyttäneet suomalaisia lukijoita 70-luvulta lähtien.
Ajan pyörre on aiemmin julkaisematon seikkailu, jossa Yoko ystävineen tutustuu ensi kertaa aikamatkailuun.
Lomaillessaan Indonesiassa serkkunsa kanssa Yoko löytää vanhan temppelin rauniot, joita koristaa salaperäinen tanssijapatsas.
Seuraavana yönä paikalla ilmaantuu aikamatkustaja kaukaisen tulevaisuuden avaruusasemalta.
Hänen tarkoituksensa on pelastaa maailma sitä uhkaavalta antimateriatuholta.
Estääkseen katastrofin Yokon on matkustettava 1940-luvulle…
.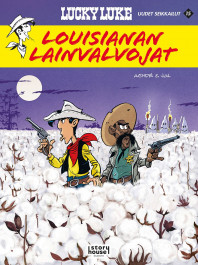 Achdé: Lucky Luke uudet seikkailut 15 – Louisianan lainvalvojat
Lucky Luke perii valtavan puuvillaplantaasin, mutta haluaa lahjoittaa tiluksensa värillisille maanviljelijöille.
Tämä ei Louisianan takamailla kaikille passaa, joten Luken coltit joutuvat jälleen töihin.
Taustatukea tarjoaa tosielämänkin legendaarinen lainvalvoja Bass Reeves.
.
.
.
.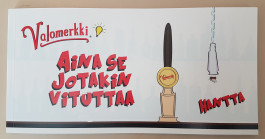 Hantta Viinamäki: Aina se jotakin vituttaa
Valomerkki-albumi sisältää keskiolutfilosofiaa asiasta ja asioiden lähimaastosta.
Mukana kuvissa sankarimme naisystävä S. Puumanainen, pastori Känänen, yks tahditon rumpali sekä muita baarikärpäsiä.
Elämästä nautitaan täysin siemauksin, ja kyllä! Aina se jotakin vituttaa.
MANGA-UUTUUDET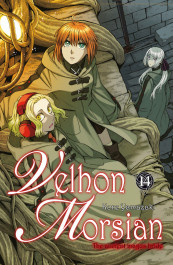 Kore Yamazaki: Velhon morsian 14
Osa 14/15+
Chisen nopea toiminta pelasti Lucyn ja Sethin susiolentojen hyökkäykseltä.
Uhka ei silti ole väistynyt Websterien yltä.
Myös vaarallisen loitsukirjan katoaminen ja sen avulla tehdyt tihutyöt varjostavat koko Akatemiaa. Liittyvätkö tapaukset toisiinsa? Entä kuinka oppilaiden turvallisuus voitaisiin taata?
Ikäsuositus 13+ /Fantasia.
.
.
Ennakkotilaukset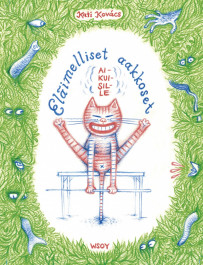 Kati Kovács: Eläimelliset aakkoset aikuisille (ENNAKKOTILAUS)
ENNAKKOTILAUS. KIRJA SAATAVILLA ARVIOLTA 19.3.2021.
Onko ihminen parhaimmillaan, kun hän on eläimellisimmillään?
Eläimelliset aakkoset aikuisille kuvailee 29 eläintä A:sta Ö:hön sarjakuvina, joissa käsitykset eläinlajeista heittävät häränpyllyä.
Alkoholistiaasi, bulimikkoboa, charmikas celebesinhedelmälepakko ja runsas joukko muita eläimiä esittäytyy Kati Kovácsin uudenlaisessa sarjakuvateoksessa.
Se ammentaa tutusta aapisperinteestä reippaasti uusin maustein, suomen rikkailla sanavaroilla herkutellen.
Eläimelliset aakkoset aikuisille on absurdin hulvaton kirja, jossa Kovács kertoo eläinten kautta ihmisyydestä, tunnistettavista heikkouksistamme ja elämän heittelystä.
Lyhyet sarjakuvatarinat kääntävät mielikuvat machoista gorilloista tai lauhkeista lampaista päälaelleen.
ULKOMAISET UUTUUDET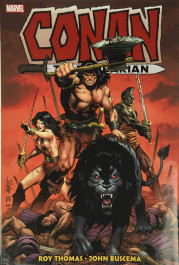 Conan the Barbarian – The Original Marvel Years Omnibus 4
Roy Thomas' decade-long original run on CONAN THE BARBARIAN ranks as one of the greatest in comic book history, and it was crucial in making Conan an icon known the world over.
In this Omnibus edition, Roy and his artistic collaborator John Buscema bring the saga of Bêlit and her quest for the crown of Asgulun to a conclusion.
It's a tale that will forever change Conan's life.
The adventures that follow feature an even more savage Conan, fiercer than ever and truly unbound.
Also included are the Annual sequels to "The Hour of the Dragon", a What If? tale that places Conan in the middle of New York City and a massive trove of original art, essays and behind-the-scenes material.
COLLECTING: CONAN THE BARBARIAN (1970) 84-115, ANNUAL (1973) 4-5 & WHAT IF? (1977) 13
.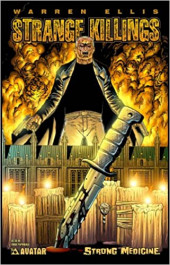 Warren Ellis & Mike Wolfer: Strange Killings – Strong Medicine
Former soldier and current combat magician William Gravel pits his skills against rogue agents who use black magic to threaten society.
William Gravel is back, and neck deep in bad juju!
Finally free of his exile to the United States, the combat magician returns to his London home.
However, before he can even settle in, he finds himself at the center of an investigation involving a horrific act of child mutilation.
The child's murder was very specific, part of a ritual designed to acquire and harness powerful magic.
If Gravel can't stop the black magic responsible, many more children will die to create a madman with very strong medicine…..
.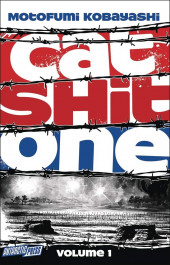 Motofumi Kobayashi: Cat Shit One 1
The first several chapters of Motofumi Kobayashi's renowned war manga, filled with painstaking detail, are now collected at full comic size for the first time ever!
In this semi-fictionalized rendition of the Vietnam War, Sergeants Perky, Rats and Botasky comprise the special forces unit named Cat Shit One, risking their lives daily in recon patrol, jungle ambushes, tactical assaults, rescue operations and more.
These soldiers may look soft, but their combat tales hit hard!..
.
.
.
.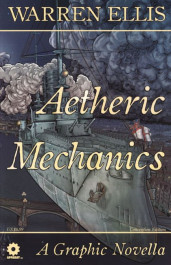 Warren Ellis: Aetheric Mechanics
The newest addition to Warren Ellis' Apparat line of original graphic novels has arrived!
The year is 1907, and Britain has entered into a terrifying war with Ruritania, whose strange metal planes darken the skies, and whose monstrous war engines cast looming shadows from across the channel.
Doctor Robert Watcham, lately returned to London from the front, makes his homecoming to Dilke Street.
There lives his old friend, and England's greatest amateur detective, Sax Raker.
Even as his beloved city prepares for war, Raker is himself about to embark on the strangest (and, perhaps, the most important) investigation of his career: The case of the man who wasn't there.
This is no simple matter of murder – Sax Raker faces haunting questions to which there are no cut and dried answers.
Is the mysterious killer, at last, evidence for Raker's long-held belief in a secret criminal mastermind? Is it some apparition uniquely belonging to this singular city, a place that seems to have lost all semblance of sense two years ago?
Or do all the signs point to something much, much worse?
LEHDET JA KIRJAT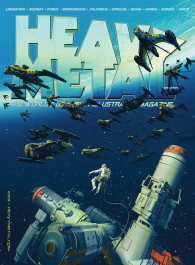 Heavy Metal #303
Heavy Metal leaps into the new year with the poignant conclusion to "Lucy: Hope", the blazing new chapters of "Savage Circus", "The Rise", "Dark Wing", "Maiden", and "Funeral", interviews with Brendan Columbus, Dylan Sprouse, and Liam Sharp, and a host of incredible science fiction and fantasy short stories.
We bid farewell to 2020 with a big bang, gang!
Authors: George C. Romero, Liberatore, Michelle Sears, Bart Sears, Diego Yapur, Brendan Columbus, Al Barrionuevo, Candice Han, Matthew Medney, German Ponce, Steve Orlando, Chris Anderson, Protobunker Studio and many more!
.
.
ELOKUVAT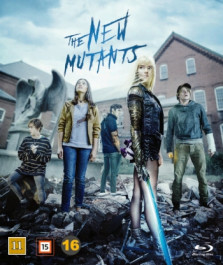 The New Mutants (Blu-ray)
MUOVEISSA.
Viisi nuorta erikoisvoimat omaavaa mutanttia on lukittu hoitoon salaiseen laitokseen – ja heidät yritetään opettaa hallitsemaan voimansa tässä toiminnan täyteisessä elokuvassa.
Pian kuitenkin selviää, että kyse on paljon suuremmasta hyvien ja pahojen voimien taistelusta!
Pohjoismainen versio.
.
.