Luettelo:
Kotimaiset uutuudet
Manga-uutuudet
Ulkomaiset uutuudet
Oheistavara
Käytetyt sarjakuvat
Alkuun
KOTIMAISET UUTUUDET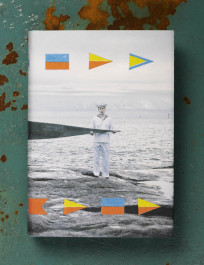 Kaisa Leka & Christoffer Leka: Russian Diaries
Friday June 8th, 2018, Кемь, Kemsky District of the Republic of Karelia, Russia
"I wonder what will come out of this?", Leka thought to himself as he gazed upon the sea opening up in front of him.
Although he already was a more mature duck with a decent amount of experience with water, the White Sea seemed a little bit scary. It had looked so much smaller on the maps. Now he felt much like going from a bathtub straight into the deep end of a full-size olympic swimming pool.
But he had no one to blame for all of this, save for himself. "Why must I always come up with such silly ideas?" he admonished himself. But just as a zebra cannot outrun its stripes, neither can a duck suppress its love for water.
While Leka thus felt these grand feelings (as is befitting a philosopher, he thought to himself, though this he didn't say this out loud) the others were busy stuffing their kayaks. Into the bulkheads went socks, shoes, tents and sleeping bags, as well as cameras and towels. And very much food. For going out on an adventure without sufficient quantities of snacks is not only irresponsible, it is also decidedly much less fun. Kaisa in particular was prone to getting hungry every time she was to leave shore.
The thin plastic hulls creaked as Antti forcefully pushed more bags through the tiny openings in the deck. "I hope I brought enough soap" he said to Ea, who was busy deciding whether to bring along a second pair of mittens. One's hands might indeed get cold, especially during the night time, she reasoned.
Kaisa, on the other hand, was particularly careful to pack all of her pens and small booklets into waterproof bags. She rechecked that her Rapidograph pens had enough ink in them. "I will write and draw something every day" she had promised herself before the trip.
You see, Kaisa had already in the spring resolved to keep a diary during the entire sea voyage, and had thus procured some very nice notebooks with serious-looking black covers. "I think it is important for a lady adventurer to make her voice heard!" she told everyone willing to listen.
*
What then became of the diary Kaisa kept during the sea voyage?
Well, all of the four notebooks she kept during the trip were compiled into a beautiful little volume aptly called "Russian Diaries".
And within its 368 pages you can read all about the adventures and occasional mishaps that took place during the seven weeks out at sea.
Did the four friends eventually make it to the Gulf of Finland?
That is something you will have to find out by reading the book yourself!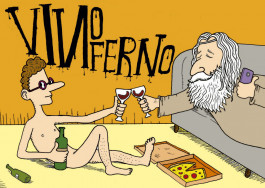 Jarkko Räihä: Vino Inferno
Nautitaan hyvässä seurassa.
.
.
.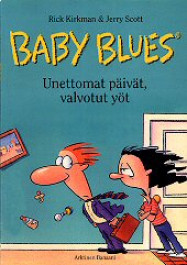 Rick Kirkman & Jerry Scott: Baby Blues – Unettomat päivät, valvotut yöt
Perheen edesottamukset jatkuvat 1-vuotissynttäreiden lähestyessä.
Nouseko lapsi pian jaloilleen ilman tukea? Ymmärtääkö hän puhetta? Haluaako hän edes ymmärtää?
Jos taaperon kanssa eläminen on katastrofaalista, niin miksi se on näin hauskaa?
2. painos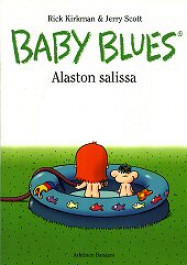 Rick Kirkman & Jerry Scott: Baby Blues – Alaston salissa
Suvi aloittaa uuden elämänvaiheen lastentarhalaisena.
Kuinka tarha pärjää viisivuotiaan kriittisen silmän alla? Pauli ryhtyy tyttärensä jalkapallojoukkueen valmentajaksi. Suvi ja pikkuveli Saku oppivat elämää myös hamsterin kasvatuksen avulla.
Vanhemmat Ulla ja Pauli puolestaan oppivat yhä uutta lastenkasvatuksesta.
1. painos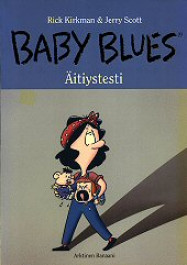 Rick Kirkman & Jerry Scott: Baby Blues – Äitiystesti
Vaippojen vaihto, imettäminen, pottatreenit, nenän pyyhkiminen, ne johtavat yhteen kysymyksen…
Onko elämää synnytyksen jälkeen?
2. painos
.
.
MANGA-UUTUUDET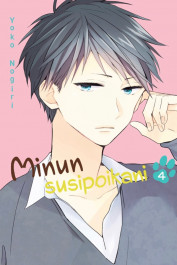 Yoko Nogiri: Minun susipoikani 4
Eläinpoikien opettaja pyyhkii Komugin muistin huolestuttuaan suojattiensa puolesta.
Mutta kykeneekö Komugi unohtamaan rakkautensa Oogamia kohtaan?
Ja ovatko suuret tunteet sittenkään vaarattomia väkisin padottuina?
Ikäraja 10+ / Romantiikka/Huumori  
ULKOMAISET UUTUUDET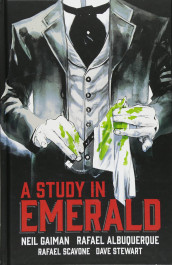 Neil Gaiman & Rafael Albuquerque: A Study in Emerald
This supernatural mystery set in the world of Sherlock Holmes and Lovecraft's Cthulhu Mythos features a brilliant detective and his partner as they try to solve a horrific murder.
The complex investigation takes the Baker Street investigators from the slums of Whitechapel all the way to the Queen's Palace as they attempt to find the answers to this bizarre murder of cosmic horror!
From the Hugo, Bram Stoker, Locus, World Fantasy, Nebula award-winning, and New York Times bestselling writer Neil Gaiman comes this graphic novel adaptation with art by Eisner award winning artist Rafael Albuquerque!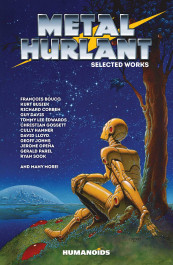 Metal Hurlant – Selected Works
"Métal Hurlant" magazine was created in Paris in 1974 by Moebius, Druillet and Dionnet, the founding fathers of Les Humanoïdes Associés.
This movement soon revolutionized the medium and inspired countless writers, artists and filmmakers the world over. Versions in various languages flourished everywhere, including in the States with "Heavy Metal."
The French version was eventually shut down in 1987.
But in 2002, Humanoids relaunched a limited publication of a 13-issue anthology, with one main goal: establishing a creative bridge between the US and Europe.
Includes stories written and illustrated by comic book stars Geoff Johns, Kurt Busiek, Guy Davis, and Jerome Opena, among many others.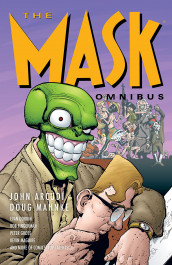 John Arcudi & Doug Mahnke: The Mask Omnibus 2
A mystical artifact from ancient times, known only as the Mask, will give whoever dons it near limitless power.
With the mask on, there is nothing beyond your ability, which explains why every crook, criminal, and lowlife is itching to get their hands on it.
The hunt for the mask goes from sea to shining sea, involving voodoo, Amazonian tribesmen, ninjas, Mafiosi, Crypto-Nazis…and the barded Thespian Club!
This Omnibus edition collects over 375 story pages collected for the first time at this size! These stories from the universe of the acclaimed film series come from talents such as Evan Dorkin, Kyle Hotz, Bob Fingerman, Peter Gross, John Arcudi, Doug Mahnke, and more!
Collects The Mask: The Hunt for Green October, The Mask: World Tour, The Mask: Southern Discomfort, The Mask: Toys in the Attic, material from Decade: A Dark Horse Short Story Collection and Dark Horse Presents #134-153.
OHEISTAVARAT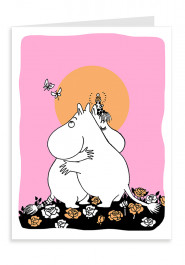 Tove Jansson: Tove Jansson – 2-osainen muumipostikortti – Halaus
Tove Jansson – 2-osainen muumipostikortti – Halaus
Letterpressed
Pakattu sellofaaniin, mukana kirjekuori
.
.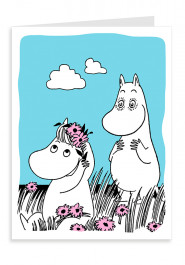 Tove Jansson: Tove Jansson – 2-osainen muumipostikortti – Ihastus
Tove Jansson – 2-osainen muumipostikortti – Ihastus
Letterpressed
Pakattu sellofaaniin, mukana kirjekuori
.
.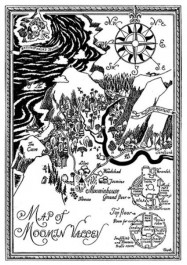 Tove Jansson: Map of Moomin Valley -kortti
Map of Moomin Valley -kortti.
Kortissa mustaa kohdelakkausta
.
.
.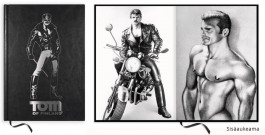 Tom of Finland: Tom of Finland muistikirja
Laadukas kovakantinen muistikirja:
– Nahkajäljitelmää
– Kannessa hopeafolio
– 120 tyhjää sivua ja 8 painettua
– Mustat esilehdet
– Lukunauha
Kirjoitussivujen lisäksi upeita kuvituksia, juhlavuoden logo sekä Touko Laaksosen esittelyteksti (suomeksi).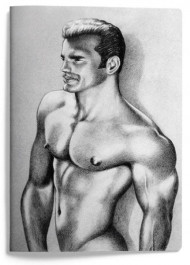 Tom of Finland: Tom of Finland -A5-vihko / Paljas rinta
Sisäkansissa kuvituksia ja Touko Laaksosen esittelyteksti (englanniksi).
Illustrations and introductory text of Touko Laaksonen on the inner covers.
.
.
.
KÄYTETYT SARJAKUVAT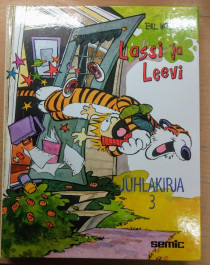 Bill Watterson: Lassi ja Leevi – Juhlakirja 3 (K)
KÄYTETTY.
Lukukappale. Kansissa selvästi kulumaa, ekalla sivulla omistus ja taittuma. Ei keräilijöille!
Tähän juhlakirjaan on koottu varhaisimmat Lassi ja Leevi -sarjat marraskuusta 1985 toukokuuhun 1987.
1. painos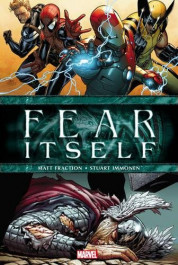 Matt Fraction & Stuart Immonen: Fear Itself (K)
KÄYTETTY.
The Avengers are Earth's Mightiest heroes but even they know fear.
And when a powerful and ancient evil overtakes our world, each hero must make a sacrifice to save the Earth.
But as the Serpents mystical hammers transform friend and foe alike into unstoppable agents of destruction, as Odin prepares to burn he Earth to cinders to save his people,
it's not these sacrifices the Avengers fear.
It's the knowledge that no matter what price they pay, this battle will be unwinnable.
Collecting: Fear Itself: Book of the Skull, Fear Itself: 1-7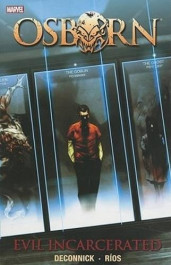 Kelly S. DeConnick & Emma Ríos: Osborn – Evil Incarcerated (K)
KÄYTETTY.
BIG TIME HITS SPIDER-MAN'S GREATEST ENEMY!
The world's most dangerous felon is in the world's top supermax-security prison–an institution so secret that even the vice president doesn't know it exists.
But can any cell contain Norman Osborn?
After the events of SIEGE, the former Green Goblin, Iron Patriot and power-mad director of worldwide security isn't allowed to have a toothbrush…and he's surrounded by the deadliest criminals in the world.
Lucky for Osborn, they're fans.