Luettelo:
Manga-uutuudet
Ulkomaiset uutuudet
Käytetyt sarjakuvat
MANGA-UUTUUDET
Taiki Kawakami: Kun jälleensynnyin hirviönä 1
Mikamilla ei mene hyvin.
Keski-ikä häämöttää, työelämä tökkii, eikä tyttöystävästä ole tietoakaan. Sitten hän vielä kuolee yllättäen.
Hämmästyksekseen hän havaitsee jälleensyntyneensä unelmiensa fantasiaroolipelimaailmaan… jonkinlaisena limaolentona.
Jatkuuko velhojen ja ritarien valtakausi, vai onko aika kypsä uudenlaiselle sankarille?
Fantasia / Ikäsuositus: 12+
ULKOMAISET UUTUUDET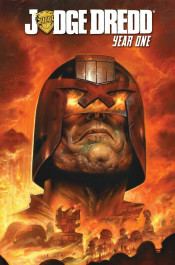 Matt Smith & Simon Coleby: Judge Dredd – Year One
When juves across sector start manifesting psychic abilities, Dredd must team up for the first time with Psi-Division to combat the spreading chaos.
But just what is causing the psi-outbreaks as it crosses the dimensions – and what does it have in store for Mega-City One?
.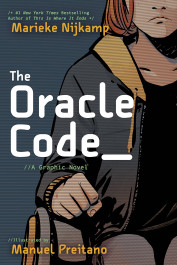 Marieke Nijkamp & Manuel Preitano: The Oracle Code
The #1 New York Times bestselling author Marieke Nijkamp and artist Manuel Preitano unveil a graphic novel that explores the dark corridors of Barbara Gordon's first mystery: herself.
After a gunshot leaves her paralyzed below the waist, Barbara Gordon must undergo physical and mental rehabilitation at Arkham Center for Independence.
She must adapt to a new normal, but she cannot shake the feeling that something is dangerously amiss.
Strange sounds escape at night while patients start to go missing.
Is this suspicion simply a result of her trauma? Or does Barbara actually hear voices coming from the center's labyrinthine hallways?
It's up to Barbara to put the pieces together to solve the mysteries behind the walls.
In The Oracle Code, universal truths cannot be escaped, and Barbara Gordon must battle the phantoms of her past before they consume her future.
Graphic novel for Young Adults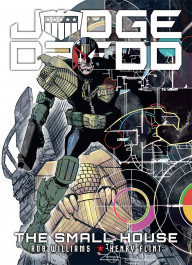 Rob Williams & Henry Flint: Judge Dredd – The Small House
The critically-acclaimed and fan-lauded latest Judge Dredd tale which sent shockwaves through the universe and Mark Millar called "one of the best runs ever!"
Everything is at stake and no-one is safe – in the critically-acclaimed storyline from Rob Williams and Henry Flint – Judge Dredd and his team of hand-picked allies finally takes on the nefarious Judge Smiley, Mega-City One's behind-the-scenes manipulator – but who will be left standing at the end?
And with tensions with Chief Judge Hershey at breaking point, has Dredd finally met his match?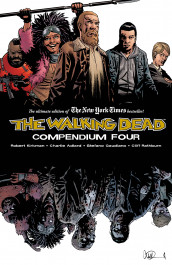 Robert Kirkman & Charlie Adlard: The Walking Dead Compendium 4
The Walking Dead returns with its FOURTH massive paperback collection!
With over 1,000 pages, this volume contains the next chapter of ROBERT KIRKMAN and CHARLIE ADLARD's Eisner Award-winning continuing story of survival horror.
From the Whisperers to the Commonwealth, Rick Grimes meets new allies and enemies on the way to reclaiming the world from the dead.
Wars are started, and dear friends fall…
Collects THE WALKING DEAD #145-193.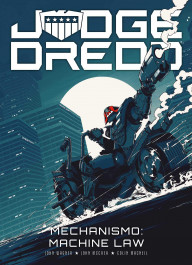 John Wagner & John McCrea: Judge Dredd – Mechanismo: Machine Law
A buddy cop tale like no other!
Man and mechanismo, on the mean streets of Mega-City One. The next chapter in the legendary Judge Dredd epic, penned by incomparable Judge Dredd co-creator John Wagner.
With Mega-City one eating Judges faster than they can be replaced, the Justice Department prepares once more to trial a radical solution for their manpower shortage: The Mark-8 RV Mechanismo unit, robotic judges programmed to deal with everything the city can throw at them, with freshly programmed AIs designed to empathise with the citizens they'll encounter.
Judge Dredd himself has never hid his feelings on granting judicial powers to machines, but the responsive, resilient and ultimately expendable machines may be the answer to the justice department's problems.
Dredd is ordered to put aside his prejudices and conduct an assessment with one of the latest models, nicknamed HARVEY…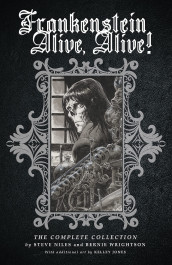 Steve Niles & Bernie Wrightson: Frankenstein Alive, Alive! The Complete Collection
Inspired by Mary Shelley's immortal gothic horror tale, Frankenstein Alive, Alive brings new life to the Promethean monster, courtesy of Steve Niles (30 Days of Night) and Bernie Wrightson (Frankenstein, Swamp Thing).
Victor Frankenstein's cobbled together creature continues his adventures, embarking on a journey to discover his own humanity.
This collection includes the four-issue series along with an extended gallery section of never-before-seen layouts and pencils by Wrightson, all scanned from the original art.
Additional art is supplied in the final chapter by Kelley Jones (at Wrightson's request), who stepped in to complete the series upon the comic book legend's untimely passing.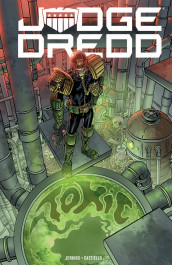 Paul Jenkins & Marco Castiello: Judge Dredd – Toxic!
Dredd's investigation into the death of a seemingly unremarkable sewage worker spirals into a waste management crisis that could destroy all of Mega-City One!
Mega-City One has long used genetic modification on its waste workers to control the deluge of filth that flows under the city each day.
When Dredd discovers that some of them have foregone that disfiguring procedure in favor of hosting protective alien symbiotes, it sparks a groundswell of anti-immigration fervor. Soon the toxic atmosphere spills into the streets, undermining the very infrastructure that makes the city tolerable.
Can Dredd find a solution to save the now indispensable aliens from the angry mobs?
Never have the satire and social commentary of Judge Dredd cut so sharply, nor repudiated hate so emphatically, as in Toxic! And never has that statement–or the humor and entertainment with which it is delivered–been more necessary.
Collects the complete four-issue series.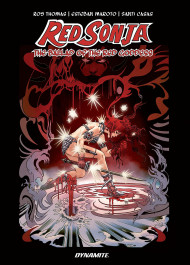 Roy Thomas & Esteban Maroto: Red Sonja – The Ballad of the Red Goddess
A stunning new original graphic novel produced in cooperation with leading Spanish publisher Planeta, from the legendary creative team of writer Roy Thomas, artist Esteban Moroto and the incredible talent of Santi Casas — presented here as an oversized hardcover and featuring a spectacular use of black, white and RED!
Never before seen in English, this Hardcover OGN is an all-new tale, lost from the Nemedian Chronicles — until now!
The very origins of Sonja are cleverly teased as the masterful Roy Thomas weaves a tale of intrigue, deception and the search for eternal youth.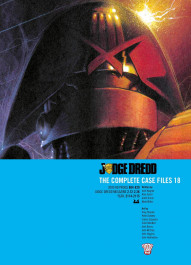 Judge Dredd – The Complete Case Files 18
Mega-City One – a nightmarish enclosure located along the Eastern Seaboard of North America.
Only the Judges – powerful law enforcers supporting the despotic Justice Department – can stop total anarchy running rife on the crime-ridden streets.
Toughest of them all is Judge Dredd – he is the law and these are his stories…
Judge Dredd team up with the Emerald Isle's finest, Judge Joyce in Mega-City One, while straight from the pages of the Judge Dredd Megazine there are robotic rumblings aplenty in Mechanismo & Mechanismo Returns!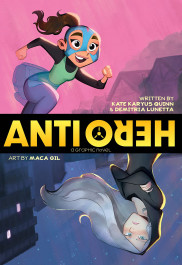 Kate Karyus Quinn & Maca Gil: Anti/Hero
Piper Pájaro and Sloane MacBrute are two 13-year-old girls with very different lives but very similar secrets.
Popular, outgoing Piper is strong-like, ripping-the-doors-off-cars strong. She longs to be a superhero, even if she tends to leave massive messes in her wake.
Sloane, on the other hand, is snarky and super-smart. Like, evil-genius smart. To help her family, she has to put those smarts to use for her villainous grandfather.
When a mission to steal an experimental technological device brings the two girls face to face with each other, the device sparks-and the two girls switch bodies!
Now they must live in each other's shoes as they figure out a way to switch back.
Anti/Hero is a story that explores what makes a hero, how one can find friendship where it's unexpected, and what it means to walk in another person's shoes…literally!
John Wagner & Kev Walker: Judge Dredd – Mandroid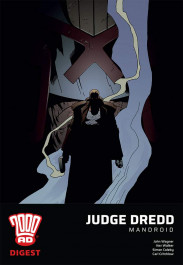 The dark classic of revenge is 2000 AD at its pulse-pounding best – available for the first time in a new low-priced digest format!
HALF HUMAN… ALL KILLER!
Sergeant Nate Slaughterhouse is the veteran of many bloods fought on alien planters, but after being mortally wounded on the battlefield the only way to save his life is to cybernetically reconstruct his body, turning him into more machine than man – a mandroid!
Discharged from the army, Nate returns to Mega-City One struggling to deal with his new existence.
When his family are subject to a vicious attack, his bitterness turns to anger and he takes to the streets to dispense brutal vigilante justice.
But there's room for only one law in the Big Meg… And Dredd's on the case!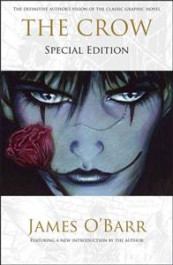 James O'Barr: The Crow
When James O'Barr poured the pain and anguish of a personal tragedy into the drawings that comprise The Crow, his intensely cathartic story of Eric–who returns from the dead to avenge his and his fiancée's murder at the hands of a street gang–resonated with readers around the world.
Now, the illustrated tale that became the "thrilling" ( Los Angeles Daily News) and "spectacular" ( Chicago Tribune) screen triumph is re-released in an expanded version the author originally intended, complete at last with:
Thirty pages of never-before-seen artwork, including a new closing segment, "Sparklehorse," and the touching new scene, "An August Noel"
A new Introduction by James O'Barr
Lost sequences restored using the artist's original technique
This is The Crow like you've never seen it before–the powerful journey of an avenging angel and a celebration of true love . . . as fierce, intelligent, and unforgettable as when it was first conceived.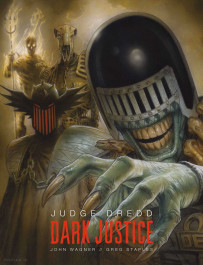 John Wagner & Greg Staples: Judge Dredd – Dark Justice
The incredible return of Judge Dredd's ultimate nemesis!
After a ten year absence, the life-hating super-fiend from Deadworld -Judge Death – returns!
Having previously been destroyed by nuclear fire and dragged to hell by the vengeful spirits of those he had murdered, Death has managed to return to world, ready to resume his mission in destroying all life.
On his own, Death is a devastating force of evil, but once united with his 'brothers' – Judges Fear, Fire and Mortis – the quartet of terror are near invincible!
Can Judge Dredd and Psi-Judge Anderson possibly stop the Dark Judges from attempting to destroy Mega-City One again?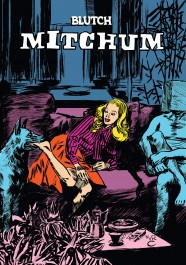 Blutch: Mitchum
A star of French comics imagines America–its movie stars, its history, its fashion–in these tantalizing graphic short stories about everything from love to, yes, the actor Robert Mitchum.
Blutch is one of the most inventive storytellers in comics, and nothing reveals it like Mitchum.
Serialized and collected in the mid-90s and never before available in English, this is Blutch at his most wide-ranging: from Puritan fever dreams to an encounter with a shape-shifting Robert Mitchum, Blutch builds stories out of his dreams, visions of America, and anything else he can get his hands on.
Drawn in his unmistakable line that veers in a moment from crude to elegant, blotchy to crisp, horrific to serene, these comics show Blutch searching for new artistic frontiers. What he finds is sometimes surprising, occasionally unsettling, and endlessly fascinating.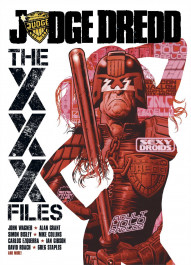 John Wagner: Judge Dredd – The XXX Files
Judge Dredd is famous for showing no emotion and upholding justice, but what happens when the citizens of Mega-City One want to cut loose, let their hair down and really lay down the law?
In this brand new collection launching first in the US and Canada, Dredd discovers that the sin-seekers of the Big Meg are more inventive, funny and down sexier than he could have imagined.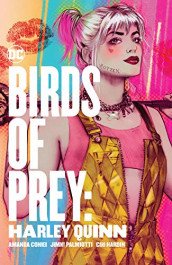 Amanda Corner & Jimmy Palmiotti: Birds of Prey – Harley Quinn
In celebration of the feature film Birds of Prey (And the Fantabulous Emancipation of One Harley Quinn) comes BIRDS OF PREY: HARLEY QUINN.
Meet the character that inspired the film in this classic story!
An out-of-town girl moves to the Big Apple after a bad breakup, looking for a new job, a new love, and a new life.
Oh yeah, she's a criminally insane super-villain who just got jilted by a psychotic clown. Did we not mention that yet?
She's Harley Quinn, and she's starting fresh in Coney Island.
But where Harley goes, trouble follows. Someone's put a price on her head so big every bounty hunter in Brooklyn is looking for her.
Now this newly minted New Yorker has to count on her motley crew of new neighbors–and a few of her good old bad-girl friends–to get the last laugh on whoever's gunning for her.
From the fan-favorite writing duo Amanda Conner and Jimmy Palmiotti with art by Chad Hardin, this volume collects stories from Harley Quinn #1-7, Harley Quinn: Futures End #1, and Secret Origins #4.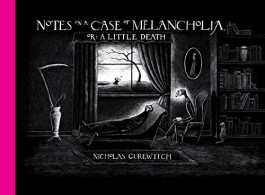 Nicholas Gurewitch: Notes on a Case of Melancholia, or: A Little Death
Death arrives in this darkly humorous and brilliantly illustrated tale created by Nicholas Gurewitch, author of The Perry Bible Fellowship Almanack!
Death becomes a patient of a recently-bereaved psychoanalyst.
The topic of discussion? His frolicsome child, who has no apparent interest in grim-reaping!
Featuring an unfathomable number of lines which have been hand-chiseled into inked clay, this labor of love by Nicholas Gurewitch invokes the morbid humor of his comic strip ( The Perry Bible Fellowship) and the spooky silent-film qualities of the late Edward Gorey.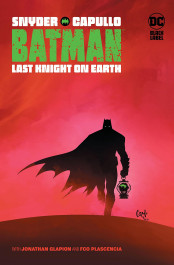 Scott Snyder & Greg Capullo: Batman – Last Knight on Earth
Twenty years in the future, Bruce Wayne wakes up in Arkham Asylum.
Young. Sane. And… he's never been Batman.
So begins this sprawling tale of the Dark Knight as he embarks on a quest through a devastated DC landscape, featuring a massive cast of familiar faces from the DC Universe.
As he tries to piece together the mystery of his past, he must unravel the cause of this terrible future and track down the unspeakable force that destroyed the world as he knew it…
From the powerhouse creative team of writer Scott Snyder and artist Greg Capullo, the team that reinvented Batman from the emotional depths of Batman: Court of Owls to the epic power of Dark Nights: Metal, DC presents what could be the last Batman story ever told…
Collects Batman: Last Knight on Earth #1-3.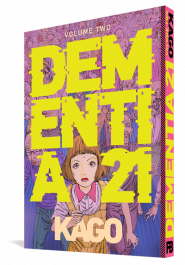 Shintaro Kago: Dementia 21 vol. 2
Plucky young Yukie Sakai is a home health aide eager to assist her elderly clients.
In the first volume of Dementia 21, this seemingly simple job led her on a series of surreal adventures that put her wits to the test!
In volume two, she faces ever more oddball patients and outré encounters.
Yukie boldly decides to join the resistance — against a squadron of maniacal diapers hell-bent on taking over the world!
A shorthanded hospital hires zombies to care for its patients, but … what exactly do they eat?
When an old man creates a machine that causes out-of-body experiences, what could possibly go wrong? And why are children getting rocket launchers in their stockings? Three words: Santa has dementia!
From the twisted mind of Kago comes a flood of outlandish, eerie, darkly comedic tales that strain the bounds of the imagination — and bring Yukie's strange saga to a close.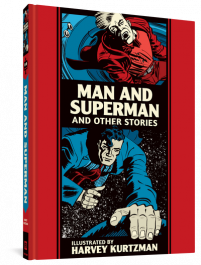 Harvey Kurtzman: Man and Superman and Other Stories
All of Harvey Kurtzman's rare EC genre fiction in a single volume!
Before he created Mad, before he created his scrupulously researched and emotionally wrenching war comics (Two-Fisted Tales, Frontline Combat), Harvey Kurtzman got his start at EC with his meticulously crafted science fiction, crime, and horror stories.
This latest volume in The Fantagraphics EC Artists' Library collects all of Kurtzman's rarely seen early EC stories, mainly from the pages of Weird Science and Weird Fantasy, but also from Tales from the Crypt, Haunt of Fear, Vault of Horror, and Crime SuspenStories. Kurtzman illustrates twist-ending stories written by Al Feldstein, including "Lost in the Microcosm," "The Man Who Raced Time," and "Atom Bomb Thief."
But unlike most other EC artists, Kurtzman also often wrote and drew his own stories, as in "The Radioactive Child," "The Last War on Earth," and our title story, "Man and Superman" — a cautionary tale about the how the laws of physics would impact a real-world superhero, delivered in Kurtzman's uniquely bold, slashing, cartoony-but-dead-serious style.
Like every book in the Fantagraphics EC Artists' Library, Man And Superman and Other Stories features extensive essays and notes on these classic stories written by EC experts.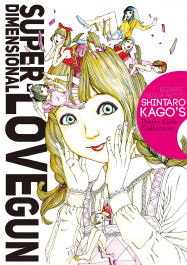 Shintaro Kago: Super-Dimensional Love Gun
Fashionable-paranoia is a mix of splatter violence, humor and titillation, and manga artist, Shintaro Kago has helped define the genre over the last twenty years.
Collecting fifteen different short stories from his illustrious career, Super-Dimensional Love Gun compiles stories full of neurotic dark humor and unease.
.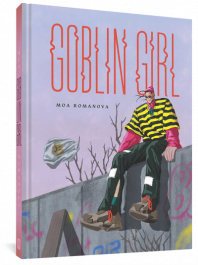 Moa Romanova: Goblin Girl
Moa is in crisis.
Suffering from increasing panic attacks and depression, she continues to withdraw from everything and everyone around her.
In the midst of this, she meets an older man online— a public figure who offers his financial and emotional support as a patron of her art.
But this seemingly once-in-a-lifetime opportunity soon proves to be just as fraught as the rest of her life.
Thought-provoking, funny, and highly relatable, Goblin Girl is a remarkable work of autobiography that upends expectations at every turn and finds grace in the unlikeliest corners of the human condition.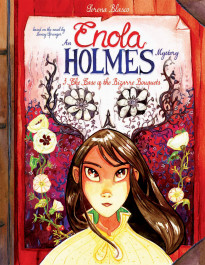 Nancy Springer & Serena Blasco: Enola Holmes – The Case of the Bizarre Bouquets
Can Enola crack her latest case and find a missing Dr. John Watson before her famous older brother, Sherlock? The adventures continue in these graphic novel adaptations of Nancy Springer's mystery series.
Enola is still hiding from Sherlock and her other brother Mycroft, who want to place her in a boarding school since their mother's disappearance.
Looking for a new disguise, she finds just what she needs in a theatrical costume shop. This time, no old woman or ingenious girl will do as she transforms herself into an elegant and refined lady.
When she questions Mrs. Watson about her husband's disappearance, Enola notices a strange bouquet. It is here that she has the upper hand on Sherlock. Enola's mother taught her about the secret language of flowers.
The meaning of the bouquet is "bad luck," "death," and "revenge"!
Can she locate Dr. Watson in time?
This beautifully drawn graphic novel adaptation also includes a portfolio of pages from Enola's secret notebook.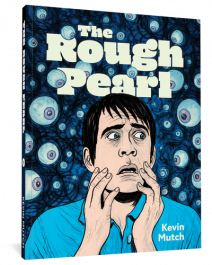 Kevin Mutch: The Rough Pearl
Thirty-something Adam Kline is an aspiring artist with bleak prospects, stuck in a thankless adjunct teaching gig and married to an ambitious woman tired of supporting his starry-eyed pipe dreams.
Just as things seem to be looking up for hapless Adam, he begins to black out at random and awaken in a pitch-dark void surrounded by billions of probing eyes.
When these uncanny visions appear in his real life, he starts to worry that he's losing his mind…
In The Rough Pearl, Xeric Award-winning cartoonist Kevin Mutch skewers the pretentious world of academia and the soul-crushing New York art scene — and enlivens this wry, slice of life (and death) tale with a touch of the surreal.
Now 8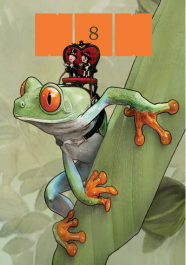 Now enters its third year of existence firmly established as the pre-eminent anthology of first-rate comics talent from around the globe.
Now #8 features an original cover by Al Columbia (Pim & Francie) with all-new stories by Theo Ellsworth, Sami Alwani, E.S. Glenn, Veronika Muchitsch, Henry McCausland, Zuzu, Noah Van Sciver, Walt Holcombe, Maggie Umber, Tara Booth, and Nick Thorburn!
A cross-section of brilliant cartooning and storytelling, spanning the globe, at the best price point in comics!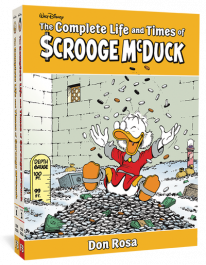 Don Rosa: The Complete Life and Times of Scrooge McDuck 1-2 Box Set
Fantagraphics is proud to release the complete story of Scrooge McDuck's life — just as Don Rosa always wanted to tell it!
Collecting The Complete Life and Times of Scrooge McDuck Volumes 1 and 2, and showcasing Don Rosa's epic graphic novel tapestry of how the richest duck in the world earned his fortune — the complete story plus all the "Untold Tales" — together in a handsome deluxe two-volume slipcased box set.
KÄYTETYT SARJAKUVAT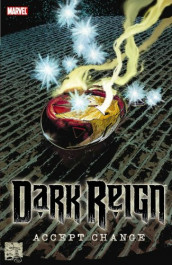 Dark Reign – Accept Change (K)
KÄYTETTY.
The Invasion is over, and the shape of the world has changed, with new and returning players now center stage.
Get the lowdown on what's going on across the Marvel Universe as we enter Dark Reign!
In Dark Reign: New Nation, we meet the Secret Warriors, the Skrull Kill Krew, and other Marvel players as they embark on their own adventures in the wake of Secret Invasion.
Then, Dark Avengers #1 kicks off an explosive new era in the Avengers mythos. Who are the Dark Avengers? A simple question with a shocking answer! Plus, learn the truth about Emma Frost's secret past in Uncanny X-Men Annual #2.
Collects Dark Reign: New Nation, Secret Invasion: Dark Reign, Dark Avengers #1, Uncanny X-Men Annual #2, Dark Reign Files, and Marvel Spotlight: Dark Reign.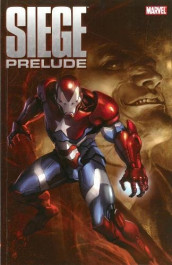 Siege – Prelude (K)
KÄYTETTY.
One collection packed with stories leading into Marvel's major event SIEGE!
Remember when you were first introduced to the Cabal, the gathering of the most sinister members of the Marvel Universe, and you said to yourself: Well, that's going to blow up in everyone's face! Well, you were right!!
Norman Osborn faces off with Doctor Doom and his mysterious threat to Doom is revealed.
Collects Dark Avengers #1, Dark Reign: The Cabal, Thor #600, Dark Reign: The List – Avengers, New Avengers Annual #3, Dark Reign: The Goblin Legacy and Marvel Spotlight (1971) #30.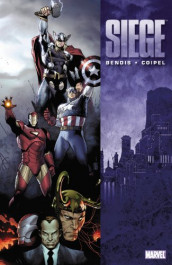 Brian Michael Bendis: Siege (K)
KÄYTETTY.
Beginning with the ravaging effects of Avengers Disassembled and following the aftermath of House of M, Civil War and Secret Invasion, culminating with the evil Reign of Norman Osborn, the Marvel Universe has been left with its greatest villains holding more power and control than ever before.
On the brink of madness, Osborn, in his final bid to take total control, targets the final obstacle in his mission…Asgård.
Events are set in motion forcing our heroes to put aside the deep rifts that have grown over the past seven years. Opposing them stand a horde of evil that has begun to take down the gods of the Golden Realm!
SIEGE will rock the foundations of every super hero, villain and team in the Marvel Universe.
As an era ends, one word will ring above all others…"SIEGE."
COLLECTING: Siege #1-4: The Cabal, Siege Prologue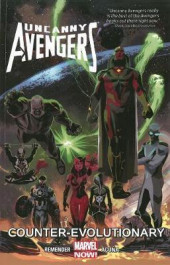 Rick Remender & Daniel Acuña: Uncanny Avengers 1 – Counter-Evolutionary (K)
KÄYTETTY.
From the ashes of AXIS an all-new, all different Avengers assemble!
The tragedy at the end of AXIS has left the Uncanny Avengers vulnerable, and someone is taking advantage of it.
One of the Avengers oldest foes returns with a terrible secret that will, all hyperbole aside, shatter the lives of two members of the squad.
What is Counter-Earth? What terrible secrets does it house?
Collects Uncanny Avengers (2015) #1-5.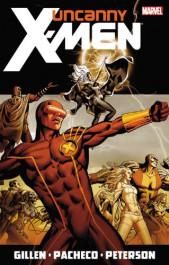 Kieron Gillen: Uncanny X-Men by Kieron Gillen 1 (K)
KÄYTETTY.
Earth's mightiest mutants!
In the wake of Schism, Cyclops leads a team of X-Men whose express purpose is to deal with extinction-level events. Meet the X-Men's "Extinction Team": Storm, Emma Frost, Magneto, Namor, Colossus, Danger, Magik and Hope.
And the team's formation hasn't come a moment too soon, for longtime X-Men nemesis Mr. Sinister has brazenly taken possession of the massive alien Dreaming Celestial – an act of open hostility designed to put the X-Men in their place, but also an offensive that will draw the attention of the godlike Celestials themselves.
COLLECTING: UNCANNY X-MEN #1-4.
Geoff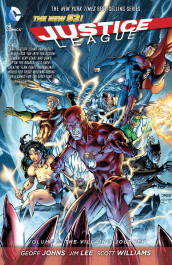 Johns & Jim Lee: Justice League 2 – The Villain's Journey (K)
KÄYTETTY.
The Justice League is the greatest force for good the world has ever seen. But not everyone sees them that way.
Their never-ending battle against evil results in casualties beyond its super-powered, costumed combatants. The League's attempts to safeguard innocent lives cannot save everybody. Unbeknownst to Earth's greatest champions, their greatest triumph may contain the seeds of their greatest defeat.
For heroes are not the only people who face tragedy and are reborn as something greater than they were before. Villains can take this journey, too.
And once they start out on this dark path, the road could lead straight to the destruction of the Justice League….
The New York Times bestselling team of Geoff Johns (Green Lantern) and Jim Lee (Batman: Hush) are joined by artists Gene Ha (Top 10) and Carlos D'Anda (Deathblow) for JUSTICE LEAGUE VOL. 2: THE VILLAIN'S JOURNEY, collecting issues #7-12 of the series. Can the world's greatest super heroes survive a voyage deep into the heart of darkness? It all ends with one of the most shocking … and surprising moments in DC history!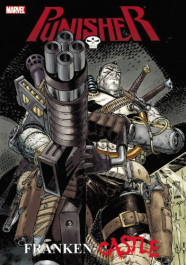 Punisher – Franken-Castle (K)
KÄYTETTY.
Hundreds have tried, but only Daken succeeds in killing Frank Castle…but even in the face of death, the Punisher won't stay down!
With his remains stitched back together into a heap of scarred flesh and machinery, the Punisher is reborn as the terrifying monster Franken-castle!
Collecting: Dark Reign: The List – Punisher, Punisher #11-16, Franken-Castle #17-21 and Dark Wolverine #88-89.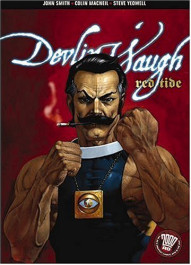 John Smith: Devlin Waugh – Red Tide (K)
KÄYTETTY.
The Vatican's finest supernatural investigator is back!
It's time to re-aquaint yourself with Devlin Waugh – aesthete, athlete, wit…and vampire.
Following his unwilling conversion to vampirism, Devlin's social life has been ruined. Unable to walk in daylight, Waugh has instead retired, becoming solitary and bitter.
But now something from Devlin's past is coming – something terrible…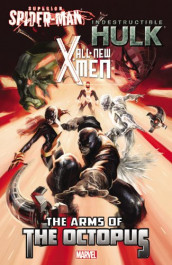 All-New X-Men/Indestructible Hulk/Superior Spider-Man – The Arms of the Octopus (K)
KÄYTETTY. TAKAKANNESSA TAITOS.
The All-New X-Men meet the Indestructible Hulk and the Superior Spider-Man!
Doctor Octopus confronts the time-desplaced young X-Men, but how is he alive?!
Ock's appearance gets the immediate attention of the Superior Spider-Man (who we all know is Doc Ock's mind in Spider-Man's body), and Bruce Banner helps Spidey and the young X-Men investigate the mysterious paradox – but before they learn the truth, they're shocked by the return of the believed-dead Abomination!
Who is in league with these returned villains, and how can our heroes defeat them?
Collecting: All-New X-Men Special #1, Indestructible Hulk Special #1, Superior Spider-Man Team-Up Special #1, Wolverine: In the Flesh #1.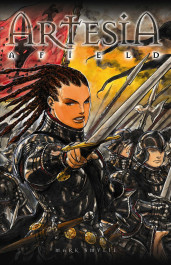 Mark Smylie: Artesia Afield – The Second Book of Dooms (K)
KÄYTETTY.
Artesia leads an army out of the Highlands to aid the Middle Kingdoms against the resurgent Empire of Thessid-Gola.
As Artesia and her captains seek to join the northern army led by the High King's marshal, the Grand Duke Owen Lis Red, they are confronted with the myriad dangers and distractions of life on campaign.
They encounter the Thessid enemy for the first time, meet and hire mercenaries from distant lands, and learn of the Empire's terrifying allies, the Isliklids, who heretically claim descent from Islik the Divine King.
And through it all, Artesia is plagued by dreams and haunted by ghosts, as she ponders the choices she has made, and those she hasn't…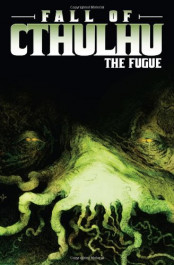 Michael Alan Nelson: Fall of Cthulhu 1-6 (K)
KÄYTETTY. Sisältää kaikki kuusi Fall of Cthulhu -albumia.
Fall of Cthulhu Vol. 1 – The Fugue:
Cy is an ordinary guy with a beautiful fiancee — until his uncle's suicide changes his life forever.
Consumed with discovering the motive behind his relative's sudden and painful death, he finds notes and scribblings about a nonsense word he doesn't recognize… Cthulhu.
Obsessed, he seeks out answers to questions he should have never asked.
Fall of Cthulhu Vol. 2 – The Gathering:
A war is brewing as the Dreamlands is in upheaval and Mister Arkham plots his strategy on Earth.
With only mankind standing in the way of the Godwar, players and pawns move into place, choose new allegiances, and struggle with their role in Mister Arkham's plans for universal domination. Who will survive?
Secrets are revealed as the next chapter in the war of Lovecraftian gods continues!
Fall of Cthulhu Vol. 3 – The Gray Man:
Arkham's Sheriff Raymond Dirk hunts for a killer called the Gray Man!
Teaming the mysterious young woman Lucifer, the Sheriff and his unlikely ally search for the elusive Gray Man, and find themselves the hunted rather than the hunters.
Can they stop the Gray Man in time or will the Cthulhu cultists have their way?
Will the final showdown between the Gray Man and Lucifer over the fate of mankind consume us all?
And what horrible price has the Sheriff paid to tip the balance in our favor?
Fall of Cthulhu Vol. 4 – Godwar:
Mr. Arkham's plans are in motion and the followers of Cthulhu are poised to strike against the heretics of Nodens.
But when their epic battle spills into the Dreamlands, Mr. Arkham's plans threaten to unravel.
Will anyone survive the Godwar?
Fall of Cthulhu Vol 5 – Apocalypse:
The Apolcalypse is upon us!
Since the beginning of the FALL OF CTHULHU storyline, readers have been anxiously awaiting the moment when all the tale's threads begin to tie together into the ultimate war between gods and men.
As of now, they wait no longer. Let the Apocalypse begin!
Fall of Cthulhu Vol. 6 – Nemesis:
Michael Alan Nelson, the critically acclaimed author of Hexed, concludes his Fall Of Cthulhu maxi-series with Nemesis, an epic origin story revealing the secret history behind Nyarlathotep's favorite companion.
Who is Nemesis you ask?
Get this book and find out. Be prepared for the shock of your life as BOOM!'s best-selling horror title comes to its shocking conclusion!
A horrifying glimpse into a modern day Lovecraftian world filled with nightmares and excursions into Lovecraft's Dreamlands!