Luettelo:
Kotimaiset uutuudet
Manga-uutuudet
Ennakkotilaukset
Ulkomaiset uutuudet
Lehdet ja kirjat
Alkuun
KOTIMAISET UUTUUDET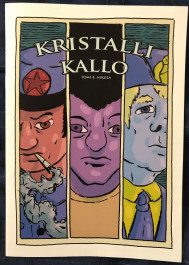 Tomi B. Nikula: Kristalli Kallo
Curt Stomp oli vain normaali trokari, kunnes hän sai tekemästään kristallista supervoimia…
.
.
.
.
MANGA-UUTUUDET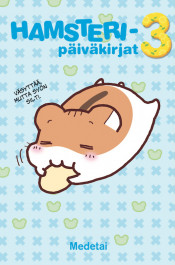 Medetai: Hamsteripäiväkirjat 3
Itsepäinen Shigecchi, hysteerinen Endoo ja laiskanpulskea Puh ovat kuusiosaisen Hamsteripäiväkirjat-sarjan päähenkilöt, jotka sulattavat paatuneimmankin sydämen.
Kuusiosainen sarja tarjoaa mainioita vinkkejä hamsterinomistajille tai sellaisiksi aikoville!
Tässä kirjassa seurataan erityisesti Shigecchin poikasten varttumista.
Kaikenikäisille.
ENNAKKOTILAUKSET
Sui Ishida: Tokyo Ghoul:re 14
ENNAKKOTILAUS. ARVIOITU ILMESTYMISPÄIVÄ 28.5.
Kuolettavasti haavoittunut Kaneki syö oggaiden ruumiit nähdäkseen vaimonsa vielä kerran.
Tämä epätoivoinen teko käynnistää kammottavan muodonmuutoksen.
Yhdistävätkö ihmiset ja ghoulit viimeinkin voimansa, kun heillä on vastassaan uudenlainen armoton hirviö?
Osa 14/16.
Ikäsuositus 15+ / Kauhu/Toiminta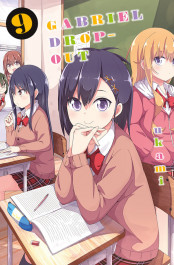 Ukami: Gabriel Dropout 9
ENNAKKOTILAUS. ARVIOITU ILMESTYMISPÄIVÄ 28.5.
Ei ole helppoa olla Taivaan lähettiläs, kun mieli tekisi keskittyä nettipeleihin!
Nuori enkeli Gabriel, ystävien kesken Gabi, on tullut Maan päälle oppimaan lisää ihmisistä, jotta osaisi auttaa ja johdattaa heitä. Mutta ihmisten huvitukset kiinnostavat heitä itseään enemmän…
Tässä kirjassa koko enkeli- ja demoniparvi lähtee kesäjuhlille pitämään hauskaa.
Luvassa on herkkuja ja huvituksia, eksyilyä ja äksyilyä!
Osa 9/9+.
Ikäsuositus 10+ / Komedia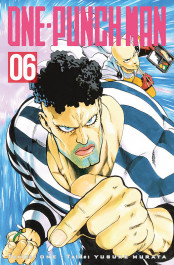 ONE & Yusuke Murata: One-Punch Man 6
ENNAKKOTILAUS. ARVIOITU ILMESTYMISPÄIVÄ 28.5.
Rouva Ryppymummon ennustus lupaa maapallolle todellista täystuhoa puolen vuoden sisällä.
S-luokan sankarit kutsutaan tämän hätätilan johdosta Sankariliiton päämajaan.
Saitaman sosiaaliset aidot joutuvat siis koetukselle! Ja niin joutuu maapallokin…
Osa 6/20.
Ikäsuositus: 12+ / Toiminta
ULKOMAISET UUTUUDET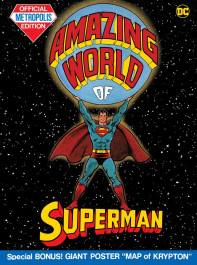 The Amazing World of Superman
The brilliant retelling of Superman's origin story is reprinted in its original, tabloid-size format for the first time!
This tabloid-size masterpiece includes the story of Superman Land with Lex Luthor, Superboy stories, How to Draw Superman, Superman Family Portrait, and more!
Special bonus! A giant poster Map of Krypton!
.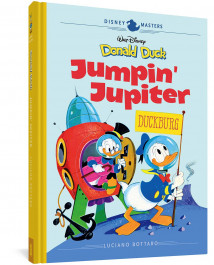 Luciano Bottaro: Donald Duck – Jumpin' Jupiter
Fantagraphics continues to bring internationally beloved Disney Duck comics to the English-speaking world – this volume highlights Bottaro's Rebo, sci-fi bad guy!
If you were Donald Duck, and the raging King Rebo of Saturn attacked your town – would you hire Rebo's enemies from Jupiter to defend you? What if, as payment, the Jovians wanted to eat your rich Uncle Scrooge's money?
And what happens when Daisy joins the intergalactic battle?
Italian Luciano Bottaro spun wild, thrilling, and near-psychedelic Duckburg tales for decades! This volume also features "Quest for the Virtual Duck," as well as another story in which Dr. Zantaf – Scrooge's and Donald's mad scientist foe from Earth – returns!
Full-color illustrations throughout.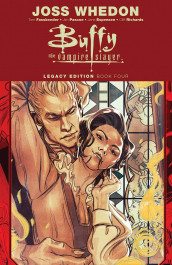 Joss Whedon: Buffy the Vampire Slayer Legacy Edition 4
The definitive collection of every Buffy the Vampire Slayer comic, for the first time presented in publication order, continues in this all-new volume.
THE OFFICIAL TIE-IN TO JOSS WHEDON'S AWARD-WINNING BUFFY THE VAMPIRE SLAYER TELEVISION SERIES!
Set during the sixth season of the Buffy the Vampire television series, it's time for the tragic – and violent – pasts of Giles and Angel to meet in a way they never expected. But that's not the end of trouble in Sunnydale, as Buffy's new-but-totally-not-new sister Dawn has disappears, an ancient prison to a portal dimension has opened, and Willow & Tara just wanna enjoy a peaceful weekend.
Oh, Spike and Dru broke up. Don't worry, they're being total adults about it all. Promise.
Collects Buffy The Vampire Slayer #30-38 and Angel #16, previously published by Dark Horse Comics. This volume includes "Haunted," the unforgettable story focusing on Faith courtesy of acclaimed Buffy writer Jane Espenson.
Legacy Editions collect for the first time every issue of the most popular BOOM! Studios series in chronological order, in a newly designed, value priced format.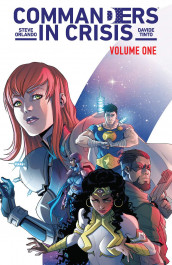 Steve Orlando & Davide Tinto: Commanders in Crisis 1 – The Action
The last survivors of the Multiverse live among us under new, superheroic identities, five survivors of doomed worlds…taking a second chance to ensure our world lives on.
A new twist on strange superhero comics, with a bleeding-edge eye on the modern moment, COMMANDERS IN CRISIS follows in the footsteps of Doom Patrol and Thunderbolts as five unexpected heroes come together to solve a murder unlike any other.
The victim? Compassion itself…This is ideacide!
A new series by acclaimed writer STEVE ORLANDO (Wonder Woman, Doom Patrol: Milk Wars, Martian Manhunter) and artist DAVIDE TINTO (Marvel Action: Spider-Man), an intense, weird action thriller reminding us about the importance of compassion and hope in the present moment, and putting fists to faces along the way!
Collects COMMANDERS IN CRISIS #1-6.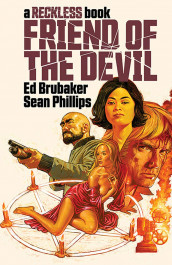 Ed Brubaker & Sean Phillips: Friend of the Devil
The next book in the red-hot Reckless series is here!
Bestselling crime noir masters Ed Brubaker and Sean Phillips are back with another new original graphic novel featuring troublemaker-for-hire Ethan Reckless.
It's 1985 and things in Ethan's life are going pretty well… until a missing woman shows up in the background of an old B-movie, and Ethan is drawn into Hollywood's secret occult underbelly as he hunts for her among the wreckage of the wild days of the '70s.
"No one does crime fic like Brubaker and Phillips, and their collaboration has never felt more new. Explosive. Vital. And yes… reckless." – Damon Lindelof (LOST, HBO's WATCHMEN)
Another hit graphic novel from the award-winning creators of PULP, MY HEROES HAVE ALWAYS BEEN JUNKIES, CRIMINAL, and KILL OR BE KILLED — a must-have for all Brubaker and Phillips fans!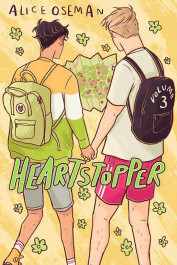 Alice Oseman: Heartstopper 3
The third volume in the poignant and sweet Heartstopper series, featuring beautiful two-color artwork!
Charlie didn't think Nick could ever like him back, but now they're officially boyfriends.
Nick has even found the courage to come out to his mom.
But coming out isn't something that happens just once, and Nick and Charlie try to figure out when to tell their friends that they're dating.
Not being out to their classmates gets even harder during a school trip to Paris.
As Nick and Charlie's feelings get more serious, they'll need each other more than ever.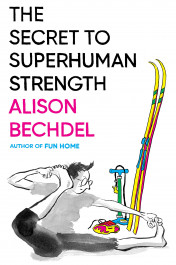 Alison Bechdel: The Secret to Superhuman Strength
From the author of Fun Home, a profoundly affecting graphic memoir of Bechdel's lifelong love affair with exercise, set against a hilarious chronicle of fitness fads in our times.
Comics and cultural superstar Alison Bechdel delivers a deeply layered story of her fascination, from childhood to adulthood, with every fitness craze to come down the pike: from Jack LaLanne in the 60s ("Outlandish jumpsuit! Cantaloupe-sized guns!") to the existential oddness of present-day spin class.
Readers will see their athletic or semi-active pasts flash before their eyes through an ever-evolving panoply of running shoes, bicycles, skis, and sundry other gear.
But the more Bechdel tries to improve herself, the more her self appears to be the thing in her way.
She turns for enlightenment to Eastern philosophers and literary figures, including Beat writer Jack Kerouac, whose search for self-transcendence in the great outdoors appears in moving conversation with the author's own.
This gifted artist and not-getting-any-younger exerciser comes to a soulful conclusion.
The secret to superhuman strength lies not in six-pack abs, but in something much less clearly defined: facing her own non-transcendent but all-important interdependence with others.
A heartrendingly comic chronicle for our times.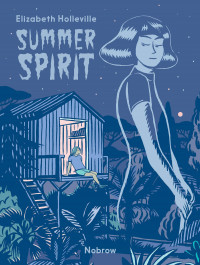 Elizabeth Holleville: Summer Spirit
A new YA graphic novel from French illustrator Elizabeth Holleville, Summer Spirit puts a fresh spin on the struggles of growing up as this coming-of-age story takes a supernatural and sinister turn.
Being a teenager is hard enough without finding out your new best friend is a 60 year old ghost…
Louise spends every summer at her grandmother's house with her older sister and their cousins.
But this summer, Louise realises her relatives are fast growing up, without her. While they're concerned with boy drama, Louise is suddenly left alone.
But then one day she meets Lisa, who will never, ever become a teenager…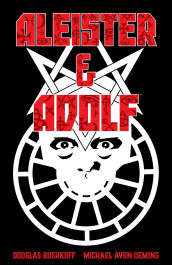 Douglas Rushkoff & Michael Avon Oeming: Aleister & Adolf
Media theorist and documentarian Douglas Rushkoff weaves a mind-bending tale of iconography and mysticism against the backdrop of a battle-torn Europe.
In a story spanning generations, and featuring some of the most notable and notorious idealists of the 20th century, legendary occultist Aleister Crowley develops a powerful and dangerous new weapon to defend the world against Adolf Hitler's own war machine spawning an unconventional new form of warfare that is fought not with steel, but with symbols and ideas.
Unfortunately, these intangible arsenals are much more insidious and perhaps much more dangerous than their creators could have ever conceived.
Foreword by Grant Morrison!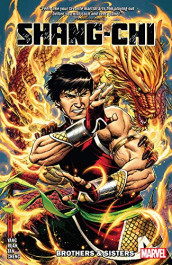 Gene Luen Yang & Dike Ruan: Shang-Chi 1 – Brothers & Sisters
THE MASTER RETURNS!
An ancient and evil secret society has stayed in hiding since the death of their leader, Zheng Zhu.
But now his successor has been chosen to shift the balance of power in the world…Zheng Zhu's son, Shang-Chi!
Witness the Marvel Universe's greatest fighter return to a world of death and destruction he thought he left behind long ago…and discover the secrets to Shang-Chi's past that will change his world forever!
Don't miss out on this epic tale of family, betrayal and justice as the incredible team of Gene Luen Yang (American Born Chinese), Dike Ruan (SPIDER-VERSE, BLACK CAT) and Philip Tan (UNCANNY X-MEN) launch a new chapter in the legend of Shang-Chi!
COLLECTING: SHANG-CHI (2020) #1-5.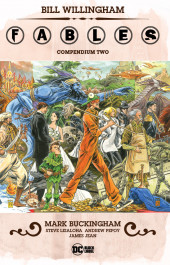 Bill Willingham: Fables Compendium Two
Once upon a time, the subjects of fairy tales–princesses, witches, talking animals, and more–lived far away in a fabled magical realm.
But when a savage creature known only as the Adversary conquered their home, the characters of folklore were forced to flee to a more mundane world.
Disguised among the normal citizens of 21-st century New York City, these magical beings have created their own secret society within an exclusive luxury apartment building called Fabletown.
Now, after years in exile, the citizens of Fabletown are finally ready to reclaim their Homelands. The long-brewing war against the Adversary's empire is here, but even if our heroes succeed…happily ever after never comes without a price.
This second of four fantastic compendiums features tales from the Eisner Award-winning series, created and written by Bill Willingham and illustrated by Mark Buckingham, Steve Leialoha, Andrew Pepoy, James Jean, and many more!
Collects issues #42-82.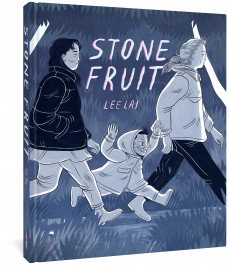 Lee Lai: Stone Fruit
An exhilarating and tender debut graphic novel that is an ode to the love and connection shared among three women and the child they all adore.
Bron and Ray are a queer couple who enjoy their role as the fun weirdo aunties to Ray's niece, six-year-old Nessie.
Their playdates are little oases of wildness, joy, and ease in all three of their lives, which ping-pong between familial tensions and deep-seeded personal stumbling blocks.
As their emotional intimacy erodes, Ray and Bron isolate from each other and attempt to repair their broken family ties ― Ray with her overworked, resentful single-mother sister and Bron with her religious teenage sister who doesn't fully grasp the complexities of gender identity.
Taking a leap of faith, each opens up and learns they have more in common with their siblings than they ever knew.
At turns joyful and heartbreaking, Stone Fruit reveals through intimately naturalistic dialog and blue-hued watercolor how painful it can be to truly become vulnerable to your loved ones ― and how fulfilling it is to be finally understood for who you are. Lee Lai is one of the most exciting new voices to break into the comics medium and she has created one of the truly sophisticated graphic novel debuts in recent memory.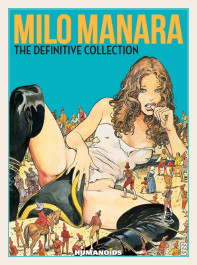 Milo Manara: Milo Manara – The Definitive Collection
From Milo Manara, one of comics' most acclaimed illustrators the world over, comes a collection of three distinct stories―a lighthearted twist on Jonathan Swift's Gulliver's Travels, an edge-of-your-seat thriller in collaboration with Academy Award-nominated screenwriter Vincenzo Cerami (Life Is Beautiful), and a uniquely Manarian adaptation of the Roman classic The Golden Ass of apuleius―all of whitch highlight the artist's ever-titillating and masterful style of storytelling.
Stories:
Gullivera
Pandora's Eyes
The Golden Ass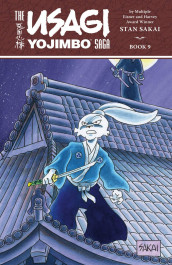 Stan Sakai: Usagi Yojimbo Saga 9
The rabbit ronin saga continues with more action and thrills, including the iconic crossover with the Teenage Mutant Ninja Turtles!
In this ninth volume, Usagi and Inspector Ishida team up once again to solve a series of murders and mysteries.
Between deadly puffer fish assassinations, a run-in with a familiar pair of thieves, a large-scale corruption scheme, and a mission to uncover the meaning behind a foreign book, Usagi and Ishida have their work cut out for them!
Then, join forces with the Teenage Mutant Ninja Turtles in the ongoing battle of good versus evil from Edo-era Japan to New York City!
Collects Usagi Yojimbo Volume 32: Mysteries, Usagi Yojimbo Volume 33: The Hidden, and every existing Usagi Yojimbo/Teenage Mutant Ninja Turtles crossover comic in existence!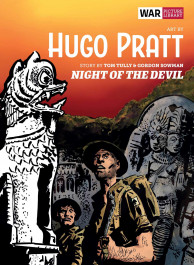 Hugo Pratt: Night of the Devil – War Picture Library
Night of the Devil by comics legend Hugo Pratt is the fourth in a major series of new collections – joining the War Picture Library's mission to bring all of the long-lost UK of war comics master artists back into print.
In Night of the Devil, take a hallucinatory trip through the oppressive heat of the Burmese jungle along with British soldiers engaged in desperate skirmishes with the enemy.
In Bayonet Jungle, Private Jack Green's presence is seen as an omen of bad luck but he struggles to prove himself to the experienced soldiers of Third Platoon as they fight against the Japanese army that surrounds them.
Two exciting and explosive war stories lushly illustrated by Hugo Pratt, comics legend and creator of iconic character, Corto Maltese.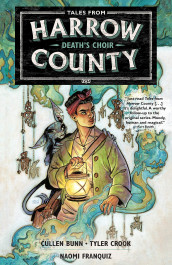 Cullen Bunn & Naomi Franquiz: Tales from Harrow County 1 – Death's Choir
Harrow County is back! The award-winning, Eisner-nominated southern-gothic horror series returns with a brand-new story.
Ten years have passed since Emmy exited Harrow County, leaving her close friend Bernice as steward of the supernatural home.
But World War II is in full swing, taking Harrow's young men and leaving the community more vulnerable than ever–and when a ghostly choir heralds the resurrection of the dead, Bernice must find a solution before the town is overrun.
Collects Tales from Harrow County: Death's Choir #1-4.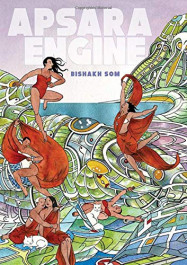 Bishakh Som: Apsara Engine
The eight delightfully eerie stories in Apsara Engine are a subtle intervention into everyday reality.
A woman drowns herself in a past affair, a tourist chases another guest into an unforeseen past, and a nonbinary academic researches postcolonial cartography.
Imagining diverse futures and rewriting old mythologies, these comics delve into strange architectures, fetishism, and heartbreak.
Painted in rich, sepia-toned watercolors, Apsara Engine is Bishakh Som's highly anticipated debut work of fiction.
Showcasing a series of fraught, darkly humorous, and seemingly alien worlds–which ring all too familiar–Som captures the weight of twenty-first-century life as we hurl ourselves forward into the unknown.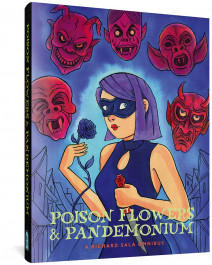 Richard Sala: Poison Flowers & Pandemonium
Just a couple of months before his tragic passing in March 2020, cartooning master of the macabre Richard Sala completed his final book ― or, actually, his final four books.
Poison Flowers and Pandemonium collects all four of these original graphic novellas in one beautiful hardcover worthy of Sala's legacy.
First up in Poison Flowers is "House of the Blue Dwarf," a 125-page thriller featuring master criminal the Bloody Cardinal, who leaves a wake of mayhem and madness everywhere he goes.
"Monsters Illustrated" is a fun, 64-page monster movie riff that showcases Sala's visual imagination. A young woman in a dusty bookstore reads a strange bestiary — the "book within a book" showcases a series of Sala's gorgeous watercolor and ink drawings. But when she gets to the end, she finds the bookseller drives a hard bargain.
"Cave Girls Of The Lost World" is a campy, 60-page romp about a team of young women whose plane crashes in a land forgotten by time and rife with dinosaurs, carnivorous plants, and apemen — but these intelligent, brave, and resourceful women are ready to rumble!
Rounding out the book is "The Amazing Adventures of Fantomina Fantomella," a 45-page graphic novella of violence and non-stop action. Priest and his mob thought Fantomina was dead. So how is it that she's come back with a vengeance?
Poison Flowers & Pandemonium is a perfect showcase of Sala's gorgeous watercolor artwork and his love of B-movie horror, silent film-era archetypes, and femmes fatale.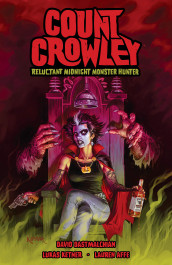 David Dastmalchian & Lukas Ketner: Count Crowley – Reluctant Midnight Monster Hunter
Lock your doors and gather close . . . if you dare!
Once a rising TV journalist, Jerri Bartman has returned to her small Midwest hometown station.
Demoted to hosting the nightly Creature Feature, Jerri's professional humiliation is eclipsed by the discovery that her new job comes with a secret, supernatural duty.
Her missing predecessor, Count Crowley, was one of the last Appointed hunters of monsters.
Yes. Monsters.
They're real and they're hell bent on controlling the news and information consumed by humans. Everything we've ever been taught about monsters is a lie and Jerri's only possible advisor is a senile male chauvinist.
It's 1983 and the outlook for humanity is getting . . . gnarly and their only hope is an alcoholic, acerbic horror host from Missouri.
David Dastmalchian's authorial comics debut with artist Lukas Ketner–this terrifying trade collects issues #1-#4 of the Dark Horse Comics series Count Crowley: Reluctant Midnight Monster Hunter!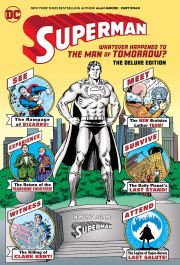 Alan Moore & Curt Swan: Superman – Whatever Happened to the Man of Tomorrow?
Alan Moore's definitive tales of the Man of Steel featuring Batman, Wonder Woman, Robin and more is offered in a Deluxe Edition hardcover for the first time.
Legendary writer Alan Moore's seminal Superman tales are collected in this Deluxe Edition hardcover in which the Man of Steel faces his greatest foes and his final battle with the combined forces of Brainiac and Lex Luthor!
Also featuring the classic story "For the Man who has Everything" from Superman Annual #11 in which Batman, Robin and Wonder Woman fight the evil warlord Mongul for the fate of The Man of Steel, as illustrated by Moore's Watchmen collaborator, artist Dave Gibbons.
And in a tale from DC Comics Presents #85, Superman meets Swamp Thing, a character fans have identified with Moore for over 20 years!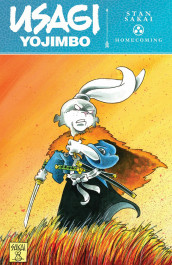 Stan Sakai: Usagi Yojimbo – Homecoming
Volume Two of the new series sees Usagi return to his home province to pay his respects, but ghosts from his past have other plans.
In Tatami, Usagi returns to his home province only to find intrigue and betrayal! An important tea ceremony is about to take place, but what sinister plan does Lord Hikiji have for it and how are the Neko ninja clan involved?
Then, in Mon, long ago, Lord Hikiji defeated Usagi's Lord Mifune to take control of the Northern Province.
Usagi, now traveling through his old territories, still wears the mon (a family crest) of his former lord. But, there are those who still remember the Great Wars with bitterness and threaten to kill any samurai loyal to Mifune.
What happens when they come across Usagi?
In The Return, Usagi is on a pilgrimage to his late lord's gravesite, however, wearing the Mifune clan crest in Lord Hikiji's territory has made him an enemy.
Traveling through this dangerous land he has made his way to the one place he had been avoiding–the village in which he grew up.
Bittersweet memories awaken with his long-time love, until the village becomes embroiled in a plot to assassinate an emissary of the shogun.
Collects issues #8-14 of the all-new full-color Usagi Yojimbo series published by IDW and features an Introduction by artist Peach Momoko.
Alkuun
LEHDET JA KIRJAT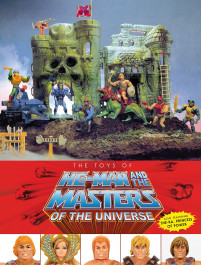 The Toys of He-Man and the Masters of the Universe
A massive, 700-plus-page, full-color hardcover chronicling the quintessential toys of He-Man, She-Ra, and the other Masters of the Universe!
In the 1980s, the Masters of the Universe toy lines shook the world of children's entertainment to its foundations.
Now, YouTube influencer Pixel Dan Eardley and He-Man historian Val Staples have worked with fans worldwide to cultivate this incredible volume that contains in-depth overviews of every item in several complete toy lines, including: 1982's Masters of the Universe, 1985's Princess of Power, 1989's He-Man, 2002's Masters of the Universe relaunch, and 2008's Masters of the Universe Classics!
In addition to expertly-researched documentation of the toys' development and unique variants, each entry also includes photographic reference of the heroic figures and playsets from decades of development.
This phenomenal tome also features never-before-seen interviews and designer commentary from the toys' creators, offering keen insights into the genesis of a product that inspired millions of young imaginations.
With over 700 pages of lovingly assembled content, this compendium is the perfect addition to any Masters of the Universe fan's collection. By the power of Grayskull, you have the power!