Luettelo:
Kotimaiset uutuudet
Manga-uutuudet
Ulkomaiset uutuudet
Oheistavara
KOTIMAISET UUTUUDET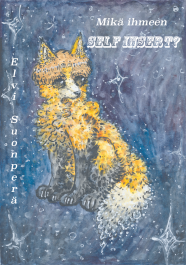 Elvi Suonperä: Mikä ihmeen SELF INSERT?
Informatiivinen teos ilmiöstä self insert
.
.
.
.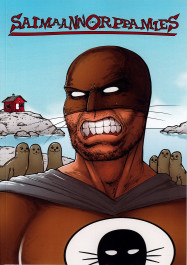 Juho Hautala (toim.): Saimaannorppamies
Norppien kutsuhuuto kajahtaa, ja sankari syöksyy toimintaan!
Vuoden 20XX Suomessa toimii värikäs joukko supersankareita, joiden keskuudesta loistaa Saimaannorppamies, väsymätön saimaannorppien oikeuksien esitaistelija.
Viikset vipattavat ja viitta liehuu, kun tämä ainutlaatuinen sankari puolustaa rauhaarakastavia norppia merirosvokapteeneilta ja ydinkatastrofeilta.
Saimaannorppamiehen lisäksi albumissa esitellään myös muita suomalaisia sankareita, kuten öinen kostaja Melankolia sekä olennaiseen keskittyvä Olennainen.
MANGA-UUTUUDET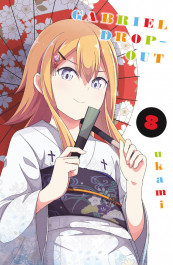 Ukami: Gabriel Dropout 8
Ei ole helppoa olla Taivaan lähettiläs, kun mieli tekisi keskittyä nettipeleihin!
Nuori enkeli Gabriel, ystävien kesken Gabi, on tullut Maan päälle oppimaan lisää ihmisistä, jotta osaisi auttaa ja johdattaa heitä.
Mutta ihmisten huvitukset kiinnostavat heitä itseään enemmän…
Kuinka käy, kun Gabrielin tiukka isosisko saapuu vieraisille? Ovatko sankarittaremme (?) laiskan leppoisat päivät luetut!?
Ikäsuositus 10+ / Komedia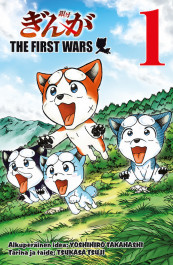 Tsukasa Tsuji: The First Wars 1
Yoshihiro Takahashin koirasaagan humoristinen spin off -sarja!
Koiramangan mestarin nuorten soturien pentuaikojen noloimmatkin kolttoset paljastuvat!
Vauhtia, väärinkäsityksiä ja vinkeitä tilanteita piisaa, kun Orion, Rigel, Sirius ja Bella ottavat ensiaskeliaan matkalla legendaarisiksi taistelijoiksi!!
.
Yoshihiro Takahashi: The Last Wars 13
Pitkä taistelu Futagosolassa on päättynyt.
Monsoon iski maahan melkein kaikki Ōun armeijan veteraanit ennen pakoaan.
Koirat nuolevat haavojaan karhujätin hautoessa kostoa.
Ikäsuositus 13+ / Toiminta/Seikkailu
.
ULKOMAISET UUTUUDET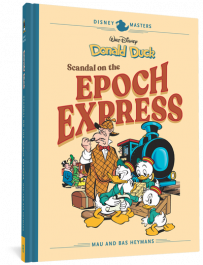 Mau & Bas Heymans: Donald Duck – Scandal on the Epoch Express
Donald battles master spies and his own Uncle Scrooge in hilarious tales by two Dutch Disney Masters!
Riding from Duckburg to Montreal on a luxury train full of celebrities, railroad porter Donald Duck can't wait to serve breakfast to his daring action-movie idol — Sharon Stun.
But Donald and his nephews get caught up in a real-life thriller — when "Mystic"" Max McMalefactor, disguise artist and sinister spy, infiltrates the Epoch Express with plans for plunder!
But "Scandal on the Epoch Express" is just the start! In "Scent-imental Romeos," Donald vows to create the world's stinkiest cologne. And in "Don Quiduck De La Mancha," a hypnotized Donald thinks he's a knight — and helps the Beagle Boys rob Uncle Scrooge's Money Bin!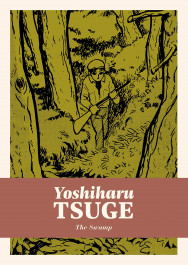 Yoshiharu Tsuge: The Swamp
Yoshiharu Tsuge is one of the most influential and acclaimed practitioners of literary comics in Japan.
The Swamp collects work from his early years, showing a major talent coming into his own. Bucking the tradition of mystery and adventure stories, Tsuge's fiction focused on the lives of the citizens of Japan.
These mesmerizing comics, like those of his contemporary Yoshihiro Tatsumi, reveal a gritty, at times desperate postwar Japan, while displaying Tsuge's unique sense of humor and point of view.
"Chirpy" is a simple domestic drama about expectations, fidelity, and escape. A couple purchase a beautiful white bird with a red beak. It is said that the bird will grow attached to its owners and never fly away.
While the girlfriend is working as a hostess, flirting with men for money, the boyfriend decides to draw a portrait of the new family member, and disaster strikes.
In "The Swamp," a simple rural encounter is charged with sexual tension that is alluring but also fraught with danger.
When a young woman happens upon a wing-shot goose, she tries to calm it then suddenly snaps its neck. Later, she befriends a young hunter and offers him shelter, but her motivations remain unclear, especially when the hunter notices a snake in the room where they'll both be sleeping.
The Swamp is a landmark in English manga-publishing history and the first in a series of Tsuge books Drawn & Quarterly will be publishing.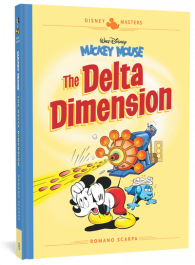 Romano Scarpa: Mickey Mouse – The Delta Dimension
Fantagraphics is proud to launch a new series of books devoted to Disney's greatest cartoonists, beginning with this volume of Mickey Mouse classics drawn by the great Italian artist, Romano Scarpa!
When Mickey's town is hit by a blizzard of strange glowing snow, everyone thinks it's a publicity stunt.
But genius Dr. Einmug knows better: Pegleg Pete is on the loose with Einmug's weather-control secrets! Only Mickey and Einmug's mysterious companion — the odd little Atomo Bleep-Bleep — can save the day before a poison rainstorm wipes Mouseton off the map!
When Disney Legend Floyd Gottfredson stopped creating new Mickey Mouse adventures in 1955, Italian Disney maestro Romano Scarpa (1927–2005) picked up the Mickey mantle — he quickly proved himself a worthy successor, spinning out decades' worth of new Mickey action epics — most of which have never been available in English!
Now Fantagraphics is translating and anthologizing Scarpa's best! This volume also reunites Mickey, Atomo, and Pete for Scarpa's "The Bleep-Bleep 15" and "The Fabulous Kingdom of Shan-Grilla," two internationally famous tales making their North American debut!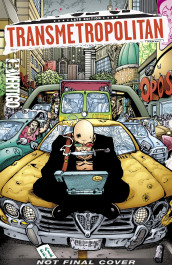 Warren Ellis & Darick Robertson: Transmetropolitan Book Three
Life is not getting easier for Spider Jerusalem, as he is starting to have blackouts and episodes of mental confusion not related to his usual diet of narcotics and whiskey!
Can investigative reporter Spider Jerusalem still fight the injustices of the 21st-century Babylon…or has the corrupted city taken one more soul?
Having had enough of the warped 21st-century Babylon that he lives in, Spider escapes into a world of bitterness and pills. As he stumbles through this haze of depression and drugs, he must find a way to cover the biggest story of the year, the presidential election.
Armed with only his demented mind and dark sense of humor, Spider embarks on an adventure of political cynicism, horrific sex, and unwelcome celebrity that culminates in a shocking and ruinous ending.
Collects issues #25-36.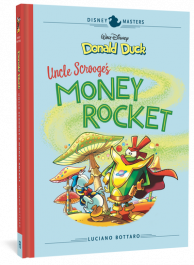 Luciano Bottaro: Donald Duck – Uncle Scrooge's Money Rocket
Our second entry in the new Disney Masters series spotlights one of the all-time great Disney Duck artists, Luciano Bottaro!
When Scrooge rockets his money to the moon to save it from the greedy Beagle Boys, Donald Duck accidentally stows away — and gets stranded on an asteroid! With Rebo, Warlord King of Saturn, suddenly in the picture, can Donald rescue himself and rescue Scrooge's fortune?
Italian comics maestro Luciano Bottaro (1931–2005), building on the Carl Barks tradition, spun wild, thrilling, and near-psychedelic Duckburg tales for decades! Now Fantagraphics brings Bottaro's best Disney works to the English-speaking world — starting with Rebo, Bottaro's great sci-bad guy!
After Rebo's first feature-length battle with Donald and Scrooge in "Uncle Scrooge's Money Rocket," the avaricious alien is back from outer space in "Rebo Reducks," this volume's second cosmic epic. Then Bottaro pits Scrooge against Carl Barks's beloved Witch Hazel in "TV Trickery!" is is the second of our new Disney Masters series, spotlighting one of Disney's most beloved Italian cartoonists!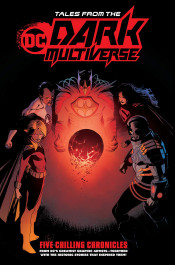 Tales from the DC Dark Multiverse
DC has delivered some of the most influential and ground-breaking stories in comics history with titles such as Batman: Knightfall, The Death of Superman, Blackest Night, Infinite Crisis and many more. Now, after the events of Dark Nights: Metal, a gateway into the Dark Multiverse has opened and its stories are revealed!
Featuring top author and artist talent, Tales from the DC Dark Multiverse is going beyond the Multiverse and diving deep into the dark with new timelines and shaking up the defining moments in DC history.
What are the consequences if The Joker's aim had hit James Gordon instead of Barbara? What would the DC Universe look like?
Tales from the DC Dark Multiverse is a hard cover format collecting stories from DC Universe alternate timelines!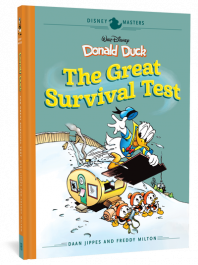 Daan Jippes & Freddy Milton: Donald Duck – The Great Survival Test
Watchful uncle Donald Duck doesn't want Huey, Dewey, and Louie taking on a daring Junior Woodchuck mission at 20 degrees below zero.
But Donald's "survivalist" nephews insist they can stake out the coldest night of the year in an abandoned trailer in the wilderness — so Unca Donald vows he's gonna teach them a lesson!
When Disney Legend Carl Barks stopped creating new Disney Duck tales in the early 1970s, the Dutch and Danish team of Daan Jippes and Freddy Milton picked up right where Barks left off. Jippes and Milton were the first to continue Barks's art and storytelling style in new stories.
Now, by popular demand, Fantagraphics collects Jippes and Milton's classic teamups — and "The Great Survival Test" is just the start of the mayhem! From Donald's war with lucky Gladstone in "The Briefcase Case" to Daisy's race against time in "Coat of Harms," an amazing collection of Duck Family adventures is here!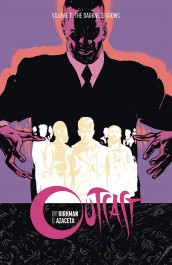 Robert Kirkman & Paul Azaceta: Outcast 7 – The Darkness Grows
The darkness is closing in on Kyle Barnes… the end game approaches.
Collects Outcast by Kirkman & Azaceta #37-42.
.
.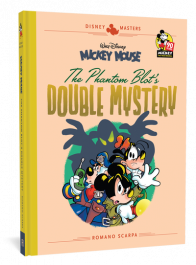 Romano Scarpa: Mickey Mouse – The Phantom Blot's Double Mystery
Danger! Danger!
Mickey's diabolical arch-enemy—the Phantom Blot—is on the loose!
But when Mickey, Goofy, and Chief O'Hara set out to stop his crime spree, there's something they don't know: the Blot has Mickey hypnotized—and as good and evil clash in a spooky old house, our hero is unknowingly doing the bad guy's bidding!
When Disney Legend Floyd Gottfredson stopped creating new Mickey Mouse adventure serials in 1955, Italian Disney artist-writer Romano Scarpa picked up the Mickey mantle—telling decades' worth of legendary tales himself!
Now Fantagraphics is anthologizing Scarpa's best. And beyond "The Blot's Double Mystery," this volume features Mickey on a wild sea adventure in "The Eternal Flame of Kalhoa"—and Scrooge McDuck facing down his old flame, Brigitta MacBridge, in "The Last Balaboo"!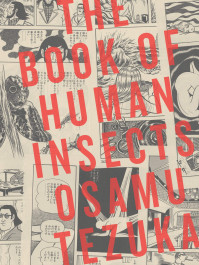 Osamu Tezuka: The Book of Human Insects
Toshiko Tomura is a genius; the darling of the intelligentsia.
A modern-day Michelangelo, this twenty year-old is already an established international stage actress, an up-and-coming architect, and the next recipient of the prestigious Akutagawa Prize as Japan's best new writer.
Her actions make headlines in the papers, and inspire radio and television programming. And like many great talents, her troubled past is what motivates her to greatness. She has the amazing ability to emulate the talents of others.
Toshiko is also the mastermind behind a series of murders.
The ultimate mimic, she has plagiarized, blackmailed, stolen and replicated the works of scores of talents. And now as her star is rising within the world of the elites and powerful she has amassed a long list of enemies frustrated by the fact that she has built critical and financial acclaim for nothing more than copying others' work.
Neglected as a child, she is challenging the concepts of gender inequality while unleashing her loneliness upon the world as she climbs the social ladder one body at a time.
One of Osamu Tezuka's most wicked tales, The Book of Human Insects renders the 70's as a brutal and often polarizing bug-eat-bug world, where only those willing to sell their soul to the masses and become something less than human are capable of achieving their wildest dreams.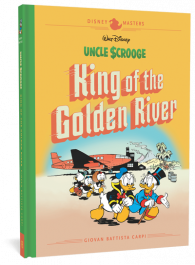 Giovan Battista Carpi: Uncle Scrooge – King of the Golden River
High up the Duck Family Tree lurks King Dondorado, ancient ruler of a pre-Columbian South American empire.
Now Scrooge McDuck wants to find Dondorado's treasure! But the King's ghost demands his vast wealth go only to the pure of heart. Is that why Scrooge and Donald are bringing Huey, Dewey, and Louie along? How many ways can this go wrong?
Beyond "King of the Golden River," this first-ever English language anthology includes "Me, Myself—and Why?" — in which Scrooge adopts two aliases to confuse the taxman — only to develop an actual split personality! Plus: the Wild West saga of "Mickey the Kid and Six-Shot Goofy!"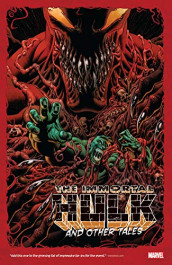 Absolute Carnage – Immortal Hulk and Other Tales
The effects of Absolute Carnage are felt across the Marvel Universe!
The late Thaddeus "Thunderbolt" Ross was once the Red Hulk – and briefly bonded to the Venom symbiote!
Now, Ross' corpse has been unearthed, though why and by whom remain unclear. But with Ross' gamma-infused body possibly in nefarious hands, Bruce Banner intends to find out!
During its first visit to New York City, the same symbiote briefly bonded to a human host that wasn't Peter Parker or Eddie Brock!
Now, years later, this mystery man will meet his destiny…at the hands of Carnage!
And former Ghost Rider Alejandra Jones is next on the lethal killer's hit list! Danny Ketch must ride again, but can he keep her out of Carnage's clutches?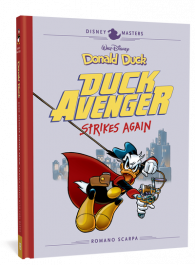 Romano Scarpa: Donald Duck – Duck Avenger Strikes Again!
Donald's super secret identity is back—times two!
Every diehard Disney Duck fan knows that Donald is secretly that infamous super-anti-hero, Duck Avenger!
But when Uncle Scrooge, to promote his wax museum, sends a robot double of Duck Avenger flying past Donald's house, Donald's secret is threatened!
Can our hero use his high-tech Avenger gadgets to allay suspicion—or will hyper-lucky Gladstone Gander make things even worse? (Oh, yes, you know he will!)
And, in "Ellsworth's Ornery Orphan," Mickey tells the distant desert tale of his mynah bird pal, Ellsworth—and a showdown with dread pirate Mozambeak!
Then, a money-scented perfume sends Brigitta MacBridge and Scrooge to the isle of Bananaland in "The Other Golden Helmet"—Scarpa's one-and-only collaboration with Duck artist supreme Carl Barks! For the first time in English!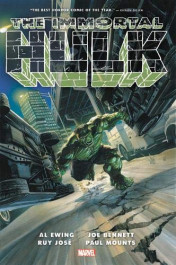 Al Ewing & Joe Bennett: Immortal Hulk 1
Horror has a name.
You'd never notice the man.
He doesn't like to be noticed. He's quiet. Calm. If someone were to shoot him in the head…all he'd do is die.
Until night falls – and someone else gets up again.
The man's name is Banner. The horror is the Immortal Hulk! And trouble has a way of following them both.
As Bruce Banner struggles to control the undying monster within, he finds himself hunted by his old friends and allies.
But there are more sinister forces at work.
Something terrible has infected Banner. A dark infection with unspeakable plans for humanity. The problem is only the Immortal Hulk knows about it!
The Hulk is the one thing standing between the world of the living – and the terrors that await on the other side of the Green Door.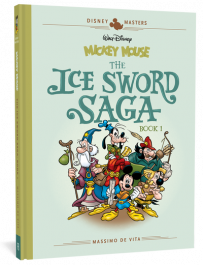 Massimo De Vita: Mickey Mouse – The Ice Sword Saga
Race to the Rainbow!
The wicked Prince of Mists rules the land of Argaar, and only a hero who can unlock the secret of the Sword of Ice can thwart him.
But when a wayward wizard seeks out such a champion, he gets Mickey Mouse and Goofy instead!
But our heroes are up to the challenge, and they soon find themselves embroiled in a royal rumble of giants, dragons, and impossible danger — not to mention a daring dash across a slippery, shimmering rainbow!
Disney Master Artist Massimo De Vita's swashbuckling fantasy epic The Ice Sword Saga begins here — full of travel across time, space, and dimensions, and rich in myth, mayhem, and magic!
OHEISTAVARA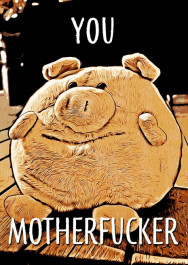 Avi Heikkinen: You Motherfucker -postikortti
Avi Heikkisen Valotusaika-albumista tuttu possupehmo lähettää terveisiä.
.
.
.
.