Luettelo:
Kotimaiset uutuudet
Manga-uutuudet
Ennakkotilaukset
Ulkomaiset uutuudet
Lehdet ja kirjat
Käytetyt sarjakuvat
Elokuvat
Alkuun
KOTIMAISET UUTUUDET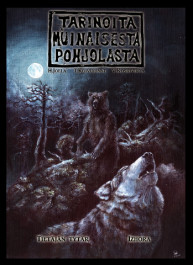 Henri Joela & Tuomas Koivurinne: Tarinoita muinaisesta Pohjolasta – Tietäjän tytär /Izhora
Tarinoita muinaisesta Pohjolasta on 1200-1300-l Pohjolaan ja Baltiaan sijoittuva seikkailutarina.
Sarjakuvan maailma on sekoitus historiaa, kansantarinoita sekä muinaissuomalaista mytologiaa.
Älä unohda aiemmin ilmestyneitä osia: Tarinoita muinaisesta Pohjolasta 1-5.
MANGA-UUTUUDET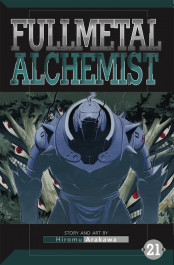 Hiromu Arakawa: Fullmetal Alchemist 21
Veljekset Edward ja Alphonse Elric hallitsevat alkemian – taidon, jonka avulla aineita voi muuttaa toisiksi.
Etenkin Edward tunnetaan alan nerona, yhtenä valtion virallisista alkemisteista. Hänen tittelinsä on "Fullmetal Alchemist", Teräsalkemisti.
"Luvattu päivä" on lähellä.
Voivatko Ed ja al saada silloin kehonsa takaisin?
Vaaroja on kuitenkin edessä.
Al tekee virhearvioinnin ja joutuu taisteluun, jonka seuraukset ovat arvaamattomat. Odotettavissa on myös isän ja pojan räjähtävän tunteikas kohtaaminen…
Ikäsuositus 12+ / Seikkailu
ENNAKKOTILAUKSET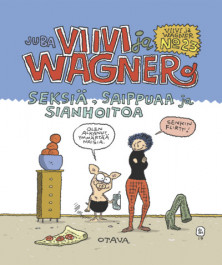 Juba: Viivi ja Wagner 23 – Seksiä, saippuaa ja sianhoitoa (ENNAKKOTILAUS)
ENNAKKOTILAUS.
KIRJA ILMESTYY TOUKOKUUSSA 2020.
Pääseekö Wagner ikinä eroon Viivin suvusta, joka tuntuu muuttaneen heille asumaan?
Miten käy Viivin äidin ja gigolon suhteelle?
.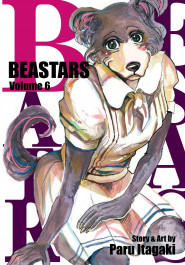 Paru Itagaki: Beastars 6
ENNAKKOTILAUS. KIRJA SAATAVILLA 26.5.2020.
At this high school, instead of jocks and nerds, the students are divided into predators and prey.
At a high school where the students are literally divided into predators and prey, friendships maintain the fragile peace. Who among them will become a Beastar–a hero destined to lead in a society naturally rife with mistrust?
As gray wolf Legoshi and dwarf rabbit Haru's relationship intensifies, gray wolf Juno's jealousy grows.
Red deer Louis's mysterious absence from school has ramifications for both his friends and his enemies. And while the lion gang Shishi-gumi chooses a new leader, Cherryton Academy's headmaster attends the Council of Living Beings to choose the school's next Beastar.
Plus, a flashback to Legoshi's and Jack's puppyhoods and the social engineering following the world war that led to the current fragile truce between carnivores and herbivores.
ULKOMAISET UUTUUDET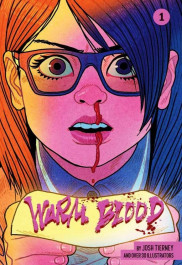 Josh Tierney: Warm Blood 1
The popular high-school mystery webcomic comes to print for the first time in this special edition from Buno.
Join our hero Penny, a quiet girl who dreams of becoming a video game developer, as she navigates her first year at Greenwood High.
There she must contend with a string of bizarre murders, potentially evil twins, rumors of shadow monsters, and a strange presence lurking just outside her window.
Helping Penny through it all are her friends, including her anime loving best buds from elementary school, a 4th wall smashing girl she meets on her first day, and a sweet awkward girl eager to be her BFF, and who happens to be very handy with a baseball bat.
Josh Tierney is the creator of the Eisner, Harvey, Shuster, and Diamond-Gem nominated "Spera" series of fantasy graphic novels and co-creator of the sci-fi mini-series Halo-Gen. His projects are created in collaboration with artists from around the world.
Warm Blood includes work by Josh Tierney, Afu Chan, Saskia Gutenkunst, Joysuke, Winston Young, Naomi Franquiz, Marina Julia, Olivier Pichard, Jane Bak, Vlad Gusev, e jackson, Leiana Nitura, Blakely Inberg, Eva Eskelinen, F. Choo, Cleonique Hilsaca, Thomas Rouzière, Sandrine Han Jin Kuang, Mathilde Kitteh, Shanen Pae, Stephen Rodgers, Sara DuVall, Cat Sukiman, Xulia Vicente, Nuno Plati, Heikala, Crista Castro, Irma Kniivila, Stephanie Son,Cristina Rose Chua, María Ponce Esparcia, Kat Lyons, Gaby Epstein, and nims.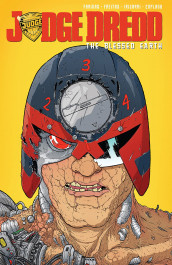 Ulises Farinas & Erick Freitas: Judge Dredd – The Blessed Earth 2
Mega-City One is gone.
Everything is a desolate wasteland. Nothing is as it was. Nothing, that is, except for Judge Dredd! Follow along as Dredd tries to restore order to a lawless land.
Dredd's future has always been a dystopia, but one that hovered between soul-crushing authoritarianism and total anarchy.
Now, 10 years after the destruction of Mega-City One, the balance has tipped, with what is left of the world plunged into absolute chaos. Judge Dredd enforces order from his armored train, a rail warrior, facing mobs of desperate outlaws, the robot-hating Neon Knights, and mysterious diseases too awful to describe.
Follow the story of the Blessed Earth, the lawless land.
But of course, it's not really lawless is it? It has Judge Dredd. And he IS the law.
Collects the final issues of the series, #5-8.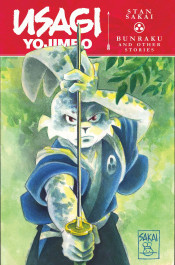 Stan Sakai: Usagi Yojimbo – Bunraku and Other Stories
Follow these all-new full-color adventures of rabbit ronin Miyamoto Usagi as he wanders Edo period Japan on his warrior's journey.
Presented in color for the first time, the ongoing adventures of Stan Sakai's seminal and long running series are now being published by IDW.
This first volume of all-new material continues the saga of Usagi Yojimbo with the three-part "Bunraku," as Usagi becomes embroiled in a puppet drama where the players are not quite what they seem! Will the aid of a supernatural ally be enough for Usagi to prevent more death?
Then, Usagi goes back to his roots as a yojimbo (bodyguard) when he is hired by Lady Mura, a famous writer, to keep her safe on her perilous journey to her father's home.
Plus, a 35th anniversary special where Stan Sakai revisits the very first Usagi story, "The Goblin of Adachigahara", expanding it from 8 to 24 pages and adding new insights into the characters and events, as well as revealing the reason for Usagi's pilgrimage back home.
In the final story, Usagi joins his friend the bounty hunter, Gen, and his partner, Stray Dog, in recovering a stolen sword, an heirloom of the Higashi Clan.
Collects the first seven issues of the new Usagi Yojimbo series published by IDW.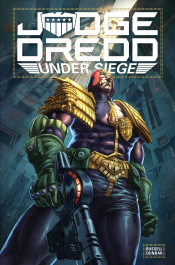 Mark Russell & Max Dunbar: Judge Dredd – Under Siege
Tense, gritty action as Judge Dredd keeps law and order in the chaos that is Mega-City One.
When all contact with the Patrick Swayze Block is lost, Dredd and Judge Beeny are tasked with investigating.
As they battle lawlessness and rampant criminality, they discover a threat to the city that they must contain at all costs…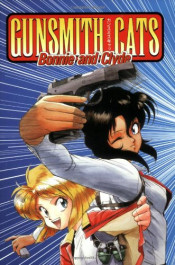 Kenichi Sonoda: Gunsmith Cats – Bonnie & Clyde
Meet Rally and Minnie-May — The Gunsmith Cats — two of the most fun-loving, well-armed, bounty-hunting women in Chicago!
Whether they're chasing bail jumpers or fending off the mob, you can bet on a healthy supply of guns, bombs, car chases, and more guns!
In this 176-page trade paperback — collecting issues 1 through 6 of the series — the pair run afoul of Bonnie and Clyde, a couple of hired guns working mob jobs in the Windy City. With their business interests running on opposite sides of the law, it's no surprise that the net result is gunfire and mayhem!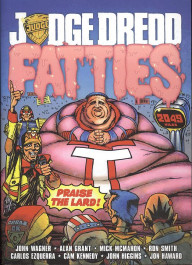 John Wagner & Alan Grant: Judge Dredd – Fatties
The world of Judge Dredd has many strange, bizarre and frightening groups and individuals.
The League of Fatties are among the most vocal and best-loved in the history of Judge Dredd.
A militant Fattist rights group, their actions have been known to cause mayhem and disaster. This is the very first time the complete set of Fatties stories have been brought together under one cover – if one cover can hold them!
A BELLYFULL OF STORIES FROM THE 'BIG MEG' In the nightmarish metropolis of the future known as Mega-City One, a majority of the citizens are unemployed.
Boredom drives many of these people to invest their time in a variety of different hobbies including eating. As a result, a new sub culture of gluttonous, gargantuans have emerged. Nicknamed 'fatties' by the other citizens, these blubbery boys and girls compete in the Intercity Eating Championships to be the biggest and the best citizens ever to use a bellywheel.
This is the very first time the complete set of Fatties stories have been brought together under one cover – if one cover can hold them!
This side-splitting collection of stories from John Wagner (Al's Baby) and Alan Grant (Lobo), features the stunning art of Carlos Ezquerra (Adventures in the Rifle Brigade), Mike McMahon (Ro-Busters) and Cam Kennedy (Star Wars: Dark Empire), and is guaranteed to leave you wanting more!
LEHDET JA KIRJAT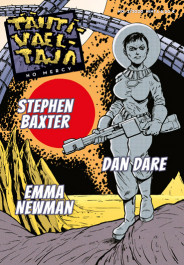 Tähtivaeltaja #153 (2/20)
Mukana mm.
– Emma Newman
– Stephen Baxter: Mars pysyy (novelli)
– Petri Hiltunen: Captain H-Man (sarjakuva)
– Kivi Larmola: Kaikki liikkuu (sarjakuva)
– Dan Dare
.
.
KÄYTETYT SARJAKUVAT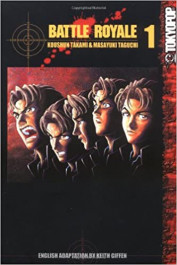 Koushun Takami & Masayuki Taguchi: Battle Royale 1 (K)
KÄYTETTY.
In the near future, a random class of 9th graders has been chosen to compete on The Program, a popular game show that requires its contestants to battle to the death on a top-secret island.
Included in this class are Shuuya Nanahara, Noriko Nakagawa, Shogo Kawada, Kazuo Kiriyama, and Mitsuko Souma. Five students that couldn't be more different, yet now find themselves sharing a common plight.
Abandoned, and with no hope of escape, they must kill each other and the rest of their class, until only one of them is left living.
Unwilling to slaughter his fellow classmates for the amusement of others, Shuuya forms an alliance to fight back and deliver a counter-punch to the government that ruined their lives.
However, he must be careful, for there are some students who are determined to "win" this cruel game…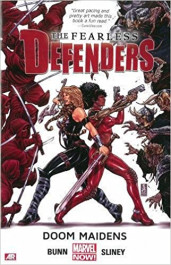 Cullen Bunn & Will Sliney: Fearless Defenders 1 – Doom Maidens (K)
KÄYTETTY.
New team! New villains! New creators!
Valkyrie and Misty Knight are the Fearless Defenders, and not since Power Man and Iron Fist has an unlikely duo kicked this much – well, you know.
Writer Cullen Bunn (VENOM, Sixth Gun, FEAR ITSELF: THE FEARLESS) and new-to-Marvel artist Will Sliney (MacGyver, Star Wars) bring you the book that everyone is going to be talking about…and that's a promise!
COLLECTING: Fearless Defenders #1-6.
Koushun Takami & Masayuki Taguchi: Battle Royale 2 (K)
KÄYTETTY.
Shuuya continues his search for friends so he can create an alliance to destroy the government's plans for the 'program'.
As Shuuya avoids the attacks of his classmates, he comes across the mysterious transfer student, Kawada.
Will Shuuya be able to convince the transfer student to join him or does Kiriyama have other plans?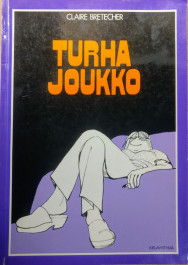 Claire Bretecher: Turha joukko (K)
KÄYTETTY.
Claire Bretécherin Turha joukko on albumi, jossa käsitellään ironisesti ja nokkelasti naisen asemaa, miesten ja naisten välisiä suhteita sekä yhteiskunnallisia ilmiöitä.
.
.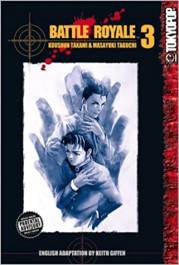 Koushun Takami & Masayuki Taguchi: Battle Royale 3 (K)
KÄYTETTY.
In the future, random Jr. High School classes are chosen to compete in a game called Battle Royale.
The rules: only one student can survive after 3 days on an island or else they all perish. Weapons are handed out and each student is sent out into the field alone and unprepared for the horror that awaits them.
The classmates turn upon themselves in a battle for survival, treaties are made and broken, and former friends become foes as the relentless countdown continues.
Amid the betrayals and rising body count, two classmates confess their love for each other and swear to survive this deadly game together.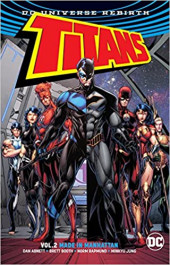 Dan Abnett & Brett Booth: Titans 2 – Made in Manhattan (K)
KÄYTETTY.
The acclaimed team of Dan Abnett (Aquaman) and Brett Booth (Teen Titans) bring the high-flying hero Bumblebee into the reborn DC Universe in Titans Vol. 2: Made In Manhattan!
The Titans are former teen heroes with a lot of history together…history they're just now starting to remember. Nightwing, Donna Troy, Wally West, Arsenal, Tempest and Lilith have started a new life as a team in a new but familiar headquarters—Titans Tower in New York City.
But not all of their former allies are along for the ride. Mal Duncan used to be the Titan known as Herald, but now he's voluntarily given up his powers with the help of a mysterious company known as Meta Solutions. Meta claims they can help any metahuman control their powers, so Mal's wife, Karen, seeks their help with her burgeoning abilities as well.
But the Titans have every reason to suspect Meta Solutions is up to no good…especially when they find out the company is being run by their old foes, the Fearsome Five! Psimon and his team claim they've given up their evil ways…but will the Titans bet their friend's life on it?
Collects Titans #7-10 and Titans Annual #1.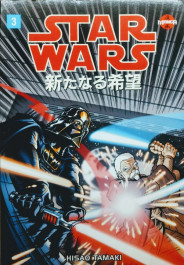 Hisao Tamaki: Star Wars Manga – A New Hope 3 (K)
KÄYTETTY.
The Star Wars saga continues — Manga style in volume three of Star Wars: A New Hope — Manga, artfully rendered by the hand of Tamaki Hisao.
Be there as Luke, Leia, Han, Chewie, and Obi-Wan are brought on board the Death Star.
And witness Hisao Tamaki's incredible rendition of the lightsaber battle between Darth Vader and Obi-Wan Kenobi! You won't want to miss it . . . It's Star Wars like you've never seen it before!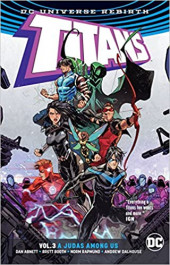 Dan Abnett & Brett Booth: Titans 3 – A Judas Among Us (K)
KÄYTETTY.
The Titans are more than just a team. They're friends, bonded by years of shared history and experiences. But when the trust between members starts to fray, will the team itself fall apart?
Together, the Titans' mission is to infiltrate H.I.V.E. and restore Bumblebee's stolen memories, but the team is still reeling from Nightwing's collusion with their enemy Deathstroke. Meanwhile, Arsenal processes his feelings for his teammate Donna Troy, but Donna instead turns to comfort from Wally West, who is himself struggling with an injury that may never fully heal.
Worst of all, Omen foresees doom in a psychic vision: one of the Titans will betray the team…and possibly destroy the world! With tensions between Titans at an all-time high, how can they possibly trust each other?
Collects TITANS #12-18.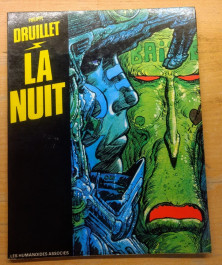 Philippe Druillet: La nuit (K)
KÄYTETTY.
En 1975, Philippe Druillet perd sa femme Nicole, victime d'un cancer foudroyant.
Il exorcise sa peine dans un album au pessimisme assumé, pointant l'absence totale d'échappatoire à l'issue finale.
S'ouvrant sur une préface laissant éructer la rage de l'auteur, La Nuit nous décrit un monde en proie aux gangs de motards anarchiques ou autres barbares déglingués et accros à la dope, se dirigeant tous, au cours d'une bataille sanglante pour le « shoot » ultime, vers une fin inéluctable.
Les planches grandioses s'y succèdent comme de véritables tableaux dressant le portrait d'une humanité en perdition, folle, désespérée et nihiliste.
Explosive, fantastique, sombre, violente, baroque, outrancière : les adjectifs ne manquent pas pour décrire l'œuvre géniale de Druillet, mais s'il est un album qui se distingue parmi tous ses univers, c'est bien celui-ci.
Probablement le plus noir mais aussi le plus fascinant, La Nuit est de ceux que l'on n'oublie pas.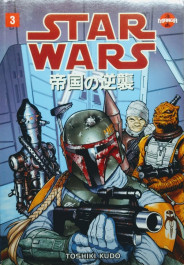 Toshiki Kudo: Star Wars Manga – The Empire Strikes Back 3 (K)
KÄYTETTY.
Where do you go when the Empire is on your tail and you need somewhere to lay low for a while?
Cloud City, of course!
Join Han, Leia, Luke, and Lando as the Star Wars Manga tradition continues with Star Wars: The Empire Strikes Back — MANGA.
Masterfully drawn by artist Toshiki Kudo.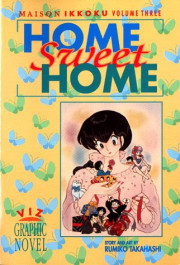 Rumiko Takahashi: Maison Ikkoku 3 – Home Sweet Home (K)
KÄYTETTY.
Now everyone seems to forget that "home is where the heart is"!
First Kyoko's dog Mr. Soichiro (named after her late husband) gets hopelessly lost.
Then, due to a misunderstanding, Yusaku moves out of Maison Ikkoku in a huff. Unfortunately, the tiny apartment he moves into is still occupied – by a beautiful masseuse and her apelike yakuza husband.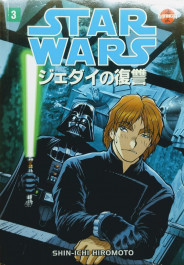 Shin-Ichi Hiromoto: Star Wars Manga – Return of the Jedi 3 (K)
KÄYTETTY.
You`re just about to take out the shield generator protecting the second Death Star when suddenly you`re surrounded by Imperial scum.
What do you do?! Call the EWOKS of course!
It`s Luke, Leia, Han, Chewie, and hundreds and hundreds of fuzzy little Ewoks in the third volume of Star Wars: The Return of the Jedi–MANGA!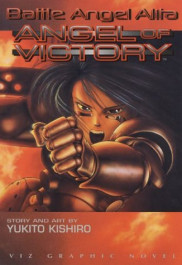 Yukito Kishiro: Battle Angel Alita – Angel of Victory (K)
KÄYTETTY.
Alita must choose a challenge team to defeat Jashugan, the proud, invincible Motorball champion.
Who will give their all-their very life-for the lovely Battle Angel?
In the intense heat of battle during her final one-on-one showdown with Jashugan, Alita slips into a trance that provides an incredible revelation about her mysterious past.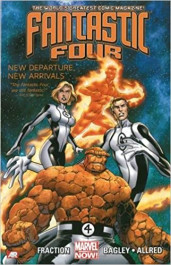 Matt Fraction & Mark Bagley: Fantastic Four 1 – New Departure, New Arrivals (K)
KÄYTETTY.
We have seen the future and it will be fantastic!
When Reed and Sue decide that the family needs to relax, they take Ben, Johnny and the kids on a little vacation … through all of infinite time and space!
And in the real absence of Marvel's First Family, a substitute FF, hand-picked by the real deal – Ant-Man, Medusa, She-Hulk and the all-new Miss Thing – stand ready to guard the Earth and the nascent Future Foundation … for the four minutes that the Fantastic Four will be gone.
What could possibly go wrong? Find out NOW!
COLLECTING: Fantastic Four #1-3, FF #1-3, Marvel Now! Point One (Ant-Man story)
ELOKUVAT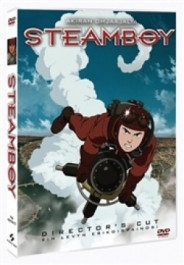 Steamboy (2 DVD)
KÄYTETTY.
Katsuhiro Otomon eeppinen animaatio, Steamboy, on Japanin kaikkien aikojen kallein anime-tuotanto, jonka budjetti oli huimat 22 miljoonaa dollaria!!!
Viktoriaaniseen Englantiin sijoittuvat tapahtumat kertovat Rei- nimisestä nuoresta tiedemiehestä.
Ensimmäinen maailmannäyttely on ovella, kun Rei saa yllättävän lahjan isoisältään, Roidilta.
Höyrypallo, jonka Roid on lähettänyt Reille, pitää sisällään uskomattomia voimia.
Nämä voimat voivat olla hyvin tuhoisia väärissä käsissä, joita edustaa höyrypalloa tavoitteleva häikäilemätön ja salaperäinen Ohara Foundation.
Suomiversio.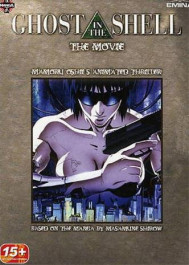 Ghost in the Shell – The Movie (DVD)
KÄYTETTY.
"…James Cameron tekisi tällaisen elokuvan, jos Disney vain sallisi" Empire ****
"..paras elokuva sitten Akiran" Select
"suorastaan pursuaa väriä ja tyyliä" SFX
"iskevää vauhtia, huimia juonenkäänteitä ja upea visuaalinen toteutus" Time out
Se on saanut äänen… nyt se tarvitsee ruumiin.
Maailma on ylikuormitettu tiedolla, keinoäly on enemmän kuin todellisuutta ja robottipoliisit viettävät aikansa surffailemalla elävän tiedon elektronisessa meressä. Vain Aave, ihmisen tietoisuuden määrittelemätön elementti, päättää kuka elää ja kuka on pelkästään Verkoston luomus…
Pohjoismainen versio.
Batman – Gothamin ritari (DVD)
KÄYTETTY.

Kuudesta lyhytanimaatiosta koostuva animeleffa sijoittuu lepakkomiesfilmatisoinneissa elokuvien Batman Begins ja Yön ritari väliin.
Kertoessaan Batmanin vaiherikasta tarinaa se tutustuttaa myös synkeän supersankarin tuntemattomampiin vihollisiin, kuten Linnunpelättimeen, Killer Crociin ja Deadshotiin.
Suomiversio.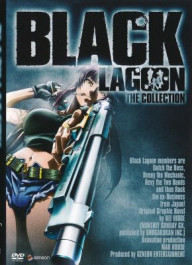 Black Lagoon – The Collection (DVD)
KÄYTETTY.
Rokuro Okajima on yksi tuhansista työntekijöistä suuressa yrityksessä.
Hänen olemassaolonsa tuntuu täysin tarpeettomalta, kunnes yhtenä päivänä häntä pyydetään viemään eräs tärkeää tietoa sisältävä levy eteläiseen Aasiaan.
Merirosvot kidnappaavat hänet Black Lagoon -laivalleen, ja kun yritys vähät välittää hänen kohtalostaan, jättää Rokuro tylsän elämänsä taakseen ja tekeytyy itse merirosvoksi!
6 levyä.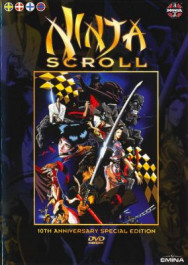 Ninja Scroll (DVD)
KÄYTETTY.
FEODAALINEN JAPANI – VAARAN, JUONITTELUN JA KAVALLUKSEN AIKA….
Jubei on isännätön ninja joka vaeltaa yksin, vuokraten palveluitaan niille joilla on varaa maksaa…tai arvokkaat tarkoitusperät.
Hänen pelottavat kykynsä ovat palvelleet häntä hyvin, mutta hirveä juoni hallituksen kaatamiseksi uhkaa päättää Jubein vaelluksen ja mandollisesti myös hänen elämänsä.
Pieni kylä altistuu kammottavalle vitsaukselle ja joukko ninjoja lähetetään tutkimaan tapausta. Perillä he joutuvat toteamaan, ettei kaikki ole sitä miltä näyttää.
He joutuvat väijytykseen ja heidät tuhoaa kauhea ihmishirviö, joka omaa uskomattomat voimat. Vain yksi ninjoista, Kagero -kaunis ninjatyttö, jonka kosketus voi tappaa välittömästi- jää henkiin.
Jubei pelastaa Kageron kuolemaakin pahemmalta kohtaloita ja tulee tietämättään vedetyksi mukaan kavalluksen verkkoon.
Hän kohtaa pian suurimman haasteensa, vastustajan, joka ei pelkää kuolemaa ja jolla on valta tuhota Jubein maailma. Tuloksena on perusteellinen verilöyly, kun ninjasoturit kohtaavat heimosodassa.
Ninja Scrollissa upeat henkilöhahmot ja erikoislaatuiset taistelukohtaukset yhdistyvät ohjaaja Yoshiaki Kawajirin ja MadHouse Studion loistavaan animointiin!
Pohjoismainen versio.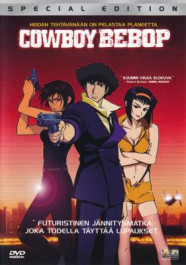 Cowboy Bebop (DVD)
KÄYTETTY.
"… COWBOY BEBOP on fantastinen, todella upea toimintaelokuva… niin mukaansa tempaava ja hauska katsella, että ympäristö unohtuu, eikä istuimen selkänojalle ole käyttöä…" – Mike Toole, "Anime Jump"
Rosvojoukko räjäyttää säiliöauton Marsissa muutamaa päivää ennen Halloweenia vuonna 2071 ja autosta vapautuu hengenvaarallinen virus.
Marsissa pelätään suurempaa, vieläkin tuhoisampaa biokemiallista hyökkäystä, joten syyllisten pidättämisestä ja vangitsemisesta tarjotaan tähtitieteellinen palkkio.
"Bebop"-avaruusaluksella Spike ja hänen palkkiometsästäjistä koostuva miehistönsä ovat ikävystyneitä ja rahapulassa. Palkkiosta tulevat uutiset muuttavat suunnitelmat.
Suuri elokuvahitti COWBOY BEBOP perustuu erittäin suosittuun TV-sarjaan "Cowboy Bebop".
Suomiversio.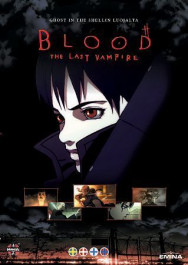 Blood – The Last Vampire (DVD)
KÄYTETTY.
Yokotan ilmavoimien tukikohdassa Japanissa amerikkalainen sotajoukko hermoilee Vietnamin sodan kynnyksellä. Vielä sotaakin suurempi vaara uhkaa tarkasti vartioidun alueen sisäpuolella: Vampyyrit.
Huippusalainen soluttautujaryhmä lähettää arvoituksellisen nuoren naisen tuhoamaan ne -hän on alkuperäisistä viimeinen jäljellä oleva.
Elokuva sisältää erinomaisia henkilöhahmoja, ensiluokkaista animointia ja huumaavan musiikillisen tarjonnan. "Blood: The Last Vampire" on digitaalisen elokuvanteon läpimurto ja vie animaation aivan uudelle tasolle.
Suomiversio.