Luettelo:
Manga-uutuudet
Ennakkotilaukset
Ulkomaiset uutuudet
Lehdet ja kirjat
Alkuun
MANGA-UUTUUDET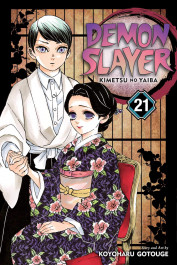 Koyoharu Gotouge: Demon Slayer – Kimetsu No Yaiba 21
In Taisho-era Japan, kindhearted Tanjiro Kamado makes a living selling charcoal.
But his peaceful life is shattered when a demon slaughters his entire family. His little sister Nezuko is the only survivor, but she has been transformed into a demon herself!
Tanjiro sets out on a dangerous journey to find a way to return his sister to normal and destroy the demon who ruined his life.
The fight with Kokushibo, the highest-ranking demon among Muzan's servants, is over.
Although Himejima and Sanemi defeated Kokushibo and sent him to hell, the price the Demon Slayer Corps has paid is very high.
Kiriya Ubuyashiki, the new leader of the Demon Slayers, struggles to recover from the losses.
With the battle against Muzan far from over, the remaining fighters will need his help more than ever.
Meanwhile, deep within Infinity Castle, Tanjiro and his friends come face-to-face with their nemesis at last….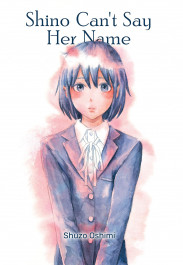 Shuzo Oshimi: Shino Can't Say Her Name
High school can be a stressful time for many young people.
The change means a new commute, new friends, new courses…new teachers. For Shino Oshima the change could have meant an opportunity to blossom into adulthood.
Unfortunately, things go wrong on her first day – she fails to even say her name during her homeroom introduction.
From then on Shino is a part-mute part-stuttering mess. Ostracized and afraid she struggles to find her place in this new world…
But thankfully for her, she finds her voice through music and some unexpected new frienemies.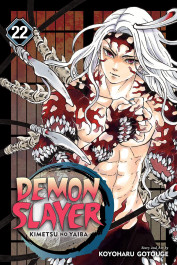 Koyoharu Gotouge: Demon Slayer – Kimetsu No Yaiba 22
After centuries of preparation and training, the Demon Slayer Corps has come face-to-face with their nemesis, Muzan Kibutsuji.
It is a desperate battle and several Demon Slayers have already been killed. Tanjiro himself has engaged Muzan, and, despite giving it everything he has, is taken out of the fight!
Although severely injured and near death, he sees a vision of his ancestor that may hold the key to finally destroying Muzan!
Can Tanjiro recover enough strength to fight Muzan to the finish?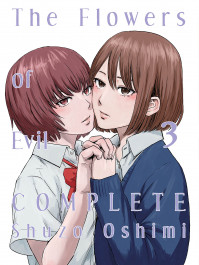 Shuzo Oshimi: The Flowers of Evil – Complete 3
After the climactic incident during the festival, we are sent to a completely new locale, 3 years later.
Takao and Nakamura have been forcibly separated.
Takao is now living with his parents in the suburbs of the big city, and they mostly act like a normal, happy family.
Takao is in a new school, and a typical middling student. And while he's as awkward as ever, he's made some friends.
Even more intriguingly–Takao may have found a girl to open up to. As with Nakamura, this girl can see there's more to Takao than meets the eye. But this time, she's the one who reintroduces him to literature…
ENNAKKOTILAUKSET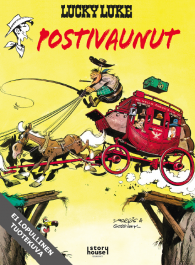 Morris & Goscinny: Lucky Luke 32 – Postivaunut (ENNAKKOTILAUS)
ENNAKKOTILAUS. ARVIOITU ILMESTYMISPÄIVÄ 25.8.
Wells Fargo palkkaa Lucky Luken turvaamaan arvolastia kuljettavien postivaunujen matkan Denveristä San Franciscoon.
Seurauksena on lännenhuumoriklassikko, jonka sivuilla sarjakuvan suurmiehet René Goscinny ja Morris todellakin pistivät parastaan.
Postivaunut oli aikoinaan toinen suomeksi julkaistu Lucky Luke -tarina, joten tällä rakastetulla albumilla on ollut tärkeä rooli Lucky Luken valloittaessa suomalaisten sydämiä.
Vanhaan tuttuun tapaan varsinkin westernien ystäville riittää bongattavaa.
ULKOMAISET UUTUUDET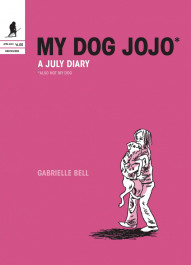 Gabrielle Bell: My Dog Jojo
Gabrielle Bell gets the massive task of helping her reclusive mother find a dog.
The canine must be good with cats, scare bears, and keep deer from eating the garden. When they meet Jojo – who is not qualified – Mom immediately decides to take her home.
Gabrielle channels her inner dog-whisperer to make Jojo feel at home.
Everyone has a different approach to the shy and fragile Jojo – but they all share an immediate love for the troubled dog.
Marc Ellison & Didier Kassaï: A House Without Windows
By the delicate hand of Didier Kassaï (Storm Over Bangui) comes a graphic documentary about the street children of Bangui, told in a style that mixes photos and illustrations.
In the Central African Republic, children grow up in a state of insecurity, poverty, and malnutrition. The land has become what many call "a house without windows."
Through illustrations, photos, and videos (activated via QR codes), this comic takes readers into the heart of this "forgotten crisis."
Central African artist Didier Kassai and British photojournalist Marc Ellison guide readers through the harsh stories of Bangui's children—slaving in diamond minds, housed in refugee camps—and showcase their inspirational courage in the face of unimaginable poverty.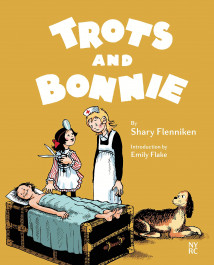 Shary Flenniken: Trots and Bonnie
In the 1970s and 1980s, National Lampoon was home not only to some of the funniest humor writing in America but also to many of its best cartoons.
One of the greatest was Trots and Bonnie by Shary Flenniken, a comic strip that followed the adventures and mishaps of the guileless teenager Bonnie and her wisecracking dog, Trots.
Bonnie stumbles through the mysteries of adulthood, as Flenniken—one of the few female contributors to National Lampoon—dissects the harsh realities of American life.
Dating, sex, politics, and violence are all confronted with fearlessness and outrageous humor, rendered in Flenniken's timeless, gorgeous artwork. After all these years, they have lost none of their power to shock and amuse.
This collection, handpicked by Flenniken and with an introduction by the New Yorker cartoonist Emily Flake, is the first book of Trots and Bonnie ever published in America, a long-overdue introduction to some of the most stunning and provocative comics of the twentieth century.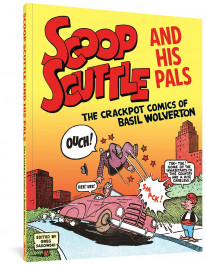 Basil Wolverton: Scoop Scuttle and His Pals
Collects, for the first time, the complete adventures of four of the influential Mad magazine cartoonist's more arcane comics creations: Scoop Scuttle, Mystic Moot, Bingbang Buster, and Jumpin' Jupiter – restored, as they've never been seen before!
In this rip-roaring retrospective of the influential Mad magazine cartoonist, Basil Wolverton's often-warped imagination combines with his outlandishly wacky visual humor to fascinate and delight.
It collects the ultra-rare treasures Scoop Scuttle, Mystic Moot, Bingbang Buster, and Jumpin' Jupiter – as they've never been seen before!
Due to the rock-bottom printing methods of ten-cent comic books, Wolverton's intricate line work was routinely obscured, and often obliterated.
In this collection, every effort has been made to restore the art to its original splendor, and to at last present the uniquely detailed graphics of this justly revered comic book master. Full-color illustrations throughout.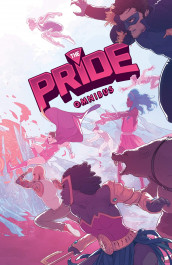 Joe Glass: The Pride Omnibus
Joe Glass's The Pride in a full omnibus trade paperback, collecting volumes 1 and 2 as well as the collection of self-contained stories, The Pride Adventures!
In The Pride, FabMan is sick of being seen as a joke.
Tired of the LGBTQ+ community being seen as inferior to straight heroes, he thinks it's about damn time he did something about it. Bringing together some of the world's greatest LGBTQ+ superheroes, the Pride is born to protect the world and fight prejudice, misrepresentation and injustice–not to mention a pesky supervillain or two.
The Pride Adventures brings a whole host of extra, self-contained stories and adventures starring the heroes of the Pride!
See the team members face down crazed shooters, invasions, and even a sixty-foot-tall drag queen! Featuring a slew of incredible artistic talent, plus stories from writers Mike Garley, Sina Grace and PJ Montgomery too!
Follow the LGBTQ+ heroes into whole new stories and meet even more characters in the world of The Pride!
Join the Pride as they work to change the world and show just what they can do!
Collects the original digital series The Pride and The Pride Adventures in print for the first time.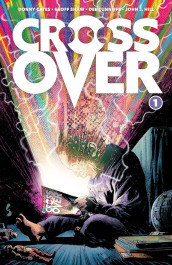 Donny Cates & Geoff Shaw: Crossover 1 – Kids Love Chains
DONNY CATES and GEOFF SHAW reunite for an epic and historic series that's AVENGERS: ENDGAME meets CLOVERFIELD with a good dose of the questing of THE DARK TOWER series thrown in for good measure.
Imagine everything you thought was fantasy…was real.
And now join us, in a world where reality is dead…and anything is possible…
Collects CROSSOVER #1-6.
.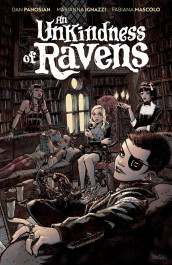 Dan Panosian & Marianna Ignazzi: An Unkindness of Ravens
WELCOME TO CRAB'S EYE. A SMALL TOWN WHERE MAGIC IS REAL AND GOSSIP CAN KILL.
Not all the witches burned during the Salem Witch Trials—and the ones that survived did so together, protecting the ancient secrets entrusted to them for generations.
They call themselves the Ravens.
Wilma is the new girl in school, and she plans to go completely unnoticed—except that she bears an eerie resemblance to the Raven member Waverly, who just went missing.
The truth behind Waverly's disappearance will put the entire coven in danger—and Wilma will have to rely on power she never knew she had if she wants to save her new friends!
Acclaimed cartoonist Dan Panosian (Slots) and rising star artist Marianna Ignazzi present a new supernatural mystery about a group of high schoolers steeped in witchcraft and the town they live in filled with long-hidden secrets and unchecked power.
Collects An Unkindness of Ravens #1-4.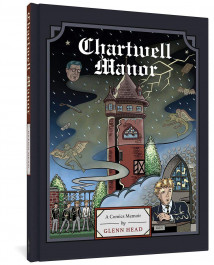 Glenn Head: Chartwell Manor
Veteran alternative cartoonist Glenn Head's harrowing graphic memoir is about years of sexual and emotional abuse suffered at a boarding school during his adolescence, and the resultant trauma that took him almost 50 years to process before being able to tell his story publicly.
No one asks for the childhood they get, and no child ever deserved to go to Chartwell Manor.
For Glenn Head, his two years spent at the now-defunct Mendham, NJ, boarding school ― run by a serial sexual and emotional abuser of young boys in the early 1970s ― left emotional scars in ways that he continues to process.
This graphic memoir ― a book almost 50 years in the making ― tells the story of that experience, and then delves with even greater detail into the reverberations of that experience in adulthood, including addiction and other self-destructive behavior.
Head tells his story with unsparing honesty, depicting himself as a deeply flawed human struggling to make sense of the childhood he was given.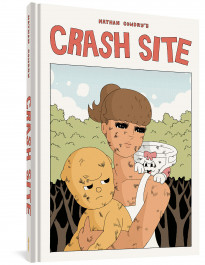 Nathan Cowdry: Crash Site
A black comedy of high order, this debut graphic novel doubles as a psychological drama set in the heart of the Amazon jungle and featuring an absurdist cast of drug traffickers ― including a young woman, a codependent talking dog, and an anthropomorphic pair of sociopathic underwear.
Crash Site, the debut graphic novel from British cartoonist Nathan Cowdry, is the story of Rosie, a young drug trafficker who uses her lovelorn talking dog, Denton, to mule drugs across international lines.
When Rosie and Denton's return flight to England goes down and they find themselves stranded in the Amazon basin (with fifty grand worth of coke in Denton's stomach), well, getting busted becomes the least of their concerns as they try to find their way out. Did we mention that Rosie is also wearing a pair of anthropomorphic underwear she calls Pants Dude, and that he may have other plans for her and Denton?
Crash Site is a darkly funny, character-driven graphic novel that calls to mind the sense of humor of Simon Hanselmann, with a Tarantino-level appetite for gratuitous acts of sex and violence and use of flashbacks to allow the story to unfold.
Cowdry's confident storytelling skills, attractive artwork, and sense of comedic timing makes Crash Site a winning recipe for fans of adult humor.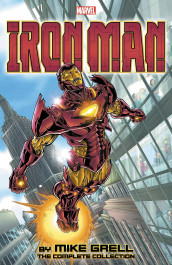 Mike Grell: Iron Man by Mike Grell – The Complete Collection
Acclaimed writer Mike Grell takes the iron reigns, and sends Tony Stark on a mission to investigate a vile dictator's war crimes!
Weapons that Stark once created and sold are now being used to kill innocents, and Iron Man's past has returned to haunt him yet again. Can he stop the carnage before it's too late?
Meanwhile, at the top of the world, precious cargo is delivered to a remote monastery. And when the ornate box is unlocked, Stark's most malevolent foe will be reborn!
Then, Iron Man travels back to the age of knights and chivalry – and must pit his armor against dragon fire!
And Iron Man takes on Thor when the Asgardians decide to meddle in Earthly affairs!
But when terrorists target the Chinese Embassy, why is Tony Stark the prime suspect?!
Writers: Mike Grell, Robin Laws
Artists: Michael Ryan, Ryan Doagawa, Mike Grell, Ivan Reis & Alan Davis
COLLECTING: IRON MAN (1998) #50-69.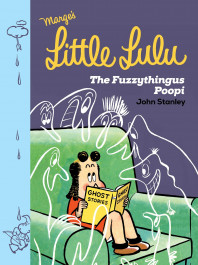 John Stanley: Little Lulu – The Fuzzythingus Poopi
Lulu Moppet is back with even more outlandish adventures and misadventures, as cartoonist John Stanley settles into kooky and entertaining suburban storylines starring Lulu, Tubby, Alvin, and the rest of the gang.
Lulu is a strong, assertive young girl who is both entertaining and empowering to girls and women of all ages–even if she sometimes finds herself in hot water.
In Little Lulu: The Fuzzythingus Poopi, she outsmarts criminals, sabotages the boys in a masterful snowball fight, and solves the crime of the missing piggy bank!
Over the course of these stories, Stanley excels at visual gags, from Lulu winning the soap box derby by turning her frock into a sail, to a lonely cloud almost getting sucked up by a vacuum.
This is the second installment in Drawn & Quarterly's landmark reprint series of the classic John Stanley comic strip that was first published by Dell Comics in the 1940s and '50s.
Little Lulu: The Fuzzythingus Poopi will delight longtime fans of the series and new readers alike.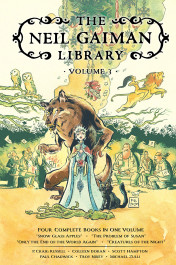 Neil Gaiman: The Neil Gaiman Library 3
A deluxe oversized collection of comic stories from celebrated and award-winning writer Neil Gaiman, in conjunction with some of comics' most acclaimed creators.
A not-so-evil queen is terrified of her monstrous stepdaughter and determined to repel this creature and save her kingdom.
Incarnations of the months of the year sit around a campfire sharing stories as a professor recounts a Narnian childhood and the apocalypse unfolds in two stories and two poems.
An adjustor who sets up shop in Innsmouth only to discover that the world may be ending and that the instrument of destruction is a werewolf.
And creatures of the night are not as they seem as they elude mysterious dangers.
Collects the full graphic novels Snow Glass Apples, The Problem of Susan, Only the End of the World Again, and Creatures of the Night.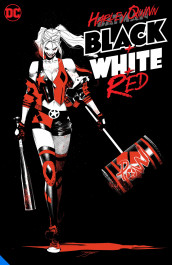 Harley Quinn – Black + White + Red
One of the crown jewels of the DC library is the inimitable, Harvey Award-nominated Batman Black & White—innovative short tales of the Caped Crusader, told purely in primal black and white.
Unfortunately, now Harley Quinn wants in on the action…and she's got her red pen, and some notes.
In Harley Quinn Black + White + Red, 19 tales of Gotham City's craziest clown princess are presented in nothing but black, white, and bold splashes of red.
See how Harley's story unfolds in worlds beyond the DC Universe, in the alternate timelines of Batman: White Knight, Harleen, and the Harley Quinn animated series!
Witness her darkest hours and her happiest moments!
Wait, did she just…win an underground rap battle?!
An incredible array of award-winning talent from across the comics industry (like Stjepan Šejić, Sean Murphy & Katana Collins, Amanda Conner & Jimmy Palmiotti, and many more) have put their reputations in jeopardy to bring you these stories—so show a little gratitude, will ya? (And hey, not for nothin', but they got nominated for a Harvey Award too. Anything you can do, Harley can do better, Bat-brain!)
This volume collects Harley Quinn Black + White + Red #1-17, alongside two all-new, never-before-seen stories—from Veep writer David Mandel and superstar artist Adam Hughes, and from Harley's co-creator, Paul Dini, with Batman: The Animated Series legend Kevin Altieri!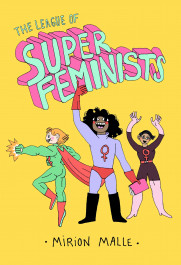 Mirion Malle: The League of Super Feminists
Why does feminism matter? Are feminists man-haters? How do race and feminism intersect?
Malle answers these questions for young readers, in a comic that is as playful and hilarious as it is necessary.
This primer on feminism and media literacy teaches young readers why it matters
The League of Super Feminists is an energetic and fierce comic for tweens and younger teens.
Cartoonist Mirion Malle guides readers through some of the central tenets of feminism and media literacy including consent, intersectionality, privilege, body image, inclusivity and more; all demystified in the form of a witty, down-to-earth dialogue that encourages questioning the stories we're told about identity.
Malle's insightful and humorous comics transport lofty concepts from the ivory tower to the eternally safer space of open discussion. Making reference to the Bechdel test in film and Peggy McIntosh's dissection of white privilege through the metaphor of the "invisible knapsack," The League of Super Feminists is an asset to the classroom, library, and household alike.
Knights and princesses present problems associated with consent; superheroes reveal problematic stereotypes associated with gender; and grumpy onlookers show just how insidious cat-calling culture can be.
No matter how women dress, Malle explains, there seems to always be someone ready to call it out. The League of Super Feminists articulates with both poise and clarity how unconscious biases and problematic thought processes can have tragic results.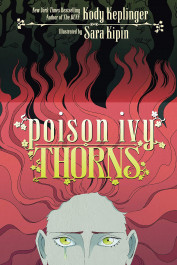 Kody Keplinger & Sara Kipin: Poison Ivy – Thorns
There's something unusual about Pamela Isley–the girl who hides behind her bright red hair.
The girl who won't let anyone inside to see what's lurking behind the curtains. The girl who goes to extreme lengths to care for a few plants. Pamela Isley doesn't trust other people, especially men. They always want something from her that she's not willing to give.
When cute goth girl Alice Oh comes into Pamela's life after an accident at the local park, she makes her feel like pulling back the curtains and letting the sunshine in.
But there are dark secrets deep within the Isley house. Secrets Pamela's father has warned must remain hidden. Secrets that could turn deadly and destroy the one person who ever cared about Pamela, or as her mom preferred to call her…Ivy.
Will Pamela open herself up to the possibilities of love, or will she forever be transformed by the thorny vines of revenge?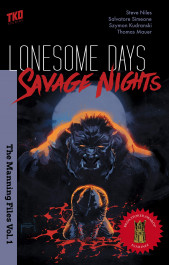 Salvatore Simeone & Szymon Kudranski: Lonesome Days, Savage Nights – The Manning Files 1
Stu Manning always wanted to be a cop.
But a terrible incident on his first beat has left him dishonored, dismayed, and barely clinging to sanity.
Years later Stu prowls the streets again, not as a cop, but a scruffy private detective with one hell of a trick up his sleeve…and a monster under his skin.
But when the city he always wanted to protect claims the one person who helped him survive it this far, Stu is prepared to unleash the beast he's kept inside and embark on his own road to revenge…and he gets the feeling that two graves will not be nearly enough.
A supernatural hardboiled crime thriller for the 21st century.
Steve Orlando & Ricardo López Ortiz: The Pull
TKO Studios presents "The Pull" from superstar creators Steve Orlando (Wonder Woman, Martian Manhunter) and Ricardo López Ortiz (Deadpool, Hit-Girl: Colombia).
When the unstoppable cosmic force of the Undoer threatens the existence of Earth itself, Demm, a disgraced government agent, must shake off a lifetime's worth of regret if he's going to save us all.
The only hope lies in Brenton Demm, one of Earth's thirteen super-science police, and his ex-wife Gayano Tith. With days left until the Undoer swallows the Earth, Tith can stop the Undoer, as long as Demm can keep her alive.
The catch?
Ever since his gloryhounding caused a disaster that killed hundreds and put Earth on the Undoer's radar, he's been clinically incapable of giving a damn. Disaffected, corrupt, but still looking for a hint of hope in his last days, Demm finds it when Tith tells him the world doesn't have to end.
He just has to get back to work.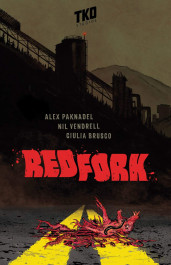 Alex Paknadel & Nil Vendrell: Redfork
Returning to Redfork, West Virginia with a laundry list of sins to make up for, ex-con Noah McGlade finds his coal mining hometown blighted by opioid abuse, economic decline, and a family that wants nothing more to do with him.
Tragedy seems to follow on Noah's heels, as no sooner does he step foot home that his younger brother is trapped in a mining collapse.
But when a mysterious wildcat miner named Gallowglass not only saves his brother, but sets off to restore the town to its former glory, he puts the revitalized townspeople on a collision course with Amcore, the energy giant whose relationship with Redfork runs far deeper than commerce.
There's something terrifying lying in wait in the endless tunnels underneath the town, and it's up to Noah to face his past, and protect the people he loves from forces both human and horrifyingly unnatural.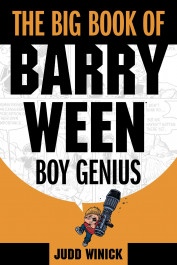 Judd Winick: The Big Book of Barry Ween, Boy Genius
Meet Barry Ween, the smartest living human.
What does a ten-year-old boy do with a 350 I.Q.? Anything he wants!
Cranky, egotistical, arrogant, and foul-mouthed, Barry in general wants to conduct his experiments and be left alone, but it never seems to work out.
Hurdles that Barry must outmaneuver range from time warps, to art thieves, to inter-dimensional warfare with gorillas, to accidentally turning his best friend into a dinosaur!
This massive volume collects all three BARRY WEEN mini-series–12 issues in all–for a complete compilation of the hit series, THE ADVENTURES OF BARRY WEEN, BOY GENIUS.
Yves Swolfs: Lonesome 1 – The Preacher's Trail
Kansas, 1861.
As tensions rise between the Northern and Southern states, a fanatical, violent preacher leaves a trail of corpses behind him, all the while calling people to take up arms against pro-slavery states.
Close on his tail is a lone rider with a strange gift: he can read the past and future of those he touches.
In the small town of Holton, a showdown is brewing, but things aren't as straightforward as they seem …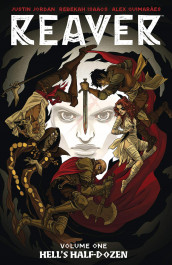 Justin Jordan & Rebekah Isaacs: Reaver 1 – Hell's Half-Dozen
The continent of Madaras promised a new start for settlers… but 200 years after its discovery, the war rages on.
Deep within this savage and untamed land, a darkness builds at The Anvil that must be stopped at all costs.
To do so, the Imperials assemble six of its most despicable prisoners–a turncoat, a skin eater, a sorcerer, his bodyguard, a serial killer, and the Devil's Son.
They are the only ones who can stop the end of the new world. They are Hell's Half-Dozen.
JUSTIN JORDAN (The Strange Talent of Luther Strode) and REBEKAH ISAACS (Buffy the Vampire Slayer) create a grim, dark fantasy comic for a post-Game of Thrones world. This is REAVER.
Collects REAVER #1-6.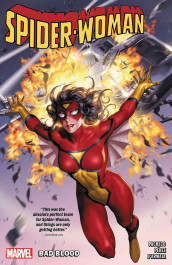 Karla Pacheco & Pere Pérez: Spider-Woman 1 – Bad Blood
Spider-Woman is back, and she's pulling no punches!
But Jessica Drew hasn't been feeling like herself lately.
When the angry, irritable, and unwell Spider-Woman takes a simple security gig to help get back on her feet, she finds herself suddenly besieged by unknown forces out to destroy everything around her.
What's wrong with Jessica?
Just how did she get this job?
Who are these violent lunatics who keep trying to blow her up?
What does her illness have to do with the daughter of her old nemesis Otto Vermis? And how does a shipment of black-market spiders fit in?
Jessica Drew is fighting for her life while someone pulls her strings, in an explosive new adventure that takes Spider-Woman to new heights!
COLLECTING: SPIDER-WOMAN (2020) #1-5.
Brian Buccellato: Injustice – Gods Among Us Year Five: The Complete Collection
The endlessly epic saga of superhero dystopia inspired by the hit video game continues! This action-packed graphic novel collects the entirety of the fifth year of the now-legendary Injustice: Gods Among Us saga!
In the war between Superman and Batman, all the heroes have decided where their loyalties lie.
For five years, former friends and allies have fought bitterly, with casualties on both sides. Now, at an impasse, both Batman and Superman realize that to gain ground in their battle, they'll have to do the unthinkable–recruit their former enemies to attack their former friends!
As Batman allies himself with villains who share his code against killing, such as Flash's Rogues, Superman makes a deal with the only man to ever break the Bat–Bane!
But to draw Batman out of hiding, Bane will cross a line that can never be uncrossed.
Experience the horror, power, and grandeur of Injustice as the story reaches its shocking conclusion.
As action-packed as the video game phenomenon that inspired it, Injustice: Gods Among Us: Year Five: The Complete Collection tells the story of a world gone mad and the godlike men and women who seek to set it on the right track.
Written by Brian Buccellato (Detective Comics) with art by Mike S. Miller (Adventures of Superman), Bruno Redondo (Titans), Tom Derenick (JLA), and more, this graphic novel collects the fifth and final year of the bestselling series in its entirety for the first time.
Erika Moen & Matthew Nolan: Let's Talk about It
The Teen's Guide to Sex, Relationships, and Being a Human.
An inclusive, accessible and honest graphic novel guide to growing up, from gender and sexuality to consent and safe sex. Perfect reading for Pride Month and for any teen starting to ask…Is what I'm feeling normal? Is what my body is doing normal? Am I normal? How do I know what are the right choices to make? How do I fix it when I make a mistake?
Let's talk about it.
Growing up is complicated.
How do you find the answers to all the questions you have about yourself, about your identity, and about your body? Let's Talk About It provides a comprehensive, thoughtful, well-researched graphic novel guide to everything you need to know but might not know how to talk about.
Covering relationships, friendships, gender, sexuality, anatomy, body image, safe sex, sexting, jealousy, rejection, sex education, and more, this is the go-to handbook for every teen navigating adolescence, and the first in graphic novel form.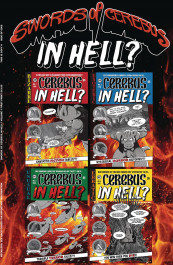 Dave Sim & Sandeep Atwal: Swords of Cerebus in Hell? 1
Cerebus is back!
Everyone wants to know "What happened to Cerebus after he died in issue #300?"
Well, here's the answer. Sort of.
Introducing a brand-new cast of characters including Virgil and Dante! Sex and The City Fandom! Frank Sinatra! Freddie Mercury! King Minos! Snakes! Suicides! The Manticore Who Thinks He Looks Exactly Like Charles Darwin! The Muskrat That Does Woody Allen Impressions!
And fan-favorite "Jingles" the dog!
LEHDET JA KIRJAT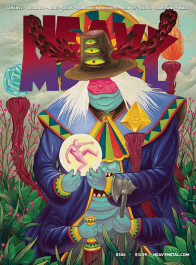 Heavy Metal #306
Heavy Metal 306 proudly presents Black Beacon, a sci-fi tale about inability, iniquity, inattention to detail, big ideas and weird landscapes by Ryan K. Lindsay & Sebastian Piriz!
Kevin Smith interviewed!
Steve Orlando continues with his Starward, as well as George C. Romero's The Rise, Ron Marz' Swamp God, Matthew Medney's Dark Wing, and Brendan Columbus' Savage Circus.
Among the short stories that round up this issue, Stefano Cardoselli returns to Heavy Metal with Nuclear Romance and Perry Crowe & Chris Anderson collaborate on Au Naturale.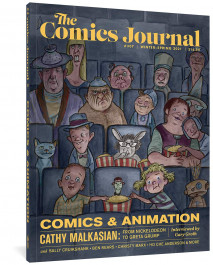 The Comics Journal #307
This issue of the award-winning magazine of comics interviews, news, and criticism focuses on the relationship between animation and comics.
Gary Groth interviews this issue's cover artist Cathy Malkasian (Eartha), the PBS/Nickelodeon animation director (Curious George, The Wild Thornberrys) turned graphic novelist, about her first middle-grade GN, NoBody Likes You, Greta Grump.
In addition to this issue's featured interview with Cathy Malkasian, MLK graphic biographer Ho Che Anderson shares his animation storyboards, and Anya Davidson talks to Sally Cruikshank about how the underground comics movement influenced the latter's aesthetic in a career that encompasses indie shorts and Flash animation, as well as work for feature film credits and Sesame Street.
Other features include: an unpublished Ben Sears (Midnight Gospel) comic, and Jem and the Holograms cartoon creator Christy Marx talks about the behind-the-scenes advantages and disadvantages of both art forms.
Plus! Sketchbook art by Vanesa Del Rey (Black Widow), an interview with Amazon warehouse worker-turned-cartoonist Ness Garza, Paul Karasik's essay on an unseen gem, and much more.
For more than 45 years, no magazine has chronicled the continuum of the comic arts with more rigor and passion than The Comics Journal.