Luettelo:
Ulkomaiset uutuudet
Lehdet ja kirjat
ULKOMAISET UUTUUDET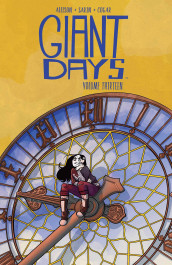 John Allison & Max Sarin: Giant Days 13
As Esther re-evaluates the biggest decisions in her life, she enters an essay contest that could change everything for her!
LONDON CALLING!
Everything going fine for Esther – she's only dealing with a past break up, facing her own mortality and the pressure of an essay contest that could change her life.
Don't worry, she's got everything figured out…except for the getting everything figured out part. Otherwise she's not racing towards imminent disaster.
But for McGraw, the tough realities of life hit hard as he learns about the loss of someone close to him and has to find a way to process this shocking news.
The Eisner Award winning team of John Allison (By Night) and Max Sarin return to Sheffield for heartbreak, muscle aches, the very special pain of going corporate…and why the love of good friends is the secret to getting through it all.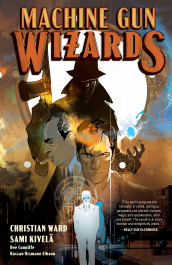 Christian Ward & Sami Kivelä: Machine Gun Wizards
Eliot Ness and his team of Untouchables work overtime taking on dangerous criminals that hide in the seedy underbelly of 1930s Chicago.
Except in this world, Al Capone isn't dealing in alcohol, but in magic.
With Lick, a drug that grants magical powers to anyone who ingests it, mobsters become wizards, ordinary men become monsters, and darker secrets than Ness can imagine lie at the heart of it all.
A new genre-bending comic series from Christian Ward, co-creator of the acclaimed sci-fi epic ODY-C. Drawn by Sami Kivel&aauml; ( Abbott), with backup stories written and drawn by Christian Ward. Featuring a sketchbook section and pinups by Declan Shalvey, Ian Bertram, Tula Lotay, and more.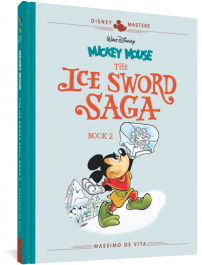 Massimo De Vita: Mickey Mouse – The Ice Sword Saga Book 2
The Legendary Mickey Mouse Fantasy Saga Concludes!
To us, Goofy may be just a modest bumpkin, but in the scary parallel dimension of Argaar, he's the cousin of their acclaimed hero, Alph!
In this second and final collection of cartoonist Massimo De Vita's epic saga of the legendary Ice Sword, Goofy and Mickey return to that dangerous domain, rejoining the wizard Yor and his dwarf defenders — first, to battle an old enemy when "The Prince of Mists Strikes Back," then to save the world from a sinister sleeping sickness in "The Sleeping Beauty in the Stars!"
Following his awesome adventures in Argaar, De Vita turns his attention to guest-star Donald Duck and reveals for the first time "The Secret of 313" — Donald's old reliable "Belchfire Runabout" car that he thought he knew inside and out!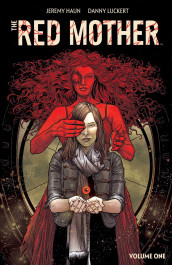 Jeremy Haun & Danny Luckert: The Red Mother 1
After losing her eye and the man she loves in a brutal mugging, Daisy McDonough attempts to move on, but her new prosthetic eye reveals an ancient evil trying to cross over into our own world…the Red Mother.
.
.
.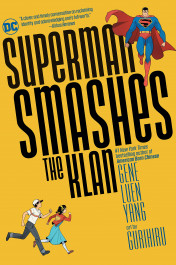 Gene Luen Yang & Gurihiru: Superman Smashes the Klan
The year is 1946.
Teenagers Roberta and Tommy Lee just moved with their parents from Chinatown to the center of Metropolis, home to the famous hero, Superman.
Tommy makes friends quickly, while Roberta pines for home. Then one night, the family awakens to find their house surrounded by the Klan of the Fiery Kross!
Superman leaps into action, but his exposure to a mysterious green rock has left him weak. Can Roberta and Tommy help him smash the Klan?
Inspired by the 1940s Superman radio serial "Clan of the Fiery Cross," New York Times bestselling author Gene Luen Yang (American Born Chinese, Boxers and Saints, The Terrifics, New Super-Man) and artist Gurihiru (Avatar: The Last Airbender, The Unstoppable Wasp) bring us a personal retelling of two different immigrants finding ways to belong.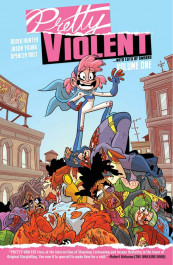 Derek Hunter & Jason Young: Pretty Violent 1 – …with Lots of Swears
Gamma Rae wants to be a superhero, and why shouldn't she?!
She's been strong since she was a baby!
The problem is, her siblings are all notorious criminals who would be delighted to see her fail… with all of her new friends dead at their feet.
Will she be able to win the respect of the hero community without alienating her family? She's going to try!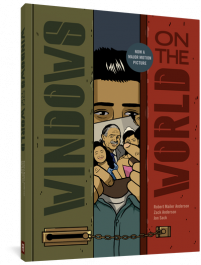 Robert Mailer Anderson & Jon Sack: Windows on the World
Set in a New York City in mourning, this poignant graphic novel explores the push-and-pull between love and obligation.
On the morning of September 11, 2001, an undocumented worker named Balthazar busses tables at New York City's famous Windows on the World restaurant.
Back in Mexico, his family watches their TV screen in horror as the Twin Towers collapse. Refusing to give up hope that Balthazar is alive, his son Fernando embarks on a treacherous journey across the border to New York to find him.
Along the way, Fernando learns what it means to be undocumented in America — encountering at turns an indifferent bureaucracy and a supportive group of fellow immigrants who help guide him through his quixotic mission to bring his family back together.
Lehdet ja kirjat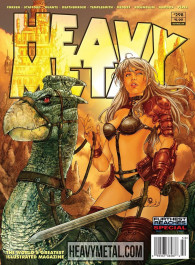 Heavy Metal #298
In this issue, the Furthest Reaches Special, managing editor Tim Seeley (Hack/Slash, Halloween, Batman Eternal) helms the intergalactic Heavy Metal starship bound for Alpha Proxima 9!
An amazing collection of all-new science fiction tales fills this issue.
Stories so twisted they are sure to blow a circuit in that defective cybernetic implant you had inserted into your cerebellum.
Here's the lineup:
"Bug House" by David Hine & Mark Stafford
"Body Jack" by Alex Smith
"The Incubator" by Matt Emmons
"A New Live" by Emilio Balcarce & Marcelo Perez
"Abyss of Souls" by James Maddox & Ben Templesmith
"Philip K. Dick's Head is Missing" by Michael David Nelsen & Dwayne Harris
"Totemic" by Omar Estevez and FG Dr. Stain Ortiz Rivero
"Project Z" by Matt Medney & Morgan Rosenblum
"Dowser" by Dwayne Harris
"Murky World" chapter 12, by Richard Corben
Gallery: Carlos Huante
Gallery: Josan "Deathburger" Gonzalez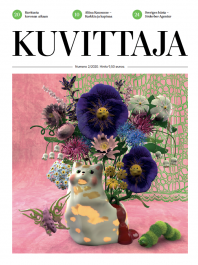 Kuvittaja 2020-02
Sisältö:
Pääkirjoitus
Ajankohtaiset & Martta Karma vastaa
Milla Westin
Aliina Kauranne – Karkkia ja kapinaa
Kuvitusta koronan aikaan
Ulkomaan vieras – Söderberg Agentur
Asiakas – Vesilahti
Arviot
Studio – Virpi Talvitie
Luonnoksesta kuvaksi – Outi Kainiemi
Uudet jäsenet