Luettelo:
Kotimaiset uutuudet
Manga-uutuudet
Ulkomaiset uutuudet
Lehdet ja kirjat
Käytetyt sarjakuvat
Alkuun
KOTIMAISET UUTUUDET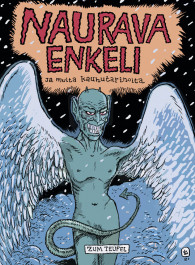 Juba: Naurava enkeli ja muita kauhutarinoita
Jussi "Juba" Tuomola on ollut kauhusarjakuvafani lapsesta lähtien. Tuolloin, 70-luvun puolivälissä, Suomessa koettiin kauhusarjakuvan lyhyt kulta-aika. Kauhulehtiä ilmestyi puolen tusinaa erilaista nimikettä, tärkeimpänä niistä Shokki.
Ensimmäiset omat kauhusarjansa Juba teki 80-luvun alussa Kaliforniassa, piirtäjäkavereiden innoittamina.
Suomessa hän tuli tunnetuksi Viivillä ja Wagnerilla, mutta kauhuinnostus ei ole koskaan kuollut.
Juban kauhutarinoita on aiemmin julkaistu satunnaisesti antologioissa, mm. amerikkalaisessa Taboossa.
Tämän kokoelman tarinat ovat muutamaa sivua lukuunottamatta uusia ja ennenjulkaisemattomia.
EI HEIKKOHERMOISILLE LAPSILLE!
MANGA-UUTUUDET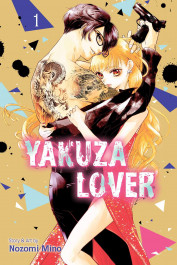 Nozomi Mino: Yakuza Lover 1
When feisty college student Yuri is attacked at a party, she's saved by Toshiomi Oya, the underboss of a yakuza syndicate.
Despite her obvious attraction to him, she convinces herself that she's not in the market for a bad boy type. But when they meet again, she finds herself irresistibly drawn to him―kicking off a steamy and dangerous love affair that threatens to consume her, body and soul.
After the attack at the party, Yuri goes to see Oya to thank him for saving her, and as much as she hates to admit it, she can't deny there's an attraction. However, when tragedy strikes, Yuri attempts to turn her back on Oya and his dangerous lifestyle for good―but will the allure prove too great to resist?
ULKOMAISET UUTUUDET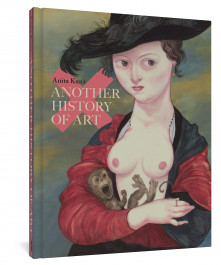 Anita Kunz: Another History of Art
The award-winning painter and illustrator Anita Kunz's sumptuous, witty, feminist alternate history of Western art.
Have you ever awakened from a sleepy delirium one morning and imagined that you lived in a different and glorious world where all the recognized masterpieces in the Western pantheon of art history were painted by women?
If not, no problem: The renowned and award-winning painter and illustrator Anita Kunz has imagined it for you in her hilariously inventive and masterfully executed Another History of Art.
Kunz depicts the most iconic paintings in the history of art ― as if they had been painted by women. Conceived with delicious wit, boundless humor, and an eye for the telling aesthetic detail, Kunz's recreations are not only stunning paintings in their own right but a sly, revisionist social commentary on the male-dominated history of Western civilization.
What would the same paintings everyone is so familiar with look like drawn by Renée Françoise Magritte, Fiona Bacon, Davina Hockney, Leona Da Vinci, Gertrude Klimt, Henrietta Matisse, Francesca Goya, Paola Picasso, Fernanda Victoria Eugenia Delacroix, Wilhelmina Ottilia Dix, and over 50 other artists (let us not forget Vincenza Van Gogh)?
Another History is your chance to find out. Included, on each page opposite the painting, is a single paragraph biography of each woman artist.
Another History of Art is a brilliantly satirical, and, yes, feminist, counterfactual history of art conceived, written, and painted by one of our most accomplished contemporary artists.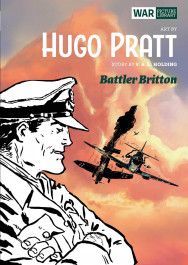 Hugo Pratt: Battler Britton – War Picture Library
Two stories of soaring combat as the master of Euro comics, Hugo Pratt, meets the classic comic book air ace who's as skilled a fighter on land as he is in his Spitfire!
Reprinted in graphic novel form for the first time, these two fast-paced Battler Britton stories from 1960 – Wagons of Gold and Rockets of Revenge – are drawn by the legendary artist behind Corto Maltese.
In this thrilling collection, Britton helps resistance fighters smuggle gold from Nazi occupied Yugoslavia, before escorting a ballistics expert on his mission to analyse an unexploded V2 rocket in Poland!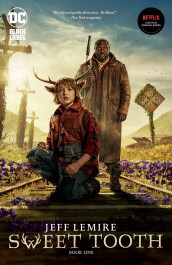 Jeff Lemire: Sweet Tooth 1
In the tradition of The Road and The Stand, Eisner Award-nominated writer-artist Jeff Lemire (THE NOBODY, Essex County) presents a bold new postapocalyptic vision of the fate of humankind, the values of innocence, and the unexpected friendships that can emerge in even the darkest of places with SWEET TOOTH BOOK ONE.
Seven years ago, the Affliction raged like a forest fire, killing billions. The only children born since are part of a new breed of human-animal hybrids. Gus is one of these children: a boy with a sweet soul, a sweeter tooth—and the features of a deer.
But kids like Gus have a price on their heads. When vicious hunters descend on his isolated forest home, a mysterious and violent man called Jepperd rescues Gus. The hulking drifter promises to lead Gus to the Preserve, a fabled safe haven for hybrid children.
As the two cross this dangerous new American frontier, will Jepperd corrupt the boy he's nicknamed "Sweet Tooth," or will Gus' heart change Jepperd?
Collects SWEET TOOTH #1-12, as well as character sketches, cover sketches, and an introduction by celebrated actor Michael Sheen (Masters of Sex, Frost/Nixon).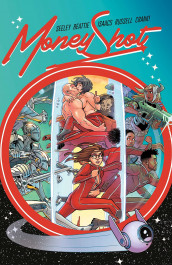 Tim Seeley & Sarah Beattie: Money Shot 2
The XXX-plorers have a good thing going, funding science with sex.
Then the President of the U.S.A. decides he wants in on the action. Meanwhile, strife, STIs, chainsaw genitalia, and the threat of total eradication by aliens loom large.
A STORY ABOUT SCIENTISTS HAVING SEX WITH ALIENS FOR THE GLORY OF MANKIND—AND MONEY.
Just as the XXX-plorers get into the groove of funding science with sex, the man who helped take away all their funding in the first place demands to join the team: THE PRESIDENT OF THE DAMN UNITED STATES.
Now saddled with pretty much the worst person in the whole country, the group must overcome interpersonal strife, STD fears, and chainsaw genitalia to convince the universe that we don't deserve to be eradicated.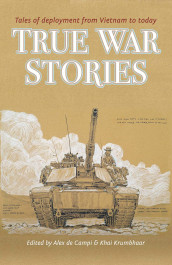 True War Stories
A sniper in Haiti faces the repercussions of the shot he never took.
A team of SEALs help rescue a kidnapped girl in the Philippines.
Army interpreters in Iraq battle their toughest foe: the rats of Saddam's palace.
A soldier on a late-night run surprises a motorpool saboteur.
A young cavalry lieutenant, fresh off the Battle of Kamdesh, meets the Marine half-brother he's never known.
A Navy ship reacts to an unexpected man overboard.
And if you've ever wondered what Christmas was like in a war zone, you're about to find out.
True War Stories is a 260-page full color graphic novel anthology containing fifteen true tales of American service members overseas.
Nearly every branch of the military is represented in this collection of stories that are heartwarming, heroic, harrowing, and even at times, hilarious, spanning the globe.
This unique project, assembled by the multiple-Eisner nominated writer/editor, Alex de Campi and co-written/edited by Iraq War veteran Khai Krumbhaar is an entertaining and moving work of graphic nonfiction, pairing members of the US military with the biggest names in comics to share real war stories told by those who lived them.
Artists include Peter Krause, Ryan Howe, Skylar Patridge (drawing her own father's Vietnam story), Eoin Marron, Tish Doolin (a former Army medic), Dave Acosta, A. D'Amico, Drew Moss, Josh Hood, PJ Holden, Chris Peterson, Sam Hart, Jeff McComsey, and Paul Williams. Colors are by Dee Cunniffe, Matt Soffe, Kelly Fitzpatrick, Tarsis Cruz, and Aladdin Collar. All lettering is done by de Campi herself.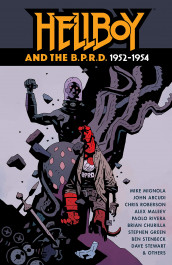 Hellboy and the B.P.R.D. 1952-1954
Hellboy's career in the B.P.R.D. kicks off in this new hardcover edition collecting his earliest missions!
From his very first official case in 1952 tracking down a mad scientist in Brazil, Hellboy moved straight on to punching monsters across the globe. Revisit those very first adventures with Hellboy and the team that made him the agent he is with this new collection, featuring cases from 1952, 1953, and 1954!
Featuring the work of Mike Mignola, John Arcudi, Chris Roberson, Ben Stenbeck, Stephen Green, Dave Stewart, and many other powerhouse creators, and including a bonus sketchbook section, this new hardcover is a gorgeous addition to any Hellboy library.
Collects Hellboy and the B.P.R.D.: 1952, 1953, and 1954 TPBs.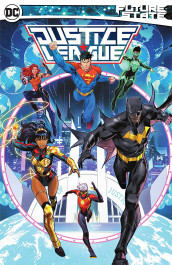 Future State – Justice League
The first Future State collections are here!
In the far-flung future, an all-new Justice League must investigate the mysterious death of their greatest foes-the Legion of Doom!
The Justice League Dark emerges from years of hiding to fight the villainous force stalking supernatural heroes and villains alike!
John Stewart and his band of abandoned Green Lanterns must hold the line against an invasion of murderous zealots in an uncharted dark sector after their rings have stopped working!
Barry Allen battles for the soul of his former Flash partner, Wally West!
And Jackson Hyde and Andy Curry, son of Black Manta and daughter of Aquaman, must find each other again after being torn apart if they hope to escape the mysterious universe-spanning One Great Ocean!
Collects Future State: Justice League/Justice League Dark #1-2, Future State: Aquaman #1-2, Future State: Flash #1-2, and Future State: Green Lantern #1-2.
Now 10
As Now hits its landmark tenth issue, what better time to bring back the cover artist who launched the series?
Painter and cartoonist Rebecca Morgan (Instagram: @rebeccamorgan10) returns with one of her signature depictions of the underbelly of America.
Meanwhile, the issue also features new work by a number of familiar names, such as Steven Weissman (Instagram: @wei_ss_man), Tim Lane (timlaneillustration.com), and Walt Holcombe (Twitter: @WaltHolcombe).
Young Frances creator Hartley Lin (popehats.ca / Instagram: @hartley._.lin) contributes his first piece to the magazine, as does Italian cartoonist Silvia Rocchi (silviarocchi.com) and American cartoonist M.S. Harkness (msharkness.com / Instagram: @m.s.harkness / Twitter: @msharkness) — with a piece about competitive weightlifting during the COVID-19 pandemic!
Along with other surprises, Now #10 includes one other special feature: a tribute to the late cartoonist Richard Sala (1954-2020), a cartoonist who built his long career contributing to various anthologies of the 1980s, including the legendary Raw magazine.
We are pleased to present nine previously unpublished pages of comics by Sala, all created as an art student in the 1970s and presaging a prolific and brilliant oeuvre to come.
Also: comics by Nick Thorburn (Instagram & Twitter: @NickfromIslands), Jacob Weinstein (jacob-weinstein.com), Joakim Drescher (Instagram: @joakimdrescher), and Julia Gfrörer (thorazos.net / Instagram & Twitter: @thorazos).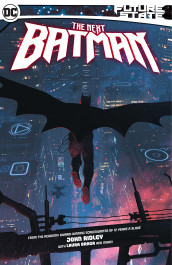 Future State – The Next Batman
The first Future State collections are here!
Giant, sprawling future Gotham City is under martial law, protected and regulated by a private security force led by the infamous Peacekeepers.
Their mandate is to maintain the safety of the citizens of Gotham, regardless of any constitutional rights, and to hunt down, incarcerate, or kill all masked vigilantes, villains, and criminals in the city limits.
It's a dangerous and violent look at a possible future Gotham City and the heroes and villains who live there!
Collects Future State: The Next Batman #1-4, select stories from Future State: Dark Detective #1-4, and Future State: Nightwing #1-2.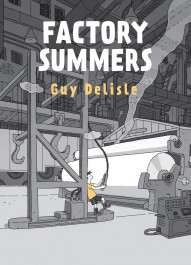 Guy Delisle: Factory Summers
The legendary cartoonist aims his pen and paper towards his high school summer job.
For three summers beginning when he was 16, cartoonist Guy Delisle worked at a pulp and paper factory in Quebec City.
Factory Summers chronicles the daily rhythms of life in the mill, and the twelve-hour shifts he spent in a hot, noisy building filled with arcane machinery.
Delisle takes his noted outsider perspective and applies it domestically, this time as a boy amongst men through the universal rite of passage of the summer job.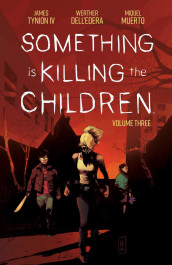 James Tynion IV & Werther Dell'Edera: Something Is Killing the Children 3
NOT ALL MONSTERS HIDE IN THE DARK.
Archer's Peak is in lockdown, as Erica Slaughter has lost control of the situation and news of the killings has spread outside the town.
But as the House of Slaughter arrives to clean up the situation by any means necessary, Erica will find that the true threat to those around her isn't who – or what – she ever expected. And the cost of saving the day may be too high for anyone to pay…
GLAAD Award-winning writer James Tynion IV (Batman, The Woods) and artist Werther Dell'Edera (Briggs Land) present the next chapter of the Eisner Award-nominated and critically-acclaimed series that reveals the monsters hiding in plain sight.
Collects Something is Killing The Children #11-15.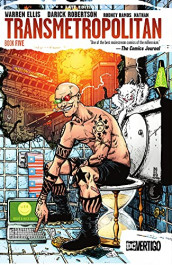 Warren Ellis & Darick Robertson: Transmetropolitan Book Five
Things look bad for outlaw journalist Spider Jerusalem.
He's lost his job and everything he owns. He's been diagnosed with an untreatable and almost certainly terminal brain infection. And he's being hunted by professional assassins dispatched by a vengeful and implacable president of the United States of America.
But Spider's spirit is buoyant, and his heart is glad. Why?
Because he and his filthy assistants have picked up the trail of corruption and deceit that the president has left behind.
Because all of those murderous loose ends are finally coming together.
And because Spider has the truth on his side and nothing left to lose.
In the end, only one of these battle-scarred beasts will be left standing. But will either of them actually walk away from their epochal showdown alive?
Acclaimed writer Warren Ellis (Castlevania, The Wild Storm) and artist Darick Robertson (The Boys, Happy!) file their final dispatch from a disturbingly familiar future in Transmetropolitan Book Five, collecting issues #49-60 of their cauterizingly caustic series.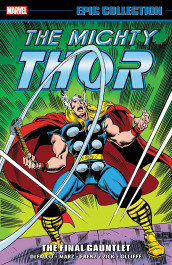 Tom DeFalco & Ron Frenz: Thor Epic Collection – The Final Gauntlet
The return of Thor!
The true Odinson has been located at last, and the end of Eric Masterson's time as the God of Thunder draws near – but will Bloodaxe be his executioner? Or will the cost of freeing the original Thor prove too much to bear?
Thor shall battle Thor… and a new heroic legacy awaits!
Then, a mighty quest begins for the Odinson – but something is not right!
Can Beta Ray Bill stand in the way of an increasingly unbalanced Thunder God?
Thor brutally battles the Super-Skrull, Drax and Pluto as the Infinity Crusade rocks the Marvel Universe! Plus, hold your hammers high as the Thor Corps reunite!
Can Dargo Ktor, Beta Ray Bill and Thunderstrike put their differences aside in time to knock Zarrko the Tomorrow Man into next week?
Collecting: Thor (1966) #451-467, Thor Corps (1993) #1-4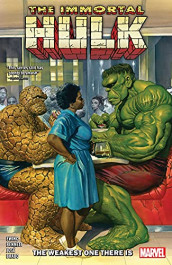 Al Ewing & Joe Bennet: Immortal Hulk 9 – The Weakest One There Is
The rematch everybody wanted but not like this!
The Hulk is broken, friendless and hunted. In every way, he a shadow of his former self… but there nothing like the real Thing!
What will happen when Ben Grimm enters the world of the immortal Hulk? As the year comes to an end, costs are counted by Jackie McGee, Eugene Judd… and Samuel Sterns.
All the Leader plans have finally come together in what may be his greatest triumph! But will that be enough… or will the One Below All still claim his due?
Plus, the U Foes are here and they know how to finally kill the Hulk!
And as the new Sasquatch faces something even weirder than himself, Henry Peter Gyrich watches from somewhere far above the world.
And with the Hulk's strength gone, what hope is left for the weakest one there is?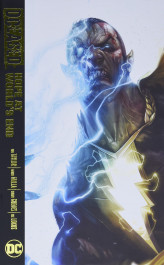 Tom Taylor: DCeased – Hope At World's End
In DCeased: Hope At World's End, the Anti-Life Equation has infected over a billion people on Earth.
Heroes and villains have fallen.
In the immediate aftermath of the destruction of Metropolis, Superman and Wonder Woman spearhead an effort to stem the tide of infection, preserve and protect survivors, and plan for what's next.
In the Earth's darkest hour, heroes will bring hope! The war for Earth has only just begun!
This volume collects DCeased: Hope At World's End chapters 1-14.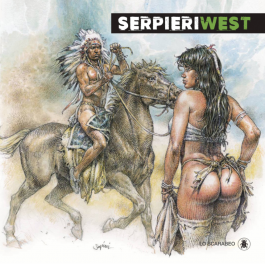 Paolo Eleuteri Serpieri: Serpieri West
When we were asked to write the introduction to a book dedicated to some of the most beautiful illustrations drawn by Paolo Eleuteri Serpieri, we quickly returned the call: why not do a long interview with the Maestro from Rome?
We discovered that he is a great lover of the American frontier, its history and its legends, and also of the literature and films that it inspired.
This collects Serpieri's western stories and drawings Includes a description/introduction in English, a larger introduction in Italian and also an introduction in German.
LEHDET JA KIRJAT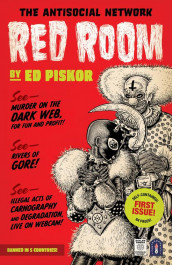 Ed Piskor: Red Room #1
From the creator of Hip Hop Family Tree and X-Men: Grand Design comes this ALL-NEW monthly comic book series, with a specially priced, self contained, double-sized debut issue!
Red Room is a cyberpunk, outlaw, splatterpunk masterpiece.
Aided by the anonymous dark web and nearly untraceable crypto-currency, there has emerged a subculture of criminals who live-stream and patronize webcam murders for entertainment.
Who are the murderers? Who are the victims? How do we stop it?
Red Room #1 is 64 pages of dynamic storytelling and gorgeous art. Every issue of this 12-part series is a complete, self-contained, satisfying story.
As seen on Piskor's YouTube channel sensation, Cartoonist Kayfabe!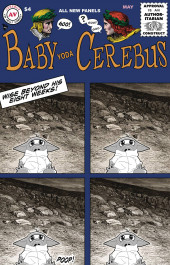 Dave Sim & David Birdsong: Baby Yoda Cerebus #1
Wise Beyond His Eight Weeks!
This is it! The debut of the youngest member of the Cerebus In Hell? Cerebi.
"And a child shall lead them" has been done to death.
What about "A preverbal child shall lead them?"
A Preverbal child whose wisdom pisses off Caption Guy so badly that he asks an eight-week-old baby hard questions about Mama Yoda Cerebus loving Papa Yoda Cerebus more than she does him!
You'll laugh!
You'll cry!
You'll poop!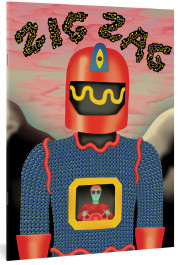 Will Sweeney: Zig Zag
This one-shot glossy blast of wordless, sci-fi psychedelia could only come from the mind of British artist Will Sweeney (Kramers Ergot).
Zig Zag depicts the evolution of The Mindseye Trooper, a mechanical secret agent constructed in a remote lab and piloted by an imp spawned from an extraterrestrial fungus.
From embryonic zombie to powerful hero, The Trooper must infiltrate an alternate dimension in which a brutal tyrant has terrorized the inhabitants and dispensed psychoactive justice.
Along the way, he meets a Witchdoctor who gifts him a mysterious weapon, and a priestess who unites the disparate aspects of his personality. The serrated path of the Trooper has many twists and turns but eventually comes full circle.
Part Kirby, part Fantastic Planet, but all Sweeney.
The Creeps #31
The Creeps #31 revives the iconic Warren illustrated horror magazines of the 60's and 70's by replicating Warren's early page layouts and publishing new, classic styled work by original Warren artists, writers and editors.
Each issue is a highly collectible instant classic!
.
.
KÄYTETYT SARJAKUVAT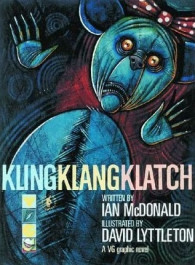 Ian McDonald & Davide Lyttleton: Kling Klang Klatch (K)
KÄYTETTY.
KLING KLANG KLATCH is set in a superficially glittering world that, if not exactly human, reflects humanity's desires, corruption, and racism at a fundamental level.
Ian McDonald's (Desolation Road) blackly bizarre wit and David Lyttleton's (Punch) razor-sharp eye for detail have created a unique fantasy with a delicious streak of dark humor.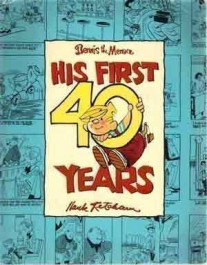 Hank Ketcham: Dennis the Menace – His First 40 Years (K)
KÄYTETTY.
A forty year collection of Hank Ketcham's most memorable Dennis the Menace comic strips. Beginning in the 1950's the lovable mischief maker has entertained millions of readers world-wide.
So LOL as you follow the misadventures of Dennis, his Mom & Dad plus the always irascible neighbor, Mr. Wilson.
.
Walt Kelly: Pogo and Albert 4 (K)
KÄYTETTY.
Pogo and Albert volume 4, first edition.
.
.
.
.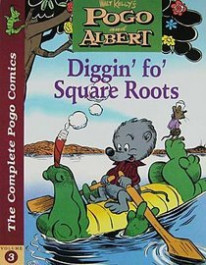 Walt Kelly: Pogo and Albert 3 (K)
KÄYTETTY.
Pogo And Albert volume 3, first edition.
.
.
.
.
Walt Kelly: Pogo and Albert 1 (K)
KÄYTETTY.
Pogo and Albert volume 1, first edition
.
.
.
.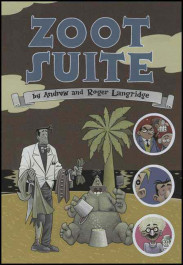 Roger Langridge & Andrew Langridge: Zoot Suite (K)
KÄYTETTY.
The famous mathematical principle known as Zeno's Paradox, a mind-blowingly simple theorem whereby no two objects can ever come in contact with one another because the space between the two can be infinitely halved, is brilliantly illustrated by the Langridge brothers in this hilarious and beautifully crafted original graphic novel.
When mild-mannered Bodkin's car disappears, he and his friend embark on a quest that rivals that of the ever-elusive Holy Grail!
A seemingly infinite series of misadventures ensues and takes our two heroes through a labyrinth of exhausting hijinks that includes a pertpetually postponed performance of Waiting for Godot in which the actor playing Godot never shows up!
Witty and irreverent, Zoot Suite is a funny and thought-provoking original graphic novel!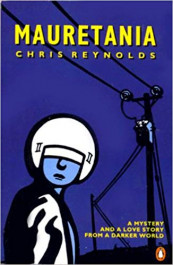 Chris Reynolds: Mauretania (K)
KÄYTETTY.
Mauretania: a world as familiar as our own, yet strangely different.
.
.
.
.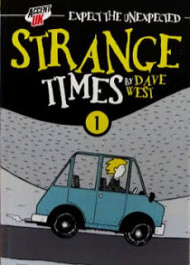 Dave West: Strange Times (K)
KÄYTETTY.
"Reading Strange Times is like viewing an echo of our world through the alternative reality tinted spectacles of Dave West, where little truths are revealed through stories told with intimate and delightful drawings.
A lovely celebral pleasure."
– Garen Ewing – creator of The Rainbow Orchid
.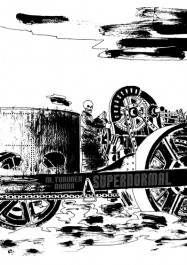 Marko Turunen: Supernormal (K)
KÄYTETTY, takakannessa värjäymää.
Ten diamond-hard SUPER and NORMAL comic books in one! This book is pure dynamite!!
.
.
.
.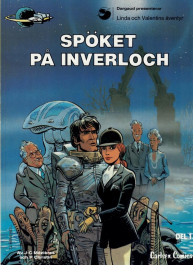 Jean-Claude Mézières & Pierre Christin: Linda och Valentins äventyr 11 – Spöket på Inverloch (K)
KÄYTETTY, kansissa kulumaa.
Serien utspelas ursprungligen i det 27:e århundradet.
Mänskligheten har upptäckt metoder för resor i rumtiden, det vill säga ögonblickliga resor i både tid och rum (med vissa begränsningar – ibland krävs flera hopp).
Jordens huvudstad, Galaxity, är centrum för jordens vintergatsimperium, det Terranska Galaximperiet. Jorden har utvecklats till en utopi, där större delen av befolkningen lever ett avkopplat liv i virtuella drömvärldar.
Linda och Valentin är agenter på Rumtidstjänsten som skyddar imperiets planeter mot otillåtna tidsresor (tidsparadoxer måste förhindras).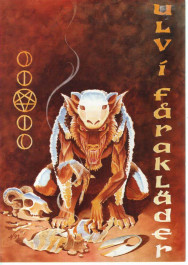 Ulv i fårakläder (K)
En svensk antologi som presenterar några av landets bsta unga serieskapare.
.
.
.
.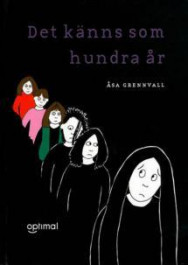 Åsa Grennvall: Det känns som hundra år (K)
KÄYTETTY.
Åsa Grennvallin omaelämäkerrallinen sarjakuva.
.
.
.
.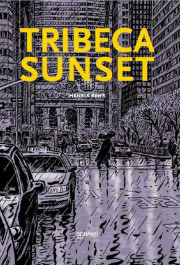 Henrik Rehr: Tribeca Sunset (K)
"Tribeca sunset" är en tematisk uppföljare som ytterligare bearbetar de sår som den amerikanska själen fick i samband med attacken.
Den skildrar fyra vänner som möts igen i New York inte långt efter 11 september och deras försök att finna sig tillrätta i en osäkrare tillvaro.
.
.