Luettelo:
Kotimaiset uutuudet
Ulkomaiset uutuudet
Käytetyt sarjakuvat
KOTIMAISET UUTUUDET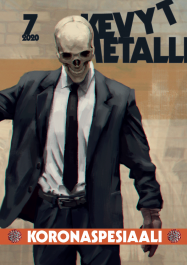 Kevyt Metalli 7
Spekulatiivisen fiktion sarjakuvalehti.
Tekijöinä: Antti Kosonen, Vesa Vitikainen, Veli Loponen, Mikael Mäkinen, Rose, Ilpo Koskela, Juho Sihvonen, Tuomas Myllylä, Aleksi Kuutio.
.
.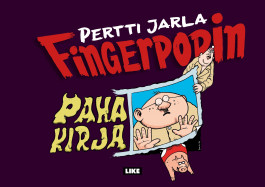 Pertti Jarla: Fingerporin paha kirja (ENNAKKOTILAUS)
ENNAKKOTILAUS. KIRJA ON SAATAVILLA 23.6.2020.
Fingerporin syvimmät syöverit paljastuvat ensi kertaa!
Fingerporin PAHA kirja esittelee eniten keskustelua sekä paheksuntaa herättäneet sarjat Jarlan kommenttien kera.
Monia PAHAan kirjaan valittuja strippejä ei ole julkaistu aikaisemmin.
Kirjan esipuheen on kirjoittanut Sarjakuvasensuuri-teoksen laatinut Severi Nygård.
ULKOMAISET UUTUUDET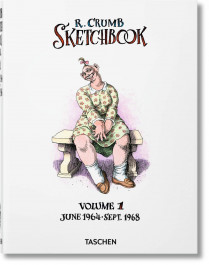 Robert Crumb: R. Crumb Sketchbook 1
It's the old story.
When TASCHEN released the first limited edition of Crumb Sketchbooks 1982–2011, fans drooled over the gorgeous packaging of this six-volume boxed set, the artist's thoughtful editing, the hand-written introduction, marbleized page edges, and signed Crumb-colored art print.
Not all, however, could afford the steep price. So they whined and coveted, with the wail growing louder when the second boxed set, 1964–1982, was released the next year.
Covet no more! Robert Crumb. Sketchbook, Vol. 1: June 1964 – Sept. 1968 combines the two earliest volumes from the limited editions, produced directly from the original artworks now belonging to an ardent French collector, into one fat 440-page Crumb feast, selling for an irresistible price.
This book contains hundreds of sketches, including early color drawings from the master of underground comic art, cover roughs for the legendary Zap and Head comics, the original Keep On Truckin' sketches, the first appearance of Mr. Natural, plus his evolution and refinement, Fritz The Cat, the Old Pooperoo, and many, many voluptuous Crumb girls, all wrapped up in a quality hard cover featuring an illustration newly hand-colored by Crumb himself.
William Gropper: Alay-Oop
A lost, early classic of the graphic novel, now back in print for the first time since 1930.
William Gropper was one of the great American cartoonists and illustrators of the twentieth century.
A student of George Bellows and Robert Henri, he was a prolific newspaper cartoonist, a WPA muralist, a Guggenheim recipient, and committed political activist—the first visual artist called before the House Un-American Activities Committee, after which he was blacklisted (though he got revenge with his pen).
He was also a master of visual storytelling, best seen in his only full-length narrative work, Alay-Oop.
First published in 1930, just as Gropper was coming to the height of his powers, this lost classic of the graphic novel presents an unusual love triangle: two circus acrobats and the honey-tongued schemer who comes between them.
In page after page of charming, wordless art, Gropper takes us from the big top to bustling New York streets, from a cramped tenement apartment to the shifting landscape of a dream, as his characters struggle with the conflicting demands of career, family, and romance. A timeless and surprisingly modern yarn—with backflips aplenty.
This NYRC edition is a hardcover with extra-thick paper and features a brand-new cover design by Sammy Harkham and fully rescanned, edge-to-edge illustrations throughout. Introduction by James Sturm.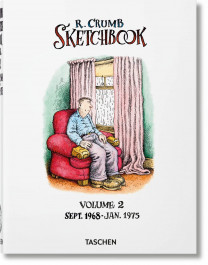 Robert Crumb: R. Crumb Sketchbook 2
R. Crumb Sketchbook, Volume 2: Sept. 1968 – Jan. 1975 combines the two middle volumes from the second boxed set, produced directly from the original artworks now belonging to an ardent French collector, into one fat 444-page Crumb feast, at an irresistible price.
This book contains hundreds of sketches from the master of underground comic art, including cover roughs for Zap, Motor City and Despair comics, the introduction of Aline, the first female Yetis, Flakey Foont and Mr. Natural, Honeybunch Kaminski, San Francisco drug culture and big buoyant butts, all wrapped up in a quality hard cover featuring front and back illustrations newly hand-colored by Crumb himself.
Tillie Walden: I Love This Part
Two girls in a small town in the USA kill time together as they try to get through their days at school.
They watch videos, share earbuds as they play each other songs and exchange their stories. In the process they form a deep connection and an unexpected relationship begins to develop.
In her follow up to the critically acclaimed The End of Summer, Tillie Walden tells the story of a small love that can make you feel like the biggest thing around, and how it's possible to find another person who understands you when you thought no one could.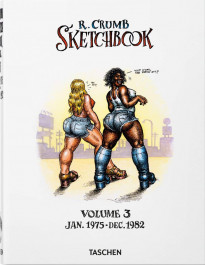 Robert Crumb: R. Crumb Sketchbook 3
Until May 2017, Robert Crumb was simply lauded as the greatest underground artist.
Then his cover drawing for the 1969 comic Fritz the Cat sold for a record $ 717,000, the highest price ever realized for any comic, and concepts of under- and aboveground went out the window.
Now everything Crumb is fast increasing in value; the perfect time for R. Crumb Sketchbook, Volume 3: Jan. 1975-Dec. 1982.
Combining volumes 5 and 6 from the second R. Crumb Sketchbook boxed set, and produced directly from the original artworks now belonging to an ardent French collector, this is one big 444-page Crumb feast for way less than his rare originals.
Among the hundreds of subjects included are Crumb's move to rural California, his marriage to Aline Kominsky, the birth of daughter Sophie, as well as further adventures of Mr. Natural, mischievous Snoids, Arcade comics strips, political discontent, existential angst, huge powerful women, geeky little guys, Mao Tse Tung, Mick Jagger and moral outrage, all wrapped up in a quality hard cover featuring front and back illustrations newly hand-colored by Crumb himself.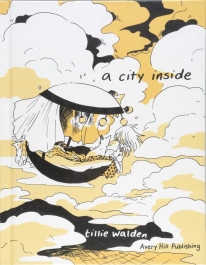 Tillie Walden: A City Inside
Shifting between the everyday and the surreal, A City Inside recounts one woman's life from childhood home, to the first love that she will never forget, to the creation of the idea of herself that she can grow old with and the home that she can grow old in.
Walden's follow up to the lyrical I Love This Part is a poetic exploration of the process of growing older; the journey towards finding out who you are and building a life for yourself.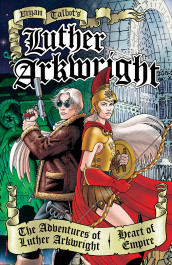 Bryan Talbot: Luther Arkwright
In a sprawling adult epic of boundless imagination, The Adventures of Luther Arkwright and Heart of Empire now come together in a single paperback edition.
In a swirling multiverse of endless possibilities and incalculable dangers, malign forces manipulate history through countless timelines and act to wreak destruction across universes. But the fate of these infinite existences depends on one man, an anomaly who exists in but a single universe, a being of vast psychic power capable of traveling between realities–Luther Arkwright!
From Bryan Talbot, award-winning graphic-novel pioneer, comes the science-fiction classics that stunned the comics world and set the bar for audacity, ingenuity, and imagination in graphic storytelling.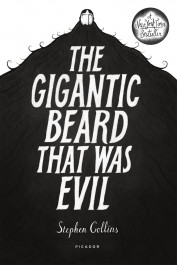 Stephen Collins: The Gigantic Beard That Was Evil
On the island of Here, livin's easy.
Conduct is orderly. Lawns are neat. Citizens are clean shaven-and Dave is the most fastidious of them all.
Dave is bald, but for a single hair. He loves drawing, his desk job, and the Bangles. But on one fateful day, his life is upended…by an unstoppable (yet pretty impressive) beard.
An off-beat fable worthy of Roald Dahl and Tim Burton, Stephen Collins' The Gigantic Beard That Was Evil is a darkly funny meditation on life, death, and what it means to be different–and a timeless ode to the art of beard maintenance.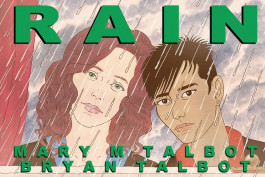 Mary M. Talbot & Bryan Talbot: Rain
From acclaimed writer/historian Mary M Talbot and graphic-novel pioneer Bryan Talbot comes Rain, a chronicle of the growing relationship of two young women, one an environmental activist, set against the backdrop of the disastrous 2015 floods in northern England.
The wild Brontë moorlands are being criminally mismanaged as crops are being poisoned, and birds and animals are being slaughtered. While the characters are fictional, the tragedy is shockingly real.
Rain is the fourth graphic-novel collaboration between Mary M Talbot and husband Bryan Talbot, a partnership that has produced the award winning Dotter of Her Father's Eyes, Sally Heathcote: Suffragette (with Kate Charlesworth), and The Red Virgin and the Vision of Utopia.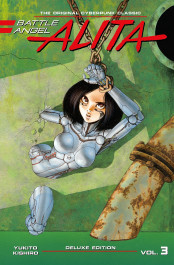 Yukito Kishiro: Battle Angel Alita Deluxe Edition 3
After more than a decade out of print, the original cyberpunk action classic returns in glorious 400-page hardcover deluxe editions, featuring an all-new translation, color pages, and new cover designs!
In a dump in the lawless settlement of Scrapyard, far beneath the mysterious space city of Zalem, disgraced cyber-doctor Daisuke Ido makes a strange find: the detached head of a cyborg woman who has lost all her memories.
He names her Alita and equips her with a powerful new body, the Berserker. While Alita remembers no details of her former life, a moment of desperation reawakens in her nerves the legendary school of martial arts known as Panzer Kunst.
In a place where there is no justice but what people make for themselves, Alita decides to become a hunter-killer, tracking down and taking out those who prey on the weak. But can she hold onto her humanity as she begins to revel in her own bloodlust?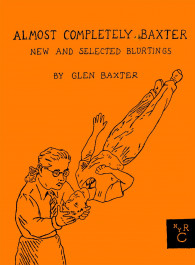 Glen Baxter: Almost Completely Baxter – New and Selected Blurtings
Over four decades and a multitude of books, "Colonel" Glen Baxter has built a world and a language all his own–slightly familiar, decidedly abnormal, irresistibly funny.
Have you felt the terror of a failed Szechuan dinner?
Have you seen what happens at precisely 6:15?
Do you know where the beards are stored? Either way, this is the book for you.
Baxter's drawings are a delicious stew of pulp adventure novels, highbrow hjinks, and outright absurdity: lonesome cowboys confront the latest in modern art, brave men tremble before moussaka, schoolgirls hoard hashish, and the world's fruits are in constant peril. Wimples abound.
This new selection of Baxter's work brings together highlights from the full sweep of his long career, and is sure to enchant both confirmed Baxterians and those iin dire need of an introduction.
This NYRC edition is a hardcover with printed endpapers, debossed cover design, and extra-thick paper.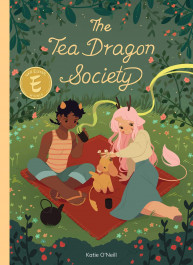 Katie O'Neill: The Tea Dragon Society
Available for the first time in paperback, The Tea Dragon Society is the two-time Eisner Award-winning gentle fantasy that follows the story of a blacksmith apprentice, and the people she meets as she becomes entwined in the enchanting world of tea dragons.
From the award-winning author of Princess Princess Ever After comes THE TEA DRAGON SOCIETY, the beloved and charming all-ages book that follows the story of Greta, a blacksmith apprentice, and the people she meets as she becomes entwined in the enchanting world of tea dragons.
After discovering a lost tea dragon in the marketplace, Greta learns about the dying art form of tea dragon care-taking from the kind tea shop owners, Hesekiel and Erik. As she befriends them and their shy ward, Minette, Greta sees how the craft enriches their lives–and eventually her own.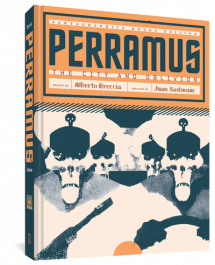 Alberto Breccia & Juan Sasturain: Perramus – The City and Oblivion
Fantagraphics collects Perramus for the first time in English.
Created by one of South American's most acclaimed comics artists, Alberto Breccia, in collaboration with award-winning writer and TV host, Juan Sasturain, this graphic novel is in the satirical vein of Gulliver's Travels and Dr. Strangelove.
Perramus: The City and Oblivion follows the existential odyssey of a political dissident. When the skull-faced Death Squad comes for him, he flees, voluntarily loses his memory, and takes up the name "Perramus" from the brand of his raincoat.
During his absurdist travels, he teams up with the gruff Cannelloni; a foreign aviator dubbed "The Enemy" by despot Mr. Whitesnow; and the blind author "Borges" (based on the real-life literary figure), who comes to be a guide.
This motley crew journeys to outlandish locales where they encounter a variety of eccentric characters — including a director of trailers for films that will never exist; a guerilla force of circus folk, clowns, and puppeteers; a tin-pot dictator with a vast fortune built on an empire of excrement; and Ronald Reagan.
Fantagraphics' The Alberto Breccia Library archival series showcases the work of the master. This highly anticipated collection is an act of resistance in and of itself — it was created while Argentina's military dictatorship was still in power. Perramus is a cartooning tour de force, with a revolutionary message that remains vital to this day.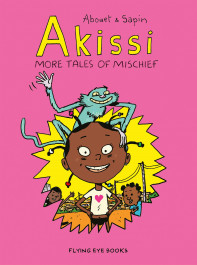 Marguerite Abouet & Mathieu Sapin: Akissi – More Tales of Mischief
The plucky, troublemaking Akissi is back with her mischief on The Ivory Coast!
This time, she has to keep herself from drowning, stand up to a bully, make peace with her arch nemesis–the prettiest girl in school, and evade a witch doctor's potion.
Inspired by her childhood on The Ivory Coast, writer Marguerite Abouet takes readers on even more hilarious adventure in Akissi: Volume 2. Lessons learned along the way include being friends with people you don't like, standing up for yourself, and dealing with the consequences of your actions.
The high spirited and mischievous Akissi returns for more "girls will be girls" adventures on the Ivory Coast in these previously untranslated stories.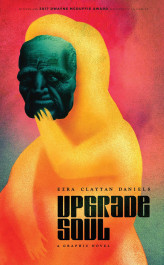 Ezra Claytan Daniels: Upgrade Soul
For their 45th anniversary, Hank and Molly Nonnar decide to undergo an experimental rejuvenation procedure, but their hopes for youth are dashed when the couple is faced with the results: severely disfigured yet intellectually and physically superior duplicates of themselves.
Can the original Hank and Molly coexist in the same world as their clones?
In Upgrade Soul, McDuffie Award-winning creator Ezra Claytan Daniels asks probing questions about what shapes our identity – Is it the capability of our minds or the physicality of our bodies? Is a newer, better version of yourself still you?
This page-turning graphic novel follows the lives of Hank and Molly as they discover the harsh truth that only one version of themselves is fated to survive.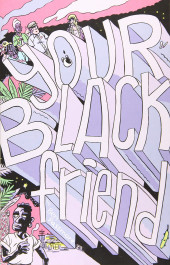 Ben Passmore: Your Black Friend
Ben Passmore's necessary contribution to the dialogue around race in the United States, Your Black Friend is a letter from your black friend to you about race, racism, friendship and alienation.
On the heels of viral online success with 500,000+ views, the revised print edition of the Your Black Friend comic is in gorgeous full color on fancy matte paper stock.
Inspired by Frantz Fanon's White Skin, Black Masks, Your Black Friend is just as direct, immediate, and necessary as Ta-Nehisi Coates' Between the World and Me and Claudia Rankine's Citizen.
Known for his politically charged science fiction comics, enthusiastic fans of Passmore's work include Brandon Graham (Island, Image Comics), Carolyn Nowak (Lumberjanes) and Josh Simmons (Fantagraphics).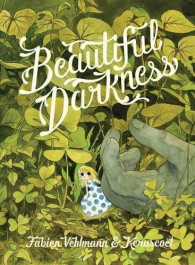 Fabien Vehlmann & Kerascoët: Beautiful Darkness
A group of little people find themselves without a home in this horror fantasy classic.
Newly homeless, a group of fairies find themselves trying to adapt to their new life in the forest.
As they dodge dangers from both without and within, optimistic Aurora steps forward to organize and help build a new community. Slowly, the world around them becomes more treacherous as petty rivalries and factions form.
Beautiful Darkness became a bestseller and an instant classic when it was released in 2014.
This paperback edition of the modern horror classic contains added material, preparatory sketches, and unused art.
While Kerascoët mix gorgeous watercolors and spritely cartoon characters, Fabien Vehlmann takes the story into bleaker territory as the seasons change and the darkness descends. As with any great horror, there are moments of calm and jarring shocks while a looming dread hangs over the forest.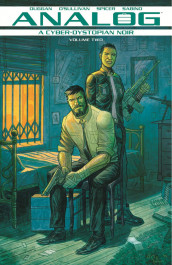 Gerry Duggan & David O'Sullivan: Analog 2
The internet has collapsed and secrets are moved around the world on paper by armed "Ledger Men".
Hard-drinking human punching bag Jack McGinnis must unravel the mystery of how his nemesis returned to power and survive a burn notice from his old "pals" in the intelligence community.
Starring Oona, Sam, Pops and a bunch of dangerous spies, mercs, hitmen, bartenders — plus a free-range and slightly confused artificial intelligence.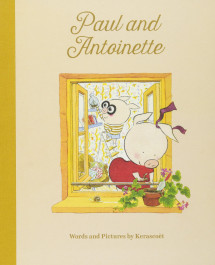 Kerascoët: Paul & Antoinette
We have seen a few great odd couples in picture books already, but filled with possibility as the world is, there's always room for one more pair, especially if they are as charming and unforgettable as these pigs, born from the brushes and prolific imagination of Kerascoët.
Kerascoët lives and works in Paris in the worlds of cartooning and illustration.
Best known for illustrating the book Miss Don't Touch Me written by Hubert, as well as a couple of the Lewis Trondheim Dungeon books, their most recent book Beautiful Darkness broke out on the US scene in 2014, winning them wide recognition and high praise. It was a Publishers Weekly best book of the year.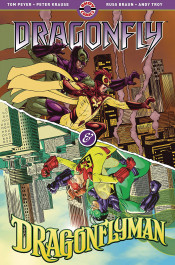 Tom Peyer & Peter Krause: Dragonfly & Dragonflyman 1
On Earth-Omega, the grim vigilante called THE DRAGONFLY seeks justice in a dark world of sadistic criminals and corrupt cops.
But on Earth-Alpha, his innocent counterpart DRAGONFLYMAN faces colorful villains like The Soundmaster alongside a cheerful police department!
This volume careens like a rollercoaster from camp humor to gritty drama and back again, featuring the brutal menace of Kaktus, TWO versions of the tempter known as Devil Man―and the baffling mystery of Lady Dragonflyman!
A prequel to the acclaimed AHOY Comics title THE WRONG EARTH, collecting all five issues of DRAGONFLY AND DRAGONFLYMAN plus the 2019 AHOY Free Comic Book Day story. Featuring covers by WRONG EARTH artist Jamal Igle.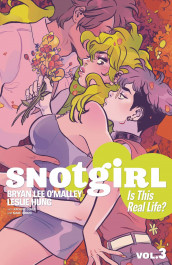 Bryan Lee O'Malley & Leslie Hung: Snotgirl 3 – Is This Real Life?
The biggest fashion disaster in comics is back!
Fashion blogger Lottie Person just wants to live up to her flawless online persona ― but why is real life so much harder?
.
.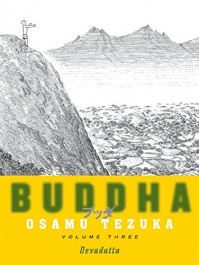 Osamu Tezuka: Buddha 3 – Devadatta
The third volume of this epic graphic novel send Siddhartha further into a world mired in pain and suffering. The journey to peace and enlightenment looms far but bright.
Prince Siddhartha quickly learns that the monk's path is covered in thorns and self-abuses much more profound than shaving your head.
His new companions Dhepa and Assaji accompany him to plague-ridden town, ruled by the ravashing Visakha. On a different path filled with as many vararies is Devadatta, an orphan who learns only that bad almost always gets worse.
To strange cities, and dire prophecies…
KÄYTETYT SARJAKUVAT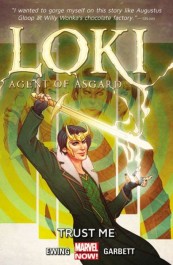 Al Ewing & Lee Garbett: Loki, Agent of Asgard 1 – Trust Me (K)
KÄYTETTY.
Kid Loki's all grown up – and the God of Mischief is stronger, smarter, sexier and just plain sneakier than ever before.
As Asgardia's one-man secret service, he's ready to lie, cheat, steal, bluff and snog his way through the twistiest, turniest and most treacherous missions the All-Mother can throw at him … starting with a heart-stopping heist on Avengers Tower!
And that's just the beginning, as Loki takes on Lorelei in Monte Carlo's casinos, and heads back to the dawn of Asgard to join its greatest heroes on a quest for a certain magical sword!
But when Loki puts together a crew to crack the deepest dungeons of Asgardia itself, there may be one plot twist too many for even Loki to handle!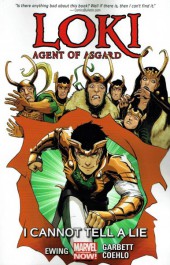 Al Ewing & Lee Garbett: Loki, Agent of Asgard 2 – I Cannot Tell a Lie (K)
KÄYTETTY.
AXIS tie-in! Loki faces Doctor Doom!
But with Valeria Richards in the mix, who's the hero of this story…and who's the villain?
Doom has sentenced Loki to death for the crimes of his future self, King Loki!
But with the Red Skull drowning Latveria and the entire world in a wave of telepathic hate, will there even be a future left to save?
And when the events of AXIS invert Loki, he begins a noble quest for truth, justice and the Asgardian way…which pits him against the Enchantress, Lorelei…and the brutish Thor, god of evil?!
Al Ewing & Lee Garbett: Loki, Agent of Asgard 3 – Last Days (K)
KÄYTETTY.
He's Loki's older, nastier, vastly more powerful future self. His machinations have cost Loki everything… but who IS King Loki?
What kingdom would have him? What dread Asgard is he the Agent of? And what evil scheme has he been brewing all this time?
Loki began his third life by annihilating the soul of his second – his better, purer self. Now he pays the price.