Luettelo:
Kotimaiset uutuudet
Manga-uutuudet
Ennakkotilaukset
Ulkomaiset uutuudet
Lehdet ja kirjat
Käytetyt sarjakuvat
Oheistavarat
Alkuun
KOTIMAISET UUTUUDET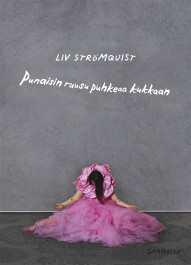 Liv Strömquist: Punaisin ruusu puhkeaa kukkaan
Leonardo DiCaprio on seurustellut kymmenien uimapukumallien kanssa, mutta ei ole rakastunut yhteenkään heistä.
Miksi? Onko syynä kapitalismi, DiCaprion narsismi vai evoluutio? Eikö Leo ole vain sattunut tapaamaan sitä oikeaa?
Ja ennen kaikkea: emmekö me kaikki nykyään ole vähän samanlaisia kuin Leo?
Liv Strömquist tarkastelee tässä sarjakuva-albumissaan myöhäiskapitalistisen ajan romantiikkaa ja rakkautta.
Miksi meidän on yhä vaikeampi rakastua? Voiko rakkautta hallita? Entä mitä tapahtuu silloin, kun rakkaus loppuu? Miksi olemme niin tunteettomia?
Vastauksia etsiessään Strömquist käyttää tuttuun tyyliinsä apunaan kiinnostavia tieteellisiä teorioita, historian merkkihenkilöitä ja populaarikulttuurin hahmoja Beyoncésta antiikin filosofeihin ja smurffeista Sören Kierkegaardiin.
Miksi Theseus jätti Ariadnen? Millainen oli lady Caroline Lambin ja lordi Byronin suhde?
Albumin nimi on lainattu 74-vuotiaana palavasti rakastuneen runoilija Hilda Doolittlen (H. D.) rakkausrunosta.
Kaiken kruunaa Strömquistille ominainen älykäs huumori.
Alkuun
MANGA-UUTUUDET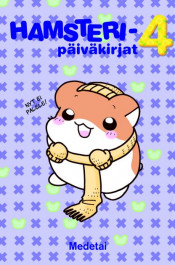 Medetai: Hamsteripäiväkirjat 4
Itsepäinen Shigecchi, hysteerinen Endoo ja laiskanpulskea Puh ovat kuusiosaisen Hamsteripäiväkirjat-sarjan päähenkilöt, jotka sulattavat paatuneimmankin sydämen.
Kuusiosainen sarja tarjoaa mainioita vinkkejä hamsterinomistajille tai sellaisiksi aikoville!
Kaikenikäisille.
.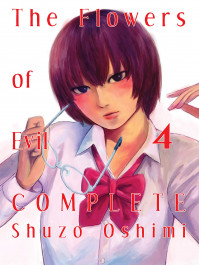 Shuzo Oshimi: The Flowers of Evil – Complete 4
After his grandfather falls ill, Kasuga goes with his parents back to Gunma—his first trip back to his hometown ever since the incident with Nakamura—and Kasuga must confront the friends and family he hurt in the past.
A former classmate gives him a tip regarding Nakamura's current whereabouts, but will he have the courage to track her down and ask her the question that has haunted him since that day?
In this final installment, time passes and people grow, change and heal, and we get a glimpse into the first fateful encounter between Nakamura and Kasuga, from her point of view…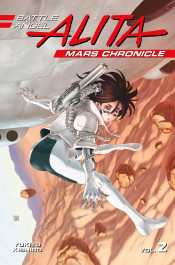 Yukito Kishiro: Battle Angel Alita Mars Chronicle 2
The cyber-martial arts saga that has spanned a solar system and over two decades in print returns, with creator Yukito Kishiro's new sequel that reveals the true story of Alita's childhood on Mars, and the mind-bending adventures that still await her…
Two-hundred years in the future, Alita has returned to Mars to meet Erica.
However, what should be a blissful reunion is anything but.
A battle between two skilled practitioners of the Martian martial arts unfolds on the very grounds where their story began.
Can Z.O.T.T. champion Alita best the prowess of Frau X?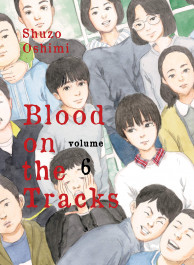 Shuzo Oshimi: Blood on the Tracks 6
Beset by mental images of his mother, Seiichi flees from Fukiishi's embrace and returns home.
Safety and reconciliation aren't the only things that await him there, however.
The Osabes have become one big happy family again…but at what cost?
Shuzo Oshimi's masterfully nuanced tale of familial horror continues to tighten its grip on the minds of its characters and readers alike.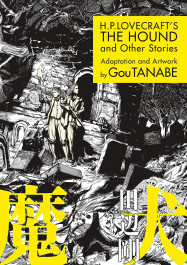 Gou Tanabe: H.P. Lovecraft's the Hound and Other Stories
From adapter and illustrator Gou Tanabe, comes H.P Lovecraft's The Hound and Other Stories.
This manga adaptation of some of Lovecraft's best stories is perfect for manga fans and Lovecraft fans alike. With art resembling more of a western comic book, this book lends itself well as a 'gateway' for those who are looking to get into manga!
A pair of decadent young men pursue the abhorrent thrill of grave robbing…
A German submarine's crew is driven mad by the call of an underwater temple…
An explorer in the Arabian desert discovers a hideous city older than mankind.
This moody and evocative manga gets back to the dark foundations of the Cthulhu Mythos, adapting three of H.P. Lovecraft's original stories that first shaped the outlines of cosmic horror!
ENNAKKOTILAUKSET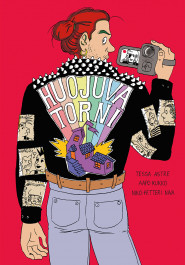 Tessa Astre & Aapo Kukko & Niko-Petteri Niva: Huojuva Torni (ENNAKKOTILAUS NIMMAREILLA)
ENNAKKOTILAUS.
KIRJA JULKAISTAAN OULUN MUUSAJUHLILLA 10.8.2021.

HUOM! Ennakkotilaajat saavat kirjan tekijöiden nimmareilla. Jos haluat mukaan omistuksen, kerro toiveesi ostoskorin "Toimitustapa"-kohdassa "Viesti koskien koko tilausta".
Dokumenttiohjaaja Reidar Love lähtee Ouluun filmaamaan dokumenttia 80-luvun punk-nuorisosta vallatussa talossa.
Kuvaukset eivät suju helposti ja hauskasti, vaan menneisyyden haamut nousevat kummittelemaan, ja vaikuttavat ihmissuhdeverkkoon, joka tihenee kun salaisuudet alkavat paljastua. Mitä tapahtui Tornin asukkaille?
Huojuva Torni on kertomus ihmisyydestä ja identiteetistä, sukupolvien ja sukupuolten välisistä sodista ja sovituksesta.
Sarjakuvaromaani perustuu Tessa Astren ja Epe Niirasen näytelmäkäsikirjoitukseen, jonka ensi-ilta oli Oulun ylioppilasteatterissa v. 2017.
Sarjakuvaksi tarinan kirjoitti Tessa Astre ja piirsivät Aapo Kukko ja Niko-Petteri Niva.
ULKOMAISET UUTUUDET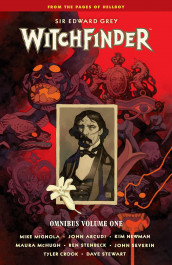 Witchfinder Omnibus 1
The collected adventures of England's greatest occult investigator!
When the man called the Witchfinder becomes an agent of the Queen, he is led from the sparkling echelons of Victorian London to its dark underbelly, through the American West, and to explore the mysteries of Unland!
Throughout his adventures, he'll face occult conspiracies, rampaging monsters, and London's most infamous secret society: the Heliopic Brotherhood of Ra!
This first omnibus edition collects Sir Edward Grey: Witchfinder volumes 1-3, complete with extensive sketchbook section.
Writers: Mike Mignola, John Arcudi, Kim Newman, Maura McHugh, Scott Allie
Artists: Ben Stenbeck, John Severin, Tyler Crook, Patric Reynolds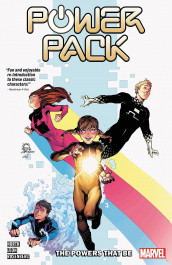 Ryan North & Nico Leon: Power Pack – The Powers That Be
Power Pack is back!
Katie, Julie, Jack and Alex Power have been super-heroing since they were learning to tie their shoes — but it's been ages since they fought side-by-side as a family.
Now, a special occasion — and an old grudge — is about to bring the family back together.
There's just one hiccup: a brand new law outlawing underage vigilantes! But surely, if the fate of all of New York City is at stake, the powers-that-be will make an exception? Don't bet on it!
To comply with the rules, the Pack need an adult mentor — but who in the Marvel Universe will take the job? Whoever it is, they'll have their hands full when the Powers' powers start to shut down…which is a bad time for the Taskmaster to come to town!
Brian Azzarello & Lee Bermejo: Batman – Damned
The Joker has been murdered.
His killer is a mystery. Batman is the World's Greatest Detective. But what happens when the person he is searching for is the man staring back at him in the mirror?
With no memory of the events of the previous night, Batman is going to need some help.
So who better to set him straight than John Constantine? The problem with that is as much as John loves a good mystery, he loves messing with people's heads even more.
So with John's "help," the pair will delve into the sordid underbelly of Gotham as they race toward the mind-blowing truth of who murdered The Joker.
Batman: Damned is a visceral thrill-ride and supernatural horror story told by two of comics' greatest modern creators, Brian Azzarello and Lee Bermejo.
The DC Black Label imprint features classic DC characters in compelling, standalone stories written and illustrated by world-class authors and artists.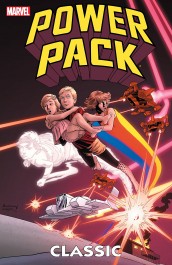 Power Pack Classic 1
Teen teams are nothing new, but only one super-group got started at age twelve and under!
Alex, Julie, Jack and Katie Power prove you're never too young to save the universe when they use the powers they received from one alien race to foil the schemes of another, the dreaded Snarks!
Back on Earth, they meet another new archenemy, General Carmody, a mutantphobe so confused he even targets heroes who AREN'T mutants!
Guest-starring Spider-Man, Cloak and Dagger, and Henry Peter Gyrich of Initiative infamy!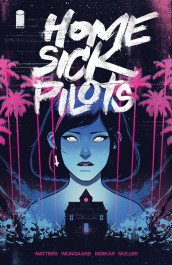 Dan Watters & Caspar Wijngaard: Home Sick Pilots 1 – Teenage Haunts
In the summer of 1994, a haunted house walks across California.
Inside is Ami, lead-singer of a high school punk band- who's been missing for weeks.
How did she get there? What do these ghosts want? And does this mean the band have to break up?
Expect three chord songs and big bloody action as Power Rangers meets The Shining (yes really), and as writer DAN WATTERS (Lucifer/COFFIN BOUND) and artist CASPAR WIJNGAARD (Star Wars/Peter Cannon: Thunderbolt) delve into the horrors of misspent youth.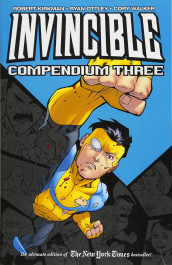 Robert Kirkman: Invincible Compendium 3
It's here: the third massive paperback collection of the greatest comic in the universe.
Witness the conclusion of Mark Grayson's epic adventures, from "The Death of Everyone" to "The End of All Things."
Collects INVINCIBLE #97-144.
.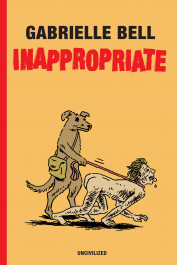 Gabrielle Bell: Inappropriate
Gabrielle Bell returns with a brilliant new collection of hilarious short stories.
From a revisionist Red Riding Hood, to uncomfortable role reversals, Gabrielle Bell revels in skewering modern mores with razor-sharp humor and wry observations.
Culled from The New Yorker, Paris Review, and Medium, including several brand new previously unpublished gems, Inappropriate collects Bell's best short comics form the last couple of years.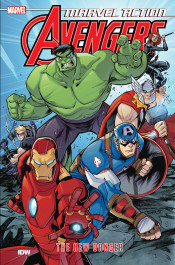 Matthew K. Manning & Jon Sommariva: Marvel Action – Avengers 1: The New Danger
A new team is formed to battle a mega-sized threat that is weirder and wilder than any the super heroes have met before!
This launch of a brand-new series is an ideal opportunity for middle-grade readers, and fans of all ages, to experience the thrilling adventures of Avengers comics for the first time!
Collects issues #1-3.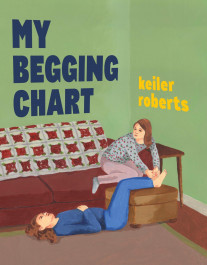 Keiler Roberts: My Begging Chart
Keiler Roberts mines the passing moments of family life to deliver an affecting and funny account of what it means to simultaneously exist as a mother, daughter, wife, and artist.
Drawn in an unassuming yet charming staccato that mimics the awkward rhythm of life, no one's foibles are left unspared, most often the author's own.
When Roberts considers whether or not to dust the ceiling fan, it's effectively relevant. She can get lost in the rewarding melodrama of playing Barbies with her daughter and will momentarily snap out of her depression.
Her harmless fibs to get through the moment are brought up by her daughter a year or two later, yet without hesitation Roberts will request that her daughter's imaginary friend not visit when she is around. Her MS diagnosis lingers in the background, never taking center stage.
In My Begging Chart, her most encompassing work yet, Keiler meditates on routine and stillness. The vignettes of her everyday life exude immense presence, making her comics thoroughly relatable and reflective of our all-too-human lives as they unfold with humour, sadness, and relieving joy.
In transporting these stories onto paper, Keiler observes, and at times relishes, a fleeting present.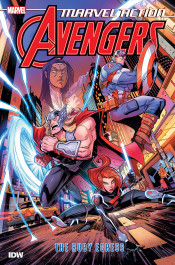 Matthew K. Manning & Jon Sommariva: Marvel Action – Avengers 2: The Ruby Egress
A new era of all-out Avengers action continues in these young reader friendly graphic novels!
Magic and mayhem collide for more mighty Marvel action in this new adventure featuring Earth's Mightiest Heroes!
Thor, Captain Marvel, and Doctor Strange have gone missing!
Forced to face fiendish foes without their teammates, can the rest of the Avengers find their friends before it's too late?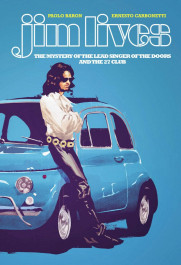 Paolo Baron & Ernesto Carbonetti: Jim Lives
Amid the intense colors of a foreign land, JIM LIVES is the story of a man searching for his son-a correspondent for a popular american newspaper-who vanished into thin air after sending one last, enigmatic message: "Jim Morrison isn't dead. He's hiding out in Italy. I saw him with my own eyes. I'll call you tomorrow and tell you everything…"
Come along with the Creators of PAUL IS DEAD as they reveal the second chapter in their "conspiracy trilogy: " a new, fascinating vision of the most mysterious legend in the history of rock that envisions what happened "When the Music's Over."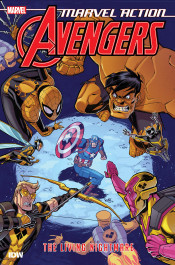 Matthew K. Manning & Marcio Fiorito: Marvel Action – Avengers 4: The Living Nightmare
A new era of all-out Avengers action continues in these middle-grade-friendly graphic novels!
The first year of Marvel Action: Avengers comes to a thrilling conclusion! The Avengers begin their final attack against A.I.M. and the mastermind behind their woes reveals themselves.
These graphic novels are the perfect starting point for new fans looking for more stories of the adventures of Black Panther, Captain America, Thor, Captain Marvel, Iron Man, and Black Widow!
Collects issues #10-12 of the Marvel Action: Avengers series.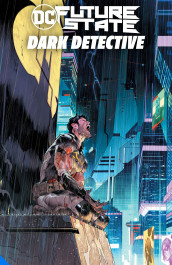 Future State – Batman: Dark Detective
New York Times bestselling and Eisner-winning author Mariko Tamaki reveals a potential future state of Gotham, a militaristic reality that rivals 1984.
Welcome to the possible future state of Gotham.
The Magistrate, a freelance military and surveillance corporation, has been hired by Gotham's leadership to turn the old city into a futuristic surveillance state free of vigilante-based crime/heroics.
Batman, horrified to see what his city was becoming, fought tooth and nail against Magistrate–and they killed him for it. Or did they?
Bruce Wayne survived this assassination attempt, and has been laying low for years now trying to sort out how to beat Magistrate.
The only problem? He doesn't think he can anymore. They're too big, they're too powerful. And the latest horrific revelation? They have EYES EVERYWHERE.
It's left to Batman for one last mission. Destroy their command center, expose the drones, and free the city. Whatever the cost.
Collects Future State: Dark Detective #1-4; Future State: Catwoman #1-2; Future State: Harley Quinn #1-2; Future State: Robin Eternal #1-2; Future State: Batman/Superman #1-2.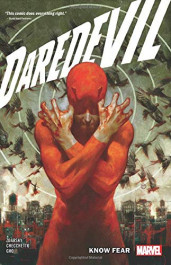 Chip Zdarsky: Daredevil by Chip Zdarsky 1 – Know Fear
Matt Murdock has clawed his way through physical therapy, but his near death experience that nearly left him crippled has left its mark on him.
Reacquainted with pain and fear, the devil is back in hell's kitchen, but is the man who returned to the rooftops the same man who fell off them?
Find out, in CHIP ZDARSKY'S new era of DAREDEVIL!
.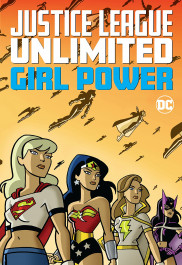 Justice League Unlimited – Girl Power
Eight action-packed adventures featuring the incredible women of the DC Universe!
When a Justice League mission goes bad, can Supergirl and Mary Marvel step in to save the day?
Meanwhile, Wonder Woman battles the Cheetah while Natasha Irons takes on a robot attack.
Then, it's a true "Battle of the Sexes" when Wonder Woman's Amazon sisters suddenly turn against Man's World!
Collects Adventures in the DC Universe #3-6, #9; Justice League Adventures #4; Justice League Unlimited #20-22, #35-42.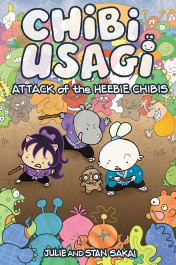 Stan Sakai & Julie Fujii Sakai: Chibi Usagi – Attack of the Heebie Chibis
The rich world of Usagi Yojimbo, now more accessible to readers of all ages in this chibi-style original graphic novel.
Stan Sakai's beloved rabbit samurai has won countless fans over his 35-year history, thanks to a clever blend of thrilling action, heartwarming characters, and a realistic portrayal of Japanese culture.
Chibi Usagi brings these fun and thoughtful stories to middle-grade readers as an original graphic novel packed with adorable art and captivating energy.
While fishing for freshwater eels, Chibi Usagi, Chibi Tomoe, and Chibi Gen rescue a Dogu, a clay creature from Japan's prehistory.
The Dogu's village has been enslaved by the Salamander King and his Heebie Chibi minions and are forced to work in their mines. Chibi Usagi and his friends must rescue the Dogu people and eliminate the threat of the Salamander King forever in this feature-length story of adventure, humor, and slippery eels.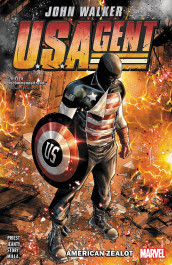 Christopher Priest & Georges Jeanty: U.S.Agent – American Zealot
The super-soldier you love to hate!
John Walker, the one-time Captain America and former U.S.Agent, has been stripped of his official status and is now operating as an independent government contractor protecting covert interests.
Now, Walker's latest security detail draws him into a conflict between a small town and the corporate giant trying to destroy it. Along the way, Walker acquires a new partner and new enemy — while being haunted by ghosts from his past and confronting challenges to his future.
But when he abandons his assigned mission and heads to Washington to confront the politicians who engineered his firing, a ruthless and enigmatic new U.S.Agent arrives to take over — and is willing to destroy anything and anyone who gets in his way!
Michael Goodwin & Dan E. Burr: Economix – How and Why Our Economy Works (and Doesn't Work) in Words and Pictures
Stimulus plans: good or bad? Free markets: How free are they? Jobs: Can we afford them? Occupy Wall Street . . . worldwide!
Everybody's talking about the economy, but how can we, the people, understand what Wall Street or Washington knows–or say they know? Read Economix.
With clear, witty writing and quirky, accessible art, this important and timely graphic novel transforms "the dismal science" of economics into a fun, fact-filled story about human nature and our attempts to make the most of what we've got . . . and sometimes what our neighbors have got.
Economix explains it all, from the beginning of Western economic thought, to markets free and otherwise, to economic failures, successes, limitations, and future possibilities. It's the essential, accessible guide to understanding the economy and economic practices.
A must-read for every citizen and every voter.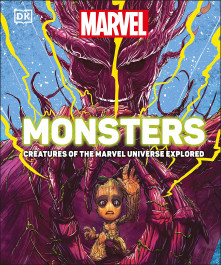 Kelly Knox: Marvel Monsters – Creatures of the Marvel Universe Explored
All Super Heroes need a monster to fight, or a monstrous sidekick to help them. Some are even monsters themselves.
This comprehensive field guide to Marvel flora, fauna, and beasts great and small shows off claws, teeth, tails, and wings in sumptuous, never-seen-before detail.
From tyrannosaurus rexes from alternative worlds and genetically modified deinonychuses from the future to purple cat-sized dragons and swamp monsters, the Marvel multiverse is brimming with creatures both heroic and villainous. Explore swamps and the Savage Lands and more.
Discover aerial beasts, artificially created creatures, and even monster team-ups.
This anthology is a beautifully curated guide to the best and the worst and ensures you will never get Fin Fang Foom and Tim Boom Ba mixed up again!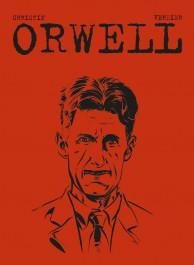 Pierre Christin & Sebastien Verdier: Orwell
An intimate look at the life and work of England's greatest novelist and political essayist, and author of the dystopian masterpiece 1984
George Orwell's most celebrated work, 1984, and the prescient vision it contains of a society governed by Big Brother, predates the constant monitoring of people and data we are familiar with today by over 70 years.
But his life was every bit as fascinating and forward-looking as his books. Orwell studied at Eton, joined the police in Burma, fought in the Spanish Civil War, fiercely opposed Stalinism, and lived in London's slums while working as a journalist.
With illustrations by a team of artists including Juanjo Guarnido, Enki Bilal, Manu Larcenet, Blutch and André Juillard, Pierre Christin and Sébastien Verdier's Orwell offers readers an intimate yet definitive portrait of our greatest political writer.
"Christin, Verdier, et al. have pulled off a rare feat. They have taken one of the most straightforward writers in the English language and made his canon and life story more accessible." – The Orwell Society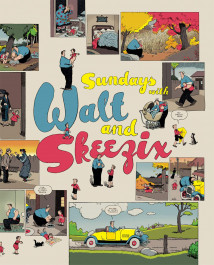 Frank King: Sundays with Walt and Skeezix
Collected for the first time here are the best of King's early Gasoline Alley Sunday comics, starting from the very first Sunday in 1921, reprinted in the original size and colors.
King's innovations in art, layout and storytelling brought a new warmth and style to the medium at the dawn of the Golden Age of newspaper comic strips.
If you are interested in the development of this unique American art form, or simply love beautiful comics, this sumptuous volume is a masterpiece in comic art, and a must for your collection.
Like McCay, Feininger, Herriman, and others of that era, King was a graphic innovator.
His panoramic layouts, themed styling, and whimsical cartoon conceits explored new artistic methods. But he also had a great knowledge of story and character, presented with a warmth and humanity never seen before in comics, and rarely done as well since.
He went beyond the gags and slapstick of his contemporaries to create vignettes of genuinely human characters; showing them relating to each other and, particularly in his Sunday comics, to the world around them.
LEHDET JA KIRJAT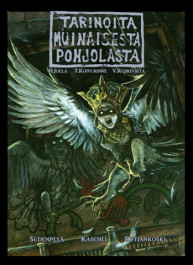 Henri Joela & Tuomas Koivurinne: Tarinoita muinaisesta Pohjolasta – Sudenpesä/Kaschei/Rutjankoski
Tarinoita muinaisesta Pohjolasta on 1200-1300-lukujen Pohjolaan ja Baltiaan sijoittuva seikkailutarina.
Sarjakuvan maailma on sekoitus historiaa, kansantarinoita sekä muinaissuomalaista mytologiaa.
Tämä lehti päättää tarinakokonaisuuden.
.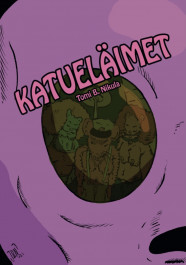 Tomi B. Nikula: Katueläimet
Kolme kaverusta lähtevät elämiensä oudoimmalle seikkailulle noutamaan kadonnutta ystäväänsä.
.
.
.
.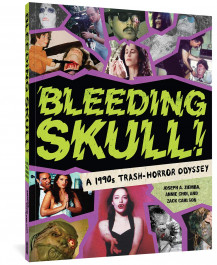 Bleeding Skull! – A 1990s Trash-Horror Odyssey
Shapeshifting Hare Krishna demons who crash a BBQ, Mexican Freddy Kruegers, and two dinosaurs that dump body parts into a tiny swimming pool ― brought to you by the maniacs behind Bleeding Skull!: A 1980s Trash-Horror Odyssey and Destroy All Movies!!! The Complete Guide to Punks on Film!
A celebration of the most obscure, bizarre, and brain-busting movies ever made, this film guide features 250 in-depth reviews that have escaped the radar of people with taste and the tolerance of critics — Gorgasm! I Was a Teenage Serial Killer! Satan Claus! Die Hard Dracula!
Curated by the enthusiastic minds behind BleedingSkull.com, this book gets deep into gutter-level, no-budget horror, from shot-on-VHS revelations (Eyes of the Werewolf) to forgotten outsider art hallucinations (Alien Beasts).
Jam-packed with rare photographs, advertisements, and VHS sleeves (most of which have never been seen before), Bleeding Skull is an edifying, laugh-out-loud guide to the dusty inventory of the greatest video store that never existed. color illustrations.
Writers: Joseph A. Ziemba, Annie Choi, Zack Carlson
KÄYTETYT SARJAKUVAT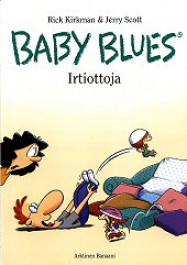 Rick Kirkman & Jerry Scott: Baby Blues – Irtiottoja (K)
KÄYTETTY, HYVÄKUNTOINEN.
Baby Blues -perheen lapset Suvi ja Saku kasvavat iässä ja viisaudessa, Ulla-äiti puolestaan ympärysmitassa.
Tarhavalmennuksen jälkeen Suvista tulee reipas, joskin suulas ekaluokkalainen. Samaan aikaan Ulla havaitsee viidennen tulokkaan ilmoittautuneen perhevahvuuteen. Pian naapurustosta ja ystäväpiiristä löytyy muitakin sinisen viivan vetäneitä.
Irti otetaan kirjaimellisesti Suvin niskaan pesiytynyttä punkkia ja pohditaan sen sopivuutta lemmikkieläimeksi. Vanhemmat puolestaan haluavat irrottautua vielä kerran romanttiselle, kahdenkeskiselle lomamatkalle ennen kuin Ulla taas "poksahtaa pallokalaksi", kuten Pauli asian herkästi ilmaisee.
1. painos.
OHEISTAVARAT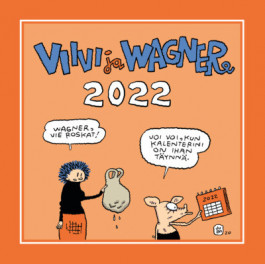 Juba Tuomola: Viivi ja Wagner -seinäkalenteri 2022
Sikamainen – mutta aina yhtä vastustamaton! Wagneriaanista filosofiaa koko vuoden tarpeisiin.
.
.
.
.