Luettelo:
Kotimaiset uutuudet
Manga-uutuudet
Ennakkotilaukset
Ulkomaiset uutuudet
Lehdet ja kirjat
Elokuvat
Alkuun
KOTIMAISET UUTUUDET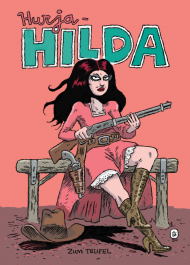 Juba: Hurja-Hilda
"Älä koskaan aliarvioi napanuoran tappovoimaa…"
Hurja-Hilda on lujatahtoinen villin lännen nainen, jota on kohdeltu kaltoin.
Hilda janoaa kostoa, eikä hän aio jättää kostamista herran haltuun – herra kun on niin hidas vetämään.
Hurja-Hilda on Juban kolmas aikuisille suunnattu itsenäinen sarjakuva-albumi.
Edelliset ovat Frank viettelysten vaunussa (-10) ja Rocco Lamotta – Sikojen klaani (-19).
MANGA-UUTUUDET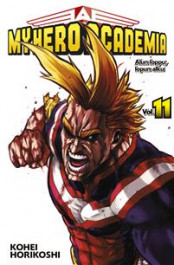 Kohei Horikoshi: My Hero Academia 11
Naamiopäinen hirmu ilmestyi ja nitisti sankarit.
All Might tuli kyllä paikalle, mutta voiko niin älyvapaalla oikulla varustetun tyypin voittaa?
Ei, nyt ei ole arkailun aika.
On meinaan kaveri pelastettavana! PLUS ULTRA!!
Genre: seikkailu/ Ikäsuositus 11+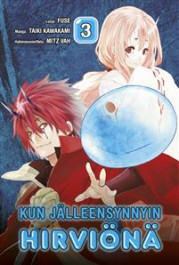 Taiki Kawakami: Kun jälleensynnyin hirviönä 3
Rimuru totuttautuu uuteen ihmishahmoonsa.
Uusia ihmeellisiä voimia on kasaantunut rutkasti lisää ja mainioita alamaisiakin putkahtelee tasaiseen tahtiin, mutta vallan ja voimien karttuessa alkavat myös viholliset heräillä.
Ja niitä onkin sitten heti vastassa kokonaisen armeijan verran…
Genre: Fantasia/ Ikäsuositus: 12+
ENNAKKOTILAUKSET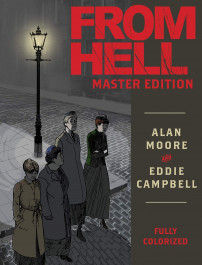 Alan Moore & Eddie Campbell: From Hell – Master Edition (ENNAKKOTILAUS)
ENNAKKOTILAUS. KIRJA ILMESTYY 15.9.2020.
Meet the most notorious serial killer of all time, Jack the Ripper — and meet the vast and vibrant communities of Victorian London where his foul deeds gave birth to the modern era.
In this remarkable new edition, the award-winning bestseller FROM HELL now features astonishing colors by Eddie Campbell!
Jack is back — and this time, the blood is red.
Experience FROM HELL as never before: fully restored and in color for the first time!
Five unsolved murders.
Two of the greatest creators in the history of comics.
One sprawling conspiracy, one metropolis on the brink of the twentieth century, and one bloody-minded Ripper ushering London into the modern age of terror.
The award-winning bestseller FROM HELL, often ranked among the greatest graphic novels of all time, takes on haunting new dimensions in FROM HELL: Master Edition, enhanced with impressionistic hues by Eddie Campbell himself.
ULKOMAISET UUTUUDET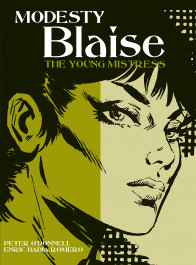 Peter O'Donnell & Enric Badia Romero: Modesty Blaise – The Young Mistress
As dangerous as she is desirable, Modesty Blaise, the cult creation of best-selling writer Peter O'Donnell, returns for three more devastating adventures!
Features the classic stories 'The Young Mistress', 'Ivory Dancer' and 'Our Friend Maude', written by Peter O'Donnell and beautifully illustrated by Enric Badia Romero!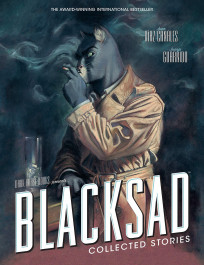 Diaz Canales & Guarnido: Blacksad – Collected Stories
The classic hardboiled noir series featuring beloved anthropomorphic cat detective, John Blacksad, celebrates its twentieth year.
Readers will now be able to experience five of Blacksad's biggest cases in a single comprehensive volume with new sketchbook material never published in English.
Blacksad is constantly up to his ears in trouble.
Sticking his nose into mystery after mystery, often getting involved with women almost as dangerous as the criminals he thwarts.
Be it solving the murder of a famous actress or keeping nuclear weapons out of terrorist hands, Blacksad's grim work often provides a mirror for real world conflict and human issues, never turning a blind eye to racism, political tensions, or brutally sudden violence.
Canales and Guarnido redefine the standards for graphic storytelling, carving striking characters that are both animalistic and intimately human.
Guarnido's sumptuously painted pages and rich cinematic style bring the world of 1950s America to life, earning high praise from comics legends like Will Eisner, Stan Lee, Jim Steranko, and Tim Sale!
This volume collects the following Blacksad stories: Somewhere Within the Shadows, Arctic Nation, Red Soul, A Silent Hell, Amarillo; and the comic shorts "Spit at the Sky" and "Like Cats and Dogs."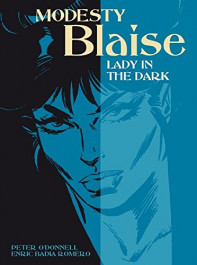 Peter O'Donnell & Enric Badia Romero: Modesty Blaise – Lady in the Dark
This volume includes the classic stories The Girl from the Future, The Big Mole and Lady in the Dark!
With story introductions that take the reader behind the scenes of Modesty's world, this outstanding collection is not to be missed.
.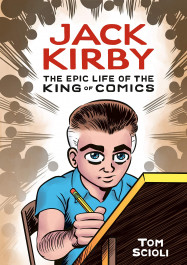 Tom Scioli: Jack Kirby – The Epic Life of the King of Comics
This sweeping, full-color comic book biography tells the complete life story of Jack Kirby, co-creator of some of the most enduring superheroes and villains of the twentieth century for Marvel Comics, DC Comics, and more.
Critically acclaimed graphic novelist Tom Scioli breathes visual life into Kirby's life story–from his days growing up in New York during the Great Depression and discovering a love for science fiction and cartoons to his time on the frontlines in the European theatre of World War II where he experienced the type of action and adventure he'd later imbue his comic pages with, and on to his world-changing collaborations at Marvel with Stan Lee, where the pair redefined comics as a part of pop culture.
Just as every great superhero needs a villain to overcome, Kirby's story also includes his struggles to receive the recognition and compensation that he believed his work deserved. Scioli captures his moves from Marvel to DC and back again, showing how Kirby himself and later his family fought to preserve his artistic legacy.
Drawn from an unparalleled imagination and a life as exciting as his comic book tales, Kirby's super-creations have influenced subsequent generations of creatives in the comics field and beyond. Now, readers can experience the life and times of a comics titan through the medium that made him famous.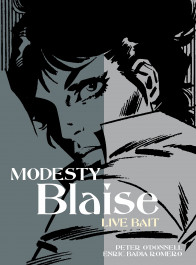 Peter O'Donnell & Enric Badia Romero: Modesty Blaise – Live Bait
Modesty Blaise, the cult bad girl and spy created by best-selling author Peter O'Donnell, is back!
Stories from the classic newspaper strip Modesty Blaise are collected here in the latest in Titan's deluxe library series, including Samantha and the Cherub, Milord and Live Bait!
The inimitable tag-team of Modesty Blaise and Willie Garvin do battle with the darkest elements of the underworld once again, beautifully illustrated by Enric Badia Romero!
With story introductions that take the reader behind the scenes of Modesty's world, this outstanding collection is not to be missed.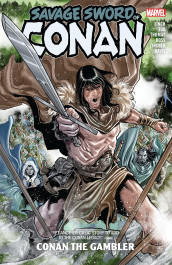 Savage Sword Of Conan – Conan The Gambler
More foes fall before the savage sword of Conan!
A past wrong comes back to haunt Conan in a tale of revenge! Stripped of his weapons, his strength and even his wits, the Cimmerian must dig deep if he wants to live to see the dawn!
Then, a violent encounter in Shadizar puts young Conan in the hot seat in a deadly game of Serpent's Bluff! Now, he must navigate the seedy underworld of "civilized" gambling. But when the chips are down, he'll play his best hand — the one holding good Brythunian steel!
Plus: Legendary creators Roy Thomas and Alan Davis spin an unforgettable tale as Conan leads a mysterious band of adventurers into the Himelian Mountains in search of a lost comrade. But Conan may get more than he bargained for when the startling truth behind the quest is uncovered!
Writers: Meredith Finch, Jim Zub, Roy Thomas
Artists: Luke Ross, Patch Zircher, Alan Davis
Collects Savage Sword of Conan (2019) #6-11.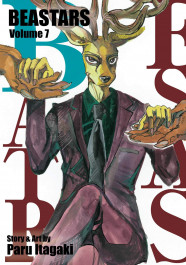 Paru Itagaki: Beastars 7
At a high school where the students are literally divided into predators and prey, friendships maintain the fragile peace. Who among them will become a Beastar–a hero destined to lead in a society naturally rife with mistrust?
The Council of Living Beings is changing the criteria for Cherryton Academy's next Beastar.
When gray wolf Juno tries to convince red deer Louis, the prime candidate for the honor, to return to school, their relationship takes an unexpected turn.
Meanwhile, gray wolf Legoshi's relationship with dwarf rabbit Haru is shifting too. Will they grow closer or further apart?
Then, Legoshi is blindsided by a huge, mysterious assailant! What new skills will he need to learn to protect himself, let alone his friends…?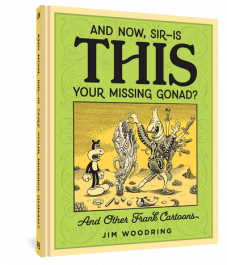 Jim Woodring: And Now, Sir… Is THIS Your Missing Gonad?
A unique detour into the deepest corners of the Unifactor.
And Now, Sir — Is This Your Missing Gonad? brings to your fun-hungry hands over 113 choice and previously unpublished images created by cartooning visionary Jim Woodring between 2009 and 2019 for his private amusement.
Featuring Woodring's familiar cast of characters from such canonical graphic novels as Congress of the Animals and Poochytown, but with a twist!
Woodring has enlisted the mysterious Walter Foxglove, The Smartest Artist™, to undertake the huge task of restoring to these images the notes, comments, and coarse jokes that accompanied their creation.
The result is a triumph of scattershot revelation. As through the holes and cracks in a shotgun shack, the light of truth seeps in. And in, and in… and in! Don't fail to install this demure volume in your reliquary — its absence will haunt you to your grave.
And Now, Sir — Is This Your Missing Gonad? reads like a collection of otherworldly gag cartoons sent from an extracorporeal corner of nihilist ecstasy. We promise you that you have never viewed situations quite like these.
"Woodring will take you to another world, re-arrange your consciousness and reprogram the inside of your head. It's cheaper than virtual reality, less risky than recreational pharmaceuticals, and more fun than falling asleep." — Neil Gaiman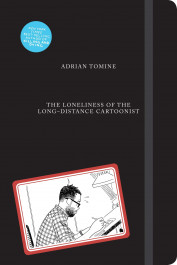 Adrian Tomine: The Loneliness of the Long-Distance Cartoonist
A comedic memoir about fandom, fame, and other embarrassments from the life of a New York Times bestseller.
What happens when a childhood hobby grows into a lifelong career?
The Loneliness of the Long-Distance Cartoonist, Adrian Tomine's funniest and most revealing foray into autobiography, offers an array of unexpected answers.
When a sudden medical incident lands Tomine in the emergency room, he begins to question if it was really all worthwhile: despite the accolades and opportunities of a seemingly charmed career, it's the gaffes, humiliations, slights, and insults he's experienced (or caused) within the industry that loom largest in his memory.
Tomine illustrates the amusing absurdities of how we choose to spend our time, all the while mining his conflicted relationship with comics and comics culture.
But in between chaotic book tours, disastrous interviews, and cringe-inducing interactions with other artists, life happens: he fumbles his way into marriage, parenthood, and an indisputably fulfilling existence.
A richer emotional story emerges as his memories are delineated in excruciatingly hilarious detail.
In a bold stylistic departure from his award-winning Killing and Dying, he distills his art to the loose, lively essentials of cartooning, each pen stroke economically imbued with human depth.
Designed as a sketchbook complete with placeholder ribbon and an elastic band, The Loneliness of the Long-Distance Cartoonist shows an acclaimed artist at the peak of his career.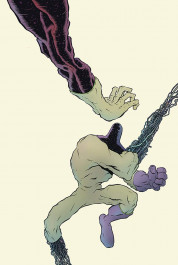 Matthew Allison: Cankor
A young man makes a rare excursion outside the comfort of his home to see a rock & roll show.
That choice is met with violence and humiliation.
When he calls out for help to his unresponsive savior (the sad sack cyborg CANKOR), it sets off a cherry bomb of psychedelic mayhem.
A candy colored nightmare of tangled wires, bubbling flesh and the towering corpses of superhumans…
CANKOR takes a deep dive into parts of the brain that are better left sealed: Michael DeForge meets Frank Quitely.
LEHDET JA KIRJAT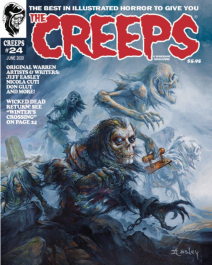 The Creeps #24
The Creeps revives the iconic Warren illustrated horror magazines of the 1970's by replicating Warren's early page layouts and publishing new, classic styled work by original Warren artists, writers and editors.
Each issue is a highly collectible instant classic!
.
.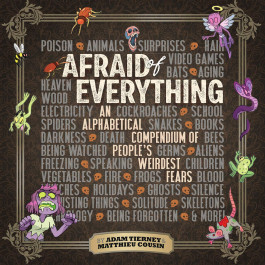 Adam Tierney & Matthieu Cousin: Afraid of Everything
What kind of scared are you? Find out in these fun horror stories for young readers based on a range of phobias from Arachnophobia to Zoophobia!
As the sun goes down, grab a group of your closest friends and huddle together under a blanket, reading by flashlight, frozen with terror at every creek and snap heard throughout your house! These tales of fear, dread, risk, and doom contain all the classic elements of horror that young fans crave without the gore.
Features 26 terrifying short stories, each based on a different A-to-Z phobia and accompanied by a unique illustration.
Read fun and scary tales about Frigophobia (freezing), Lygophobia (shadows), Melissophobia (bees), Scopophobia (being watched), and many more!
Also included are 11 bonus stories featuring art by Temmie Chang, Mariel Cartwright, and Ko Takeuchi plus a section detailing the origins and developments of the stories and art.
ELOKUVAT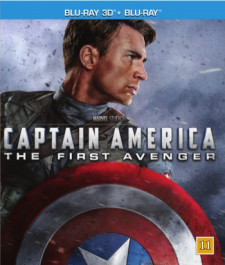 Captain America: The First Avenger (Blu-ray 3D + Blu-ray)
KERRAN KATSOTTU.
Captain America: The First Avenger keskittyy Marvel-universumin varhaisiin päiviin. Steve Rogers (Chris Evans) ilmoittautuu vapaaehtoiseksi osallistumaan kokeiluun joka muuttaa hänet Captain Americana tunnetuksi supersotilaaksi.
Pohjoismainen versio.