Luettelo:
Manga-uutuudet
Ennakkotilaukset
Ulkomaiset uutuudet
Lehdet ja kirjat
Käytetyt sarjakuvat
Alkuun
MANGA-UUTUUDET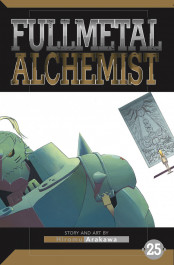 Hiromu Arakawa: Fullmetal Alchemist 25
Roy Mustangilla edessään tukala päätös, jolla voi olla kohtalokkaat seuraukset.
Tilanne mutkistuu entisestään kun Ed ja Al sotkeutuvat tapahtumiin ja aurinkokin alkaa pimetä…
Ikäsuositus 12+ / Seikkailu
.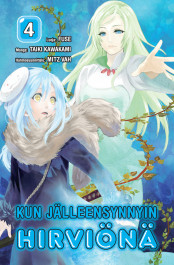 Taiki Kawakami: Kun jälleensynnyin hirviönä 4
Mikami jatkaa etenemistään fantasiapelimaailmassa.
Jälleensyntyminen limaksi velhon tai ritarin sijaan asettaa omat haasteensa, mutta onneksi Mikami ei ole periksi antavaa sorttia, minkä pelimaailman lukuisat enemmän tai vähemmän voimakkaat vihulaiset saavat karvaasti tuta.
Liittolaisten joukkoon yritetään värvätä liskomiesten armeijaa, mutta onko heistä enemmän haittaa kuin hyötyä?
Fantasia / Ikäsuositus: 12+
ENNAKKOTILAUKSET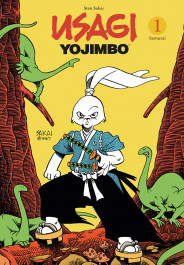 Stan Sakai: Usagi Yojimbo 1 – Samurai (ENNAKKOTILAUS)
Usagi Yojimbon saaga sijoittuu 1600-luvun vaihteen Japaniin.
Sisällissotien aika on hädin tuskin päättynyt ja Shogun on juuri tullut valtaan.
Bushidoa eli Soturin kunniakoodia seuraavat samurait ovat hallitseva luokka koko maassa. On levottomuuksien hillinnän ja poliittisen juonittelun aika.
Pitkin valtakuntaa vaeltaa isännätön samurai nimeltään Miyamoto Usagi.
"Kun hän (Sakai) kehittää ja ratkaisee kohtauksen kahdessa tai kolmessa ruudussa, hänellä on ohjaajan tietoisuus elokuvallisista tekniikoista.
Hänen piirroksensa asusteisiin ja taustoihin on virheetöntä ja hänen tarinansa – ah, hänen tarinansa! – ovat kuin tuulahdus raitista ilmaa.
Ne ovat auttaneet minua moneen otteeseen selviämään tässä katkerassa ja uuvuttavassa nykyajassa."
– Alejandro Jodorowsky –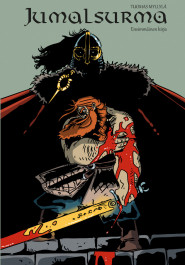 Tuomas Myllylä: Jumalsurma – Ensimmäinen kirja (ENNAKKOTILAUS)
Kauan sitten berserkki Hrotgar teki anteeksiantamattoman synnin: lopettaakseen tuhoisan sodan hän surmasi jumalan, johon oli valalla sitonut itsensä.
Kun kaukaa etelästä saapuneet valloittajat asettuivat pohjolaan, Hrotgar itse vetäytyi kauas peikkomaille, sivilisaation ulottumattomiin.
Mutta teoilla on seurauksensa, ja joitain velkoja ei voi sovittaa kuin verellä.
Kun pohjolan jumalat puhaltelevat liekkiin uutta sotaa, vanha berserkki joutuu vielä kerran tarttumaan kirveeseensä päättääkseen verikoston ja tuhon kierteen: hän aikoo tappaa kaikki jumalat.
ULKOMAISET UUTUUDET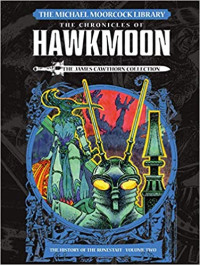 James Cawthorn: The Michael Moorcock Library: The Chronicles of Hawkmoon – The History of the Runestaff Volume 2
Titan Comics are proud to present the concluding part of the legendary Hawkmoon Chronicles – published for the first time – written by Michael Moorcock and adapted and drawn by James Cawthorn.
Adapted and drawn by the critically acclaimed artist and writer James Cawthorn. The Sword and Runestaff – will finally see the culmination of Cawthorn and Moorcock's grand vision and mark the conclusion of a saga 40 years in the telling.
Set in a post-apocalyptic world where sorcery and science live side by side, the Dark Empire of Granbretan, formerly Great Britain, has risen from the ashes of nuclear Armageddon to become the mightiest empire the world has ever known.
Now under the despotic rule of the immortal King-Emperor Huon, the empire is expanding its diabolical reach across what was once Europe.
Against the backdrop of political intrigue, arcane magic, flying machines and high adventure, one man, Dorian Hawkmoon, the Duke of Koln, continues his fight to stop Huon's evil once and for all.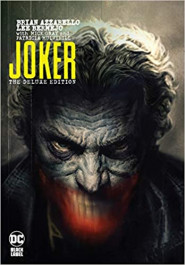 Brian Azzarello & Lee Bermejo: Joker – The Deluxe Edition
The award-winning creative team behind Batman: Damned, Brian Azzarello and Lee Bermejo, present one of the most chilling Joker stories ever told. Presented in a beautiful new hardcover edition.
The Joker has been mysteriously released from Arkham Asylu, and he's none too pleased to find out what has happened to his criminal empire while he's been away.
The result is a harrowing night of revenge, murder, and mania as only the Clown Prince of Crime can deliver it–all seen through the eyes of a new right-hand man who helps him in his mission to brutally reclaim his territory from the Penguin, Two=Face, the Riddler, Killer Croc, and more.
Batman's greatest nemsis reaches new levels of complexity and intensity in this uniquely crafted story from the New York Times bestselling and Eisner Award-winning team of Brian Azzarello and Lee Bernejo (Batman: Damned, Luthor).
Collecting the acclaimed graphic novel in a special hardcover volume, Joker: The Deluxe Edition features a wealth of behind-the-scenes material from the writer adn artist and also includes their all-new story from The Joker 80th Anniversary 100-Page Super Spectacular.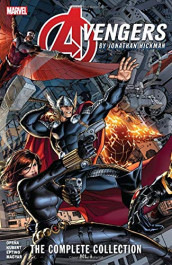 Jonathan Hickman: Avengers by Jonathan Hickman – The Complete Collection 1
Jonathan Hickman's epic Avengers saga begins here!
When Earth's Mightiest Heroes expand their sphere of influence to a global – even interplanetary – level, who will answer Captain America's call?
When Earth is attacked, the new team's first mission takes them to Mars – and sets them on a dangerous path filled with deadly, godlike enemies beyond anything they have faced before!
Meanwhile, cascading multiversal Incursions threaten all of reality – and only Tony Stark and his secretive Illuminati allies know it!
Can Mr. Fantastic, the Black Panther, Black Bolt, Namor and the Beast join Iron Man in saving the Multiverse – or is everything destined to die?
Plus, from original New Mutants to the newest Avengers, join Cannonball and Sunspot in a bizarre adventure on Mojoworld!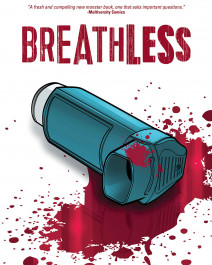 Pat Shand & Renzon Rodriguez: Breathless 1 – Pay to Live
Scout Turner works as a cryptozoologist, examining and cataloguing supernatural creatures for scientific purposes.
When she discovers the cure for asthma in the venom of a new breed of monster, she quickly finds herself on the run from Kenilworth Pharmaceuticals and the monsters that they've hired to kill her.
With no one by her side but her clueless assistant, a morally ambiguous succubus, and her geriatric dog, Scout goes on the run… but in a world controlled by money and drugs, can she escape the reaching claws of a medical monopoly?
From Pat Shand (Destiny NY, Guardians of the Galaxy), Renzo Rodriguez (Hellchild), and Mara Jayne Carpenter (Jade Street Protection Services) comes this healthcare horror story about the monsters creeping in the dark… human or otherwise.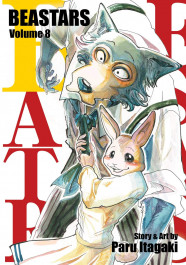 Paru Itagaki: Beastars 8
At a high school where the students are literally divided into predators and prey, friendships maintain the fragile peace. Who among them will become a Beastar–a hero destined to lead in a society naturally rife with mistrust?
Gray wolf Legoshi begins training with giant panda Gohin in order to better protect his friend, but he faces an ethical paradox when he is told he must eat meat to grow more powerful.
Meanwhile, herbivorous red deer Louis is choking down the flesh of beasts to maintain his status as the leader of a carnivorous lion gang. Yet when he runs into Legoshi carrying a bag of meat, Louis feels betrayed.
Legoshi continues to train, becoming more powerful in some ways yet weaker in others–and then his grades begin to drop. Even worse, dwarf rabbit Haru is mad at him!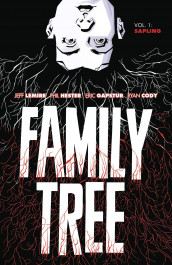 Jeff Lemire & Phil Hester: Family Tree 1 – Sapling
Bestselling, award-winning JEFF LEMIRE ( ROYAL CITY, DESCENDER, Sweet Tooth) and PHIL HESTER (Shipwreck, Green Arrow) come together for FAMILY TREE.
When an eight-year-old girl literally begins to transform into a tree, her single Mom, troubled brother and possibly insane Grandfather embark on a bizarre, and heart-wrenching odyssey across the back roads of America desperately searching for a way to cure her horrifying transformation before it's too late.
But the further they get from home, and the closer the girl gets to completely losing her humanity, the more external forces threaten to tear the family apart as fanatical cults, mercenaries and tabloid Paparazzi close in. Determined to destroy the girl or use her for themselves.
A new genre-defying ongoing series FAMILY TREE will combine mystery, action and Cronenbergian body horror into an epic story about the lengths a mother will go to keep her children safe in the face of an increasingly unstable world and unspeakable horrors.
The first collection of the hit new series by superstar creators JEFF LEMIRE and PHIL HESTER begins here!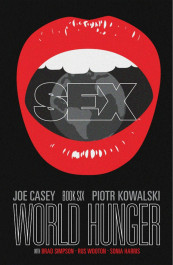 Joe Casey & Piotr Kowalski: Sex 6 – World Hunger
FINALLY―SEX RETURNS IN AN ALL-NEW SIXTH VOLUME!
Return to the world of Saturn City and the various twisted characters that live there, as Simon Cooke embarks on a trek across the world to discover the illicit secrets of the so-called Illuminati.
This leaves his beloved city open to all manner of desperate depravity.
You'll never know how much you missed SEX until you read the newest chapter of this continuing saga!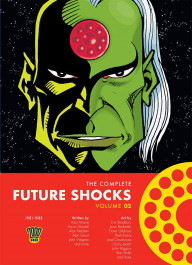 The Complete Future Shocks 02
Tharg's Future Shocks are one-off, twist ending, sci-fi thrills that have introduced many of the biggest names in the comic book industry through the pages of 2000 AD.
80's THRILLPOWER OVERDOSE!
The complete collection of mind-bending one-off sci-fi stories from The Galaxy's Greatest Comic continues into the 1980s with the second volume of Tharg's Futureshocks!
Featuring early work by creators that went on to engrave their names into comics history, including Alan Moore, Brett Ewins, Colin Wilson, Dave Gibbons and Mick McMahon.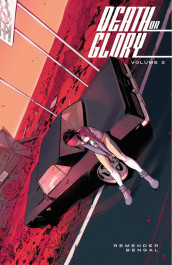 Rick Remender & Bengal: Death or Glory 2 – I Still Miss Someone
Glory is back-and barreling toward the Mexican border in hopes of delivering the liver for her father's life-saving transplant.
Time, fuel, and hope are running out, but no one outruns Glory!
Don't miss the concluding chapter of RICK REMENDER and BENGAL's runaway smash hit!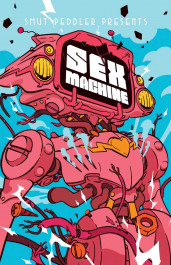 Smut Peddler Presents: Sex Machine
The future of filth is here!
The latest in the Smut Peddler series of erotic anthologies, Sex Machine is a stellar array of comics talent taking sex to the furthest reaches of your imagination.
Whether it's out in wild space or deep in coded virtual realms, the galaxy's sexiest robots, cyborgs, AI's, and some humans here and there explore their hottest desires in the bravest of new worlds.
Our most wildly inventive collection yet, Sex Machine reminds fans of quality filth why Smut Peddler is the last word in top-shelf sexy comics.
Featuring the work of FIONA STAPLES, FAITH ERIN HICKS, MEREDITH MCCLAREN, BLUE DELLIQUANTI, and many more!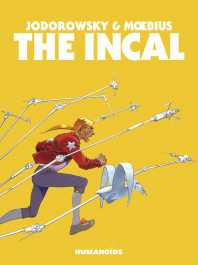 Alejandro Jodorowsky & Moebius: The Incal
John Difool, a low-class detective in a degenerate dystopian world, finds his life turned upside down when he discovers an ancient, mystical artifact called "The Incal."
Difool's adventures will bring him into conflict with the galaxy s greatest warrior, the Metabaron, and will pit him against the awesome powers of the Technopope.
These encounters and many more make up a tale of comic and cosmic proportions that has Difool fighting for not only his very survival, but also the survival of the entire universe.
LEHDET JA KIRJAT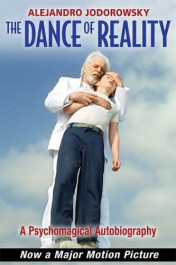 Alejandro Jodorowsky: The Dance of Reality – A Psychomagical Autobiography
Retracing the spiritual and mystical path he has followed since childhood, Alejandro Jodorowsky re-creates the incredible adventure of his life as an artist, filmmaker, writer, and therapist–all stages on his quest to push back the boundaries of both imagination and reason.
Not a traditional autobiography composed of a chronological recounting of memories, The Dance of Reality repaints events from Jodorowsky's life from the perspective of an unleashed imagination.
Like the psychomagic and metagenealogy therapies he created, this autobiography exposes the mythic models and family templates upon which the events of everyday life are founded.
It reveals the development of Jodorowsky's realization that all problems are rooted in the family tree and explains, through vivid examples from his own life, particularly interactions with his father and mother, how the individual's road to true fulfillment means casting off the phantoms projected by parents on their children.
The Dance of Reality is autobiography as an act of healing.
Through the retelling of his own life, the author shows we do not start off with our own personalities, they are given to us by one or more members of our family tree.
To be born into a family, Jodorowsky says, is to be possessed. To peer back into our past is equivalent to digging into our own souls.
If we can dig deep enough, beyond familial projections, we shall find an inner light–a light that can help us through life's most difficult tests.
Offering a glimpse into the mind and life of one of the most creative and enigmatic visionaries of our time, The Dance of Reality is the book upon which Jodorowsky's critically acclaimed 2013 Cannes Film Festival film of the same name was based.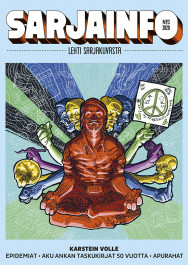 Sarjainfo #188 (3/2020)
Kansi ja pääjuttu: Karstein Volle
Vinjetisti: Tuisku Hiltunen
Essee: Epidemiat sarjakuvassa
Sarjakuva-alan apurahat Suomessa
Yhdysvaltalaiset sarjakuva-alan aikakauslehdet
Viittomakieli sarjakuvassa
Aku Ankan taskukirja 50 vuotta
Suomen paras sarjakuvatatuointi
Arkisto: Pekka Puupää -päivät
Tove-elokuva
Ajan vangit: Lars Jansson
Kuvan ja sanan jaksollinen järjestelmä: Miksi tarina pitää kirjoittaa useaan kertaan?
Niksi-info: Edullisia välineitä digikuvittamiseen
Kirjakritiikit, pääarvio: Kaisa & Christoffer Leka: Russian Diaries
Pienlehtiarviot
Sarjainfo on Suomen sarjakuvaseuran lehti, joka ilmestyy neljästi vuodessa.
KÄYTETYT SARJAKUVAT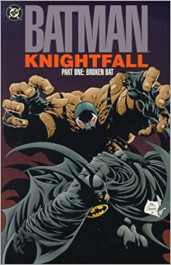 Doug Moench & Chuck Dixon: Batman – Knightfall Part One: Broken Bat (K)
KÄYTETTY. KANNEN LAMINAATISSA RYPPYJÄ.
When all of Batman's greatest foes break out of Arkham at once, he must face them all in single combat, and last enemy he must battle is the deadliest, the mysterious and mighty Bane, who engineered the breakout.
.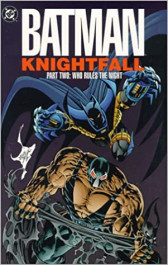 Doug Moench & Chuck Dixon: Batman – Knightfall Part Two – Who Rules the Night (K)
KÄYTETTY.
Gotham City is in chaos as a mass escape from Arkham Asylum pits Batman against his most threatening foe.
.
.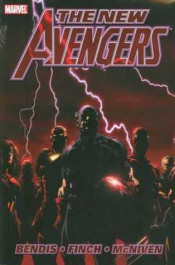 Brian Michael Bendis & David Finch: The New Avengers 1 (K)
KÄYTETTY. KANSISSA KULUMAA.
In the aftermath of Avengers Disassembled come the New Avengers!
With the Avengers disbanded following an attack by one of the team's oldest members, a shadowy villain has taken advantage of their absence to initiate his ominous plans.
Employing Electro to disrupt the electrical systems of the maximum-security prison known as the Raft, hundreds of super-powered villains are freed to wreak havoc on New York.
Without the Avengers to answer the call, a group of heroes must form a makeshift alliance to subdue the rampaging villains and save the city. In the heat of battle, this new team fills the void left by the Avengers' demise – the New Avengers.
After shocking the Marvel fans with the series-shattering "Avengers Disassembled" storyline, writer Brian Michael Bendis and artist David Finch begin an all-new chapter in Marvel Comics history with New Avengers.
Featuring a cast of fan-favorite characters including Wolverine, Captain America, Iron Man, Spider-Man and Spider-Woman teamed with the hard-edged heroes Luke Cage and the Sentry, New Avengers presents a 21st-century revitalization of the classic Avengers concept.
Plus: The mystery of the Sentry revealed! The Avengers try to help the most powerful super hero in the world figure out who he is and where he came from! But will this knowledge destroy the man they're trying to help?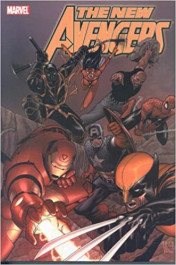 Brian Michael Bendis & David Finch & Frank Cho: The New Avengers 2 (K)
KÄYTETTY. KULUMAA KANSISSA.
Shedding light on the New Avengers' darkest secrets!
This deluxe hardcover collects New Avengers Volume 3: Secrets & Lies and New Avengers Volume 4: The Collective – plus New Avengers Annual #1, never before reprinted in a New Avengers collection.
In Secrets & Lies, it's the debut of the mysterious New Avenger everyone has been talking about! Who is Ronin, and why has Captain America recruited him into the fold?
Then, Cap catches Spider-Woman double-dealing the New Avengers and corners her! How did she get her powers back and to whom does she answer?
In The Collective, a new adversary with the power to destroy the world emerges from the ashes of House of M! The New Avengers' latest gauntlet subjects them to attack and intrigue as they discover who their most powerful enemy really is!
And in New Avengers Annual #1, Avengers Tower becomes the ultimate battleground as the New Avengers are targeted by one of their fiercest new enemies yet. The all-new Adaptoid has come to take them down – and wait till you see who it is.
Plus: An avenger gets married!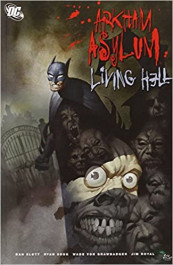 Dan Slott & Ryan Sook: Arkham Asylum – Living Hell (K)
KÄYTETTY.
From one of the comics business' brightest new creative teams comes a Batman tale with a twist – a giant, gut-wrenching, soul-crushing twist!
Arkham Asylum: Batman's dustbin where he dumps the worst of the garbage. A melting pot brimming with the curdled milk of human madness, where the warders are as ensnared by the insanity as the inmates. And where a killer has tapped into all that maniacal energy and is channelling it to his own demonic ends!
With cameos from Batman, Batgirl and a dark host of famous – and notorious – super villains, including the Joker and Two-Face, Arkham Asylum: Living Hell is living proof of the old adage – you don't have to be mad to work here, but it helps!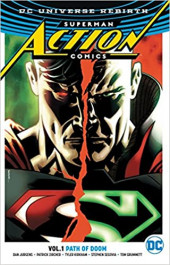 Dan Jurgens & Patrick Zircher: Superman Action Comics 1 – Path of Doom (K)
KÄYTETTY.
He was the world's greatest hero. Then the world he knew was wiped from existence.
Escaping with his wife and son, Superman fled to a strange new version of Earth. There he worked in the shadows and watched as a different Superman—younger, less experienced, but every bit as heroic—defended his planet.
That young hero died, and now the original Man of Steel is ready to step forward and replace him.
But he's not ready for what comes next.
Seizing the opportunity of a lifetime, Lex Luthor has donned a battle suit of incredible power and declared himself to be the new Superman. What's more, someone else claiming to be Clark Kent has also appeared in Metropolis. And then, into the middle of this chaos, lands the greatest foe Superman has ever faced: Doomsday.
To save Metropolis and his family from this monstrous menace, Superman must join forces with Luthor, Wonder Woman and any other ally or enemy he can—because he knows from bitter experience where the path of Doom inevitably leads.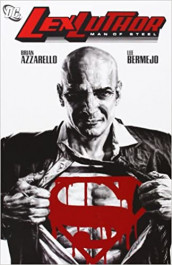 Brian Azzarello & Lee Bermejo: Lex Luthor – Man of Steel (K)
KÄYTETTY.
Superman has been called many things since he first appeared in the skies above Metropolis: the Man of Steel, the World's Greatest Hero–even the Big Blue Boy Scout. Now his oldest and most implacable foe has given him a new title: Humanity's Greatest Threat.
In this compelling study of the ultimate clash of wills, the New York Times bestselling and Eisner Award-winning team of writer Brian Azzarello and artist Lee Bermejo (Batman: Damned, Joker) opens the mind of Lex Luthor to reveal the true motivations behind his legendary animosity toward the Last Son of Krypton–as well as his ultimate plan to defeat his invulnerable adversary.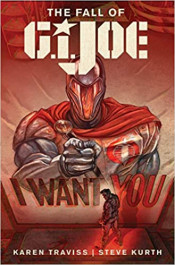 Karen Traviss & Steven Kurth: The Fall of G.I. JOE (K)
KÄYTETTY.
When villains have become the new heroes, to what lengths must the former heroes go to save a world that doesn't even want their help?
Does the world really need G.I. JOE?
Their greatest enemy, Cobra, has become an international peacekeeping force…and the future of America's ultimate fighting team looks bleak. Scarlett leads what's left of the JOEs–but will she be able to keep them together?
Meanwhile, former JOE Duke searches for answers in a world turned upside down. The darkest chapter in G.I. JOE history unfolds as real-world action and politics collide, and nothing will ever be the same!
Collects the complete G.I. JOE Volume 4 issues #1-8.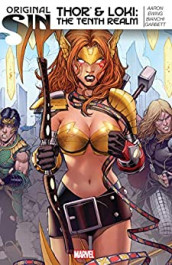 Jason Aaron & Al Ewing: Original Sin: Thor & Loki – The Tenth Realm (K)
KÄYTETTY.
Thanks to the events of Original Sin, the deepest secret of the Nine Realms has been revealed: namely, the existence of a Tenth Realm!
Now, Thor and Loki must embark on a quest to discover this strange new world – and to discover the sister that Thor never knew he had: Angela!
But can Loki be trusted?
And will brother and sister murder each other before the truth comes out?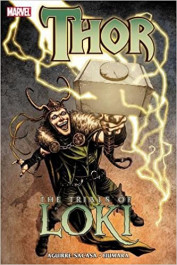 Roberto Aguirre-Sacasa & Sebastian Fiumara: Thor – The Trials of Loki (K)
KÄYTETTY.
"The gods fall, you ascend."
These simple words – whispered by the Norn Witches into the ear of Loki, the Norse trickster god – would set the world aflame!
Loki has always been the consummate outsider, not as beautiful or favored as the other Asgardians. But did it have to be that way? Is Loki evil by choice – or by destiny?
Find out as he undergoes his most wrenching ordeals – with epic results.
Will Loki kill Balder, the Asgardian God of Light, in fulfillment of the Norn Witches' prophecy?
Will he dare tempt the power of Thor, God of Thunder?
And will he bring about Ragnarok, the dreaded Twilight of the Gods, in a quest for power?
Loki is capable of great evil. Can even fabled Asgard prevail against his treachery – and his destiny?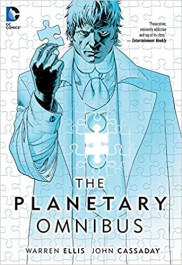 Warren Ellis & John Cassaday: The Planetary Omnibus (K)
KÄYTETTY. ETUKANNEN KULMA SAANUT HIEMAN OSUMAA.
Planetary has been hailed as a timeless story that turned modern superhero conventions on their heads.
Written by Warren Ellis (Transmetropolitan) and with stunning art by John Cassaday (Astonishing X-Men), this critically acclaimed, landmark series took a look at the inter-dimensional peace-keeping force known as Planetary.
The trio on the ground includes Elijah Snow, a hundred-year-old man, Jakita Wagner, an extremely powerful woman, and The Drummer, a man with the ability to communicate with machines.
Tasked with tracking down evidence of super-human activity, these mystery archaeologists uncover unknown paranormal secrets and histories, such as a World War II supercomputer that can access other universes, a ghostly spirit of vengeance, and a lost island of dying monsters.
All 27 issues of the original series are collected in this hardbound omnibus edition.