Luettelo:
Manga-uutuudet
Ulkomaiset uutuudet
Lehdet ja kirjat
Alkuun
MANGA-UUTUUDET
Yoshihiro Takahashi: The Last Wars 18
Sirius palaa omiensa joukkoon ja ottaa yhteen Orionin kanssa, vaan kykeneekö Monsoon lopettamaan vihanpidon?
Ikäsuositus 13+ / Toiminta/Seikkailu
.
.
ULKOMAISET UUTUUDET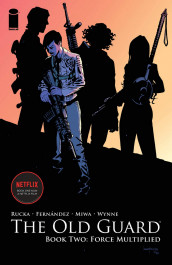 Greg Rucka & Leandro Fernández: The Old Guard 2 – Force Multiplied
Sixty-seven hundred year old Andromache "Andy" the Scythian, Nicolo "Nicky" of Genoa, Yufus "Joe" al-Kaysani, and newbie immortal Nile Freeman return to the good fight in the acclaimed miniseries by New York Times bestselling creators GREG RUCKA & LEANDRO FERNÁNDEZ…now a major motion picture!
When you've waged war as long as Andy and her squad, you've gotten your hands more than bloody.
Now, the day has come to confront the sins of the past.
But as Nile struggles to make peace with the team, the last person Andy expected to ever see again returns to challenge not only what Andy believes in, but what the team is willing to fight for.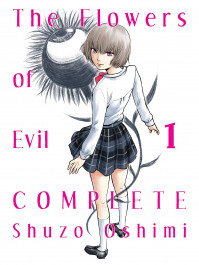 Shuzo Oshimi: The Flowers of Evil – Complete 1
The first combined edition of The Flowers of Evil features volumes 1-3 of this best-selling and acclaimed series.
It follows the adventures of a lonely bookish teen struggling to find his identity through Baudelaire's poetry, until two girls–a beauty and a bully–help him find true love and friendship.
Edgy, intense, and romantic, this new edition will give fans a chance to reconnect with Kasuga, Saeki, and Nakamura as it explores the issues of bullying, loneliness, individuality, and identity.
"It is often darkly funny, with Oshimi delivering what would be 'jokes' in other manga with a straightforward sincerity that may or may not be deadpan. It's an uncomfortable funny, akin to the funny parts in, say, David Lynch movies."
-Every Day Is Like Wednesday –
Kelly Thompson: Hawkeye – Private Eye
Remember Hawkeye?
No, not that Hawkeye – your favorite Hawkeye!
The former Young Avenger, the butt-kicking hero who had to save that other Hawkguy all the time and basically keep his life in some semblance of order.
Yup, you know her, it's the dazzling Kate Bishop – making her solo comics debut!
Kate is heading back out west and returning to Los Angeles, with her bow and arrow and P.I. badge in tow. There are crimes to solve and she's the best archer to handle 'em! But is she ready to face the ghosts of her past?
The City of Angels has a new guardian angel. This is Kate Bishop like you've never seen her before, in a brand-new saga that really hits the mark!
Joe Casey & Benjamin Marra: Jesusfreak
The year is 26 C.E.
A young Nazarean carpenter is having some trouble adjusting to the violent world around him — and finding his place within it. He knows he's different… he just doesn't know why. Not yet, anyway.
A bloody, two-fisted tale of historical heroic fiction brought to you by JOE CASEY (SEX, ANNUAL, MCMLXXV) and BENJAMIN MARRA (Night Business, Terror Assaulter O.M.W.A.T.).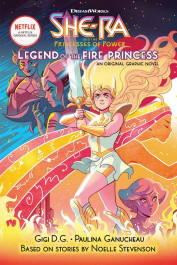 Gigi D.G. & Paulina Ganucheau: She-Ra and the Princesses of Power 1 – The Legend of the Fire Princess
Don't miss the first epic She-Ra and the Princesses of Power graphic novel, based on stories by showrunner Noelle Stevenson!
Even after everything that's happened, the world outside the Horde's walls is still a strange one to Adora.
Each day she's learning more about her growing powers as She-Ra, including something new: the ability to heal corrupted runestones.
Runestones are the magical source from which princesses like Frosta, Mermista, and Perfuma draw their power, but Glimmer knows of another runestone — one with a dark past.
Long ago a fire princess ruled the lands to the west, until her thirst for power corrupted her, and led to the ruin of her kingdom.
Glimmer thinks the lost fire runestone could give the Rebellion an edge in the fight against the Horde, but claiming this ancient power won't be easy… especially not when the Horde has their eyes set on the same prize.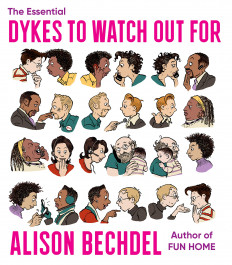 Alison Bechdel: The Essential Dykes to Watch Out for
Settle in to this wittily illustrated soap opera (Bechdel calls it "half op-ed column and half endless serialized Victorian novel") of the lives, loves, and politics of Mo, Lois, Sydney, Sparrow, Ginger, Stuart, Clarice, and the rest of the cast of cult-fav characters.
Most of them are lesbians, living in a midsize American city that may or may not be Minneapolis. Bechdel's brilliantly imagined countercultural band of friends—academics, social workers, bookstore clerks—fall in and out of love, negotiate friendships, raise children, switch careers, and cope with aging parents.
Bechdel fuses high and low culture—from foreign policy to domestic routine, hot sex to postmodern theory—in a serial graphic narrative "suitable for humanists of all persuasions."
John Wagner & Garth Ennis: Essential Judge Dredd – America
The first volume of Essential Judge Dredd, a curated line of graphic novels showcasing the very best storylines of all time and presented in a fresh new package.
In Mega-City One, the Judges are the law – acting as judge, jury, and executioner.
But how do the citizens really feel about a system where they are powerless?
America Jara and Bennett Beeny grow up as best friends, living a fairly trouble-free life in a dangerous city… bar the odd, negative encounter with a Judge.
Time draws them apart, and when they are brought back together, Beeny is a successful singer and America has become involved with a terrorist organisation known as Total War, which has the Justice Department in its sights!
This dark and complex tale, considered to be one of the best stories to ever come out of the Judge Dredd universe, has been contextualised with contemporarily thematic stories with re-coloured art by Watchmen's John Higgins.
Shuzo Oshimi: Blood on the Tracks 2
From the creator who brought you notable works such as The Flowers of Evil, Happiness, and Inside Mari, comes a new suspense drama centering on the theme of a toxic parent. Dive into this latest thriller by master storyteller, Shuzo Oshimi.
His mother has done the unthinkable…and now Seiichi must decide if he will be complicit.
But before he can even catch his breath, what remains of his sense of self is smashed to pieces by her next shocking act…
Shuzo Oshimi (The Flowers of Evil) invites us to watch as a once-happy household quietly transforms into an inescapable living hell.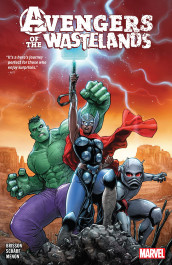 Ed Brisson & Jonas Scharf: Avengers of the Wastelands
A new story from the world of OLD MAN LOGAN!
In a world where most of the super heroes fell at the hands of the RED SKULL over fifty years ago, a new force rises in the Wastelands!
DANI CAGE wields the mighty Mjolnir for the cause of peace, but when the brutal regime of DOCTOR DOOM forces DWIGHT (A.K.A. the owner of the surviving Ant-Man technology) to Dani and HULK in a last-ditch eff ort to survive, the AVENGERS may ASSEMBLE once more!
Spinning out of the saga begun in OLD MAN LOGAN, and following up OLD MAN QUILL and DEAD MAN LOGAN, this is the can't-miss premiere of Ed Brisson and Jonas Scharf's magnum opus!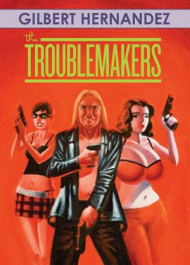 Gilbert Hernandez: The Troublemakers
A drug dealer, a rock 'n' roll loser, an uber-stacked vixen, and a wily grifter: these greedy low-lifes are chasing the hard luck charm! Beto's follow-up to Chance in Hell is a lurid, hard-boiled, pulpy delight!
Dig this scene!
Low-life drug dealer Dewey Booth has $200,000 that even-lower-lifes want. BLING!
Wes is a rock and roll loser that only wants to buy a club where nobody can tell him he can't sing or perform. WAILIN'!
He's known Dewey for years, but that isn't enough to get his dough. Wes needs help. Nala is an uber-stacked bombshell whose pleasure in life is to seduce and then humiliate men dumb enough to fall for her. HUSH HUSH!
For half the dough, she agrees to help Wes get Dewey's ill-gotten goods. Things don't go so well when a wily grifter from Wes's past shows up to complicate things. GULP!
Vincene is another troublemaker who enjoys wrecking people's plans and wants the Dewey dough, too. In the end, deadly fires ignite, heads literally roll, eyes are shot out — and all Wes wants to do is sing in a rock and roll club.
The Troublemakers is the second volume in a series of original graphic novels in which Gilbert Hernandez creates comics adaptations of movies starring or co-starring Luba's half-sister Rosalba "Fritz" Martinez from Love and Rockets.
The first, the dystopian Chance in Hell (in which Fritz has only a bit part), was released in 2007. This hard boiled, pulp graphic novel will delight longtime Hernandez fans as well as provide a perfect introduction to newcomers to Hernandez's work.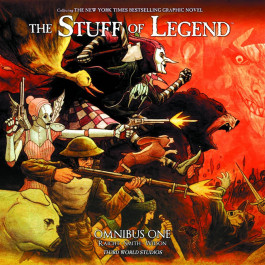 Mike Raicht & Charles Paul Wilson III: The Stuff of Legend – Omnibus One
This hardcover collection brings together the first two volumes of the New York Times bestselling graphic novel The Stuff of Legend (The Dark and the Jungle) in one beautiful 284 page edition.
The book also contains never before printed character sketches and artwork by series artist and Russ Manning award nominee, Charles Paul Wilson III.
New to this second edition is the Colonel's War Journal, which was previously only released in the Book 1: The Dark.
As Allied forces fight the enemy on Europe's war-torn beaches, another battle begins in a child's bedroom in Brooklyn when the nightmarish Boogeyman snatches a boy and takes him to the realm of the Dark.
The child's playthings, led by the toy soldier known as the Colonel, band together to stage a daring rescue.
On their perilous mission they will confront the boy's bitter and forgotten toys, as well as betrayal in their own ranks.
The Stuff of Legend is a haunting and ultimately redemptive tale of loyalty, camaraderie, and perseverance.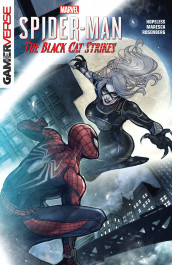 Dennis Hopeless & Luca Maresca: Marvel's Spider-Man – The Black Cat Strikes
Peter Parker, web-slinging star of the hit video game Marvel's Spider-Man, now finds himself in the middle of a gang war raging through New York City.
But as he butts heads with the likes of Hammerhead and the Maggia, the unexpected reappearance of old flame Felicia Hardy — also known as the Black Cat — sets his world on fire!
The Cat's heroic days are long behind her, but what is the secret behind the treasures she's stealing? And why would Spider-Man ever let her go?!
Witness previously untold tales of their relationship as the Black Cat's return tangles the web for Peter and Mary Jane — and Hammerhead's explosive war continues making life complicated for everybody!
Featuring the triumphant return of Silver Sable! The Black Cat steals the Gamerverse spotlight!
Lehdet ja kirjat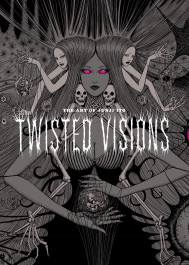 Junji Ito: The Art of Junji Ito – Twisted Visions
Enter the world of Junji Ito's art–an abyss of horror and sublime beauty.
A first-ever collection of Junji Ito's artworks, featuring over 130 images from his bestselling manga titles along with rare works.
This sublime collection includes all of Ito's unforgettable illustrations in both black-and-white and color, from Tomie's dreadful beauty to the inhuman spirals of Uzumaki.
Includes an interview focused on Ito's art technique as well as commentary from the artist on each work.