Luettelo:
Kotimaiset uutuudet
Manga-uutuudet
Ulkomaiset uutuudet
Alkuun
KOTIMAISET UUTUUDET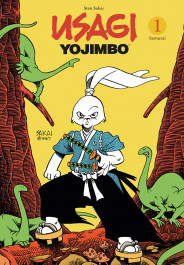 Stan Sakai: Usagi Yojimbo 1 – Samurai
Usagi Yojimbon saaga sijoittuu 1600-luvun vaihteen Japaniin.
Sisällissotien aika on hädin tuskin päättynyt ja Shogun on juuri tullut valtaan. Bushidoa eli Soturin kunniakoodia seuraavat samurait ovat hallitseva luokka koko maassa.
On levottomuuksien hillinnän ja poliittisen juonittelun aika.
Pitkin valtakuntaa vaeltaa isännätön samurai nimeltään Miyamoto Usagi.
Stan Sakai (s. 1953) on japanilais-amerikkalainen sarjakuvantekijä. Hän syntyi Kiotossa, Japanissa, eli lapsuutensa ja nuoruutensa Havaijilla ja asuu nykyisin Kaliforniassa.
Sakai aloitti sarjakuvauransa tekstittämällä Sergio Aragonésin Groo The Wanderer -sarjakuvaa (Urho epäonnensoturi).
Sakai on tunnetuin 1500-1600-lukujen taitteen Japanissa elävän samuraijäniksen, Usagi Yojimbon eeppisestä saagasta, jota hän on jatkanut jo 35-vuotta.
Hänelle on myönnetty uransa aikana useita sarjakuva-alan palkintoja, muun muassa useampaan otteeseen saadut Eisner- ja Harvey-palkinnot.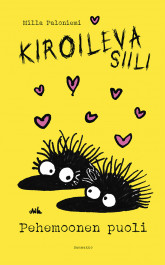 Milla Paloniemi: Kiroileva siili – Pehemoonen puoli
Kiroileva siili kohtasi vastakappaleensa, pahimman vihollisensa ja samalla suurimman rakkautensa, Tyttösiilin, ensi kerran jo vuonna 2004, jolloin sai alkunsa aikamme piikikkäin rakkaustarina.
Näiden kansien väliin on koottu vuosien varrelta pohojalaissiilin paitsi ärjyimmät ärräpäät, myös suloisimmat suhinat, sillä tokihan rakastetulla siilillämmekin se kovan kuorensa alta löytyy: pehemoonen puoli!
Milla Paloniemi (s. 1983 Jalasjärvellä) loi sittemmin kulttimaineen saavuttaneen pahasuisen siilinsä koulussa luennolla vuonna 2003. Milla Paloniemi on saanut työstään mm. Sarjakuva Finlandia -palkinnon. Kiroileva siili on tuttu myös lukuisista oheistuotteistaan, joita löytyy monista suomalaiskodeista.
MANGA-UUTUUDET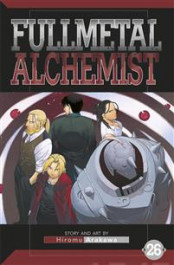 Hiromu Arakawa: Fullmetal Alchemist 26
Nyt on tosi kyseessä!
Kun maailman portit aukeavat, saavat kaikki tuntea sen nahoissaan.
Onko Hohenheimin vastaisku riittävän tehokas? Edessä on kuluttava energioiden taistelu…
Ikäsuositus 12+/ Seikkailu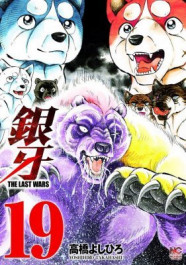 Yoshihiro Takahashi: The Last Wars 19
Siriuksen ja Orionin erilaiset luonteet aiheuttavat kitkaa koirien paratiisissa.
Chibi joutuu sijaiskärsijäksi tunteiden kuumetessa…
Ikäsuositus 13+ / Toiminta/ Seikkailu
.
.
ULKOMAISET UUTUUDET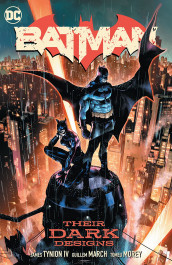 James Tynion IV & Tony Daniel: Batman 1 – Their Dark Designs
It's a new day in Gotham City, and it's anything but the same old Batman.
With Bane vanquished and one of his longtime allies gone, Batman has to pick up the pieces and step up his game.
He has a new plan for Gotham City, and he's not the only one. Deathstroke has returned as well-and that's just the start of a conspiracy that will rock Batman's world.
Who is the mysterious master criminal known as the Designer, and what dark secret do they share with The Joker, Penguin, Riddler, and…Catwoman? And what do their machinations mean for Gotham?
Plus, meet Punchline – The Joker's new partner in chaos!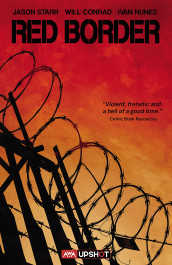 Jason Starr & Will Conrad: Red Border
A young Mexican couple narrowly escapes the Juarez Cartel by fleeing across the border into Texas, only to be run down in the desert by the Cartel's most brutal thugs.
Rescued by a mysterious local who takes them to the safety of his family's ranch, the couple soon realize their hosts have more than just skeletons in their closet.
Trapped in a house of horrors beyond their wildest imagination, the army of assassins on their trail might be the least of their problems…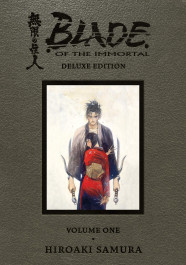 Hiroaki Samura: Blade of the Immortal Deluxe Edition 1
Blade of the Immortal returns in deluxe hardcover editions, collecting Hiroaki Samura's epic series for the first time in its original 7×10 serialized format.
A cursed, seemingly immortal warrior aids a young girl in her quest for revenge, as the students of a brutal new sword school tear a bloody path across Japan.
Hiroaki Samura's massive manga series spawned two anime adaptations, a spinoff novel, an art book, and a live-action film!
Samura's storytelling tour-de-force also won Japan's Media Arts Award, several British Eagle Awards, and an Eisner Award, among other international accolades. Intense and audacious, Blade takes period samurai action and deftly combines it with a modernist street idiom to create a style and mood like no other work of graphic fiction.
Collects Blade of the Immortal volumes 1 to 3 in the original 7×10 serialized format, in a faux-leather hardcover treatment, and with a bookmark ribbon.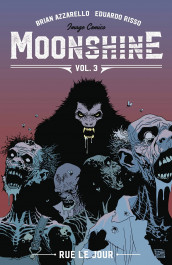 Brian Azzarello & Eduardo Risso: Moonshine 3 – Rue Le Jour
The hit supernatural gangster story continues!
Delia is on a quest to rid Lou Pirlo of his werewolf curse…and along the way, she enlists the help of two witches who come at a high price.
Lou is a resourceful man and willing to do whatever it takes to pay the price, but when you've got no soul left to sell, bad things are going to happen.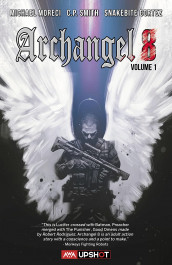 Michael Moreci & C. P. Smith: Archangel 8
In a world beyond the sight of mortals, Heaven and Hell wage war for the souls of mankind.
Principal among God's legion are seven archangels written about in religious texts for millennia.
But there is an eighth archangel, known only from passing allusions in Apocrypha, who operates under a different code.
Fighting without God's sanction, he faces the enemy on his own terms, and shows just how bad good can be.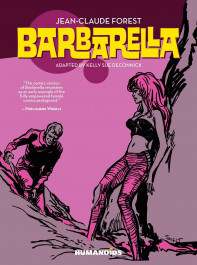 Jean-Claude Forest: Barbarella
Jean-Claude Forest's timeless Erotic Sci-Fi series recounting the spatial adventures of the the fierce warrior Barbarella now collected in a brand new English-language adaptation by Kelly-Sue DeConnick.
Barbarella's spaceship breaks down, she finds herself trapped on the planet Lythion. There, she has a series of adventurous, and bawdy, encounters with a variety of strange beings, from robots to angels.
Featuring a brand new, contemporary English-language adaptation by writer Kelly Sue DeConnick (Marvel's "Captain Marvel," "Avengers Assemble," Dark Horse's "Ghost," Image's "Pretty Deadly").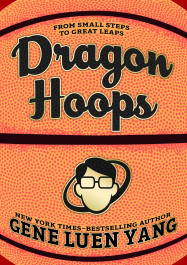 Gene Luen Yang: Dragon Hoops
In his latest graphic novel, Dragon Hoops, New York Times bestselling author Gene Luen Yang turns the spotlight on his life, his family, and the high school where he teaches.
Gene understands stories―comic book stories, in particular. Big action. Bigger thrills. And the hero always wins.
But Gene doesn't get sports.
As a kid, his friends called him "Stick" and every basketball game he played ended in pain.
He lost interest in basketball long ago, but at the high school where he now teaches, it's all anyone can talk about.
The men's varsity team, the Dragons, is having a phenomenal season that's been decades in the making. Each victory brings them closer to their ultimate goal: the California State Championships.
Once Gene gets to know these young all-stars, he realizes that their story is just as thrilling as anything he's seen on a comic book page. He knows he has to follow this epic to its end. What he doesn't know yet is that this season is not only going to change the Dragons's lives, but his own life as well.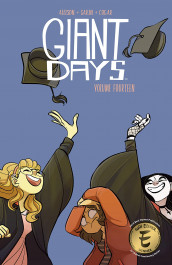 John Allison & Max Sarin: Giant Days 14
THE END IS HERE! KINDA!
Return to Sheffield one last time as Daisy and Esther are about to graduate — with Susan there to cheer them on!
But it's not over yet, because one year later Daisy and Susan must join forces to save Esther from the head girls who're making her life hell!
And then it really might be time to say goodbye…
The critically-acclaimed team of John Allison (By Night) and Max Sarin (Wicked Things) conclude the Eisner Award-winning series with graduation, celebration, and a reminder that friendship is forever.
Collects Giant Days #53-54 and Giant Days: As Time Goes By #1.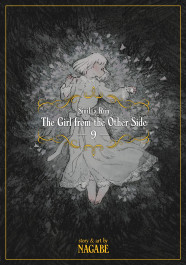 Nagabe: The Girl from the Other Side – Siúil, a Rún 9
Teacher has lost himself, becoming just another wandering Outsider.
At first, Shiva doesn't want to believe, but as she realizes she's been forgotten, she falls into despair.
Will the two of them ever truly connect again?
Meanwhile, the truth of the world―and the machinations of gods―begins to come to light within the Inside.
Humanity makes a choice. A little girl makes a choice.
Their actions lead the way to a future that must not come to pass.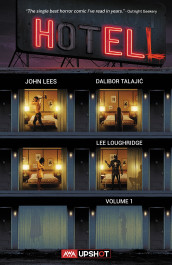 John Lees & Dalibor Talajic: Hotell
You won't find it on any map, but if you happen to be driving down Route 66 late at night and you're truly desperate for shelter, sanctuary or secrecy, you might see a battered sign on the side of the road: The Pierrot Courts Hotel – where many check in but few check out.
.
.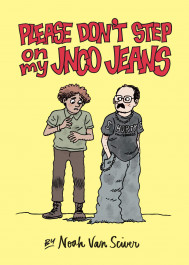 Noah Van Sciver: Please Don't Step On My JNCO Jeans
From 2017 to 2019, cartoonist Noah Van Sciver was creating short stories and illustrations for local magazines and alt-weeklies, in order to serve as what he calls a personal "survival mechanism."
All of these comics are collected for the first time in Please Don't Step On My JNCO Jeans.
When do you know you're too old to trick-or-treat?
What's the best way to effectively dispose of those teenage ode-filled journals?
Where do cherished cereal box prizes go when you grow up?
JNCO Jeans, mostly told through one-pagers, holds observations, reflections, and breakthroughs from one of the most prolific and inspirational cartoonists of his generation.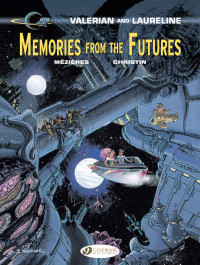 Pierre Christin & Jean-Claude Mezieres: Valerian and Laureline 22 – Memories from the Futures
Even though Valerian and Laureline's adventures have come to an end, there are still many chapters that haven't been told yet.
Simple episodes, post-scriptums to their main stories, moments of their lives seen through the eyes of their friends, their allies, or even their enemies.
Here's a collection of vignettes that will cast a new light – sometimes funny, sometimes touching – on the saga of our heroes.