Luettelo:
Kotimaiset uutuudet
Manga-uutuudet
Ennakkotilaukset
Ulkomaiset uutuudet
Lehdet ja kirjat
Oheistavarat
Alkuun
KOTIMAISET UUTUUDET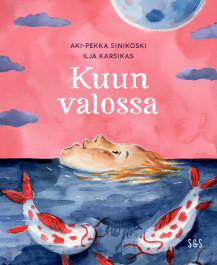 Aki-Pekka Sinikoski & Ilja Karsikas: Kuun valossa
Ari-Pekka Sinikoski debytoi kauniilla, filosofisella tarinalla, jota Ilja Karsikkaan taidokkaat akvarellikuvitukset täydentävät.
Rakkauden merkitystä, olemassaoloa ja elämän tarkoitusta pohtiva herkkä ja haikea teos tuo mieleen maailmankirjallisuuden klassikot, kuten Antoine de Saint-Exupéryn Pikku Prinssin tai Astrid Lindgrenin Mio, poikani Mion.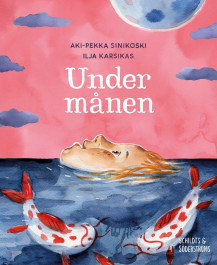 Aki-Pekka Sinikoski & Ilja Karsikas: Under månen
När jag var jag liten flög min mamma upp till himlen.
Hon jobbade på cirkus och den natten sköt de upp henne i luften som vanligt.
Men det var inte en vanlig kväll. Det var en magisk kväll.
Efter att hon flugit upp, kom hon aldrig mera ner. Hon bara flög och flög. Först genom tältet, sen genom molnen, hela vägen till månen.
Nu sitter hon där på månen. Jag har sett henne många gånger. Hon ler ofta.
Aki-Pekka Sinikoski och Ilja Karsikas skapar en magisk värld där det vemodiga, men också det vackra och det absurda, får plats.
Kvällsbadet för berättelsens barn till en enslig ö där udda existenser funderar på livet medan de kokar fisksoppa. Däremellan spelar de schack och letar strandfynd. Men sedan ringer Gud upp och säger att det är dags att ta sig hemåt till pappa som väntar.
Aki-Pekka Sinikoski debuterar som författare med en filosofisk och varm text som får ett träffsäkert och personligt ackompanjemang i Ilja Karsikas illustrationer i akvarell.
MANGA-UUTUUDET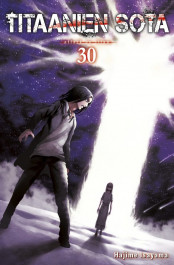 Hajime Isayama: Titaanien sota 30
Tuhon ja kuoleman kierre vain yltyy Erenin pyrkiessä herättämään sisällään uinuvat valtavat voimat.
Kohtaaminen Zeken kanssa päättyy tavalla, joka yllättää molemmat veljekset.
Ikäsuositus 15+ / Toiminta/Dystopia
.
ENNAKKOTILAUKSET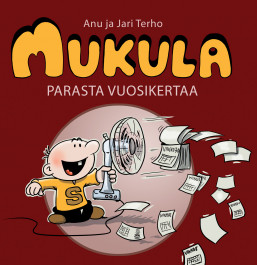 Anu Terho & Jari Terho: Mukula – Parasta vuosikertaa (ENNAKKOTILAUS)
ENNAKKOTILAUS. ALBUMI ILMESTYY 21.11.2020.
Mukula on seikkaillut sanomalehdissä lähes 10 vuotta.
Tähän kirjaan on koottu yksi hulvaton vuosi Simon elämästä viikko viikolta uuden vuoden lupauksista joulun pettymyksiin ja aurinkomatkoista kuumatkoihin.
Meille selviää vastauksia kysymyksiin, joita emme ole ymmärtäneet esittää. Mikä onkaan paukkupakkanen? Entä koulukiusaus tai korvasieni? Voiko läppäriin pyyhkiä?
ULKOMAISET UUTUUDET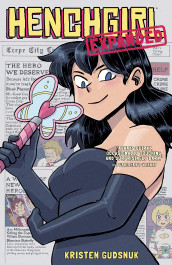 Kristen Gudsnuk: Henchgirl – Expanded Edition
Mary Posa hates her job.
She works long hours for little pay, no insurance, and worst of all, no respect. Her co-workers are jerks and her boss doesn't appreciate her. He's also a supervillain.
And her parents… well, they're the most famous superhero couple in Crepe City, along with her sister.
Cursed with a conscience, Mary would give anything to be something other than a Henchgirl, but no matter what she does her plans always seem to go awry.
This Second Edition printing offers the humor and henching you love, along with an extra, new Henchgirl story!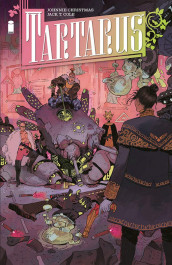 Johnnie Christmas & Jack Cole: Tartarus 1 – As Above / So Below
When Surka, a ruthless criminal warlord, escapes her prison pit, she unleashes a wave of destruction that ripples across Tartarus, a vital colony in an everlasting galactic war.
Years later when Tilde, a young cadet, learns that she's Surka's daughter, will she continue to fight on the side of galactic order or reclaim her mother's dark crown?
From #1 NYT Bestseller JOHNNIE CHRISTMAS (FIREBUG, William Gibson's Alien 3) and visionary artist JACK T. COLE (The Unsound) comes a sci-fi adventure for the ages.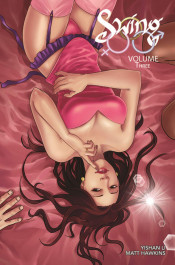 Yishan Li & Matt Hawkins: Swing 3
Dan and Cathy's swinging adventures continue in this SUNSTONE spin-off as their relationship is strained, perhaps irreparably.
Love conquers all in this stylish slice-of-life take on an ethically non-monogamous couple.
.
.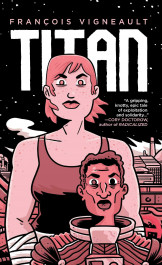 François Vigneault: Titan 1
When MNGR First Class João da Silva arrives on the moon of Titan to take charge of Homestead Station, he finds the massive mining colony plagued by tensions between the giant, genetically-engineered Titan workers and the Terran management.
As anger mounts, what began as a routine posting quickly turns into something far more dangerous.
Phoebe Mackintosh thought she left her fighting days behind her when she turned her back on the "mixing" circuit. Now, she finds herself caught between a past she'd rather forget and a future she can't predict.
Together, they must find a way to pull Homestead back from the brink of disaster… Or Titan might be the spark that sets the entire solar system ablaze.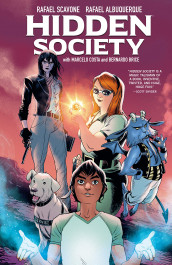 Rafael Scavone & Rafael Albuquerque: Hidden Society
A new series from Rafael Albuquerque and Rafael Scavone, the team behind Neil Gaiman's A Study in Emerald!
Hidden from ordinary eyes, there is a world alongside our own full of deities, demons, and danger–where magic wins out over science and dark secrets lie in wait.
Ulloo, the last wizard from the Hidden Society, enlists the aid of a blind girl and her demon, a young magician, and a cursed bounty hunter in order to stop a group of nihilist warlocks from waking the Society's greatest nemesis: a primeval force that, unchecked, will scorch the planet bare of all life.
Collects Hidden Society #1-#4, along with all covers, a sketchbook section, and pinups by Fábio Moon, Gabriel Bá, Greg Tocchini, and Matteo Scalera.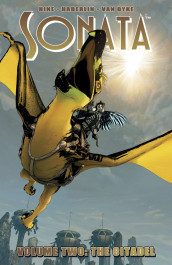 David Hine & Brian Haberlin: Sonata 2 – The Citadel
The dream of a peaceful Utopia turns into a nightmare as war breaks out on Perdita.
To save her people, Sonata journeys to The Citadel to find the last of the Old Gods.
An epic tale of love, betrayal and madness… A story not to be missed, with a fantastic new world and new characters introduced!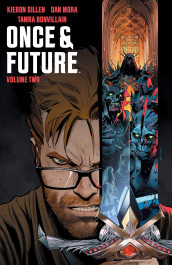 Kieron Gillen & Dan Mora: Once & Future 2 – Old English
Although Bridgette and Duncan stopped Arthur from retrieving the Grail and separated him from the legendary scabbard of Excalibur, the undead King of the Britons still has his sights on returning to our world and returning to power.
By inadvertently changing the story of the famous King, Duncan and Gran have thrown the Otherworld into shambles, allowing for new legends and characters to make their appearance – and bring a world of trouble along with them.
But when an ancient helmet at the British Museum is taken, Bridgette and Duncan are confronted by another hero of yore, one who will lead them to facing off against their most formidable challenge yet…a beast and his mother.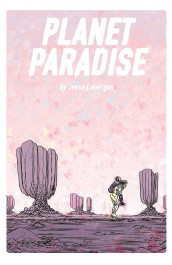 Jesse Lonergan: Planet Paradise
To survive after crash landing on an alien planet, a vacationer must battle against a hostile environment, killer lizards, corporate bureaucracy, and the pessimism of her sole companion and the drug-addled captain of the ship.
.
.
.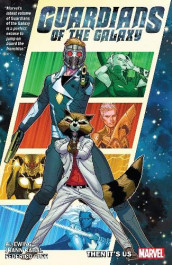 Al Ewing & Juann Cabal: Guardians of the Galaxy by Al Ewing 1 – Then It's On Us
Once they were a team of misfits.
Now they're a family, and they've earned their peace. But the universe is not a peaceful place – and it's only getting worse.
The Great Empires are in turmoil.
The rule of law is dead.
And amid the chaos, the gods of Olympus have returned – harbingers of a new age of war, reborn to burn their mark on the stars themselves.
Someone has to guard the galaxy – but who will accept the mission? And will they survive it?
Al Ewing (IMMORTAL HULK) and Juann Cabal (FRIENDLY NEIGHBORHOOD SPIDER-MAN) bring you in on the ground floor of a whole Marvel Universe of action and suspense!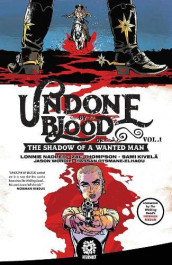 Lonnie Nadler & Sami Kivelä: Undone by Blood or the Shadow of a Wanted Man 1
REVENGE IS A TOWN CALLED SWEETHEART.
In the early 1970s, Ethel Grady Lane returns to her hometown of Sweetheart, Arizona with one thing on her mind: killing the man who murdered her family.
But first, she'll have to find him.
As Ethel navigates the eccentric town and its inhabitants, she learns that the quaint veneer hides a brewing darkness.
She has no choice but to descend into a ring of depravity and violence, with her only ally an Old West novel that follows famed gunslinger Solomon Eaton. As both stories unfold simultaneously, a love of fiction informs choices in reality, for better or worse.
From the minds of Zac Thompson and Lonnie Nadler (The Dregs, X-Men, HER INFERNAL DESCENT) and artist Sami Kivelä (Abbot, Tommy Gun Wizards) comes a neo-western that depicts the hard truth of seeking vengeance in the real world.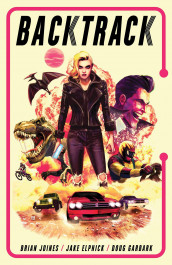 Brian Joines & Jake Elphick: Backtrack 1
A former criminal driver is given the chance at redemption by entering a car race but there's just one catch: each leg covers a different period in history.
If you had a chance to fix a mistake from your past, would you take it? Alyson Levy would.
Guilt weighs heavy on former criminal "wheelman," Alyson, who led an illicit life that left hers shattered.
Enter Casper Quellex, an eccentric businessman who offers her the break of a lifetime: a massive cross-country car race that grants the winner an opportunity to correct a single mistake in their life.
But here's the catch — each leg covers a different period in history.
As if keeping the cars on the often-questionable (sometimes nonexistent) roads and staying ahead of competition wasn't enough, the drivers will now have to contend with medieval warriors, dinosaurs, and natural disasters…it's all a possibility.
Only the one who survives it all will be proven the winner, and like that, Alyson and the rest of the drivers find themselves in a gut-wrenching race through time and quickly learn that they must band together to form any chance for survival.
But for an opportunity to turn back time, Alyson will drive from the Big Bang to the death knell of the universe.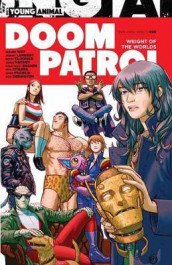 Gerard Way: Doom Patrol 3 – Weight of the Worlds
Gerard Way and the World's Strangest Super Heroes return in an all-new series that takes them beyond the borders of time and space!
The Doom Patrol will go on an epic road trip around the solar system, facing off against the unusual and bizarre including the fanatical fitness fiends of planet Orbius and the Marathon Eternal.
Big changes are coming for these unusual heroes, including Robotman coming to terms with his new life as a human.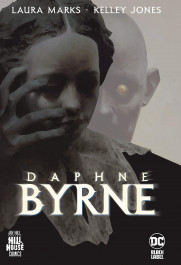 Laura Marks & Kelley Jones: Daphne Byrne
In the gaslit splendor of late-19th-century New York, rage builds inside 14-year-old Daphne.
The sudden death of her father has left her alone with her grief-stricken mother. Emotionally adrift and living outside her means, the widow becomes easy prey for a group of occultists promising to contact her dead husband.
While fighting to disentangle her mother from these charlatans, Daphne experiences a genuine supernatural encounter–a strange, insidious presence in her own body. "Brother," a charming entity with unspeakable appetites, visits her in her dreams and whispers in her ear. Soon, Daphne is sharing his terrifying power.
A demon? A ghost? Her own hallucination? Daphne can't be sure what Brother is or what he wants. And even if she knew, could she stop him? Would she want to?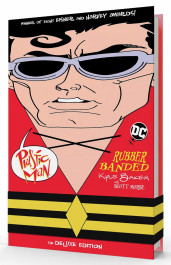 Kyle Baker: Plastic Man – Rubber Banded The Deluxe Edition
Master cartoonist Kyle Baker writes and illustrates this update of the classic, off-the-wall 1940s super hero known as Plastic Man!
In this title that collects Plastic Man's 2004 series in its entirety for the first time, Plastic Man must come to terms with his criminal past when the FBI assigns him to catch his underworld alter ego, Eel O'Brian.
Can Plas clear his name?
Maybe, with the help of his beautiful, ruthless new partner, FBI Agent Morgan.
Or, maybe not, thanks to the completely useless help of his old crimefighting sidekick, Woozy Winks.
Collects Plastic Man #1-20.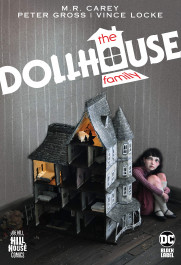 M. R. Carey & Peter Gross: The Dollhouse Family
Alice loves to talk to her dolls, and her dolls and dollhouse love to talk back.
When Alice is six, she is given a beautiful antique dollhouse. When things in her life get scary, Alice turns to her dolls and dollhouse for comfort.
One day, they invite her to come play inside with them.
As Alice's life is turned upside down in the big world, she is always welcomed home to the little world inside the dollhouse; the house will even grant her a wish if she agrees to live with them!
Follow Alice through the door of the dollhouse and into the demon's den.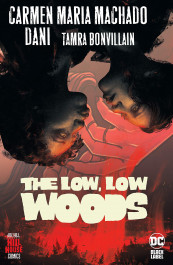 Carmen Maria Machado & Dani: The Low, Low Woods
From New York Times bestselling author Carmen Maria Machado (Her Body And Other Parties, In The Dream House) comes a story so horrifying you won't dare to forget!
There's something in the woods…
Sudder-to-Think, Pennsylvania, has been on fire for years.
The woods are full of rabbits with human eyes, a deer woman who stalks hungry girls, and swaths of skinless men.
And the people of Shudder-to-Think? Well, they're not doing so well either.
When El and Octavia wake up in a movie theater with no memory of the last few hours of their lives, the two teenage dirtbags embark on a horrifying journey to uncover the truth about the strange town that they call home.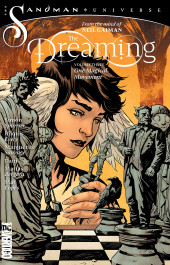 Simon Spurrier: The Dreaming 3 – One Magical Movement
Eisner Award nominee for Best Continuing Series, The Dreaming Vol. 3, continues Simon Spurrier's epic storytelling in the ever-expanding Sandman Universe–as curated by the legendary Neil Gaiman.
As the second year of the Sandman Universe begins, the sentient algorithm known as Wan is now the acknowledged lord of Dream's realm, and unquestioned ruler of all his subjects.
A new chapter in the history of the Dreaming begins here–find out why the AV Club says, "If you're a fan of Neil Gaiman's The Sandman, you need to be reading The Dreaming!"
Jack Kirby: The Forever People by Jack Kirby
For the first time in 20 years, Jack Kirby's Forever People reprints the amazing comic book writer and artist's fantastical black-and-white tales of a group of young, otherworldly adventurers.
This book introduces Big Bear, Mark Moonrider, Serafin, Beautiful Dreamer, and Vykin, five young heroes who, with the help of the Mother Box, have the ability to morph into the mighty Infinity Man.
Included in this volume are major battles with Darkseid, Desaad, and Glorious Godfrey as well as memorable team-ups with Superman and Deadman.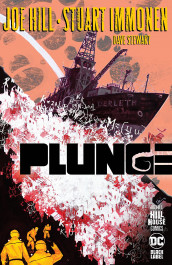 Joe Hill & Stuart Immonen: Plunge
In the aftermath of a devastating tsunami, an exploration vessel known as the Derleth begins sending an automated distress signal from a remote atoll in the Bering Strait.
The only problem is that the Derleth has been missing for 40 years.
Marine biologist Moriah Lamb joins the Carpenter Wreck Removal team to recover the Derleth's dead…only to find that in this remote part of the Arctic Circle, the dead have plenty to say to the living…
There's something down in the icy darkness of the Arctic sea…something that doesn't want to be found.
Unlike on land, where terror shows itself as the long-lost crew of the Derleth emerges from caves. They seem as though they haven't aged a day – it's as if they're exactly the same as the day they disappeared…except they're all missing their eyes.
Will the salvage crew survive to bring their findings to shore? What danger waits for them if they fail? What dangers await us all should they succeed?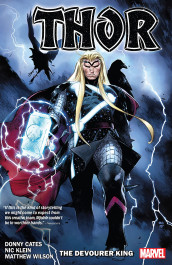 Donny Cates & Nic Klein: Thor by Donny Cates 1 – The Devourer King
A new legend begins!
The prince is now a king.
All of Asgard lies before Thor, the God of Thunder, and the Ten Realms are finally at peace.
But the skies above the Realm Eternal are never clear for long. The Black Winter is coming — and to triumph over this new threat, Thor must be transformed in a most unexpected way!
Bursting with new power and set on a dangerous path, Thor will battle friend and foe alike. But can he convince Beta Ray Bill to let him continue his bloody mission to save all that is? The Black Winter has the power to reveal the means of any person's demise.
Thor will glimpse his future — and if the vision is true, Asgard will soon need a new Odinson to take the throne!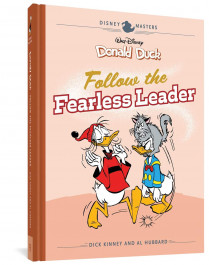 Dick Kinney & Al Hubbard: Donald Duck – Follow the Fearless Leader
Donald's nerdy cousin Fethry Duck is a mallard on a mission, determined to include Donald in all his sudden passions: from a super exercise regimen to building an indoor farm, to stage magic that turns startlingly real!
With this volume of the Disney Masters series, we begin collecting the Ducktales of Dick Kinney and Al Hubbard — for the first time in North America!
Kinney and Hubbard were a Disney dream team in the '60s, hatching Donald Duck co-stars like Fethry, master spy Mata Harrier, and terrible tomcat Tabby.
From Fethry's very first story through the doggy doings of Scamp to Uncle Scrooge in "The Case of the Purloined Pearls," Kinney and Hubbard keep the laughs rolling and the hijinks hopping.
Tom King & Lee Weeks: Batman by Tom King & Lee Weeks – The Deluxe Edition
Superstar comic book writer Tom King and others team with acclaimed artist Lee Weeks to take on pop culture's greatest hero, Batman!
This collection includes "Cold Days," as Bruce Wayne gets jury duty for a court case involving Mr. Freeze! Will the evidence cause Batman to rethink his methods?
In "Knightmares," Batman chases a new foe who outsmarts him at every turn-is it someone more familiar to the Dark Knight than even he suspects?
And in the Eisner Award-nominated Batman/Elmer Fudd Special, Batman ends up in the Looney Tunes character's crosshairs in a story you never expected!
Plus, classic tales illustrated by Weeks, including "Prodigal," in which Dick Grayson took on the Batman cowl for the first time.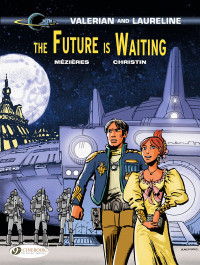 Pierre Christin & Jean-Claude Mezieres: Valerian and Laureline 23 – The Future Is Waiting
Several new chapters of Valerian and Laureline's adventures – but are they flashbacks, or … ?
After the events of The Time Opener, Valerian and Laureline reverted to childhood, and are now living with Mr Albert on 21st century Earth.
But in a universe where time travel is a reality, words like 'after' or even 'now' can be somewhat … hazy, and elsewhere, in other times, our young but nonetheless adult agents are still working tirelessly to maintain a galactic peace threatened as always by greed and the thirst for power.
LEHDET JA KIRJAT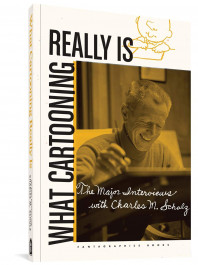 What Cartooning Really Is – The Major Interviews with Charles M. Schulz
A collection of insightful interviews with the creator of the most popular comic strip of all time.
Everybody knows the iconic characters of Peanuts, but few are privy to the character of the man who created this beloved cast and the world they inhabit―Charles M. Schulz.
To illuminate the life story and rich inner life of the renowned cartoonist, Fantagraphics presents four of the most comprehen­sive interviews ever conducted with Schulz, by film critic Leonard Maltin, novelist Laurie Colwin, Comics Journal editor and critic Gary Groth, and comic strip historian Rick Marschall.
These conversations delve into the moral, aesthetic, and intellec­tual foundations of Schulz's worldview and art.
They reveal him to be a man who embodies elements of all of his characters―from the goofiness of Snoopy to the melancholy of Charlie Brown to the brashness of Lucy and more―but who also contains depths of personality far beyond the borders of his strip.
Copiously illustrated with Peanuts strips and other comics and illustrations, What Cartooning Really Is humanizes Charles M. Schulz, the man who drew Snoopy.
Prose with black & white illustrations.
OHEISTAVARAT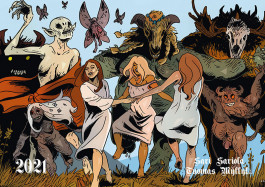 Sari Sariola & Tuomas Myllylä: Seksimagiakalenteri 2021
Sari Sariolan jaTuomas Myllylän kuvittama seinäkalenteri sisältää joka kuukaudelle ajankohtaisen seksiloitsun tai taian!
Se yhdistää kotimaista kansanperinnettä ja eklektistä nykynoituutta vastustamattomalla tavalla.
Tästä piristystä sekä seinälle että makuuhuoneeseen!
Oivana ominaisuutena vaikkapa taikojen suunnittelun helpottamiseksi kalenteriin on merkitty myös kuun vaiheet.
A4-kokoinen.