Luettelo:
Kotimaiset uutuudet
Ulkomaiset uutuudet
Lehdet ja kirjat
Alkuun
KOTIMAISET UUTUUDET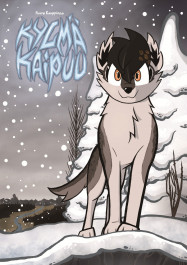 Paavo "Kuutti" Kauppinen: Kylmä Kaipuu
Kaukana pohjoisessa on maa, jota kutsutaan Latvaksi.
Kauan sitten tapahtuneen taikakatastrofin vuoksi kaikki tämän maailman ihmiset katosivat, ja heidän sielunsa siirtyivät eläimiin.
Tämän uuden maailman lakeja rikkonut susien kansa karkoitetaan rikoksiensa vuoksi leijuvalle vuorelle, Petturinkärjelle.
Tähän kylmään ja ankaraan vankilaan syntyy oikeudenmukainen, omapäinen ja hieman kömpelö susi: Suvi Hangentytär. Petturinkärjellä eläminen ei ole helppoa, ja Suvin tulinen luonne osoittautuu välillä muiden susien mielestä hankalaksi.
Kohtalolla on kuitenkin suunnitelma tälle hukalle, kun susien ainoa mahdollisuus vapautua vankilastaan lähestyy…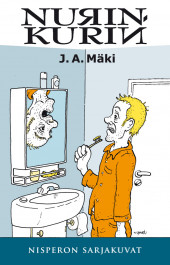 J.A. Mäki: Nurinkurin
Tässä kirjassa asiat ovat päälaellaan.
Maailmaa ja varsinkin ihmisen toimintaa tarkastellaan yllättävistä näkökulmista.
Metsästäjä onkin saalis, merenpohjasta löytyy paahteinen aavikko ja helvetti osoittautuukin taivaaksi – tai toisinpäin.
Nurinkurin-piirroksia voi kutsua "yhden kuvan tarinoiksi". Kuinka tilanteeseen on päädytty? Mihin tapahtuma johtaa?
Jyrki Anselmi Mäki on sarjakuvataiteilija ja kulttuurin sekatyöläinen, joka tunnetaan myös Radiopuhelimet-yhtyeen laulajana ja toisena pääsanoittajana.
Häneltä on aiemmin julkaistu kolme kiittävää palautetta saanutta sarjakuvaromaania.
ULKOMAISET UUTUUDET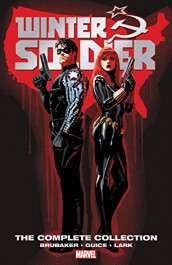 Ed Brubaker: Winter Soldier by Ed Brubaker – The Complete Collection
He's been Bucky and Captain America – now, James Barnes returns to the role of the Winter Soldier!
When ex-Russian sleeper agents awaken, the trail leads to Latveria, and Winter Soldier and the Black Widow come face-to-face with Dr. Doom!
Can Marvel's superspies prevent war with Latveria?
Can Barnes stop the sleepers he himself trained?
Old enemies resurface with new identities, and Winter Soldier and Black Widow's hunt gets personal after a savage murder.
Now Barnes must save the Widow from her own past!
But even with help from Avengers teammates Wolverine, Captain America and Hawkeye, the Winter Soldier must decide whether he is willing to sacrifice everything to save his love.
Master CAPTAIN AMERICA writer Ed Brubaker wraps up his critically acclaimed run here – and nobody escapes unscathed!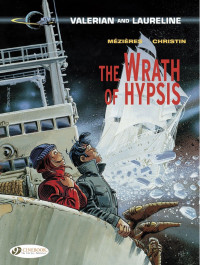 Mézières & Christin: Valerian and Laureline 12 – The Wrath of Hypsis
The head of Galaxity's Spatio-Temporal Service himself has joined Valerian and Laureline at Inverloch Castle.
There, among various human and alien allies, he explains to them the threat that looms over Earth: all of the recent incidents, all those important people gone mad and threatening to bring about the apocalypse… All of that is due to the malicious influence of the mysterious planet Hypsis.
But Hypsis is a world that moves from system to system – it'll need to be pinpointed first…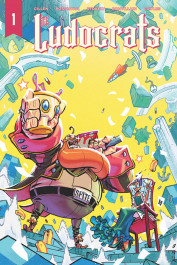 Kieron Gillen & Jeff Stokely: The Ludocrats 1
The Ludocrats!
The aristocrats of ludicrous! Defending reality from the encroaching forces of boredom while having a nice time.
KIERON GILLEN (DIE, THE WICKED + THE DIVINE) and JIM ROSSIGNOL (Sir, You Are Being Hunted) write!
JEFF STOKELY (The Spire) draws!
TAMRA BONVILLAIN (Once & Future) colors!
CLAYTON COWLES (Every excellent comic) letters!
The universe screams in pleasure, writhing, finally satisfied, complete, joyous!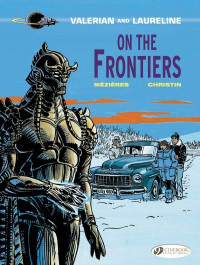 Mézières & Christin: Valerian and Laureline 13 – On the Frontiers
On an interstellar cruise ships, a mysterious individual in full environmental suit is working hard to get to Earth.
On Earth, meanwhile, another person in a spacesuit is exploring a nuclear reactor on behalf of its owners.
That second man is Valerian, and since the disappearance of Galaxity, he's been forced to make a living by putting his advanced knowledge and equipment to good use.
But what he's discovered inside the plant is extremely worrisome…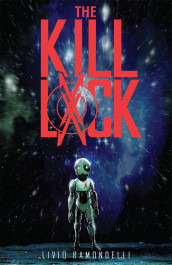 Livio Ramondelli: The Kill Lock
If one dies, they all do!
Banished for their crimes, four robots are bound to each other's fates in this sci-fi graphic novel.
Each found guilty of an irredeemable crime, four robots find themselves banished from their home world and bound together by the Kill Lock–a programming link that means if one of them dies, they all will.
Now a soldier, an addict, a murderer, and a child find themselves forced to protect each other while in search of a cure to survive. Their only clue is a bot known as The Axial, supposed to be the creator of the Lock and keeper of its secrets.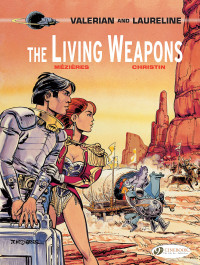 Mézières & Christin: Valerian and Laureline 14 – The Living Weapons
Valerian and Laureline, no longer members of any organization, are down to doing space deliveries.
With Galaxity gone and money getting scarce, their aging spaceship is becoming a hazard, which is pushing Valerian into accepting questionable cargo.
After a somewhat rough landing, our two ex-agents, on their way to deliver their goods, meet some individuals with very surprising gifts who claim to be itinerant artists. But is that really all they are?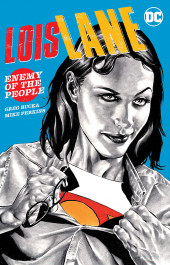 Greg Rucka & Mike Perkins: Lois Lane – Enemy of the People
She uncovered the most dangerous secret in the DC Universe…now she just has to prove it!
After a press briefing at the White House–and carrying a secret that could disrupt Superman's life–Lois Lane embarks on a harrowing journey to uncover a threat to her husband and research that reaches the highest levels of international power brokers and world leaders.
Critically acclaimed and bestselling author Greg Rucka and master storyteller Mike Perkins team up for a tale of conspiracy, intrigue, and murder that tests the limits of tough-as-nails investigative journalist Lois Lane.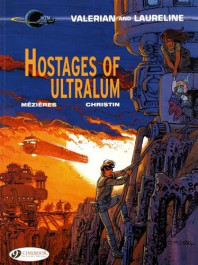 Mézières & Christin: Valerian and Laureline 16 – Hostages of Ultralum
Valerian and Laureline take a break from adventuring and go on a cruise, but Valerian feels uncomfortable among the idle and the powerful.
He's not bored for long, though, because when a quartet of mercenaries board the cruise ship to kidnap the son of the Caliph of Iksaladam, they end up taking Laureline as well.
With the almighty Caliph offering a massive reward for his son's return, Valerian's quest to rescue his girl is suddenly hindered by every bounty hunter in the galaxy…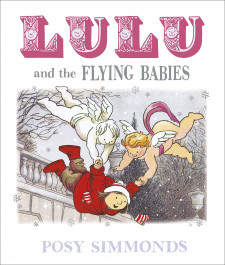 Posy Simmonds: Lulu and the Flying Babies
Lulu doesn't want to be stuck in a museum, she wants to play outside in the snow!
She sits on the bench and sniffs.
Before she knows it the flying babies have escaped a painting and swept her off her feet.
Lulu is flown into a whimiscal, magical adventure through a world of pictures, meeting Kings, growling at tigers and getting lost in the woods.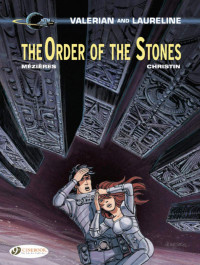 Mézières & Christin: Valerian and Laureline 20 – The Order of the Stones
The expedition into the heart of the Great Void is launched, and Valerian and Laureline are on it.
But in no time they're already facing the mysterious force that threatens the entire galaxy: the Wolochs, gigantic sentient monoliths dead set on destroying any civilisation that might stand in the way of their domination.
Our two Human agents can't hope to stop the Order of the Stones by themselves, but fortunately, they still have allies…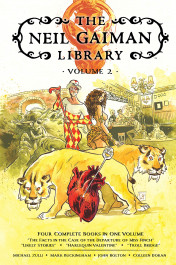 Neil Gaiman: The Neil Gaiman Library 2
A deluxe oversized collection of comic stories from celebrated and award-winning writer Neil Gaiman, in conjunction with some of comics' most acclaimed creators.
In these four essential Gaiman tales, a group of friends search for a mysterious circus that is either a dream or nightmare, a string of bizarre occult events befall strangers from all walks of life, a woman is given the gift of a Harlequin's heart, and a young boy is followed by monsters and regrets that last a lifetime.
Collects the full graphic novels The Facts in the Case of the Departure of Miss Finch, Likely Stories, Harlequin Valentine, and Troll Bridge in a single deluxe hardcover volume with a dust jacket.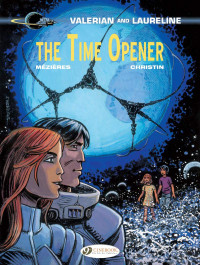 Mézières & Christin: Valerian and Laureline 21 – The Time Opener
The evil hordes of the Wolochs are rampaging through space, and everywhere death and destruction follow.
But despite the despair of some and the betrayal of others, Valerian, Laureline and a few other brave souls are resisting.
They're hoping to use a mysterious artefact, the Time Opener, to banish the stones and bring back Earth. B
ut what price must they pay to do so? And what sort of Earth will they get back if they succeed?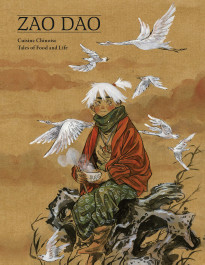 Zao Dao: Cuisine Chinoise – Five Tales of Food and Life
From the mind of prodigy cartoonist Zao Dao comes Cuisine Chinoise: Five Tales of Life and Food, featured here in English for the first time!
From insects looking for a meal made of ghosts, to a man named Yuzi who's passion for cooking is the only hope of maintaining a family legacy, these wonderfully illustrated stories explore the rich and humorous lives of the characters within.
This volume showcases the wonderful relationship between Chinese folklore and culture to food!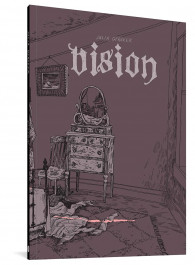 Julia Gfrörer: Vision
In this graphic novel, a spinster escapes the demands of life through a sexual relationship with a haunted mirror.
Julia Gfrörer explores lust, grief, and the human need for connection in this story of a 19th-century spinster and the haunted mirror that offers an escape from her frustrated line.
In Gfrörer's thin, careworn lines, her debased and unnerving depictions of the supernatural, and her achingly vulnerable characters, she exposes the emotions that boil beneath the surface of everyday life and the terrible pressure society exerts to keep them hidden.
Surrender to the quiet power of her storytelling, which greets you on every page like the embrace of a lover — or the grave.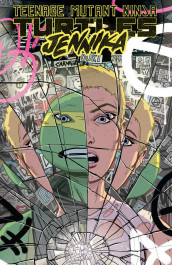 Brahm Revel: Teenage Mutant Ninja Turtles – Jennika
The newest member of the TMNT team embarks on her own adventure in this standalone tale!
Trying to acclimate to life as a mutant, the newest Turtle, Jennika, will be forced to come to terms with both her troubled past and conflicted present.
In search of a dangerous procedure to reverse mutation, will Jennika be tempted by the call of her old life, and how far will she go to save those who gave up on her long ago?
Brahm Revel returns to reveal more of Jennika's backstory from his acclaimed TMNT Universe tale "What is Ninja?"!
Also contains extra material featuring important milestones in the development of Jennika's character in the ongoing Teenage Mutant Ninja Turtles series!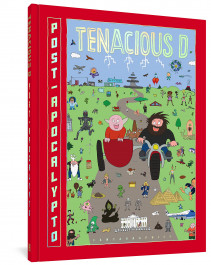 Tenacious D: Post-Apocalypto
There was the film; there was the album; there was the tour; and now, the final piece of Tenacious D's masterful Post-Apocalypto universe: the graphic novel, complete with accompanied audio.
In the fall of 2018, the Greatest Band in the World – Tenacious D (comprised of Jack Black and Kyle Gass) – added arguably its most crucial work to an already scintillating catalogue of rock greatness: Tenacious D in Post-Apocalypto the movie (available on YouTube) and Post-Apocalypto the album.
And now – with great excitement – Tenacious D will add the final piece to the Post-Apocalypto universe: the graphic novel, which Jack Black drew and Kyle Gass wrote, complete with accompanied audio.
Post-Apocalypto finds Tenacious D thrust into a world of complete and utter destruction following the drop of an atomic bomb.
Surviving the attack in classic cinematic fashion (a good old imperishable 1950s refrigerator), the duo quickly learn that new forms of evil have spawned from the blast.
One thing becomes apparent – for humanity to prevail, Tenacious D must save the world. With unimaginable twists and turns, an insane visit to the White House, a time machine, a space adventure, and the help of some tried-and-true daddy issues, Post-Apocalypto is as hilarious as it is political, and as brilliant and multi-faceted as its incredible creators.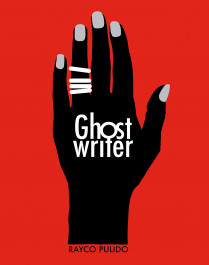 Rayco Pulido: Ghostwriter
The noirish, darkly comedic English-language debut of award-winning Spanish cartoonist Rayco Pulido.
Barcelona, 1943.
As a scriptwriter for a popular radio advice column, Laia is embroiled in the romantic entanglements of others. Each day, she reads letters from troubled wives and girlfriends recounting their partners' abuses and tries her best to counsel them.
In contrast, her own life seems perfectly ordered, with a devoted husband and a baby on the way.
But when the city is terrorized by a vengeful killer, who leaves behind cryptic messages in blood alongside the mutilated bodies of married men — while at the same time, Laia's husband goes missing — her world begins to come apart.
Desperate to find her husband, she turns to Mauricio, a private eye practiced in hypnosis. During the course of his investigations, Mauricio soon suspects that there may be more to this unassuming young woman than meets the eye.
Rendered in a clean-line chiaroscuro style and masterfully paced, Ghostwriter takes the reader on a wild ride full of twists and turns right through to its thrilling conclusion.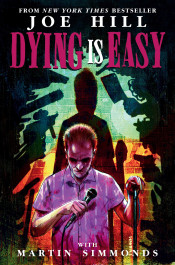 Joe Hill & Martin Simmonds: Dying Is Easy
Comedy is hard… but dying is easy! From New York Times bestselling author Joe Hill (Locke & Key) comes this new graphic novel mystery.
Meet Syd Sh*t-Talk Homes, a disgraced ex-cop turned bitter stand-up comic turned… possible felon?
Carl Dixon is on the verge of comedy superstardom and he got there the dirty way: by stealing jokes.
He's got a killer act, an ugly past, and more enemies than punchlines.
So when someone asks Syd Homes how much it would cost to have Dixon killed, Syd isn't surprised in the slightest. But, once he's accused, he's on the run and it's going to take all of his investigative chops to suss out the real killer before he gets caught.
This crime thriller by writer Joe Hill and artist Martin Simmonds follows in the tradition of fair-play mysteries inviting readers to solve the murder before Syd does!
Giorgio Carpinteri: Aqualantic
A Raw artist returns, and Atlantis exists, in this new and original graphic novel from one of the great Italian comics masters, published in English for the first time.
In this graphic novel, Aqualantics maintain a fragile peace with their "surface brothers"–as long as their world remains a myth.
But when an actor who plays the character of the "indefensible Earthman," all cynicism and vulgarity, is gradually possessed by his role, a chain reaction jeopardizes the entire kingdom and the uneasy peace between the two species.
Giorgio Carpinteri's sheer graphic brilliance — fusing aspects of Futurism, Cubism, Russian Constructivism, and German Expressionism with echoes of Bauhaus and distinct whims of Art Deco — would be enough to carry this brilliant fantasy, but Aqualantic is also a lyrical, allegorical masterpiece exploring the relationship between the conscious and unconscious, the known and the unknown.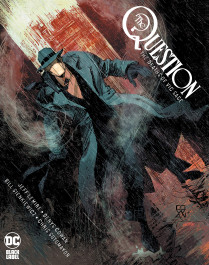 Jeff Lemire & Denys Cowan: The Question – The Deaths of Vic Sage
Eisner-winning writer Jeff Lemire joins forces with the legendary art team of Denys Cowan and Bill Sienkiewicz to resurrect Vic Sage, only to destroy him all over again…and again…
For years, Vic Sage has worn the faceless mask of the Question to clean up the streets of Hub City by sheer force of will.
He knows right from wrong.
He knows black from white.
But what happens when he is drawn into a conspiracy that reaches from the heights of Hub City power to the depths of its underground tunnels?
What happens when things stop being black-and-white and start getting a little gray? And what happens when, in a secret chamber deep beneath the city, Vic Sage meets his own end…and his new beginning?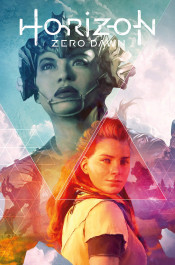 Anne Toole & Ann Maulina: Horizon Zero Dawn 1 – The Sunhawk
TITAN COMICS and GUERRILLA GAMES are proud to announce an all-new graphic novel set after the events of the critically acclaimed, award-winning video game Horizon Zero Dawn! A new adventure with Talanah and Aloy awaits!
Horizon: a far-future Earth full of epic natural beauty and forgotten ruins, where awe-inspiring, animal-like machines are the dominant species and humans struggle to survive in pre-industrial tribes.
In the aftermath of a titanic battle that almost laid waste to the capital city of Meridian, Talanah, one of the greatest machine-hunters in the land, struggles to find her place in the rebuilding effort.
Making matters worse, Aloy, her trusted friend and confidant, has disappeared.
When a new threat emerges in the hinterlands, she must decide how best to serve her tribe, her friends, and herself.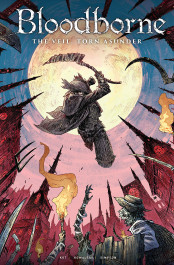 Aleš Kot & Piotr Kowalski: Bloodborne 4 – The Veil, Torn Asunder
Delve into the mysteries of Yharham in the continuing comic series spinning out of Fromsoftware/Hidetaka Miyazaki's critically-acclaimed Bloodborne videogame!
Yharnam has descended into madness…
Yarem came to the city a long time ago, a man with a past spent in shackles. He found a new purpose in travel and discovery… but what he will find in Yharnam will test the limits of not just his desire, but also his sanity.
As Yharnam falls apart, Yarem realizes his own perception of time and space is becoming radically altered. The walls of reality buckle and fold. He sees the Moon fill with blood.
Yarem decides to descend deeper into the madness, and boldly discover the new horizons of reality. The price for such sights may be his life… or at the very least his sanity.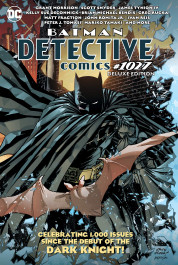 Batman Detective Comics #1027 Deluxe Edition
BATMAN'S #1000 APPEARANCE!
After 80+ years, the 1000th issue featuring Batman is here!
This spectacular milestone issue is full of action packed adventure written and illustrated by the most famous Batman creative teams.
Detective Comics #1027: The Deluxe Edition collects the much-lauded landmark issue Detective Comics #1027. This edition also features a bonus gallery loaded with variant covers.
LEHDET JA KIRJAT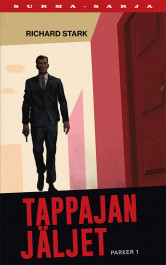 Richard Stark: Tappajan jäljet – Parker 1
Tappajan jäljet on kiveä kovempi tarina saalistajasta, Parkerista, joka on joutunut karulla tavalla rikoskumppaneidensa ja rakkaansa pettämäksi.
Mutta Parker ei ole sitä tyyppiä, joka antaisi periksi, saati anteeksi.
Hän haluaa saada rahansa takaisin ja samalla kostaa. Täysin piittaamatta vastustajiensa ylivoimasta.
Richard Stark on yksi Donald E. Westlaken salanimistä, jota hän käytti kirjoittaessaan Parker-kirjoja. Sarjan aloittava Tappajan jäljet on rikoskirjallisuuden pitelemätön klassikko, ja häikäilemätön Parker yksi ikonisimmista hahmoista mitä alalla on nähty.
Richard Stark on kuuluisan ja tuotteliaan Donald E. Westlaken (1933-2008) tunnetuin peitenimi.
Vuonna 1962 hän loi mestaririkollinen Parkerin ja aloitti lähes 30-osaisen kirjasarjan, josta muodostui merkittävä osa rikosfiktion kaanonia.
Useita Westlaken kirjoja on filmatisoitu.
Myös Tappajan jäljillä -teoksesta on tehty kaksi versiota, Tappajan jäljet (Point Blank, ohjaus John Boorman, pääosassa Lee Marvin, 1967) ja Tilinteko (Payback, ohjaus Brian Helgeland, pääosassa Mel Gibson, 1999).
Monet Westlaken kirjoista ovat humoristisia, kuten Dortmunder-sarja, mutta Parkereissa tarjoillaan kylmää kyytiä.
Useasti palkittu Westlake sai Mystery Writers of America -yhdistyksen korkeimman tunnustuspalkinnon, Grand Master-arvonimen vuonna 1993.