Luettelo:
Manga-uutuudet
Ulkomaiset uutuudet
Lehdet ja kirjat
Oheistavarat
Alkuun
MANGA-UUTUUDET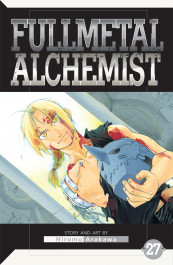 Hiromu Arakawa: Fullmetal Alchemist 27
Sarjan huikea finaali on tässä!
Edwardin ja Alphonsen viimeinen, vaarallinen koitos on edessä. Saavatko he takaisin menettämänsä, ja mikä vaihtokauppa on vielä jäljellä?
Jännitys huipentuu suureen taisteluun ja uhraukseen, kun teräsalkemisti tekee vielä kerran synteesinsä.
Uusi aika on koittanut.
Ikäsuositus 12+ / Seikkailu
ULKOMAISET UUTUUDET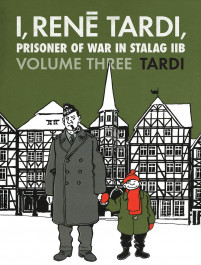 Jacques Tardi: I, Rene Tardi, Prisoner of War in Stalag IIB – After the War
In the final volume of this intergenerational memoir, a powerful tribute to a lost generation of WWII POWs, the author's father comes home.
In the third and final volume of Stalag IIB, René Tardi has come home.
But after five agonizing years as a prisoner of war, he is a changed man. Like millions of other French soldiers, René struggles to adjust to civilian life and imagine his postwar future.
Upon re-enlisting in the army he despises, René receives new orders: return to Germany and help rebuild the country that imprisoned him.
There, the story shifts from father to son, as young Jacques must bear the strange burden of growing up in the land of his father's enemy. A solitary child, he takes refuge in drawing, kickstarting a lifelong passion for cartooning.
This volume brings to a close a fitting tribute to the artist's father and the lost generation of French POWs — the triumphant culmination of Jacques Tardi as a master of the form.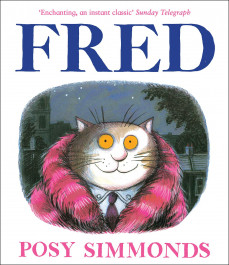 Posy Simmonds: Fred
A quirky tale, told in comic-strip format, of the secret double life of the laziest cat in the world
Fred is an adored family cat (now deceased) who slept all the time–on the ironing board, on the washing machine, on top of the fridge, on cars, and particularly on beds–although he took a little time off to sit on laps purring and to eat.
Only after his death do Sophie and Nick discover that, by night, he was the Elvis of the cat-world, Famous Fred, the most famous cat in the world, with hordes of devoted fans–who give him a suitably raucous funeral.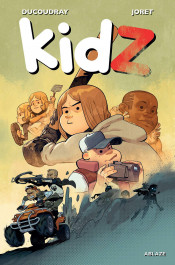 Aurélien Ducoudray & Jocelyn Joret: Kidz
These KIDZ are foul mouthed, raising hell and doing battle with the living dead!
It's been three months since a terrible epidemic turned the population into zombies hungry for fresh meat.
Only after devouring almost all of humanity, the undead themselves begin to wither and fall from famine…
Somewhere in a suburban town, Ben, 10 years old and still traumatized by the death of his parents, forms with his friends the last bastion of humanity. And between hunting zombie survivors, expeditions to amass food, toys and comics–all filmed by the aptly named Spielberg–life flows rather peacefully in their world.
Until something worse than a nuclear disaster or the 4 flashing red rings of death on an Xbox 360 hits their small community: two girls! Accustomed to chilling by the pool, eating chocolate bars and playing video games… how will the boys react to Polly's bizarre new customs and little sister Sue?
Aurélien Ducoudray and Jocelyn Joret bring you the zombie apocalypse from a kid's point-of-view in this pop culture mash up brimming with an 80's vibe.
KIDZ is Stranger Things meets Welcome to Zombieland on a Gorillaz soundtrack!
The collected edition of KidZ will include a bonus section with cover art and sketchbook section along other behind-the-scenes info and material!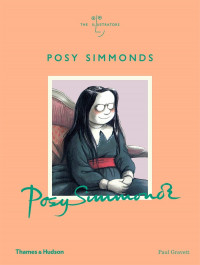 Paul Gravett: Posy Simmonds
Illustrator Posy Simmonds is known for her extraordinarily precise drawings, keen powers of observation, and sharp but well-tempered wit, all of which have made her an internationally renowned artist.
This generously illustrated book examines Simmonds's life and work from early childhood to the present day, offering insights into her creative process.
Paul Gravett has had unprecedented access to her archive and includes pages from her sketchbooks as well as rare or never-before-seen artwork. The portrait of Simmonds that emerges underlines her role as a keen chronicler and critic of contemporary British society–a storyteller who writes and illustrates with rare perception and humanity.
Posy Simmonds is one of the first titles in Thames & Hudson's new The Illustrators series, which celebrates illustration as an art form. The book will appeal to the many fans of Simmonds's work, and anyone interested in illustration will adore this unrivaled exploration of a sophisticated innovator.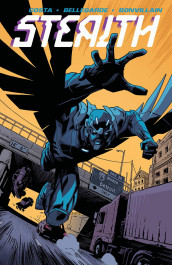 Mike Costa & Nate Bellegarde: Stealth
For decades, Stealth has waged war on crime in Detroit, but now he's taken his pursuit of justice too far.
Only reporter Tony Barber knows that behind Stealth's reckless behavior is an older man battling Alzheimer's–his father.
A father unwilling to accept that he's no longer the hero this city needs… with enemies all too eager to force his retirement.
Created by Robert Kirkman and Marc Silvestri, STEALTH is an action-packed series, perfect for readers who enjoy Black Panther and Iron Man.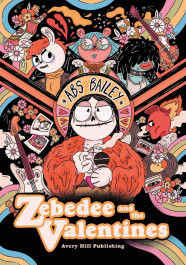 Abs Bailey: Zebedee and the Valentines
1982. A pub, somewhere in a small suburban town in the South of England.
Zebedee and The Valentines have just played the gig of their lives. The seven people watching them agree.
With a big battle of the bands approaching, lead singer Zebedee and his motley crew of punks seem ready to blow up.
But when the Devil is booking your gigs and the competition is fierce, was it ever really going to be that easy?
The debut graphic novel from incredible new creator Abs Bailey, 'Zebedee and The Valentines' is a psychedelic tale of betrayal, tragedy and triumph told through the lens of the 80s, and with amps turned up to 11.
Jonathan Hickman: Avengers by Jonathan Hickman – The Complete Collection 2
The last White Event changes everything as Jonathan Hickman's sprawling saga continues!
The Starbrand has manifested, but will he be Earth's mightiest hero…or the biggest threat to the Avengers' world?
Meanwhile, tensions run high between the Black Panther and the Sub-Mariner as hidden connections between the events of AVENGERS and NEW AVENGERS begin to be revealed!
Earth's Origin Sites go active, signaling something ancient out in the cosmos!
The terror scientists of A.I.M. unveil their latest scheme!
The High Evolutionary stakes his claim on the Children of the Sun!
Hyperion learns the true cost of the decisions he made in the Savage Land!
And the techno-titan Terminus returns!
Plus: A solo tale of the newest Avenger — Shang-Chi, Master of Kung Fu!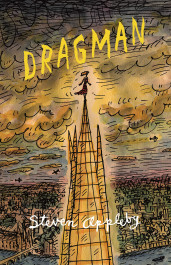 Steven Appleby: Dragman
From "Britain's most loved comics artist" comes a superhero epic like no other―an ordinary man gains superpowers by donning women's clothing, saving London and maybe even himself.
August Crimp can fly, but only when he wears women's clothes.
Soaring above a gorgeous, lush vista of London, he is Dragman, catching falling persons, lost souls, and the odd stranded cat.
After he's rejected by the superhero establishment, where masked men chase endorsement deals rather than criminals, August quietly packs up his dress and cosmetics and retreats to normalcy ― a wife and son who know nothing of his exploits or inclinations.
When a technological innovation allows people to sell their souls, they do so in droves, turning empty, cruel, and hopeless, driven to throw themselves off planes.
August is terrified of being outed, but feels compelled to bring back Dragman when Cherry, his young neighbor, begs him to save her parents.
Can Dragman take down the forces behind this dreadful new black market? Can August embrace Dragman and step out of the shadows?
The debut graphic novel from British cartoon phenomenon Steven Appleby, Dragman is at once a work of artistic brilliance, sly wit, and poignant humanity, a meditation on identity, morality, and desire, delivered with levity and grace.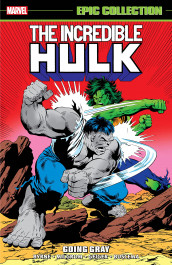 Incredible Hulk Epic Collection – Going Gray
Strange changes for the Hulk!
Doc Samson has a wild plan to separate Bruce Banner and the Hulk for good — but can Banner survive without his emerald alter ego? And can the planet survive a rampaging, Banner-less Hulk?
As the Avengers battle the behemoth, a new team of Hulkbusters forms — and Bruce, seemingly free at last, finally finds happiness with Betty Ross!
But two halves of a whole can't stay apart forever, and the Hulk that returns is surlier, craftier — and gray!
But if this is the Hulk, then who's the long-haired green giant smashing up the American Southwest? And which longtime supporting character will meet their maker?
Featuring the complete classic John Byrne run — and the status quo-smashing setup to Peter David's multiyear epic!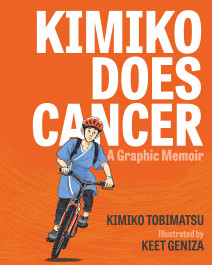 Kimiko Tobimatsu & Keet Geniza: Kimiko Does Cancer
At the age of twenty-five, Kimiko Tobimatsu was a young, queer, mixed-race woman with no history of health problems whose world was turned upside down when she was diagnosed with breast cancer.
In an instant, she became immersed in a new and complicated life of endless appointments, evaluations, and treatments, and difficult conversations with her partner and parents. Kimiko knew that this wasn't what being twenty-five was supposed to be like … but then, she didn't have a choice.
With tender illustrations by Keet Geniza, Kimiko Does Cancer is a graphic memoir that upends the traditional "cancer narrative" from a young woman's perspective, confronting issues such as dating while in menopause, navigating work and treatment, and talking to well-meaning friends, health care professionals, and other cancer survivors with viewpoints different from her own.
Not one for pink ribbons or runs for the cure, Kimiko seeks connection within the cancer community while also critiquing the mainstream cancer experience.
Honest and poignant, Kimiko Does Cancer is about finding one's own way out of a health crisis.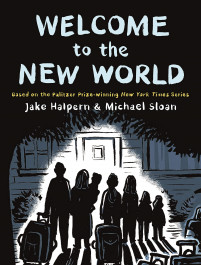 Jake Halpern & Michael Sloan: Welcome to the New World
Now in a full-length book, the New York Times Pulitzer Prize-winning graphic story of a refugee family who fled the civil war in Syria to make a new life in America
After escaping a Syrian prison, Ibrahim Aldabaan and his family fled the country to seek protection in America. Among the few refugees to receive visas, they finally landed in JFK airport on November 8, 2016, Election Day. The family had reached a safe harbor, but woke up to the world of Donald Trump and a Muslim ban that would sever them from the grandmother, brothers, sisters, and cousins stranded in exile in Jordan.
Resettled in Connecticut with little English, few friends, and even less money, the family of seven strive to create something like home.
As a blur of language classes, job-training programs, and the fearsome first days of high school (with hijab) give way to normalcy, the Aldabaans are lulled into a sense of security.
A white van cruising slowly past the house prompts some unease, which erupts into full terror when the family receives a death threat and is forced to flee and start all over yet again. The America in which the Aldabaans must make their way is by turns kind and ignorant, generous and cruel, uplifting and heartbreaking.
Delivered with warmth and intimacy, Jake Halpern and Michael Sloan's Welcome to the New World is a wholly original view of the immigrant experience, revealing not only the trials and successes of one family but showing the spirit of a town and a country, for good and bad.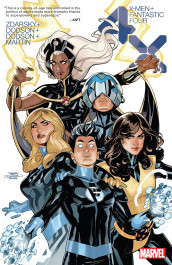 Chip Zdarsky & Terry Dodson: X-Men/Fantastic Four – 4x
Wayward son!
Every known mutant lives on Professor X's newly forged island paradise of Krakoa — except for one.
And now the X-Men feel that it's time for Franklin Richards to come home.
There's only one problem: What does his Fantastic family have to say about that?
As lines are drawn, the X-Men face down the Fantastic Four — and nothing will ever be the same!
In this brave new Dawn of X, Charles Xavier and his fellow mutants have reshaped the world. But you can't change a world without encountering its true master: Doom!
Now, with the fate of the nation of Krakoa at stake, Franklin faces a momentous decision — and the X-Men and the FF must fight to save the future!
Lines will be crossed, enemies will be made — and the Marvel Universe will be turned on its ear!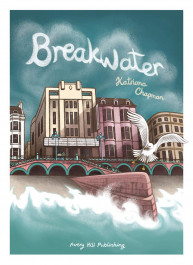 Katriona Chapman: Breakwater
On the South coast of England, in an old art deco picture house, Chris finds a new friend…then has to decide if she has room in her life for one.
A loner and an introvert, Chris has worked in Breakwater Picture House for many years.
It's the kind of job that people drift through; friendships flourish for a time, contained within their allotted hours and place…and then fade when people move on.
But when Dan joins, Chris finds someone who breaks out of these designated boundaries and gradually becomes a part of her life.
Initially the relationship helps her out of a rut and she finds her world starting to open up. But as she learns more about her new friend, she must decide if the solitary life she's built is the one she's actually most suited to after all.
Dealing with issues of mental health, the joys and drawbacks of choosing a casual job over a career path and the burden that comes with letting other peoples' problems into your life, Breakwater is a stunning second graphic novel from the creator of Follow Me In.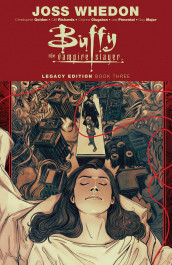 Joss Whedon: Buffy the Vampire Slayer Legacy Edition 3
After the third season finale of the Buffy the Vampire television series, Sunnydale High has now gone up in flames – though perhaps a bit more literally than Buffy and the Scooby Gang had ever expected.
Now it's time for college, as Buffy and Willow seek prepare for a more normal life, but from new love (Hi, Riley!) to lost love (Sorry, Oz) and tortured dreams of the rogue Slayer known as Faith, it looks likes the past isn't ready to let go of our heroes just quite yet.
Maybe the Hellmouth wasn't so bad after all?
Collects Buffy The Vampire Slayer #20-29 and Angel #15, previously published by Dark Horse Comics. This volume includes "Haunted," the unforgettable story focusing on Faith courtesy of acclaimed Buffy writer Jane Espenson.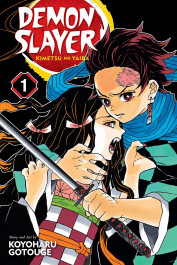 Koyoharu Gotouge: Demon Slayer – Kimetsu No Yaiba 1
In Taisho-era Japan, kindhearted Tanjiro Kamado makes a living selling charcoal.
But his peaceful life is shattered when a demon slaughters his entire family.
His little sister Nezuko is the only survivor, but she has been transformed into a demon herself! Tanjiro sets out on a dangerous journey to find a way to return his sister to normal and destroy the demon who ruined his life.
Learning to destroy demons won't be easy, and Tanjiro barely knows where to start.
The surprise appearance of another boy named Giyu, who seems to know what's going on, might provide some answers–but only if Tanjiro can stop Giyu from killing his sister first!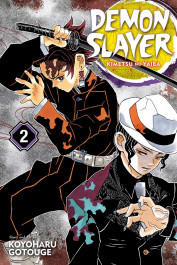 Koyoharu Gotouge: Demon Slayer – Kimetsu No Yaiba 2
Tanjiro sets out on the path of the Demon Slayer to save his sister and avenge his family!
During final selection for the Demon Slayer Corps, Tanjiro faces a disfigured demon and uses the techniques taught by his master, Urokodaki!
As Tanjiro begins to walk the path of the Demon Slayer, his search for the demon who murdered his family leads him to investigate the disappearances of young girls in a nearby town.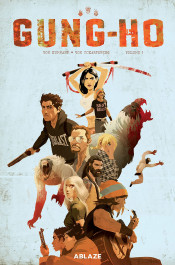 Benjamin Von Eckartsberg & Thomas Von Kummant: Gung-Ho 1
In the near future, the "White Plague" has almost completely decimated humanity, and civilization is only a sweet memory.
The world as a whole has become a danger zone, where survival is only possible within towns or fortified villages. Enter orphaned brothers Zach and Archer Goodwoody, troublemaking teens who have just arrived at Fort Apache, and about to learn the hard rules of integration into the colony. Outside the walls lies a hostile and deadly environment, but inside is also a dangerous place, as the boys are about to find out.
Creators Benjamin von Eckartsberg and Thomas von Kummant deliver a creative and visual tour de force with jaw-dropping artwork that will transport you to a brand new post-apocalyptic world where the tension is palpable, and the wrong move will get you killed…or worse.
GUNG-HO Volume 1 collects the first two storylines of the series "Black Sheep" and "Short Circuit", along with a substantial bonus section including cover gallery, sketches, character art, interviews and other behind-the-scenes material!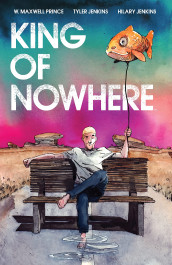 W Maxwell Prince & Tyler Jenkins: King of Nowhere
GREETINGS FROM NOWHERE.
In the parched wastelands of California, a lovable drunken lowlife named Denis awakens on the outskirts of an odd little village called Nowhere, home to a friendly populace of deformed, mutated, and just-left-of-normal citizens.
Not knowing where he is or how he got there (or if the town is even real), Denis is given quarter in a flophouse above a bar and acquaints himself with the townsfolk – but just when he starts to regain his memories, his past catches up with him…
What at first seems like merely a bad trip quickly heightens into a drama of mistaken identities, small-town conspiracy, and high-stakes fantasy fulfillment.
Critically acclaimed creators W. Maxwell Prince (Ice Cream Man), Tyler Jenkins (Grass Kings), and Hilary Jenkins (Black Badge) present an unforgettable thriller that explores the miraculous, the mundane, and all the mysteries in between.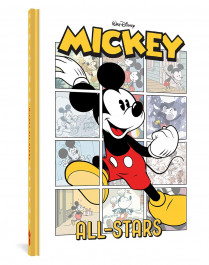 Mickey All-Stars
In this once-in-a-lifetime storytelling achievement, more than 40 acclaimed comics creators from around the world celebrate Mickey's wildest adventure!
Star artists from around the globe each draw a chapter of Mickey's wildest adventure — from Giorgio Cavazzano (Disney Masters) to Mike Peraza (Mickey's Christmas Carol) to Marco Rota, plus dozens more!
While celebrating his birthday at a carnival, Mickey crosses the threshold of a fortune-teller's mystic portal and finds himself flung headlong into an amazing journey.
He encounters one phantasmagorical dimension after another — a fractured fairy tale kingdom, a cubist realm, and outer space — with plenty of dragons, mummies, and giant mouse-eating plants along the way.
(Not to mention alternate versions of Goofy, Peg Leg Pete, and the Phantom Blot!) Can Mickey get back? How deep does this rabbit hole — er, mouse hole — go?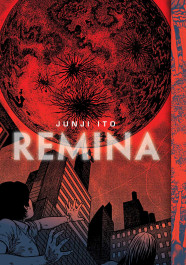 Junji Ito: Remina
Another of Junji Ito's classics, the sci-fi masterwork Remina tells the chilling tale of a hell star.
An unknown planet emerges from inside a wormhole, and its discoverer, Dr. Oguro, christens the body "Remina" after his own daughter.
His finding is met with great fanfare, and Remina herself rises to fame.
However, the object picks up speed as it moves along in its curious course, eliminating planets and stars one after another, until finally Earth itself faces extinction…Is the girl Remina the true cause of the catastrophe?
A masterwork of horror from Junji Ito, unfolding on a universal scale.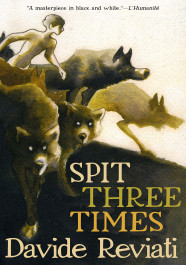 Davide Reviati: Spit Three Times
In a forsaken corner of the Italian countryside, Guido and his friends Moreno and Katango spin out their days in languor and boredom intermixed with desire and, occasionally, violence.
Nearby live the Stančič, a family of Romani who escaped the communist regime of Marshal Tito and settled here just after World War II.
Guido's coming-of-age is changed by the evolving relationship that the rural town has with this group of outsiders, these "gypsies."
The author is unsparing in his depiction of the townspeople's cruelty. And yet, there are also many instances of solidarity between Guido's community and the Stančič.
Reviati's first book in English, Spit Three Times is an extraordinary story of young men, disillusioned and trying to find their way, caught in the breach between post-war exuberance and the stagnation of the early twenty-first century.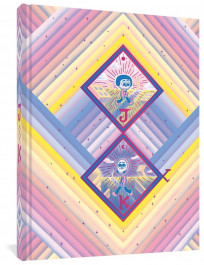 John Pham: J&K
The story of two idiots trying to navigate the modern world, told in comics, posters, stickers, and even a little vinyl record!
These simple-seeming comics stories weave in and out, with unexpectedly sad twists and hilarious turns; imagine Seinfeld mixed with Peanuts.
J & K is also a singular art object unto itself.
As Jay and Kay routinely reference pop culture, these cute, sad little artifacts are made real in the collection and will be included as separate extras and inserts.
Pham combines his a gorgeous, big-foot cartooning and brilliant use of color with his innate grasp of printing, packaging, and graphic design.
This book calls to mind the work of Chris Ware while completely staking out new ground in contemporary art.
Full-color illustrations throughout.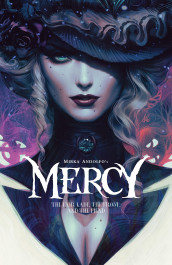 Mirka Andolfo: Mercy – The Fair Lady, the Frost and the Fiend
MERCY, a goth-inspired, Victorian monster series explores topics of "otherness," damnation and redemption, and what it means to be a monster in a horror graphic novel perfect for fans of Penny Dreadful, Crimson Peak, The Alienist, Parasol Protectorate, and Dark Shadows.
This new graphic novel by acclaimed creator MIRKA ANDOLFO (UNNATURAL) is a gothic horror tale where mysteries and unspeakable sins are blended together in a unique and sensual way.
Washington State, late nineteenth century. During the frenzied historical era commonly known as the Klondike Gold Rush, a mysterious woman arrives in Woodsburgh, a small mining town close to the Canadian border.
It's been a few years since the Swanson mine was closed following the terrible accident that claimed the lives of so many men and women, including the owner's and the city it's still struggling in search for a new place on the map of the country.
Elegant and extraordinarily wealthy, Lady Hellaine arrives in the city accompanied by her faithful butler Goodwill and settles in one of the most luxurious mansions in town.
A lifestyle that contrasts sharply with that of the majority of the population, forced to choose between humble crafts and illegal activities.
No one is aware of the reasons that led such a classy lady to move from Seattle to the small village, but her arrival certainly did not go unnoticed.
Especially in the eyes of Lady Swanson, widow of the late mine owner and leading figure of the local bourgeoisie. Lady Hellaine's plans will bring her on a collision course with the powerful Lady Swanson, who, for reasons not entirely rational, distrusts the newcomer.
Meanwhile, the streets and surroundings of Woodsburgh are flooded in blood: a heinous creature is killing incautious citizens, wreaking havoc on their bodies.
Enough to induce local authorities to impose a strict curfew after sunset.
And with the falling of the first snow, the "Woodsburgh Devil"'s fury seems to have even increased. What's the connection, if any, between this disturbing presence and the ivory-skinned stranger?
Who is Lady Hellaine, really? And what's her secret agenda?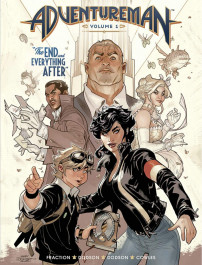 Matt Fraction & Terry Dodson: Adventureman 1 – The End and Everything After
WHERE HIS STORY ENDED… HER STORY BEGINS!
Everyone knows the story of how ADVENTUREMAN, the greatest pulp hero of ended in a heartbreaking CLIFFHANGER with our hero facing execution an the eve of the MACABRAPOCALYPSE… now learn the startling truth about how, eighty years after his seeming demise, single mother Claire and her Adventurefan son Tommy seem to spark his RESURRECTION!
Can these inheritors of the Adventureman legacy rise up to face down the evil that bested the original?
LEHDET JA KIRJAT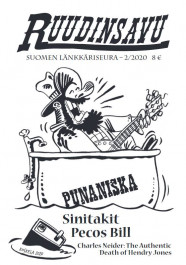 Ruudinsavu 2/2020
Sisällys:
Pääkirjoitus
Punaniska, mies ja "kultainen ääni"
Sinitakit – eurooppalaisen lännensarjakuvan huipulla jo yli 50 vuotta
Pecos Bill – Texasin tarumainen sankari
Wicked West -sarjakuva
Suomentamattomia länkkäriklassikoita osa 4: The Authentic Death of Hendry Jones
Kirjat ja sarjakuvat: Viidestilaukeavat ja Hurja-Hilda
Tosi Länsi: Billy the Kid osa 5: Hirsipuun varjossa
Klassikkoelokuva: Terroria Teksasissa (1958)
OHEISTUOTTEET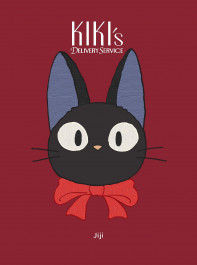 Kiki's Delivery Service – Jiji Plush Journal
Featuring Jiji, the lovable black cat from Hayao Miyazaki's animated classic Kiki's Delivery Service, this soft plush and embroidered journal includes lined interiors and full-color artwork on the front and back pages, purr-fect for cat lovers and Studio Ghibli fans of all ages.
.
.