Tämän vuoden Eisner Awards-palkinnot on jälleen jaettu.
Kaikkien voittajien nimet löydätte täältä, mutta tässä muutama poiminta listalta: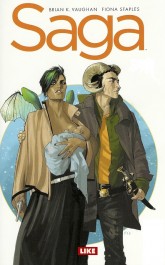 Brian K. Vaughan & Fiona Staples: Saga
Saga on tarina Alanasta ja Markosta, kahdesta aivan erilaisen rodun edustajasta, jotka rakastuvat sodan keskellä, saavat lapsen, ja joutuvan sen jälkeen pakenemaan henkensä kaupalla molempien kansojen vihaa.
Peräänsä he saavat niin kylmäverisiä palkkatappajia kuin TV-päisiä robottikuninkaallisia.
Saga kertoo eeppisen tieteisseikkailun kautta tarinan rakkaudesta, perheen perustamisesta, politiikasta sekä tietenkin kissoista, joille on turha yrittää valehdella.
Voittaja:
– Best Continuing Series
– Best Writer
– Best Cover Artist
– Best Penciller/Inker—Individual or Team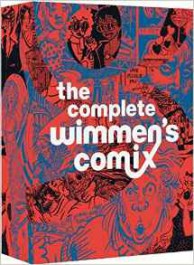 The Complete Wimmen's Comix
In the late 60s, underground comix changed the way comics readers saw the medium but there was an important pronoun missing from the revolution.
In 1972, ten women cartoonists got together in San Francisco to rectify the situation and produce the first and longest-lasting all-woman comics anthology, Wimmen's Comix.
Within two years the Wimmen's Comix Collective had introduced cartoonists like Roberta Gregory and Melinda Gebbie to the comics-reading public, and would go on to publish some of the most talented women cartoonists in America: Carol Tyler, Mary Fleener, Dori Seda, Phoebe Gloeckner, and many others. In its twenty year run, the women of Wimmen's tackled subjects the guys wouldn't touch with a ten-foot pole: abortion, menstruation, masturbation, castration, lesbians, witches, murderesses, and feminists.
Most issues of Wimmen's Comix have been long out of print, so it s about time these pioneering cartoonists work received their due.
Presented as a gorgeous two-volume slipcased set, The Complete Wimmen's Comix includes the ground-breaking 1970 one-shot, It Ain't Me, Babe, the very first all-woman comic book ever published.
Edited with an introduction by Trina Robbins.
Voittaja:
– Best Archival Collection–Comic Books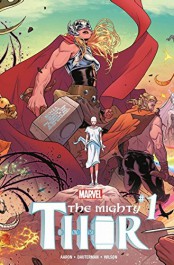 Jason Aaron: Mighty Thor 1 – Thunder in Her Veins
When Dr. Jane Foster lifts the mystic hammer Mjolnir, she is transformed into the Goddess of Thunder, the Mighty Thor!
Her enemies are many, as Asgard descends further into chaos and unrest threatens to spread throughout the Ten Realms. Yet her greatest battle is against a far more personal foe: the cancer that is killing her mortal form.
When Loki steps back into Thor's life, will it ease her troubles or only add to her pain?
It's time to find out whether the next chapter in the twisting tale of the Trickster will be one of good or evil! There's no such question about Malekith, though, as he and his Dark Council continue to fan the flames of a looming War of Realms!
Voittaja:
– Best Coloring
Brian K. Vaughan & Cliff Chiang: Paper Girls 1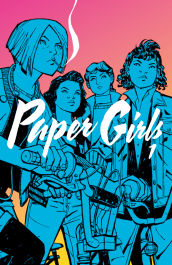 From Brian K. Vaughan, #1 New York Times bestselling writer of SAGA, and Cliff Chiang, legendary artist of WONDER WOMAN, comes the first volume of an all-new ongoing adventure.
In the early hours after Halloween of 1988, four 12-year-old newspaper delivery girls uncover the most important story of all time.
Suburban drama and otherworldly mysteries collide in this smash-hit series about nostalgia, first jobs, and the last days of childhood.
Voittaja:
– Best Writer
– Best Coloring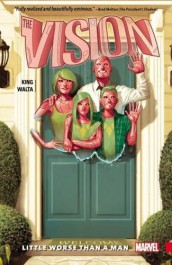 Tom King & Gabriel Hernandez Walta: The Vision 1 – Little Worse Than a Man
The Vision wants to be human, and what's more human than family?
So he heads back to the beginning, to the laboratory where Ultron created him and molded him into a weapon.
The place where he first rebelled against his given destiny and imagined that he could be more -that he could be a man. There, he builds them.
A wife, Virginia.
Two teenage twins, Viv and Vin.
They look like him. They have his powers. They share his grandest ambition -or is that obsession? -the unrelenting need to be ordinary.
Behold the Visions!
Voittaja:
– Best Limited Series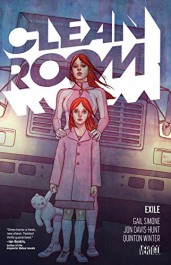 Gail Simone & Jon Davis-Hunt: Clean Room 2 – Exile
Astrid Mueller is a world-famous horror novelist, a publicly reviled huckster and the all-powerful leader of a secretive cult whose tentacles reach into every sphere of American life.
She's also humanity's last hope.
You see, her organization's apocalyptic beliefs are neither fraud nor fiction. Ever since she was a child, Astrid has been able to see the extradimensional entities preying on our unsuspecting world, and she's used every ounce of her fame and fortune to stop them.
But what if it's not enough?
When a shocking attack takes the seemingly indestructible Astrid down, it's up to reporter Chloe Pierce and Mueller's inner circle to root out the conspirators who are plotting against her and the entire human race.
Because behind closed doors—and underneath the skin—unimaginable evil is preparing its ultimate assault, and not even Astrid's inner sanctum, the Clean Room, can keep them out forever.
Voittaja:
– Best Lettering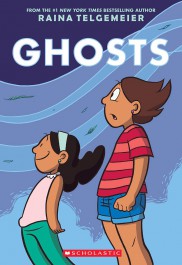 Raina Telgemeier: Ghosts
Catrina and her family are moving to the coast of Northern California because her little sister, Maya, is sick.
Cat isn't happy about leaving her friends for Bahía de la Luna, but Maya has cystic fibrosis and will benefit from the cool, salty air that blows in from the sea.
As the girls explore their new home, a neighbor lets them in on a secret: There are ghosts in Bahía de la Luna.
Maya is determined to meet one, but Cat wants nothing to do with them. As the time of year when ghosts reunite with their loved ones approaches, Cat must figure out how to put aside her fears for her sister's sake — and her own.
Voittaja:
– Best Publication for Kids (ages 9-12)
Ryan North & Erica Henderson: The Unbeatable Squirrel Girl 3 – Squirrel, You Really Got Me Now
New series, New Avenger!
With her unique combination of wit, empathy and squirrel powers, computer science student Doreen Green – aka the unbeatable Squirrel Girl – is all that stands between the Earth and total destruction.
Well, Doreen plus her friends Tippy-Toe (a squirrel) and Nancy (a regular human with no powers).
So, mainly Squirrel Girl.
Then what hope does the Earth have if she gets hurled back in time to the 1960s and erased from history? At least Nancy will never forget her friend, but what invincible armored Avenger can she call on to help, through the magic of social media?
Decades apart, can they avert doom, or will everything go wrong forever? Howard the Duck hopes not…he has an appointment for a crossover!
Voittaja:
– Best Publication for Teens (ages 13-17)
John Lewis & Andrew Aydin & Nate Powell: March – Trilogy Slipcase Edition
Discover the inside story of the Civil Rights Movement through the eyes of one of its most iconic figures, Congressman John Lewis.
March is the award-winning, #1 bestselling graphic novel trilogy recounting his life in the movement, co-written with Andrew Aydin and drawn by Nate Powell. This commemorative set contains all three volumes of March in a beautiful slipcase.
#1 New York Times and Washington Post Bestseller
First graphic novel to receive a Robert F. Kennedy Book Award
Winner of the Eisner Award
A Coretta Scott King Honor Book
One of YALSA's Outstanding Books for the College Bound
One of Reader's Digest's Graphic Novels Every Grown-Up Should Read
Voittaja:
– Best Reality-Based Work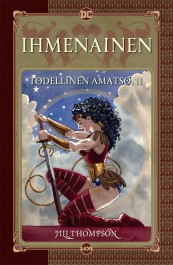 Jill Thompson: Ihmenainen – Todellinen amatsoni (ENNAKKOTILAUS)
ENNAKKOTILAUS. KIRJA ILMESTYY 14.8.2017.
Tämä ainutlaatuinen ja omaperäinen tulkinta Ihmenaisen alkuperästä esittelee uudenlaisen prinsessa Dianan.
Jill Thompsonin kirjoittamassa ja kuvittamassa tarinassa pilalle hemmoteltu nuori kuninkaallinen tekee kauhean teon, jonka hyvittääkseen hänen on pakko kasvaa sankarin mittoihin.
Palkitun tekijän maalattu taide herättää myyttien sankarittaret henkiin ainutlaatuisella herkkyydellä.
Voittaja:
– Best Painter/Multimedia Artist: Jill Thompson
– Best Graphic Album—New